The Schwinn 230 Recumbent Bike (MY16) is a 2016 model that has a very similar look to the Schwinn 230 (MY20) model.
However, this model has additional features such as built-in speakers, expanded workout programs and resistance levels, advanced and dual LCD monitors, and more.
This is ergonomically and structurally designed with the necessary features that allow users to enjoy every bit of their workout journey as they strive to attain their fitness goals. They can easily mount and exit the bike without hassles, thanks to its step-thru design.
Little or no stress will be felt at the joints and the lower back. In other words, the bike offers low-impact yet effective workouts.
Click right here to have a peek at the best price of the Schwinn 230 Recumbent Bike (MY16).
The Frame & Construction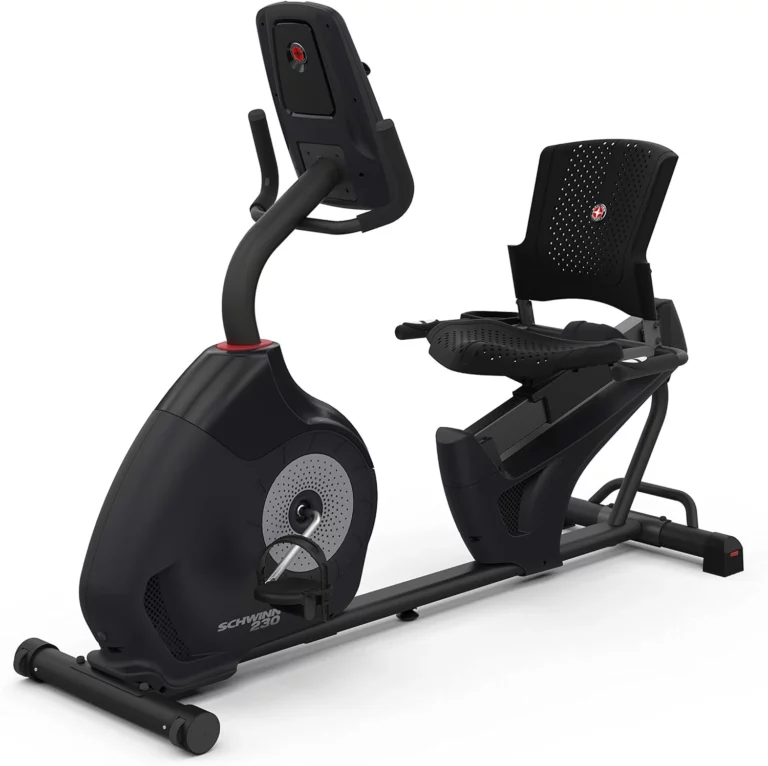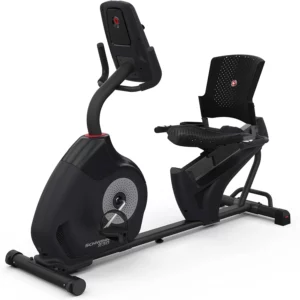 The Schwinn 230 Recumbent Bike (MY16) has a sturdy construction that makes it suitable for individuals that are up to 300 lbs./136 kg in weight.
Its frame is made of steel that is coated with anti-corrosion paint. The protective and cosmetic coverings for the seat base, the drive system, and the console are made of durable and quality plastic.
The base features robust front and rear stabilizers with adjustable levelers for guaranteed stability during workouts regardless of the user's weight or workout intensity.
Since the bike weighs 81.6 lbs./37 kg it would be a good idea to place it on a protective rubber mat to protect the floor and to enhance overall stability.
Yes, there are transport wheels fitted at the front base of the bike to enable you to easily move it around the room.
The dimensions of the bike when it's fully assembled are 64'' long by 27.7'' wide by 49.9'' high. So, the unit occupies a workout area with measurements of 5'33'' (162.56 cm) in length by 2'30'' (70.35 cm) in width.
Also, consider extra clearance of 2' around the bike (recommended) for the purpose of ensuring safety and ease of access.
The Seat of the Schwinn 230 Recumbent Bike (MY16)
This recumbent bike comes with a large, contoured ventilated seat. Even its backrest is also ventilated making it to be completely breathable for comfort.
That said, most users usually purchase the bike alongside a seat cushion to maximize the comfort level it offers.
Just like most recumbent bikes, the seat is attached to a slanted base with an adjustable lever that allows the user to adjust it fore/aft (horizontally) for a perfect fit when necessary. However, the height slightly increases and decreases with adjustment due to the slated base.
Therefore, users of different heights can be accommodated if they are within the stipulated weight range the bike supports.
The Handlebar
Just as the case with most recumbent bikes, the Schwinn 230 Recumbent Bike (MY16) is equipped with a set of handlebars at the front and another set attached to the seat.
They are designed to provide the opportunity for you to exercise while sitting back or sitting up with much support and stability.
The handlebars are coated with anti-slip rubber foam material so that users can work out longer without their hands slipping off or getting sore.
Both the handlebars are nonadjustable. However, they are optimally positioned to fit and suit users of different sizes.
Heart rate sensors are incorporated into the seat handlebar. So, when a user holds onto them during a workout their pulse rate is read, and the data is transmitted to the LCD monitor.
Pedals
The pedals are self-leveling and have adjustable safety straps that ensure the feet are secured in place, that no matter the intensity of the workout there won't be any slippage. Moreover, the straps can be adjusted accordingly so that the pedals can accommodate different foot sizes.
They are attached to a quality crankset and durable crank arms.
The Drive
The Schwinn 230 Recumbent Bike (MY16) features a belt drive system. It is a high inertia drive system that provides smooth, quiet, and vibration-free operation.
Thus, users can exercise with the bike at home or even at the office around people without constituting a nuisance.
Furthermore, as opposed to a chain drive system, this does not require any pre or post-lubrication nor does any part need to be replaced at any point in time. In other words, the drive system is maintenance-free so that you can focus on getting your fitness goals achieved.
The drive system is bidirectional. This means that you can pedal in reverse if so wish to diversify and target more muscle groups.
The Resistance
The Schwinn 230 Recumbent Bike (MY16) has an ECB (Eddy Current Brake) resistance system with 20 adjustable levels.
This type of resistance system needs power to be functional. Differently put, the bike needs to be plugged into a power source through the included AC power adapter.
The adjustment could be done manually via the 1, 3, 5, 7, 9, 12, 14, 16, 18, 20 resistance quick buttons, or gradually via the Up/Down buttons.
The resistance can also auto-adjust if a certain workout program is selected.
The 20 resistance levels provide different workout challenges that are suitable for everyone who wishes to improve their fitness level.
The Console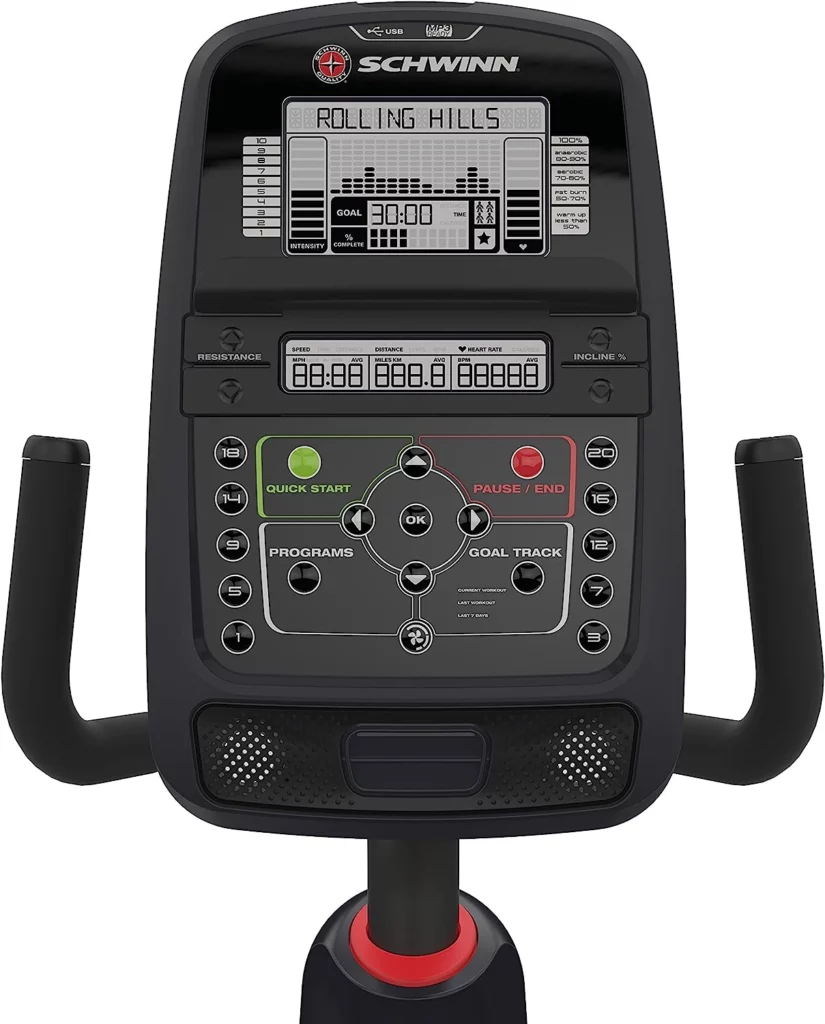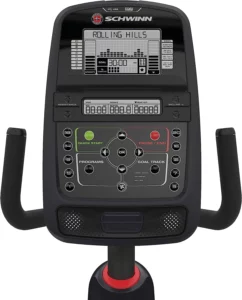 The Schwinn 230 Recumbent Bike (MY16) has a console that features a dual LCD monitor. Two monitor screens consist of an upper display and a lower display.
The upper display which is 3'' by 5'' in dimensions shows the graphic and settings of the workout program that is being used at any given time, HR Zone Indicator, Intensity, % Complete Indication and so on, while the lower display which is 1'' by 5'' in dimensions shows workout stats such as Time, Distance, Speed, Calories, Pulse, RPM, and Resistance Levels.
These metrics are displayed with high readability but that could be compromised if viewed in a poorly lit room because the displays are not backlit.
By default, Speed and Distance metrics are shown in mph and miles but can be toggled to km/h and km if the user wishes to.
The lower panel of the console includes several navigation buttons such as resistance buttons, program buttons, a goal track button, a quick start button, and a pause/end button.
The console is pretty much like the one on the Schwinn 270 Recumbent. However, it is not Bluetooth enabled and telemetric as the latter.
There are 22 built-in workout programs that include 1 manual/quick start, 9 profiles, 8 heart rate (4 beginners & 4 advanced), 2 custom, and 2 fitness tests.
2 user profiles are available for 2 users to record their profiles for personalized workout tracking and output. Thus, make sure to select the right user profile when starting a workout because the last used user profile becomes the default user.
Usually, a user profile stores data such as age, weight, height, gender, and preferred workout values.
Lastly, there is a USB port that mainly allows you to transfer workout data from the console to a storage device such as a flash drive and to also play music from it or from a smartphone. It may attempt to charge a smartphone but the power from it will not be sufficient for charging and operation of the device.
Accessory
There are built-in speakers on the console. These are designed to help provide quality sound output whenever you stream music from a connected MP3 device or smartphone.
A 3-speed cooling fan is also integrated into the console to keep the user cool during a workout.
Finally, a water bottle holder and a tablet holder are included to enable users to keep their smartphone device and water handy for the purpose of entertainment and proper hydration maintenance.
Storage
The Schwinn 230 Recumbent Bike (MY16) is not overly large and it's portable. Therefore, it won't take up too much storage space and can easily be moved around the room via the integrated transport wheels.
A storage area with the measurements of 5'33'' (162.56 cm) in length by 2'30'' (70.35 cm) in width will be just fine.
Pros/Features Overview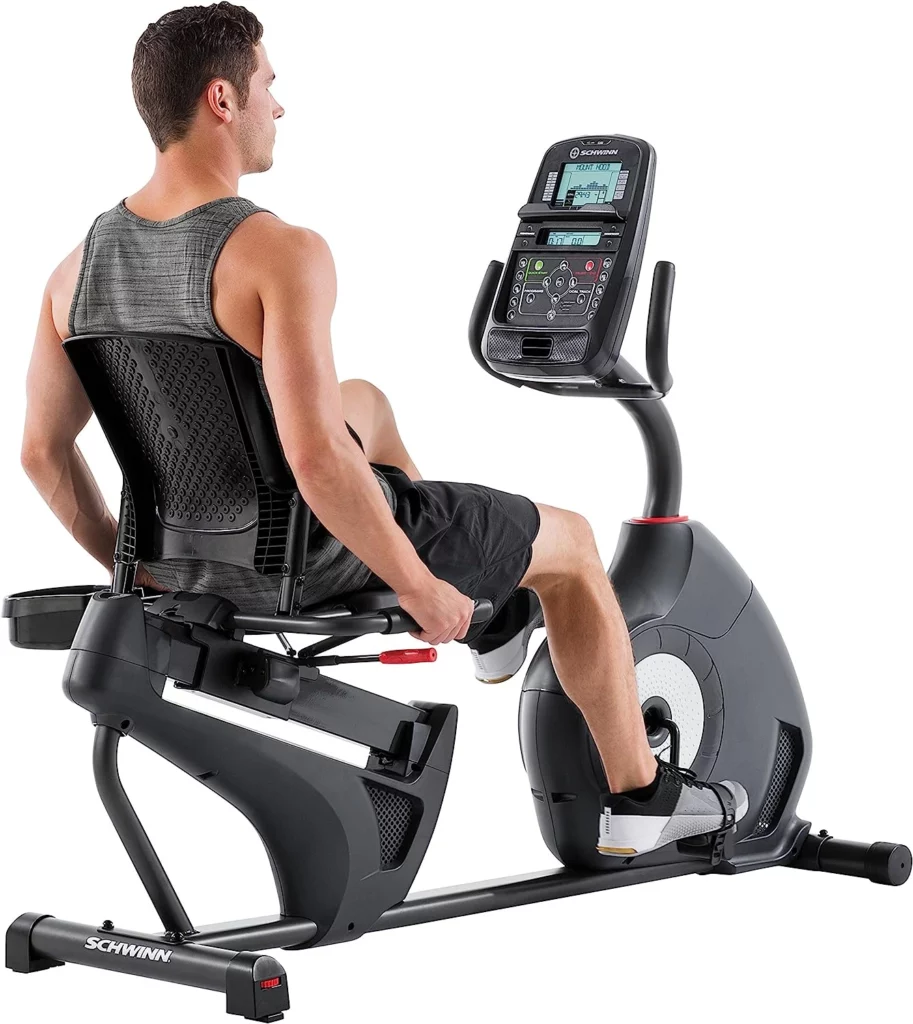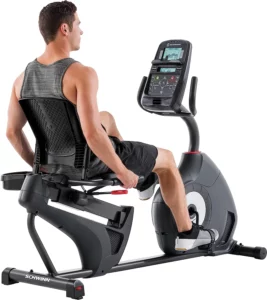 It is built to provide fun and productive low-impact workouts
Durably and sturdily built to last and for stability
Supports users that are up to 300 lbs./136 kg in weight
Users of different heights can use it, thanks to the horizontally adjustable seat
Its operation is smooth, quiet, and vibration-free due to its belt drive system
It is equipped with an ECB (Eddy Current Brake) resistance system with 20 resistance levels that provides a range of challenging workouts suitable for users at different fitness levels
The console features a dual LCD that tracks workout stats such as Time, Distance, Speed, Calories, Pulse, RPM, Resistance Levels, and much more
There are 22 built-in workout programs that include 1 quick start, 9 profiles, 8 heart rates (4 beginners & 4 advanced), 2 custom, and 2 fitness tests
2 user profiles;
2-way adjustable and ventilated seat and backrest
2 sets of handlebars
EKG contact heart rate sensors
Self-leveling pedals with adjustable safety straps
Goal setting for Time, Distance, and Calories
USB port for data transfer, playing of music and charging of smartphone
3-speed cooling fan included
Built-in speakers integrated
A tablet holder is included
A water bottle holder is included
Transport wheels included
It is easy to assemble
It can be maintained without complications
Cons
The LCDs are not backlit
The console is not Bluetooth enabled and telemetric
Not compatible with workout apps
Warranty
Frame: 10 Years
Mechanical Parts: 2 Years
Electronics: 1 Year
Labor: 90 Days
Product Dimensions & Specifications
Length: 64''
Width: 27.7''
Height: 49.9''
Shipping Dimensions: 66.75'' L x 27.5'' W x 12.5'' H
Net Weight: 81 lbs./37 kg
Gross Weight: N/A
Maximum User Weight Capacity: 300 lbs./136 kg
Frame: Steel
Drive: Belt
Resistance: ECB (Eddy Current Brake) with 20 resistance levels
Seat: 2-way adjustable
Handlebar: 2 sets (seat handlebars & front handlebars)
Pedals: Self-leveling with adjustable safety straps
Monitor: Dual nonbacklit LCDs
Programs: 22
EKG contact grips
USB port
3-speed fan
Built-in speakers
Transport wheels
Tablet holder
Water bottle holder
Shipping
When shopping online, it is essential to examine the shipping policies and alternatives of the store to guarantee a successful delivery.
Depending on the retailer and the buyer's area, these choices could be anything from regular ground shipping to expedited shipping.
Standard ground shipping is usually the best option if you want to ship a Schwinn230 Recumbent Bike (MY16).
To ensure the bike's safety during transport, it should be packed securely in a box and sent out with a dependable carrier, like UPS, FedEx, or USPS. Delivery times can vary depending on the distance of the destination, so it's best to check the estimated delivery times provided by the retailer during checkout.
If you need your Schwinn230 Recumbent Bike (MY16) in a timely manner, you may want to consider using expedited shipping, which usually promises delivery within a couple of business days. However, keep in mind that this service may come with an additional cost, depending on the retailer's policies.
Assembly
Prior to starting to put together the Schwinn230 Recumbent Bike, it is important to make sure that you have all the components and tools you need.
It is also suggested that you read the instruction manual thoroughly to become acquainted with the components and their uses. This manual includes step-by-step directions that will assist you while you are assembling the bike.
To start your assembly project, locate a quiet, uncluttered area to work in. Unbox the components and organize them in an orderly fashion. Ensure the smaller parts are kept together and easily accessible to avoid misplacing them.
The parts that need to be attached to the core unit include the seat and the backrest, the stabilizers, the pedals, the handlebars, and the console.
The entire assembling process may take about an hour or so.
Maintenance
The recumbent bike does not need any serious or technical maintenance. All it requires is to ensure that it's always kept clean.
Make it a part of your routine to inspect the bike before using it to be sure that all the parts are alright and in good condition. If there is any problem or wear and tear, replace the part.
Store the unit in a conducive environment that is clean, dry, and cool.
Conclusion
In conclusion, the Schwinn230 Recumbent Bike (MY16) is a recommendable exercise machine, combining a sturdy build, user-friendly interface, and advanced technology to deliver an efficient and comfortable workout. Suitable for users of any fitness level.
This bike is an excellent investment for anyone looking to increase their aerobic capacity and overall well-being.
One of the most impressive features of the Schwinn230 Recumbent Bike is its DualTrack LCD display. This display enables users to monitor their workout progress such as time, distance, speed, calories burned, and heart rate.
Additionally, the Schwinn230 comes with 22 preset workout programs to help keep users motivated and on track.
The Schwinn230 Recumbent Bike boasts a high-speed, high-inertia perimeter-weighted flywheel for a peaceful and fluid cycling motion, meaning that users can watch TV and listen to music without any disturbances. Thus, making their workouts more gratifying.
Moreover, this bike offers 20 levels of resistance for users to step up the intensity of their workouts as their fitness level progresses.
Schwinn 230 Recumbent Bike (MY16) Review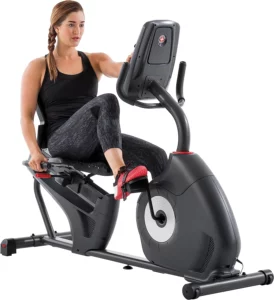 The Schwinn 230 Recumbent Bike (MY16) is a 2016 model that has a very similar look to the Schwinn 230 (MY20) model.
Product Brand: Schwinn
Product In-Stock: InStock