The ProForm ZT10 Treadmill is yet another model in the series I have reviewed in a row. First, it was the ZT6, then the ZT8, and now the ZT10. There is also the ZT3 which I think people may not be so much interested in because it is obsolete.
The ProForm ZT10 Treadmill is the most upgraded of them all. It has a good sizable running surface, a better incline system, a stronger and more dynamic motor, supports a higher user weight capacity, and more.
Click right here to have a peek at the price and of of the Proform ZT10 Treadmill on Amazon.
Frame and Construction
The ProForm ZT10 Treadmill is constructed with a durable steel frame and other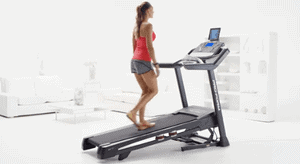 parts that are made of high-quality plastic. Hence, it supports 350 lbs./158.7 kg maximum user weight capacity.
The robust and anti-skid designed base ensures maximum stability that prevents any sort of unwanted movement during workouts. Its assembled weight of 225 lbs./102 kg further stabilizes it.
It can easily be moved because it is foldable and portable with transport wheels at the front base stabilizer.
The treadmill's overall assembled dimensions are 82.8" long by 36" wide by 59" high. Simply put, it needs a workout area with the perimeters of 6'9" length by 3′ width and extra clearance of 2′ around it for a safe and comfortable workout experience.
A room with a ceiling height of at least 8′ should be fine for most users.
Product Dimensions & Specifications
Length 82.8"
Width 36"
Height 59"
Shipping dimensions: 87.5" L x 32" W x 14" H
Net weight: 225 lbs./102 kg
Gross weight: 251 lbs./113.8 kg
Deck dimensions: 20" W x 60" H
3.0 CHP motor
0-15% Incline
iPod compatible music port with 2 built-in 2.2'' speakers
CoolAire Workout Fan
32 Workout Apps
ProShox Cushioning system
Adjustable speed of 0-12 mph
EasyLift Assist
Heart rate monitoring: EKG contact grips & Bluetooth wireless heart rate
Tablet holder
Accessory/water bottle holders
7'' Oversized Backlit LCD monitor
iFit-enabled
Rollers are 2.5'' precision machined and balanced non-flex rear roller
Transport wheels
Cons
The wireless iFit module is not included; it has to be purchased separately
Membership subscription is required for iFit access
A Bluetooth compatible HR chest strap is not included
Warranty
Lifetime for the Frame
Lifetime for the Motor
3 Years for the Parts
1 Year for Labor
Ensure to go to www.proformservice.com/registrition to activate the warranty upon purchase of the treadmill.
The Deck of the ProForm ZT10 Treadmill
There are three positive aspects of the deck, and these include the fact that it's made of 1-ply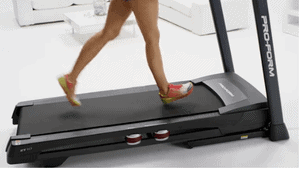 commercial tread belt with dimensions of 20" W x 60" L; spacious enough to accommodate users of different heights without restricting their strides.
Secondly, the deck integrates a ProShox Cushioning system that protects and absorbs excessive shock from the hip, knees, and ankles during workouts. Thirdly, it incorporates a 2.5" precision machined and balanced non-flex rear roller that provides smooth motion of the running surface.
There is a wide textured foot rail on either side of the deck for a quick exit during workouts without turning the treadmill off.
Incline System
The ProForm ZT10 Treadmill has a 0-15% automatic incline system. This is the common highest incline level most popular treadmills have ever had.
There are 2 different ways to adjust the incline level; you can select any of the quick 1, 2, 3, 4, …15 buttons or you can either use the -/+ gradual buttons on the console.
Since it's an automatic incline system you can adjust it on the fly without having to stop your workout.
Users can diversify and engage in high-calorie burning workouts for exceptional fitness results.
The Console
This unit is equipped with an advanced console that features a high definition 7" blue backlit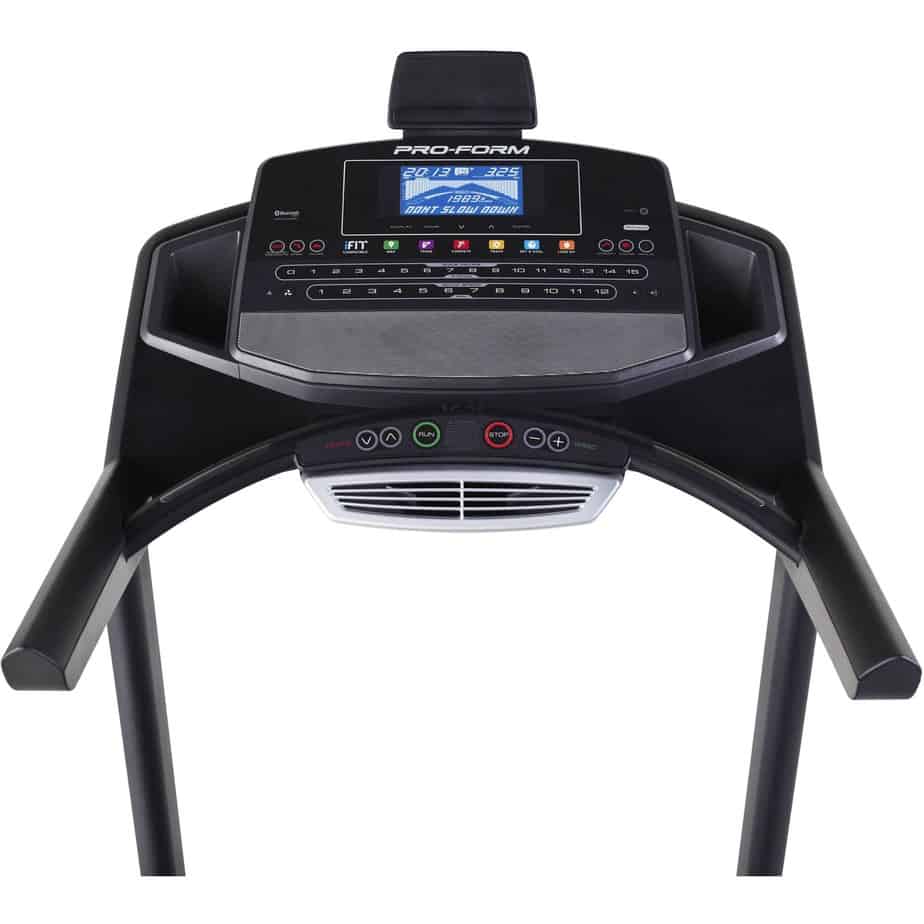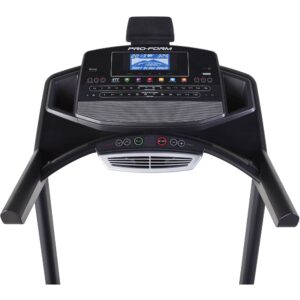 LCD monitor that tracks workout stats such as Time, Distance, Workout Intensity, Incline Level, Speed, Calories Burned, Heart Rate, and more.
To view and monitor your heart rate, you need to either grip the EKG contact handlebars or use a Bluetooth compatible wireless HR chest strap (not included).
There are built-in 32 workout programs designed by certified personal trainers for result-oriented workouts. When any of these is selected, a speed range and an incline level will automatically be activated.
The console is iFit-enabled. This means you can use an iFit module (to be purchased separately) to sync an Android or iOS tablet to the treadmill so that you can run on visual streets using Google Maps, create your workouts, track your workout progress, race against other iFit users, and more.
Although, to enjoy the iFit technology a membership subscription is required.
The Motor
The ProForm ZT10 Treadmill incorporates a powerful 3.0 Continous HorsePower Mech-Z Commercial Motor that provides the adequate drive needed to support 350 lbs./158.7 kg weight users.
It is designated at the front base of the treadmill with a plastic cover.
Its operation is dynamic and energy-efficient yet not very noisy. It offers a speed range of 1-12 mph and could be adjusted by the press of a button.
The speed adjustment keys include the quick (1, 2, 3, 4, …12) and the gradual (-/+) speed buttons that are present on the console.
You can sprint or marathon all you want, the motor won't give up on you by overheating or breaking down.
Accessory
The console also integrates recreational features for amusement and comfort during workouts. These include the CoolAire Workout Fan, the 3.5mm iPod/MP3 player compatible port, built-in 2.0 acoustic speakers, a tablet, and water bottle holders.
Conclusion
The ProForm ZT10 Treadmill is good for everyone that wishes to lose weight and improve overall physical fitness. Sprinters and marathoners will also be impressed by its running surface and the power of the 3.0 CHP Mech-Z Commercial motor.
It could have been great if the iFit module and the Bluetooth compatible HR chest strap are included. Nevertheless, the treadmill still presents durable construction and fairly decent features.
Proform ZT10 Treadmill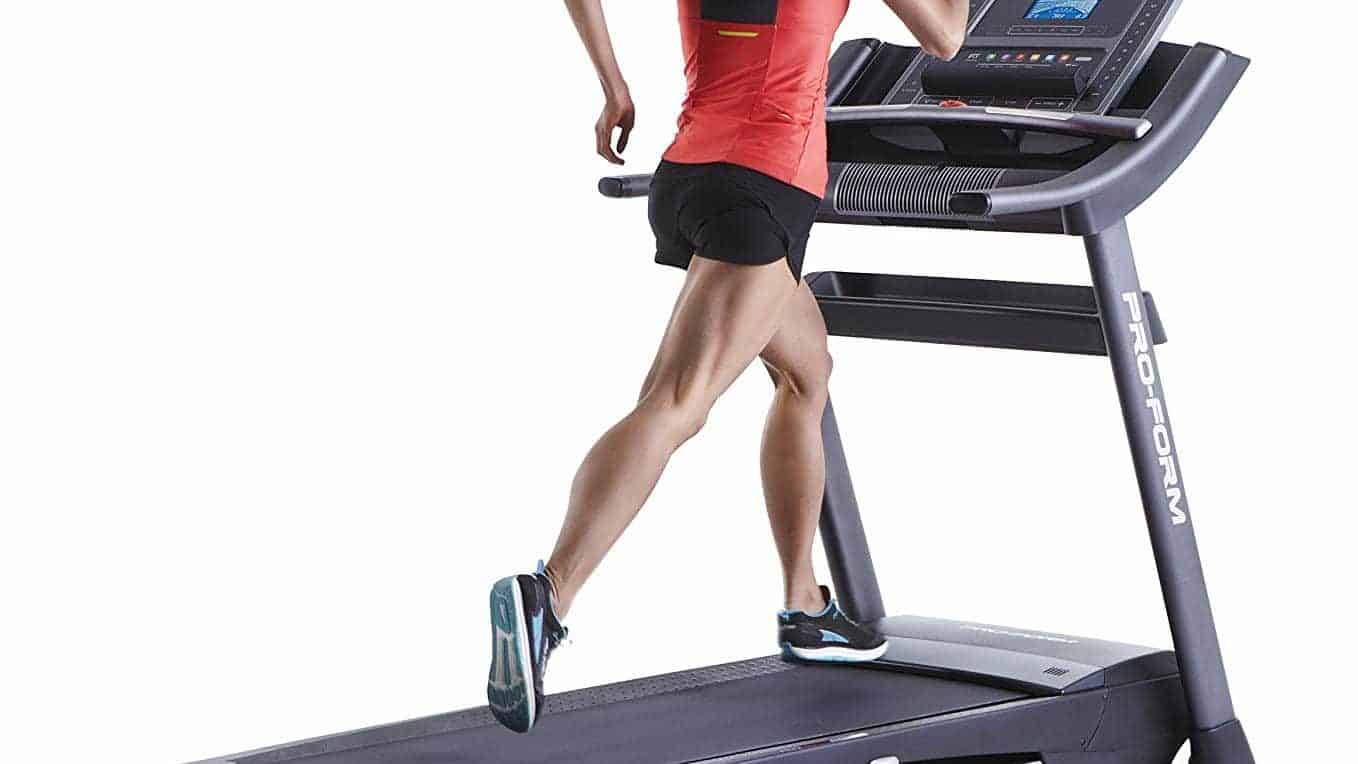 The Proform ZT10 Treadmill review intends to reveal what this latest series has got and what makes it tick. As I have observed during my previous reviews of
Product Brand: ProForm
Product In-Stock: https://schema.org/InStock