An elliptical machine has always been one of the most preferred indoor fitness equipment that many individuals use.
Most of them offer full-body and low-impact workouts, and so does the ProForm Endurance 520 E Elliptical Trainer.
The ProForm Endurance 520 E Elliptical Trainer with model number PFEL55916 offers cardiovascular workouts that are gentle on the joints yet very aggressive in burning calories.
It is a front-drive elliptical trainer just as the XTERRA Fitness FS400.
This unit is packed with a lot of useful features that include the 20 degrees manual incline with 19" adjustable stride length.
Click right here to have a peek at the price and of of the ProForm Endurance 520 E Elliptical on Amazon.
The Frame and Construction
The ProForm Endurance 520 E Elliptical has a heavy-duty steel frame that is made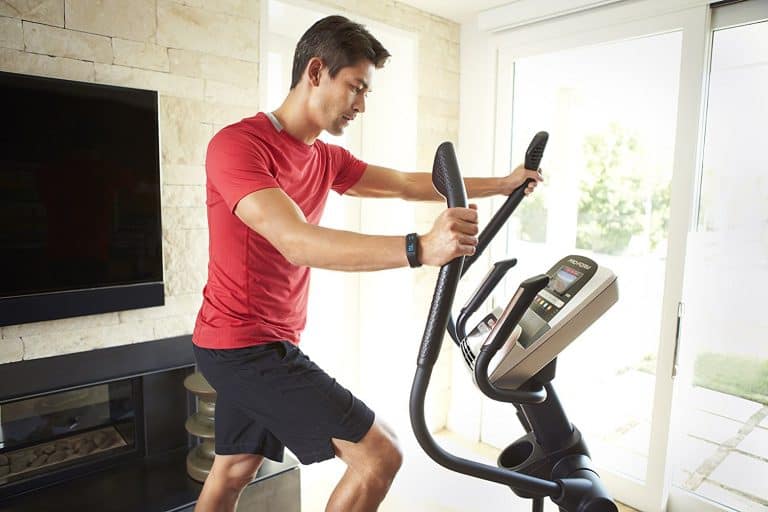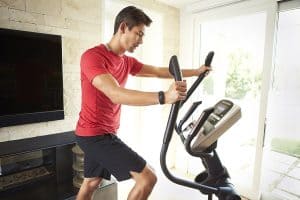 of steel and coated with anti-corrosion paint that prevents degradation that might be caused by negative environmental effects.
While the drive's casing and some other parts are made of ABS material.
Thus, it looks elegant and supports a maximum user weight capacity of 300 lbs./136 kg.
No wobbling or tilting movement is going to felt due to its base framework that features front and rear steel stabilizers with adjustable rubber levelers.
As a result, it is very stable with great traction on a surface that is not even. Moreover, the overall weight (200 lbs./90.7) of the machine further optimizes its stability and doesn't leave a dent on the floor.
There are transport wheels at the front base and a lifting handle at the rear base for easy relocation of the machine regardless of its weight.
The elliptical trainer is not compact, it's going to require a little bit of space for workouts and storage. It's overall assembled dimensions are 67" long by 25" wide by 67" wide.
In other words, it requires a workout area with perimeters of 5'6" length by 2'1" width, and additional extra clearance of 2′ around it for safety, easy access, and convenient workouts.
The Handlebars of the ProForm Endurance 520 E Elliptical
The ProForm Endurance 520 E Elliptical has 2 sets of handlebars. The static and the moveable handlebars.
Both of them are ergonomically designed and generously coated with rubber foam to provide secure and comfortable grips that could allow the user to work out longer.
The static handlebars are integrated with EKG HR sensors that read and transmit the pulse rate data to the monitor when held during a workout. While the moveable handlebars don't have them but are mobile to allow the user to also work out the upper-body.
None of the sets of the handlebars are adjustable.
The Pedals
The elliptical trainer is equipped with large textured pedals that are made of ABS with a metallic core. They have about 1" guard at the front that promotes stable and secure footing.
The pedals are power-adjustable to up to 19" stride and can incline from 0-20 degrees.
This means users of different heights can engage in challenging workouts with a suitable stride extension.
It is important to consider using a room with a ceiling height of at least 8′ for this bike. This is to allow you to workout without any restriction even when you adjust the incline to up to 20 degrees.
The pedals and the moveable handlebars are connected, thus, when you pedal the handlebars move as well.
The Drive
The ProForm Endurance 520 E Elliptical is incorporated with a belt drive system that consists of a heavy-duty anti-stretch belt, pulleys, solid cranks, and a 15-pound enhanced inertia flywheel.
Together, these elements create a smooth and quiet operation that enables you to workout without distraction. The family or the neighbors won't also be bothered by your workout activities.
The drive is maintenance-free; no periodic lubrication or adjustment would be required.
The Resistance
The unit features an eddy current magnetic resistance system that needs to be plugged into a power outlet to be functional.
The resistance system comprises a magnetic brake, motor servo, and the flywheel. When the resistance is adjusted, the magnetic brake is moved close to the flywheel by the motor servo and consequently generates resistance without friction.
Thus, no part wears out over a while and no replacement is required. In other words, the resistance system is also maintenance-free just as the drive system.
The resistance system offers 18 adjustable levels that could be adjusted via the buttons on the console. They provide a different range of workout intensities that are suitable for everyone.
The Incline
The unit has a manual incline that could be adjusted from 0, 10, 15, to 20 degrees. This allows you to diversify your workouts and challenges.
The Console
The ProForm Endurance 520 E Elliptical integrated with a rich console that features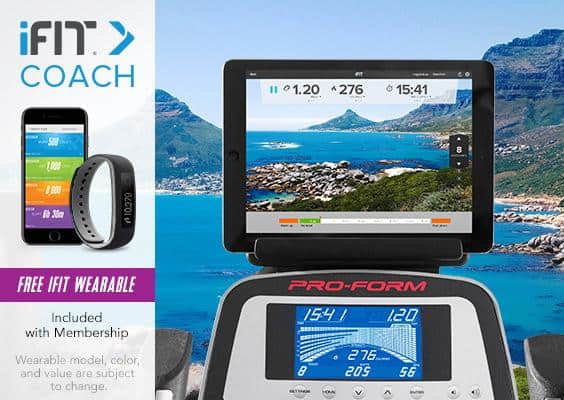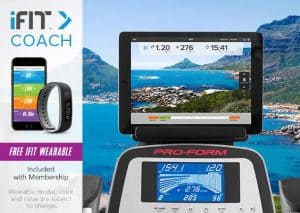 several functions.
First of all, it has a large blue backlit LED monitor that tracks the workout progress by displaying stats such as Calories, Distance, Pulse, Resistance, RPM, Stride, Time, and Speed.
These are displayed simultaneously with good readability that cannot be compromised by a poorly-lit environment.
The console is iFit compatible, but the machine could be used without using it. Although, it will prompt you to connect to iFit upon turning ON the machine. It could be overridden by pressing and holding the button down for about 30 seconds.
However, if you register for the iFit membership a lot of interactive workout routines will be availed to you, you can utilize the virtual trails and be able to view your workout data online.
Another feature that is worth mentioning would be the 'My Trail". This displays a track that represents a 1/4 mile. It also shows the number of laps you have accomplished.
The point is that this function can help professional trainees achieve their goals.
There are 18 workout Apps on the console. These provide workouts that are designed to let you achieve your fitness goals and you can also customize your workout routine.
Control the resistance intensity via the onboard quick select 1, 3, 6, 9, 12, 15, 18 buttons, or the gradual -/+ buttons. Goal setting and tracking functions are also available.
Accessory
The elliptical trainer has a sound system and an MP3 jack, both of which are designated on the console. You can connect an iPod or a smartphone to the MP3 for a quality output.
There is also a tablet holder that accommodates any size of a tablet device at the top of the console. Thus, you can still view the monitor even when a device is placed on the holder.
Storage
The machine is not foldable, not compact, and kind of heavy (200 lbs./90.7 kg). Therefore, it's going to need a bit of space for storage.
Ideally, it can be stored in a garage or leave it right on the workout area if you can afford to have a dedicated space for it.
It can easily be moved via the integrated transport wheels and the lifting handle at the rear regardless of its weight.
Approval Rating
The ProForm Endurance 520 E Elliptical has several Amazon customers' reviews, most of which are positive. Hence, its overall approval rating suggests its a good buy.
Other fitness equipment review websites also have a favorable review of it.
Features/Pros
It has 18 workout Apps that would surely set you in the direction of achieving physical fitness adventure even as you enjoy a challenging workout that is designed to help you achieve all those physical fitness goals. These 18 workout apps include calorie and performance workouts
This unit is a commercial grade steel construction that would last longer
Individuals of different sizes could ride on this machine comfortably because of its 20'' adjustable stride that could be easily adjusted to a preferred position
It has a 15-pound flywheel plus a faster gear ratio that ensures stability, smoothness, and quiet riding experience
The ability to work on certain muscle groups has become imperative that you will have the chance to work and tone a specific muscle group with the 20-degree incline that is also easily adjusted. It has a Built-in dual grip heart monitor that would help to keep you working out within your target heart rate zone at all times
The iFit Coach feature is amazing because you could do a whole lot of things with it; for instance, if you wish to run in a specific terrain you would be able to do that by downloading a Google Maps route or you can manually adjust the incline to imitate or simulate the terrain you are running on. You could also customize your training with unlimited workouts designed by certified personal trainers
The 5'' backlit display keeps you informed about your workout progress by displaying workout data such as Calories, Distance, Pulse, Resistance, RPM, Stride, Time, and Speed
It has a tablet holder that is designed to hold your tablet or any other device
To ensure you stayed hydrated throughout the workout session, there is a water bottle holder available to keep water handy
Cons
To utilize the iFit feature, you should be able to have the iFit wireless module which does not come with the unit which means you have to purchase that separately and get a free 1-year iFit subscription.
It does not have any fan for cooling off during a workout. This may not be a big deal but I wish to mention it anyway.
Product Specifications
67'' Height
25'' Width
67'' Length
It weighs about 200 pounds
Supports 300 pounds maximum user weight
Warranty
Lifetime for Frame
1 Year for Parts
1 Year for Labor
Shipping and Assembly
The shipping cost for ProForm Endurance 520E Elliptical Machine depends on which retailer you are purchasing from. However, Amazon offers free shipping for this unit but that may not be the case with other retailers.
The assembly of this unit is not difficult although there are a lot of bits and pieces to be fixed therefore would require time to have it all assembled. It is accompanied by an instruction manual that states the steps to assembling it and would take about 1 ½ to 2 hours to assemble.
There is a special ''hire an expert'' option that is available which if you opt for the unit will be assembled for you in your home at your convenience by an expert; however, it is not free.
Conclusion
Many reasons could compel a person to purchase the ProForm Endurance 520 E Elliptical. First of all, the price is good.
There are a lot of features available that could make you scream ''I want this machine!".
For instance, the 20-degree manual incline, the 20'' adjustable stride with large pedals, the iFit Coach, and much more. This machine is truly equipped to help you realize and attain your fitness goals at a reasonable price.
You will be motivated by the Google Maps that would allow you to work out in your preferred terrain and iFit connectivity that would give you unlimited access to workout programs that are designed to meet your fitness goals and aspirations.
Moreover, the 20'' adjustable large pedal strides allow you to workout in your full strides which is more effective and result-oriented and does not matter your size.
If you need an elliptical machine for your home gym looks no further because it is staring at you all this time. Simply empower yourself with the ProForm Endurance 520E Elliptical Machine and embark on the journey of discovering the new you.
ProForm Endurance 520 E Elliptical Review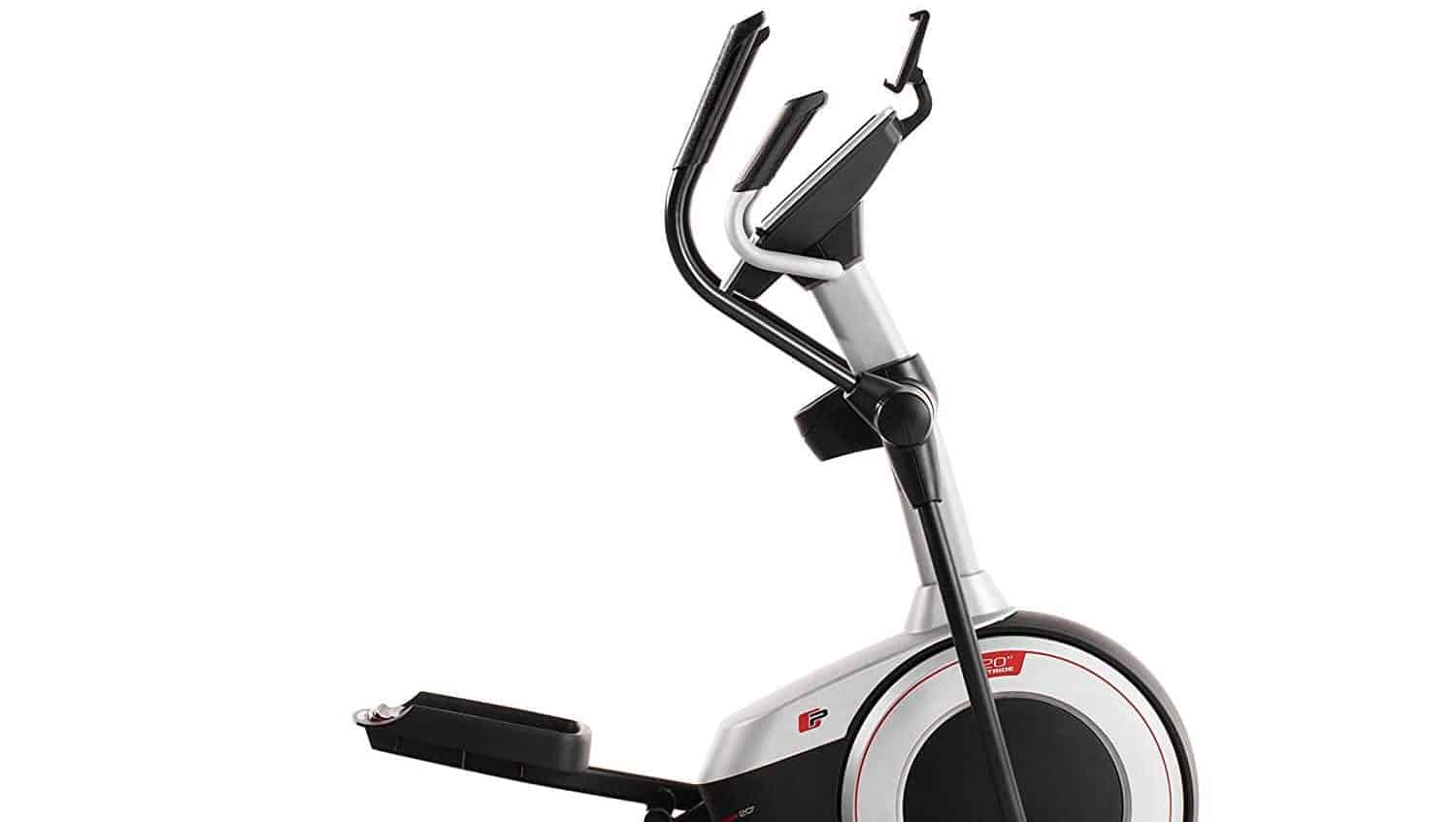 Most of them offer full-body and low-impact workouts, and so does the ProForm Endurance 520 E Elliptical Trainer.
Product Brand: ProForm
Product In-Stock: InStock