The NordicTrack C 1650 Treadmill is the runner's treadmill just like the 3G Cardio Elite Runner Treadmill. It is designed specifically to enable a user to walk, jog, and run on it.
It is integrated with several features that are designed to help a user workout productively with fun. It offers interactive training at home, powered by iFit Coach.
The roomy running surface is enough for users up to 6′ to perform running exercises, while the integrated powerful motor provides the drive power needed.
The console features a 10" HD interactive touchscreen display that tracks real-time workout progress with high readability.
Click right here to have a peek at the price and of of the NordicTrack C 1650 Treadmill on Amazon.
The Frame and Construction
The NordicTrack C 1650 Treadmill with model number NTL11215 has a sturdy and stable construction that features a heavy-duty steel frame and ABS side rails cover and dashboard.
The steel parts are powder-coated with rust-resistant paint.
It has a net weight of 222 lbs./100.6 kg which ultimately grounds it for stability.
Speaking of stability, the treadmill has a well-established base that promotes superlative stability. No amount of aggressive workouts could make it wobble.
Despite it's a heavy machine, moving it for storage is not difficult because a contingency is in place for that. There are transport wheels integrated into it that enables you to move it easily once it is folded up.
The treadmill is large and so will require a bit of space for workouts. Its overall assembled dimensions are 79.3" long by 35.8" wide by 60.6" high. Differently put, it requires a workout area with perimeters of 6'6" length by 3′ width. Plus additional clearance of 2′ at the rear and on each side of it for easy-access, safe, and comfortable workout experience.
The tread belt dimensions are 60" L x 20" W, enough for comfortable running activities.
While its space-saver folded dimensions are 44" deep by 32" width by 80" height. This means the space requirement is reduced when folded for storage.
That said, it will need to be used and stored in a room with a high ceiling.
Step-Up Height
The machine's step-up height from the floor is 8.5" when it's at 0% incline and about 13" when it's at the highest elevated height of 12%. So, depending on your height, you are going to need a ceiling height that is high enough.
For instance, if you are 6′ tall, a ceiling height of 8′ should be the least ceiling height of your workout space.
The Deck
The deck of the NordicTrack C 1650 Treadmill is incorporated with a cushioning system that is selectable.
You can choose the FlexSelect-cushioned deck that reduces the stress on the joints or a firm deck that offers the feel of running outdoors on one of those Google Maps routes on iFit.
The adjustment is simply done by the turn of a knob.
The Motor
The NordicTrack C 1650 Treadmill is equipped with a powerful 3.5 CHP DurX Smart Response Motor.
It features a dynamic yet quiet and self-cooling technology that provides a formidable lasting drive that is perfect for walking, jogging, and running workouts in the comfort of your home.
In other words, while it supports your workout activities, your family or the neighbors won't be disturbed and you don't have to worry about the motor getting overheated.
The provides a speed range of 0.5-12 mph. The speed increments are between 0.1 and 0.5 mph. This enables you to find a speed limit that is appropriate for the kind of workout you wish to perform.
The treadmill needs to be plugged onto 120 V-15 A outlet since it's motorized.
The Console
The unit has an advanced large console with a couple of useful features. It features a 10" high definition interactive Touchscreen monitor that can stream personalized iFit workouts directly to your treadmill.
The iFit is connectable via Wifi and once connected (iFit membership subscription is required), you will be able to access your iFit account and apps to use the famous GoogleMaps routes, keep track of your workout progress, and compete with other users.
Google Maps feature allows you to run through Paris or hike the Grand Canyon.
Also, as an iFit member, you will receive daily workouts designed by certified personal trainers just for you.
2 built-in Google route demo applications include Monterrey and South Africa.
The HD monitor tracks workout stats such as Speed, Calories Burned, Distance, Pace, Intensity, Pulse Rate, and Vertical Feet Climbed.
The console also features 34 preset workout programs designed for walking, jogging and running exercises with achieving specific fitness goals in mind. Some of them are designed for weight loss, improvement of heart and lungs' health, and more.
When you use a GoogleMaps route or any of the preset workout programs, the speed and the incline are automatically assigned.
But if you select the manual mode, you will be able to have control over the speed and the incline level you wish to use.
It is possible to set goals for Time, distance, and calories.
The Incline
The treadmill has a power-adjustable incline system. It could be adjusted from 0%-12% by a push of a button on the console.
As aforementioned, it could be selected automatically as well when the GoogleMaps route or any of the built-in preset programs is selected.
This provides challenging workouts that target specific muscle groups and burn tons of calories.
Storage
The unit is foldable and it's equipped with an EasyLift shock system that does most of the lifting you.
There are transport wheels that help in the relocation process.
Folding it does not only make transportation and storage convenient but it allows you to clean also.
Accessory
The NordicTrack C 1650 Treadmill has a couple of accessories that include tray holders that are designated on either side of the dashboard, a tablet holder at the top of the console, a sound-system (2 acoustic chambered speakers), a cooling fan, and an MP3 jack.
These accessories are designed to make your workout comfortable and productive.
Features/Pros
This unit has got a respectable 3.5 continuous horsepower motor that is designed to work smoothly and quietly. It does not jerk or skip even when you change the speed level. This will ultimately allow a user to train longer and safer. It is also backed by an awesome warranty of a lifetime
A user will be able to get new workouts every day via the iFit Coach (it costs extra to enjoy this feature), although, there are still amazing workout programs available without the iFit Coach. This feature allows the user to have access to unlimited workout downloads, online competition, and other fitness support. And there are 34 built-in workout programs available as well
It has aircraft-spec bearings that are sealed inside roller housings and 19'' rear roller made up of the highest quality.
The

NordicTrack C 1650 Treadmill

is equipped with a 12% incline that allows users to work and tone their muscles and also have a feeling of intense and challenging workout that ultimately burns out a lot more calories than what is obtainable in a regular treadmill. Moreover, if the iFit Coach with Google Maps is activated, the treadmill could automatically to simulate real terrain.
The Touchscreen is a web-enabled unit that could be operated by merely touching the screen. It has an Android browser that is also a portal to iFit Coach. On the screen, workout data such as the incline, elapsed time, calories burned, distance, vertical feet climbed, speed, time remaining, ¼ mile track, pace, Lap number, and heart rate could be viewed.
Often, the running surface is a very important part of a treadmill designed for running because that determines how convenient and comfortable a user will experience using it. Therefore, this unit has a 60'' x 20'' track size that is equipped with FlexSelect Cushioning System that also adds a value of comfort to it. The cushioning system could be activated or deactivated depending on how the user wants it. Generally, a user would feel free working out and would be free from the negative impact on the joints.
With this unit, you don't have to stick earphones in your ears because it has got better two 3'' speakers that have great and quality output. Also, the unit is iPod compatible therefore enjoy good music the entire workout session.
It has an adjustable Tablet Holder that is strategically positioned so that it will be convenient for a user to use personal apps for amusement if need be.
The NordicTrack C 1650 Treadmill has an AutoBreeze fan designed to keep the user cool the entire workout routine and the speed could be adjusted to match the workout intensity.
The innovative EasyLift Assist telescoping shocks are designed to help a user to easily and conveniently fold up the deck up for storage and cleaning.
Cons
This unit does not have decline feature, however, incline and decline features are usually found in commercial treadmill models.
The unit could require frequent maintenance due to its small size 1.9'' rollers.
Product Dimensions
69.3'' Length
35.8'' Width
60.6'' Height
It weighs about 222 pounds
Supports maximum user weight 325 pounds
Running surface 60'' x 20''
Warranty
Lifetime for Frame
Lifetime for Motor
5 Years for Parts
2 Years for Labor
Shipping and Assembly
The shipping cost of this unit depends on the retailer you are purchasing from. However, Amazon ships this product free.
Assembly of the NordicTrack C 1650 Treadmill is a bit complicated according to those that have tried to assemble it themselves. First, it has about 22 steps listed in the manual on how to assemble it and therefore would take like an hour or more to set up.
Allen Key and screwdriver are the tools required to assemble, although the former comes with the unit. But you could use hire an expert to help you assemble it in the comfort of your home to save you all the hassles if you can afford it.
Conclusion
No doubt, the NordicTrack C 1650 Treadmill is a sturdy and quality machine that is endowed with great features that would make workouts like fun and walk over. The 34 preloaded programs and the entertainment features will certainly have you ripping up all the way.
NordicTrack C 1650 Treadmill Review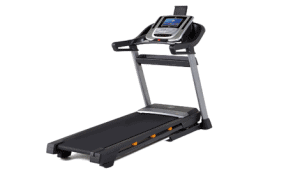 The NordicTrack C 1650 Treadmill is the runner's treadmill just like the 3G Cardio Elite Runner Treadmill. It is designed specifically to enable a user to walk, jog, and run on it.
Product Brand: NordicTrack
Product In-Stock: https://schema.org/InStock