The Marcy Regenerating ME-706 Recumbent Bike is a medium-range machine for anyone that wishes to enjoy low-impact cardio workouts at home. It offers more in terms of features than average magnetic recumbents bikes.
This machine is a version of the ME 709, but it has a programmable console that features a backlit LCD monitor. It self-generates the power it needs for console operation. Thus, it doesn't need electricity or batteries.
It is elegant and durable, even as it possesses the features needed for comfortable and productive workouts.
Its customizability enables users of different heights and sizes to be accommodated.
Click right here to have a peek at the Marcy Regenerating ME-706 Recumbent Bike.
The Frame and Construction
The Marcy Regenerating ME-706 Recumbent Bike is without a doubt a machine that gets you across the finish line of achieving your fitness goals.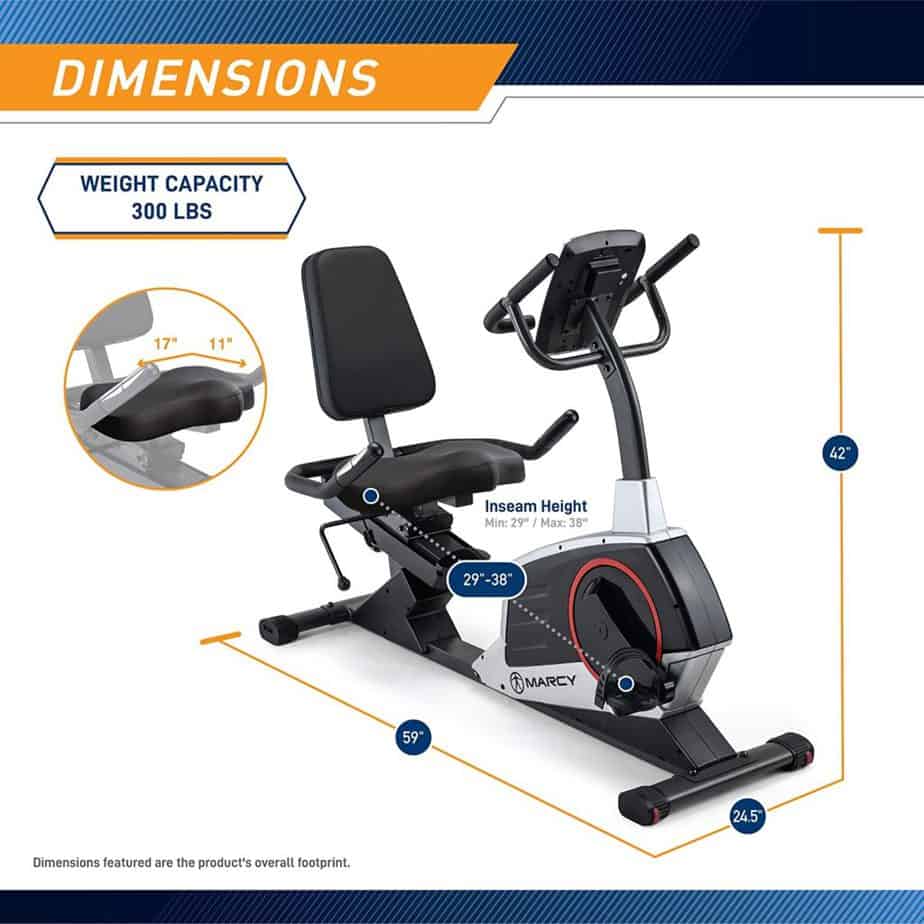 It has a solid construction that features a heavy-duty steel frame, and cosmetic and safety ABS-made parts that include the casings for the drive and the seat base coverings.
The machine supports a maximum user weight capacity of 300 lbs./136 kg.
It is not an overly large machine that could overwhelm your space. Its overall assembled dimensions are 57'' long by 24'' wide by 42'' high. This means it will require a workout area with perimeters of 4'8'' length by 2' width.
However, it is recommended to have an extra clearance of 2' at the rear and on each side of it for a safe and convenient workout experience.
The machine offers optimum stability during workouts due to its robust base framework and its net weight of 102 lbs./46.2 kg. The base's rear steel stabilizer bar is integrated with adjustable levelers that help you to balance the bike on most surfaces.
Therefore, you won't experience wobbling or tilting during workouts.
The front base stabilizer bar is equipped with transport wheels for an easy relocation process for storage.
The Seat of the Marcy Regenerating ME-706 Recumbent Bike
The Marcy Regenerating ME-706 Recumbent Bike comes with an upgraded and high-density seat that also has a high comfortable backrest. Its dimensions are 17'' W x 11'' L.
Both the seat and the backrest are generously padded and covered with vinyl material to offer outstanding and lasting comfort that could enable you to work out longer and push yourself to the limit without feeling bored.
The seat is attached to a slanted steel rail and has a lever-based adjustment system. This means you can adjust the seat comfortably while seated. You don't have to get up repeatedly to perform the adjustment until it fits.
Technically, the seat is 2-way horizontally adjustable. However, it goes upward or downward depending on which direction the adjustment is made. As a result, the bike supports users with inseams of 28''-37''.
Differently put, users between the heights of 4'10 to 6'4'' could be accommodated conveniently.
However, the backrest does not adjust independently to a reclining position, instead, it is fixed to the seat.
The Handlebar
The unit has 2 sets of handlebars. A set is designated on the seat, while the other set is positioned and attached to the console mast.
Those on the seat are designed to provide support for an aggressive and comfortable workout while sitting back. They are also integrated with EKG heart rate sensors that read and transmit the pulse rate data to the monitor when held during a workout.
Thus, you will be able to track and maintain your target heart rate zone at all times.
On the other hand, the handlebars on the mast do not have EKG HR sensors on them but they are unique and are multi-grip designed to offer a variety of workout positions.
They are not adjustable; but due to the curvature design of the mast, they are optimally positioned to offer universal suitability for everyone.
The 2 sets of handlebars are coated with a soft rubber foam that prevents slippage or blisters in the palms but instead allows you to enjoy comfortable and secure grips.
The Pedals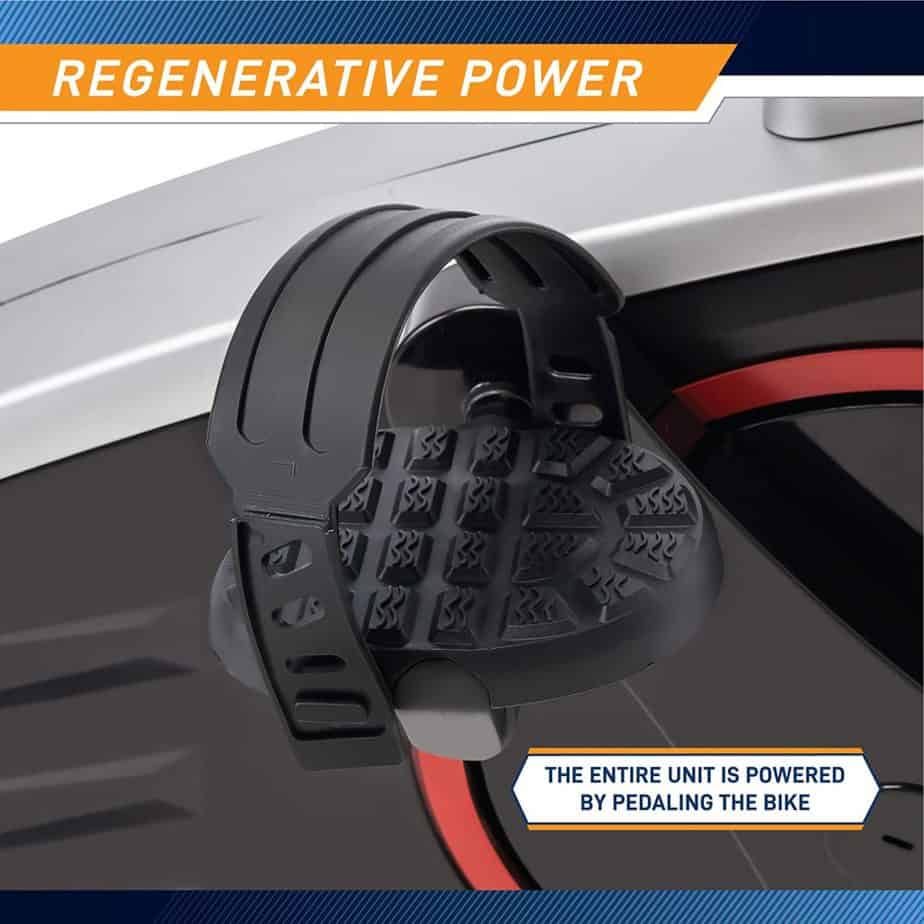 The Marcy Regenerating ME-706 Recumbent Bike is equipped with a set of large and textured pedals with adjustable safety straps.
They can comfortably and securely accommodate different feet sizes with standard gym shoes. Your feet won't slip during aggressive pedaling.
The pedals are counter-balanced and are made of durable plastic and a metallic core.
The Drive
The ME-706 Recumbent Bike is a belt-driven bike. It is equipped with a belt drive system that consists of a durable anti-stretch belt, pulleys, cranks, and a small perimeter-weighted 11-pounds/5 kg flywheel.
It provides a smooth and quiet operation that allows you to work out at any time of the day without being a nuisance to those around you. You can watch your favorite TV show or listen to music as well during workouts.
The drive is bi-directional; this means you can also pedal in reverse if you want to tone more muscle groups.
Since it has heavy-duty cranks, it can support stand-up pedaling. However, it's not recommended because the bike is not designed for that and consequently it's not safe.
Moreover, the drive is maintenance-free. It doesn't require you to take the covers apart and try to lubricate or adjust it.
The Resistance
Most recumbent bikes usually have a manual magnetic resistance system, but the Marcy Regenerating ME-706 Recumbent Bike has a motorized magnetic resistance system with self-generating power.
This is one of the features that make it stand out from the rest.
The resistance system consists of a magnetic brake, a small servo motor, a flywheel, and a small power generator.
Resistance is generated when the servo motor moves the magnetic brake close or farther away from the flywheel. So, no friction occurs between the mechanisms, thus, no part wears out.
Therefore, the resistance system doesn't need any maintenance and its operation is smooth and vibration-free due to the perimeter-weighted flywheel.
The power generator charges the integrated rechargeable lithium-ion battery that provides power for resistance and console operation.
The magnetic resistance system offers 24 adjustable levels that could be controlled via the console.
These resistance levels provide a different range of workout intensities. For instance, levels 1-5 offer low-intensity workouts that are suitable for those recovering from an injury, and the elderly, while the rest offer different shades of workout intensities that simulate hill climbing and more.
They are capable of helping you to lose weight, tone muscle groups, and improve cardio and lungs health.
The Console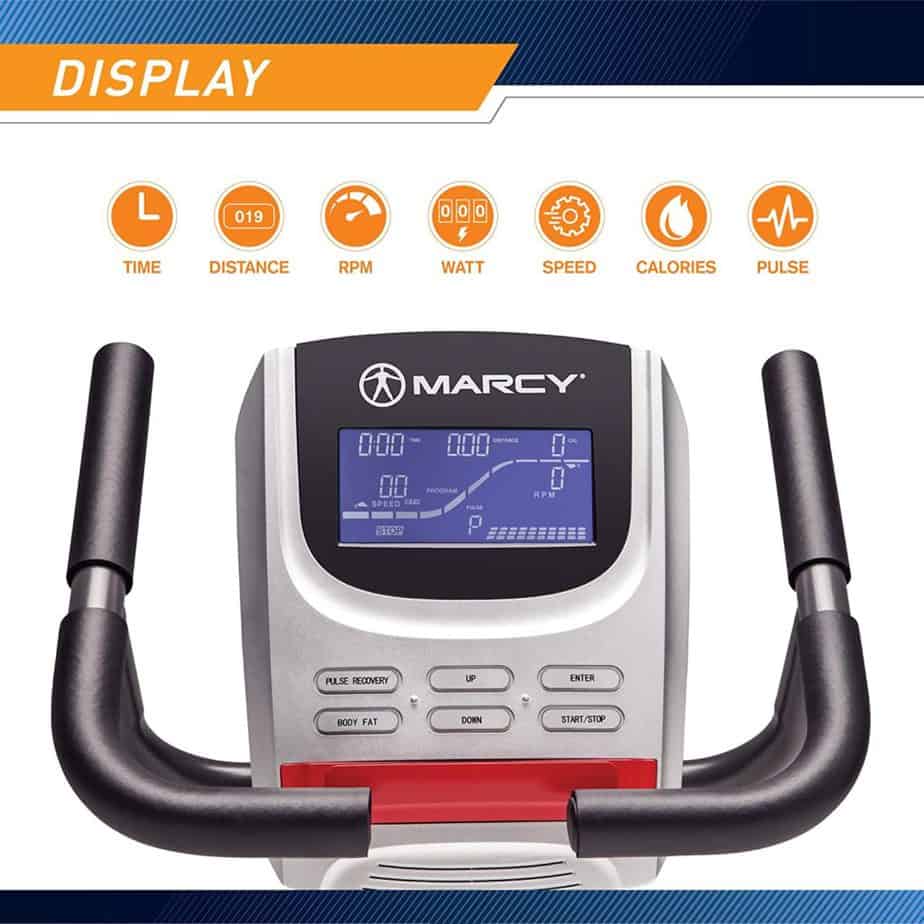 The console of the Marcy Regenerating ME-706 Recumbent Bike features several navigation buttons and a large 5'' x 2.5'' LED display monitor. The monitor tracks workout stats such as Time, Distance, Speed, Calories, Watts, RPM, heart rate, and the selected resistance level.
The console is telemetry-enabled and has 23 workout programs and a Body Fat calculator.
This means that the console is compatible with a Polar 5 kHz HR chest strap (HR chest strap not included in the package). Alternatively, you can still monitor your heart rate using the EKG contact grips if you don't have the HR chest strap.
The preset workout programs offer different types of workouts that include Steps, Hill, Rolling, Valley, Fat Burn, Ramp, Mountain, Intervals, Random, Plateau, Fartlek, and Precipice.
P2-P13 are the preset programs while P14-17 are the user setting programs. These allow users to create the values for and in the order of Time, Distance, Calories, and Resistance level in 10 columns. After set up, the values and the profiles will be stored in the memory.
You can change the ongoing loading in the column without changing the resistance level already stored in the memory.
The P18-P22 are heart rate-based programs that target 55%, 65%, 75%, 85%, and custom. While P23 is Watt control, which is a speed-independent program. This means that the resistance increases when your pedaling is slow and it decreases when your pedaling becomes faster.
P24 is the Body Fat calculator. This is a special program that calculates the users' body fat ratio.
Then, there is the heart rate Recovery Function which may be activated by pressing the PULSE RECOVERY key. This calculates the health of your heart and produces a result that is usually between F1 (excellent)-F6 (poor) at the end of the workout.
The monitor goes to a sleeping mode after 4 minutes of inactivity. It can be turned ON by pressing any button on the console.
Accessory
The Marcy Regenerating ME-706 Recumbent Bike has extras that are designed to make your workouts enjoyable. They include a built-in tablet holder and speakers on the console and a 3.5mm jack for connecting a smartphone or an iPod.
These accessories allow you to entertain yourself while working out.
Storage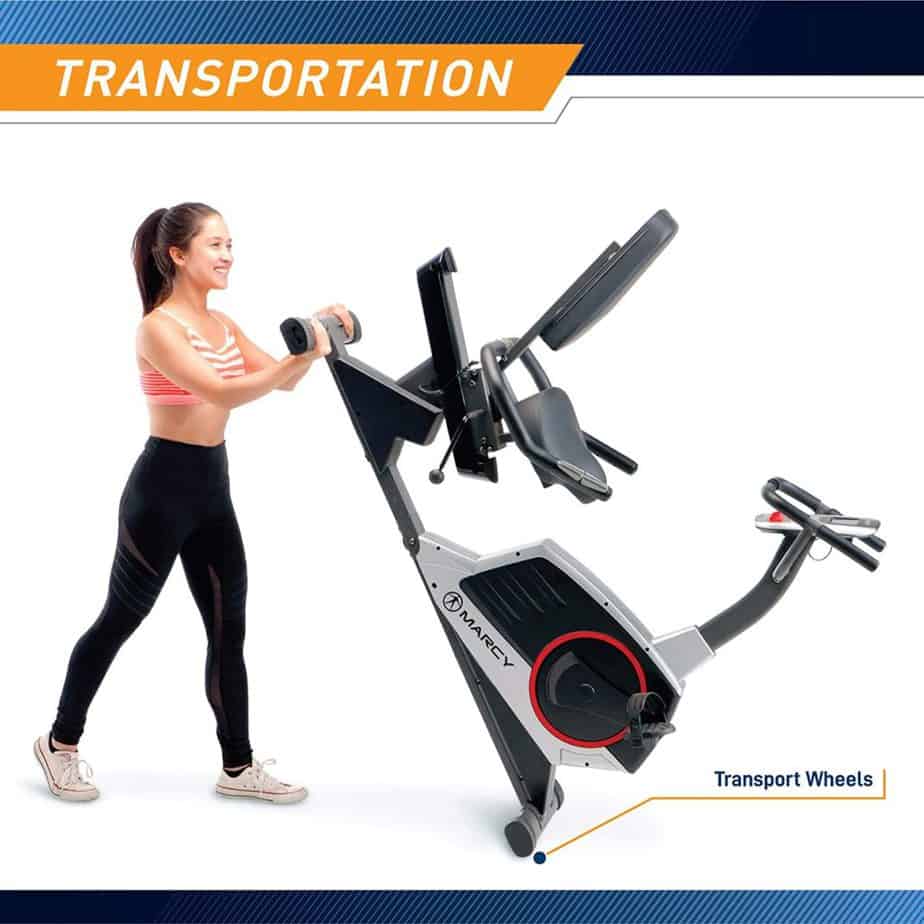 The unit is not foldable but neither is it overly large. It is integrated with transport wheels at the front base to help you move it for storage.
Simply raise it from the rear base and tilt it over on the transport wheels, and there you go.
The storage area perimeters needed are 4'8'' in length by 2''. Ideally, it can be stored in a garage, or next to a wall. Better still, it can be left on a safe dedicated workout area, if you can afford it.
Pros/Features Overview
It is sturdy, stable, and portable
It supports a maximum user weight capacity of 300 lbs./136 kg
Users between the heights of 4'8''-6'4'' tall can be accommodated due to its customizability
The seat and the backrest are ergonomically designed and generously padded to provide enduring optimal comfort
There are 2 sets of handlebars that offer comfort and the liberty to work out in different postures
Its operation is smooth, quiet, and vibration-free
The pedals securely and comfortably accommodate different feet sizes and standard gym shoes
The magnetic resistance system with 24 adjustable levels provide a wide range of workout intensities that target weight loss, muscle toning, and cardio and lungs improvement
23 workout programs are designed to help you achieve specific fitness goals
Body Fat calculator is included
Recovery Function for heart rate included
The LED monitor tracks workout progress and simultaneously display them
Telemetry-enabled and EKG contact grip available for heart rate monitoring
A Tablet holder is included
A sound system is included with a 3.5mm jack
The bike is maintenance-free
Not difficult to assemble
Easy step-thru design
Cons
No water bottle holder
HR chest strap not included (to be purchased separately)
A device placed on the tablet holder might block the view of the monitor
Warranty
Product Dimensions and Specifications
Length 57''
Width 24''
Height 42''
Shipping dimensions: 38'' x 25'' X 14''
Net weight: 102 lbs./46.2 kg
Gross weight: 105 lbs./47.6 kg
Maximum user weight capacity: 300 lbs./136 kg
Drive: Belt
Resistance: Magnetic
Power: Self-generating
Console/Monitor: Blue 5'' x 2.5'' LED backlit display, tracks Time, Distance, Speed, Watt, RPM, Pulse, and Calories
Seat: 2-way adjustable
Handlebar: 2 sets of handlebars (armrest and front handlebars)
Pedals: Large anti-skid with adjustable safety straps
Frame: Steel
Flywheel: 11 lbs./5 kg
Transport Wheels: Yes
Sound system: Yes
3.5mm MP3 jack
Tablet holder
Programs: 23
Recovery Function
Body Fat Calculator
Shipping
The Marcy Regenerating ME-706 Recumbent Bike is shipped out in a box that weighs 105 lbs./47.6 kg with dimensions of 38'' x 25'' X 14''.
Upon purchase, Amazon ships it out in a couple of days for free.
Assembly
The unit is delivered with the major components preassembled.
However, you need to attach the front and rear brackets, front post, the seat, and the backrest, the front and rear stabilizers, the 2 sets of handlebars, the pedals, and the console to the core unit. Then, there are a couple of cosmetic plastic covers to be attached as well.
An instruction manual with clear illustrations of how to assemble it is included in the package.
It takes about an hour, more or less to fully assemble the bike.
Maintenance
The maintenance of this recumbent bike is not complicated.
Use a WD-40 oil to lubricate the moving parts periodically. Ensure to inspect the unit for any loose or broken part before use, and act accordingly if there is an issue.
Finally, keep it clean from dirt at all times, and do not expose the console to direct sunlight, liquid, or moisture.
Conclusion
The Marcy Regenerating ME-706 Recumbent Bike is a cost-effective bike that gets you to exercise comfortably and productively in the comfort of your home.
The integrated LED monitor, 23 workout programs, the ergonomic seat, and handlebars, and many more guarantee you experience just that.