The Sunny Health and Fitness SF-RB4616 Magnetic Recumbent Bike is one of the best affordable recumbent bikes.
It is sturdily built to withstand hard use even though it isn't for commercial use. Hence, it is a reliable option for those on a budget.
It offers comfortable low-impact cardio workouts that could help you to lose weight, tone leg muscle groups, and improve overall physical fitness.
You can track workout progress including the heart rate with the integrated monitor.
Click right here to have a peek at the Sunny Health and Fitness SF-RB4616 Magnetic Recumbent Bike.
The Frame & Construction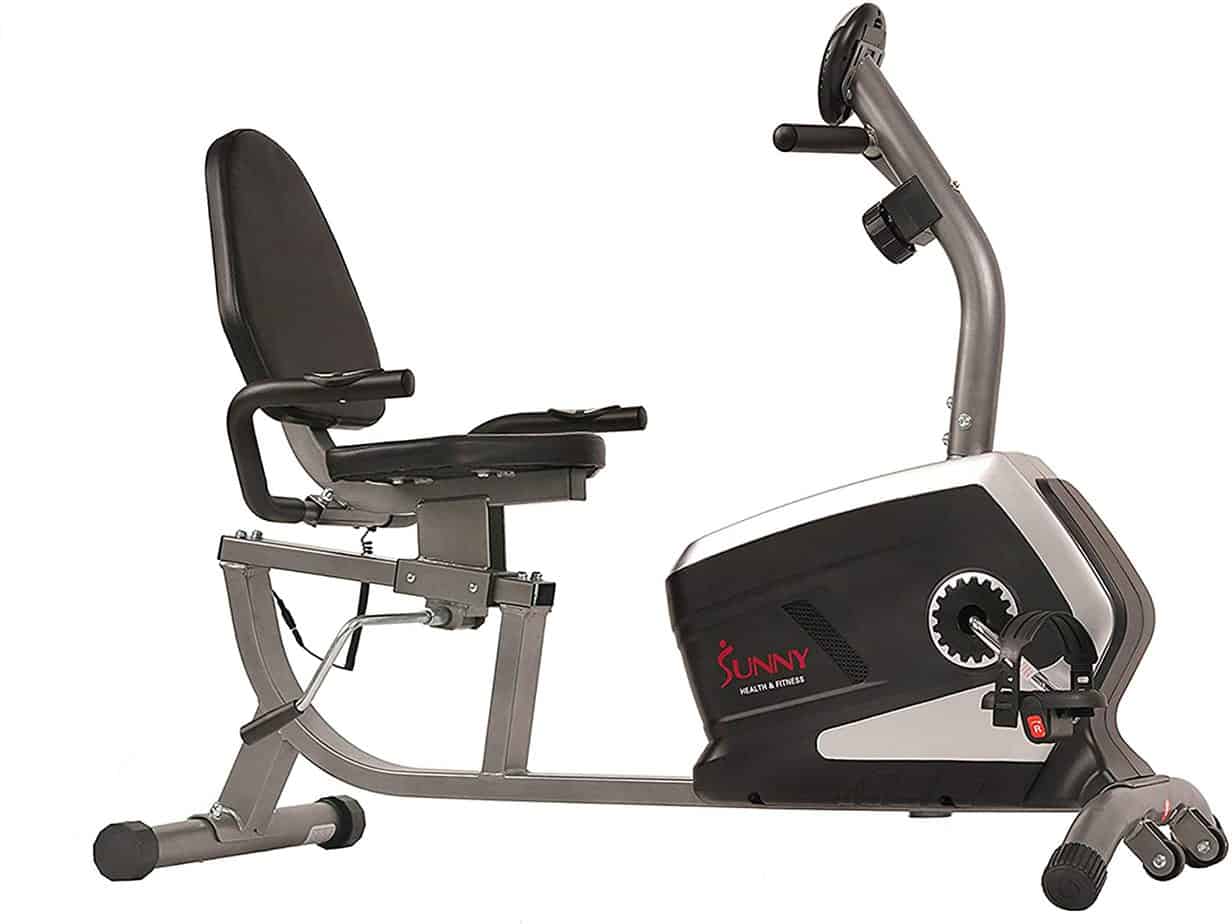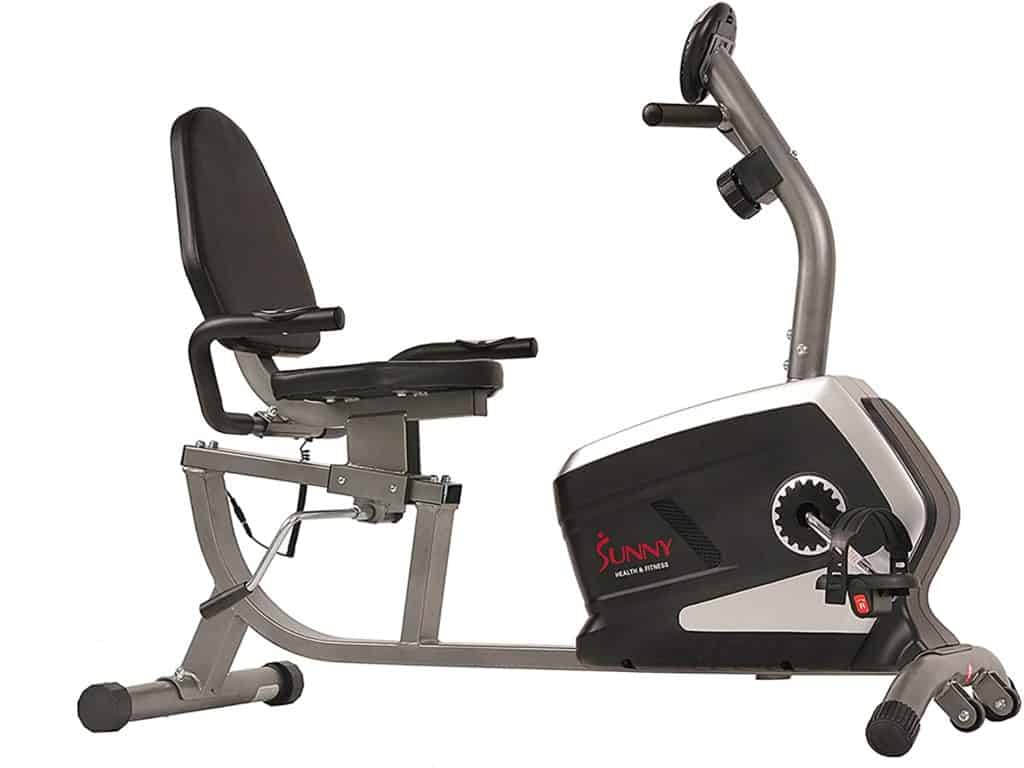 The Sunny Health and Fitness SF-RB4616 Magnetic Recumbent Bike features a solid steel frame that is coated with anti-corrosion paint that prevents it from rust invasion and plastic-made drive system shrouds.
Thus, it supports a maximum user weight capacity of 300 lbs./136 kg.
Its base integrates front and rear steel stabilizers with rubber end caps that promote stability and floor-friendliness. The rubber caps on the rear stabilizer are adjustable polygonal levelers that enable you to balance the bike on a surface that is not even.
Therefore, the whole idea is to make sure that you don't experience any wobbling movement during workouts and the floor doesn't get dented as well. Although, using a protective rubber mat might be an excellent idea to further make its stability superlative and to prevent sweat from spilling on the floor.
It weighs about 59 lbs./26.7 kg and has front-mounted transport wheels for relocation purposes.
The bike also has a step-through design that allows users to easily walk in and out of the bike without hassle.
The unit is not large and it's compact than most recumbent bikes. its assembled dimensions are 46'' long by 24.5'' wide by 38'' high. In other words, it is going to need a workout area with perimeters of 3'7'' length by 2'1'' width.
However, an extra clearance of 0.5' will be needed at the front and the rear and 1' on each side of it for safe and comfortable workout experience. Of course, this is necessary if the bike is to be used in a confined or congested area.
The Seat of the Sunny Health and Fitness SF-RB4616 Magnetic Recumbent Bike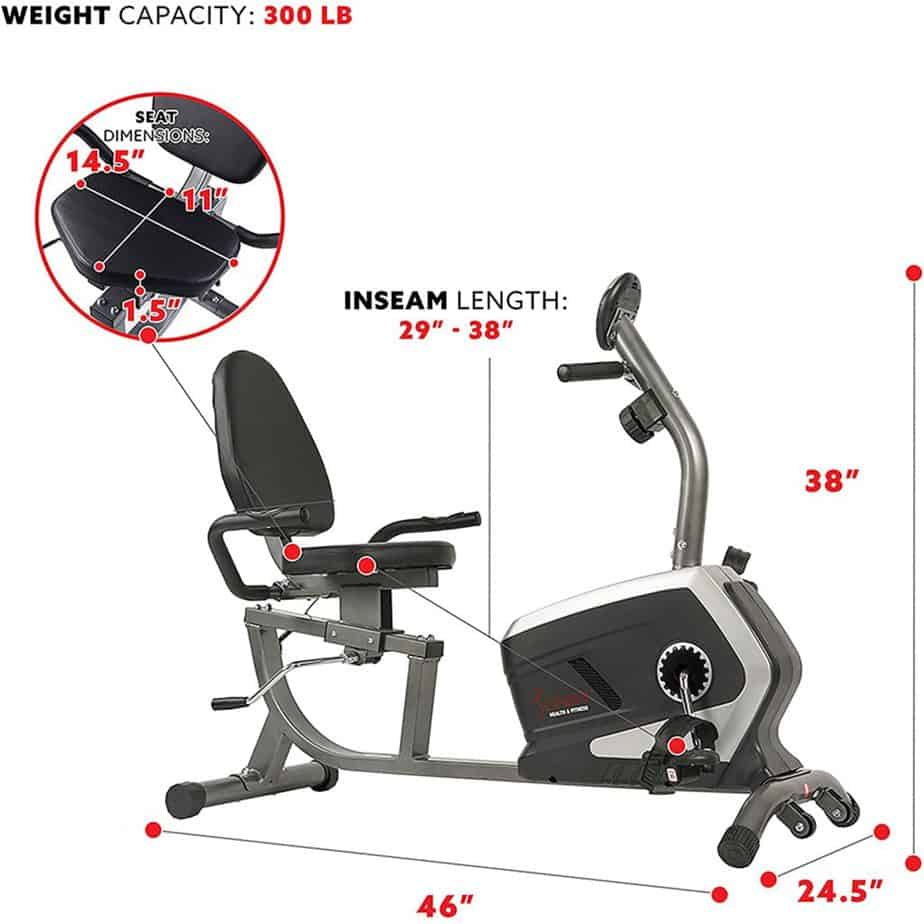 The seat is large and cushioned. It also has a reclining backrest that provides lumbar support for prolonged workouts. Its dimensions are 11'' long by 14.5'' wide by 1.5'' thick.
It is 2-way adjustable; meaning it can be adjusted horizontally (forward & backward).
The seat is attached to a slightly slanted steel rail and has an adjustment lever by the right side of it. The lever enables you to easily adjust the seat even while seated.
The backrest cannot independently be adjusted to recline as it is attached to the same frame as the seat.
The seat's adjustability allows users with an inseam between 29'' to 38'' to be comfortably accommodated; meaning that folks that are 5'-6'5'' tall can utilize the bike.
The Handlebar
There are 2 sets of handlebars on the Sunny Health and Fitness SF-RB4616 Magnetic Recumbent Bike. These include the handlebars on the seat and those at the front mast.
They are both coated with soft rubber foam material for comfortable and secure grips, however, none is adjustable.
The handlebars on the seat integrate EKG heart rate sensors while those at the front don't.
Therefore, your heart rate can be read and be transmitted to the monitor when the heart rate sensors are held during workouts.
The Pedals
The pedals on the Sunny Health and Fitness SF-RB4616 is balance-weighted; meaning, either of the pedal turns upward whenever your feet are removed from them.
They are large, textured, with adjustable safety straps, and are made of durable nylon plastic material with a metallic core.
Hence, they accommodate different foot sizes with high footing stability that prevents slippage even during an intense workout.
These pedals are not designed to be used with any type of shoes other than standard gym shoes and are not to be ridden while standing on them.
Those that wish to replace the pedals for special needs heel, support strap pedals can do so as long as they have ½'' thread.
The Drive
The Sunny Health and Fitness SF-RB4616 Magnetic Recumbent Bike is equipped with a belt drive system. This comprises a durable v-belt, cranks, pulleys, and a 6.7 lbs./3 kg inertia flywheel.
Together these mechanisms create a quiet and smooth operation that is family-friendly. You can have a flexible workout routine timetable because people around you won't be disturbed whenever you exercise with the machine.
Moreover, it is maintenance-free, as opposed to a chain drive system that needs to be lubricated and perhaps be adjusted periodically. It doesn't need any of that, except there will be a time the belt will need a replacement when it gets bad. But this doesn't happen until after a few years of usage.
The drive is bi-directional; meaning, you can pedal backward just as you could pedal forward. This provides the opportunity to diversify your workout and tone more muscle groups as well.
The Resistance
The Sunny Health and Fitness SF-RB4616 features a manual magnetic resistance system that mainly consists of a magnetic brake pad that is connected to the tension knob via a cable, and the flywheel.
Resistance is generated when the magnetic brake pad moves close to the flywheel and emits magnetic fields within its premise. The closer the magnetic brake pad gets to the flywheel the more intense the resistance becomes and vice versa.
Hence, no friction occurs, no part wears out and consequently, no part needs to be replaced. In other words, it's maintenance-free.
There are 8 adjustable resistance levels, which could be adjusted via the tension knob. To increase or decrease the resistance intensity, turn the tension knob clockwise or counterclockwise respectively to a suitable level.
The resistance levels are particularly suitable for beginners, intermediaries, those that are recovering from an injury, and everyone else that wishes to lose weight, improve cardiovascular health, strength, and endurance.
The Console
The console of this unit is basic. It features an easy-to-read monitor that tracks, Time, Distance, Speed, Calories Burned, Odometer, and Pulse. The display clarity is great as long as it's being viewed in a room with good illumination, otherwise, it will be compromised because it's not backlit.
Remember, your heart rate is only displayed when the HR contact sensors on the seat handlebars are gripped during a workout.
The workout values are displayed rotationally one at a time after every few seconds by the SCAN function since they can't be displayed simultaneously. This way, you can track every metric.
However, if you wish to view a certain workout value instead, you can override the SCAN function to do so.
The console is not telemetry-enabled, doesn't connect online, and doesn't offer any personal data input such as weight, age, or gender.
The monitor is battery-powered. It uses 2 AA batteries which are included in the package.
To save the batteries' power, the monitor automatically shuts down when there is no activity on the bike, and it automatically turns ON when activity resumes. Alternatively, the monitor can be turned ON/OFF manually by toggling the MODE button.
Accessory
The Sunny Health and Fitness SF-RB4616 Magnetic Recumbent Bike doesn't have any accessories. No water bottle or tablet holder. In this case, you will have to improvise to keep proper hydration during a workout session, and maybe watch TV for entertainment.
Storage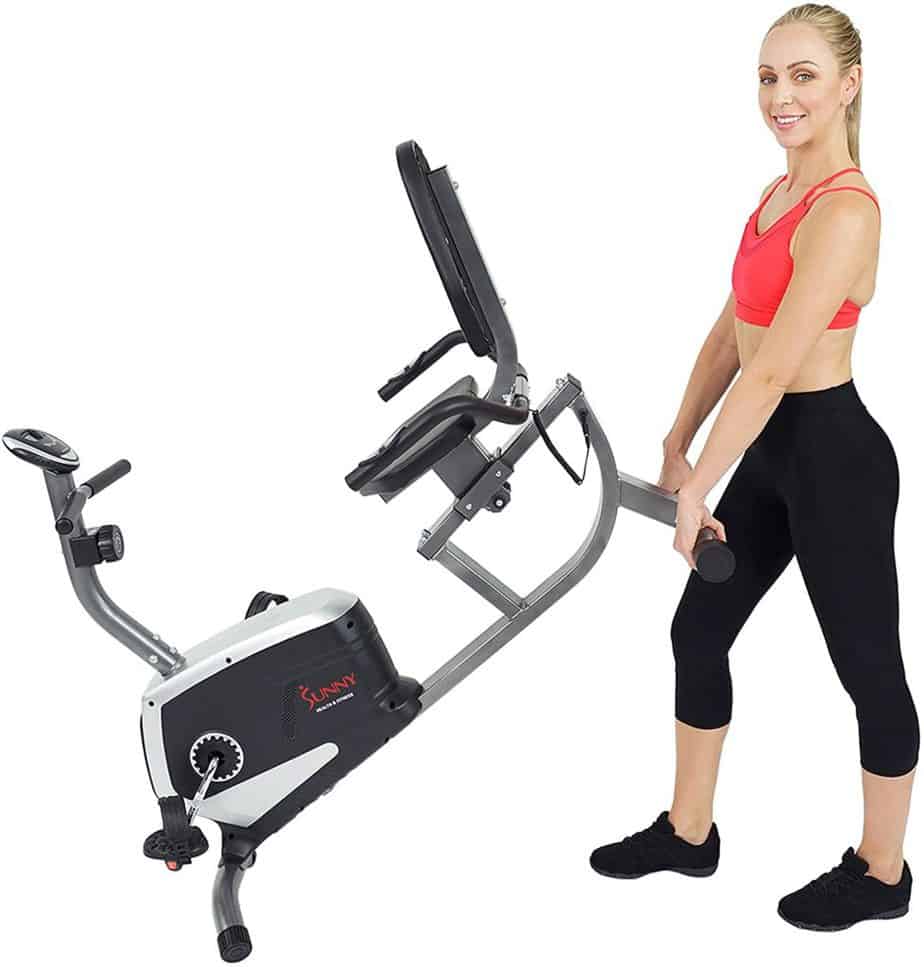 The SF-RB4616 is not foldable neither is it large.
A storage area with the perimeters of 4' length by 2'1'' width should be able to accommodate it.
The front-mounted transport wheels assist in the relocation process for storage, after all it only weighs 59 lbs./26.7 kg.
Approval Rating
The bike has several reviews on Amazon and still scores a very impressive positive approval rating. Moreover, review sites have a favorable view of it as well.
Hence, the Sunny Health and Fitness SF-RB4616 Magnetic Recumbent Bike is recommendable.
Pros/Features Overview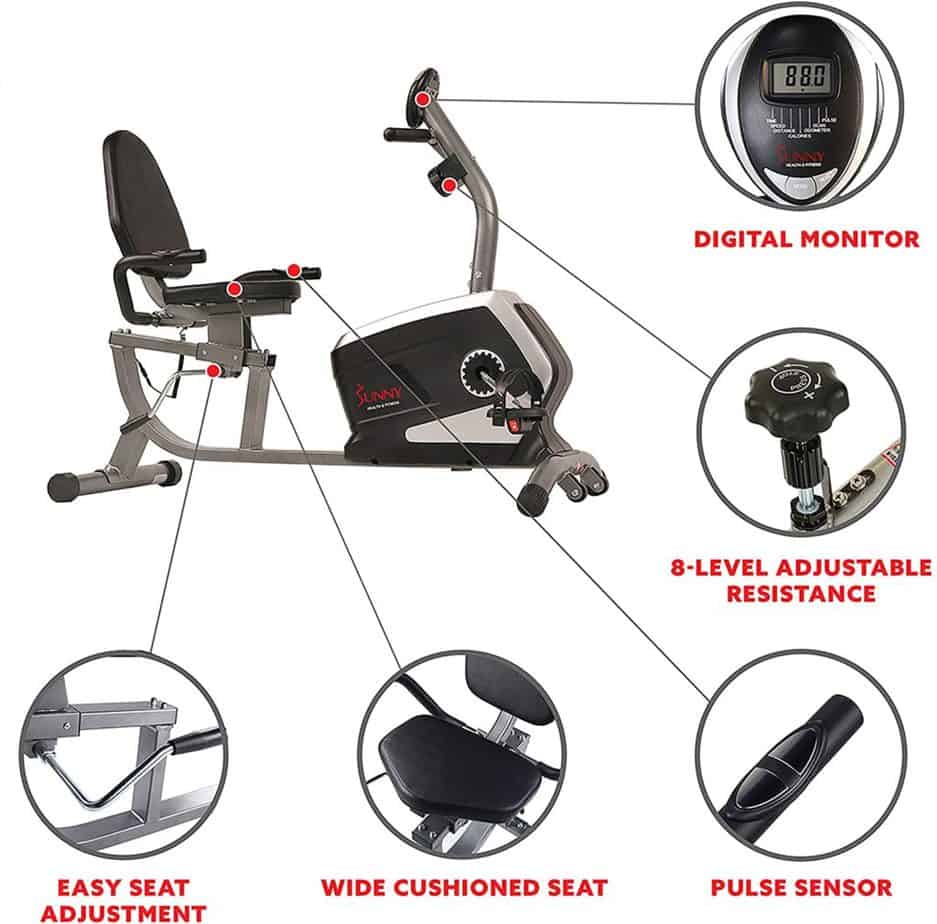 Sturdy, and portable
Steel frame
Supports a maximum user weight capacity of 300 lbs./136 kg
Adjustable rear stabilizer for optimum balance
Customizable to accommodate users of different heights (5'-6'5'')
Operation is smooth and quiet
The seat is large and generously cushioned for comfort
2 sets of handlebars provide secure and comfortable grips and workout posture options
The textured and large pedals with adjustable safety straps secure the feet optimally
EKG HR sensors for heart rate monitoring
Easy-to-read LCD monitor tracks workout progress by displaying stats such as Time, Distance, Total Distance (Odometer), Speed, Calories, and Heart Rate
Magnetic resistance system offers 8 adjustable levels that provide challenging workouts that target weight loss and overall physical fitness improvement
Provides low-impact workouts that are gentle to the joints
Easy to assemble
Low maintenance requirement
Cons
No water bottle holder
No tablet holder
The monitor is not backlit
Warranty
3 Years for the Frame
90 Days for the Parts
Product Dimensions & Specifications
Length 46''
Width 24.5''
Height 38''
Shipping dimensions: 47'' L x 20.5'' W x 10'' H
Seat dimensions: 11'' L x 14.5'' W x 1.5'' T
Net weight: 59 lbs./26.7 kg
Gross weight: 65.5 lbs./29.7 kg
Maximum user weight capacity: 300 lbs./136 kg
Frame: Steel
Flywheel: 6.7 lbs./3 kg
Drive: Belt
Resistance: Manual magnetic with 8 adjustable levels
Seat: Large and cushioned, 2-way adjustable
Handlebar: 2 sets (seat and front mast handlebars)
Pedals: Self-leveling, large, textured with adjustable safety straps
Monitor: LCD nonbacklit
Power: Monitor is battery-powered (2 AA batteries included)
Heart rate monitoring: EKG contact sensors
Inseams: 29"-38"
Shipping
The Sunny Health and Fitness SF-RB4616 Magnetic Recumbent Bike ships out in a box that weighs 65.5 lbs./29.7 kg with the dimensions of 47'' L x 20.5'' W x 10'' H.
Amazon doesn't charge for shipping, and they get it delivered in a couple of days.
Assembly
The assembly of the bike is not complicated at all. It is delivered with the major components preassembled.
You only need to attach the base stabilizers, the console mast, the seat and the backrest, the handlebars, the pedals, and the console to the core unit of the bike.
It takes less than an hour to fully assemble.
An instruction manual and tools are included in the package.
Maintenance
Serious maintenance is not required.
Simply make sure that it's kept clean at all times. Inspect it for any loose or broken part before use so that an accident or further damage to it may be averted.
Keep the console away from liquid, moisture, and direct sunlight.
Conclusion
The Sunny Health and Fitness SF-RB4616 Magnetic Recumbent Bike is an affordable and recommendable bike that helps you in the quest for weight loss and overall physical fitness.
However, if you wish it had a sound system, a water bottle holder, a tablet holder, a backlit monitor, then look up the ProForm 235 CSX.