The Precor EFX 835 Commercial Series Elliptical Fitness CrossTrainer is an alternative to the discontinued Proform Smart Strider 935 Elliptical.
Precor is known for manufacturing innovative, user-friendly, and durable equipment and that is what the Precor EFX 835 Commercial Series Elliptical Fitness CrossTrainer represents.
Considering the cost of the Precor EFX835 Elliptical, one can only expect the best from it and nothing less.
Now, the question is, does it worth the price? Well, just as aforementioned, this unit is just one out of many fitness machines Precor has invented and they have a good reputation for not disappointing their customers.
So, yes, the Precor EFX 835 Commercial Series Elliptical Fitness CrossTrainer is worth the price and worth having at home or for commercial purposes.
It is absolutely a commercial-grade elliptical machine designed to withstand any sort of hard use at home or in the fitness clubs and gym houses.
The overall construction is solid because of its sleek and heavy-duty steel frame that supports user weight up to 412 pounds/187 kg. This ensures that users of different shapes and sizes can use it.
It is a rear-driven elliptical trainer with a patented adjustable CrossRamp. The two sets of handlebars (static and mobile) are ergonomically designed to provide comfortable grips and accurate movement during a workout.
It is important to note that this elliptical trainer does not require a power outlet in order to be functional because it's self-powered, however, if the use of the equipment will be light there is an optional electrical power supply available.
Click right here to have a peek at the price of the Precor EFX 835 Commercial Series Elliptical Fitness CrossTrainer on Amazon.
Frame and Construction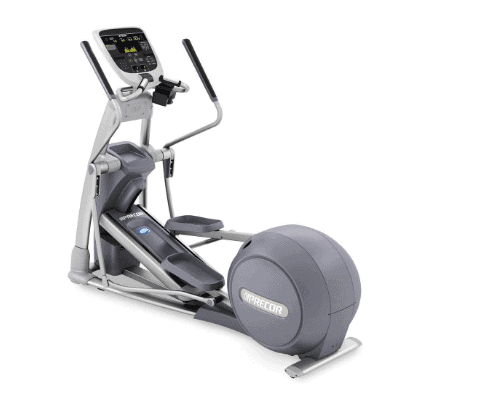 The Precor EFX 835 Commercial Series Elliptical Fitness CrossTrainer construction represents safety and durability. The construction is made up of durable steel and ABS plastic material. The frame is steel while other parts such as the drive, part of the front frame, pivot joint, the ramp have coverings that are made up of ABS material.
These coverings are not there for cosmetic reasons only but to also prevent dirt and debris from entering them. They are accessible and would only take about 2 minutes to unscrew whenever the user needs to check and adjust the drive tension.
The ramp can be cleaned without removing the covering.
The unit's biomechanics are validated by a Washington-State university, certifying it's suitable for users of all ages, fitness levels, and sizes.
The Precor EFX 835 Commercial Series Elliptical Fitness CrossTrainer is not foldable and will require a little bit of space just like most elliptical trainers in its league.
The overall assembled dimensions are 80 inches long by 32 inches wide by 68 inches tall. In other words, a workout space perimeter of 6'7'' long by 2'7'' wide will be required in order to accommodate the elliptical machine.
Moreover, additional extra clearance of 1'-2' at the rear and on each side of the machine might be necessary if it is going to be used in a confined area for safety and convenience reasons.
The base framework of the Precor EFX 835 ensures superlative stability and its assembled weight (338 pounds/153 kg) further grounds it, making it impossible for it to move or wobble during intense workouts.
This machine is equipped with all the necessary features that allow the user to achieve his or her fitness goals and it provides low impact full-body workouts that impress both beginners and seasoned athletes.
The Handlebars and the Pedals
The handlebars and the pedals are some of the most important elements of the Precor EFX 835 Commercial Series Elliptical Fitness CrossTrainer. They are designed meticulously to provide the natural motion that reduces muscle and tendon stress, in fact, they are the biomechanics.
There are two sets of handlebars; the mobile and the stationary handlebars. These offer the option to exercise the upper and the lower body at the same time or just the lower body.
The stationary handlebars are strategically designated to provide an optimum gripping position that is comfortable and secure. They also have HR sensors embedded in them for the purpose of transmitting pulse data when gripped during a workout.
While on the other hand, the mobile handlebars are ergonomically designed to be pushed and pulled by the user's arms and upper body. They are also coated with soft rubber material that guarantees comfort and safety.
The Precor EFX 835 features oversized, polypropylene foot pedals that fit different sizes of the feet and they are easy to clean. The dimensions are 14.5 inches long by 6.5 inches wide.
They are connected with dual-in-line polyurethane wheels with oversized axles and premium sealed bearings. Their construction provides a perfect balanced load and gliding that allow the user to experience an incredible smooth feel during a workout.
The Drive
Apparently, the Precor EFX 835 Commercial Series Elliptical Fitness CrossTrainer has a rear belt drive system.
For the fact that the machine is belt-driven, its operation is smooth and quiet. The user can work out wherever and however he or she wants without constituting a nuisance to the family or the neighbors.
The drive system does not require any serious maintenance. However, there might be the need to adjust the tension of the belt periodically which is not difficult.
The Incline
The Precor EFX 835 Commercial Series Elliptical Fitness CrossTrainer has what is called the CrossRamp Technology.
In other words, this is the incline system with adjustable settings of 13-40 degrees. It is suitable for all users even as it provides the opportunity to train in different level of intensity that meets the user's goal.
The adjustable CrossRamp technology allows the user to alter the height of the elliptical path the foot travels, while the Variable Stride Geometry allows the user to concentrate on a specific muscle group or all the major lower body muscle groups during workouts.
The CrossRamp technology is automatic.
The Resistance
The Precor EFX 835 Elliptical Trainer is equipped with a unique, durable, three-phase hybrid generator/eddy current resistance system.
There are 20 resistance levels that provide a smooth and consistent challenge for all users.
The 20 resistance levels range from 18 watts at level 1, 40 SPM to 720 watts (level 20) at 200 SPM.
The Console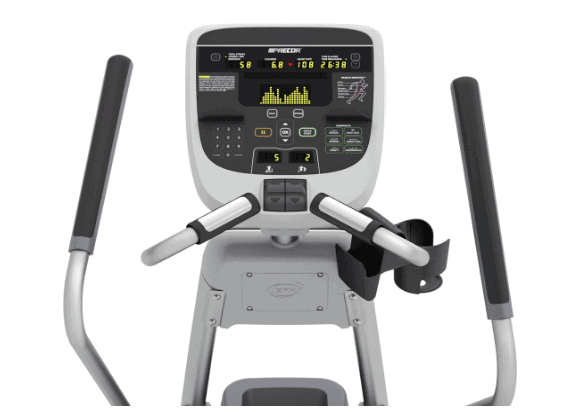 The Precor EFX 835 console is fully loaded with different useful features such as Streamlined/advanced LED display, QuickStart button, Options key, languages, unit selection (Metric or U.S standard), preset programs (manual, interval, cross-country, gluteal, custom, hill climb, fitness test, cross, training, navy fitness test, basic HRC, weight loss).
The monitor displays resistance level, CrossRamp angle, distance, strides per minute, and much more.
The console is telemetry enabled and works with any Polar compatible 5 KHz chest strap transmitter. No chest strap transmitter is included in the package.
It is powered by a rechargeable battery that must be charged by the internal generator that is in the machine.
Accessory
The elliptical trainer has holders for a water bottle, mobile phone, and other stuff.
The holders are designated in a smart way so that a water bottle and any other item could be placed for accessibility.
So, you will be able to keep water for hydration purposes, a mobile phone for entertainment.
Pros/Features Overview
It is designed for home use and for gym clubs
The patented CrossRamp technology provides 13-40 degree angle incline
You can train to know which muscle group is being impacted
There are 15 preset programs that target virtually every fitness goal and more
The biomechanics ensure that the stress on the muscles and the tendon is reduced
Self-powered with optional electrical power supply
It is very stable
Transport wheels are integrated
Operation is smooth and quiet
Could be used without time limit
Chest strap compatible
Contact pulse transmitter available
Full body cardio machine with two sets of handlebars; movable and stationary handles
The LED monitor is highly readable
There are plenty of features on the console
Low maintenance
Good warranty
Suitable for all users
Cons
Too bulky, it invades space
Heavy and may not be easily moved
HR chest strap not included
Warranty
For Home-Use
Lifetime on Frame and Welds
10 Years on Parts (mechanical & electronic)
10 Years on Wears
1 Year on Labor
Product Dimensions and Specifications
Length 80''
Width 32''
Height 68''
Supports 412 pounds/186.8 kg
Weight: 338 Pounds/153 kg
Shipping weight: 418 pounds/189.6 kg
Shipping dimensions: 85 inches L by 32 inches W by 44 inches H
Incline: Automatic, 13-40 degrees
Console: Advanced LED display, QuickStart, Numeric keypad, Options Key (allows to set additional metric such as target heart rate for effective workout), Console languages (English, Dutch, French, German, Italian, Russian, Spanish and more), Units selection for Metric or U.S standard
Preset programs: 15
Telemetry enabled
Step up height (pedal at lowest position): 8 inches
Step up height (pedal at highest position): 21.5 inches
Monitor displays: Resistance level, CrossRamp angle, distance, strides per minute, total strides, calories burned, heart rate, time remaining, time elapsed, time in zone, segment time remaining, average speed, calories per minute, calories per hour, watts, METS, target HR, % complete, workout profile, workout summary
Shipping, Assembly, and Maintenance
Shipping
The shipping cost of the Precor EFX 835 Commercial Series Elliptical Fitness CrossTrainer depends on the retailer you are purchasing from; however, Amazon provides free shipping.
Assembly
The Precor EFX 835 Commercial Series comes completely assembled. A technician comes around to clean it up, check the belts among other things, and make sure it's working fine.
Maintenance
Basically, you need to verify that all parts are tight and not broken before use. Keep it clean at all times from dirt and sweat.
However, there may be a time the belt will need adjustment which doesn't take time.
The owner's manual has the maintenance detail in it.
Conclusion
The Precor EFX 835 Commercial Series Elliptical Fitness CrossTrainer is designed, engineered, and built in the United States.
It is a very expensive machine, although has the quality and features to justify it.
It is being used in gyms, health clubs, and homes.
Precor EFX 835 Commercial Series Elliptical Fitness CrossTrainer Review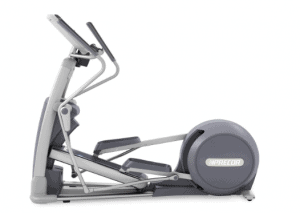 The Precor EFX 835 Commercial Series Elliptical Fitness CrossTrainer construction represents safety and durability. The construction is made up of durable steel and ABS plastic material
Product Brand: Precor
Product In-Stock: InStock