The Precor EFX 546i Commercial Series Elliptical Fitness Crosstrainer is one out of many series of Precor Elliptical Crosstrainers. This model could be considered affordable when compared to other series such as the Precor EFX 835 Commercial Series; however, the latter has more features and supports a higher weight capacity of 412 pounds/186.8 kg.
That said, the Precor EFX 546i Commercial Series Elliptical Fitness Crosstrainer features useful functions that could allow the user to exercise with less stress, burn more calories while enjoying every step of the training.
It is self-powered and doesn't need an external power source or electricity to function. Has a commercial-grade build and supports up to 350 pounds/158.7 kg maximum user weight capacity. You can work out vigorously without experiencing any sort of movement or wobbling because it has a good base framework and its overall weight of 318 pounds/144 kg further boosts its overall stability.
The drive is located at the rear and it's quiet and smooth during operation. Its unique incline called the CrossRamp technology allows the user to alter the path of the EFX 546i between 15 to 40 degrees in both forward and reverse stride motion.
There are 20 different resistance levels that provide a variety of workout intensities that are suitable for beginners to well-advanced athlete users. Furthermore, the EFX 546i biomechanics are validated by the Western Washington University Biomechanics Lab. In other words, the machine is great for users of all fitness levels and sizes.
The dynamic console includes an LED display, program buttons, CrossRamp buttons, resistance buttons, QuickStart buttons, and more. The handlebars are fixed with HR sensors for transmitting pulse data to the monitor and the console is also telemetry enabled.
Click right here to have a peek at the price of the Precor EFX 546i Commercial Series Elliptical Fitness Crosstrainer on Amazon
The Frame and Construction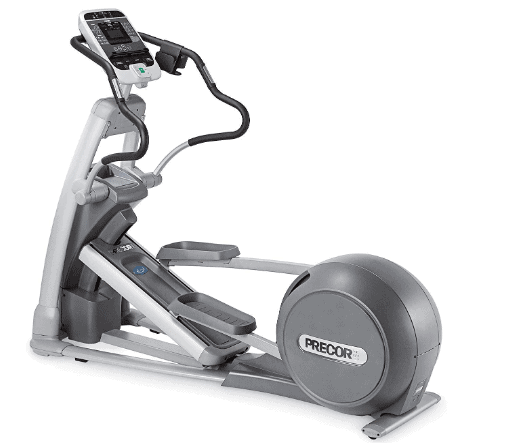 The construction of the Precor EFX 546i Commercial Series Elliptical Fitness Crosstrainer comprises of two main elements, steel, and ABS plastic material. The frame is made of heavy-duty steel while the cosmetic and protective covers for the drive system, the joints, the ramp, and the front frame are made of ABS material. The plastic material is so strong and durable that it won't pop off when stepped on.
The frame is coated with anti-corrosive and scratch paint that protects it from degradation that could be caused by a negative environment.
As aforementioned, the elliptical trainer supports 350 pounds/158.7 kg maximum user weight capacity. It weighs 318 pounds/144 kg which advantageously grounds the machine so that not even an intense workout could affect its stability.
The EFX 546i is obviously a large machine that requires a bit of space for workouts. The overall assembled dimensions are 80 inches long by 32 inches wide by 68 inches tall. Differently put, a workout area of 6'7 long by 2'7'' wide should be allocated for it. Again, additional extra clearance of 1'-2' might be necessary for safety and convenience reasons if the area intended to use it in is confined.
It is self-powered, with no need for electricity for it to be functional. However, there is an optional power supply available for those that don't train longer or those that wish to view the monitor longer than 30 seconds after the workout has ended.
The unit's quality and features are really good and users will be able to use it for a long time as they use it to achieve their fitness goals.
The Handlebars and the Pedals
The EFX 546i Crosstrainer features a set of fixed handlebars. This means that they are stationary and only provide support to the arms and access to the contact heart rate transmitters because the sensors are embedded in them.
The user will not be able to move the arms in a pull and push fashion when working out and so the arms and the back muscle groups may not be impacted. However, the upper body core is being engaged when exercising.
The handlebars are covered with a soft rubber foam material that provides comfortable and secure grips. They enable the user to work out longer without experiencing slippage or blisters in the palms.
The foot pedals are polypropylene and self-draining. They are large and have different stride lengths of 21.2'' to 24.7'' depending on the incline level. They are designed with safety measures, such as the anti-skid bottom and the border that further prevents the foot from slipping off during exercise activity.
The pedals sit on the gliding system that consists of double polyurethane wheels with an oversized axle, and sealed bearings with improved seals that glide on the precision extruded-aluminum tracks which evenly distribute the user's weight for efficiency. Thus, the user experiences an incredibly smooth feel while exercising on the cross-trainer.
The Drive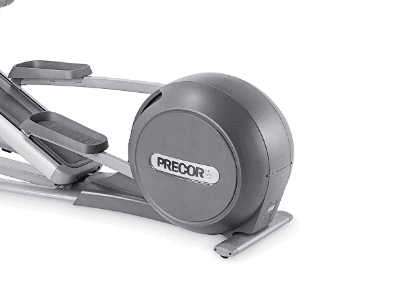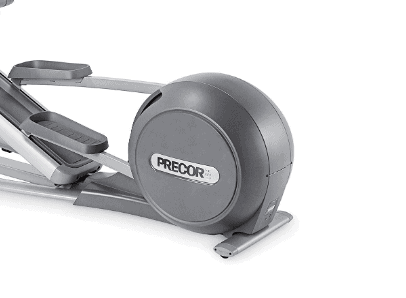 The Precor EFX 546i Commercial Series Elliptical Fitness Crosstrainer has a rear belt drive system that is exceptionally smooth and silent during operation.
Its near-silent operation allows the user to work out unrestrained, with no worries about disturbing the family or the neighbors. The user will be able to remain focused on the workout activity without being distracted by any noise from the machine.
The machine's quiet operation also allows the user to engage in entertainment activities while exercising, such as listening to good music, watching a favorite TV show or movie.
The drive doesn't require any major maintenance except for the occasional adjustment of the belt tension when necessary and won't take more than 2 minutes to accomplish.
The Incline
Just like the other series, the EFX 546i Crosstrainer is integrated with the CrossRamp technology that makes it possible for the incline to be adjusted from 15-40 degrees.
The adjustment is automatic and it impacts the intensity of workouts.
The different angles the Crossramp provides isolate and cross-train the quadriceps, glutes, hamstrings, and calves.
It is easy to transit from one incline level to another without having to interrupt the workout procession because it is being controlled via the buttons on the console. It is also possible for the machine to automatically assign an incline level when a preset program is being used.
The Resistance
The EFX 546i Commercial Series Crosstrainer features a durable 6-phase resistance system that has no contacting parts, thus friction and wear are reduced significantly.
The resistance system provides 20 levels that range from 18 watts (level 1 at 20 SPM) to 720 watts (level 20 at 100 SPM).
The resistance levels provide challenging workouts that are suitable for all users and they will be able to lose weight, tone muscle groups, and improve cardio health and endurance strength.
Resistance could be adjusted manually via the buttons on the console or automatically assigned when a preset program is selected.
The Console
The Precor EFX 546i Commercial Series Elliptical Fitness Crosstrainer features a telemetry compatible console that allows the user to wirelessly connect a compatible HR chest strap transmitter in order to observe the pulse rate and maintain the target zone during workouts.
The large console also has several other interesting features such as the high readable LED display that tracks workout progress, the numerical keypad, tactile dome keys, QuickStart button, tap control, console languages, unit selection, muscle monitor, preset programs, etc.
The console provides the user with the resources to be able to keep track of workout progress, stay focused and motivated toward achieving fitness objectives.
Accessory
There are two accessories present on the Precor EFX 546i Crosstrainer and they are the water bottle holder and a phone holder.
The water bottle holder allows you to keep water handy in order to stay hydrated throughout the entire workout session, while the phone holder simply allows you to keep your smartphone within reach for taking calls or listening to music as you workout.
Pros/Features Overview
Durable and good quality
Very stable
Supports 350 pounds/158.7 kg maximum user weight capacity
It is portable with transport wheels
The biomechanics make it possible for the machine to engage the lower body muscle groups like no other cardio equipment could
It is self-powered, no power supply is needed
Belt drive system provides smooth and near-silent operation
Patented CrossRamp technology provides incline from 15-40 degrees
20 resistance levels provide a variety of workout intensity suitable for all users
The LED display readability is great
Comprehensive workout feedback
The console features a lot of functions relevant for achieving fitness goals quickly
Telemetry enabled and contact sensors available
Good warranty
Low maintenance
Supports workout session of up to 4 hours
10 preset programs include 3 cross-training, 1 fitness test, 1 manual, and more
Cons
HR chest strap not included
No mobile handlebars
No cooling fan or sound system
It's large and space-consuming
Warranty
Home-Use Warranty
Lifetime on Frame
10 Years on Parts & Wear
1 Year on Labor
Commercial Warranty
7 Years on Frame
5 Years on Display Face Assembly
2 Years on Pars
1 Year on Labor
Product Dimensions and Specifications
Length 80''
Width 32''
Height 68''
Supports 350 pounds/158.7 kg maximum user weight capacity
Weight: 318 pounds/144 kg
Power: Self
Programs: 10 preset programs (3 cross-training, 1 fitness test, 2 gluteals, 1 heart rate, 1 interval, 1 manual, 1 weight loss)
Incline: Patented CrossRamp technology, 15-40 degrees
Handlebars: Stationary
Maximum workout time: 240 minutes
Stride length: 21.2'' at 13 degrees to 24.7'' at 40 degrees
Drive: Rear belt drive system
Resistance: 6-phase generator system, 20 levels
Display: LED monitor, 24 electronic readouts (percent complete, average heart rate, average speed, calories, calories per hour, calories per minute, CrossRamp incline, goal, distance, heart rate, language(English, Dutch, German, Spanish, French, Portuguese, Italian, Romanized Russian) , maximum heart rate, METS, profile, resistance levels, segment time, SmartRate, speed, strides per minute, target heart rate, time, time elapsed, time in heart rate zone, time remaining, total strides, units, watts, workout summary)
Step-up height (pedals at the lowest level): 8''
Step-up height (pedals at the highest level): 22''
Contact HR sensors: Yes
Telemetry enabled; Yes
Shipping, Assembly, and Maintenance
Shipping
The Precor EFX 546i Commercial Series Elliptical Fitness Crosstrainer is shipped in a box that weighs about 405 pounds/183.7 kg.
The shipping cost depends on the retailer whom you are purchasing from. Nevertheless, some retailers such as Amazon provides free shipping and deliver within days the order was placed.
Assembly
It is advised that you seek professional assembly assistance by contacting Precor through email: [email protected] or call 1-866-593-5568.
Maintenance
The Precor EFX 546i Commercial Series Elliptical Fitness Crosstrainer may require a periodic adjustment of the belt tension.
Every other maintenance detail is included in the owner's manual.
However, no serious maintenance is needed.
Conclusion
The Precor EFX 546i Commercial Series Elliptical Fitness Crosstrainer is a good cardio machine that is suitable for everyone. Fitness enthusiasts will be excited to have this equipment added to their home gym.
Precor EFX 546i Commercial Series Elliptical Fitness Crosstrainer Review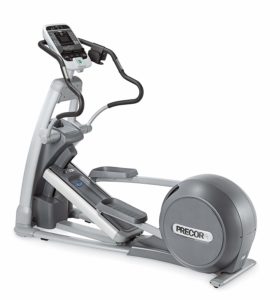 The Precor EFX 546i Commercial Series Elliptical Fitness Crosstrainer is suitable for everyone that wishes to lose weight and improve their fitness level.
Product Brand: Precor
Product In-Stock: InStock