The Pooboo X630 Folding 3-in-1 Exercise Bike is one of those affordable indoor exercise machines with an X-shaped steel frame and resistance bands similar to the BARWING Folding Upright Bike, TECHMOO Folding Upright Bike, and many more.
However, it has a twist plate as an additional feature that makes it stand out and unique. At least, it is one of the few folding bikes with this feature. This is a big deal because you can have it at the same price as regular foldable bikes.  
Click right here to have a peek at the best price of the Pooboo X630 Folding 3-in-1 Exercise Bike on Amazon.
The Frame & Construction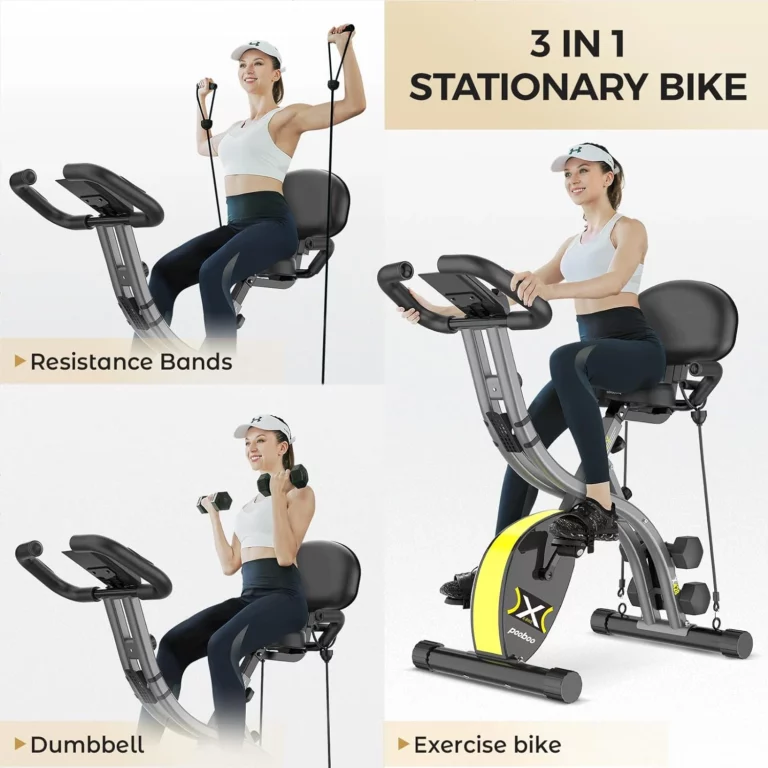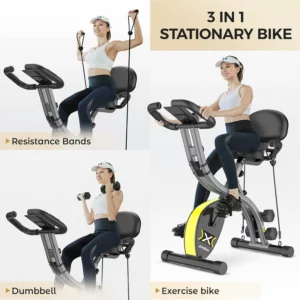 The Pooboo X630 Folding 3-in-1 Exercise Bike has a durable steel frame that is coated with black anti-corrosion paint, while the resistance system and the twist plate/board covers are made of yellow ABS material.
Hence, it is colorful and sturdy enough to support a maximum user weight capacity of 275 lbs./124.7 kg.
Even though the bike is compact and lightweight, its stability is not compromised.
The integrated stabilizer bars with rubberized end caps keep the bike stable and floor-friendly. So, users can exercise without experiencing instability that could distract them from the purpose of exercising in the first place.
Moreover, its space-saving design enables you to easily fold it up when it is not in use, while the transport wheels at the front base help in the relocation process.
The assembled dimensions are 48.6'' long by 20.7'' wide by 45.3'' high. Therefore, a workout area with measurements of 4' length by 1'72'' width will be required.
Moreover, do consider leaving an extra clearance of a foot or more around it for safety purposes.
Since it is foldable, a 1'7" length by 1'7" width area will be enough for storage.
As aforementioned, the bike integrates a twist board that is 9.8'' in diameter. It is connected to the rear base of the bike for slimmer waist, abs, thighs, and hip twist exercises.
Its surface is textured for foot massage; stand on it without shoes while you twist around for a suiting and blood circulatory sensation.
Most users can use it safely and effectively.
This bike is regarded as 3-in-1 because it is an exercise bike that offers arm resistance bands and a twist board.
The Seat of the Pooboo X630 Folding 3-in-1 Exercise Bike
The seat has a backrest for lower back support.
The backrest dimensions are 6.9'' in height by 12.6'' in width, while the seat dimensions are 10.6'' in length by 8.3'' in width. They are adequately cushioned and covered with vinyl material for maximum possible comfort.  
The seat is vertically adjustable (up to 5 positions) to accommodate users of different heights.
It will suffice to say that this bike is suitable for individuals between heights of 5' to 6' tall or more. However, inseams do matter, since people of the same height may have different inseams.  
Unfortunately, the maximum inseam this foldable bike supports is not disclosed.
The Handlebar
The X630 Foldable Exercise Bike has 2 different sets of handlebars. One set is multi-grip designed and located at the front, attached to the console mast.
It is not adjustable but strategically positioned to fit different users. Since the multiple grips are coated with soft rubber foam, users can work out longer and comfortably in different postures.
Also, these same handlebars integrate heart rate sensors that read and transmit the user's heart rate data to the monitor when grasped during a workout.
On the other hand, there are handlebars on the seat (one on each side) that provide better support, especially for aggressive pedaling.  
They are also adequately coated with a sponge-like foam so that you don't experience blisters or slippage.
These handlebars are not independently adjustable, meaning they are attached to the seat.
The Pedals
The Pooboo X630 Folding 3-in-1 Exercise Bike comes with large and textured pedals that have adjustable safety straps.
They are capable of accommodating different foot sizes securely and comfortably.
The pedals are self-leveling, and they are attached to solid crank arms and crankset.  
The Drive
This is a belt-driven bike with a system that comprises a durable belt, a pulley, and a 5.5 lbs./2.5 kg perimeter-weight flywheel.  
This means the operation is quiet and smooth, and it doesn't require periodic lubrication or adjustment as opposed to a chain drive system.
So, not only can you use this bike in a room with limited space, but you can also exercise without being a nuisance in the presence of family members.
It also means you can listen to music or watch your favorite TV show as you work your way to losing weight and improving your overall physical fitness.
The drive system is bidirectional. In other words, you can pedal in reverse as well if you wish to diversify and engage more muscle groups.
The Resistance System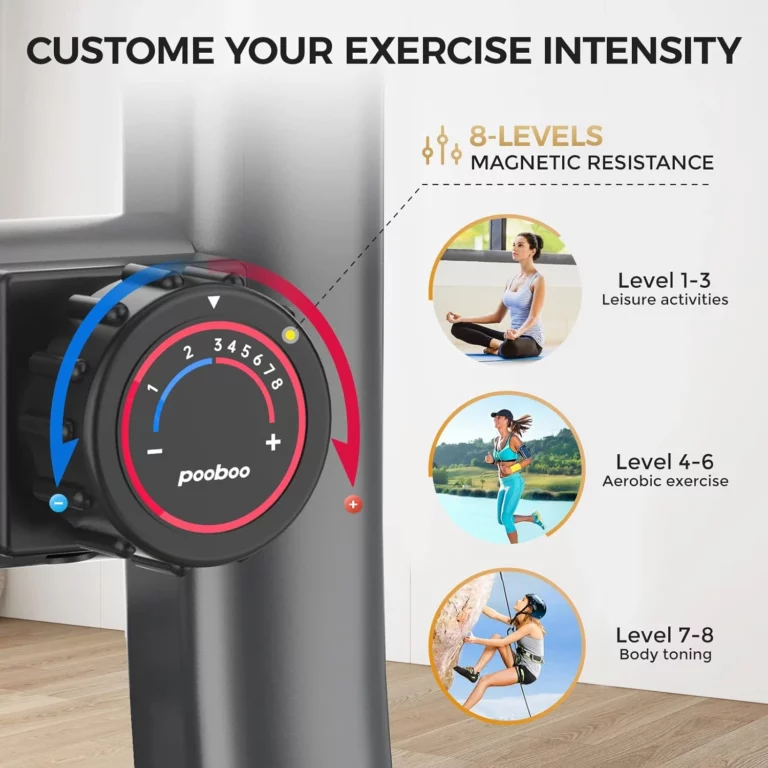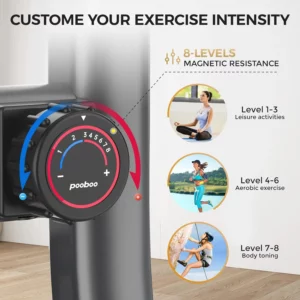 This unit is equipped with an 8-level manual magnetic resistance system. It comprises a magnetic brake pad, a metallic flywheel, and an adjustable tension knob.
So, resistance is generated when the magnetic brake pad releases magnetic fields around the flywheel.
During this process, no friction occurs, and as a result, no part wears out, and no maintenance will be required.
You can increase or decrease the resistance level by turning the tension knob clockwise or counterclockwise, respectively.
The resistance system provides easy to semi-difficult workout challenges that could help users lose weight, and improve heart and lungs' health, and overall physical fitness.  
As aforementioned, there are arm resistance bands made of premium latex material. They are durable, reliable, and effective. Using them enables you to exercise your arms, back, and chest muscle groups.  
Console
The Pooboo X630 Folding 3-in-1 Exercise Bike has a basic console that features a large LCD monitor, 3 navigation buttons that include Set, Mode, and Reset.
The LCD monitor tracks your workout progress by displaying stats such as Time, Distance, Speed, Calories Burned, and Heart Rate.
The workout stats are rotationally displayed one at a time every few seconds by the SCAN function. 
To clearly view the workout stats, make sure that the environment being used is well-lit, otherwise, it will be hard to discern because the monitor is nonbacklit.
Remember to grasp the handlebars with the heart rate sensors if you wish to keep an eye on your target heart rate zone during workouts.
The monitor is powered by 2 AA batteries (not included).
To save the batteries' power, the monitor automatically shuts down when the bike sits idles for a few minutes, and it turns on when activity returns, or when the mode button is pressed.
Accessory
There is a built-in tablet holder on the console. This is designed to enable users to keep a smartphone/tablet device handy for taking calls, streaming music, watching movies, or workout videos while exercising.
This will go a long way to keep you motivated and focused on achieving your fitness goals.
Storage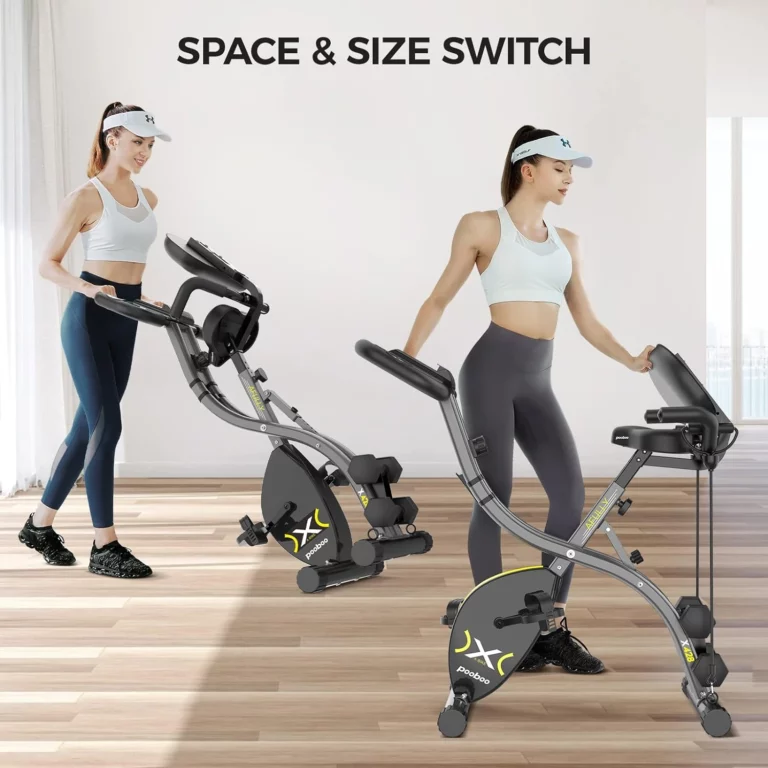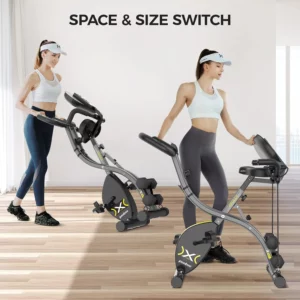 Storage of this bike is easy and convenient because it is lightweight, compact, transportable, and foldable.
It weighs 42 lbs./19 kg and has transport wheels at the front base for an easy relocation process.
When folded, a 1'7'' length by 1'7'' width storage area can accommodate it.
Therefore, you can always find a place to have it stored.
Pros/Features Overview
It is affordable
Colorfully and durably made
It is stable regardless of its size
Supports 275 lbs./124.7 kg maximum user weight capacity
Its operation is smooth and quiet
It does not require plenty of space for workouts or storage
The resistance system provides 8 levels of workout challenges
The recumbent seat provides decent comfort that allows you to work out longer without feeling sore on your tailbone
The handlebars on the seat offer better support for aggressive pedaling while those at the front provide multiple grips for different workout postures
The pedals with adjustable safety straps are simple, comfortable, and accommodative of different foot sizes
Resistance bands are included for arm, chest, and back muscle group exercises
A twist board is integrated for foot massage and slimmer waist, thighs, hips, and abs
It has an LCD monitor that tracks workout stats such as Time, Distance, Speed, Calories Burned, and Heart Rate
Easy to assemble
Low maintenance
A tablet holder is included
Transport wheels included
Cons
The console is basic with a nonbacklit LCD monitor 
No water bottle holder
The monitor gets blocked when a smartphone/tablet device is placed on the tablet holder
Warranty
12 Months for Parts replacement
Product Dimensions & Specifications
Length: 48.6''
Width: 20.7''
Height: 45.3''
Folded dimensions: 20.5'' L x 20.5'' W x 52.2'' H
Shipping Dimensions: 45.3'' L x 9.8'' W x 15.5 H 
Net weight: 42 lbs./19 kg
Gross weight: 50 lbs./22.67 kg
Maximum user weight capacity: 275 lbs./124.7 kg
Drive: Belt
Resistance: Manual magnetic, 8 adjustable levels
Arm resistance bands
9.8'' Twist plate
Frame: Steel
Flywheel: 5.5 lbs./2.5 kg
Monitor: LCD, nonbacklit
Seat: Recumbent
Handlebar: 2 sets (front & seat)
Pedals: Self-leveling, anti-slip with adjustable safety straps
EKG contact grips
Transport wheels: Yes
Tablet holder: Yes
Shipping
The Pooboo X630 Folding 3-in-1 Exercise Bike is shipped in a box that includes the assembly tools, resistance bands, an instruction manual, a twist board, and a service card for a one-year replacement of parts.
Delivery could be made for free through a normal channel, but it will incur a charge if you want it expedited.
The shipping box weighs 50 lbs./22.67 kg, and the dimensions are 43.5'' long by 9.8'' wide by 15.5 height.
Assembly
The assembly is super easy because there are only a few parts to be attached by you.
Moreover, tools and an instruction manual are included to help and guide you through the process.
It usually takes about 15 to 30 minutes to have the bike fully assembled.
Maintenance
The maintenance needed is to keep the bike clean after every workout session. Store it in a clean, cool, and dry area.
Endeavor to examine it before every workout session to ensure that no part is broken or loose.
Conclusion
The Pooboo X630 Folding 3-in-1 Exercise Bike is designed for home and office use. It could be used by different members of the family.
The inclusion of the arm resistance bands and the twist plate make the bike a great arsenal for weight loss, muscle group toning, and improvement of overall physical fitness.
"