The LABODI Exercise Bike is an entry-level indoor cardio exercise machine with nothing extra-ordinary. Although, its recently upgraded thickened steel frame makes it reliable and sturdy.
As of the time of this review, the majority of users on Amazon have expressed positive sentiments.
Click right here to have a peek at the best price of the LABODI Exercise Bike on Amazon.
The Frame & Construction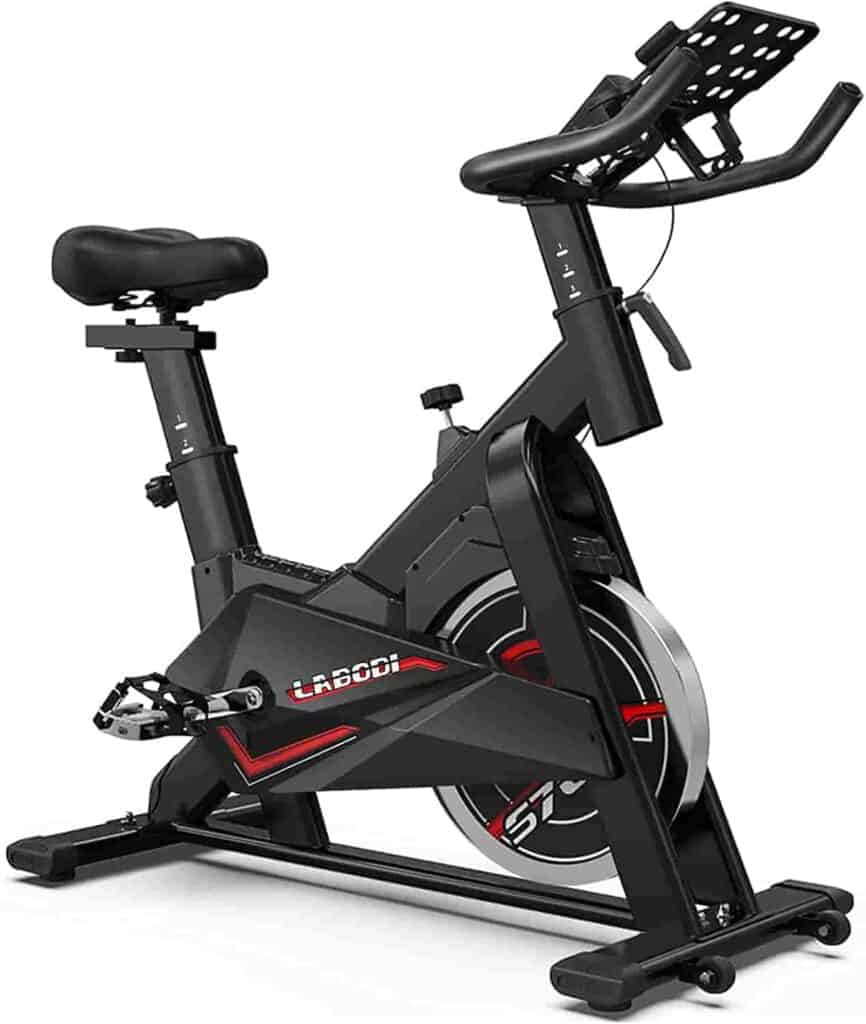 The LABODI Exercise Bike could be one of the best indoor cycling bikes because of its affordability and overall construction. At least, the quality/usability to its cost ratio is 2 to 1.
Its thickened frame is made of steel and finished with anti-corrosion paint, while the drive-train, the console, and the felt brake pad covers, and the tablet holder are made of ABS material.
The front and rear steel stabilizers also have rubberized end caps.
Users that are up to 330 lbs./149.6 kg and below can exercise with the bike.
The base framework integrates adjustable levelers for maximum consistent stability during workouts.
Although, the use of a rubber protective mat goes further to keep the floor safe from possible dent and sweat spillover.
Due to the bike's structural design, it won't be a hassle to get on and off the bike.
The assembled dimensions are 39.4'' long by 21.3'' wide by 46.1'' high. This means the bike needs a workout area with measurements of 3'28' length by 1'77'' width. However, that will not be all because it is always a good practice to leave at least a foot or two feet clearance around the bike to maintain safety and easy access.
This bike is indeed a good companion when you wish to lose weight, tone muscle groups, improve health and lungs' health, and more.
The Seat of the LABODI Exercise Bike
The seat of this bike is cushioned and covered with vinyl material. It has a groove in the middle for air permeability. Of course, it does provide a certain level of comfort but not the best.
If you must, the use of a gel seat cover or padded cycling shorts will go a long way in improving the comfort level. Better still, you can completely replace the seat with anyone of your choice.
The seat is 4-way adjustable; it could easily be adjusted vertically (upward/downward) and horizontally (forward/backward). This allows you to customize the bike for a perfect fit.
The floor to seat height could go from 37.1'' to 42.5'', thus, users between the heights of 4'11'' to 6'3'' can be accommodated.
The Handlebars
The LABODI Exercise Bike has 2-way adjustable multi-grip handlebars. It can only be adjusted vertically (upward & downward) between 48.1'' to 52.3''. Nevertheless, its adjustability improves the bike's overall customizability as users can make the necessary adjustment to fit in comfortably.
The handlebar is covered with anti-slip soft rubber foam that keeps your grips comfortable and secure during workouts.
Its multiple grips enable you to work out in different postures such as riding while standing, lean-forward ride, and upright ride.
Finally, there are heart rate sensors embedded on either side of the handlebars. They are designed to read and transmit your heart rate data to the monitor when held during a workout.
The Pedals
The pedals are alloy toe cages with adjustable safety straps. They provide secure and comfortable foot placement, and they allow being ridden with standard gym shoes only.
So, you cannot ride using special spin shoes. But if you must, you can swap them for any 9/16'' thread SPD pedals you like.
The pedals are attached to solid chromed crank-arms and a 3-piece crankset.
The Drive
The LABODI Exercise Bike is equipped with a belt drive system that is popularly known for its smooth and quiet operation.
The drive system consists of elements such as a V-poly belt, a pulley, a 35 lbs./15.87 kg flywheel, the cranks, and the pedals.
Users will be able to exercise without constituting a nuisance. You can watch a movie or a TV show, or listen to music while exercising without having to amplify the volume. Neighbors won't have to complain about your workout activities either.
On top of that, you don't have to periodically take the drive cover apart for maintenance.
The drive system is bidirectional. This means you can pedal in reverse as well if you so wish.
However, make sure to apply the emergency brake by pushing the tension knob down whenever you want to stop pedaling to prevent an injury. The reason behind this is because you cannot coast on this bike.
The Resistance
This indoor cycling bike has a friction resistance system with infinite adjustable levels. What this means is that friction occurs during the process of generating resistance.
In other words, the resistance system is made up of a felt brake pad, the flywheel, and the tension knob.
When the tension knob is adjusted clockwise, the felt brake pad shifts to make contact with the top chromed surface of the flywheel. As a result, there is friction that results in resistance.
This resistance system does not have predefined resistance levels. Thus, no way to know the tension level you are using during a workout.
To increase or decrease the resistance level, simply turn the tension knob clockwise or counterclockwise until you feel the right resistance suitable for you.
Although, this type of resistance system provides easy to extremely difficult workout challenges that are suitable for beginners and professionals alike.
Saturate the felt brake pad with silicon-based oil if there is any squealing sound when the resistance is engaged.
The Console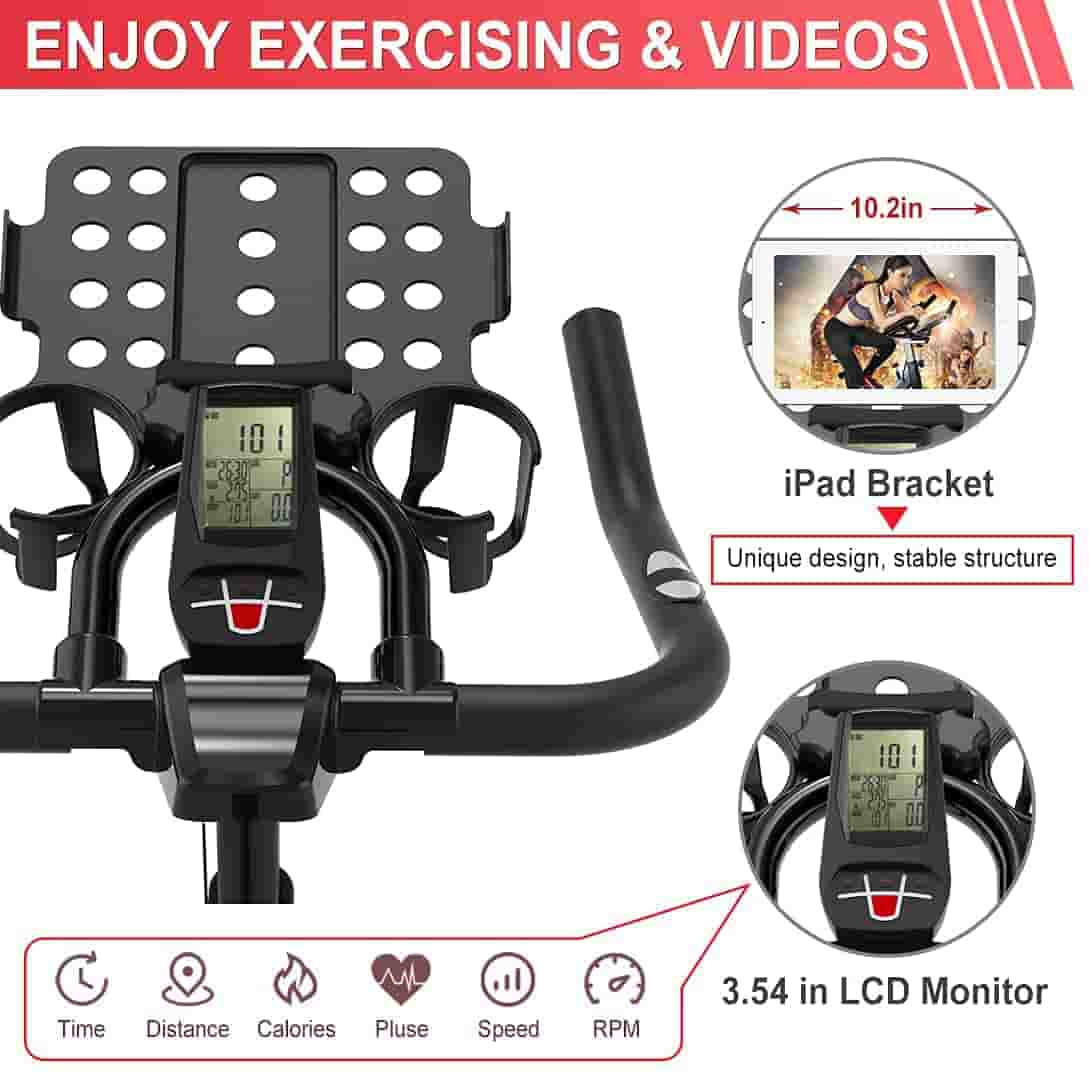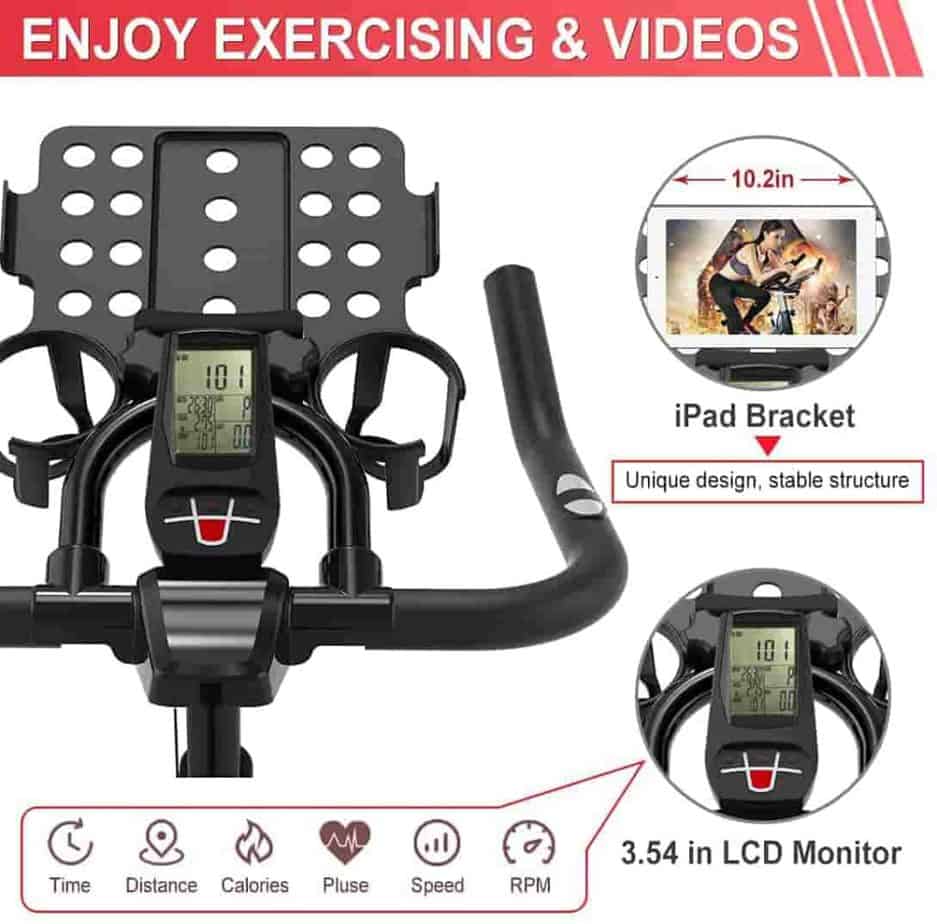 The LABODI Exercise Bike comes with a console that features an upright rectangular shape 3.54'' LCD monitor.
The monitor has 6 segmented display windows that track workout stats such as Time, Distance, Speed, Calories Burned, RPM, and Heart Rate simultaneously with good readability. But the monitor's readability will be compromised if viewed in a poorly-lit environment because it is not backlit.
The distance measurement unit is in miles only.
To track and capture real-time cycling cadence, users usually purchase a Wahoo Cadence device separately.
The console is not telemetric. Therefore, to keep an eye on your heart rate data, you must hold part of the handlebar with HR sensors during a workout.
The monitor is powered by 2 AA batteries, and to insert them, simply turn the back of the console, and you will see the batteries' compartment.
The display shuts down when there is no activity on the bike for 4 minutes, and it turns back on when you start pedaling or when the Mode button on the console is pressed.
Accessory
There is a large tablet holder that can accommodate just about any size of a smartphone or tablet device. It is situated right above the console making it possible for users to be able to view the monitor and the screen of the smartphone at the same time.
A water bottle holdedr is also integrated into the tablet holder.
Thus, not only can you entertain yourself during a workout session, but you should also be able to keep water handy for proper hydration.
Storage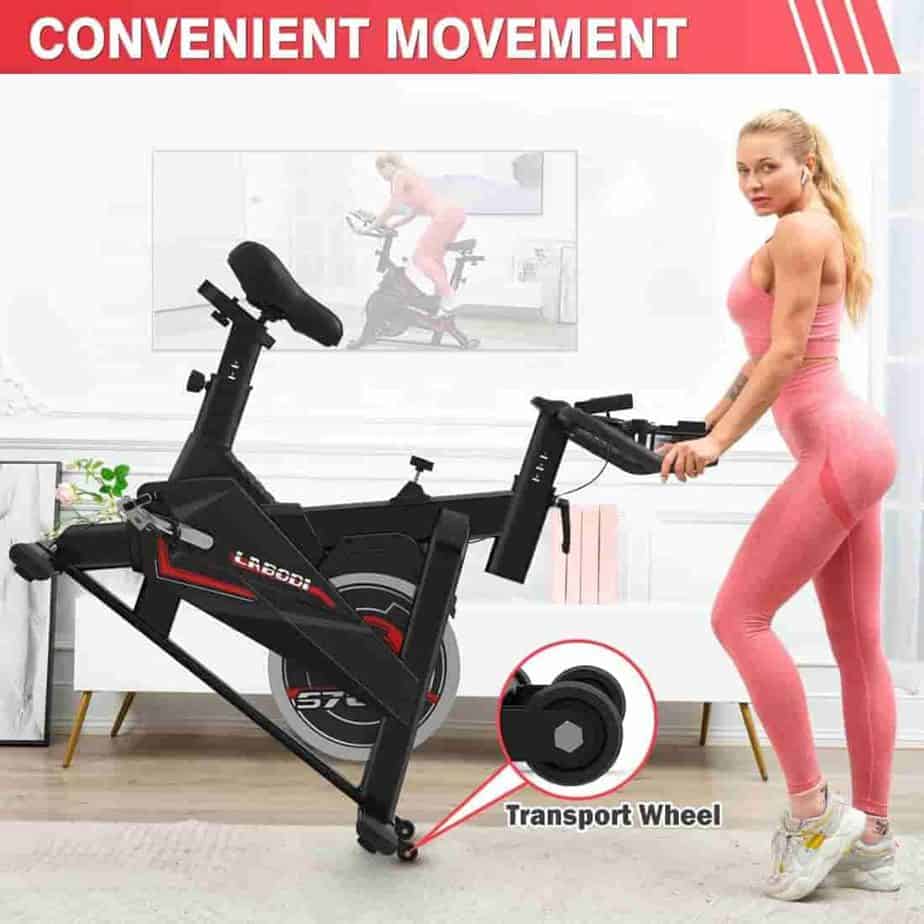 The LABODI Exercise Bike is easy to store because it is not overly large, and it integrates transport wheels at the front base.
Hence, it doesn't require too much space for storage and it can easily be rolled away even though it weighs about 72 lbs./32.65 kg.
A storage area with measurements of 3'28' length by 1'77'' width should suffice.
Pros/Features Overview
Elegant and solidly built (with upgraded thickened steel frame)
Supports a maximum user weight capacity of 330 lbs./149.6 kg
Maintains consistent stability during workouts
35 lbs./15.87 kg heavy perimeter weighted flywheel provides consistent momentum for a smooth outdoor ride experience
The belt drive system ensures smooth and quiet operation
The friction resistance system offers infinite resistance levels that are suitable for beginners and professionals alike
Pedaling in both ways (forward and backward) is possible
The LCD monitor simultaneously tracks workout stats such as Time, Distance, Speed, Calories Burned, RPM, and Heart Rate
EKG contact HR monitoring system
The bike is customizable to accommodate users of different heights (4'11-6'3'')
The seat has a groove in the middle of it for air permeability and cushioning for lasting comfort
The handlebars offer multiple cushioned grips for comfortable and secure workout postures
The toe caged pedals have adjustable safety straps for maximum secure foot placement
The seat and the pedals can be replaced, and options are widely available online
There are transport wheels that help in the relocation process
The maintenance requirement is low
Easy to assemble
Tablet and water bottle holders are incorporated for entertainment and hydration purposes
Cons
The LCD monitor is not backlit
Warranty
Product Dimensions & Specifications
Length: 39.4''
Width: 21.3''
Height: 46.1''
Shipping dimensions: 40.5'' L x 34.5'' W x 9.5'' H
Net weigh: <72 lbs./32.65 kg
Gross weight: 72 lbs./32.65 kg
Maximum user weight capacity: 330 lbs./149.6 kg
Frame: Steel
Flywheel: 35 lbs./15.87 kg
Drive: Belt
Resistance: Friction with infinite adjustability
Seat: 4-way adjustable
Handlebar: 2-way adjustable
Pedals: Toe cages with adjustable safety straps
Monitor: LCD multifunctional
Supported height: 4'11-6'3''
Transport wheels: Yes
Tablet holder: Yes
Water bottle holder: Yes
Shipping
The LABODI Exercise Bike is shipped out in a box that weighs less than 72 lbs./32.65 kg with dimensions of 40.5'' long by 34.5'' wide by 9.5'' high.
Assembly
It is easy to assemble that any average skilled person can put it together in less than an hour.
Since the difficult parts are preassembled, you are only required to attach the base stabilizers, the seat and the handlebars, the pedals, and the console.
An instruction manual and tools needed for a successful assembly are included in the package.
Maintenance
Keeping the bike clean after every workout is a good start in terms of maintenance.
Also, examine it before use to ensure that every part is tight and in good condition.
Mind where it is stored; a dry, clean, and cool area will be ideal.
Conclusion
The LABODI Exercise Bike is not Keiser M3 Spin Bike, but it does offer the opportunity to exercise in the comfort of your home to improve overall physical fitness.
LABODI Exercise Bike Review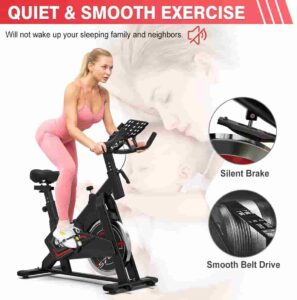 The LABODI Exercise Bike is an entry-level indoor cardio exercise machine with nothing extra-ordinary. Although, its recently upgraded thickened steel frame makes it reliable and sturdy.
Product Brand: Labodi
Product In-Stock: InStock