Just in case you don't know the reason why the BARWING Folding Upright Bike is referred to as 3 in1, it is because it can be used as an upright bike, a semi-recumbent bike, and a recumbent bike.
Its X frame design simply makes it easy to adjust so that you can work out in different postures as aforementioned, and it also allows you to fold it up for storage.
Although, there are a couple of other bikes that offer the same opportunity as this, and one of such bikes is the TECHMOO Folding Exercise Bike.
However, this bike allows you to adjust the seat's angle besides the height and frame angle adjustments.
That said, it is worth mentioning that the seat wobbles slightly because of the gap in the hinges of the seat's angle adjuster. But this has not been a deal-breaker according to users on Amazon.
One more final note, this unit incorporates toe cage pedals for secure and comfortable foot placement instead of textured pedals with straps other similar bikes have.
Click right here to have a peek at the best price of the BARWING Folding Upright 3-in-1 Bike on Amazon.
The Frame and Construction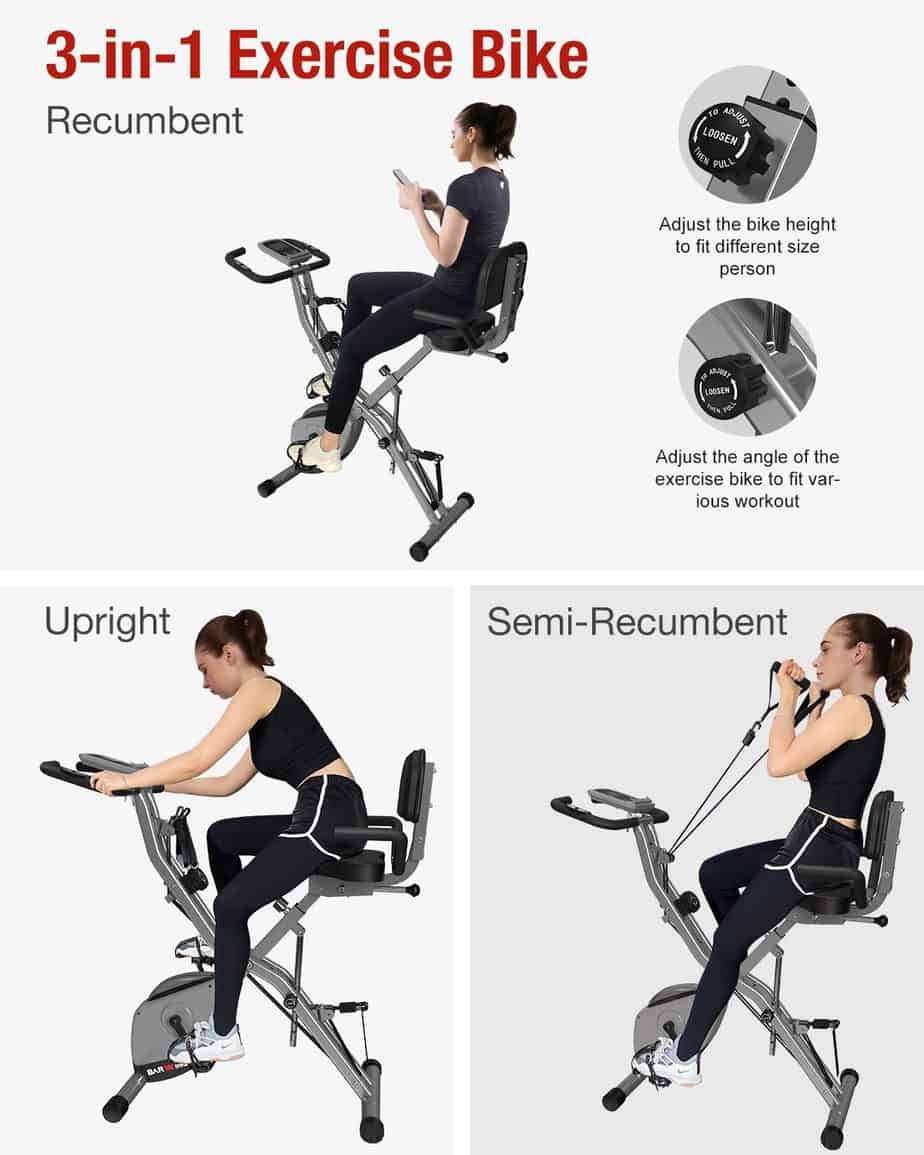 The BARWING Folding Upright Bike consists of a solid and durable steel frame that is also coated with anti-corrosion paint. The drive/resistance system covers, and the stabilizer bars' end caps, and the console covers are made of ABS material.
As a result, not only does it look elegant, but sturdy enough to support a maximum user weight capacity of 300 lbs./136 kg.
Despite its small footprints, the integrated rounded front and rear steel stabilizer bars with rubber end-caps ensure a stable workout experience.
Nevertheless, make sure to set up the folding bike on a surface that is even for proper workout executions; or better still, have it placed on a rubberized mat for improved stability.
The assembled dimensions are 32.3'' long by 22.3'' wide by 46.5'' high. Because of this, a workout area with perimeters of 2'69'' length by 1'85'' width is going to be required for workouts.
Also, consider adding extra clearance of 2' around the bike for highly optimized workout experiences.
The bike gets even smaller when folded. A storage area with perimeters of 1'5'' length by 1'5'' width should be able to accommodate it, and its height is about 4'.
Finally, there are transport wheels at the front base for easy relocation process and it only weighs less than 40.1 lbs./18.18 kg.
The Seat of the BARWING Folding Upright 3-in-1 Bike
The seat is large and cushioned with a backrest.
The dimensions are 11.8'' wide by 9.1'' long and 18'' space from left to right handlebar. Therefore, there is enough space to accommodate users of different sizes, and it is comfortable enough to allow 20-30 minutes of workouts without pain in the butt.
But, if for whatever reason the seat becomes uncomfortable, a gel seat cover could be used to improve it.
The backrest dimensions are not disclosed but it is wide enough to support the lower back.
The bike is micro-adjustable because there are 2 options for seat angle adjustment, 3 options for the frame angle adjustment, and 8 options for the seat height (upward/downward) adjustment.
Thus, users can adjust as they see fit for a more comfortable workout experience.
The backrest collapses when it's time to fold up the bike for storage.
The Handlebars
There are 2 sets of non-adjustable handlebars on the BARWING Folding Upright 3-in-1 Bike. These include the front handlebar with multiple grips and the seat handlebars.
The front handlebar integrates silver-plated heart rate sensors that read and transmit your pulse rate data to the monitor when held during a workout.
While the seat handlebars do not have heart rate sensors, but they are designed to be held during certain workout positions for aggressive pedaling.
These handlebars are adequately coated with anti-slip soft rubber foam for comfortable and secure grips that prevent slippage and blisters.
The Pedals
The pedals on this bike are interesting because they are toe caged with adjustable safety straps. The same types you see on spin bikes.
So, they can accommodate different foot sizes without a problem, and you can thrust as hard as possible when pedaling without the fear of your foot slipping off.
It is not a good idea to pedal while standing because the folding bike is not designed for such a style of workout.
The Drive
The BARWING Folding Upright Bike has a belt drive system that consists of a durable belt, the crankset, the crank-arms, a pulley, and the perimeter weighted flywheel that is usually between 3-5 lbs. in weight.
Other than the cranks, other elements are internally situated, shrouded by the plastic coverings.
Having a belt drive system makes the bike's operation smooth, and quiet, and it doesn't need periodic lubrication or adjustment which would have been the case if it was a chain drive system.
Therefore, you can work out at any time of the day and almost anywhere without worries that your activities might bother other people around you.
You may watch a movie or listen to music and still maintain the normal volume.
You can pedal backward if you so wish to diversify and tone more muscle groups. Although, there is no resistance when pedaling in reverse.
The Resistance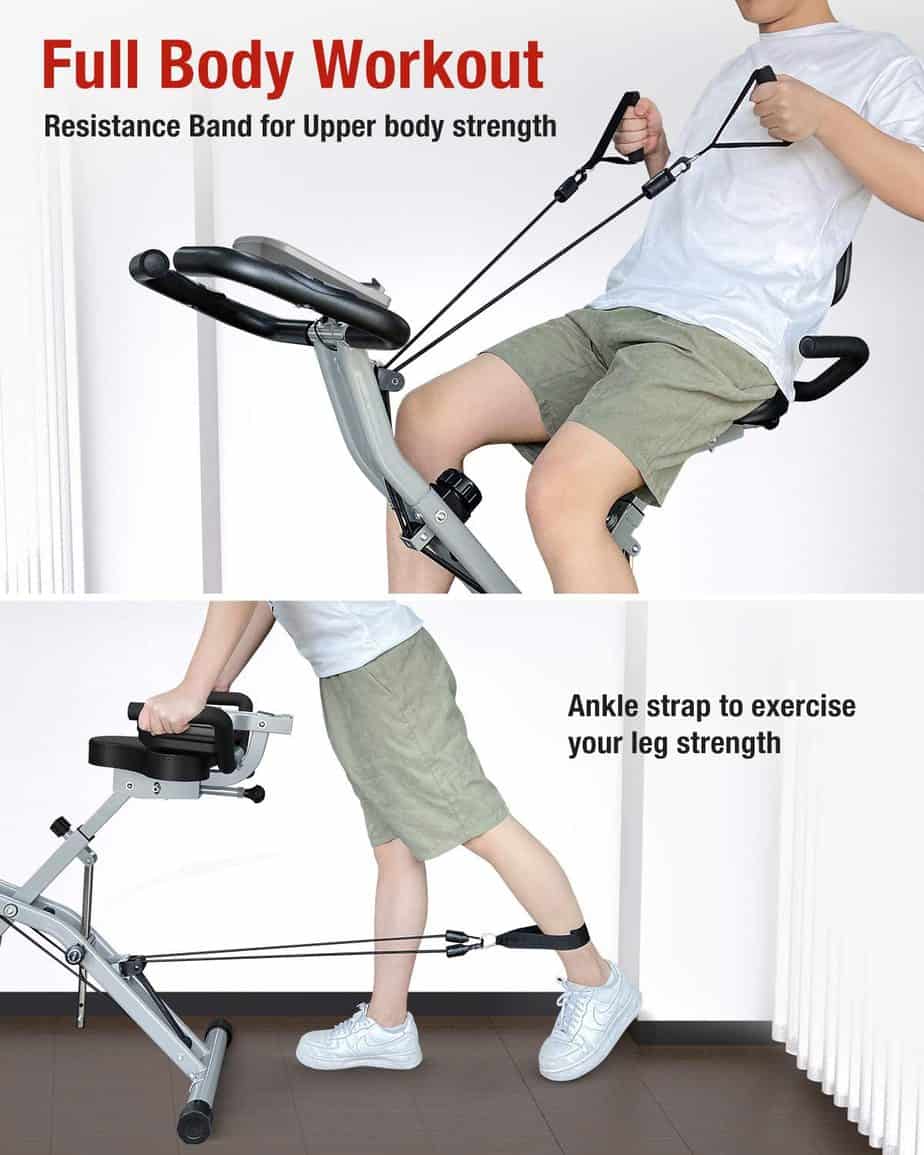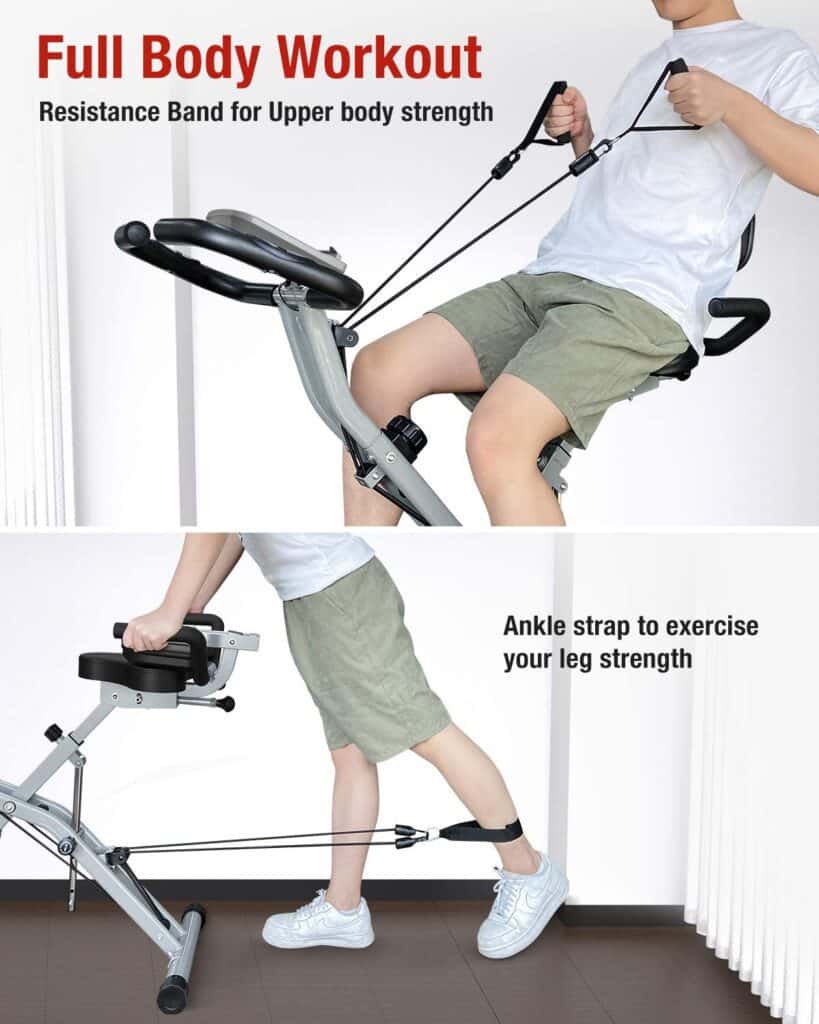 This machine has a manual magnetic resistance system. It comprises a tension control knob, a magnetic brake pad, and a flywheel which has a metallic surface.
The magnetic brake pad which is few inches away from the flywheel emits magnetic fields that ultimately create resistance.
The tension knob is used to adjust the magnetic brake pad around the flywheel up to 16 different positions.
In other words, there are 16 adjustable resistance levels for a variety of workout challenges; 1-5 levels provide basic resistance, 6-10 levels offer intermediate resistance, while 11-16 produce more challenging resistance.
Since no friction occurs in the process of generating resistance, no part wears after some time. Consequently, no maintenance is required, and no sound is made when the resistance is actively engaged.
There are bonus resistance bands and an ankle strap that are added to help you exercise the arms and the legs. They are used to engage in strength workouts that tone the arms and the legs' muscle groups.
The Console
The BARWING Folding Upright 3-in-1 Bike has a basic console that features an LCD monitor.
As you exercise, you will be able to track your workout progress because the monitor displays metrics such as Time, Distance, Speed, Odometer, Calories Burned, and Heart Rate.
Although, you will have to grasp the handlebars with the heart rate sensors before the monitor can display the pulse data.
There is a SCAN function that rotationally displays one metric at a time after every few seconds because it is impossible to view all of them simultaneously. But if you so desire, you can set a single workout metric of your choice to display constantly instead.
To view the display clearly without a problem, ensure that the room you are using is adequately lit because the monitor does not have a backlight.
The LCD monitor is powered by 2 AAA batteries (included).
There is no much of a function present on the console, and it is no surprise because this a basic cardiovascular exercise machine.
Accessory
There is a built-in smartphone/tablet holder on the console. This allows you to keep a smartphone device handy for taking calls or entertainment purposes.
Storage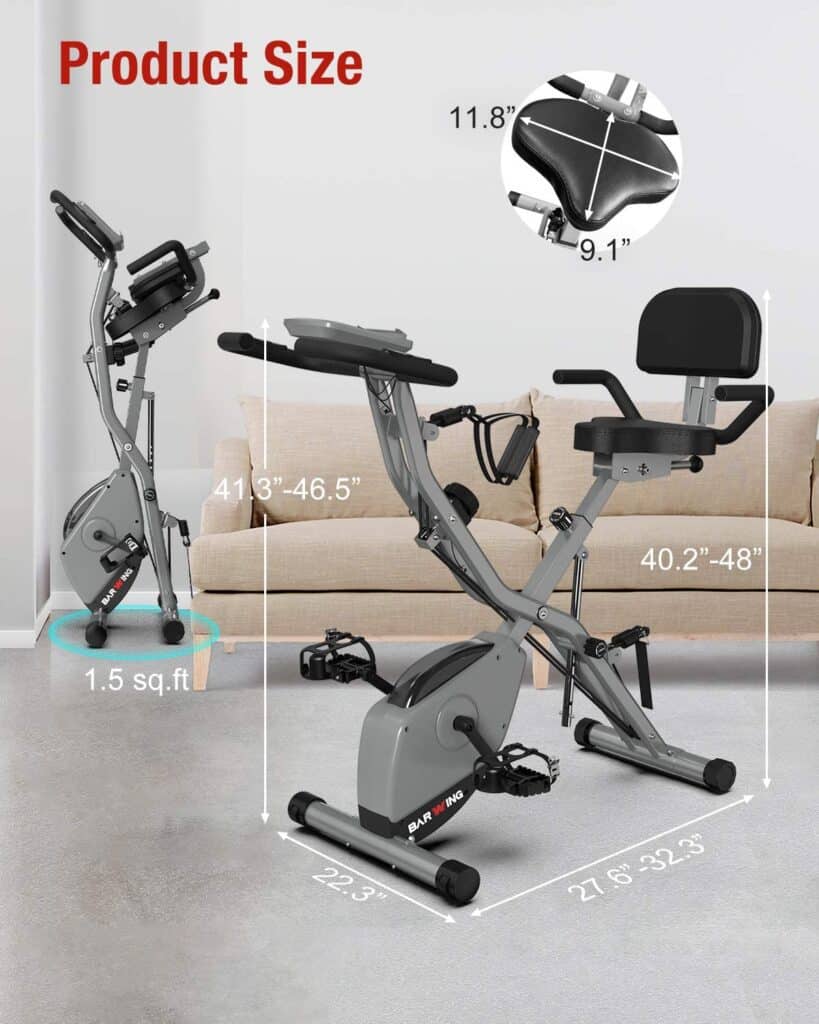 The space-saving design of the BARWING Folding Upright 3-in-1 Bike makes it suitable for folks that live in a small room or apartment.
It doesn't take up much space for a workout, and even less when folded for storage.
A storage area with perimeters of 1'5'' length by 1'5'' width can accommodate it.
There are transport wheels at the front base that enable you to easily move it from one spot to another in a room.
The exact assembled weight is not specified but it weighs less than 40.1 lbs./18.18 kg.
Pros/Features Overview
It is strong and durable
It is easy to mount and dismount
Compact, lightweight, and portable
It has a decent stability
It supports a maximum user weight capacity of 300 lbs./136 kg
It has a micro-adjustable design that includes 2 levels for seat angle adjustment, 3 levels for the frame angle adjustment, and 8 levels for seat height adjustment
Users between the heights of 5'-6'2'' are supported
It could be ridden in upright, semi-recumbent, and recumbent positions
The operation is smooth and silent, thanks to its belt drive system
There is a 16-level manual magnetic resistance system that provides different workout challenges
The large cushioned seat with a backrest provides comfort and support to the back
The 2 sets of handlebars are cushioned with soft rubber foam
The pedals are toe caged with adjustable safety straps
There are bonus resistance bands and ankle strap for arms and legs strength training
LCD monitor tracks workout progress by displaying metrics such as Time, Distance, Speed, Calories, Odometer, and Pulse Rate
Easy to assemble
A tablet holder is included
Transport wheels included
Cons
The seat may wobble a little
No water bottle holder
The display gets blocked if a smartphone is placed on the holder
The monitor is not backlit
Product Dimensions & Specifications
Length: 32.3''
Width: 22.3''
Height: 46.5''
Folded dimensions: 18'' L x 18'' W x 48'' H
Shipping dimensions: 35'' L x 15'' W x 10'' H
Net weight: <40.1 lbs./18.18 kg
Gross weight: 40.1 lbs./18.18 kg
Frame: Steel
Supports 300 lbs./136 kg maximum user weight
Supported height: 5'-6'2''
Drive: Belt
Resistance: Manual magnetic with 16 adjustable levels
Seat: Large and cushioned with backrest
Handlebars: 2 sets (seat handlebars and front handlebars)
Pedals: Toe cages with adjustable safety straps
Console/monitor: Basic LCD
EKG contact grips for heart rate monitoring
Transport wheels: Yes
Tablet holder: Yes
Water bottle holder: No
Shipping
The BARWING Folding Upright 3-in-1 Bike ships in a box that weighs 40.1 lbs./18.18 kg with dimensions of 35'' long by 15' wide by 10'' high.
It is delivered by UPS and requires you to provide a physical residential address upon purchase from Amazon.
Assembly
The unit is not difficult to assemble.
You can put it together without needing the premium expert assembly service. Simply follow the instructions on the owner's manual, and use the tools included in the package to assemble it.
Depending on your assembling prowess, it takes between 1-2 hours to completely get it up and running.
Maintenance
No maintenance is required.
Just make sure the bike is kept clean after every use, and examine it before use for any loose or broken part to prevent an accident and further damage.
Store it in an area that is not wet, dirty, or hot.
Conclusion
The BARWING Folding Upright 3-in-1 Bike is a piece of inexpensive exercise equipment for home and office use.
It provides low-impact and full-body cardio workouts that allow everyone, especially the elderly, to exercise without feeling stressed on the joints.
The bonus features such as the resistance bands and the ankle straps go a long way to help users engage in strength training that tones the arms and the legs' muscle groups.