The TECHMOO Folding Stationary Bike can be transformed into 3 different modes, namely, upright mode, semi-recumbent mode, and recumbent mode. Just as the PLENY Folding Upright Bike, this bike is integrated with removable leg and arm resistance bands.
In other words, this is a full-body exercise upright bike.
The TECHMOO Folding Bike is lightweight, portable, durable, and sturdy. Its steel frame is fortified to support a maximum user weight capacity of 265 lbs./120 kg and the seat is adjustable to accommodate users of different heights.
Its affordability and space-saving design is a big deal for those that need something less expensive and space-friendly. 
The LCD monitor tracks workout progress by displaying data such as Time, Distance, Speed, Odometer, Calories Burned, and Pulse.
It is equipped with a manual magnetic resistance system with 8 adjustable levels that offer light to difficult resistance intensities. The transmission system provides quiet and smooth operation.
Click right here to have a peek at the price of the TECHMOO Folding Stationary Bike on Amazon.
The Frame and Construction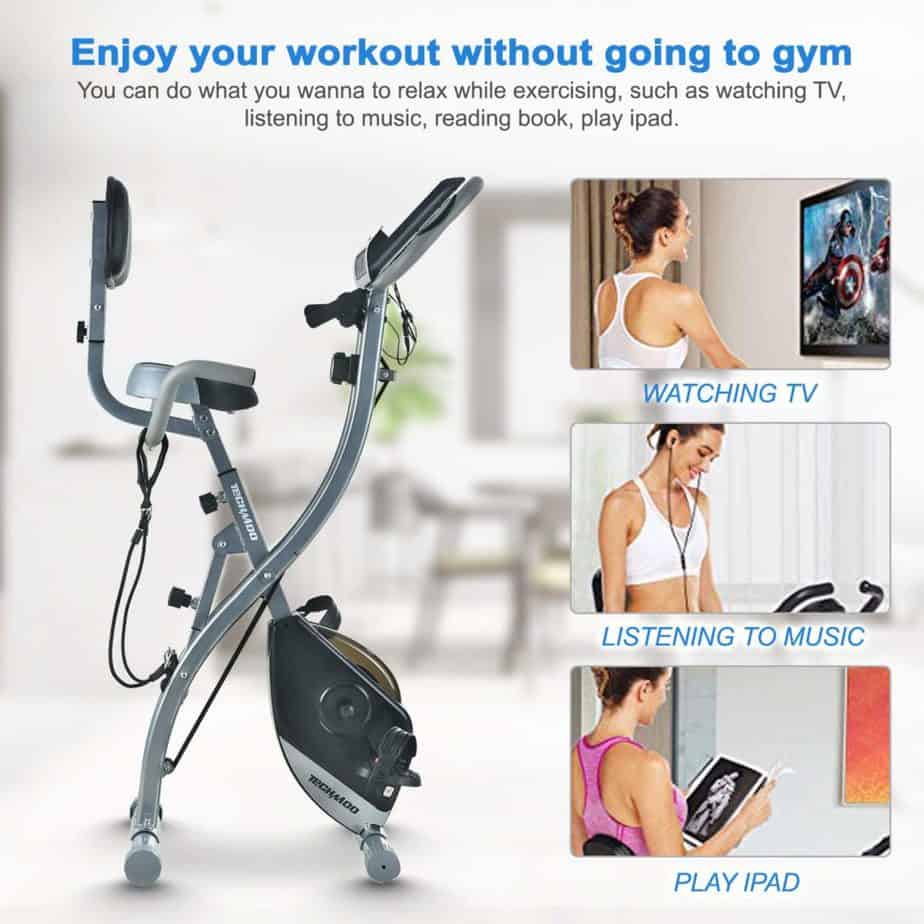 The TECHMOO Folding Stationary Bike is ergonomically designed to provide usability, comfort, and safety. It features a heavy-duty steel frame that is coated with anti-corrosive paint while the drive/resistance system covers are made of ABS material. Its X-shape design makes it easy for a user to mount and dismount and also fold it in half.  
There is a rounded steel stabilizer bar with a textured/polygonal rubber cap on each end at the front and rear bases. These stabilizers provide stability that prevents wobbling or rocking movement during an intense workout.  
Moreover, even though it weighs less than 50 lbs./23 kg, the weight still boosts its overall stability.
The bike remains very compact in any of the 3 different modes.
The storage folded dimensions are 9.3'' D x 16.1'' W x 53.1'' H, the upright position dimensions are 26'' L x 16.1'' W x 45.7'' H, while the semi-recumbent position dimensions are 31.2'' L x 16.1'' W x 40.7'' H.
As you may have noticed, the storage of this bike is not a problem as it requires only less than half of its fully assembled size.
The workout space perimeter dimensions required for this upright bike are 2'6'' in length by 1'4'' in width. Extra clearance of 1-2′ on each side of the bike (including the front and the rear) is recommended for safety and easy access reasons.  
There are transport wheels on the front base for mobility within the room or apartment.
The Seat of the TECHMOO Folding Stationary Bike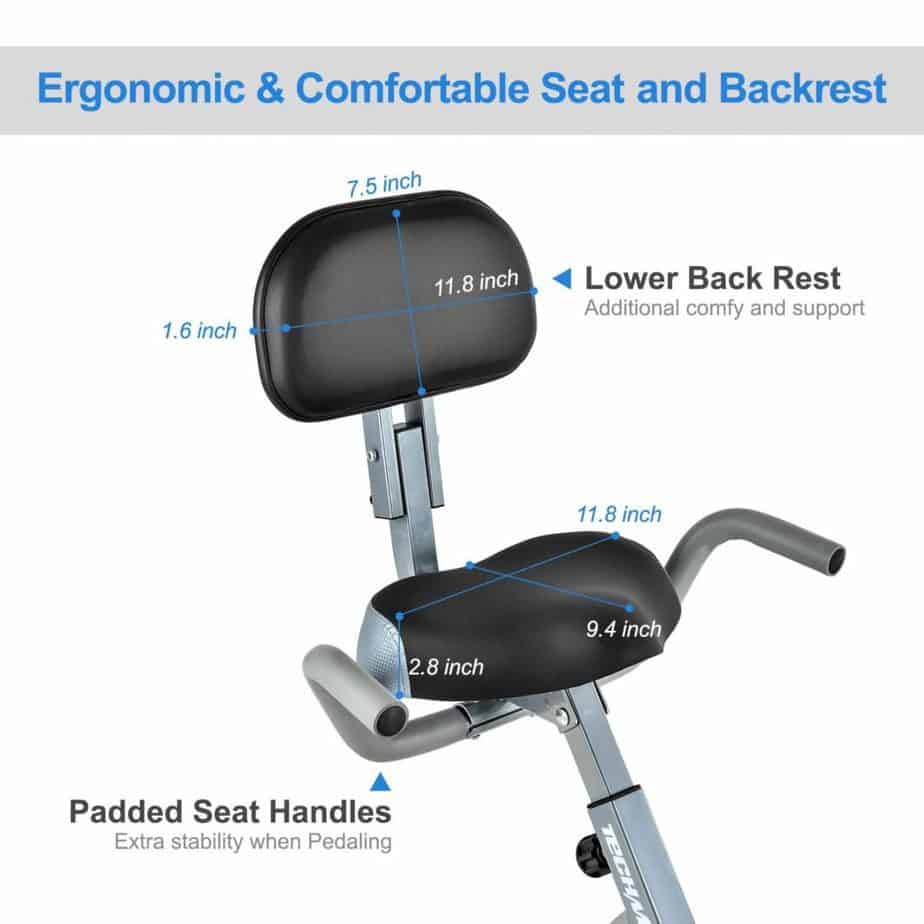 This folding bike comes with a thick padded and vinyl-covered seat that provides comfort that could endure through prolonged workouts. It also has a strong and lower backrest that offers some level of support to the back.  
The backrest helps to reduce back pain and also provides leverage for vigorous pedaling.
The seat dimensions are 9.4'' Length x 11.8'' Width x 2.8'' Thick, while the backrest's dimensions are 7.5'' length x 11.8'' Width x 1.6'' Thick.
Users of different heights and sizes can exercise with the bike because the seat is 2-way adjustable (upward/downward) and is adjustable to 3 levels of height positions. The distance between the seat and the front handlebar gets slightly wider when the seat is adjusted upward and gets closer when it's adjusted downward.
The seat has padded side armrests/handlebars that are designed to be held during back-seated pedaling.  
The adjustment knob is right below the seat, and it takes only a few seconds to make an adjustment to the desired position.
The Handlebar of the TECHMOO Folding Stationary Bike
Aside from the seat's armrests, the bike has another set of multi-grip handlebars designated on the front mast. The handlebars are also padded to provide secure and comfortable grips and are integrated with EKG contact sensors that transmit pulse rate data to the monitor when held during a workout.  
They are non-adjustable, however, strategically positioned to be comfortable and suitable for users.
The Pedals
The TECHMOO Folding Stationary Bike has anti-skid pedals with adjustable straps. They are made of durable rubber with a metallic core.
These pedals allow you to exercise securely and comfortably with a pair of standard gym shoes. They support the bike's stipulated maximum user weight capacity; however, you can't pedal while standing because by design the upright folding bike does not allow that.
If you wish to be able to pedal out-of-seat then you may have to look up any of these spin bikes.
The Drive
The TECHMOO Folding Bike is incorporated with a belt drive system. This drive system makes the bike's operation smooth and quiet; and this is due to the mechanism's elements such as the durable belt, pulley, a small balance perimeter weighted flywheel, crankset, crank-arms, and the pedals.
So, scheduling a workout timetable won't really be a problem as you can exercise at any time of the day without disturbing the people around you. You can watch TV or listen to music while working out without having to raise the volume beyond the normal range.  
Also, the drive doesn't need any post-lubrication as a chain drive system does. In other words, it's maintenance-free.
You will have the liberty to pedal in reverse if you so wish because the drive is bidirectional.
The Resistance of the TECHMOO Folding Stationary Bike
This folding bike is equipped with a manual magnetic resistance system with 8 adjustable levels and additional resistance bands for the arms, and the legs. Consequently, more muscle groups in the body get exercised and toned.
The magnetic resistance system comprises a magnetic brake pad, a small flywheel, and a tension knob. None of the elements in the resistance system mechanism come in contact when generating resistance. As a result, no part wears out and no part will require replacement.
Differently put, just as the drive, the resistance system is maintenance-free and doesn't create vibration when it is engaged.
To increase or decrease the resistance intensity simply turn the tension knob clockwise or counterclockwise respectively.
It is easy to know which resistance level is being used since the predefined resistance levels are distinctly inscribed on the tension knob.
Everyone that intends to lose weight, tone the muscle groups, improve cardio health, and overall physical fitness will find the TECHMOO Folding Stationary Bike useful. However, it doesn't provide extreme workout intensity that could be appreciated by advanced or professional athletes.
It is a modest bike for home use and keeping fit, especially, if you can't make it to the gym.
The Console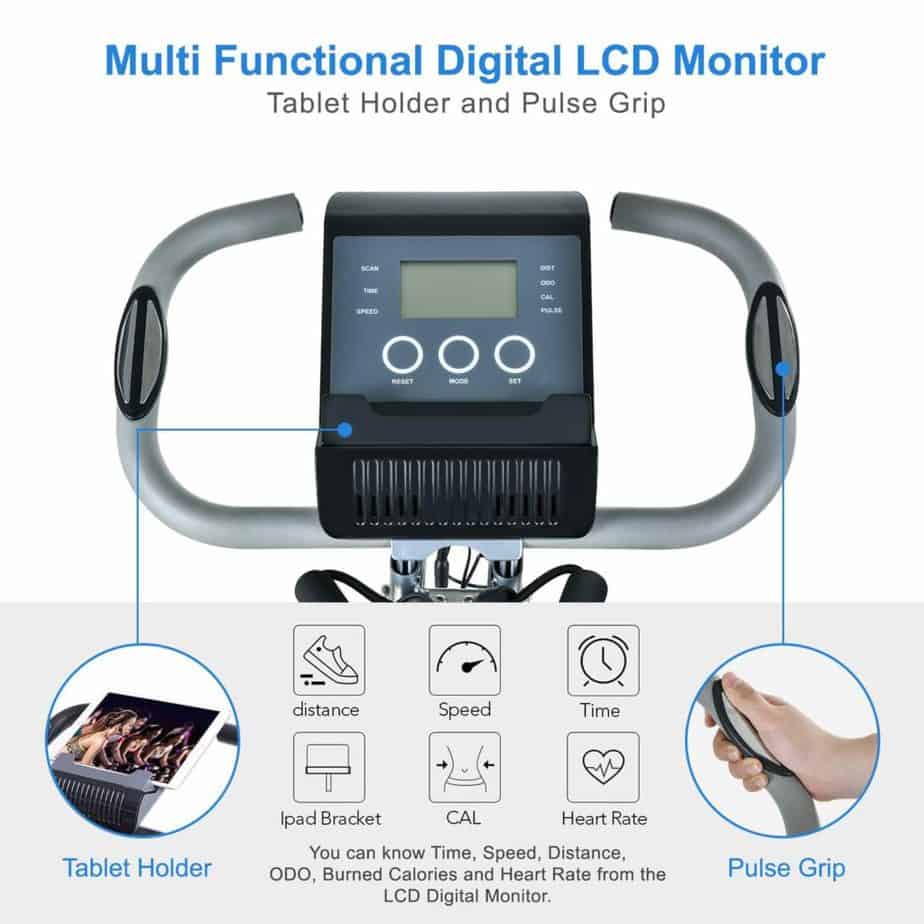 The console on this upright bike is basic. It features a multi-functional LCD display monitor that tracks workout stats such as Time, Distance, Odometer, Speed, Calories, and Pulse. There are 3 buttons, (namely, SET, MODE, and RESET buttons), that enable you to navigate through the functions of the monitor.
There is also a SCAN function that displays all the workout values one at a time after every few seconds. You can also override this by setting your choice workout value to display constantly.
The display's readability is good even though it's not backlit.  However, in order to view it clearly, you must do so in a room with good lighting.  
The monitor enables you to track your workout progress so that you can remain focused and motivated. The pulse rate gives you the opportunity to track and maintain your target heart rate zone at all times.
The display screen is powered by 2 AAA batteries. It turns ON when you start pedaling and automatically turns OFF when there is no more activity for a couple of minutes in order to save the batteries' power. You can also turn it ON/OFF manually by pushing the MODE button.
There is a built-in tablet holder on the console, however, if a tablet device is placed on it the view of the LCD screen will be compromised.
Accessory
The only accessory on the TECHMOO Folding Stationary Bike is the tablet holder. It's not unusual for a folding bike to not have additional extras. As a matter of fact, most of them if not all come with only a tablet holder.
You can improvise to keep water within reach for proper hydration.
Storage
The storage of a typical folding bike such as the TECHMOO Folding Stationary Bike has always been very easy and convenient. It is pretty handy, lightweight, portable, and very compact.
It becomes less than half of its fully assembled size when folded, and it can literally fit in a standard closet or be leaned against a wall.
Approval Rating
At the time of this review, the approval rating on Amazon indicates that the TECHMOO Folding Stationary Bike is recommendable.
There are a couple of reviews by real users on Amazon and most agree they made the right choice by purchasing it.
Pros/Features Overview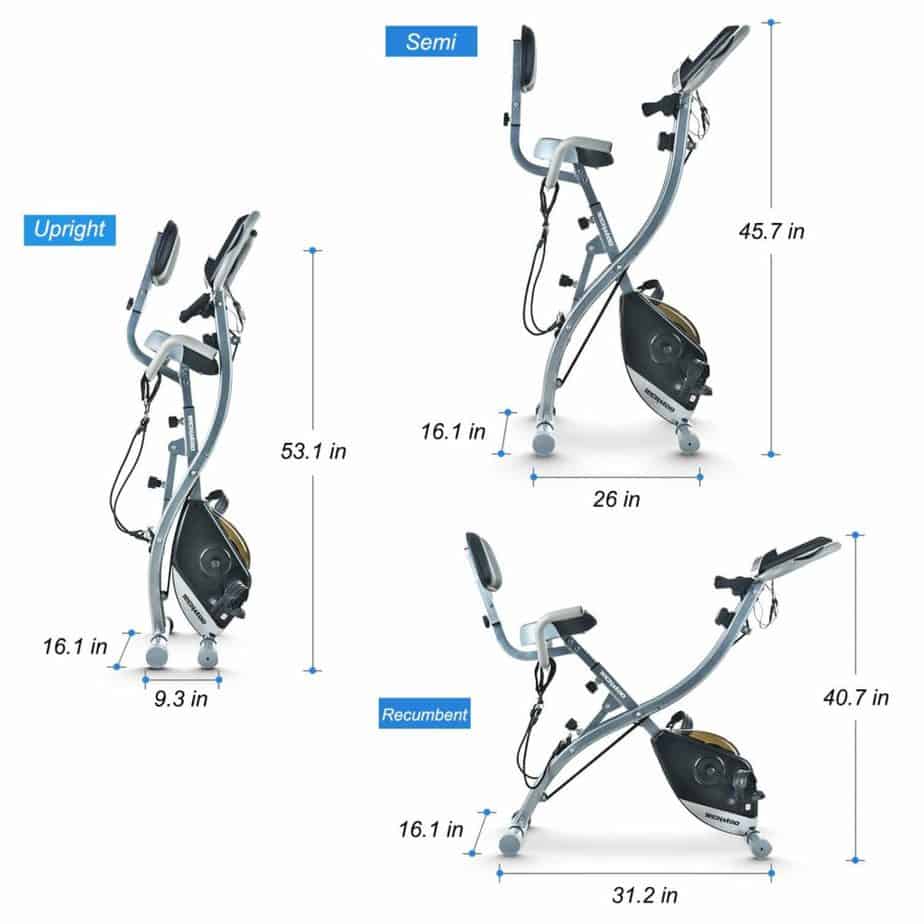 Compact, sturdy, and Durable
It is inexpensive
The frame is made of steel
Supports 265 lbs./120 kg maximum user weight capacity
Step-thru design
Space-saving design
It provides full-body workouts
Its operation is smooth and quiet
The manual magnetic resistance with 8 levels is suitable for everyone that wishes to improve or maintain overall physical fitness.
The LCD display tracks workout progress and keeps you motivated and focused on achieving goals
EKG HR contact sensors transmit heart rate data so that you can monitor and maintain your target heart rate zone
Large, comfortable, and adjustable seat with backrest
Users of different heights can be accommodated
It's a 2-in-1 folding bike that could be used as an upright or a recumbent bike
Two sets of handlebars
Pedals are textured with adjustable safety straps
Low maintenance
Easy to assemble
Tablet holder included
Cons
The resistance system does not provide extremely difficult workout intensity
The monitor is not backlit
No water bottle holder
The monitor gets blocked when a tablet device is placed on the holder
Product Dimensions and Specifications
Upright Dimensions: 26'' L x 16.1'' W x 45.7'' H
Recumbent Dimensions: 31.2'' L x 16.1'' W x 40.7'' H
Folded Dimensions: 9.3'' D x 16.1'' W x 53.1'' H
Shipping weight: 45.9 lbs./21 kg
Maximum user weight capacity: 265 lbs./120 kg
Drive: Belt
Resistance: Manual magnetic with 8 adjustable levels, Resistance bands for arms and legs
Seat: Large, thickly padded with backrest, and 2-way adjustable
Handlebar: 2 sets (armrests and front handlebars), non-adjustable
Pedals: Anti-slip designed with safety adjustable straps
Console: Nonbacklit LCD multi-functional display, tracks Time, Distance, Odometer, Speed, Calories, and Pulse
Heart Rate Function: EKG HR contact sensors
Frame: Steel
Transport wheels: Yes
Tablet holder: Yes
Water bottle holder: No
Shipping
The TECHMOO Folding Stationary Bike is shipped out in a well-packaged box that weighs 45.9 lbs./21 kg.
Amazon provides free standard shipping and makes delivery within a couple of days.
Assembly
This folding bike is not difficult to assemble. Once you follow the included assembly instructions on the manual you will get it done pretty quickly.
Maintenance
The only maintenance required is to keep it clean at all times and endeavor to examine it before use for any loose or broken part. Keep the console/monitor away from liquid.
Conclusion
The TECHMOO Folding Stationary Bike is a full-body cardio workout machine for home use. It's affordable and effective for weight loss, muscle toning, and cardio health improvement.
Moreover, it doesn't take up much space for a workout or storage. 
 [rank_math_rich_snippet]