The Pooboo D686 Indoor Cycling Bike has an inverted D-shaped steel frame that supports 280 lbs./127 kg maximum user weight capacity. It is a belt front-driven bike that operates smoothly and quietly. The integrated friction resistance system provides an infinite variety of resistance intensities that are suitable for all users.
Just as the ANCHEER A5001 Indoor Bike, the Pooboo D686 possesses a 40 lbs./18 kg perimeter weighted flywheel that significantly makes the bike simulate a road bicycle riding experience.  
It is customizable, and this allows users of different heights and sizes to be accommodated. The pedals are toe cages with safety straps that secure the feet from slippage during a vigorous workout. There are front-mounted transport wheels that enable you to easily move the bike from one room to another even though it weighs 116 lbs./52.6 kg.
The LCD monitor keeps you motivated and focused by tracking Time, Speed, Distance, Calories, and Pulse.
At the time of this review, this unit has positive reviews by Amazon users and this only indicates it's a good buy.
Click right here to have a peek at the price of the Pooboo D686 Indoor Cycling Bike on Amazon.
The Frame and Construction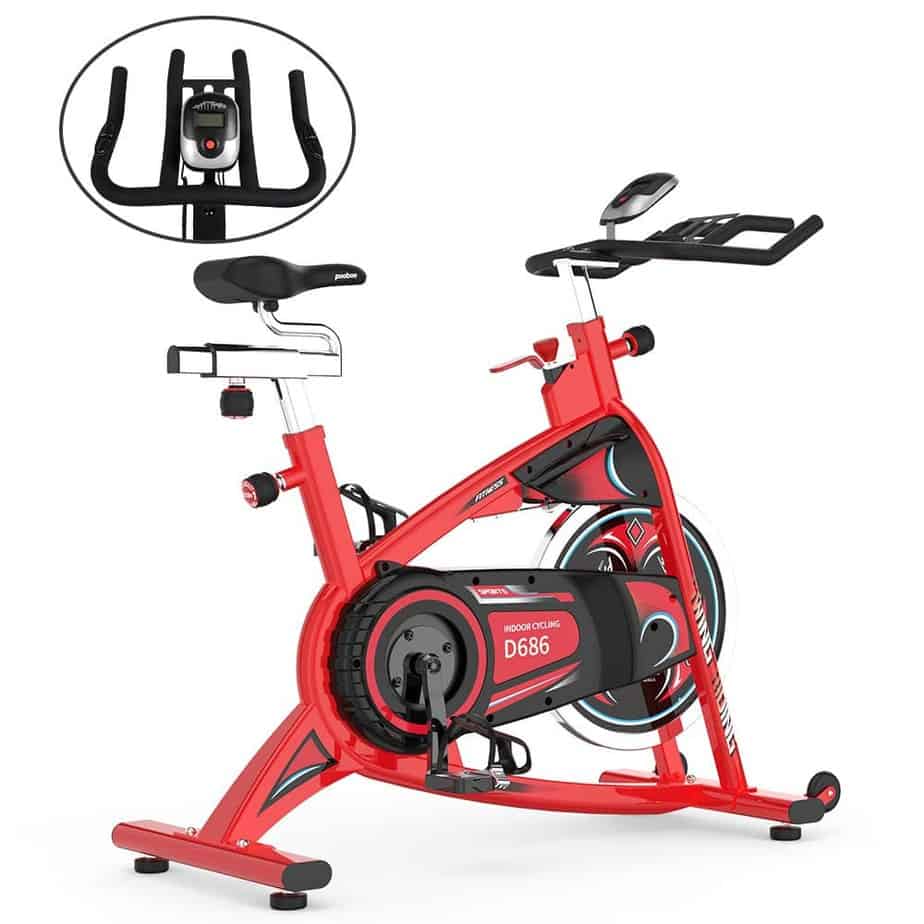 Just as aforementioned, the Pooboo D686 Indoor Cycling Bike construction features a frame that is made of solid steel and coated with rust & scratch resistance paint, while the seat and the handlebar posts are chrome plated.
The belt and the felt pad covers are made of ABS plastic material for safety and cosmetic reasons.
The base has front & rear steel stabilizer bars that are equipped with adjustable levelers. Thus, you won't experience any wobbling or rocking moments during workouts, not even on a surface that is not even.
Also, the bike's net weight of 116 lbs./52.6 kg further cements and boosts its overall stability.
You may place the bike on a protective rubber mat to prevent sweat from spilling on the floor during a workout, and this also has a way of boosting stability as well.
The cycling bike is an average-sized bike with an overall assembled dimension of 49.2'' long by 19.88'' wide by 44.88'' high. The workout area measurements you will be looking at when deciding to purchase this unit are 4'1'' in length by 1'7'' in width.  
Moreover, additional extra clearance of 2' all around the bike is recommended for safety and easy access reasons.
The Seat of the Pooboo D686 Indoor Cycling Bike
The Pooboo D686 has a slim regular cushioned bike saddle with a groove in the middle of it for a good air permeability that promotes comfort that enables prolonged workouts.
It may be a good idea to use a gel seat cover for added comfort.
If for any reason you wish to switch the seat, it's possible. The connection mechanism is standard, hence, there are several options available online or in the local bicycle shops.
The seat is 4-way adjustable; you can move it vertically (upward/downward) and horizontally (fore/aft). This gives you the opportunity to adjust the seat to a comfortable position for a long ride.
There are several positions for vertical adjustment and a few inches for horizontal adjustment.
Users between the heights of 5'-6'5'' can conveniently utilize the bike.
The Handlebar of the Pooboo D686 Indoor Cycling Bike
The handlebar can only be adjusted 2 ways (upward/downward) unlike the one on the Pooboo D578 that's 4-way adjustable.
Nevertheless, it complements the seat's adjustability thereby increasing the chances of the bike accommodating more users of different heights.
Both the seat and the handlebar are pretty easy to adjust and only take a few seconds to get it done.  
The multi-grip-designed handlebar is coated with a soft foam material that provides secure and comfortable grips. It also offers different workout positions that include hill-climbing mode, standing-ride mode, and seated riding mode.  
There are EKG contact sensors integrated into the handlebar to transmit the heart rate data to the monitor when held during a workout.
The Pedals on the Pooboo D686 Indoor Cycling Bike
The Pooboo D686 has single-sided pedals that feature only toe cages with adjustable straps. These pedals are anti-slip designed to accommodate standard gym shoes. They secure the feet and offer good alignment that prevents any stress to the ankles or the knees.
Standing ride is supported for those that are within the stipulated maximum weight capacity of 280 lbs./127 kg.
The Drive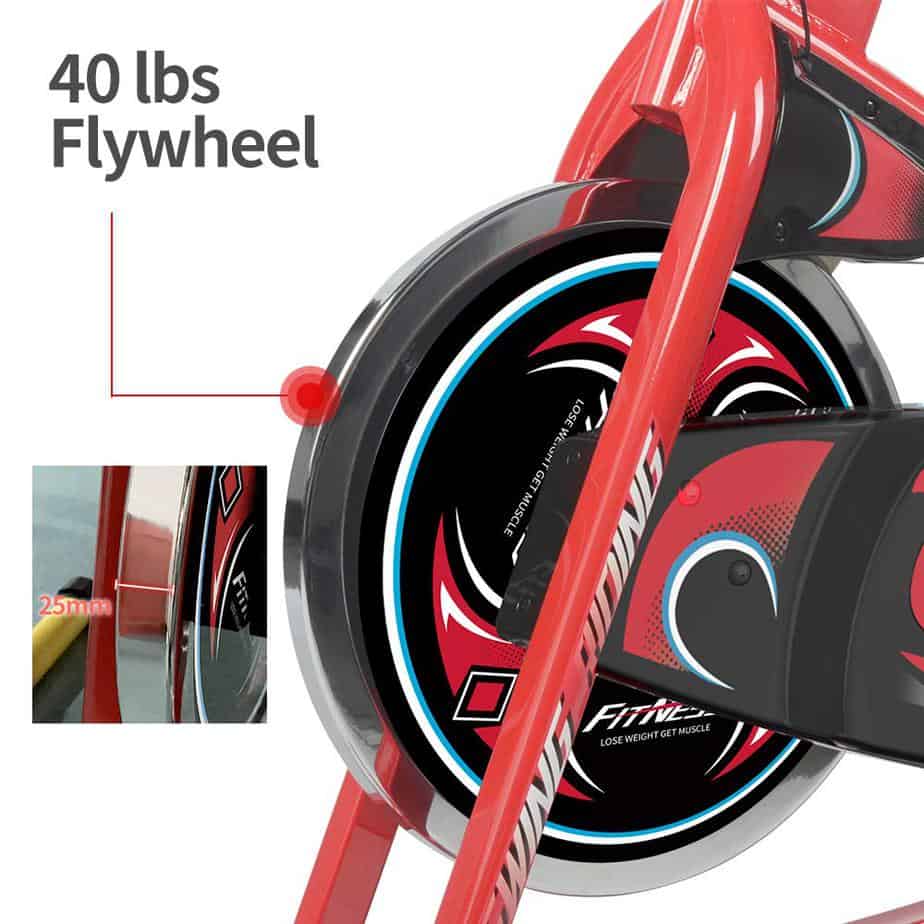 The Pooboo D686 Indoor Cycling Bike in incorporated with a belt drive system. This provides a smooth and quiet operation that makes training possible even in the presence of a sleeping baby, or neighbors.
There won't be any noise interference while watching a TV show or listening to music as you exercise with the bike.
The drive system comprises a durable v poly belt, heavy-duty crank-arms, and cranksets, the 40 lbs./18 kg perimeter weighted chromed flywheel and the pedals.
You can pedal in both directions (forward/backward); meaning not only can you cycle in the convectional forward fashion but also in a reverse to diversify and improve more muscle groups as well.
However, for the fact that the flywheel and the pedals spin together, you cannot coast on the bike as you could on a real road outdoor bicycle. So, for this reason, you must apply the emergency brake by pushing the red lever that is below the tension knob down whenever you wish to take a break from pedaling.
Finally, aside from the drive being smooth and quiet during operation, it's also maintenance-friendly. In other words, it doesn't need any post-lubrication or adjustment as the case with a chain drive system.
The Resistance System of the Pooboo D686 Indoor Cycling Bike
This bike has an infinite friction resistance system that provides different levels of intensities or difficulties for all users. Users that include beginners, intermediaries, and pro cycling athletes will find it very suitable.
There are no predefined resistance levels as the case with some cycling bikes such as the ASUNA Lancer. Therefore, you simply have to adjust the resistance until you feel you have the right intensity suitable for you.
To adjust the resistance, simply turn the tension knob clockwise to increase or counterclockwise to decrease it.
There might be a squealing sound when the resistance is engaged due to the friction between the felt brake pad and the chromed plated flywheel. This does not necessarily happen all the time but when it does simply apply a silicon-based lubricant oil on the surface of the flywheel to quieten it.
The Console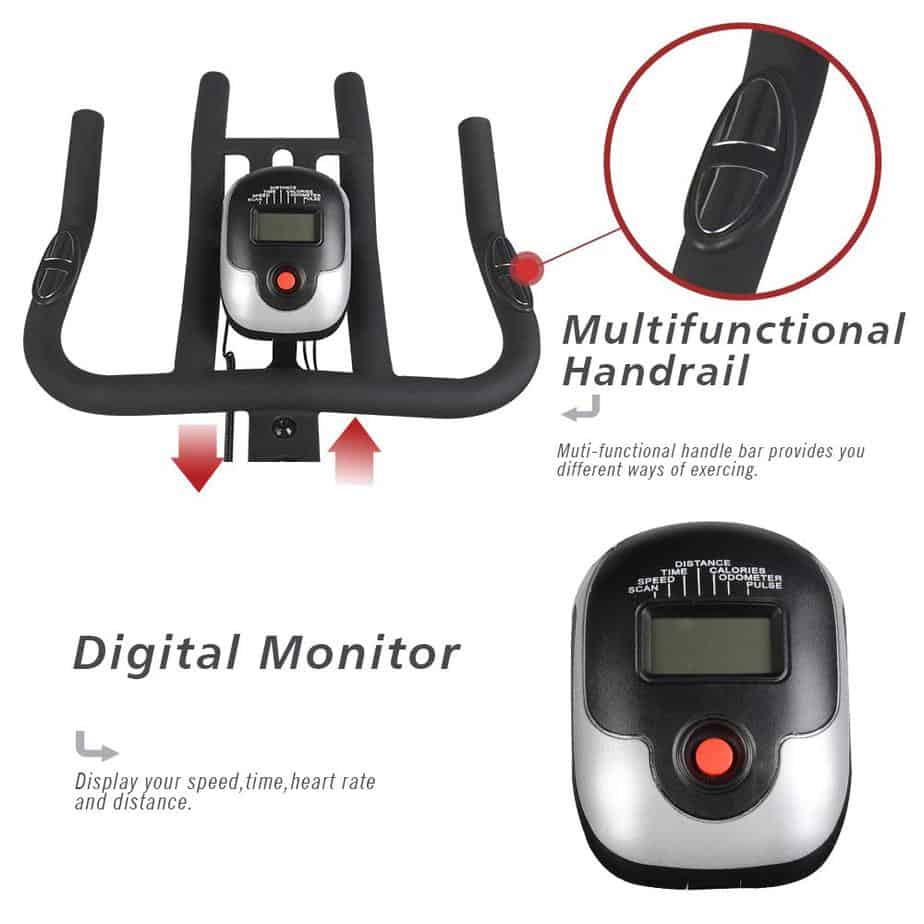 The Pooboo D686 Indoor Cycling Bike has a simple and basic console that features a non-backlit LCD monitor. The display keeps track of your workout progress such as Time, Distance, Speed, Calories, and Pulse.
The Speed and the Distance read out in km/h and cannot be changed to miles.  
There is a SCAN function that displays the workout stats rotationally one at a time after every few seconds. You can also decide to set up a certain workout value of your choice to display constantly without switching to another.
The display's readability is good as long as it's being viewed in a well-lit environment or room.
It is a battery-powered monitor that has a single button for navigation.
In an attempt to save the battery power, it's designed to automatically turn OFF when there is no pedaling activity on the bike for a few minutes. It can also turn ON automatically when you resume pedaling.
Accessory
The Pooboo D686 Indoor Cycling Bike has a tablet holder that is strategically positioned to allow you to view the monitor even when there is a tablet device on it. This is a good thing as you could enjoy browsing through your tablet, sending emails, watching a movie, listening to good music, and also being able to view your workout progress data on the monitor while working out.  
Storage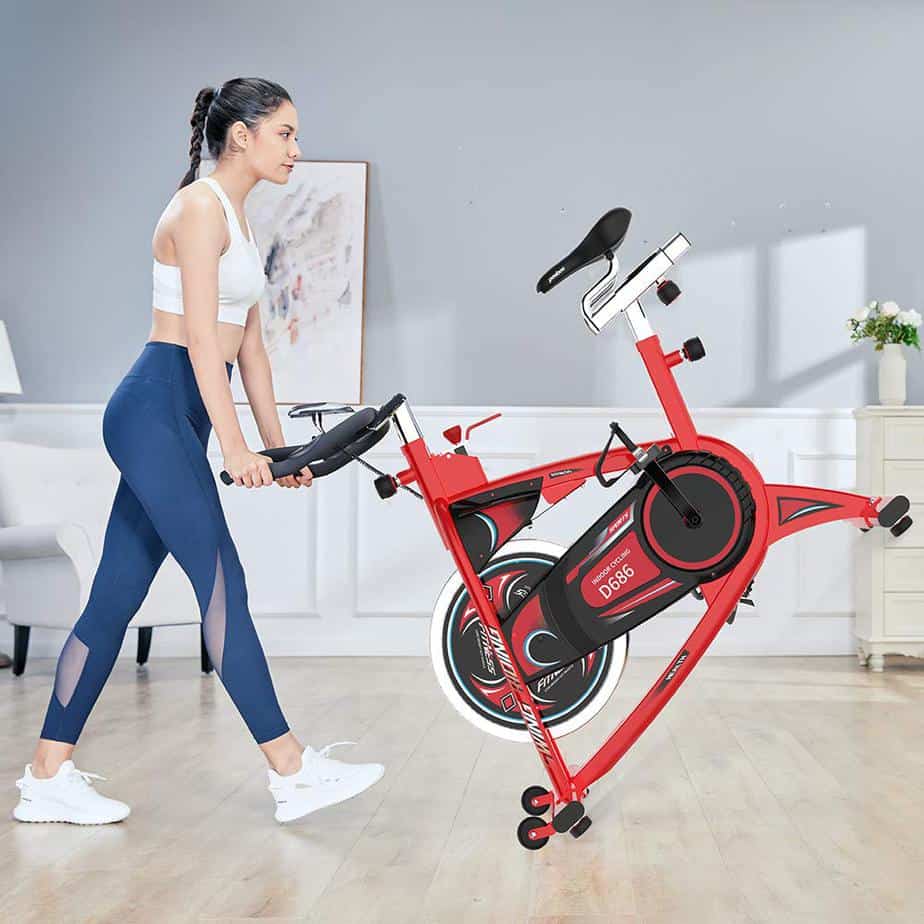 The Pooboo D686 is not foldable neither is it too large to take up much space. A storage space with a perimeter of 4'2'' length by 1'7'' width will suffice.
There are transport wheels at the front base that make the relocation process pretty easy regardless of its weight.
It could be stored in a garage, under the staircase, or next to a wall.
Approval Rating
The Pooboo D686 Indoor Cycling Bike has an approval rating that is encouraging on Amazon. Most users agree that the bike is cost-effective and would recommend it.
Pros/Features Overview
Sturdy construction
Sleek and a unique design
Supports 280 lbs./127 kg maximum user weight capacity
The 40 lbs./18 kg Heavy perimeter weighted flywheel provides consistent momentum that simulates an outdoor bicycle ride experience
Seat cushioned and 4-way adjustable
The handlebar is multi-grip designed, cushioned and it's 2-way adjustable
Transport wheels make the relocation process easy
Its belt drive system provides smooth and quiet operation; riding while a baby is asleep is possible and neighbors won't be disturbed either
The resistance system provides suitable resistance for all users including those that wish to experience an extremely difficult workout
Maintenance is low
Almost pre-assembled upon delivery
The LCD monitor tracks your workout progress so that you can remain focused and motivated at all times
The integrated EKG contact sensors help to transmit your heart rate data to the monitor so that you can maintain your target heart rate zone at all times
The bike's base framework provides maximum stability
A tablet holder is included
Cons
The monitor is not backlit
No water bottle holder
Product Dimensions and Specifications
Length 49.2''
Width 19.88''
Height 44.88''
Maximum weight capacity: 280 lbs./127 kg
Assembled weight: 116 lbs./52.6 kg
Shipping weight: 128.97 lbs./58.4 kg
Flywheel: 40 lbs./18 kg
Seat: 4-adjustable
Handlebar: 2-way adjustable
Drive: Belt
Resistance: Infinite Friction
Pedals: Toe cages with adjustable safety straps
Display: Nonbacklit LCD monitor tracks Time, Distance, Speed, Calories, and Pulse
HR monitoring function: EKG contact sensors
Frame: Steel
Tablet holder: Yes
Water bottle holder: No
Transport wheels: Yes
Shipping
The Pooboo D686 Indoor Cycling Bike is shipped out in a box that weighs 128.97 lbs./58.4 kg. The shipping is free of charge when purchased from Amazon. The delivery of the product is made in a couple of days.
Assembly
The unit is easy to assemble. It comes with the major components pre-assembled and you only need to attach the front and the rear stabilizer bars, the seat, the handlebar, the pedals, and the console to the main core unit.
An instruction manual bearing the details of the assembly process and the tools required for the job are all included in the package.
It will take about 30 minutes, more or less to completely put the bike together.
Maintenance
No serious maintenance is needed, thanks to its belt drive system.
Just ensure to keep it clean from dirt and sweat.
Also, try to examine it before use for any loose or broken part; re-tight or replace if there is any need.
Conclusion
The Pooboo D686 Indoor Cycling Bike is a simple, durable, cost-effective bike that gets you covered for indoor cycling activities that lose weight, improve cardio health, strength and endurance. 
 [rank_math_rich_snippet]