The Pooboo D578 Indoor Cycling Bike is a sturdy and smart looking indoor spinning bike. This is a replica of the Pooboo C511 Commercial Cycling Bike. They literally have the same features except for the maximum user weight capacity they support differs.
The Pooboo D578 supports 300 lbs./136 maximum user weight capacity while the Pooboo C511 supports 440 lbs./200 kg; and of course, the former is cheaper by over a $100 than the latter. Therefore, choosing the Pooboo D578 Indoor Cycling Bike will be a smart choice as it saves money for you (that is if it covers the weight capacity of those that will be using it).
That said, the bike under review (Pooboo D578) is a commercial-grade bike that has a robust construction. It has got a heavy flywheel that weighs 44 lbs./20 kg and a customizable seat and handlebar for a perfect fit.
Its operation is smooth and near-silent due to the integrated belt drive system.
Users of every skill level are supported by this bike's friction resistance system including those that are recovering from an injury to those that wish to engage in extremely difficult spin workouts.
The LCD monitor tracks your workout progress by displaying stats such as Time, Distance, Speed, Odometer, RPM, Calories, pulse, and Goals.
Click right here to have a peek at the price of the Pooboo D578 Indoor Cycling Bike on Amazon.
The Frame and Construction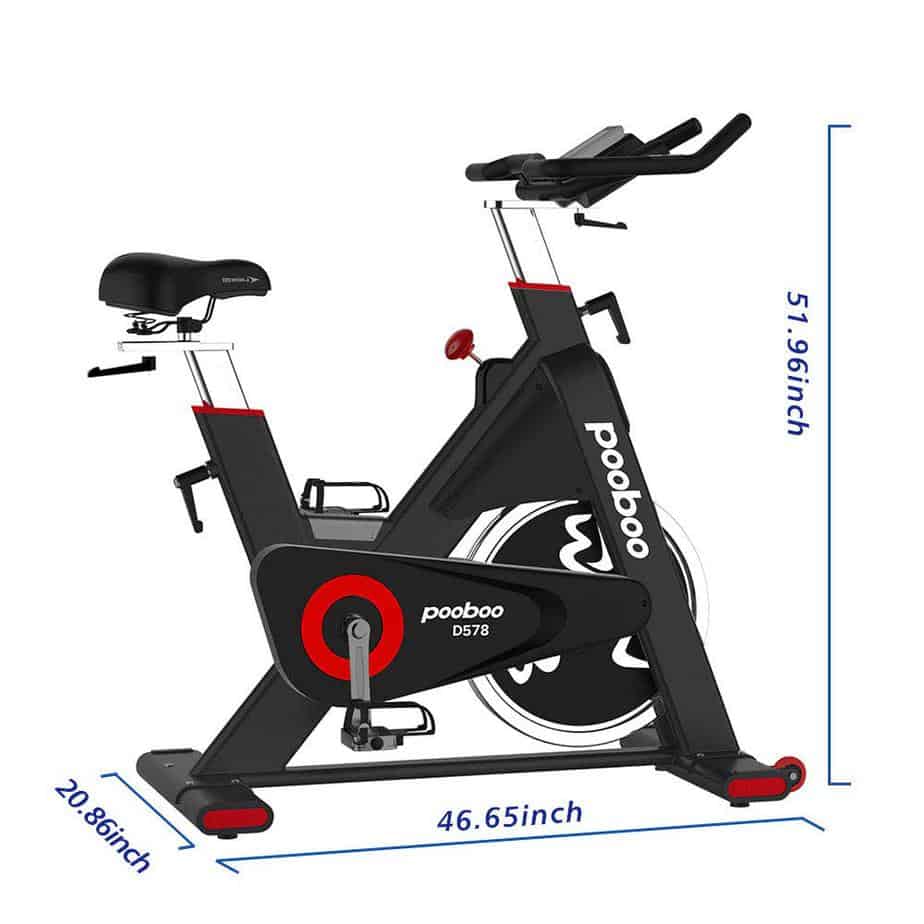 The Pooboo D578 Indoor Cycling Bike features a sturdy triangular-structured 120 mm thick steel frame that is mainly coated with a black anti-corrosive and scratch paint. Of course, ''Pooboo D578'' is boldly engraved on the frame and the belt drive cover with white paint, while the chromed flywheel also has the symbols done with the same color white.
There is a touch of red paint here and there for cosmetic reasons. The belt cover is made of hard plastic also known as ABS.
Basically, the steel parts of the bike are protected from rust invasion and the surface can't be deformed by indiscriminate scratches.
The base has a robust framework that features big rectangular shaped front and rear stabilizer bars that ensure optimal stability. Moreover, there are adjustable levelers underneath these stabilizers which enable you to level up the bike on a surface that is crooked thereby maintaining good stability.
The bike weighs about 123 lbs./55.7 kg which also contributes to the overall stability of the bike. Although, some might have the concern that moving the bike may be difficult. On the contrary, there are transport wheels at the front base that are designed to make the relocation process pretty easy regardless of the weight of the bike.
This bike is slightly smaller than the Pooboo C511 but a bit larger than most standard spin bikes. The overall assembled dimensions are 46.6'' long by 20.8'' wide by 51.9'' high. So, it will require a workout area with a perimeter of 3'9'' length by 1'8'' width. Although, it's recommended to add an extra clearance of at least 2' all around the bike for safety and convenient riding experience.
As aforementioned, the Chromed flywheel weighs 44 lbs./20 kg and is 30 mm wide. This provides greater momentum for smooth operation even when the resistance is engaged and it simulates riding a real road bicycle.
The Pooboo D578 overall construction can unarguably withstand hard and frequent use.
The Seat of the Pooboo D578 Indoor Cycling Bike
The seat on this bike is larger than the conventional cycling bike saddle. It also has several layers of cushion and vinyl covering. There are 2 springs underneath which make the seat to adapt to your movements during a workout.
Its design also features a contoured surface that has a groove in the middle for comfort and breathability.
Its dimensions are 10.03'' long by 7.48'' wide by 2.55'' high.
The seat is 4-way adjustable; it could be adjusted vertically (upward/downward) and horizontally (fore/aft).
Is it possible to replace the seat? Yes, it is, because its connection mechanism is standard and options are widely available. You may also use a gel seat cover if you so wish for added comfortability.
The seat is durable and strong enough to support 300 lbs./136 kg maximum user weight capacity stipulated for the bike and users between the heights of 5'-6.5'' tall can conveniently be accommodated.
The Handlebar
The Pooboo D578 Indoor Cycling Bike is also 4-way adjustable; adjustment is vertically and horizontally possible. This complements the seat's adjustability and ultimately makes the bike one of the most micro-adjustable bikes.
The handlebar is multi-grip designed with several grip positions that offer different workout postures such as hill-climbing mode, seated riding mode, and out-of-seat riding mode. Also, the handlebar is encapsulated with a soft foam material that guarantees secure and comfortable grips. No slippage or blisters will be experienced as a result of a longer workout session.
There are EKG pulse sensors on the handlebar for reading and transmitting your heart rate to the monitor when held during a workout and there are multi-purpose holders that could be used for the placement of water bottles, a mobile phone/tablet, or small weights.
The LCD monitor is designated in the middle of the handlebar and the multi-purpose holders.
Both the seat and the handlebar can easily be adjusted via their respective designated levers.
The Pedals
The Pooboo D578 is equipped with non-slip toe-cage pedals. The pedals also have adjustable safety straps that help to keep the feet in place even in an intense riding moment. Therefore, no slippage will be experienced.
The pedals allow you to use only a pair of standard gym shoes. In other words, they have no SPD clips for special spinning shoes. However, if you wish to change the pedals you can because they have standard 9/16'' threads.
The Drive of the Pooboo D578 Indoor Cycling Bike
The bike has a belt drive system that consists of a very durable poly v-belt, pulleys, a 3-piece crankset, 35.95 mm alloy crank-arms, pedals, and the 44 lbs./20 kg flywheel. Together, these elements produce a smooth and near-silent motion that is friendly to all kinds of environments.
In other words, you can work out even where a newborn baby is present and asleep without any disturbances much less to be a nuisance to the neighbors.
Also, remember that you can watch your favorite TV show or listen to good music while exercising your way to healthier well-being without having to raise the volume beyond the normal range.
Moreover, the belt drive system doesn't require any post lubrication or adjustment as the case with a chain drive system.
Thus, the drive is well received and most preferred over the chain-driven bikes.
The drive system is fixed; meaning that the pedals and the flywheel spin simultaneously without any chance of coasting. Therefore, you can pedal in reverse to add diversity to your workout routine and possibly tone more muscle groups.
That said, don't forget to apply the emergency brake whenever you wish to quickly take a break from pedaling by pushing the red tension knob down.
The Resistance System of the Pooboo D578 Indoor Cycling Bike
This bike has a friction resistance system with infinite adjustable resistance levels that are suitable for all users that include beginners, intermediaries, and professional cycling athletes. It's also suitable for rehab purposes.
The resistance system comprises of a wool felt pad, the tension control knob that is attached to the mainframe tubing and the flywheel.
It is called a friction resistance system because friction (direct contact) happens between the wool felt pad and the top surface of the chromed flywheel in order to generate resistance.
The tension control knob is used to increase or decrease the intensity of the resistance.
Simply turn the tension knob clockwise to increase the resistance or counterclockwise to decrease it.
Being a resistance system with infinite adjustable levels also means no pre-defined levels. You just have to keep on twisting the tension knob until you feel you have the suitable resistance for your workout.
If you wish to keep track of your strength and endurance improvement then You must understand how many times you turn the tension knob per workout and between sessions. That way you will be able to compare and determine if your strength and endurance are improving.
The Console
The Pooboo D578 Indoor Cycling Bike's console is above average. It features an LCD monitor that tracks workout data such as Time, Distance, Odometer, RPM, Speed, Calories, and Pulse. The workout data keep you focused and motivated and they are simultaneously displayed via the segmented screen windows.
There is also the ability to set up workout goals (count down) for Time, Distance, and Calories.
There are easy-to-use navigation buttons that include Up, Down, and Enter. The Up/Down buttons enable you to select a goal for Time, Distance, and Calories while the Enter button is used to confirm your selection.
The console/monitor is not self-powered. It needs a CR2032 lithium battery 3V which you have to purchase separately because it's not included in the package.
The display automatically comes alive once you start pedaling and also turns OFF automatically when pedaling activities cease for a few minutes in order to save the battery power. It's also possible to manually turn it ON by pressing any of the buttons on the console.
It's important to also point out that the monitor is not backlit and it's not telemetry-enabled. This means that the display's readability is great as long as it's being viewed in a well-lit room and it's not compatible with a wireless HR chest strap.
You must hold the grips with the EKG contact sensors during a workout if you are to track and maintain your target heart rate zone.
Accessory
It has got dual water bottle holders that could also be used for other purposes such as the placement of a mobile phone/tablet, or small weights.
Storage
The Pooboo D578 Indoor Cycling Bike is easy to move to storage even though it's considerably heavy and it doesn't take up much space as some bikes do.
The integrated transport wheels at the front base assist in the relocation process of the bike and they make it hassle-free as well.
The ideal storage places for this bike include the garage, under the staircase, or just next to the wall of the room. However, if you can afford to provide a dedicated workout space for the bike you might as well just leave it there.
Pro/Features Overview
Commercial-grade construction
Supports 300 lbs./136 maximum user weight capacity
A robust base framework and adjustable levelers for maximum stability
Possesses micro-adjustability that enables users of different heights and sizes to be accommodated
The seat is wide, contoured, grooved for comfort and breathability
The handlebar is multi-grip designed to offer hill-climbing mode, seated riding mode, and stand-and-ride mode
Its heavy 44 lbs./20 kg chrome plated flywheel provides momentum for a smooth and outdoor riding experience
The integrated aluminum alloy toe-caged pedals accommodate standard gym shoes and also secure the feet from possible slippage during an intense workout
Easy to move from one room to another, thanks to the transport wheels at the front base
The LCD monitor keeps you focused and motivated by displaying workout stats such as Time, Speed, Distance, Odometer, RPM, Calories Burned, and Pulse
EKG contact sensors read and transmit pulse data to the monitor
There are goal settings for Time, Distance, and Calories
Assembly is easy
No serious maintenance is required
Dual water-bottle holders
Cons
The LCD monitor is non-backlit and not telemetry-enabled
The battery for the monitor is not included
Does not have dual-sided pedals that include SPD clips
Product Dimensions and Specifications
Length 46.6''
Width 2h 20.8''
Height 51.9''
Weight: 123 lbs/55.7 kg
Maximum user weight capacity: 300 lbs/136 kg
Shipping weight: 134.4 lbs./60.9 kg
Drive: Belt
Resistance: Friction
Display: Non-backlit LCD monitor, tracks Time, Distance, Speed, Odometer, RPM, Calories, and Pulse
Goal setting for Time, Distance, and Calories
Seat: 4-way adjustable
Handlebar: 4-way adjustable
Flywheel: Chrome-plated perimeter weighted 44 lbs/20 kg
Transport wheels: Yes
Water bottle holder: Yes
Pedals: Toe cages with adjustable safety straps
Frame: wide thick steel
EKG pulse sensors: Yes
Telemetry-enabled: No
Shipping
The Pooboo D578 Indoor Cycling Bike is shipped in a 134.4 lbs/60.9 kg weighted package. It is shipped out for free upon purchase from Amazon and delivery is made in a couple of days.
Assembly
The bike is almost pre-assembled with only a few uncomplicated parts to be attached by you.
You are only required to attach the front and the rear stabilizer bars, the seat, the handlebar, the pedals, and the console to the main core unit of the bike. These won't take more than 30 minutes.
Also, there is an instruction manual and tools that are included in the package to help you conveniently assemble the bike.
Maintenance
Basically, keep the unit clean from dirt and sweat at all times. Ensure to examine the bike for any loose or broken parts before use. 
Other preventive measure instructions are outlined in the owner's manual.
Conclusion
The Pooboo D578 Indoor Cycling Bike is a recommendable unit that is able to spin you into greater physical fitness. Its commercial-grade construction makes it a durable and reliable aerobic machine that could endure through any hard use.
 [rank_math_rich_snippet]