The PLENY Upright Stationary Semi-Recumbent Exercise Bike with Arms exercise Resistance Band has an additional feature that allows you to also work the upper body. The integrated arm resistance bands make the bike capable of exercising the entire body providing the ultimate opportunity for aerobic cardiovascular exercise that improves stamina and overall physical fitness.
It is a compact machine that has a space-saving design with a small footprint that does not take up much space. On top of that, it is a foldable bike that could be folded and tucked away somewhere when not in use.
The PLENY Upright Stationary Semi-Recumbent Exercise Bike with Arm Exercise Resistance Bands is the upgraded model of the PLENY Foldable Upright Stationary Exercise Bike and the difference is that the latter does not have resistance bands and a semi-recumbent seat as the former.
The minimum inseam length requirement is 29 inches to a maximum of 34.5 inches thus can accommodate users between the heights of 5 feet to 6 feet 3 inches despite its compact design. It is also fairly stable.
It's a sturdy bike that supports 260 pounds/118 kg maximum user weight capacity and weighs about 45 pounds/20 kg with transport wheels for easy relocation.
Click right here to have a peek at the price of the PLENY Upright Stationary Semi-Recumbent Exercise Bike with Arm Exercise Resistance Bands on Amazon.
The Frame and Construction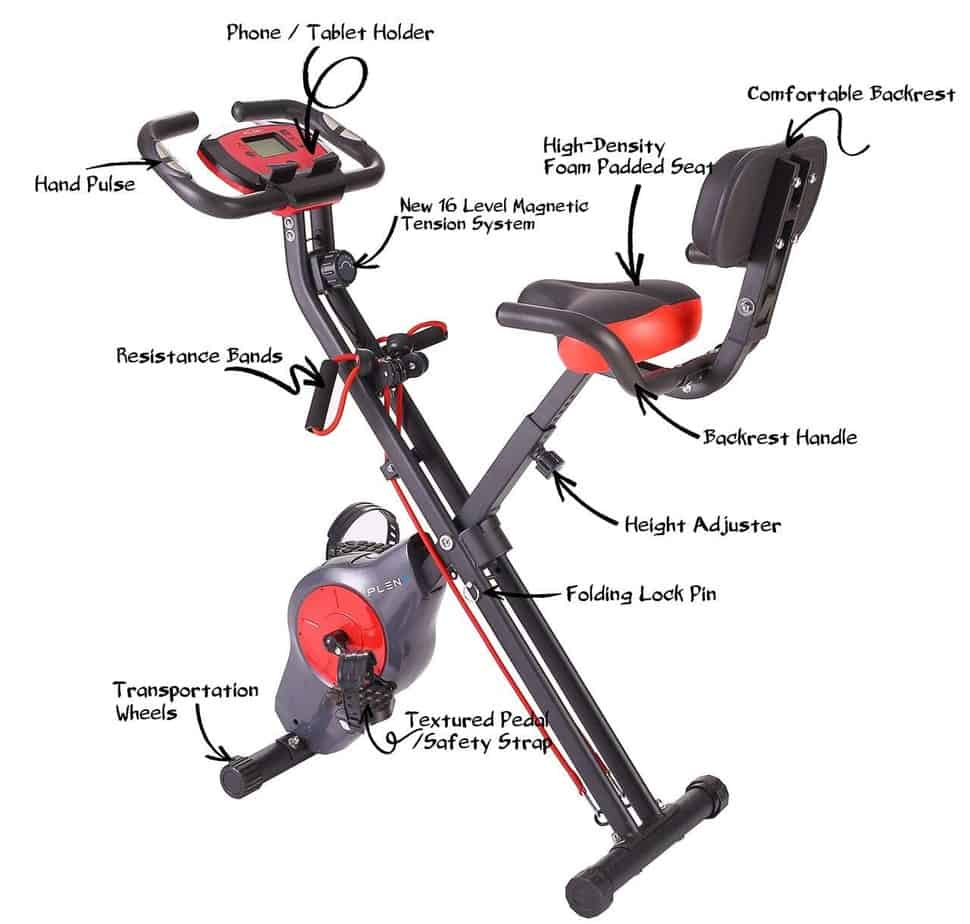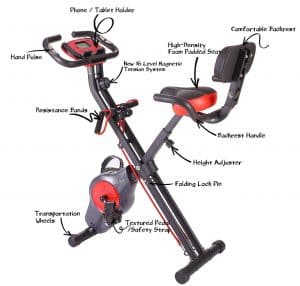 The frame of the PLENY Upright Stationary Semi-Recumbent Exercise Bike with Arm Exercise Resistance Bands is made of heavy-duty steel. It is coated with anti-corrosive and scratch paint that preserves it from the invasion of corrosion and scratches that could degrade it in the long run. And as aforementioned, it is sturdy enough to support 260 pounds/118 kg maximum user weight capacity.
It is integrated with front and rear rounded steel stabilizer bars with a rubber cap on each end so that the bases will be surface-friendly. However, it is recommended to place the bike on a protective rubber mat so that instability that is caused by an uneven surface could be prevented.
It weighs 45 pounds/20 kg with small transport wheels at the front base for portability.
It also has a space-saving design with a small footprint. The overall assembled dimensions are 38.8 inches long by 16 inches wide by 43.7 inches tall. Therefore, 3.2 feet long by 1.4-foot wide workout area and a ceiling height of 6 feet will suffice. However, consider adding extra clearance of 1 to 2 feet at the rear and on each side of the bike for safety and convenience purposes.
The bike is even smaller when folded up as a result only requires smaller storage space and has a folding lock pin that ensures that the bike remains locked in after folding it up.
The bike's seat is adjustable and has an inseam of 29 inches min. to 34.5 max. and can accommodate users between the heights of 5 to 6.3 feet tall.
The Seat, the Handlebar, and the Pedals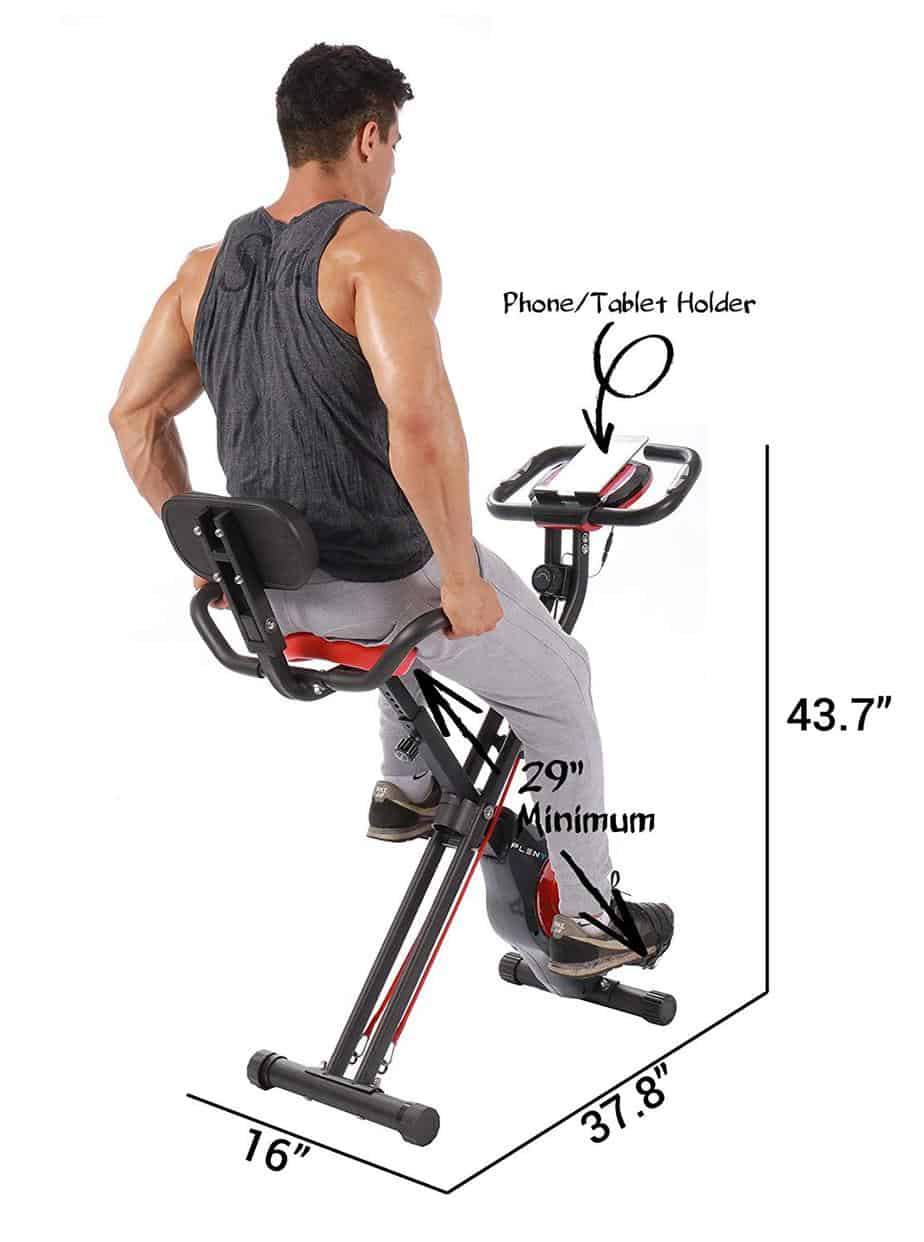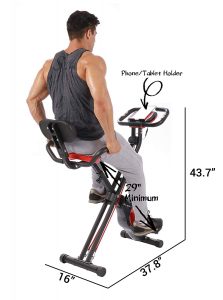 The seat on the PLENY Upright Stationary Semi-Recumbent Exercise Bike is wide with a backrest and side handles. The seat and the backrest are padded with high-density foam that provides comfort. However, the seat does not provide the level of comfort a recumbent bike's seat provides because the backrest is short and only supports the lower back.
That said, it still provides some level of considerable comfort when compared to a standard upright bike's seat. The seat is suitable for everyone especially those that are recovering from injury and the elderly.
The seat is vertically (upward and downward) adjustable. It could easily and quickly be adjusted to several levels within seconds. This also means that members of the family can use the bike in turn.
This bike features a multi-grip handlebar that allows a user to train in different workout positions or angles. The handlebar is also coated with a soft rubber foam material that ensures that your grip is secure and comfortable and also prevents blisters in the palms.
The handlebar is not adjustable but it is strategically positioned to suit your height once the seat is adjusted to the preferred level.
The HR sensors are embedded in the handlebar so that when gripped during a workout the heart rate data will be transmitted to the LCD console. This allows you to monitor and maintain your target heart rate zone at all times.
The PLENY Upright Stationary Semi-Recumbent Exercise Bike features anti-slip designed pedals which are attached to the curved crank arms that allow you to pedal without having your ankles/heels hitting the crankset.
The pedals also have adjustable safety straps that prevent the feet from slipping during workouts. Each of the pedals is reinforced with an extra strengthening bolt that ensures that they don't get loosened while working out as is the case with some upright bikes.
The Drive
The PLENY Upright Stationary Semi-Recumbent Exercise has a belt drive system that ensures that the bike is smooth and quiet during operation. This also means that you could work out at any time and anywhere in your apartment without the fear that the family or the neighbors are going to be disturbed. On top of that, you can also watch your favorite TV show without the need to turn up the volume more than the usual level.
The belt drive system is also maintenance-free; no periodic lubrication or adjustment is required. It consists of a small flywheel that usually weighs between 5 to 12 pounds, a durable belt, pulleys, and a  crankset. These are shrouded in the plastic casing that prevents your feet from getting caught up in them while working out and the casing also protects the elements from dirt and sweat.
You can pedal in both ways if you wish to in order to increase the muscle groups that are being exercised.
The Resistance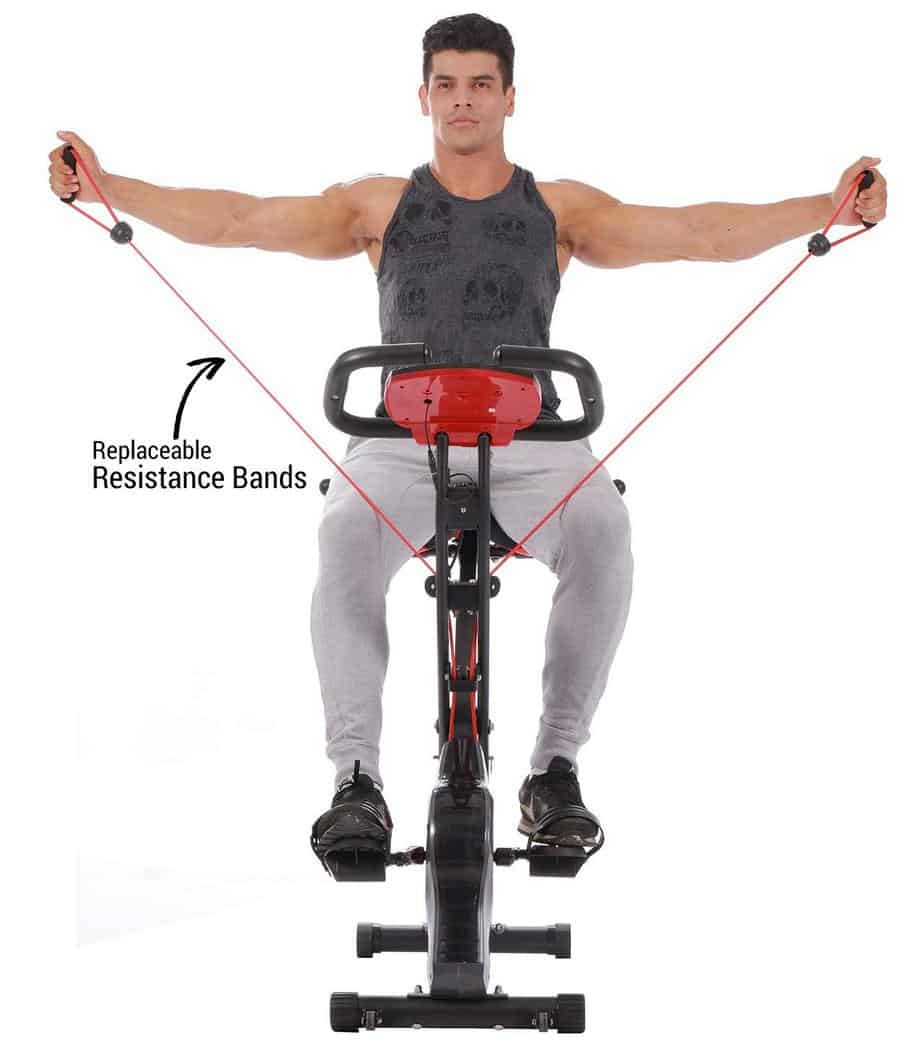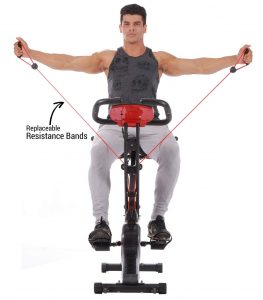 One thing that is unique about the PLENY Upright Stationary Semi-Recumbent Exercise Bike is that you should be able to work on the upper and the lower body muscle groups with considerable resistance.
The bike has arm exercise resistance bands that allow you to exercise the upper body and has the orthodox pedal resistance that targets the lower body muscle groups.
You may exercise your overall body or just use the pedals alone.
The bike features a manual magnetic resistance system that uses a magnetic pad and flywheel to generate resistance. The resistance system does not require any maintenance or replacement of any part since the magnetic pad does not wear out as the case with a friction resistance system.
There are 16 levels of resistance that are suitable for almost everyone. It provides more challenging workouts than the bikes with the conventional 8 resistance levels.
However, it is important to note that this bike doesn't provide extremely difficult workouts that are suitable for advanced users.
The resistance can easily be adjusted to increase or decrease via the tension knob. To increase the resistance, turn the tension knob clockwise to the level you wish to work out with and turn it anticlockwise to reduce or decrease the resistance.
The Console
The console that comes with the PLENY Upright Stationary Semi-Recumbent Exercise Bike is a basic one with a built-in tablet/book/phone holder. You can secure your tablet, book, or phone on the holder while you work out. The problem is though once you choose to place any of those aforementioned items on the holder you will not be able to view the LCD monitor screen because it gets blocked by it.
The LCD monitor is powered by 2x AAA batteries which are also included in the package. You should be able to keep track of your workout progress as the monitor displays data such as distance, time, speed, heart rate, and calories burned with high readability, however, its clarity could be compromised if viewed in a poorly-lit environment because it is not backlit.
It also has the SCAN function that displays the workout data one at a time after a couple of seconds rotationally, but you could also choose to set a certain workout value you prefer to display constantly as long as you want.
Accessory
The PLENY Upright Semi-Recumbent Exercise Bike only has one accessory and that is the built-in tablet holder on the console. This is designed to hold your tablet, phone, or book.
It can conveniently hold any of those items mentioned above but the problem is that the item blocks the LCD screen making it impossible to see the workout data while you workout.
Storage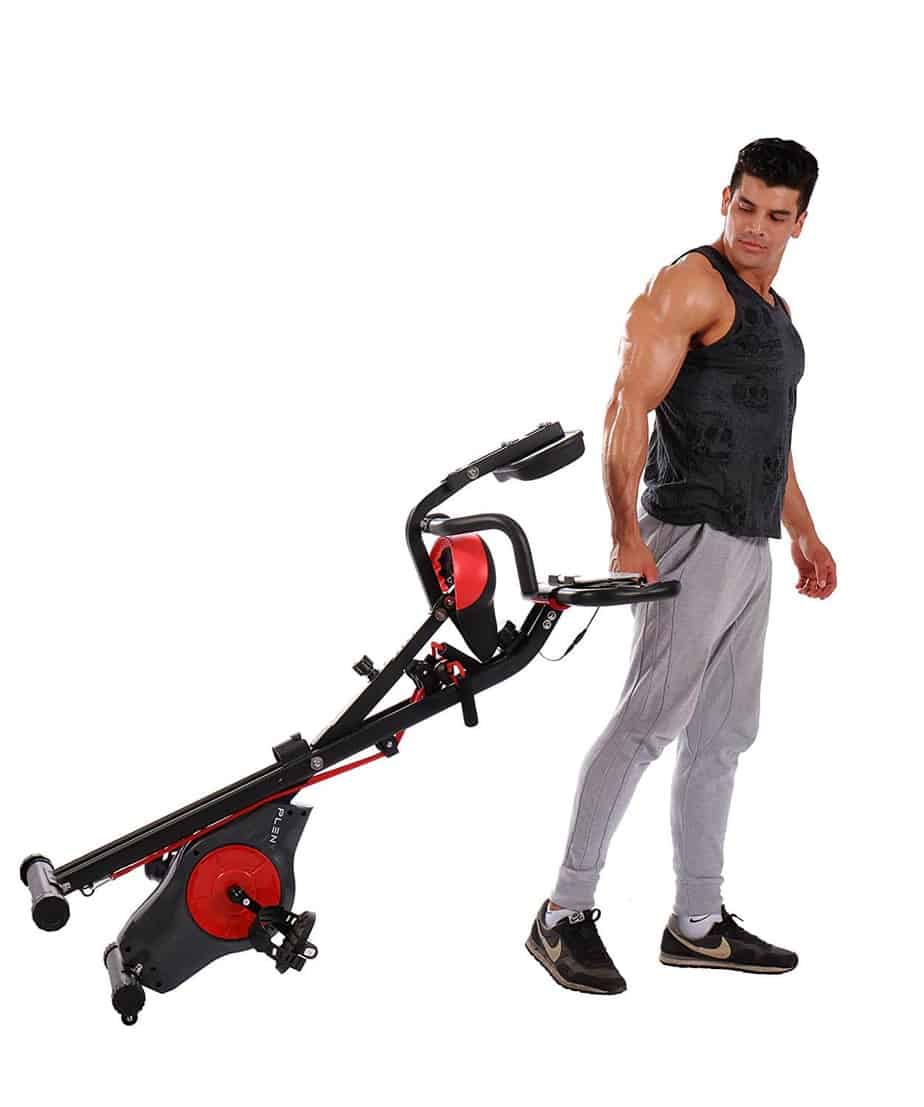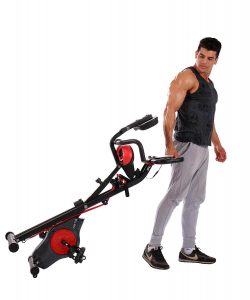 If you have a space problem in your room or apartment then this bike would be just perfect because of the space-saving design that also offers the ability to fold it up when not using it.
It has a small footprint of 37.8 inches long by 16 inches wide and folded dimensions of 16.5 inches long by 16 inches wide by 52 inches tall.
This means you can tuck it away in a corner of the room or inside a standard closet conveniently.
It weighs just 45 pounds/20 kg with transport wheels for portability. Moving it from one spot to another would be a piece of cake.
Approval Rating
The approval rating of the PLENY Upright Semi-Recumbent Exercise Bike is positive. The bike has over sixty Amazon customer reviews at the time this article was written and has an average approval rating of 4.1 stars out of 5 stars.
Therefore, this simply suggests that the majority of the users are overwhelmingly impressed by the bike's quality and functionality.
Pro/Features Overview
Compact with a small footprint thus suitable for small rooms and apartment
Very smooth and quiet during operation
Suitable for users of different heights
Supports 260 pounds/118 kg maximum user weight capacity
It is a lightweight machine with transport wheels for portability
It is sturdy and durable
Its 16 resistance levels are suitable for most users and most importantly is better than the average upright bike with 8 resistance levels
It provides you with the opportunity to work on both the upper and lower body muscle groups
It has an LCD monitor that allows you to keep track of your workout progress; it displays time, distance, speed, calories, and heart rate
The pedals are bidirectional and are reinforced with an additional bolt that prevents them from loosening
The tablet holder is included
It is cost-effective
Cons
Individuals taller than 6.3 feet and shorter than 5 feet might experience restrictions while using the bike
A device or item placed on the tablet holder will definitely block the LCD screen view
Product Dimensions and Specifications
38.8'' Length
16'' Width
43.7'' Height
16.5'' Length (folded)
16'' Width (folded)
52'' Height (folded)
Inseam: 29'' minimum-34.5" maximum
Weight: 45 pounds/18 kg
User weight capacity: 260 pounds/118 kg
Pedals: Anti-skid with safety adjustable traps; bidirectional
Monitor: Basic LCD
Seat: 2-way adjustable with backrest and arms
Handlebar: Non-adjustable with HR sensors
Drive: Belt
Resistance: 16 levels of manual magnetic resistance
Warranty
Shipping, Assembly, and Maintenance
Shipping
The PLENY indoor cycling bike is shipped in a box with dimensions of 47 inches long by 15 inches wide by 8.7 inches tall and weighs 48.3 pounds/21.9 kg.
The shipping cost is usually determined by the retailer that is selling to you; however, some vendors such as Amazon provides free shipping for the United States residents and deliver in a couple of days after the order has been placed.
Assembly
The PLENY Upright Bike is not difficult to assemble since it is delivered with the major components preassembled.
You are only expected to attach these parts to the frame; the front and rear stabilizer bars, the seat, the handlebar, the console, and the pedals.
The whole assembly time would be around 20 to 30 minutes.
The tools required for the assembly and the instruction manual are included as well.
You can also opt for the ''expert assembly'' if you don't want to do the assembling yourself but that will cost you an extra $.
Maintenance
No major maintenance is required for the PLENY Upright Stationary Exercise Bike with Arm Exercise Resistance Bands because it has a belt drive and magnetic resistance systems.
The only maintenance is to make sure that it is wiped clean at all times. Always examine the bike for any loose, broken, or worn-out parts before use. This is to prevent an accident and further damage to the bike.
Conclusion
If you are looking for something compact, comfortable, usable, and affordable then you might consider the PLENY Upright Stationary Semi-Recumbent Exercise Bike with Arms Exercise Resistance Bands. It is no doubt a cost-effective indoor cycling bike that provides you the opportunity to improve your stamina, lose weight, and regain overall physical fitness.
PLENY Upright Stationary Semi-Recumbent Exercise Bike with Arms Exercise Resistance Bands Review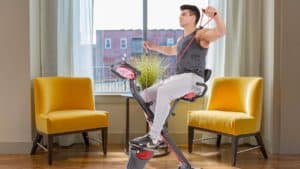 The PLENY Upright Stationary Semi-Recumbent Exercise Bike with Arms exercise Resistance Band has an additional feature that allows you to also work the upp
Product Brand: Pleny
Product In-Stock: InStock