The Plasma Fit 2350X-Pro Elliptical Cross Trainer is an affordable exercise machine that has a similar design as the Body Rider BRD2000 Dual Elliptical Trainer.
It is regarded as 2-in-1 because it enables you to exercise while seated or standing on it, and it has an elliptical cross trainer and a bike motion.
It is a chain-driven bike with a belt friction resistance system. Users up to 220 lbs./100kg can exercise with it.
There are contact grips that enable you to monitor your heart rate in order to maintain your target zone.
This also saves space due to its compact design, and it is portable for an easy relocation process, thanks to the front-mounted transport wheels.
It is a manually operated unit that doesn't need to be plugged into a power outlet.
Click right here to have a peek at the best price of the Plasma Fit 2350X-Pro Elliptical Cross Trainer on Amazon.
The Frame and Construction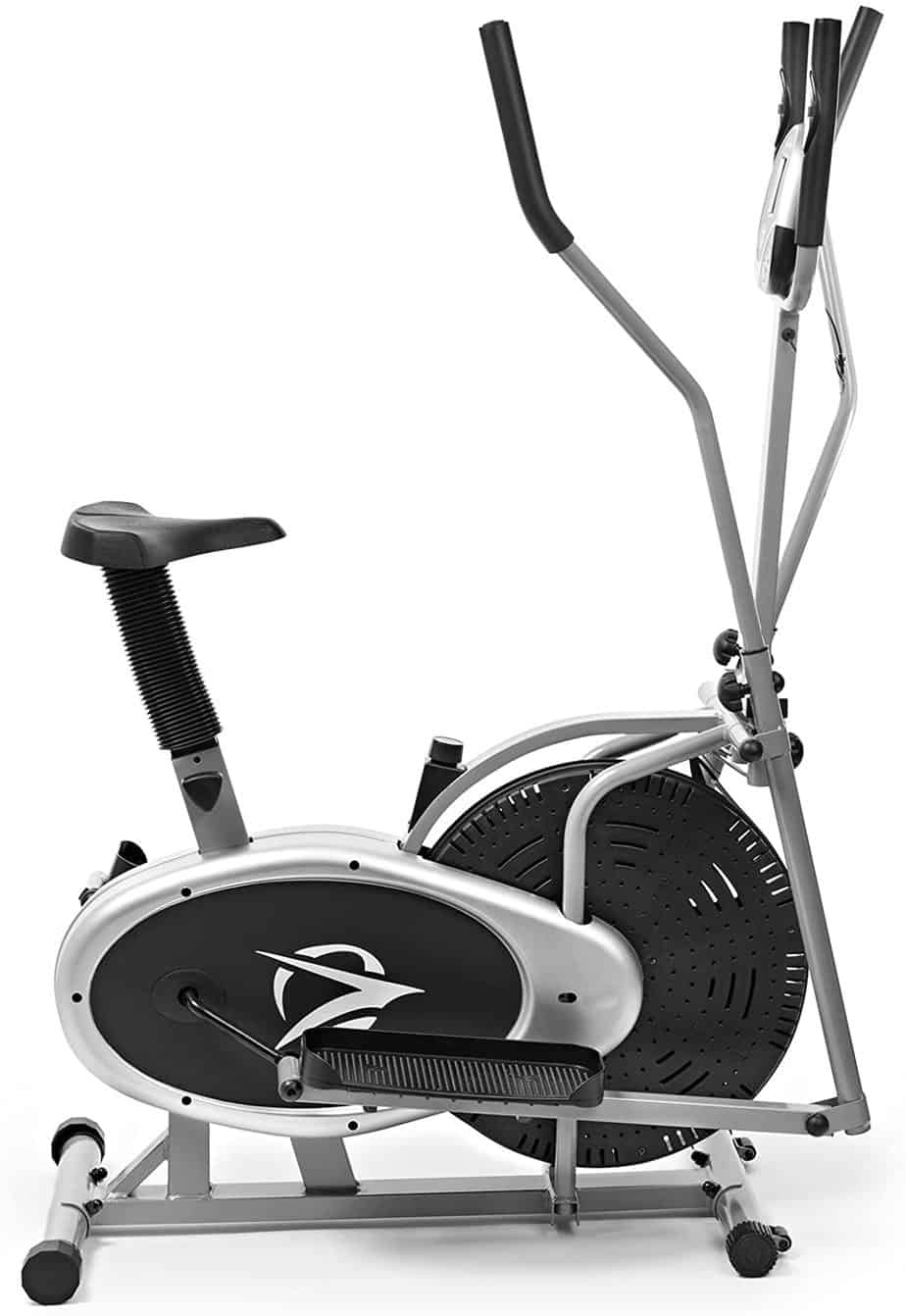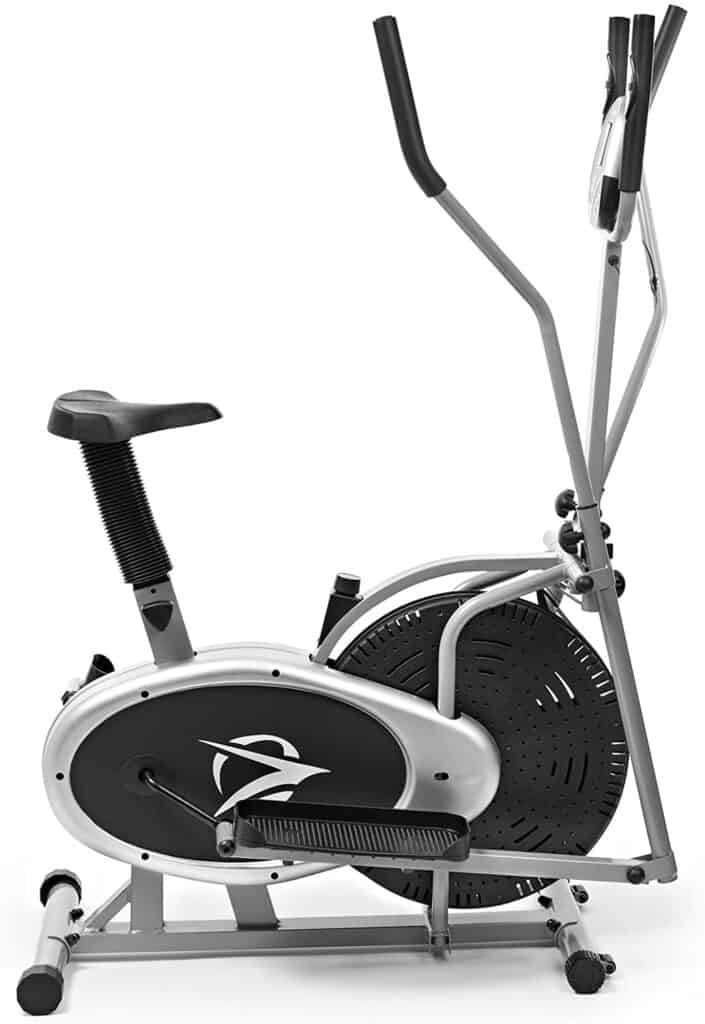 The Plasma Fit 2350X-Pro Elliptical Cross Trainer has a silver-colored steel frame and ABS drive-train covers. Also, the pedals and the stabilizer end caps are made of plastic.
It will suffice to say that the bike has a decent construction for its price and category.
The overall assembled dimensions are 40''/103 cm long by 25.98''/66 cm wide by 59.44''/151 cm. In other words, an area with perimeters of 3'33'' length by 2'16'' width should be able to accommodate the machine.
However, it is best practice to leave a clearance of at least 2' around it for a safe and convenient workout experience.
Now, even with the additional clearance requirement, the elliptical machine doesn't still take up much space. Hence, a good one for those that lack extra space in their room or apartment.
When it comes to stability, the machine is decently stable considering it is not one of those high-end elliptical trainers.
When placed on a good and balanced platform, you won't feel instability despite its small footprints.
This is because it has front and rear steel stabilizers with rubber end caps. Those at the rear are polygonal and adjustable for leveling up the unit.
Although, the use of a rubberized mat might also further improve its overall stability.
It is pretty easy to move it through the front-mounted transport wheels. After all, it only weighs less than 64 lbs./29.03 kg.
The Seat of the Plasma Fit 2350X-Pro Elliptical Cross Trainer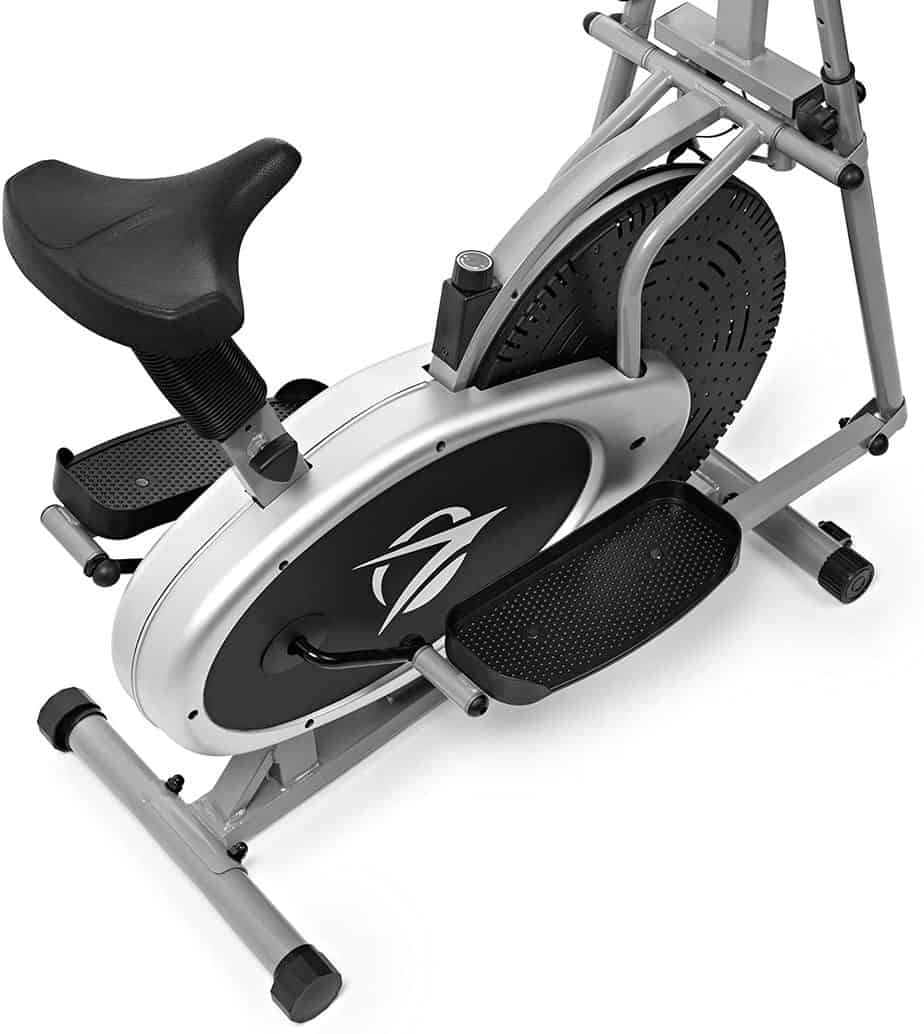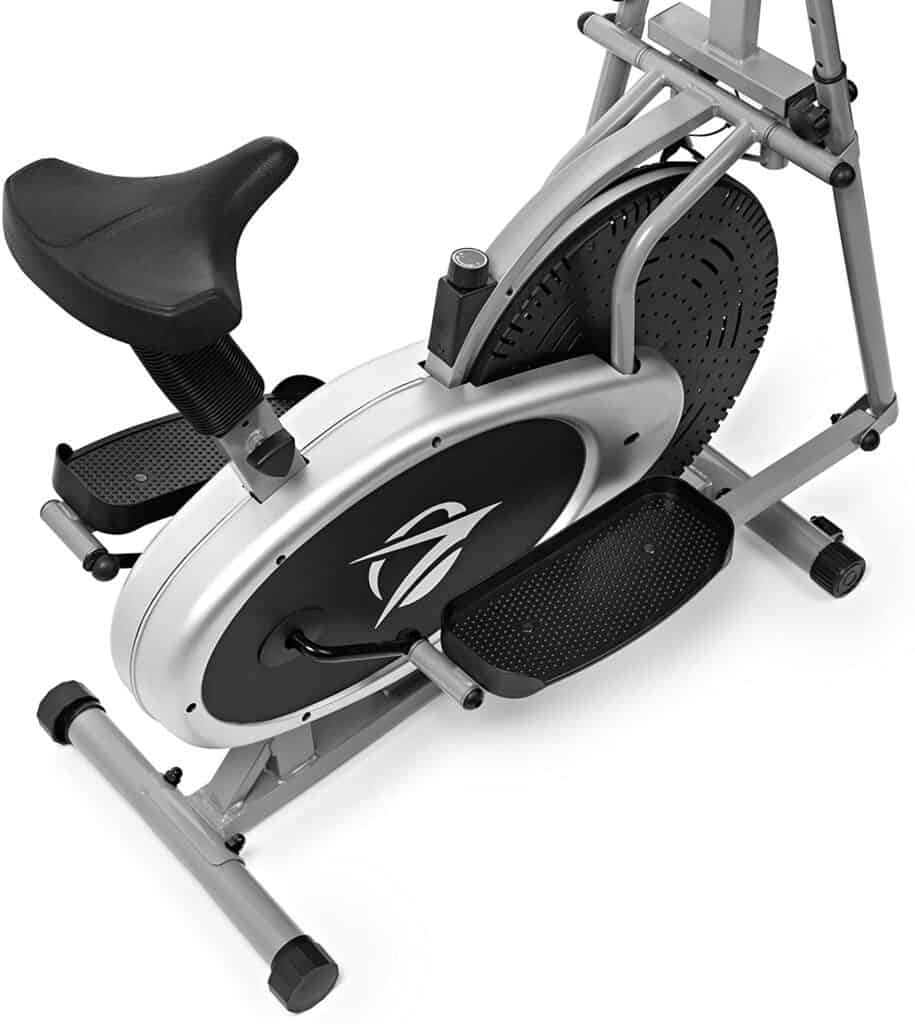 The seat is large and contoured. Its dimensions are 10.25'' long by 10.5'' wide.
That said, it doesn't offer the comfort expected because it is not cushioned. But the use of a gel seat cover can be a good remedy that might improve it.
The seat is 2-way adjustable (vertically adjustable). Therefore, users of different heights can always adjust it as they see fit.
Just for the record, individuals taller than 6' could feel cramped when using this elliptical trainer.
The Handlebars
There are 2 sets of handlebars.
One set is static while the other is dual-action (moveable).
The static handlebars are welded directly on top of the console mast. They integrate the heart rate sensors that transmit your pulse signals (when grasped during a workout) to the monitor for observation.
While the moveable handlebars are attached to a horizontal steel bar at the front, and then connected to the pedals. Consequently, as they move so do the pedals as well because they don't operate independently.
Even though the static handlebars are not adjustable, the dual-action handlebars are. Therefore, you can adjust them either upward or downward, as you deem fit, and the arm extension is 21''.
The 2 sets of handlebars are coated with a soft rubber foam material that is designed to offer enduring comfort. Hence, they prevent slippage and blisters in the palms no matter how long or frequent you work out.
The Pedals
As aforementioned, the pedals are made of durable plastic with a metallic base.
They are large and textured to securely accommodate different foot sizes for the best mechanical elliptical motion.
The dimensions are 13.5'' long by 6'' wide, and the stride length is 11''.
The Drive
The Plasma Fit 2350X-Pro Elliptical Cross Trainer is equipped with a chain drive system. This means the drive is made up of elements such as a chain, a fan flywheel, and the cranks.
It is durable. But its operation is not as quiet as a belt drive system, and the fan flywheel also adds to its overall noise level.
It may require periodic maintenance as well to keep the chain in a proper functioning state.
Finally, it is bidirectional. This means you can pedal in reverse to work on more muscle groups such as the quads, glutes, and butts.
The Resistance
This machine does not have an air or magnetic resistance system as some people presumed. Instead, it has a belt friction resistance system.
This is a type of resistance system that comprises a belt, the fan flywheel, and the tension control knob.
The belt connects to the tension control knob and wraps around the fan flywheel so that when the tension knob is turned clockwise the belt tightens around the flywheel, and when turned counterclockwise, it loosens.
Therefore, the resistance level increases and decreases respectively.
There are no pre-defined resistance levels. So, you will have to turn the resistance knob clockwise or counterclockwise until you feel a suitable workout challenge.
The friction resistance tends to generate some noise when the belt rubs on the fan flywheel especially during a high speed, and this could result in the belt wearing out after some time.
The Console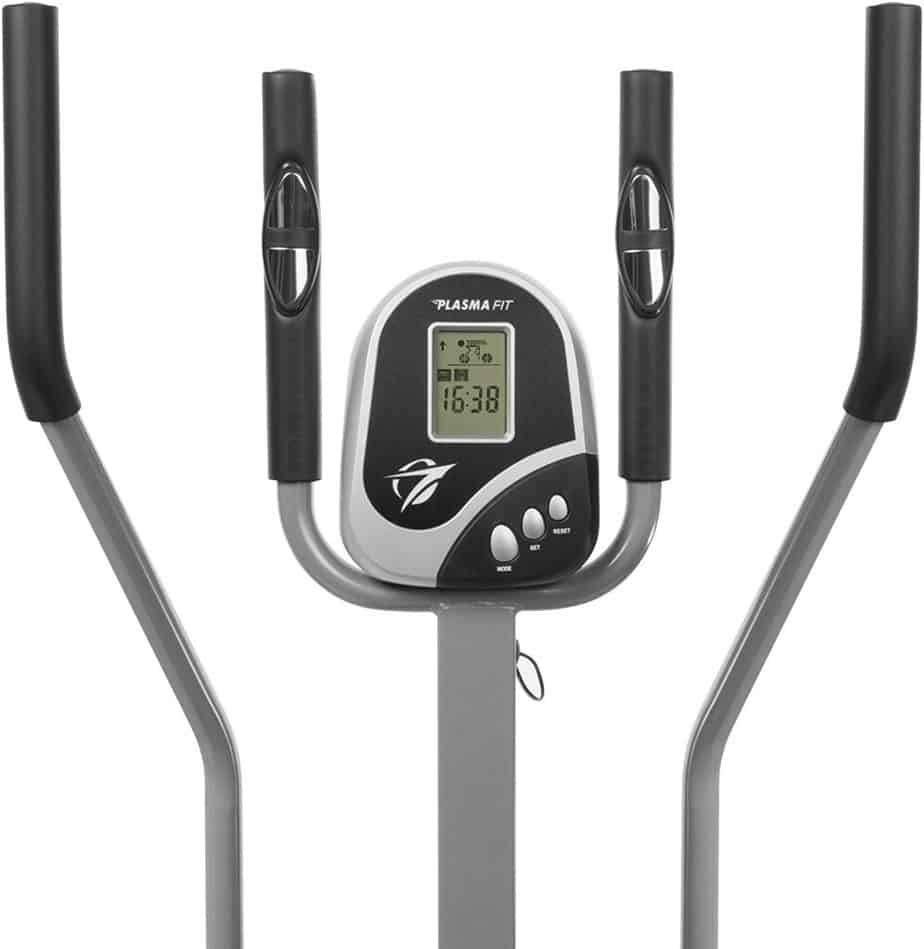 The Plasma Fit 2350X-Pro Elliptical Cross Trainer is an entry-level unit. Thus, it features a basic console that has an LCD monitor for tracking workout progress. It displays workout stats such as Time, Distance, Speed, Calories, and Pulse.
As aforementioned, the contact grips have to be grasped during a workout before the heart rate data is displayed.
The monitor rotationally displays the workout data one at a time after every few seconds since it can't display them simultaneously.
Although, it is possible to set a certain preferred workout stat to display constantly without skipping to another.
The readability of the display is great. But it could be compromised if viewed in a room that is not well-lit because the monitor does not have a backlight.
The battery-powered monitor (batteries included) turns on automatically when you start pedaling, or when a button on the console is pressed, and it automatically turns off when there is no activity on the unit for 4 minutes.
Accessory
There is no accessory on the Plasma Fit 2350X-Pro Elliptical Cross Trainer.
You will have to improvise to keep a smartphone and a water bottle handy for taking calls/entertainment and maintaining proper hydration during workouts.
Storage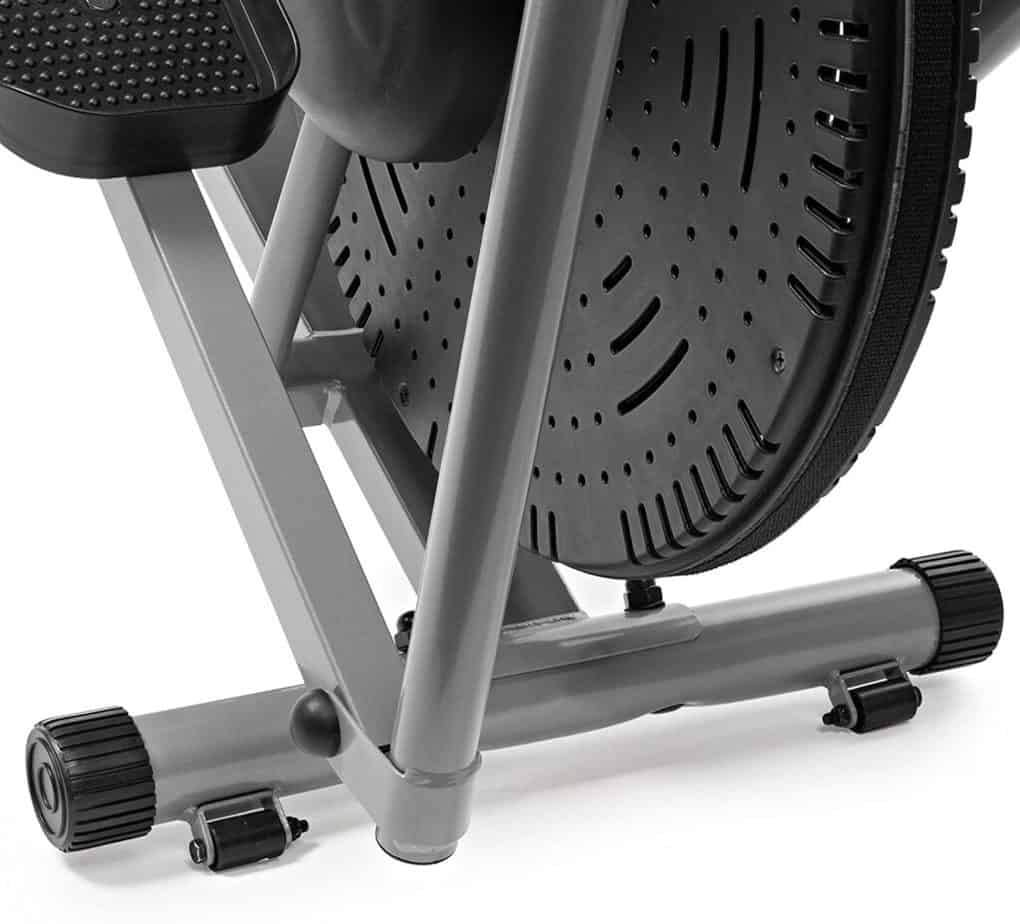 The Plasma Fit 2350X-Pro Elliptical Cross Trainer is a compact machine that doesn't take up too much space. It requires a small area for storage, and the front-mounted transport wheels help with the relocation process.
Simply tilt it forward and roll it away without hassles.
However, it may be difficult to roll over a rug carpeted surface due to its small transport wheels.
Pros/Features Overview
Durably and sturdily built
Supports a maximum user weight capacity of 220 lbs./100 kg
Its compact design saves space by a lot
It provides full body and low impact cardio for weight loss, muscle group toning, and overall physical fitness improvement
Designed for home, and office use
There are 2 sets of handlebars coated with anti-slip rubber foam material for secure and comfortable grips
The dual-action handlebars are vertically adjustable
The static handlebars incorporate HR sensors for pulse rate transmission
The 2-way adjustable seat is large and contoured
The pedals are large and textured for secure and comfortable foot placement, and can accommodate different foot sizes as well
It integrates a belt friction resistance system that provides different levels of workout difficulties
The LCD monitor tracks workout progress by displaying data such as Time, Distance, Speed, Calories, and Heart Rate
Transport wheels included for easy relocation
Assembly is not difficult
Cons
The seat is hard and not comfortable (needs to be covered with a gel seat cover)
It is not for users whose wish is to experience extreme workout challenge
It is a bit noisy
No water bottle and tablet holders
The monitor is not backlit
Warranty
Product Dimensions & Specifications
Length: 40''
Width: 25.98''
Height: 59.44''
Shipping dimensions: 38'' L x 26'' W x 9'' H
Net weight: <64 lbs./29.03 kg
Gross weight: 64 lbs./29.03 kg
Maximum user weight capacity: 220 lbs./100 kg
Frame: Steel
Drive: Chain
Resistance: Belt friction
Seat: 2-way adjustable
Handlebars: 2 sets (static & moveable)
Pedals: Large and textured
Stride length: 11''
Monitor: Basic non backlit
Transport wheels included
Contact grips for heart rate monitoring
Shipping
The unit is shipped out in a package that has dimensions of 38'' long by 26'' wide by 9'' high and it weighs about 64 lbs./29.03 kg.
The shipping process starts immediately after an order is placed, and it takes a couple of days for the delivery to be made.
The number of days it takes to get delivered varies because of differences in destinations.
Assembly
The product is not difficult to assemble. An average skilled person can conveniently assemble it.
The parts needed to be attached to the main core unit include the front and rear stabilizers, the handlebars, the console mast, the pedals, the seat, and its post, and the console.
It takes about an hour, more or less to completely assemble.
Maintenance
The chain may need periodic lubrication to maintain its smooth operation.
Aside from that, you need to wipe the unit clean of sweat and dirt after every workout session.
Examine it for a loose or broken part before use, and act accordingly if there is an issue.
Store it in a cool, dry, and clean area.
Conclusion
The Plasma Fit 2350X-Pro Elliptical Cross Trainer is an affordable full-body and low-impact machine that can easily fit in a room or an office.
It offers you the opportunity to work out for weight loss, muscle group toning, and improvement of heart and lungs' health.