The Lenos Hydraulic Rowing Machine is not the first of its kind to be around because there are several others which we have reviewed on this site. Among them includes the Stamina Body Trac Glider, Harvil Hydraulic Rowing Machine, and more.
When you look at them, they have close similarities if not an outright replica of one another with a change of brand name.
That said, we are going to have a closer look at the Lenos Hydraulic Rowing Machine. It appears to have a good approval rating on Amazon as of the time of this review.
Click right here to have a peek at its best price on Amazon.
The Frame & Construction
The Lenos Hydraulic Rowing Machine is sturdy, durable, and compact. In other words, it maintains decent stability while it supports a maximum user weight capacity of 250 lbs./113 kg, and it doesn't take up too much space for workouts or storage.
Moreover, it can easily be moved around the room even though there are no transport wheels because it is lightweight. It only weighs 35 lbs./15.42 kg.
Nevertheless, for some folks that may find it difficult to move the machine, it is recommended to be assembled and used in a spot that is not too far away from the storage area.
The frame is made of alloy steel that is finished with anti-corrosion black paint. Therefore, it is going to last long without deteriorating as a result of an environmental effect that comes with time.
The base has front and rear steel stabilizers with plastic caps, hence its good stability.
As aforementioned, it is a compact machine with assembled dimensions of 50'' long by 36.22'' wide by 20'' high.
Differently put, it is going to need a workout area with perimeters of 4'16'' length by 3' width, plus additional clearance of 2' around it for safety.
When folded, it becomes even more compact; its closed dimensions are 20'' long by 23'' wide by 49'' high. Therefore, it can be stored vertically by leaning it against the wall in a corner of the room.
The Seat of the Lenos Hydraulic Rowing Machine
The heart-shaped designed seat is large, slightly contoured, and cushioned for maximum comfort. It has 2 ball-bearing rollers on each side, and they are attached to the rail beam for smooth and quiet gliding motion with every stroke you make.
The rail is about 3'5'' long, and as a result, users that are between 4'2'' to up to 6'5'' tall can fit in comfortably for exercise.
Overall, the seat padding could be softer so that your butt doesn't get hurt when exercising longer. So, additional padding could resolve this problem.
The floor to seat height is about a foot high.
The Handlebars (Oars)
The Lenos Hydraulic Rowing Machine has oar-like handlebars. They allow you to paddle back and forth effectively with ease.
This action engages the arms, the core, shoulder, and back muscle groups.
The handles are coated with soft rubber foam material and have a hat-like cap at the top for secure and comfortable grips.
They have flexible joints that make it possible for them to be folded when they aren't in use or when you need to put the rower away for storage.
The Footrests
The pedals are large, textured, and predominantly made of plastic. However, they are attached to a steel pipe that consequently makes them pivot. So, when you work out, your ankles don't get stressed because your feet adhere to every movement.
Also, they have safety straps with 2 strap positions that secure different foot sizes for maximum comfort and safety.
The Resistance
The Lenos Hydraulic Rowing Machine is equipped with a hydraulic resistance system that consists of a cylinder and a piston. It is positioned under the rail beam, as one end is attached to the rear vertical base and the other end attached to the handlebars' convergent bars.
Thus, when you pull the handlebars, the hydraulic cylinder pumps and becomes pneumatic to create some level of resistance.
It has a tension knob that is used to control the intensity level of the resistance. There are 12 settings to which you can adjust it for any workout challenge you wish to use.
The operation of the rower remains smooth and quiet even when the resistance is applied. It won't prompt you to increase the volume of the TV or music beyond the normal range if you choose to entertain yourself during a workout session.
Moreover, needless to say, your family and the neighbors won't be bothered either.
The level of workout challenges the resistance system provides is great as long as your goal is to improve your overall physical fitness. Also, it engages the major muscle groups in the body, such as the back, shoulders, chest, and arms.
Console
Interestingly, even though the Lenos Hydraulic Rowing Machine is an entry-level indoor exercise unit, it integrates a console that features a basic LCD monitor for tracking your workout progress.
You should be able to monitor workout metrics such as Time, Row Count, and Calories Burned. These workout metrics are displayed one at a time after every 6 seconds by the SCAN function since it isn't possible to have them viewed simultaneously.
The console is attached to a curvy mast right in front of you for easy view. As a result, it is easy to read the display but could be compromised if viewed in a room that is not well lit because the monitor is not backlit.
The rower is manually operated; meaning, it doesn't need to be plugged into a power outlet; even the monitor is battery-powered (requires a 1 AA battery).
Accessory
This hydraulic rowing machine doesn't have a water bottle holder nor a tablet holder.
So, you will have to find a way to keep water and a smartphone device handy for proper hydration and entertainment purposes during workouts.
Storage
The Lenos Hydraulic Rowing Machine is storage-friendly in the sense that you can have it stored in a closet or vertically leaned against the wall when folded.
A storage area with perimeters of 1'66'' length by 1'91'' width can accommodate it.
Although there are no transport wheels for the relocation process, nevertheless it won't be difficult to move because it only weighs 34 lbs./15.42 kg. So, most individuals can conveniently have it moved.
Pros/Features Overview
It features an alloy steel frame
It supports up to 250 lbs./113 kg maximum user weight capacity
It is inexpensive
It doesn't take up too much space for workouts or storage due to its compact and foldable design
It provides full body and low-impact cardiovascular exercises
Suitable for home and office use
Its operation is smooth and quiet; hence, it doesn't stop you from using it around people
The adjustable hydraulic resistance system provides different workout intensity for weight loss, muscle groups toning, and strength and endurance improvement
The handlebars provide comfortable, safe, and full range grips
The pivoting pedals are large, textured with adjustable safety straps for maximum comfort for different foot sizes
The seat is large and glides smoothly along the rail
Even though the monitor is basic, it tracks workout stats such as Time, Row Counts, and Calories Burned
The rower doesn't need to be plugged into a power outlet to function
It is maintenance-free
Pretty easy to assemble
Cons
No heart rate monitoring function
No tablet and water bottle holders
1 AA battery not included
No transport wheels
Product Dimensions and Specifications
Length: 50''
Width: 36.22''
Height: 20''
Folded dimensions: 20'' L x 23'' W x 49'' H
Shipping dimensions: 49.5'' L x 11.45'' W x 9.4'' H
Maximum user weight capacity: 250 lbs./113 kg
Net weight: 34 lbs./15.42 kg
Gross weight: 38.91 lbs./17.65 kg
Frame: Alloy steel
Seat: Large and padded
Handlebars: Foldable and coated
Pedals: Pivot, large and textured with adjustable safety straps
Resistance: Manual hydraulic
Console/monitor: Basic LCD
Floor to seat height: 12'' or less
Shipping
The Lenos Hydraulic Rowing Machine is shipped in a box that weighs 38.91 lbs./17.65 kg with dimensions of 49.5'' long by 11.45'' wide by 9.4'' high.
Amazon may ship this product for free and gets it delivered in a couple of days.
Assembly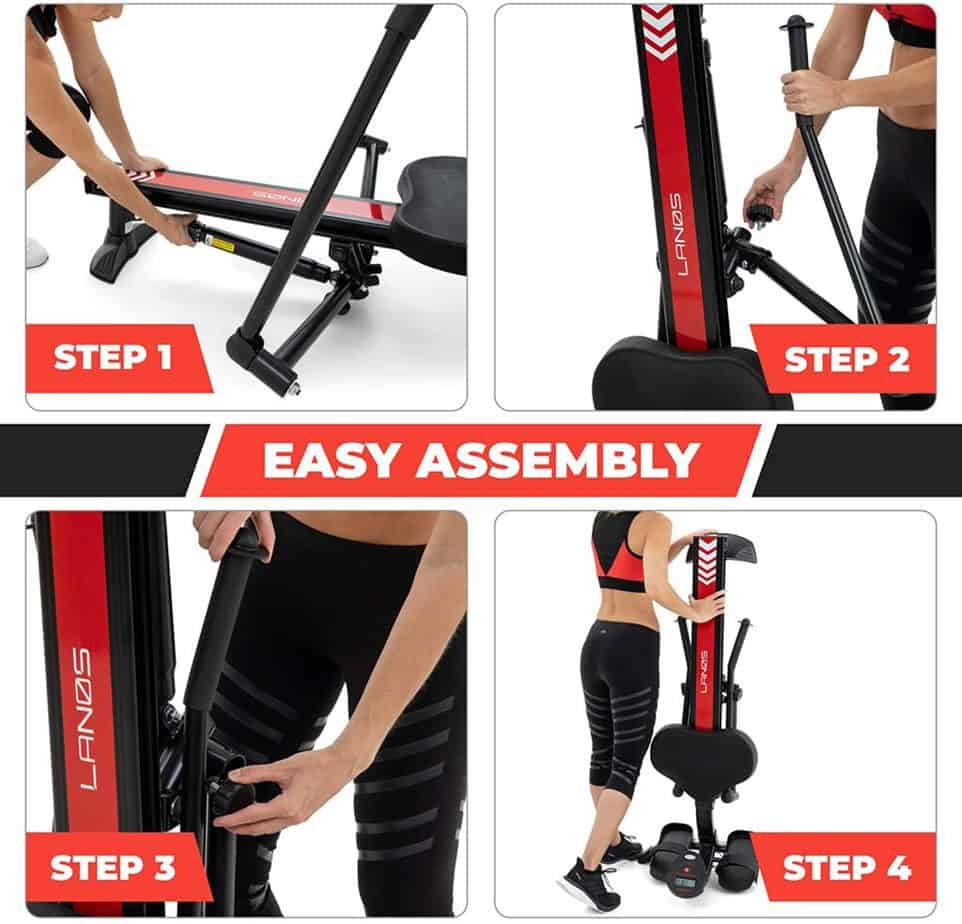 Assembly is a breeze because it arrives almost preassembled.
Moreover, there is an instruction manual that walks you through the few processes of putting it together.
Maintenance
There is no serious maintenance that is required.
Simply keep it clean after every workout session, and routinely check it to ensure that every part is in good condition and good to go.
Do store it in a cool, dry, and clean area.
Conclusion
The Lenos Hydraulic Rowing Machine is a full-body and low-impact exercise unit that enables you to engage most of the muscle groups in the body.
It is affordable and environmentally friendly because it doesn't generate any annoying noise that might offend family members or neighbors.