The Sunny Health and Fitness Pro SF-B901B Indoor Cycling Bike is the belt drive version of the Pro SF-B901 Cycling Bike. It is also pricier, however, they both have similar features and designs.
That said, the Sunny Health and Fitness Pro SF-B901B Indoor Cycling Bike is an entry-level machine that is designed for home use. Its acquisition allows you to work out in the comfort of your home for weight loss, and improvement of overall physical fitness purposes.
Its operation is smoother and quieter than the chain drive version (Pro B901), and it doesn't need maintenance as much.
Click right here to have a peek at the Sunny Health and Fitness Pro SF-B901B Indoor Cycling Bike.
Frame and Construction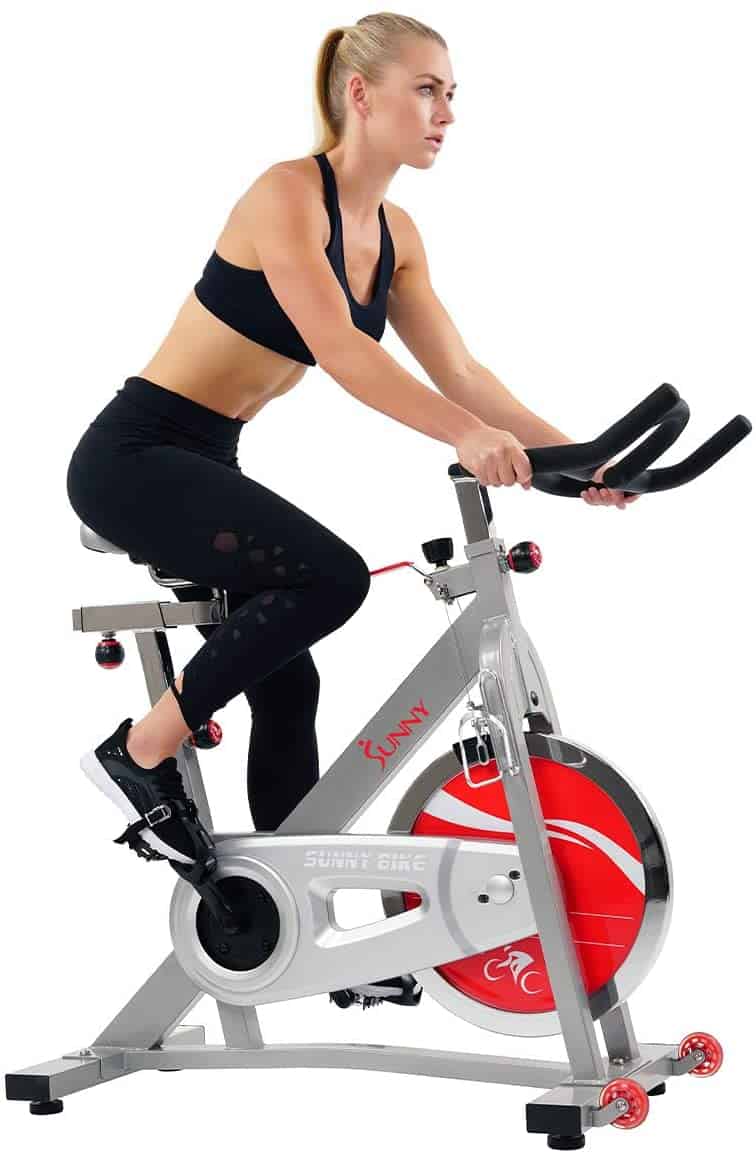 The Sunny Health and Fitness Pro SF-B901B Indoor Cycling Bike features a solid steel frame that is coated with gray anti-corrosion paint. Hence, users that are up to 275 lbs./124.7 kg in weight or less can utilize it.
The robust and adjustable base guarantees optimal stability that doesn't budge even when riding vigorously on a crooked surface. Its assembled weight of 102 lbs./46 kg further optimizes its overall stability.
Although, the use of a protective rubber mat might be a good idea if you are to use the bike on a rug carpet to prevent its footprints on it, and sweat from spilling on the floor.
This is a non-foldable, compact, and portable bike with transport wheels at the front base. This means it doesn't take up too much space and can be moved from one location to another in a room without hassles.
The assembled dimensions are 46'' long by 20'' wide by 46'' high. In other words, an area with perimeters of 3'9'' length by 2'7'' width will be required for workouts. Also, additional clearance of 2' around it will be necessary to ensure easy access and safety during workouts.
While a ceiling height of at least 8' will suffice for workouts that include out-of-seat pedaling.
The Seat of the Sunny Health and Fitness Pro SF-B901B Indoor Cycling Bike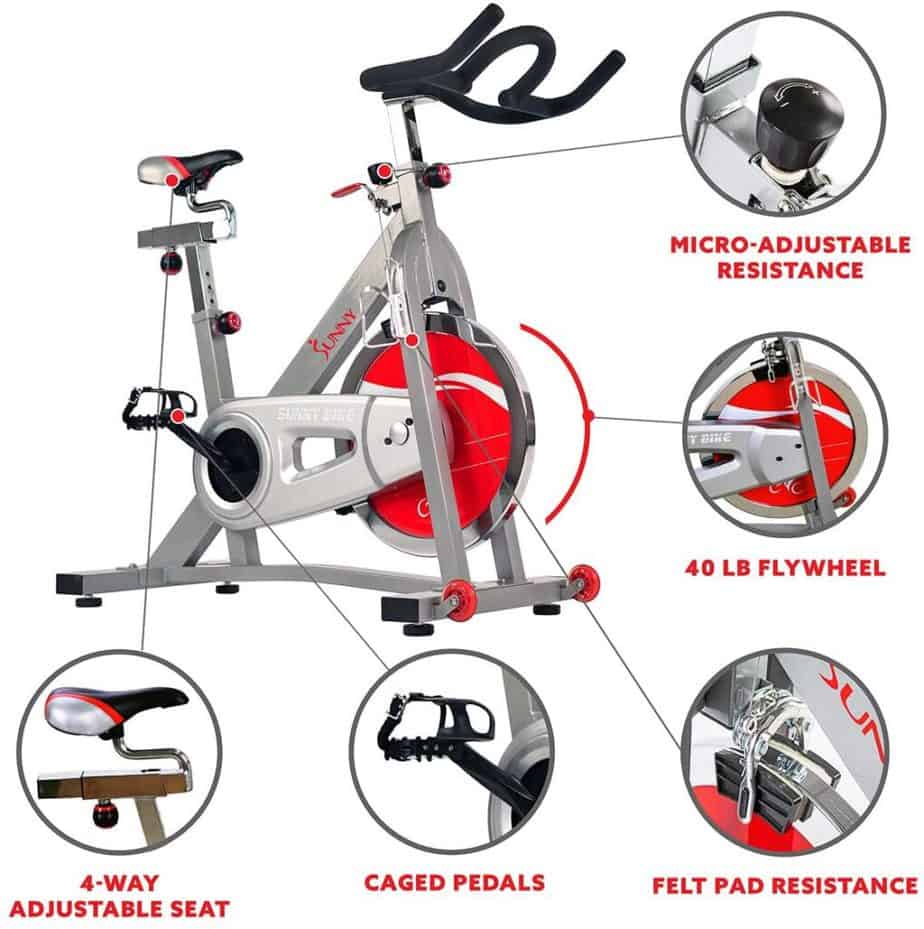 The bike possesses a solid, and standard seat that is yet comfortable. It is decently cushioned, and covered with vinyl material, thus, users can work out enjoyably and consequently longer.
Its dimensions are 10'' long by 6'' wide by 2.5'' thick.
However, you can use a gel seat cover if you think it's not comfortable enough, or have it changed for any other saddle you have in mind.
The seat is 4-way adjustable; it could be adjusted vertically (upward/downward) and horizontally (fore/aft). While the distance between the seat and the handlebar is 17.5''-22''. Therefore, these make the bike to be versatile and accommodative to users that are between 5'-6'5'' tall.
Differently put, the bike supports users with inseam heights of 29''-41''.
The Handlebar
The Sunny Health and Fitness Pro SF-B901B Indoor Cycling Bike is equipped with a multi-grip handlebar that is generously coated with soft rubber foam. This provides different grips that allow you to work out in different postures for effective results.
The grips are comfortable and secure, resultantly, no sweaty, slippery hands, or even blisters that may occur due to frequent use.
The handlebar is 2-way adjustable (upward/downward), which is complementary to the seat's adjustability. So, users can make all the necessary adjustments to fit in comfortably.
Finally, there are no HR sensors integrated into the handlebar, neither does it have an LCD monitor as opposed to most indoor cycling bikes.
Consequently, no means to monitor your workout progress much less to track and maintain your target heart rate zone. Except of course, if you use an external monitoring device that most users explore.
The Pedals
The unit features a pair of self-leveling toe caged pedals that accommodate different foot sizes and standard gym shoes. They have additional safety features that include the anti-slip surface and adjustable straps that provide maximum secured footing.
However, you can swap them for clip-in special spin shoes because they have a 9/16'' standard thread.
The pedals are superior and can hold up without breaking, even when the whole-body weight is put on them. In other words, you can perform out-of-seat pedaling without problems.
The Drive
The Sunny Health and Fitness Pro SF-B901B Indoor Cycling Bike is incorporated with a belt drive system.
It mainly consists of elements such as a durable anti-stretch belt, pulleys, a 3-piece crankset, solid crank-arms, and the 40 lbs./18 kg precision flywheel.
Its smooth and quiet operation allows you to train at any time of the day without having to worry that the family or the neighbors might be bothered. You can also conveniently watch your favorite TV show or listen to good music without noise interference from the bike.
Additionally, the drive is bidirectional, meaning that both the flywheel and the pedals are fixed, and they spin concurrently. So, you can pedal in reverse to diversify and tone more muscle groups.
However, this also means you can't coast as you could on a real road bicycle. Hence, you need to apply (push down) the emergency safety stop lever that is designated at the mainframe tubing whenever you wish to stop pedaling for safety reasons.
The Resistance
This indoor bike has a friction resistance system that comprises a pair of felt brake pads, the tension knob, and the flywheel.
The felt brake pads are situated on either side of the flywheel, just like the road bicycle brake system, instead of the top-face-down traditional position most spin bikes have.
So, resistance is created when the brake pads come in direct contact with the flywheel, and it is adjusted when the tension knob is turned clockwise or anticlockwise to increase or decrease the intensity, respectively.
Due to the friction that occurs during the process of generating resistance, the felt brake pads tend to wear out gradually and eventually will need to be replaced at some point in time. However, the deterioration may be delayed if you ensure that the brake pads are saturated with lubricant oil at all times.
Lastly, the resistance levels provided are infinite and suitable for all users. Thus, beginners and intermediaries can challenge themselves to improve their fitness level, while advanced athletes can engage in extremely difficult cardio workouts as well.
Console
This unit doesn't have an LCD monitor. Consequently, no workout progress monitoring activity will be observed except if you use an external device just as aforementioned.
Accessory
The Pro SF-B901B has a bottle holder for keeping water within reach for proper hydration during workouts.
Storage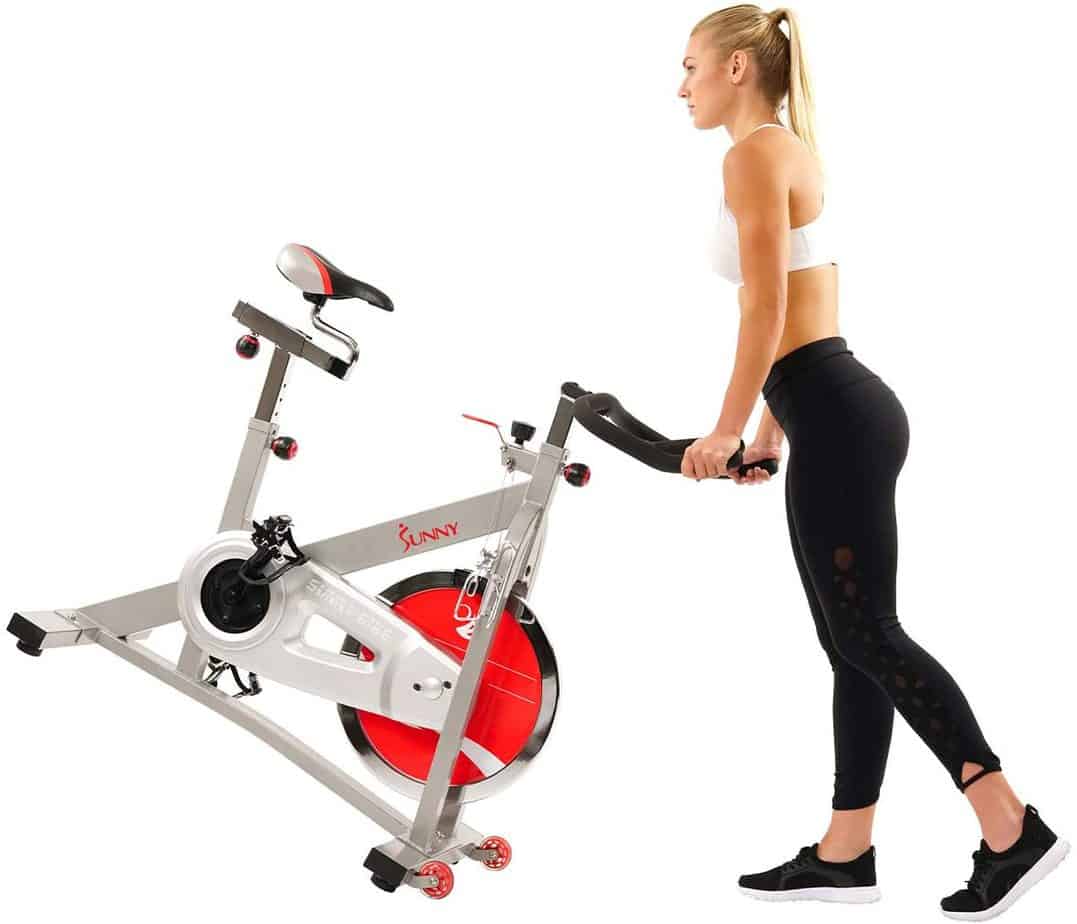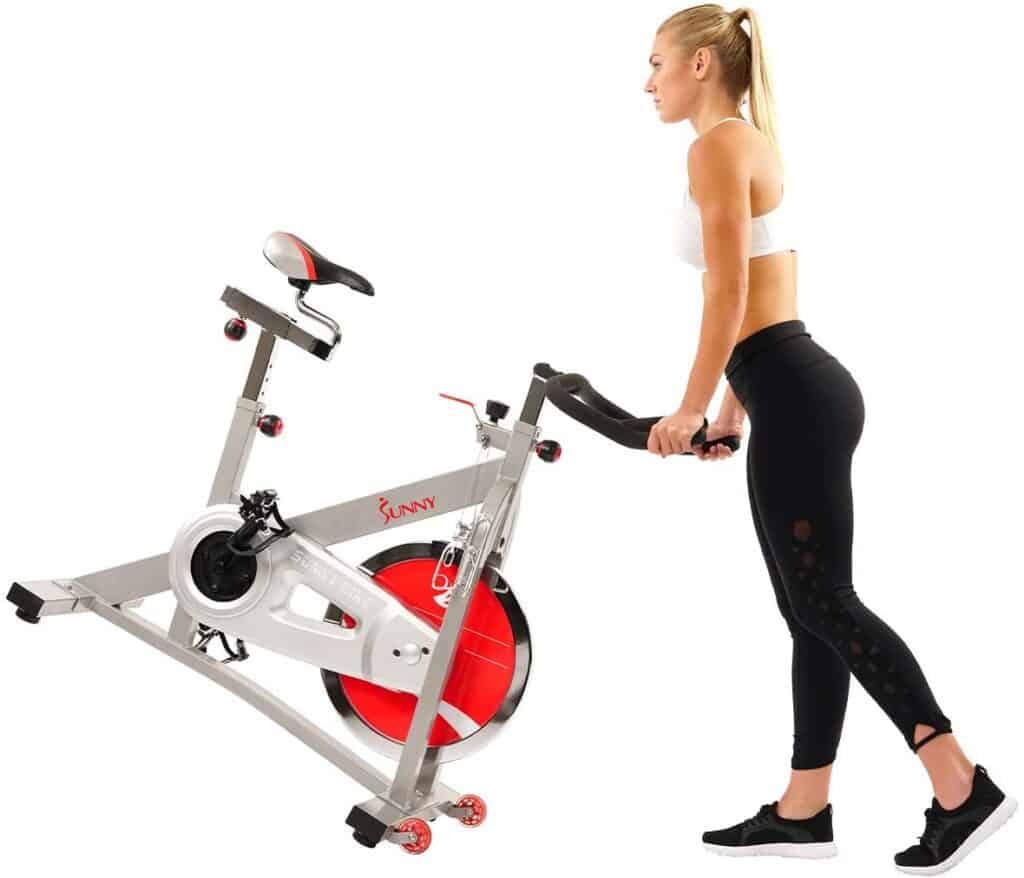 This indoor cycling bike is a non-foldable compact machine that integrates transport wheels for an easy relocation process.
To roll it away, simply tilt it toward the transport wheels while standing at the front of it with a foot wedged at the base.
A storage area with perimeters of 3'9'' length by 2'7'' width will adequately suffice. So, you can't run out of options of where to store it.
Approval Rating
The Pro SF-B901B Cycling Bike is well accepted in the fitness community. The positive reviews on Amazon and by independent review sites only speak volumes of this.
Therefore, if you are on a budget, or simply wish to acquire a quality basic cycling bike, this machine should probably be on your list.
Pros/Features Overview
Sturdily and durably constructed with a steel frame
It doesn't take up too much space and can easily be moved from one room to another
It supports a maximum user weight capacity of 275 lbs./124.7 kg
Its robust base framework and adjustable levelers stabilize it optimally
Users between the heights of 5'-6'5'' tall can be accommodated
The cushioned, 2-way adjustable, and multi-grip handlebar provides a comfortable and secure variety of different grips
Pedals are textured, toe caged with adjustable safety straps for maximum footing stability, and they accommodate different foot sizes as well
The generously cushioned seat provides lasting comfort
It is customizable;
The 40 lbs./18 kg precision flywheel provides a consistent momentum for a smooth and vibration-free ride
The friction resistance system provides easy to difficult workout intensities that are suitable for everyone
The seat and the pedals can easily be changed for other options
Easy to maintain
Easy to assemble
A water bottle holder is included for keeping proper hydration
Cons
No console/monitor
No tablet holder
Warranty
3 Years for the Frame
180 Days for the Parts and other Components
Product Dimensions and Specifications
Length 46''
Width 20''
Height 46''
Shipping dimensions: 41'' L x 10'' W x 35'' H
Net weight: 102 lbs./46 kg
Gross weight: 113 lbs./51 kg
Inseam heights: 29'' min. – 41'' max.
Maximum user weight capacity: 275 lbs./124.7 kg
Flywheel: 40 lbs./18 kg
Frame: Steel
Drive: Belt
Resistance: Friction
Seat: 4-way adjustable
Handlebar: 2-way adjustable
Pedals: Toe cages with adjustable safety straps
Distance between seat and handlebar: 17.5'' – 22''
Monitor: No
Water bottle holder: Yes
Tablet holder: No
Transport wheels: Yes
Shipping
The Sunny Health and Fitness Pro SF-B901B Indoor Cycling Bike ships out in a box that weighs 113 lbs./51 kg with dimensions of 41'' L x 10'' W x 35'' H.
Upon purchase, Amazon ships it out free of charge, with no shipping cost, and it is delivered in a couple of days.
Assembly
The unit arrives partially assembled; hence, you only need to attach the base stabilizers, the seat/handlebar posts, the seat, the handlebar, and the pedals.
The included owner's manual and the tools help you to complete the assembly without hassles, and it takes about 30 minutes to get it done.
Maintenance
Endeavor to lubricate the felt brake pads from time to time, and inspect the bike before use to ensure that every part is tight and in good condition.
Conclusion
The Sunny Health and Fitness Pro SF-B901B Indoor Cycling Bike is a cardio workout unit designed for home use. Its operation is smooth and quiet, its friction resistance system provides a range of workout intensities that are suitable for everyone.
In a nutshell, the bike sets you on the path of losing weight, improving heart and lungs' health, and more.