The SUPAKA Indoor Magnetic Spin Bike has a thickened steel frame structure that makes it sturdy and durable. It integrates a 35 lbs./15.8 kg precision flywheel similar to the one on the OVICX XCycleQ100.
The step-thru design enables users to easily mount and dismount it without a struggle, while the 3.54'' LCD monitor displays workout stats simultaneously without switching them one after the other.
Most users of different heights and sizes can utilize the bike due to its micro-adjustability and its operation is smooth and quiet, thanks to the belt drive system.
Click right here to have a peek at the SUPAKA Indoor Magnetic Spin Bike.
The Frame and Construction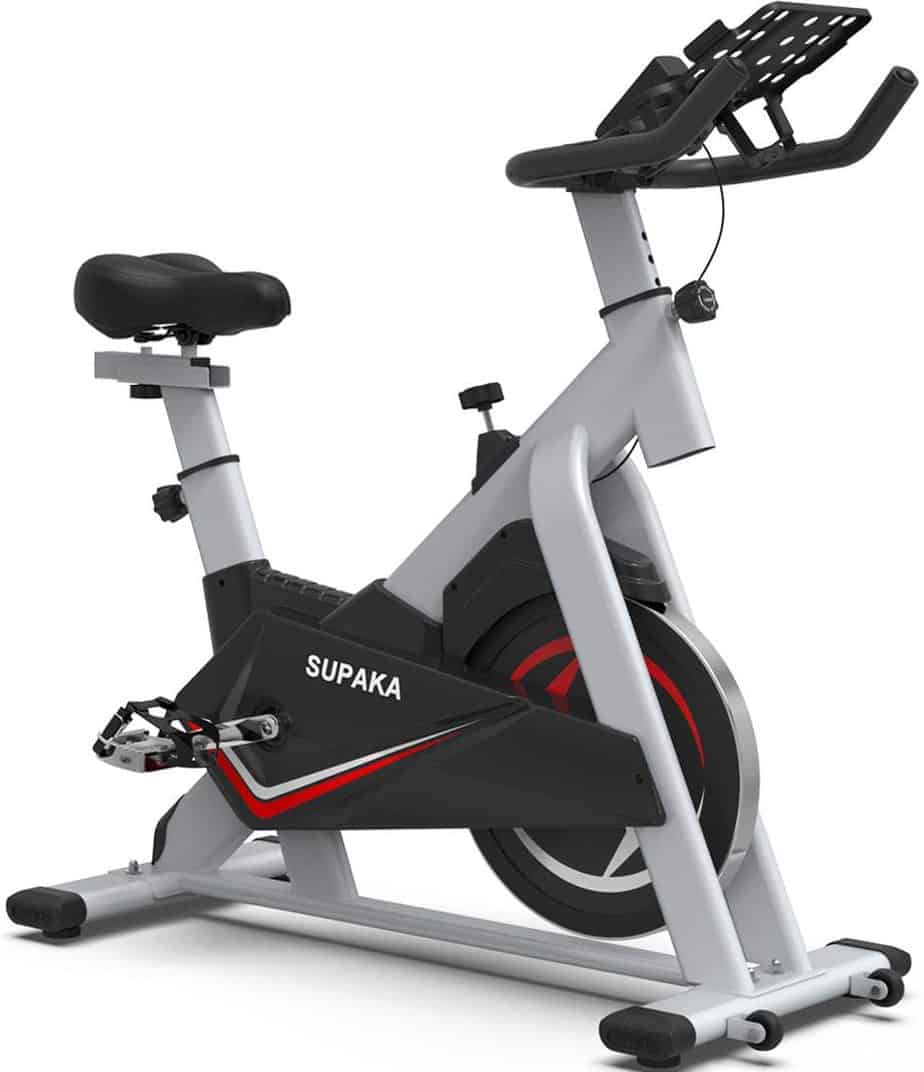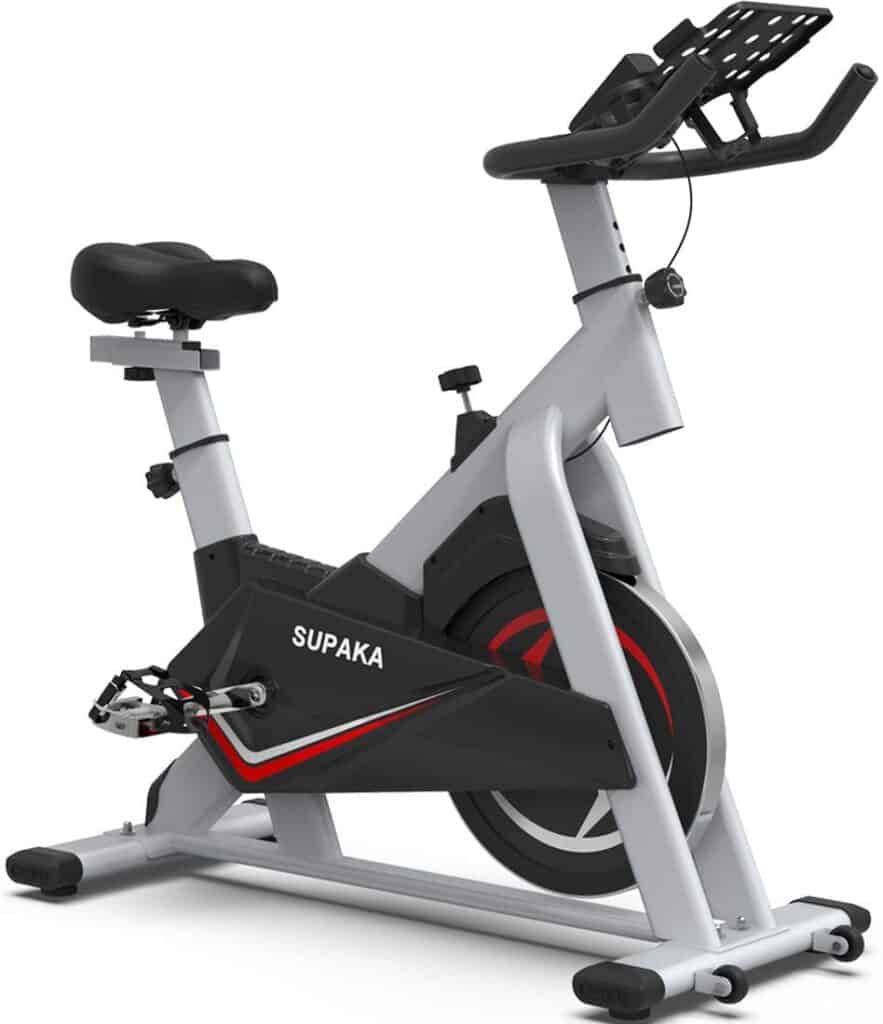 The SUPAKA Indoor Magnetic Spin Bike is constructed for home use. It has a sturdy anti-corrosion-coated structure that supports a maximum user weight capacity of 330 lbs./ 149.6 kg. While other protective, accessory, and cosmetic parts such as the belt guard, the magnetic brake pad cover, and the tablet holder are made of durable plastic.
The steel stabilizers with adjustable levelers enable users to optimize stability on crooked surfaces. Therefore, working out with the bike will never give rise to wobbling or unwanted movements.
Since the bike's assembled dimensions are 39.37'' long by 21.26'' wide by 41.54'' high, it will require a workout area with perimeters of 3'3'' length by 1'8'' width. While an 8' ceiling height is recommended for workouts that include stand-up pedaling.
Moreover, it is also important to leave a 2' clearance around the bike for safety and easy access.
The relocation of the bike is super easy since it weighs less than 72.5 lbs./33 kg, and there are transport wheels at the front base.
The Seat of the SUPAKA Indoor Magnetic Spin Bike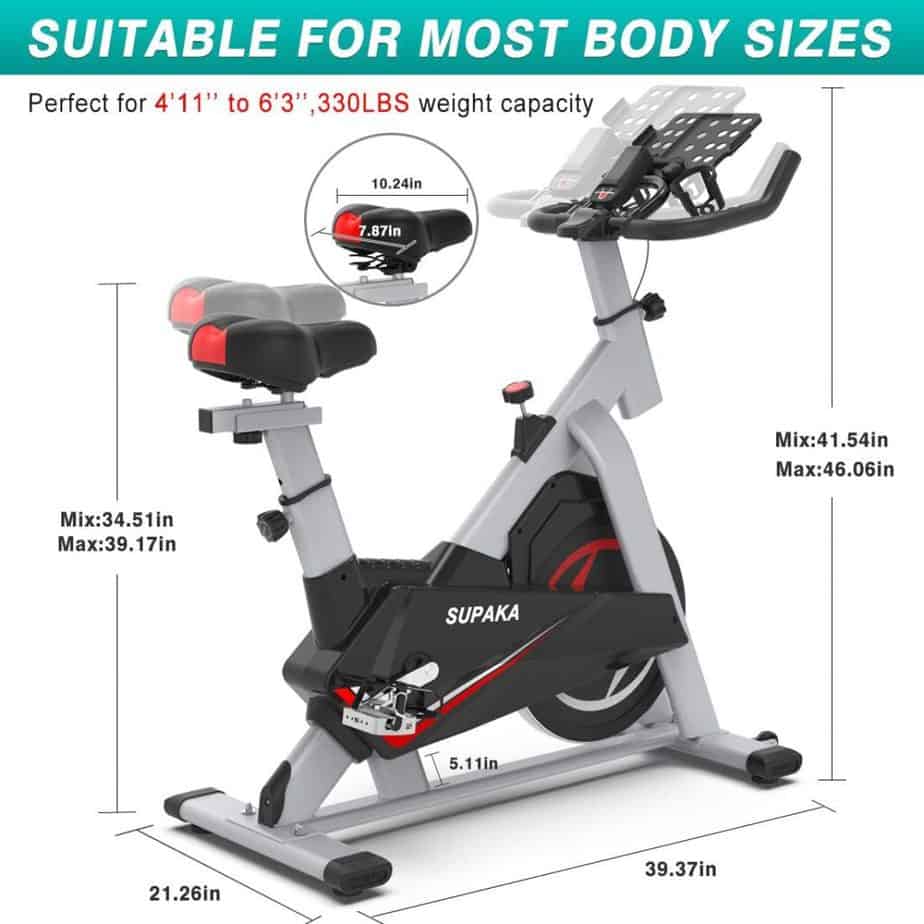 The seat is large and generously cushioned with a groove in the middle of its surface. Therefore, it is air absorptive and comfortable for prolonged workouts.
There are also 2 springs integrated to reduce the shock a user might experience during a workout.
The seat dimensions are 10.24'' in length by 8'' in width by 2.3'' thick.
That said, if you wish to improve its comfort level, the use of a gel seat cover or cycling shorts can easily do the trick. Also, it is entirely possible to swap it for another seat of your choice since the connection mechanism is standard.
The seat is 4-ways adjustable; it can be adjusted vertically (upward/downward) between the heights of 34.51'' min. – 39.17'' max, and a few inches horizontally (fore/aft). As a result, users between the heights of 4'11'' to 6'3'' can comfortably fit to use the bike.
The Handlebar
The multi-grip ergonomic handlebar provides 3 separate handle positions for a variety of workout postures. This allows you to diversity your workouts for more effective results.
It is also cushioned to prevent slippage or blisters that may occur as a result of prolonged and frequent workouts.
The handlebar can be adjusted upward, and downward between the heights of 41.54'' min. to 46.06'' max. This and the seat's adjustability enable users to make the necessary adjustments for maximum comfort.
Moreover, the handlebar integrates HR sensors that read and transmit the heart rate data to the monitor when they are firmly held during a workout.
The Pedals
The SUPAKA Indoor Magnetic Spin Bike is equipped with comfortable and secure toe caged pedals that have adjustable safety straps. They accommodate different foot sizes and protect them from slipping when exercising with the bike.
They are compatible with standard gym shoes only, therefore, special spin shoes cannot be used. However, in most cases, they can be swapped for SPD pedals. But at the time of this review, we are unable to confirm if these pedals can be swapped.
The Drive
This bike has a belt drive system that comprises a durable anti-stretch belt, a 3-piece crankset, solid crank-arms, pulleys, pedals, and a 35 lbs./15.8 kg perimeter-weighted flywheel.
Hence, the operation of the bike is smooth, quiet, and vibration-free.
Users can freely work out at any time of the day without getting in anybody's way, and they will also be able to enjoy watching their favorite TV show or listening to music.
On top of that, the belt drive system doesn't need you to lubricate or adjust any internal element as opposed to a chain drive system.
These are the simple reasons most people prefer a belt-driven cycling bike.
Also, the drive is bidirectional. This means that the pedals and the flywheel are fixed, hence, they spin simultaneously. Therefore, you can pedal in reverse to diversify your workouts and tone more muscle groups.
However, for safety purposes, you must apply the emergency brake by pushing the tension knob down to stop the spinning flywheel whenever you wish to suddenly stop pedaling.
The Resistance
The SUPAKA Indoor Magnetic Spin Bike is equipped with a magnetic resistance system, just as the name implies. It is a frictionless type of resistance system that provides workout challenges without internal mechanisms coming in direct contact.
As a result, no part wears out in the process of generating resistance, and consequently, no part will be required to be replaced in the future. In other words, it is maintenance-free.
Even when the resistance is activated, your workout still remains smooth, quiet, and vibration-free.
The resistance system is manually adjustable and it doesn't have predefined resistance levels as the Keiser M3 or the ASUNA Lancer's resistance system, but instead, it's infinite. To increase or decrease the resistance level, simply twist the tension knob on the mainframe tubing clockwise or counterclockwise, respectively.
It provides a range of effective unspecified resistance levels for users whose goals are to lose weight and improve overall physical fitness.
The Console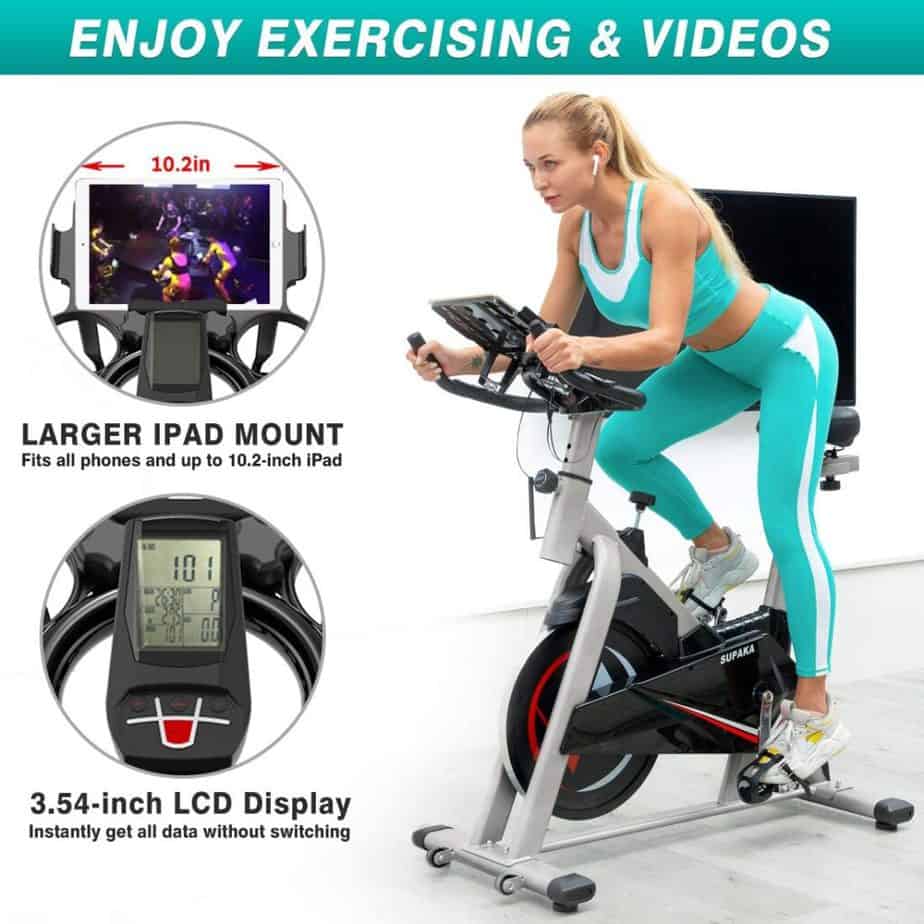 This cycling bike has an interesting console because, as aforementioned, it features an LCD monitor with segmented windows for multiple workout data display. Hence, eliminating the need for a SCAN function that displays data one at a time after every few seconds rotationally.
It tracks workout data such as Time, Distance (miles), Speed (mph), Calories Burned, RPM, and Pulse. The readability is great, but may, however, diminish if viewed in a room that is not well-lit because it is a nonbacklit monitor.
It (monitor) is powered by 1 AA battery (not included).
The console is not telemetric, but you can view your heart rate when the handles with the heart rate sensors are firmly held during an active workout.
Accessory
The SUPAKA Indoor Magnetic Spin Bike is integrated with a strategically positioned large tablet holder that could accommodate all sizes of smartphones and a tablet device that is as big as 10.2''. So, you can conveniently keep yourself entertained without compromising the view of the monitor screen.
Storage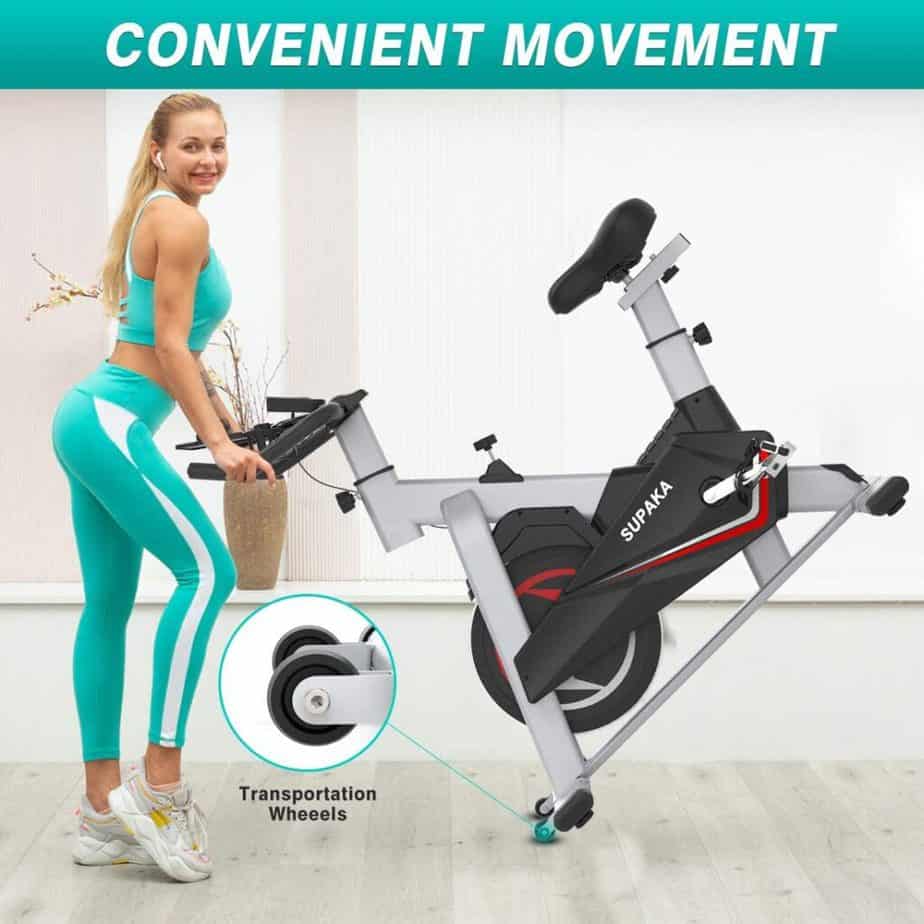 The unit can be rolled away via the transport wheels at the front base and it requires a storage area with perimeters of 3'3'' length by 1'8'' width.
To move it, simply and safely pull it by the handlebar toward the transport wheels, and that's it, you are set to roll it where ever you wish in the room. After all, most of its weight is at the front part where the flywheel is designated.
Pros/Features Overview
It is cost-effective
Built with anti-corrosive wide thick steel frame
Compact, and portable; it's easy to move and it doesn't take up too much space
Supports a maximum user weight capacity of 330 lbs./149.6 kg
It is customizable, hence, users between the heights of 4'11'' to 6'3'' can be accommodated
The toe caged pedals accommodate different foot sizes and standard gym shoes
The multi-grip and ergonomic handlebar provide comfortable and secure grips for different workout postures
The LCD monitor tracks Time, Distance, Speed, Calories Burned, RPM, and Pulse simultaneously without switching
Comfortable seat enables users to workout longer
Its operation is smooth and quiet, hence, people around you won't be bothered by your workout activity
The infinite and manual magnetic resistance system provides a range of workout intensities that help users to burn calories, tone muscle groups, and more
The 35 lbs./15.8 kg provides consistent momentum for vibration-free motion
Easy step-thru design enables users to get on and off the bike almost effortlessly
Maintenance is minimal
Easy to assemble
A large tablet holder for smartphones and tablet device that is up to 10.2''
Cons
Monitor is not backlit
Console is not telemetry-enabled, and not compatible with any online app
No water bottle holder
BUY IT NOW FROM AMAZON
Warranty
Product Dimensions & Specifications
Length: 39.37''
Width: 21.26''
Height: 41.54''
Shipping dimensions: 39'' L x 33'' W x 9'' H
Net weight: Less than 72.5 lbs./33 kg
Gross weight: 72.5 lbs./33 kg
Maximum weight capacity: 330 lbs./149.6 kg
Drive: Belt
Resistance: Manual magnetic
Seat: 4-way adjustable
Handlebar: 2-way adjustable
Pedals: Toe caged with adjustable straps
Frame: Thickened steel
Flywheel: 35 lbs./15.8 kg
Monitor: 3.54'' LCD nonbacklit
Heart rate monitoring: Contact
Tablet holder: Yes
Water bottle holder: No
Transport wheels: Yes
Shipping
SUPAKA Indoor Cycling Bike is shipped in a box that weighs 72.5 lbs./33 kg with dimensions of 39'' L by 33'' W by 9'' H.
No shipping cost is charged if purchased from Amazon, and it's delivered in a couple of days.
Assembly
The unit arrives almost preassembled. The only parts that need to be attached are the stabilizer bars, the seat and the handlebar posts, the seat, the handlebar, the pedals, the tablet holder, and the console.
A manual is included in the package to guide you through the process of assembly and it takes about 30 minutes, more or less to completely get the bike assembled.
Maintenance
Since this is a belt-driven bike with a magnetic resistance system, the maintenance requirement is pretty low.
That said, the bike needs to be kept clean at all times, and it has to be used, and stored in a dry and cool place.
Conclusion
The SUPAKA Indoor Magnetic Spin Bike provides you with the opportunity to engage in aerobic exercises for improved cardiovascular health, right in the comfort of your home.
It makes it convenient for you to take care of your physical health when you can't visit the gym.