Are you looking for a power tower that would allow you to do your favorites, such as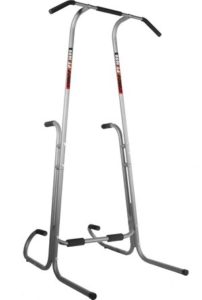 pushups, pull-ups, and vertical knee dips and lifts? Then Stamina 1690 Power Tower Review would help you understand if you need to add this piece to your home gym or not.
It is undeniable that the aforementioned 3 exercises affect the body the way no other strength exercise could. Come to think of it, pushups strengthen the upper body that includes the chest, arms, shoulders, triceps, back, and neck muscle groups.
While pull-ups impact the shoulder, forearms muscles and improve the strength of the fingers, and finally, the vertical knee dips work on the abdominal muscles, so it seems like a perfect combination.
For me, I love mixing my strength workout so that every muscle group in my body would be worked on. I sincerely believe that the Stamina 1690 Power Tower would be a great deal for working on those muscle groups holistically using your body weight.
This piece of equipment has features put in place to prevent injuries such as the NO-SLIP END CAPS, a strong and sturdy frame that is made of steel for great support, and foam handle grips that also ensure your fingers and grips are comfortable while pounding out on those muscles.
Click right here to have a peek at the price of the Stamina 1690 on Amazon
Features
• Strong and sturdy steel frame/support
• No-slip end caps
• Foam hand grips
• Usually 90 days warranty, but contact seller to sure
• Dimension: 49 L x 42.5 W x 81 w Inches
• Supports 250 pounds weight
Thumbs Up
What is so good about the Stamina 1690 Power Tower is that it is simply multipurpose because it allows you to perform exercises like sit-ups, vertical knee dips, pull up, push up and more could be done with it. Its freestanding design is great for homes because it can fit anywhere without having to look for strong walls to install it.
It has got small footprints that are floor friendly, so you don't have to worry about floor size. The photo illustration that accompanies it is an added advantage because it shows you the different exercises you can perform with it, and on top of all of these, it is affordable!
Its support bar is up to 6 feet which allows the user to conveniently stand on the equipment to get to the pull-up and dip station without having to jump. The Stamina 1690 Power Tower is simply the power tower with multiple exercise stations, this fact can't be taken away from it.
Stamina is a household fitness manufacturing company that has got a reputation for the production of good and durable fitness equipment.
Thumbs Down
It is natural to always find flaws with man-made stuff. Nothing is ever perfect, neither is Stamina 1690 Power Tower.
• First, I must say it attracted good reviews that were almost 5 stars, but it usually ends up with a BUT. The'' BUT'' according to one user is that he finds the pull-up bar rather thin, which is not a huge deal it just means that pull-ups will be easier (in his words).
Conclusion
I believe the Stamina 1690 Power Tower Review has said it all; however, if you have any questions, please feel free to drop it in the comment box below. For me, I don't think any of the cons are any serious downside that could make me not to go for it.
Although, we are different in our views and feelings about stuff just like the user that was so pissed about the BOLTS that were bad and he had to use his. But if it were to be another individual he may not even mention that aspect at all. So, that is the human differences I am talking about.
I think this equipment is worth the money.
[rank_math_rich_snippet]