The Niceday CT11 Elliptical Trainer is designed for home use. It provides total body and low-impact cardiovascular workouts that engage most of the body muscle groups.
It is a manual elliptical machine that doesn't need to be plugged into a power outlet in order to be able to use it. Unlike the GOELLITPICAL v-450 T, the unit has a manual magnetic resistance system with 16 adjustable levels.
It is built to support up to 400 lbs./181.43 kg maximum user weight capacity and to accommodate users that are between the heights of 4'9'' to 6'2''.
Its belt drive system, combined with the magnetic resistance system provide smooth, quiet, and vibration-free operation. Actually, its noise level is less than 20 dB.
Click right here to have a peek at the best price of the Niceday CT11 Elliptical Trainer.
The Frame & Construction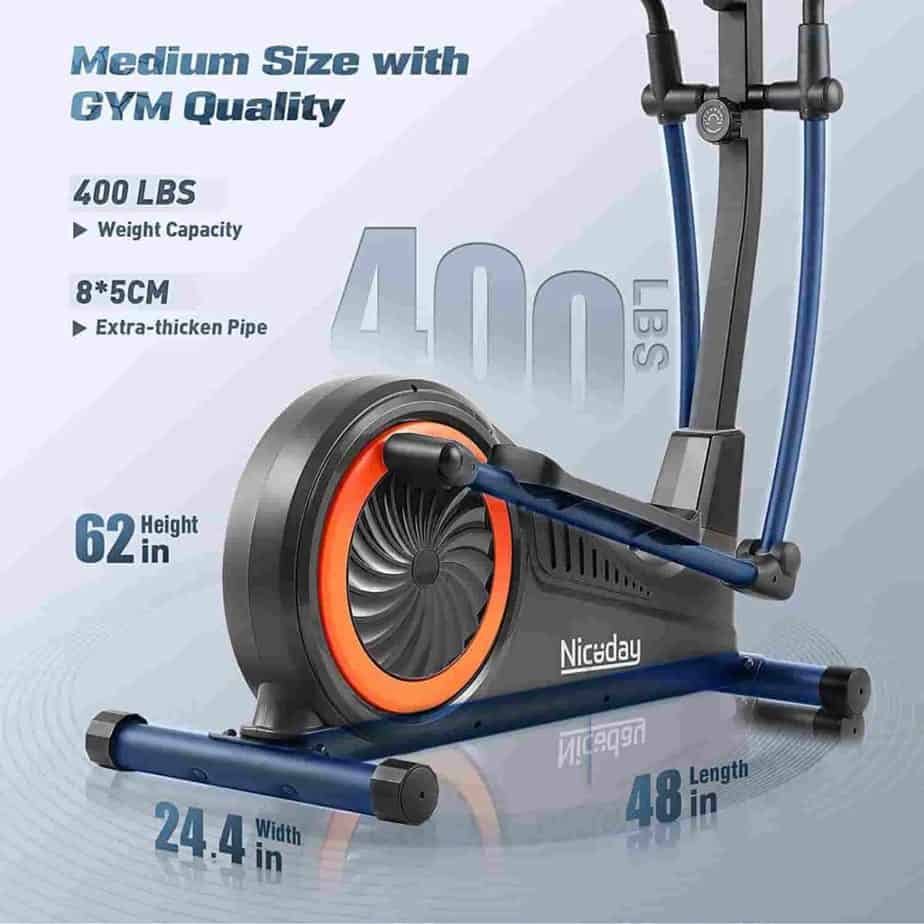 The Niceday CT11 Elliptical Trainer is constructed with a commercial-grade anti-rust coated steel that is 8 x 5 cm thick. The cosmetic and Protective coverings such as the drive system and base covers are made of durable plastic.
The base features rounded steel stabilizers for maximum stability, and there are also adjustable diagonally shaped end caps at the rear designed to help keep the machine stable on different platforms. 
Moreover, the elliptical trainer's 106 lbs./48 kg assembled weight plays a role in optimizing its overall stability. Therefore, there won't be any wobbling experience while exercising with the machine.
This is not a large machine considering the sizes of other similar elliptical trainers. The assembled dimensions are 48'' long by 25'' wide by 62'' high. This by implication means that the unit will require a workout area with measurements of 4' (121.92 cm) length by 2' (63.5 cm) width, and a ceiling height of at least 7' or more.
Also, clearance of 2' is going to be needed around it to ensure that your workout is safe with easy access.
The integrated transport wheels at the front base enable you to easily move it from point A to B around the room.
The Pedals of the Niceday CT11 Elliptical Trainer
The pedals are large and wide with specified dimensions of 15'' long by 5'' wide. Therefore, they can accommodate different foot sizes.
Their surfaces are textured and have about an inch border around the lateral arch, heel, and toes of the feet. These features provide safety and comfort that prevent slippage.
Each of the pedals is made of quality plastic and is attached to a steel bar that is connected to the flywheel and the to the elbow of the movable handlebar.
They are strong enough to bear up to 400 lbs./181.43 kg user weight.
Their stride length is about 15.5'' that allows most users to exercise without restricting their strides.
The Handlebars
There are 2 sets of handlebars which include the static and dual-action (moveable) handlebars.
The static means that the handlebars cannot move but are permanently fixed and attached to the console mast. They also integrate EKG heart rate sensors that are designed to transmit your heart rate data to the monitor when grasped during a workout.
While on the other hand, the dual-action handlebars are mobile. This enables you to engage the upper body in workouts if you so wish. They are connected to the pedals and do not integrate heart rate sensors as the static handlebars do.
Since they are connected to the pedals, both the handlebars & the pedals move concurrently whenever you work out regardless of whether you use the dual-action handlebars or not.
The 2 sets of handlebars are adequately cushioned with soft rubber foam for secure and comfortable grips, and they provide the opportunity to exercise part of the body or the whole of the body.
However, the pedals' incline is not adjustable.
The Drive
The Niceday CT11 Elliptical Trainer is a belt-driven cardiovascular exercise machine. It mainly consists of a durable anti-stretch belt, a pulley, and a 16 lbs./7.25 kg high inertia flywheel.
The belt drive system provides smooth, quiet, and vibration-free operation, and does not require pre or post-lubrication as opposed to a chain drive system.
Thus, you can work out whenever or where ever you want without being bothered that people around you might be disturbed. You can also watch your favorite TV show, or listen to music while you exercise without the need to raise the volume beyond the normal level.
The drive system is fixed; meaning it offers the possibility to pedal forward and in reverse as well in order to diversify your workout and tone more muscle groups.
The Resistance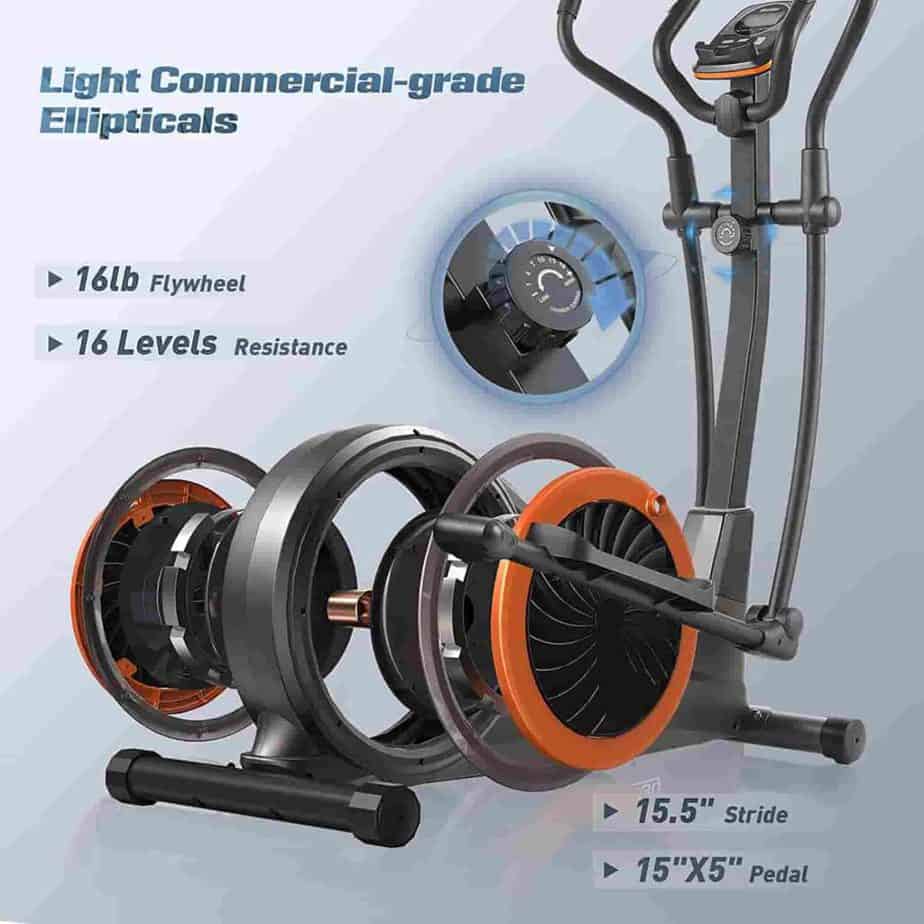 It has a simplified yet effective manual magnetic resistance system with 16 adjustable levels that are suitable for most users at different fitness levels.
The resistance system also maintains the elliptical trainer's smooth and quiet operation because it generates resistance through the emittance of magnetic fields around the flywheel without any direct physical contact of any part or element. In other words, no friction occurs and no noise when resistance is being generated.
Since this is a manually adjustable resistance system, no need for the unit to be plugged into a power outlet.
To increase or decrease the resistance level between 1-16, simply turn the tension knob that is attached to the console mast clockwise or counterclockwise, respectively.
The Console
The console is basic, and it features a simple LCD monitor that tracks workout stats such as Time, Speed, Distance, Calories, and Pulse.
There is a SCAN function that displays the workout stats one at a time and switching to another after every few seconds and continues doing so in a loop if not overridden by the user. You can decide to set up a preferred workout value of choice to display constantly instead.
The readability is good because the numbers are bold. However, it could be compromised if the monitor is being viewed in a room with poor lighting because it does not have a backlight.
There are 3 buttons for navigation which include Mode, Set, and Reset. These enable you to set up countdown goals for Time, Distance, and Calories, or to initiate/override the SCAN function.
Other than the aforementioned functionality, the console is not telemetric and does not have pre-installed workout programs, or workout app connectivity.
It is powered by 2 AA batteries.
Accessory
There is a built-in tablet holder on the console that is designed to hold a smartphone/tablet device for taking calls and for entertainment purposes during a workout session.
However, the problem is that, if a large device is placed on the holder, it may compromise the view of the monitor so that you don't get to see the workout data being displayed.
A water bottle holder is not included, therefore, you will have to buy it separately or improvise a way to keep water handy for proper hydration.
Storage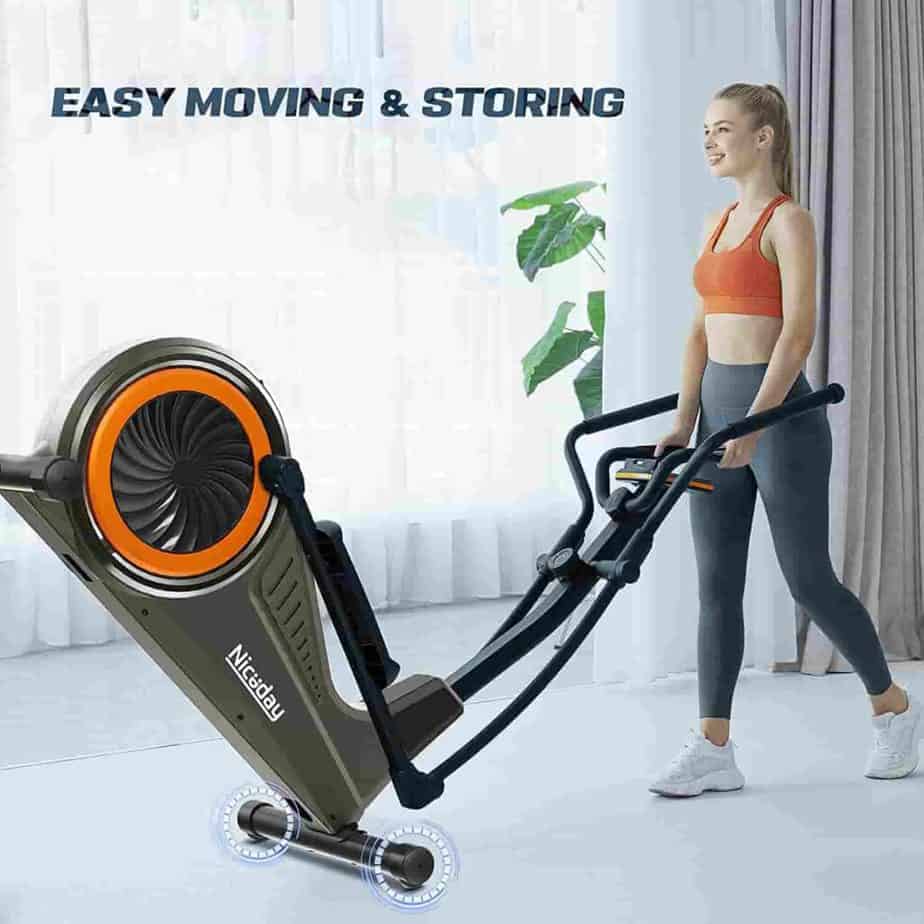 The unit has transport wheels at the front base for relocation purposes and it is relatively lightweight. Therefore, it is easy to move it around for storage.
A storage area with measurements of 4' length by 2' width can accommodate it.
Approval Rating
At the time of this review, the Niceday CT11 Elliptical Trainer has an impressive approval rating on Amazon that suggests it is a recommendable product.
Pros/Features Overview
Strong, stable, and durable
Supports a maximum user weight capacity of 400 lbs./181.43 kg
Its operation is smooth, quiet (less than 20DB) and vibration-free; thanks to the integrated belt drive system and the 16 lbs./7.25 kg high inertia flywheel
The pedals are anti-slip designed, and are large and wide
15.5'' stride length
2 sets of handlebars (static & Dual-action)
EKG HR sensors for transmission of pulse data
Users between the heights of 4'9''-6'2'' tall can utilize the machine
The LCD monitor tracks workout stats such as Time, Distance, Speed, Calories, and Pulse
Its magnetic resistance system offers 16 adjustable levels of resistance that are suitable for users of different fitness levels
Offers full and low-impact cardiovascular workouts
Maintenance requirement is minimal
It is 90% preassembled
A tablet holder is included
Cons
No preset workout programs
No app connectivity
No water bottle holder
The LCD monitor is not backlit
No sound system
Warranty
Product Dimensions & Specifications
Length: 48''
Width: 25''
Height: 62''
Shipping dimensions: 44'' L x 26'' W x 17.25'' H
Net weight: 106 lbs./48 kg
Gross weight: 108 lbs./49 kg
Maximum user weight capacity: 400 lbs./181.43 kg
User height supported: 4'9''-6'2''
Frame: Steel
Pedals: Textured & large (15'' L x 5'' W)
Handlebars: Static & Dual-action
Flywheel: 16 lbs./7.25 kg
15.5'' stride length
Drive: Belt
Resistance: Manual magnetic, 16 levels
Monitor: Non backlit LCD
EKG contact grips
Transport wheels
Tablet holder
Shipping
The Niceday CT11 Elliptical Trainer comes in a box with dimensions of 44'' long by 26'' wide by 17.25'' high and it weighs 108 lbs./49 kg.
The shipping cost is usually free when purchased from major retailers such as Amazon.
Assembly
Out of the box, it is 90% preinstalled. You only need to attach the stabilizer bars, the handlebars, the pedals, and the console. This will take about 30 minutes, more or less to complete.
An instruction manual and tools for assembly are included in the package.
Maintenance
No special maintenance is needed other than to keep it clean after every workout session.
Also, try to examine it before use to ensure that all parts are in condition and tight. Storage should be made in a clean, dry, and cool area.
Conclusion
The Niceday CT11 Elliptical Trainer is a durable home exercise machine that offers low-impact and full-body workouts.
It does not have all the bells and whistles but it does have the basic features that enable users to achieve their goals.