The FUNMILY Elliptical Machines EA-9800 is an entry-level, low-impact, and full-body cardiovascular workout machine. It supports a higher user weight capacity almost as the Niceday Elliptical machine does.
It will be correct to assert that these two elliptical trainers have a lot in common. However, Niceday Elliptical Machine is more expensive which could likely put the FUNMILY Elliptical Machine on the to-do list of most potential buyers.
One of the interesting parts of this elliptical trainer is that it has a free workout app called Qiber. This app allows you to train under real conditions in a video mode, record workout data, make workout plans, compete with others in real-time, and more.
Click right here to have a peek at the best price of the FUNMILY Elliptical Machines EA-9800.
Frame and Construction
The materials used for the construction of the FUNMILY Elliptical Machines EA-9800 include steel aluminum and durable plastic.
The frame is made of steel/aluminum while other parts such as the drive coverings, the footrests, and the stabilizer end-caps are made of ABS material.
The heavy tubular steel construction of the frame positions the unit to support a maximum user weight capacity of 370 lbs./167.82 kg. Its base framework features solid front and rear steel stabilizers that provide a steady and stable workout experience.
There are also adjustable levelers at the rear base designed to enable you to adjust the elliptical trainer on a surface that is not entirely even for superlative stability.
Its overall assembled dimensions are 38'' long by 24'' wide by 70'' high. In other words, a workout area with measurements of 3'16'' (96.52 cm) length by 2' (60.96 cm) width and a ceiling height of at least 8 ft. will be required. Also, additional space of at least 2' will be necessary around it for easy access and safety.
The unit weighs 78 lbs./35.38 kg; not too heavy to move around. Also, it integrates transport wheels at the front base to enable users to relocate it easily around the room or apartment.
The Pedals
The pedals are large and textured. As aforementioned, they are made of quality plastic and each is attached and screwed to a metal steel base.
They are 15'' in length by 6'' in width, and have a 16'' stride length. Hence, they can accommodate most foot sizes safely and comfortably, while providing a decent stride length that could be fine for taller (6′ tall) individuals.
These pedals are connected to the mobile handlebars, while at the rear end they are connected to the flywheel.
Handlebars
There are two sets of handlebars on the FUNMILY Elliptical Machines EA-9800. One set is static and is attached to the front bar close to the console, while the other set is dual-action (mobile), which is attached to the front bar as well but also connected to the pedals.
So, the static handlebars enable you to work out with your legs/lower body without engaging the upper body. While on the other hand, the dual-action handlebars enable you to engage the whole of your body.
Therefore, this unit offers full-body and low-impact cardiovascular exercises that primarily target the glutes, the arms, the legs, and the core. It strengthens and tightens them even as it also enables users to shed tons of calories.
The dual-action handlebars connection to the pedals is fixed. This means as long as you use the pedals they will always swing back and forth whether they are being used or not.
The two sets of handlebars have soft rubber-coated handles that provide secure and comfortable grips that prevent slippage and calluses. Therefore, you will be able to train longer without feeling sore in your hands or having a negative aftermath effect.
It is noteworthy to point out that there are heart rate sensors integrated onto the static handlebars. These transmit your pulse rate to the monitor for your observation when grasped during a workout.
The Drive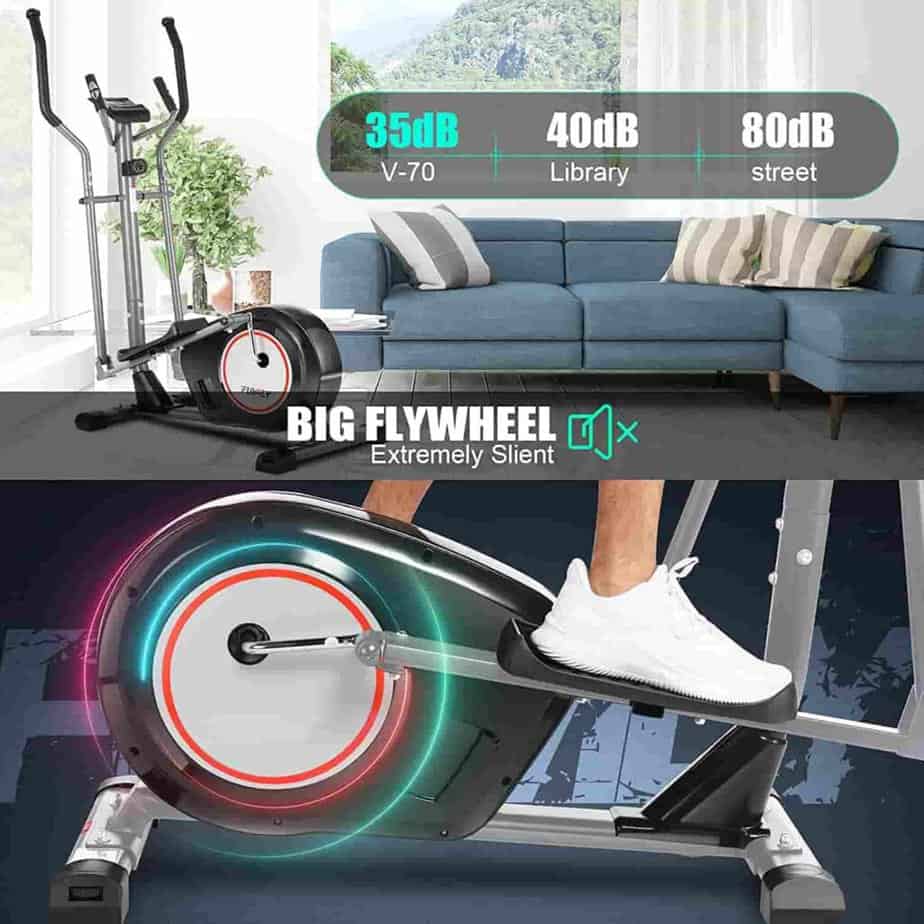 This is a rear belt-driven machine that mainly comprises a durable anti-stretch belt, and a 12 lbs./5.44 kg high inertia flywheel in its drive system.
As a result, its operation is quiet with a 35dB noise level. This is considered to be silent and suitable for home use. You can use it while family members are around and still not bother them with your workout activities. You can also watch a TV show or listen to music without any noise interference.
Moreover, having a belt drive system also means that maintenance of any sort won't be necessary. No lubrication or periodic adjustment is needed.
Since the drive is fixed, you can pedal in reverse just as much as you could go forward. This gives you the opportunity to exercise more muscle groups.
Resistance Type
The FUNMILY Elliptical Machines EA-9800 features a magnetic resistance system with 8 adjustable levels.
The system consists of a tension control knob, the flywheel, and a magnet. These elements work together to generate magnetic resistance that could go from level 1 to 8.
Interestingly, the resistance system is frictionless because none of the elements rub on each other during the process of generating resistance. Instead, magnetic fields are released by the magnet to stall or drag the flywheel as you pedal, thereby creating the resistance needed.
The resistance becomes stronger when the magnet gets closer to the flywheel and it becomes easy when the magnet goes farther away from the magnet.
It is easy to adjust the resistance levels; turn the tension knob clockwise to increase the resistance challenge, or counterclockwise to decrease it. It is as simple as that.
The resistance system does not require any maintenance, and its operation is silent as well. This is the reason the elliptical trainer keeps the noise level at 35dB.
No electricity is required for the resistance system to work as it is obviously manually operable.
The Console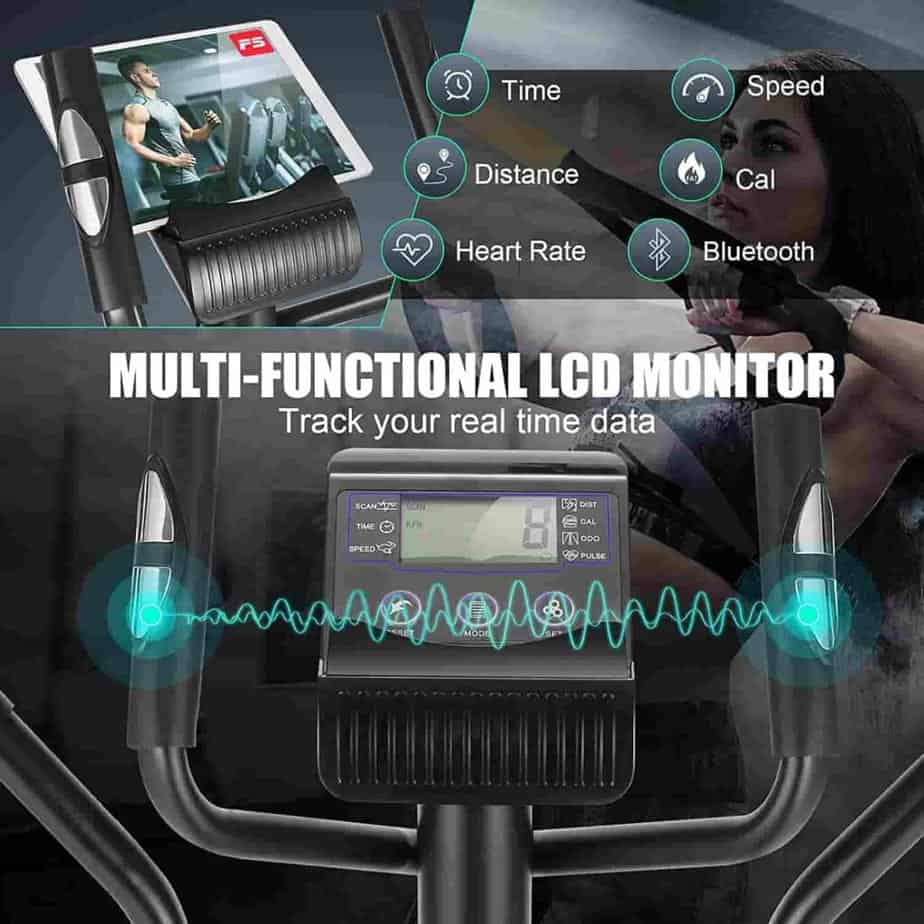 The console featured on this elliptical trainer is basic/standard. It has basic features such as a none backlit LCD monitor, 3 navigation buttons, and a tablet holder.
Although, the console has Bluetooth connectivity for workout apps such as Fit Show; with the app, you can access virtual tails, workout plans, data sharing, and online coaching. It is available for both Android and iOS smartphones.
The LCD Monitor tracks workout stats such as Time, Distance, Speed, Calories, and Heart Rate in real-time. However, the pulse rate only shows up when the sensors on the static handlebars are grasped during a workout because the console is not telemetric.
These workout stats are displayed one at a time after every few seconds rotationally by the SCAN function because they can't be displayed all at once. Nevertheless, you can set it to constantly show a certain workout stat of your preference.
Since the monitor is not backlit, it has to be viewed in a well-lit environment to be able to discern the data, otherwise, you may have a hard time trying to figure it out.
The console is battery-powered.
Accessory
The aforementioned tablet holder that is integrated into the console is just about the only accessory available on this unit.
This helps you to keep a tablet or a smartphone device within reach just in case you wish to use the app, listen to music or just take calls while working out.
Although, it's likely that any device that is placed on the tablet holder will block the view of the monitor.
Storage
The FUNMILY Elliptical Machines EA-9800 is pretty compact compared to other elliptical trainers. Its dimensions are 38'' long by 24'' wide by 70'' high. This means a storage area with measurements of 3'17'' length by 2' width should accommodate it.
Its transport wheels allow you to quickly move it around your space. After all, it only weighs 78 lbs./35.38 kg.
Pros/Features Overview
Decent quality construction
Supports a maximum user weight capacity of 370 lbs./167.82 kg
Affordable
Its operation is smooth and quiet (noise level is 35dB, thanks to the belt drive and magnetic resistance)
The magnetic resistance system with 8 adjustable levels offers a range of workout challenges that could help users to lose weight, tone muscle groups, and improve overall physical fitness
The pedals are large (15 L x 6'' W) and textured to safely accommodate different foot sizes
The stride length is 16'' (suitable for up to 6' tall users)
Its high inertia flywheel is 12 lbs./5.44 kg in weight; this promotes smooth operation and prevents vibration
2 sets of handlebars included (static & dual-action)
Contact heart rate sensors included
The integrated LCD monitor tracks workout stats such as Time, Distance, Speed, Calories, and Heart Rate
Set count down goals for Time, Distance, and Calories
Fit Show workout app compatible (access to a coach, virtual trail, workout plans & data sharing) compatible with Android & iOS-based smartphones
The elliptical machine arrives mostly assembled
No serious maintenance is needed
Cons
The LCD monitor is basic without a backlight
No water bottle holder
No workout programs
The monitor gets blocked if a device is placed on the tablet holder
Warranty
Product Dimensions & Specifications
Length: 38''
Width: 24''
Height: 70''
Shipping dimensions: N/A
Maximum user weight capacity: 370 lbs./167.82 kg
Net weight: 78 lbs./35.38 kg
Gross weight: N/A
Frame: Steel/aluminum
Pedals: 15'' L x 6'' W & textured
Handlebars: Dual-action & Static
Stride length: 16''
Drive: Belt
Resistance: Magnetic, 8 levels
Contact HR grips
Transport wheels
Tablet holder
Shipping
The machine comes in a single box.
Usually, major vendors such as Amazon could have it shipped out free of charge, and delivery could take a couple of days to a week or more depending on where you live.
Assembly
The major and complicated parts of the machine are pre-assembled at the factory. You only need to attach the handlebars, the stabilizers, the pedals, and the console.
Assembling tools and an instruction manual are included in the package for easy assembly.
Maintenance
Since this is a belt magnetic elliptical trainer, no maintenance is required.
However, just as everything else, it needs to be kept clean at all times, and be routinely checked to ensure that all the parts are tight and in good condition to prevent serious damage and potential injury to the user.
It is advised to be stored in a clean, dry, and cool area.
Conclusion
The FUNMILY Elliptical Machines EA-9800 is an entry-level cardiovascular machine. It is a decent workout machine that could help you to achieve improved cardiovascular health, and tone muscle groups.
You don't have to break a bank in order to acquire one of these.