Merax 3 in 1 Exercise Bike is a full-body workout machine that is affordable, compact, and foldable. However, this is not the first of its kind because Pleny 3 in 1 Exercise Bike is already out there, and they seem to share a lot in common.
That said, we are going to be up-close and personal on the Merax 3 in 1 Exercise Bike, to reveal in detail in this review its pros and cons.
The Merax 3 in 1 Exercise Bike is ideal for those on a budget and have very limited space for indoor fitness equipment. It is available in two different colors of Red and Blue with the latter slightly cheaper. Aside from the color difference, both have the same features and construction.
The heavy-duty steel frame supports 350 pounds/158.7 kg maximum user weight capacity. It is convertible, and just as the aforementioned, it is ideal for a home that only offers minimal floor space for indoor fitness equipment.
Its arm resistance bands provide the opportunity for you to exercise and strengthen the upper body while you work out the lower body as well. This is one of the features that makes it different from the regular foldable exercise bikes, and of course, its 10 levels of manual resistance.
The foldable bike can easily be moved to any location after a workout session.
Click right here to have a peek at the price of the Merax 3 in 1 Exercise Bike on Amazon.
The Frame and Construction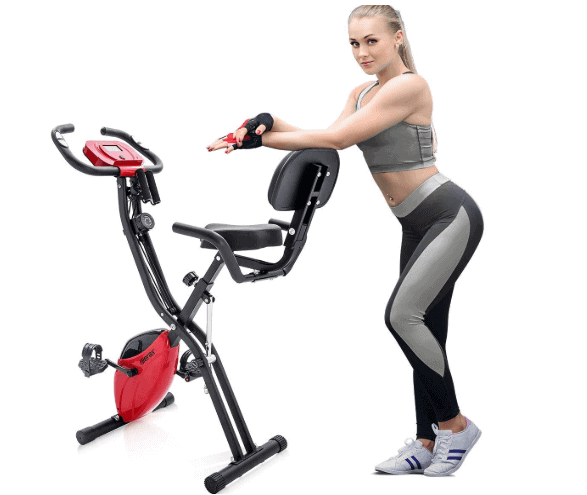 Apparently, most foldable exercise bikes support high user weight capacity but they do differ in the weight capacity they support. Some support 250 pounds, 270 pounds, 300 pounds, or 350 pounds.
The Merax 3 in 1 Foldable Exercise Bike, on the other hand, supports a higher user weight capacity of 350 pounds/158.7 kg. This is a testament that its construction features a very solid heavy-duty steel despite the fact it's a budget and entry-level bike.
Its overall assembled dimensions are 30.7 inches long by 19.7 inches wide by 42.3 inches tall. Differently put, a workout area of 2'5'' long by 1'6'' wide and a ceiling height of 7' high will suffice. However, you must consider adding extra clearance of 1-2′ at the rear and on each side of the bike for safety and convenience reasons.
This bike weighs less than 48 pounds/21.7 kg and still has great stability. Partly because of the base framework that has rounded steel at the front and the rear bases. Each end of the stabilizer bars is rubberized so that it will be floor-friendly.
The front base is also integrated with a set of transport wheels that facilitate moving or relocation.
The Seat, the Handlebar, and the Pedals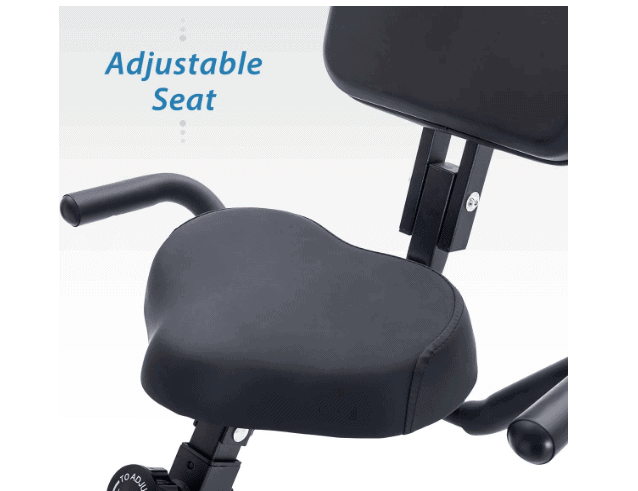 The Merax 3 in 1 Exercise Bike is equipped with a semi-recumbent seat that could be adjusted to a recumbent position. Although, that idea could be defeated because it has a short backrest that only supports the lower back.
It could be adjusted vertically (upward/downward). This allows users of different heights and sizes to be accommodated. The height range it could accommodate is not stated, however, most users between 5' to 5'11'' have indicated that they were comfortable on the bike.
Speaking of comfort, the seat is large and generously padded, and covered with a vinyl material; so also the backrest. The seat has a rubber foam-coated handlebar on each side of it that provides support for aggressive thrust when held during a workout.
The handlebar is non-adjustable but It is multi-grip designed. This simply means you can work out with a different style of grips. It has the pulse sensors integrated into it so that when held the heart rate data could be transmitted to the monitor. This makes it possible for you to track and maintain your target heart rate zone during a workout.
The soft rubber foam coated handlebar provides secure and comfortable grips that allow you to work out longer without experiencing slippage, sores, or blisters in the palms.
The simply designed pedals feature a metal core that is covered with an anti-slip rubber surface and adjustable safety straps. These accommodate barefoot or a pair of standard gym shoes.
The pedals ensure that your feet are secure and in alignment during workouts.
The Drive
The Merax 3 in 1 Exercise Bike is equipped with a belt drive system whose operation is smooth and quiet. Therefore, not only does the bike occupy little space, but it also allows you to work out at any time of the day without disturbing others around you.
It is also maintenance-free. In other words, no post lubrication or adjustment is required.
The drive system comprises a belt, pulleys, metallic crank-arms, heavy-duty crankset, and a small flywheel (size not stated).
The bidirectional drive allows you to pedal in reverse in order to exercise and tone more muscle groups.
The Resistance
The Merax 3 in 1 Exercise Bike features a manual magnetic resistance system with 10 adjustable levels. The resistance levels allow you to warm up with easy pedaling and subsequently increase to more challenging intensities that lose weight and improve cardiovascular health.
The resistance is basically suitable for anyone at any fitness level; however, it is not ideal for those seeking to engage in extremely difficult workouts. Spin bikes are great for extremely challenging workouts.
To increase or decrease the resistance level, simply turn the tension knob that has the resistance level – 1, 2, 3, 4, 5, 6, 7, 8, 9, 10, + inscribed on it right or left respectively.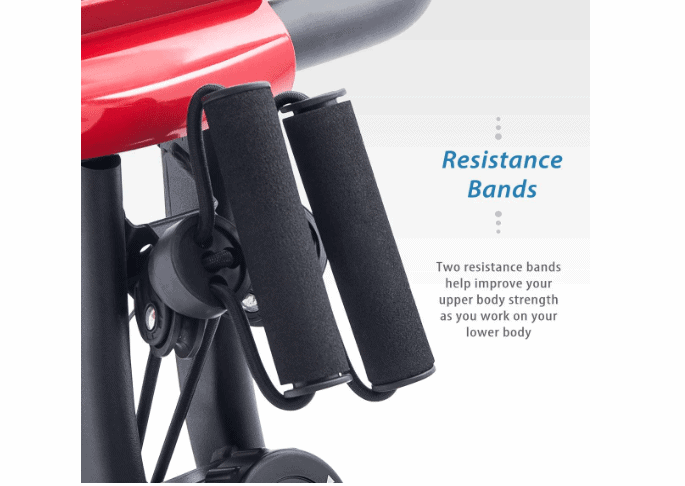 In addition to the manual magnetic resistance system that induces resistance for the lower body as you pedal, there are also the dual resistance bands below the console designed to be used for exercising the arms.
These enable you to work out the upper body and improve strength.
The Console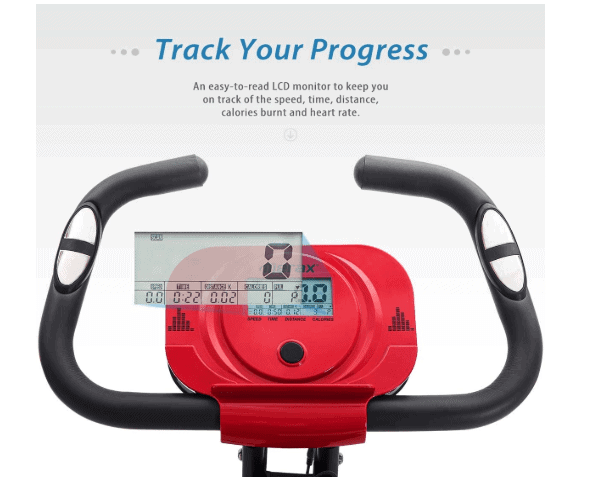 The bike comes with a basic console that features an LCD monitor that has segmented windows that display all the workout data simultaneously. The monitor tracks time, distance, speed, calories burned, and pulse.
It has a scan function that allows you to select any of the workout data on the small segmented windows to be displayed on the bigger window.
The monitor is powered by two AAA batteries.
The display is turned ON when you pedal the bike or push the only button present on the console. It automatically turns OFF after being idle for a few minutes in order to save battery power.
Accessory
The Merax 3 in 1 Exercise Bike has a tablet holder on the console. This can be used to keep a tablet or any smartphone handy for taking calls and listening to music while you work out.
Although, any device placed on the tablet holder may block the monitor's screen and you will not be able to view the workout data.
Other than the tablet holder, there is no other accessory available on the bike.
Storage
The storage of this bike is not a problem because it is compact, foldable, and portable. This means you can easily fold it up after a workout session and move it to the desired storage location effortlessly.
The folded dimensions are 9 inches long by 19.7 inches wide by 54.7 inches tall. There are ample places in a room to store the bike.
Approval Rating
The Merax 3 in 1 Exercise Bike has a good approval rating on Amazon at the time of this review. There are several positive Amazon customers' reviews with hardly any negative amongst them.
This is simply indicative of how popular the bike is.
Pro/Features Overview
It is sturdy and stable
Convertible to an upright position, semi-recumbent, and recumbent positions
Provides full-body workouts; a set of arm resistance bands for upper body workout are included
Foldable and very compact with a small footprint; takes small space for workouts
Portable with transport wheels
Operation is very quiet and near-silent
Low maintenance
Supports high user weight capacity (350 pounds/158.7 kg)
Affordable and handy
Enables users to lose weight and improve cardio health
The seat is comfortable with a backrest, and side handlebars
The multi-grip handlebar allows a variety of different workout postures
Reverse pedaling is possible
The LCD monitor tracks and displays multiple workout data
Integrated with EKG pulse sensors for heart rate data
Easy to assemble
Tablet holder for placement of a device
Cons
It is not suitable for serious athletes
No water bottle holder
Product Dimensions and Specifications
Length 30.7''
Width 19.7''
Height 42.3''
Folded dimensions: 9'' L x 19.7'' W x 54.7'' H
Shipping weight: 48 pounds/21.7 kg
Drive: Belt
Resistance: Manual magnetic, 10 levels of resistance
Arm resistance bands included
Handlebar: Multi-grip with EKG pulse sensors
Console: LCD monitor with segmented windows, tracks time, speed, distance, calories burned and pulse
Seat: Large, padded with backrest and side handlebars, adjustable to upright, semi-recumbent and recumbent positions
Frame: Steel
User weight capacity: 350 pounds/158.7 kg
Shipping, Assembly, and Maintenance
Shipping
The Merax 3 in 1 Exercise Bike is shipped in a box that weighs 48 pounds/21.7 kg. Amazon provides free shipping and delivers within days after order.
Assembly
The bike is pretty easy to assemble and doesn't take time as well. If you are good at working with your hands then it could take about 30 minutes more or less to completely assemble the bike.
The instruction manual and the tools required for assembly are included in the package.
That said, if you don't wish to do the assembling by yourself you may opt for the premium service called the expert assembly on Amazon where someone comes over and assemble the bike on your behalf.
Maintenance
No serious maintenance is needed. Just make sure to always examine the bike before use for any loose or broken part so as to prevent an accident that could result in an injury or further damage to the bike.
Also, make sure to keep it clean from dirt and sweat before and after use.
Further details are revealed in the owner's manual.
Conclusion
The Merax 3 in 1 Exercise Bike is an affordable and compact bike that is designed for those on a budget. Also great for people that do not have enough space in their room or apartment.
This bike is affordable yet very useful in losing weight and improving cardio health.