The Apelila Spinning Exercise Bike is one of those indoor spin bikes with a light flywheel. Its construction and design are simply simple. There are no bells and whistles as expected considering it's an entry-level bike.
Why is the flywheel weight so important, you might ask? Well, the flywheel is one of the core elements that are responsible for how your riding feels. It creates or simulates the feel of an outdoor bike/bicycle. A heavier flywheel tends to smooth out the motion as it provides greater momentum and to an extent increases strength on the legs.
On the other hand, a light flywheel might be great for those recovering from a knee injury as you don't want to put undue pressure on it. Moreover, this also allows you to do intervals as you can accelerate in and out of speed quicker within a short period of time than you could with a heavier flywheel.
That said, the Apelila Spinning Exercise Bike provides aerobic exercises that improve the cardio health and strength of the user. Its strong steel frame supports users of up to 335 pounds/151.9 kg in weight.
By the way, a towel and an aluminum water bottle are included in the package as gifts.
Click right here to have a peek at the price of the Apelila Spinning Exercise Bike on Amazon.
The Frame and Construction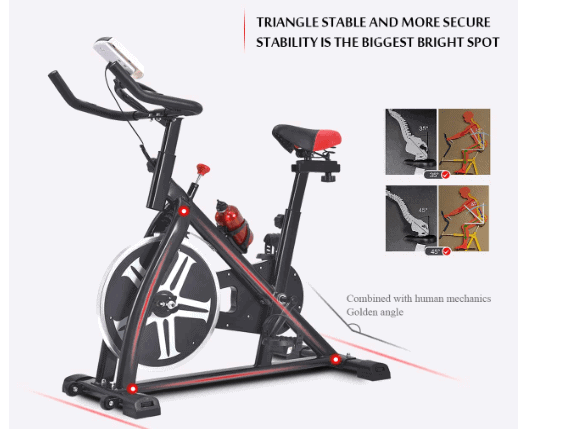 As already stated, the Apelila Spinning Exercise Bike has a very solid and sturdy frame that is made of steel. It is coated with anti-corrosive paint that prevents rust and degradation of quality and appearance. Users that weigh up to 335 pounds/151.9 kg could use the bike.
It is a compact and portable bike that has assembled dimensions of 43.3 inches long by 17.3 inches wide by 43.3 inches tall. The integrated transport wheels at the front base make relocation to another spot pretty easy.
Differently put, the bike needs a workout area with a perimeter of 3'6'' long by 1'5'' wide and a ceiling height of at least 7' high. However, additional extra clearance of 1-2′ will be required at the rear and on each side of the bike for safety and convenience.
The bike has a good base construction that features front and rear stabilizers that are made of solid steel. There are also adjustable levelers underneath them which are used to balance the bike on a surface that is crooked.
It is customizable as the seat and the handlebar are adjustable. The spin bike is equipped with a belt drive and friction resistance systems. The integrated LCD monitor allows you to track your workout progress.
The Seat, the Handlebar and the Pedals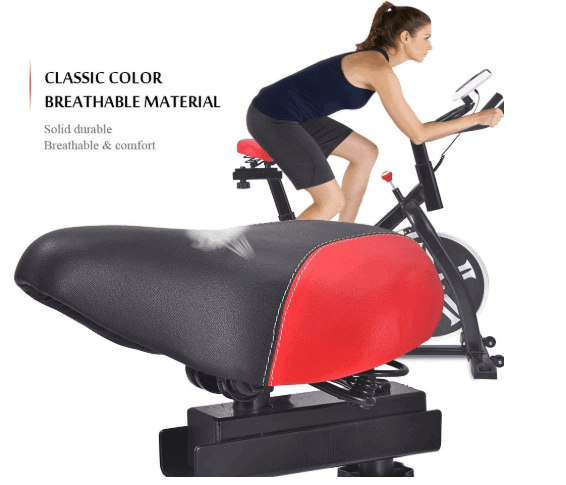 The seat is ergonomically designed to provide comfort that endures through a long workout session. It is contoured and padded with a considerable amount of foam. It also has two springs underneath for absorbing shocks during a workout.
You may also use a gel seat cover to enhance the seat if you so desire or better still, you can replace the seat with many other choices that are available.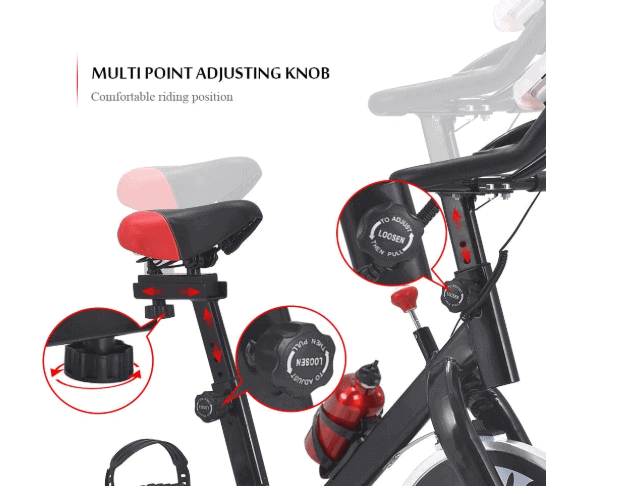 Just as aforementioned, the seat could be adjusted 4-ways, vertically (upward/downward) and horizontally (aft/fore). This gives several setting options that allow users of different heights and sizes to be accommodated.
The seat post has several holes on it for easy adjustment and a user can quickly locate a previous setting when someone has altered it.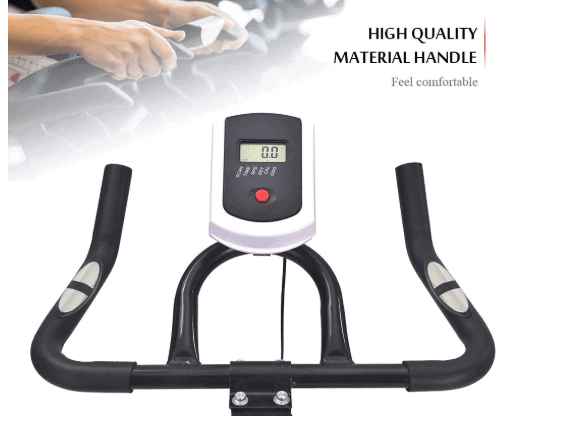 The handlebar is multi-grip designed. This allows the user to exercise in different postures of 35 and 45 degrees. It is coated with a breathable foam that provides a comfortable and secure grip that prevents slippage and blisters.
It can be adjusted 2-ways, upward and downward. This complements the bike's overall adjustability.
The handlebar features EKG sensors that transmit the heart rate data to the monitor when held during a workout so that the user can observe and maintain the target heart rate zone.
The Apelila Spinning Exercise Bike has a set of anti-skip pedals with adjustable safety straps. These accommodate barefoot or standard gym shoes.
The pedals have metallic alloy crank-arms that support stand-up pedaling.
The Drive
The indoor bike is equipped with a belt drive system. This is responsible for the bike's silent and quiet operation. Any indoor bike that has a belt drive system is usually great in operation and it's also maintenance-free.
You don't have to lubricate or adjust the drive periodically just as is the case with a chain drive system.
Its operation is so great that you can work out without being a nuisance to others around you. Watching your favorite TV show or listening to music while you work out is not also a bad idea because you don't have to raise the volume beyond the usual level.
The drive has components such as the solid crankset, crank-arms, pulleys, and the 17.3 inches diameter perimeter weighted 14 pounds flywheel. These elements are engineered to allow you to pedal in reverse because the flywheel and the pedals are fixed such that they spin concurrently.
Therefore, to coast on the bike is out of the question and you must apply the emergency brake by pushing the tension control down whenever you wish to abruptly stop pedaling.
The Resistance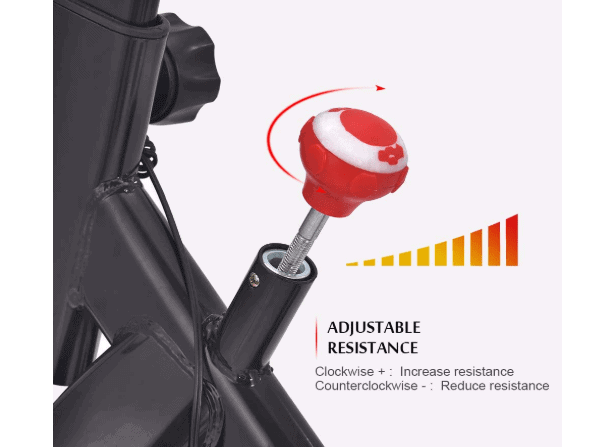 The Apelila Spinning Exercise Bike has a friction resistance system that is very effective in terms of providing different levels of workout difficulty. In other words, users of different fitness levels find a resistance level that is suitable for them.
The downside though is there might be some level of squeaky sound that emanates as a result of the friction between the felt pad and the flywheel. And this tends to make the felt pad to wear out over time and consequently requires a replacement. However, it usually takes time before a replacement will be needed.
Moreover, the squeaking sound can be eliminated by applying a small amount of silicon-based oil to the flywheel.
The resistance level can be increased by turning the tension knob clockwise and turn anticlockwise to decrease it.
There are no predefined resistance levels as is the case with some high-end indoor bikes such as the ASUNA Lancer or the Keiser. This means that you may not be able to know the difference between the resistance levels you used in different workout sessions and as a result determining your strength and endurance progress will be difficult.
That said, overall, the resistance system provides suitable workout intensity that loses weight and improves cardiovascular health.
The Console
The Apelila Spinning Exercise Bike features an LCD monitor that is rather basic but nevertheless tracks the workout progress. It displays time, distance, speed, calories burned, and pulse.
It has a scan function that displays the workout values one at a time after every few seconds. You can also set a certain preferred workout value to display constantly without changing it to another.
The console is simple with just a single navigational button that allows you to turn ON/OFF the monitor. However, the monitor also turns ON when you pedal the bike and automatically turns OFF when there is no activity on the bike for a few minutes.
The display has good readability; however, it could be compromised when viewed in a room with poor illumination because it is not backlit.
Accessory
The Apelila Spinning Exercise Bike comes with a water bottle holder plus an aluminum water bottle to go with it. These enable you to keep water within reach during a workout in order to maintain good hydration.
There is also a free towel gift included in the package.
Storage
The bike can easily be stored away as it's equipped with a set of transport wheels that make relocation to another room or spot hassle-free.
It is not a foldable bike but neither is it too large to occupy too much space.
Storing under the staircase or next to a wall will be a good idea.
Pros/Features Overview
Sturdy and stable
Supports high user weight capacity of 335 pounds/151.9 kg
Compact and portable
The seat is comfortable and can be replaced
The handlebar is multi-grip designed and covered with breathable foam, therefore, working out comfortably in different postures is possible
The pedals accommodate barefoot or standard gym shoes
Its LCD tracks time, distance, speed, calories burned, and pulse and has a SCAN function
Customizable for users of different heights
Operation is smooth and silent
Water bottle and holder are included
Gift towel included
Resistance suitable for users at any fitness level
Low maintenance
Affordable
Cons
The monitor is basic without backlit
Product Dimensions and Specifications
Length 43.3''
Width 17.3''
Height 43.3''
User weight capacity: 335 pounds/151.9 kg
Drive: Belt
Resistance: Friction
Pedals: Anti-skid with adjustable straps
Seat: 4-way adjustable
Handlebar: 2-way adjustable
Console: Basic, non-backlit LCD monitor
Pulse: Yes
Transport wheels: Yes
Water bottle holder: Yes
Bonus: Water bottle and towel
Flywheel: 17.3'' dia., 14 pounds weight
Shipping, Assembly, and Maintenance
Shipping
The shipping cost of the Apelila Spinning Exercise Bike is entirely determined by the retailer you are purchasing from; however, Amazon provides free shipping and delivers within days of order.
The shipping weight and package dimensions are not stated.
Assembly
The Apelila Spinning Exercise Bike is easy to assemble just like any standard indoor cycling bike. The major components are preassembled and therefore you are left with the easy part.
You are required to attach the front and rear stabilizer bars, the seat and the handlebar posts, the seat, the handlebar, the pedals, and the console to the core unit.
This usually takes less than an hour to accomplish.
The instruction manual and the tools needed for the assembly are included in the package.
You can opt for the expert assembly service on Amazon if you don't want to get your hands dirty. Although, this is a special service where someone comes to your home and assembles the bike on your behalf.
Maintenance
There is no special maintenance required.
Ensure to always examine the bike before use to determine if all parts are tight and good. This measure is to prevent an accident or further damage to the bike.
Also, make sure to always keep it clean from dirt and sweat before and after use.
Conclusion
The Apelila Spinning Exercise Bike is undoubtedly an affordable bike that could be considered cost-effective.
With this bike at your disposal, you should be able to lose weight and improve overall physical fitness.
Apelila Spinning Exercise Bike Review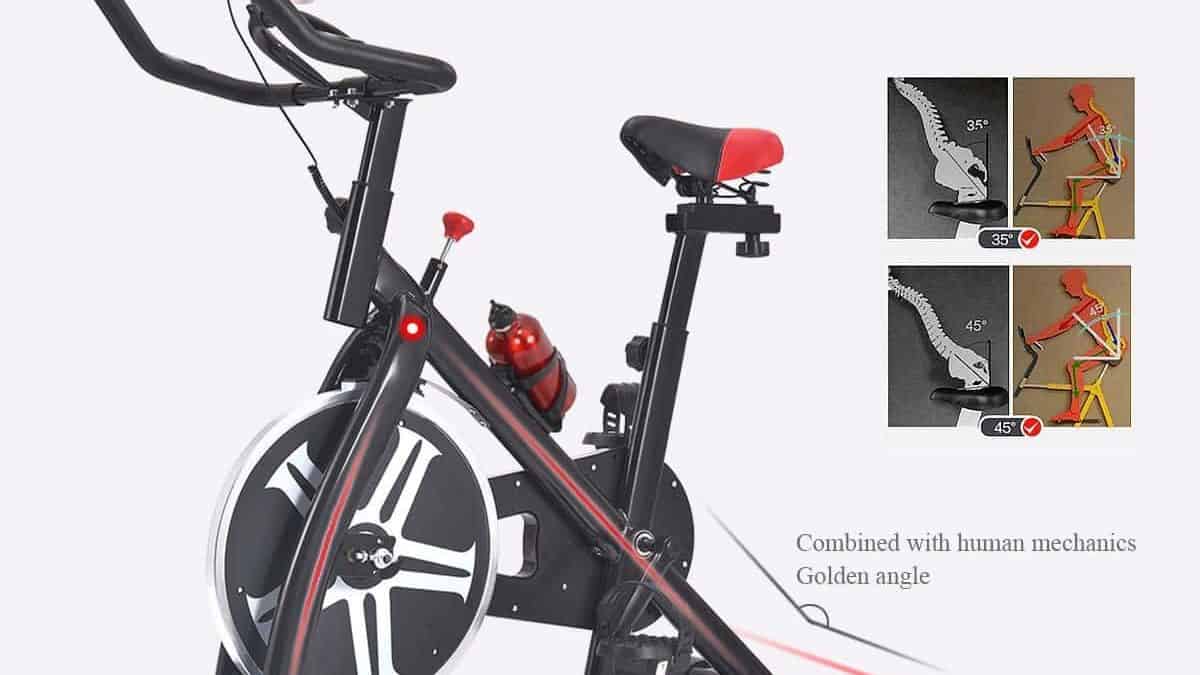 The Apelila Spinning Exercise Bike is one of those indoor spin bikes with a light flywheel. Its construction and design are simply simple.
Product Brand: Apelila
Product In-Stock: InStock