Generally, recumbent bikes are low-impact indoor fitness machines. They are gentle on the joints and have great usability. More so, and just as expected, the 3G Cardio Elite RB Recumbent Bike goes further to offer even more.
3G Cardio has a reputation for producing high-end, quality, and innovative indoor fitness equipment such as treadmills and vibration machines.
The 3G Cardio Elite RB Recumbent Bike has a very sturdy and commercial-grade construction that supports 350 pounds/158.7 kg maximum user weight capacity. Its operation is vibration-free, quiet, and smooth due to its well-balanced flywheel.
The recumbent bike is highly customizable, compact, and transportable. It can accommodate users between the heights of 5' to 6'4'' and has 4 user profiles. Your space won't be overwhelmed and can easily be moved to another location.
The easy step-through design makes it just the perfect machine for the elderly and those undergoing physical therapy. It has a narrow Q-Factor (the distance from the inner edge of the left pedal to the inner edge of the right pedal) that allows your feet to be placed in a natural riding position. Your feet won't be awkwardly apart as is the case with some indoor bikes.
Click right here to have a peek at the price of the 3G Cardio Elite RB Recumbent Bike on Amazon.
The Frame and Construction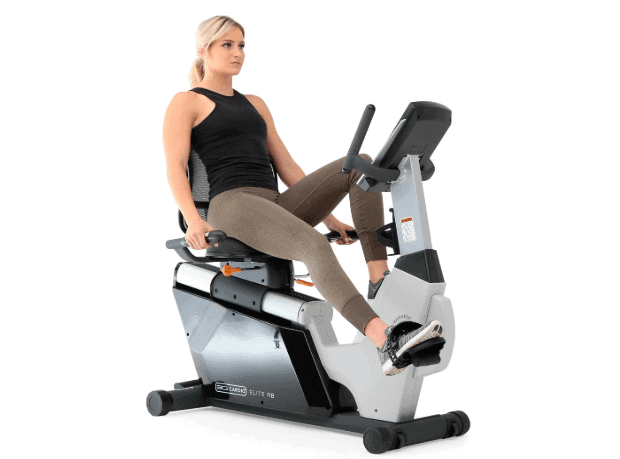 As aforementioned, the 3G Cardio Elite RB Recumbent Bike is a commercial-grade recumbent bike that could also be used at home. Its build features a quality steel frame that supports 350 pounds/158.7 kg maximum user weight capacity and ABS material for the drive and resistance system coverings, which are for safety and cosmetic purposes.
The parts are coated with anti-corrosive powder gray and a light gray finish.
Don't be fooled by its sleek and appealing outward appearance that guises its inward ruggedness and toughness. It can withstand hard use thus it's in the commercial category. You should be able to work out with the machine for many years, especially, if it is for home use.
The 3G Cardio Elite RB Recumbent Bike fits in a space area where other indoor bikes won't. This is because it has a small footprint than many other recumbent bikes in its category.
The overall assembled dimensions are 49 inches long by 27 inches wide by 43 inches tall. Consequently, this requires a workout area of 4'1''/124.46 cm long by 2'3''/68.58 cm wide. Moreover, consider adding extra clearance of at least 1' at the rear and on each side in order to mount and dismount easily.
The machine is equipped with transport wheels and a handle at the rear base; therefore, even though it weighs about 115 pounds/52 kg, it's easy to move and relocate to and from the storage area.
Also, the weight further boosts the already stable base. The 3G Cardio Elite RB Recumbent Bike's outstanding stability is mainly borne by the front and rear stabilizer bars that have a rolling rubber cap on each end. Therefore, no rocking or wobbling will be experienced during a workout.
The Seat, the Handlebar, and the Pedals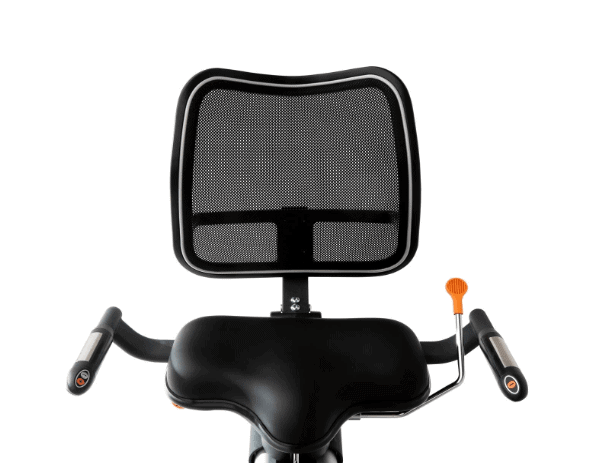 The 3G Cardio Elite RB Recumbent Bike has a large contoured 16 inches wide padded seat with an infinite airflow mesh flex adjustable backrest reclining feature. It is flexible enough to conform to your body shape and size, thus providing optimal comfort that allows you to train longer.
The multi-position adjustable seat could be adjusted to 25 forward/back positions, tilts to 5 positions, and the mesh backrest reclines to several positions. There are two levers on the seat; one on the right side while the other is under the seat. The lever on the right side allows you to tilt the seat and the one under it is used to adjust back and forward.
This is the reason users of different shapes and sizes can be accommodated conveniently.
There are two sets of handlebars, one set is at the console mast. They are plain and coated with a rubber foam material that makes gripping comfortable and secure. While the other set is on the seat, actually, one on each side of it. Each of the seat's handlebars has a metallic EKG heart rate sensor on them with resistance adjustment buttons as well.
Your heart rate will be transmitted to the monitor when they are gripped during a workout.
They are also coated with a rubber foam material for comfortable and secure grips and they provide optimal support for intensive and aggressive thrust.
The two sets of handlebars are both fixed and they offer a variety of workout postures.
The 3G Cardio Elite RB Recumbent Bike is equipped with a simple set of anti-slip pedals with a metallic core and adjustable safety straps. They accommodate standard gym shoes or just barefoot. They have a standard 9/16 inches thread and the chromed crank arms' length is 7 inches (center to center). This means you can swap them with another set of pedals of your choice.
The Q-Factor is 7 inches between the inner pedal to inner pedal, which is relatively narrow for optimal riding experience.
The Drive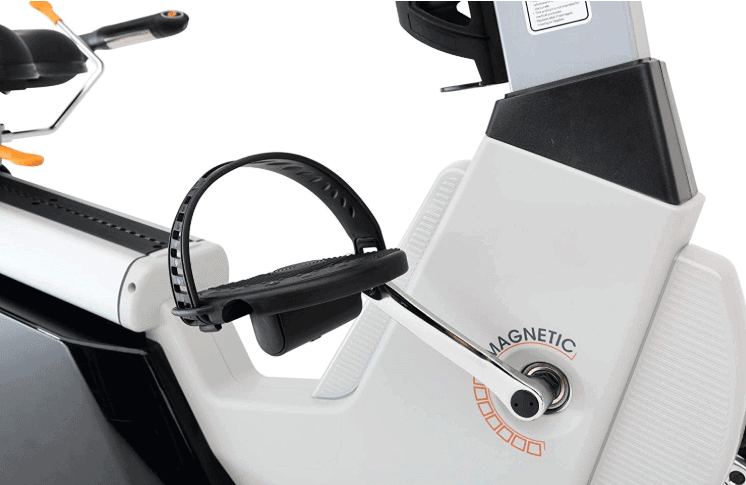 The 3G Cardio Elite RB Recumbent Bike features a belt drive system with a slightly different construction that differs from other recumbent bikes. Rather than having all the components or elements that make up the drive and resistance systems in one place, instead, the pulley, the crankset, and the pedals are situated at the front while the flywheel and the resistance magnetic brake pad are in the shroud under the seat.
Then, it has a long durable belt that connects the pulley and the flywheel.
Being a belt drive system, its operation is quiet and smooth and it doesn't require any lubrication or adjustment at any point in time as the chain drive system requires.
This saves you a lot of time and some money as well. Exercising with the 3G Cardio Elite RB Recumbent Bike doesn't constitute a nuisance in terms of noise-making that could be annoying, especially to the family or the neighbors. You will have full control over how and when to work out.
Moreover, you can watch your favorite TV show, movie or listen to good music without having to raise the volume usually high.
The Resistance
The flywheel and the magnetic brake pad make up the resistance system on the 3G Cardio Elite RB Recumbent Bike. In other words, the bike has an ECB or electromagnetic resistance system that feels smoother when pedaling.
This also quickly responds to resistance changes since it's done electronically via the handlebars by the seat. Therefore, it's pretty easy to adjust the resistance quickly, unlike the manual magnetic resistance system that uses the tension knob and requires turning clockwise and anticlockwise.
That said, there is also a resistance control knob on the console that works just like the typical tension knob aforementioned. The only difference is, most bikes with a manual magnetic resistance system hardly have predefined resistance levels as in this case.
There are 16 levels of resistance on the 3G Cardio Elite RB Recumbent Bike, plenty and enough for anyone at any fitness level. Differently put, the elderly can find the lowest resistance suitable, whereas the rest of the resistance levels are ideal for beginners, advanced athletes, and folks undergoing physical therapy.
You will be able to monitor or track your strength and endurance progress by comparing the resistance levels you used in different workout sessions.
There is no wearing part since the magnetic brake pad and the flywheel don't come in direct contact in order to generate resistance. Instead, resistance is created when the magnetic brake pad emits a magnetic field around the flywheel.
Due to the motorized nature of the resistance system, the bike needs to be plugged into a 100V-240V-50/60Hz power outlet in order for the resistance to work.
The Console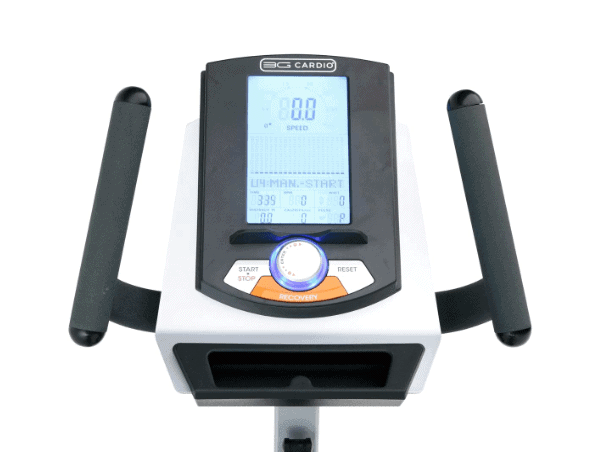 The bike has an advanced console that features a large LCD monitor with a blue backlit background. It has high readability because of the backlit and the large digits that are being displayed. Therefore, viewing the display in a room with any illumination level won't diminish its clarity at all.
You have the liberty to view all the workout values at the same time, unlike some bikes that would require you to use a SCAN function that displays the metrics one at a time.
The monitor displays workout information such as time, RPM, watt, distance, calories burned, and pulse. There are settings for personal data such as gender, age, height, and weight to be input. This enables the machine to calculate the users' calories burned levels and energy output with precise accuracy.
The console is also telemetry enabled. This means that your heart rate is not only monitored via the EKG pulse sensors on the handlebar but via the wireless heart rate chest strap as well. When using the heart rate chest strap, you don't have to hold the handlebars with the sensors during a workout in order to have your pulse rate displayed.
By the way, the chest strap device is included in the package.
The console has 16 programs that include 12 preset programs and 4 user profiles. The 12 preset programs basically offer workouts that focus on weight loss, peak performance, intervals, and more. While the 4 user profiles allow 4 different users to enter and save up their personal data and program.
There are also 3 heart rate programs and a 1-watt built-in program. You have the liberty to set up a goal countdown for time, distance, calories burned, and pulse. This motivates and challenges you as you are required to reach the expected goal.
The recovery function provides you with information on the state of your physical fitness. For instance, the recovery function calculates your heart rate and gives a recovery status of F1 (best)- F6 (worse).
When a preset program is selected, a certain resistance level is automatically assigned for you.
Accessory
The 3G Cardio Elite RB Recumbent Bike has a couple of accessories such as a tablet holder for tablet device placement, a small compartment that could be used to keep keys, a remote control, etc., and a water bottle holder for keeping water handy for hydration purpose.
Storage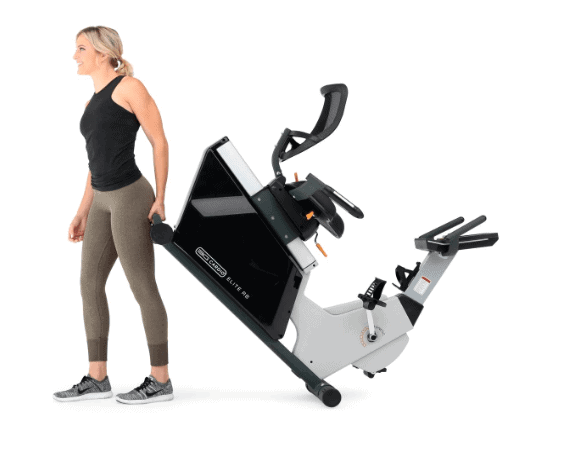 The storage of the bike is easy and convenient, it's compact than most recumbent bikes in its category.
It has a small footprint of 49 inches long by 27 inches wide and it features a set of transport wheels at the front base and a large handle at the rear base for an easy relocation process.
Even though it weighs 115 pounds/52 kg, relocating it is pretty easy.
Approval Rating
The 3G Cardio Elite RB Recumbent Bike has a very good and impressive approval rating on Amazon. This suggests that the bike has the quality and functionality that justifies its cost.
At the time of this review, all the Amazon customers' reviews of this bike were positive.
Pros/Features Overview
Has a sleek and appealing design
Durably built with quality
It's stable during a workout
Supports up to 350 pounds/158.7 kg maximum user weight capacity
Fully adjustable seat that accommodates users of different shapes and heights; tilts 5 positions, and adjusts backward/forward
The backrest is designed with infinite airflow mesh flex
Users between the heights of 5' to 6'4'' can conveniently utilize it
Transport wheels included for easy relocation
Its operation is quiet and silent due to the unique belt drive system
ECB resistance system provides a smooth vibration-free motion when resistance is engaged
The predefined resistance levels enable you to track strength and endurance progress
There are EKG sensors and a wireless heart rate chest strap for monitoring pulse rate
Heart rate chest strap is included in the package
Up to 4 different users can input personal data and program
12 preset programs for weight loss, peak performance, intervals and more
3 heart rate programs available
It's possible to set a goal countdown for time, distance, calories burned, and pulse
The monitor has a blue backlit background with large digits
Tablet holder for device placement is included
Water bottle holder for hydration is included
Low maintenance
Great in-home and commercial warranty
Step thru design for easy mount and dismount
Assembly not difficult
Cons
Does not have a cooling fan
No online app connectivity
In-Home Warranty
Lifetime on the Frame
7 Years on Parts
1 Year on Labor
Commercial Warranty
3 Years on Parts
1 Year on Labor
Product Dimensions and Specifications
Length 49''
Width 27''
Height 43''
Drive: Belt
Resistance: ECB or electromagnetic, 16 resistance levels
Console: Large Backlit LCD monitor
Programs: 12 preset programs, 3 heart rate programs, 1-watt built-in program
User ID: 4 user profiles
Heart rate: EKG sensors and telemetric (wireless chest strap included)
Weight: 115 pounds/52 kg
User weight capacity: 350 pounds/158.7 kg
Handlebar: 2 sets, fixed
Pedals: Anti-skid with adjustable safety straps
Seat: 4-way adjustable
Q-Factor: 7''
Flywheel: Weight not specified
Water bottle: Yes
Tablet holder: Yes
Shipping, Assembly, and Maintenance
Shipping
The shipping cost of the 3G Cardio Elite RB Recumbent Bike on Amazon is free. Meaning that Amazon provides free shipping, however, this may differ with other retailers though.
Assembly
The assembly of the bike is not difficult as it comes with the major components preassembled. You only have to attach the front and rear stabilizer bars, the seat and its backrest, the console mast, the front handlebar, the console, and the pedals to the core unit.
An instruction manual that guides you through the assembly process is included in the package and the tools required for the job as well.
You should be able to completely assemble it within an hour, more or less, depending on the level of your dexterity.
There is also a premium option for expert assembly, where an expert will come over to your home and assemble it on your behalf.
Maintenance
The 3G Cardio Elite RB Recumbent Bike doesn't need any serious maintenance. This is because it has a belt drive and electromagnetic resistance systems.
You only need to always examine the bike before use for any loose or broken parts for safety reasons. Retighten any loose part and replace any broken part accordingly. Make sure to always keep it clean from dirt and sweat.
Conclusion
3G Cardio has a lot of best buy awards. Their indelible art of work and quality is all over the 3G Cardio Elite RB Recumbent Bike.
The bike offers the opportunity to the elderly, the injured, beginners, and even advanced athletes to improve and maintain their overall physical fitness with less effort and stress.
[rank_math_rich_snippet]