The SereneLife SLRWMC60 Smart Rowing Machine has a dual resistance system that includes air and magnetic. It basically has the same resistance system as the Sunny Health & Fitness SF-RW5623; you may check it out.
The SereneLife SLRWMC60 is built for home and office use and it is sturdy enough to support 250 lbs./113 kg maximum user weight capacity.
It is going to require a little bit of space as most rowers do, but it could be stored vertically thus requiring a limited storage area.
The gliding operation is smooth and quiet with a contoured and cushioned seat that conveys sitting adherence and comfort. You are likely to have fun while trying to achieve fitness goals due to the LED display that tracks workout stats such as Time, Stride, Distance, Calories Burned, and Pulse.
Moreover, it has Bluetooth wireless connectivity that gets the rowing machine connected to an iOS/Android Smartphone or computer via the free Fitshow app that is downloadable online. This enables you to record, collect, and review exercise data via any of the devices aforementioned. 
Click right here to have a peek at the SereneLife SLRWMC60 Smart Rowing Machine.  
The Frame and Construction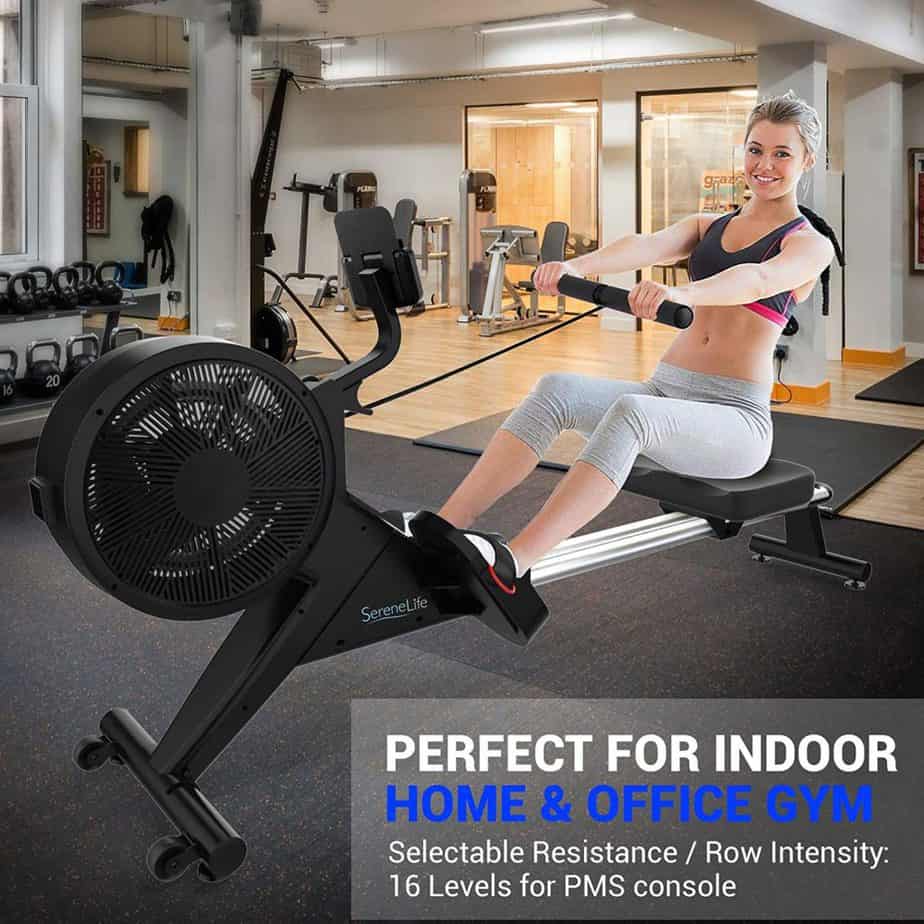 The SereneLife SLRWMC60 Smart Rowing Machine's frame is made of steel metallic alloy. It is coated with anti-corrosive black paint, besides the chromed rail. The coverings for the fan/resistance system are made of ABS plastic.
The rower's overall assembled dimensions are 83.5'' long by 19.3'' wide by 34.8'' high. This means it will require a workout area with perimeters of 7' length by 1'6'' width. Also, additional clearance of 2' at the rear and on each side of the rower will be necessary for safety and convenience reasons.
Apparently, this machine takes up space and thus, not suitable for small rooms or apartments.
That said, it doesn't take as much space when it's time to put it away even though it's not foldable. It could be stored uprightly and be moved easily via the integrated transport wheels at the front base.
The rail length is 45'' while the rowing or gliding distance is 33.27''. Therefore, users with an inseam of 43'' or less can be accommodated by the rower.
The rower's stabilizers are well placed with adjustable levelers underneath them. Hence, its stability is well established and no wobbling or slipping movement will be experienced during an intense workout.
It weighs about 73 lbs./33 kg which also promotes some level of stability as well.
The Seat of the SereneLife SLRWMC60 Smart Rowing Machine
This rower has a seat that is contoured for adherence and cushioned for comfort. It is attached to the dual chromed rails and its gliding activity is smooth and quiet
Overall, the seat provides decent comfort that allows you to train longer.
The Handlebar
The SereneLife SLRWMC60 Smart Rowing Machine is equipped with an ergonomically designed curvy handlebar. It is attached to the reinforced pull cable that is connected to the fan/magnetic resistance system.
You can row all you want; the cord won't snap and will last for a very long time.
Basically, the handlebar provides secure and comfortable grips.
The Footplates
There are large, 2'' heel guards and anti-skid footplates on the SereneLife SLRWMC60 Smart Rowing Machine. They are designed to securely accommodate different foot sizes and standard gym shoes.
They are non-pivotal but optimally positioned to prevent stress on the ankles.
Moreover, each of the footplates has a large adjustable strap that secures the foot in place no matter how rigorous or fast your rowing gets.
The Resistance
The SereneLife SLRWMC60 Smart Rowing Machine is equipped with an air/magnetic resistance system. This means that both the air and magnetic elements are in play in the generation of resistance.
The resistance system comprises of a magnetic pad and a fan flywheel with dimensions of 13.8'' x 2.2''.
There are 16 adjustable resistance levels that offer different levels of workout intensities which could be suitable for different users.
The resistance adjustment is done via the buttons on the console.
Its noise level is not distractive neither does it interfere with other activities such as watching a TV show or listening to music. The family or the neighbors won't complain about noise pollution when using the rower because its noise level is bearable.
The Console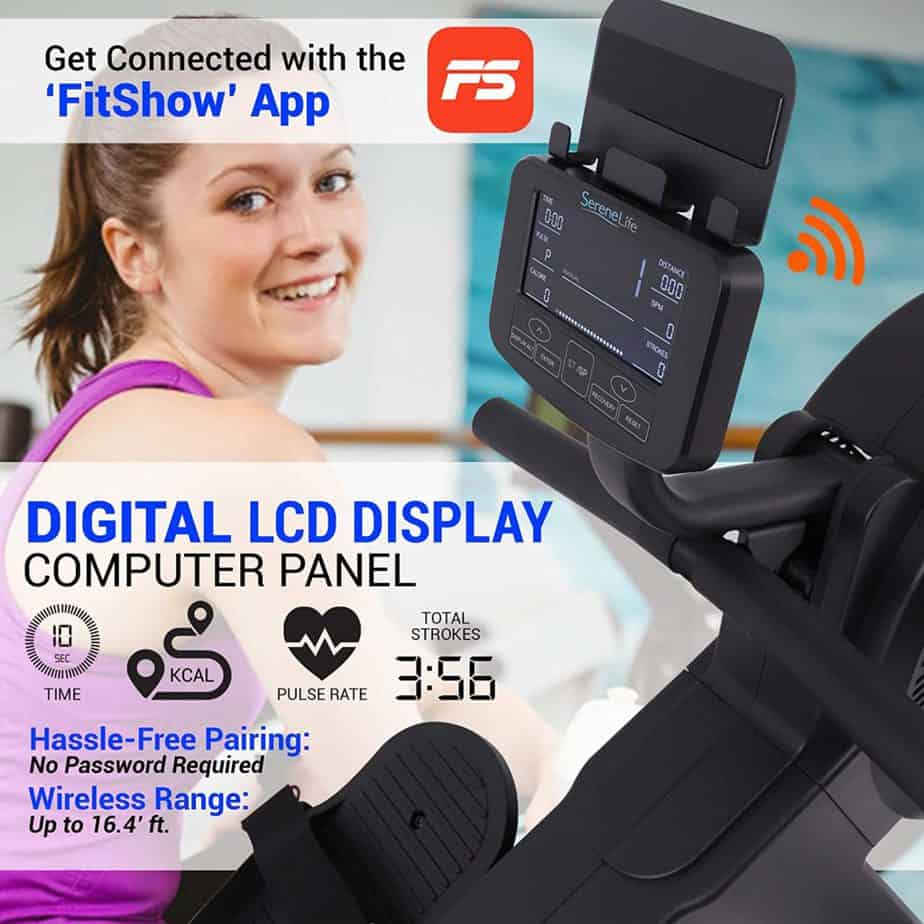 The mid-range console on the SereneLife SLRWMC60 Smart Rowing Machine has a Bluetooth version BLE 4.0 capability and features an LED monitor that can track workout stats such as Time, Distance, Strides, Calories, and Pulse.
The display is segmented so that all the workout values may be displayed all at once without having to scroll through to view individual workout stats.
It has very high readability that cannot be diminished even when viewed in a poorly-lit room.
The console is telemetry enabled; meaning you can use a compatible ANT+/Bluetooth HR chest strap to read and view your heart rate in real-time.
The Bluetooth function with a connectivity range of 16.4' allows you not only to pair your HR chest strap but to also connect to a Fitshow app that is available for all modern devices such as iOS/Android smartphones, tablets, and computers.  
The Bluetooth is hassle-free to pair with a device and doesn't require a password.
The Fitshow app. is free to download online. Once downloaded you will be able to record, collect and review workout data, put your training stats on display, and challenge friends. It also provides you with the opportunity to share health and fitness data via social media.  
There are a couple of navigational buttons that include Display, Enter, ST/SP, Recovery, Reset, and UP/DOWN. It is important to note that when the Recovery button is pressed at the end of the workout it calculates your fitness level based on the heart rate and produces a result that is usually between F1 (Excellent) – F6 (Poor).
No battery is required. The rower needs to be plugged into an outlet of 120v/60Hz. It has a cord length of 70.87''.
The console is adjustable for the best view angle.
Accessory
The SereneLife SLRWMC60 Smart Rowing Machine is integrated with a tablet holder at the top of the console. It is designated in a very ideal position that could give the user a clear view of the tablet device being used without blocking the view of the LCD monitor.
This comes handy if you wish to connect your smartphone or tablet device with the machine in order to utilize the benefits of the Fitshow app.
Storage
The storage of the SereneLife SLRWMC60 Smart Rowing Machine has never been easy.
It is integrated with transport wheels at the front base so that you can easily roll it to and from the storage area and it could be stored vertically thereby saving a lot of space.
The storage area perimeters are 19.3'' x 34.8''.
Approval Rating
The approval rating of this rower at the time of this review is impressive.
There are several Amazon customers' reviews that reviewed the rower favorably, thus, it has a positive approval rating.
Pros/Features Overview
It has a smart design for home and office use
Supports 250 lbs./113 kg maximum user weight capacity
It is stable and durable
Storage in an upright position is possible; saves space
The contoured and cushioned seat provides decent comfort
It glides smoothly and quietly
It has got a reinforced pull cable that could last for a very long time
The air & magnetic resistance system offers 16 adjustable levels that are suitable for weight loss, cardio fitness, sports training, etc.
The mid-range LED monitor tracks workout progress including pulse
A recovery function calculates your fitness level
Free downloadable Fitshow app that is compatible with iOS/Android smartphone, tablet, and a computer
Bluetooth connectivity for all modern-day devices
The footplates are anti-skid and large to accommodate different foot sizes securely and comfortably
Tablet holder included
Low maintenance required
Relatively easy to assemble
Transport wheels included
Cons
No water bottle holder
Doesn't come with an HR chest strap device (has to be purchased separately)
It requires a little bit of space for a workout
Warranty
Product Dimensions and Specification
Length 83.5''
Width 19.3''
Height 34.8''
Shipping weight: 82.7 lbs./37.5 kg
Net weight: 73 lbs./33 kg
Maximum user weight capacity: 250 lbs./113 kg
Rail length: 45''
Rowing range/distance: 33.27''
Frame: Steel metal alloy
Flywheel size: 13.8'' x 2.2''
Resistance: Air & Magnetic, 16 adjustable levels
Heart rate function: Bluetooth wireless HR chest strap (not included)
Seat: Contoured & padded
Display: LED monitor tracks Time, Distance, Strides, Calories, and Pulse
Recovery function
Footplates: Large, anti-skid, with adjustable straps
Cord length: 70.87''
Power supply: 120V/60Hz 0.3A
Power input: 8.0V/0.1A
Tablet holder: Yes
Shipping
The SereneLife SLRWMC60 Smart Rowing Machine is shipped out in a well-packaged box that weighs 82.7 lbs./37.5 kg.
Amazon provides standard free shipping and gets the product delivered in a couple of days. The delivery duration may vary depending on the individual's location.
Assembly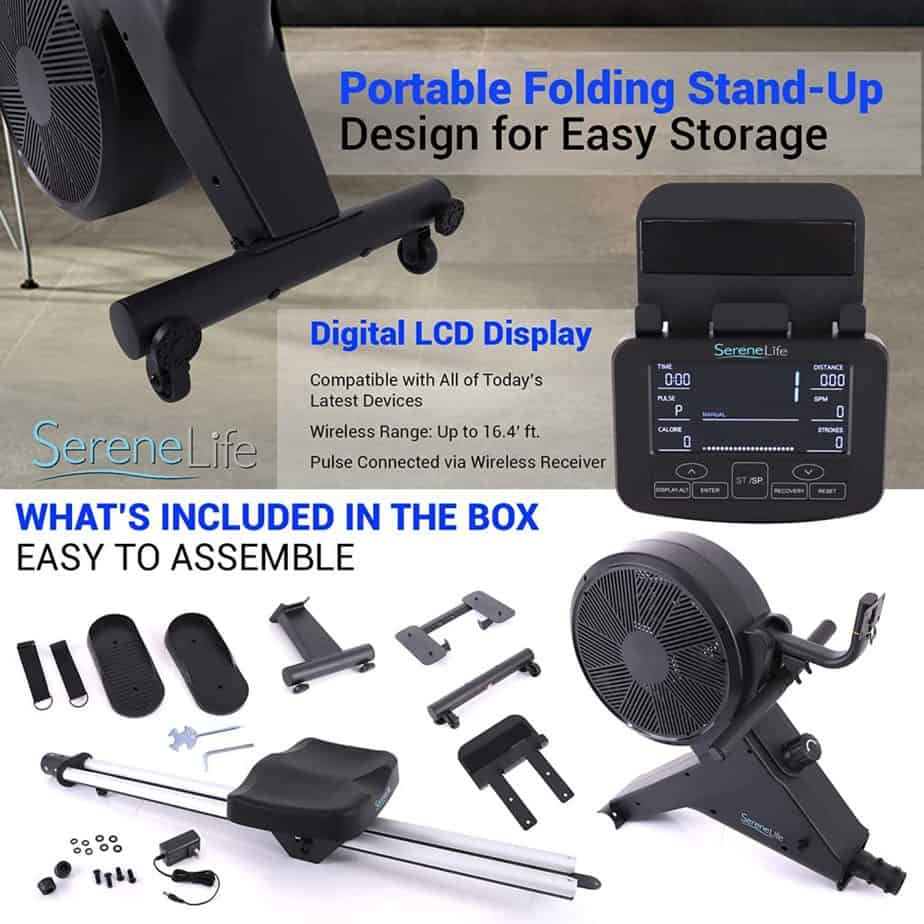 The assembly of this rower is not difficult; however, some people may find it a little bit hard to assemble due to the fact they don't have prior experience.
Nevertheless, it's viable whether you are a novice or someone with some level of assembling experience. It takes anywhere from an hour to 1 hour 30 minutes to fully assemble, and it might be less.
Simply follow the instructions on the manual and use the provided tools.
Maintenance
There is no serious maintenance that is required.
Simply ensure that the rower is kept clean, especially the rail for smooth gliding. The console must not be exposed to a liquid or moisture.
Conclusion
The SereneLife SLRWMC60 Smart Rowing Machine is an affordable machine for home and office use.
If your goal is to improve your cardiovascular fitness, weight loss, strength, and endurance improvement, then this machine might just be what you need.
It provides low-impact full-body aerobic workouts.