The HARISON Pro Indoor Cycling Bike with model number B1850 is a belt-driven unit that is supplied with a free water bottle. It is integrated with a well-positioned tablet holder that won't block the view of the monitor when an iPad is placed on it.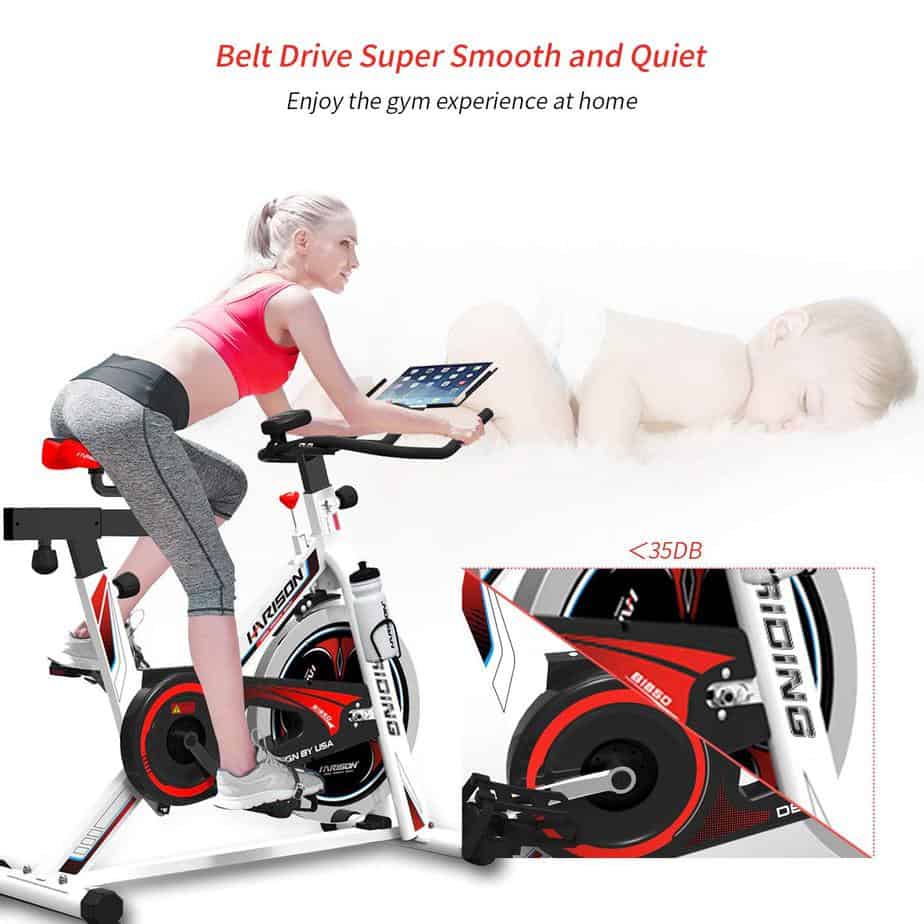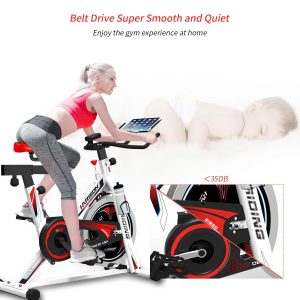 This spin bike has a lot in common with the L NOW Indoor Cycling Bike D600 but the latter is a little bit pricier than the former and for a very good reason.
The HARISON PRO Indoor Cycling Bike is fully adjustable; this allows users of different heights to be accommodated conveniently. It is a compact cycling bike that is yet stable and good for home use.
It has a formidable perimeter-weighted flywheel that provides smooth and consistent operation so that your cardiovascular workout experience will be outstanding and productive.
The bike features a 1.8mm stainless steel frame that is sturdy enough to support up to 265 pounds/120 kg maximum user weight capacity. It has a multi-grip-designed handlebar that allows a user to work out with different grip options.
It is also a lightweight machine that does not really affect its stability but actually makes it portable with the help of its transport wheels.
This bike is simply designed with the necessary features and ergonomics that could help anyone seeking to have that spin class experience at home.
That said, we are going to shed more light on the pros and cons of the HARISON B1850 Spin Bike.
Click right here to have a peek at the price of the HARISON Pro Indoor Bike Belt Drive B1850 with iPad Holder, Stationary Exercise Bike on Amazon.
The Frame and Construction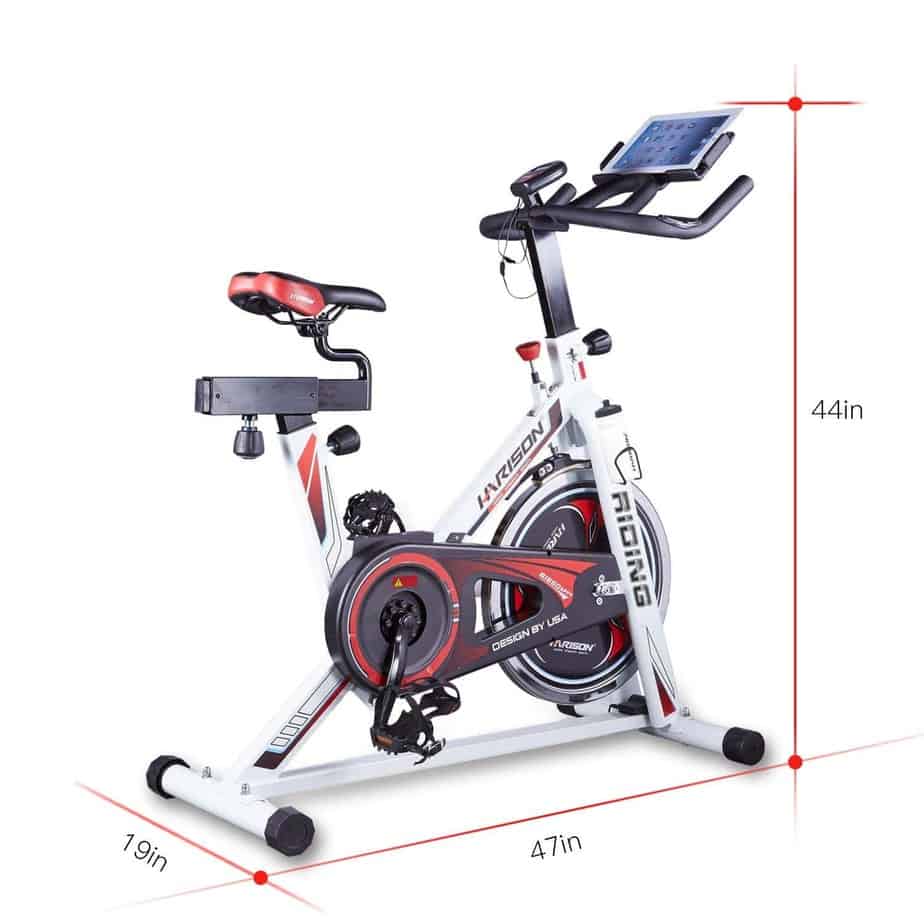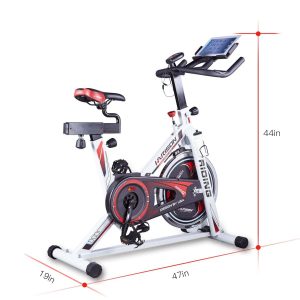 The HARISON Pro Indoor Bike Belt Drive B1850 features one of the sturdiest frames in its category. It has a frame that is made of 1.8mm stainless steel and capable of supporting up to 265 pounds/120 kg maximum user weight capacity.
Every steel part of the spin is coated with anti-corrosive and scratch paint duly applied to preserve the original outlook from being dented and degraded by rusts and scratches.
It features a 29 pounds/13 kg perimeter weighted flywheel with a commercial-grade mid-axis spline that provides a consistent and smooth ride. We understand that the flywheel is not as heavy as the one on the Sunny Health & Fitness SF-B1002 Cycling Bike but it could be an ideal weight for those with a joint problem and of course the elderly as well.
It is a compact and lightweight machine that is portable and does not take up much space. The total assembled dimensions of the HARISON B1850 are 47 inches long by 25 inches wide by 44 inches tall. Therefore, the workout area required for this machine is about 4 feet long by 2 feet 1 inch wide.
However, it is recommended to add an extra clearance of at least 2 feet on each side of the spin bike and the rear as well for safety and convenience purposes.
Folks that have inadequate space in their room or apartment are highly likely to find a place for this bike.
It weighs about 68 pounds/30.8 kg when fully assembled; this adds to its overall stability. It also has stabilizing bars at the front and rear base in order to ensure stable workouts even during vigorous exercise.
It does not have rubberized adjustable levelers that balance the bike on an uneven floor but does have rubber caps on each end of the stabilizer bars which meanly protect the floor from being damaged by the bike. To take care of an uneven floor problem a protective rubber mat is recommended to be used underneath the bike.
There are also transport wheels at the front base stabilizer bar for easy relocation. Simply tip it forward to move it.
The Seat, the Handlebar, and the Pedals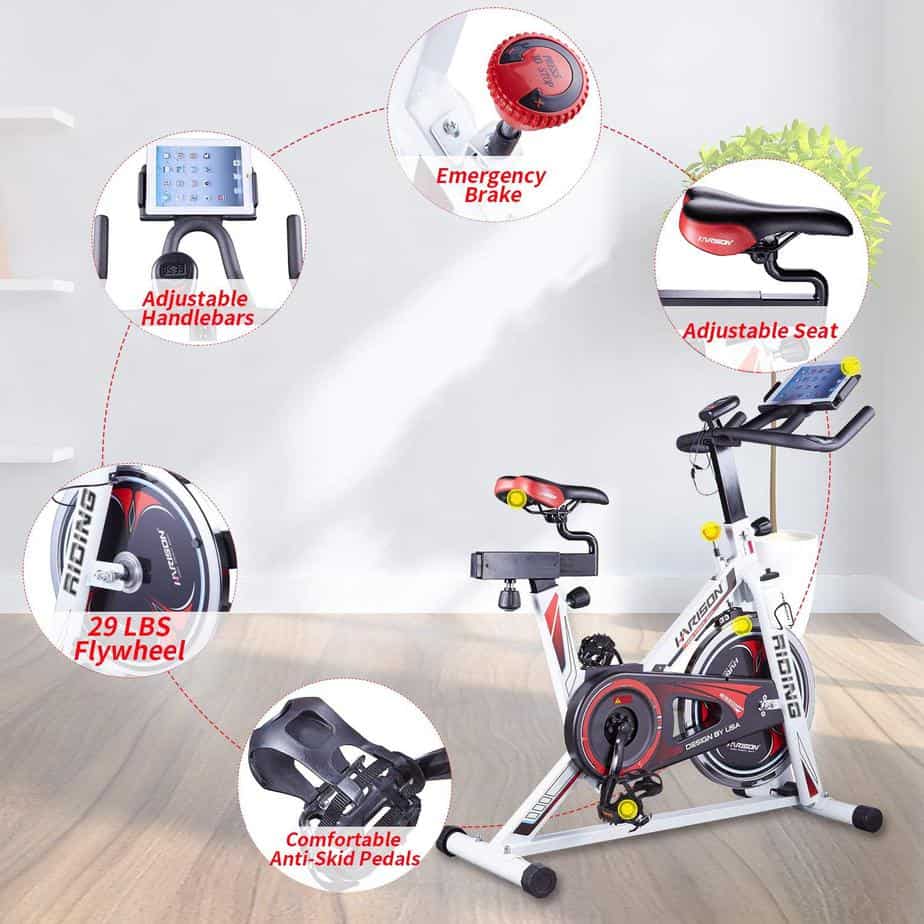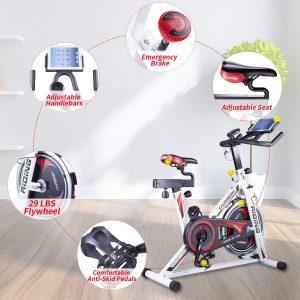 The HARISON Pro Indoor Cycling Bike has a standard outdoor road bike seat that is slim and contoured to fit the butt and reduce the friction that may occur between the legs. The seat is thinly padded and some people might find it uncomfortable especially those with tailbone problems. This is common with most spin bike seats; they hardly provide satisfactory comfort with an exemption of a few.
The good news is that you can place a gel seat cover on it to enhance the comfort it provides or you can replace the seat as a whole with another of your choice because the connection mechanism is standard.
The seat is also 4-way adjustable; this means that it can be adjusted vertically (upward/downward) and horizontally (aft/fore). This is great because it allows users to adjust to fit. Users of different heights will be able to find a suitable workout position.
The handlebar is 2-way adjustable (i.e. vertically, upward/downward). This also increases the chances of a user finding a suitable workout position preference. Moreover, members of the family can use it since the adjustment is easy and could only take seconds to complete.
The handlebar features a multi-grip design that allows a user to have options of grip positions. It is also coated with a rubber foam material that provides a firm and comfortable grip. This also prevents blisters in the palms that could be caused by frequent riding.
The handlebar is also embedded with HR sensors that transmit pulse data to the monitor when gripped during a workout.
The bike is equipped with anti-skid pedals that have toe cages and adjustable safety straps. These are designed to secure the feet from slippage and to improve thrust during a workout.
The pedals accommodate most standard fitness shoes but could be swapped for a set of pedals that have SDP clips for spin shoes just in case you wish to use one. However, some users are comfortable with the pedals that are supplied with the cycling bike.
The Q Factor, i.e. the distance from the inner edge of the left pedal to the inner edge of the right pedal, is not indicated. This is important because it determines the alignment of the legs to the pedals. The narrower the Q Factor the better because it makes the user have the feel of riding a real road bicycle with less stress to the joints such as the ankles and the knees.
That said, users have not complained about experiencing profound stress in the knees and the ankles and so we would assume that the Q Factor is probably OK.
The Drive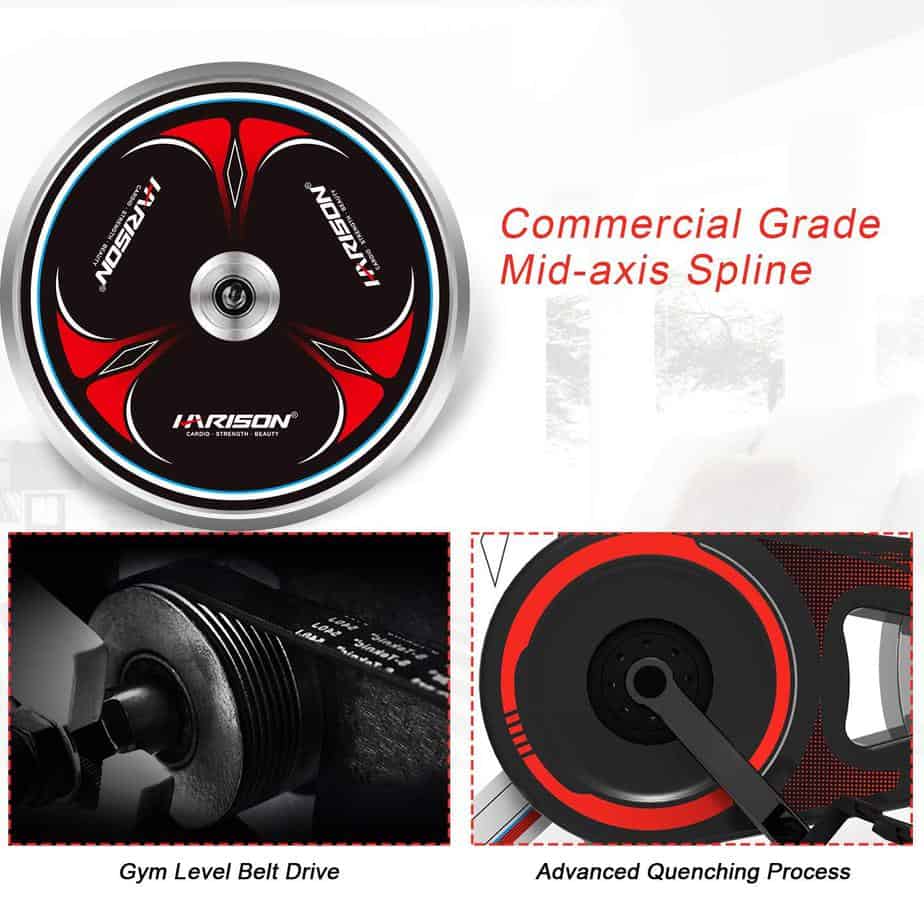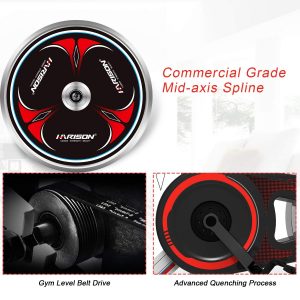 The HARISON Pro Indoor Cycling Bike apparently has a belt drive system that is known for providing smooth and quiet operation.
It is also maintenance-free without any need for periodic lubrication and adjustment just as the case with the chain drive system.
The drive consists of a heavy-duty belt, pulleys, solid crankset, crank arms, and the pedals, and of the 29 pounds/13 kg perimeter weighted flywheel, together they are formidable.
The drive is also equally bidirectional which means that a user could choose to pedal in reverse in order to work on more muscle groups, but cannot coast as anyone could on a regular bicycle because the pedals and the flywheel spin together simultaneously.
The Resistance
The HARISON Pro Indoor Cycling Bike has a friction resistance system that is infinite. This means that the resistance system consists of a felt pad that is face down toward the edge of the flywheel and connected to the tension knob that is sitting on the mainframe tubing.
When the felt pad gets in direct contact with the edge of the flywheel resistance is generated. Now, the level of the resistance is determined by how close and tightly the felt pad is on the edge of the flywheel.
The tension knob is used to increase and decrease resistance. Simply turn the tension knob clockwise to increase the resistance and anticlockwise to decrease it.
The friction resistance system usually has an infinite resistance level. This means that it does not have distinct resistance levels indicated on the tension knob like the one on the Keiser M3i or the ASUNA Lancer. You simply keep on twisting the tension knob either way until you find the suitable resistance for your workout. Therefore, there is no limit to which to adjust the resistance level to and this could provide outstanding challenging workouts.
The problem is you won't be able to determine whether your strength and endurance are improving because you won't be able to compare the highest resistance levels used between workout sessions as there is no way to find out.
Also, the felt pad may sometimes require lubrication in order to work properly without any screeching sound and will need to be replaced after some time because it wears out as a result of friction.
The Console
The HARISON Pro Indoor Cycling Bike is supplied with a rather basic console that allows you to keep track of your workout progress. It has a monitor that displays viewable data and a single button for settings.
The values displayed are highly readable but could be compromised if used in a poorly lit room because the monitor is not backlit.
It has a SCAN Function that allows values to be displayed rotationally, one at a time after a few seconds but you could also have a certain value of your choice to display constantly. The workout values displayed are time, speed, distance, calories burned, RPM, Odometer, and heart rate.
The console is simple and easy to operate as it is a basic type. It is powered by batteries and comes on automatically when the pedals spin and it goes off when there is no activity on the bike for a few minutes in order to save battery power. It can also be turned on by pushing the only button on the console once.
Accessory
The HARISON Pro Indoor Cycling Bike comes with a number of accessories such as a tablet holder, water bottle holder, and even a free water bottle.
These are very relevant accessories that could help you feel comfortable while working out, a water bottle holder for keeping water handy for hydration and a tablet holder for keeping your tablet handy for watching a movie or listening to good music, and taking calls as well during workouts.
The accessories on this cycling bike couldn't be better considering the price tag of the machine.
Storage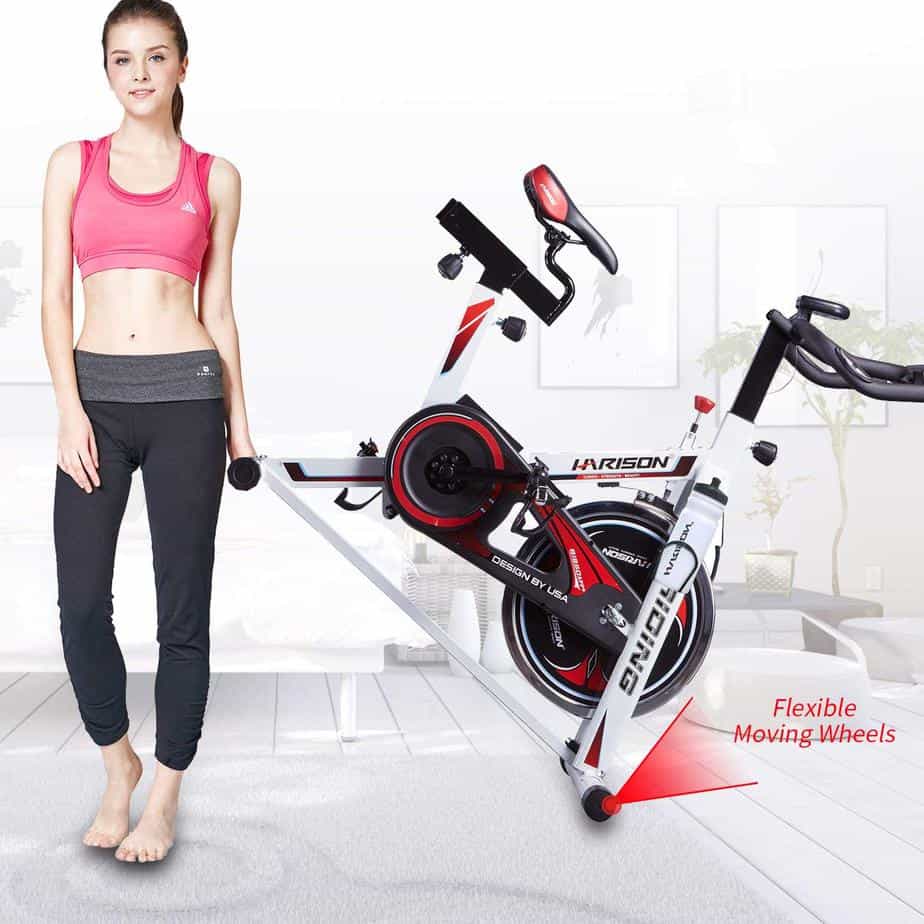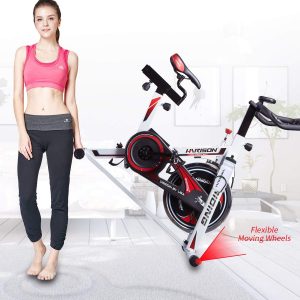 The HARISON Pro Indoor Cycling Bike is a spin bike that could fit in most rooms or apartments due to its compact nature. It has overall assembled dimensions of 47 inches long by 25 inches wide by 44 inches tall. In other words, the storage space required for this bike is basically around 4 feet long by 2 feet 1 inch wide.
It could be kept anywhere next to the wall or under the staircase.
Moving it won't also be a problem because it has two transport wheels at the front base stabilizer bar. On top of that, it is a lightweight machine that weighs about 68 pounds/30.8 kg.
Approval Rating
The HARISON B1850 Cycling Bike has a good approval rating on Amazon.
The majority of the users say they are satisfied with the performance and quality of the bike. It still has 4.1 out of 5 ratings at the time this review was written.
Pros/Features Overview
Sturdy and stable
The operation is smooth and quiet
It doesn't take up much space due to its compact nature
Easy to relocate from one place to another because of the integrated transport wheels
29 pounds perimeter weighted flywheel provides a consistent and smooth ride
It is a low maintenance bike
It accommodates users of different heights due to seat and the handlebar that is adjustable
The handlebar provides different grip options
It features a friction resistance system that provides challenging workouts that burn tons of fat and tone muscle groups
Anti-skid pedals with toe cages and adjustable safety straps secure the feet
Easy to assemble
The seat and the pedals can easily be replaced with another
A tablet holder is included
Free water bottle
The water bottle holder is included
An LCD monitor with SCAN Function displays workout values such as time, speed, calories burned, odometer, RPM, distance, and heart rate
Cons
The handlebar is only 2-way adjustable
The seat is not adequately cushioned
No distinct resistance levels
Product Dimensions and Specifications
47'' Length
25'' Width
44'' Height
Weight: 63 pounds/30.8 kg
Supports up to 265 pounds/120 kg maximum user weight capacity
Drive: Belt
Resistance: Friction
Seat: 4-way adjustable
Handlebar: 2-way adjustable, multi-grip design
Free water bottle
Water bottle and tablet holders are included
Warranty
Shipping, Assembly, and Maintenance
Shipping
The HARISON Pro Indoor Cycling Bike is shipped in a box that weighs about 79 pounds.
This shipping cost is determined by the retailer you are purchasing from; although there are some vendors that provide free shipping within the United States such as Amazon and the product is delivered within days.
Assembly
The assembly of the HARISON B1850 is very easy to assemble just as other spin bikes because the major components are preassembled. There are only a few parts to be attached to the frame such as the pedals, seat and handlebar posts, the seat, the handlebar, the front, and rear stabilizer bars, and the console.
This will take an average skilled person about half an hour or less to completely assemble.
The unit comes with an instruction manual that could walk you through the process of assembly and the needed tools are also included.
Maintenance
The HARISON Pro Indoor Cycling Bike is almost a maintenance-free spin bike because of its belt drive. No lubrication or adjustment is required. The belt will last for a very long before a replacement will be needed and so also the felt pad.
Other maintenance needed is basic such as always wiping the cycling bike clean from dirt and sweat. Also endeavor to always examine the bike for any loose, worn or broken part before use to prevent any accident.
Conclusion
If you are looking for an entry-level spin bike HARISON Pro Indoor Cycling Bike is probably the right choice to make. It is capable of providing you with the quality workout you need for weight loss and muscle tone.
It may not be the best but it is certainly one of the first choices in its category.
HARISON Pro Indoor Cycling Bike Review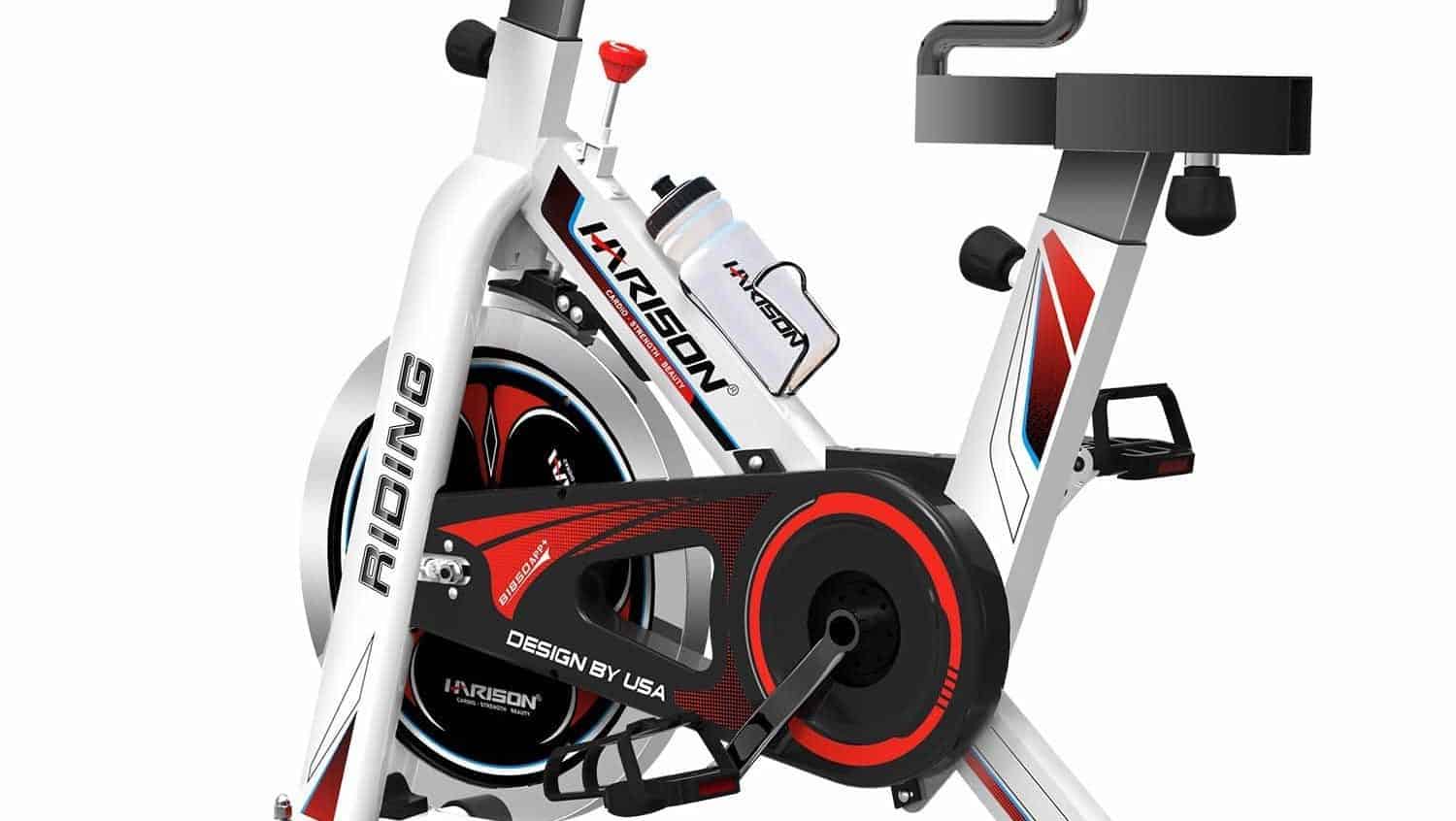 The HARISON Pro Indoor Cycling Bike with model number B1850 is a belt-driven unit that is supplied with a free water bottle. It is integrated with a well
Product Brand: HARISON
Product In-Stock: InStock