The Tribitty Upright Magnetic Exercise Bike is an entry-level upright stationary bike that provides low impact cardio workouts.
Tribitty is obviously in partnership with ANCHEER; in other words, this upright bike is the same as the ANCHEER Upright Magnetic Exercise Bike.
Tribitty has other products on their stables; one of such is the Trbitty Belt Drive Indoor Cycling Bike.
The Trbitty Upright Exercise Bike was introduced to the market sometime in 2018 and it has enjoyed some popularity as expected.  Even though there are fewer Amazon customer reviews at the time of this review they are all completely positive which shows that this unit is nothing but recommendable.
It has a quality and compact design that could appeal to anyone with a space problem. It is affordable with a sleek outlook.
Its overall performance is described as smooth, quiet, and consistent, thanks to the magnetic resistance and the belt drive systems it features. These elements provide smoothness and quietness during operation and on top of that, they make the unit to be literally maintenance-free.
It accommodates users between the heights of 5 feet to 6 feet 2 inches tall. It may even accommodate shorter or taller individuals than those but restrictions might be inevitable.
The seat is 4-way adjustable providing the flexibility needed for suitability.
Click right here to have a peek at the price of the Trbitty Upright Magnetic Exercise Bike on Amazon.
The Frame/Construction
The Trbitty Upright Magnetic Exercise Bike is designed with some level of decency even though it is affordable. It is a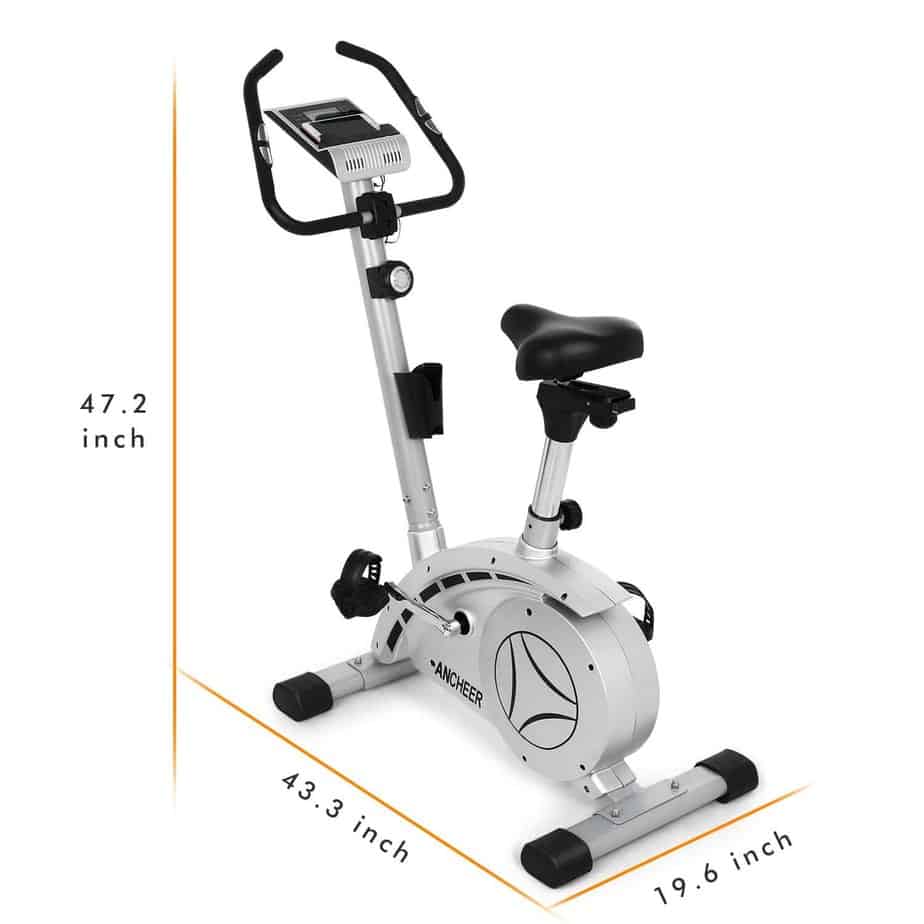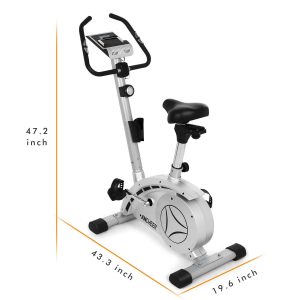 cost-effective bike that offers quality and stability.
The frame is made of quality steel that supports up to 330 pounds/149.6 kg maximum user weight capacity. This is interesting considering the fact that this bike is inexpensive.
This bike is suitable for many users regardless of their heights and weight.
This is a compact unit with overall assembled dimensions of 43.3 inches long by 19.6 inches wide by 47.2 inches tall. Consequently, 3.6 feet long by 1.6-foot wide workout area will be required. Also, consider adding extra clearance of 2 feet on each side of the unit and the rear for safe and convenient workout practices.
Aside from the fact that it is built to be sturdy, it is equally designed to be stable because there are two steel stabilizer bars integrated into the front and rear bases of the bike with protective rubber cap on each end to prevent any damage to the floor and also prevent instability that might be caused by uneven floor, although, you could place the upright bike on a protective rubber mat to enhance the stability especially if it is going to be placed on a highly uneven hard surface.
The bike weighs about 61 pounds/27.6 kg which improves the overall stability.
It is a portable bike that is integrated with two transport wheels that provide mobility that is needed when there is a need for relocation.
The frame is coated with anti-corrosive and scratch paint that protects it from the rusts and scratch invasion preserving the original outlook for a very long time. The seat's post is chrome finished which is also rust-resistant.
The Trbitty Upright Magnetic Exercise Bike is one of the best upright bikes in its category.
The Seat, the Handlebar, and the Pedals
The seat, the handlebar, and the pedals of the Trbitty Upright Exercise Bike are ergonomically designed to convey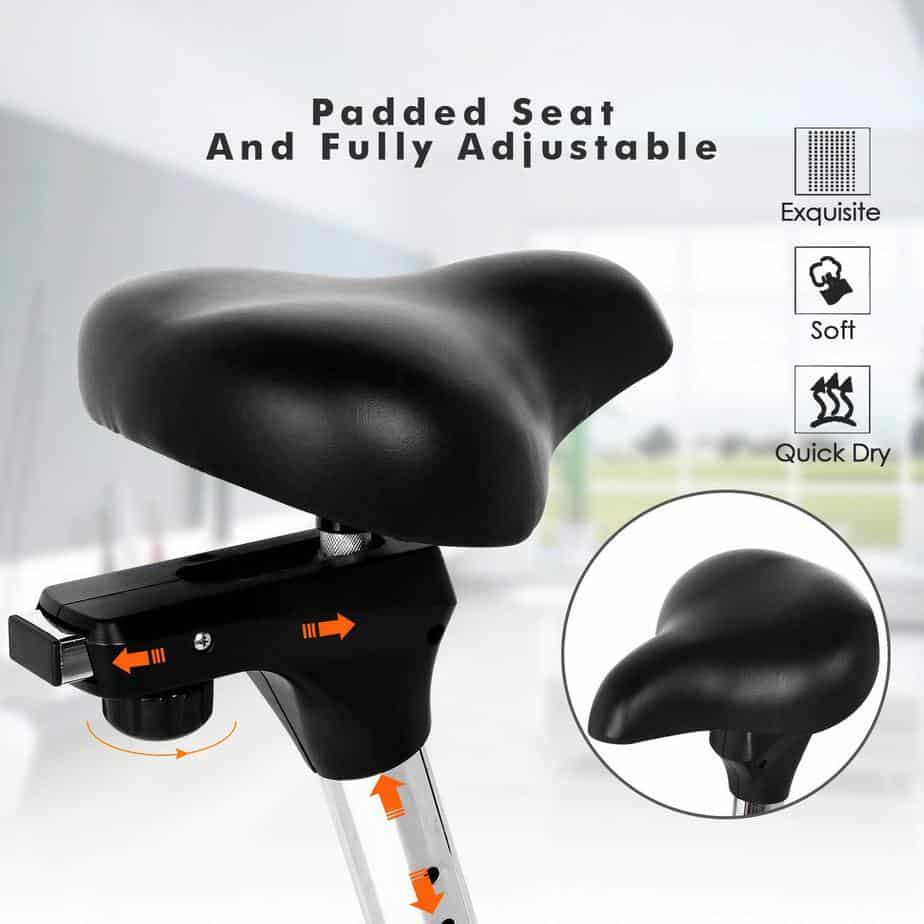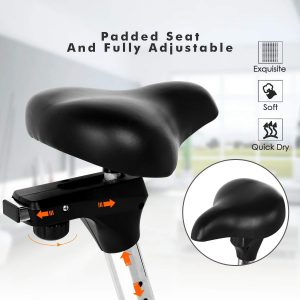 the optimum comfort required during workouts.
Just as aforementioned, the seat is 4-way adjustable, which means that different users could conveniently use the bike regardless of their heights. It can be adjusted vertically (upward/downward) and horizontally (aft/fore).
There are a couple of adjustment holes on the side of the seat post that allows you to adjust to your preferred position. The adjustment of the seat won't take a minute and you will be working out comfortably.
This also makes it possible for multiple members of the family to make use of the bike conveniently due to its flexibility.
The bike comes with an oversized cushioned saddle that is contoured to suit the butt. In most cases, indoor cycling bikes often required a gel seat cover to be used or even be replaced with another because they don't provide the level of comfort needed but that is not the case with this unit.
You can work out longer without feeling the need to stop because the seat is comfortable. However, if you feel the need to enhance the seat you may use a Bikeroo large seat cushion gel seat cover that 11 inches long by 10 inches wide to do so.
But do try it out first without the gel seat cover; chances are you will have no need for extra padding.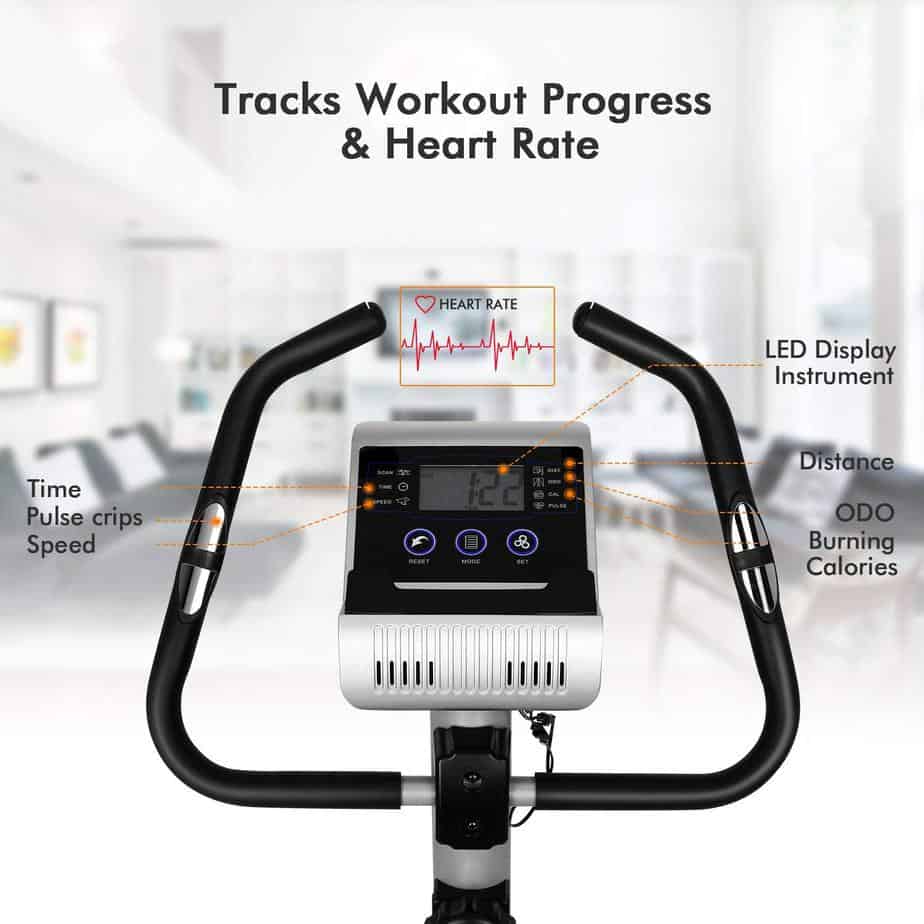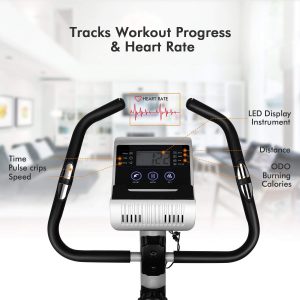 The handlebar is not adjustable in any way which is normal with upright bikes. It features a multi-grip design that allows a user to workout with different grip position which ultimately affects the posture. In other words, this makes workout variety possible.
The handlebar is coated with a soft rubber foam material that is designed to provide a comfortable and firm grip that prevents slippage and blister in the palms. Even though the handlebar is not adjustable, it is in a comfortable height and position that allows you to lean forward or backward during a workout.
Heart rate sensors are also integrated into the handlebar so that when held or gripped during a workout your heart rate data will be transmitted to the monitor so that you can maintain your target heart rate zone at all times.
The pedals that are featured on the Trbitty Upright Magnetic Exercise Bike are made of alloy aluminum that supports the recommended weight. They also have the antiskid design with safety straps that secure and prevent the feet from slippage.
The pedals accommodate standard gym shoes only.
The Drive System
The Trbitty Upright Magnetic Exercise Bike has a belt drive system that is famous for its smooth and quiet operation.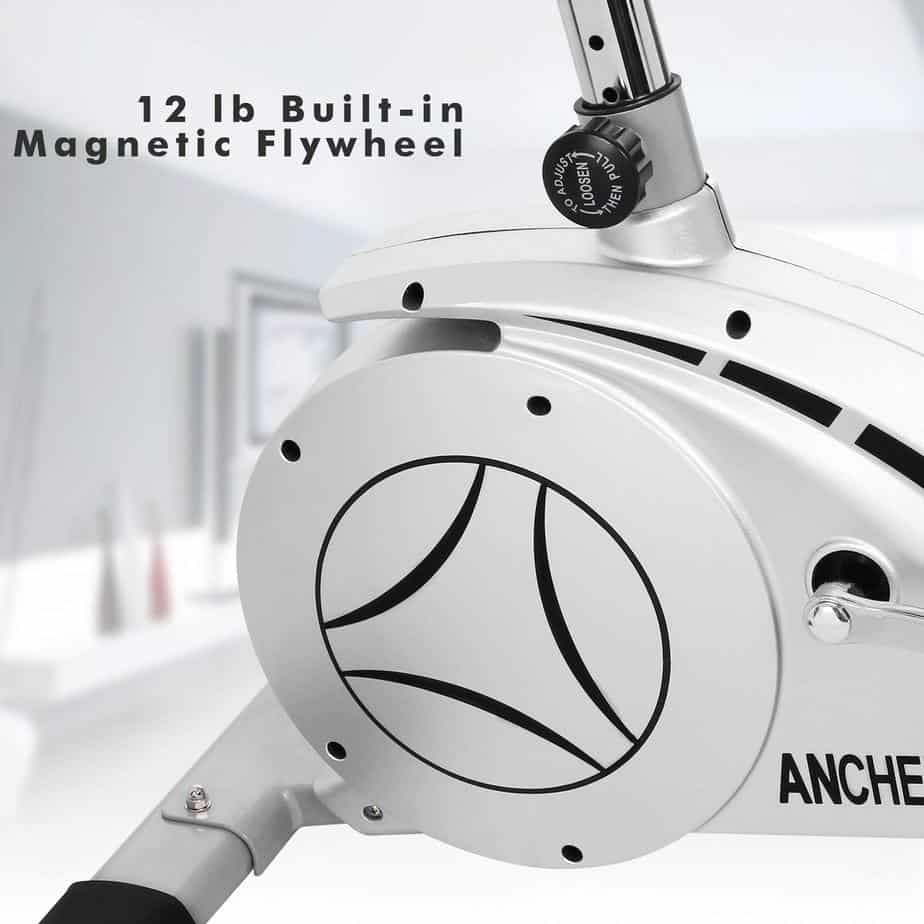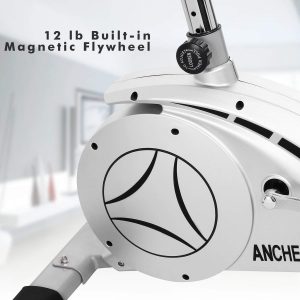 Moreover, having a belt drive system also means low maintenance because it is pre-lubricated by the manufacturer and you don't have to do anything to ensure that it is in good working order.
The drive system consists of a heavy-duty V-belt and a precision-balanced flywheel that weighs about 12 pounds/5.4 kg.  These components ensure that the drive provides quiet and smooth operation.
You don't have to worry about disturbing the family or the neighbor while trying to work out, even if they are in close proximity.
The Resistance
The Trbitty Upright Bike has a manual magnetic resistance system. There are 1 to 8 resistance levels available.
The resistance system is also maintenance free just as the drive. No brake pad replacement is needed or lubrication is required because it has a magnetic brake pad that generates resistance without direct contact with the flywheel.
Resistance is simply generated by the magnetic field when the magnetic brake pad comes close to the flywheel. The resistance is increased or decreased by the proximity of the magnetic brake pad to the flywheel, and this is controlled via the tension knob.
The tension knob is attached to the console and the handlebar post and connected to the magnetic brake pad that is shrouded with the flywheel. When the tension knob is turned clockwise resistance is increased but when it is turned anticlockwise, the resistance is decreased.
Obviously, the resistance is manipulated manually, therefore, no need for electricity or power outlet.
The resistance is suitable for beginners and intermediaries and for people that are undergoing physiotherapy.
You should be able to experience outstanding workouts that improve your cardiovascular health, burn fat, and increase strength and endurance capacity.
The Console
The console that is supplied with the Trbitty Upright Magnetic Exercise Bike is fairly large. It has a monitor that displays data with high readability, however, could diminish if used in a room with poor illumination because it is not backlit.
The LCD monitor displays workout data such as the date, time, speed, distance, calories burned, and heart rate.
The console does not support wireless heart rate device but you can use an external type if you must.
The console also features a tablet holder that allows you to entertain yourself during a workout by watching a movie or listening to your favorite music. Entertainment is a necessary distraction that enables you to workout longer for maximum results.
However, if you choose to place a tablet on the holder you will not be able to view the workout data because it blocks it.
Accessory
The Trbitty Upright Magnetic Exercise Bike has two accessories integrated into it. It has the tablet holder for your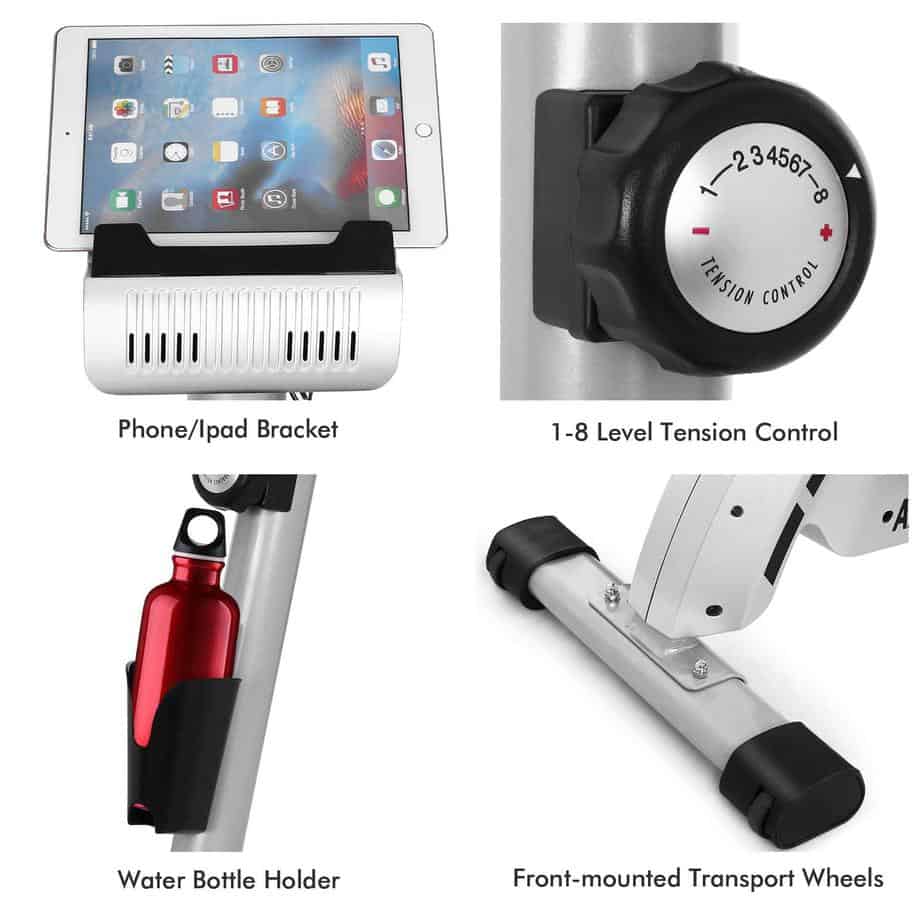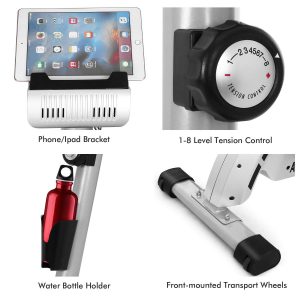 smartphone or tablets for entertainment and a water bottle holder for keeping water handing in order to stay hydrated throughout your workout session.
These are important and necessary as they assist to make you comfortable while you workout to achieve your fitness goals.
This is a plus because some expensive bikes only feature one accessory but this has two.
Storage
Finding a storage space for the Trbitty Magnetic Exercise Bike won't be a problem not even to an individual with the acute space problem. This is simply because the unit is very compact.
Some users refer to it as ''a little machine'' due to its size.
It is also a lightweight machine that weighs about 61 pounds/27.6 kg, integrated with transports wheels, therefore relocating it from one room to another won't really be a problem.
It could be described as being compact and portable.
Approval Rating
The Trbitty Upright Magnetic Exercise Bike has a number of Amazon customer reviews that rated the unit 5 out of 5 at the time of this review.  This means that all the customers that used and reviewed it gave it a full approval rating.
This is an indication that the bike is cost-effective and recommendable and anyone that really needs an upright bike within the price range should consider the Trbitty Upright Bike.
Pros/Feature Overview
Frame made of quality steel: supports up to 330 pounds/149.6 kg maximum user weight capacity
It is very stable due to a good base framework that features solid stabilizer bars
It has an appealing outlook
It features a space-saving design
It features transport wheels for easy relocation
It has a relatively large LCD monitor that allows you to track workout progress by displaying values such as date, speed, time, distance, calories burned, and heart rate
The Handlebar features multi-grip design for different workout posture
HR sensors embedded in the handlebar
The handlebar is coated with soft rubber foam material for comfort
The seat is large, padded and contoured for maximum comfort
The seat is fully adjustable; upward/downward and aft/fore
Easy to assemble
30-day risk-free return
The bike provides quiet, smooth and consistent operation
Low Maintenance
Water bottle holder included
Tablet holder included
Cons
The console does not support wireless connectivity
The Monitor is not backlit therefore it readability could be affected negatively if used in a poorly lit room
The monitor will be blocked if you place a smartphone on the tablet holder
Product Dimensions and Specifications
43.3'' Length
19.6'' Width
47.2'' Height
Supports up to 330 pounds/149.6 kg maximum user weight capacity
Weight: 61 pounds/27.6 kg
Drive: Belt
Resistance: Magnetic
Seat: Fully adjustable
Multi-grip handlebars
Accessory: Water bottle and Tablet holders included
LCD monitor
Transport wheels: Yes
Warranty
30-day risk-free return
1 Year on Parts
Shipping, Assembly, and Maintenance
Shipping
The shipping of the Trbitty Upright Magnetic Exercise Bike depends on the retailer you are purchasing from. There are some vendors, such as Amazon that provide free shipping within the U.S and deliver within days.
Assembly
You may opt for the ''expert assembly''; to be done by someone else for you which incurs extra charges or you may decide to assemble it by yourself.
It is really easy to assemble because it is supplied with the major components preassembled and there are only a few parts to be attached to the frame such as the seat post, the seat, the handlebar, the pedals, and the console.
It is also accompanied by a step-by-step instruction manual and a video that guides you on the process of the assembly.
The required tools are also included.
It won't take you up to an hour to completely assemble the bike.
Maintenance
The Trbitty Upright Magnetic Exercise Bike is a maintenance-free upright bike because it has a belt drive and magnetic resistance systems. No adjustment, replacement of the brake pad, or lubrication is required.
Just make sure to always examine the bike for any loose, worn, or broken part before use. Do fix any problem that may arise accordingly.
Lastly, always keep the machine clean from dirt and sweat.
Conclusion
The Trbitty Upright Magnetic Exercise Bike is, without doubt, a recommendable upright that will be appreciated by anyone that is on a budget. This bike offers satisfactory workouts without having to leave the comfort of your home.
Users have nothing but good words for it.
Trbitty Ancheer Upright Magnetic Exercise Bike Review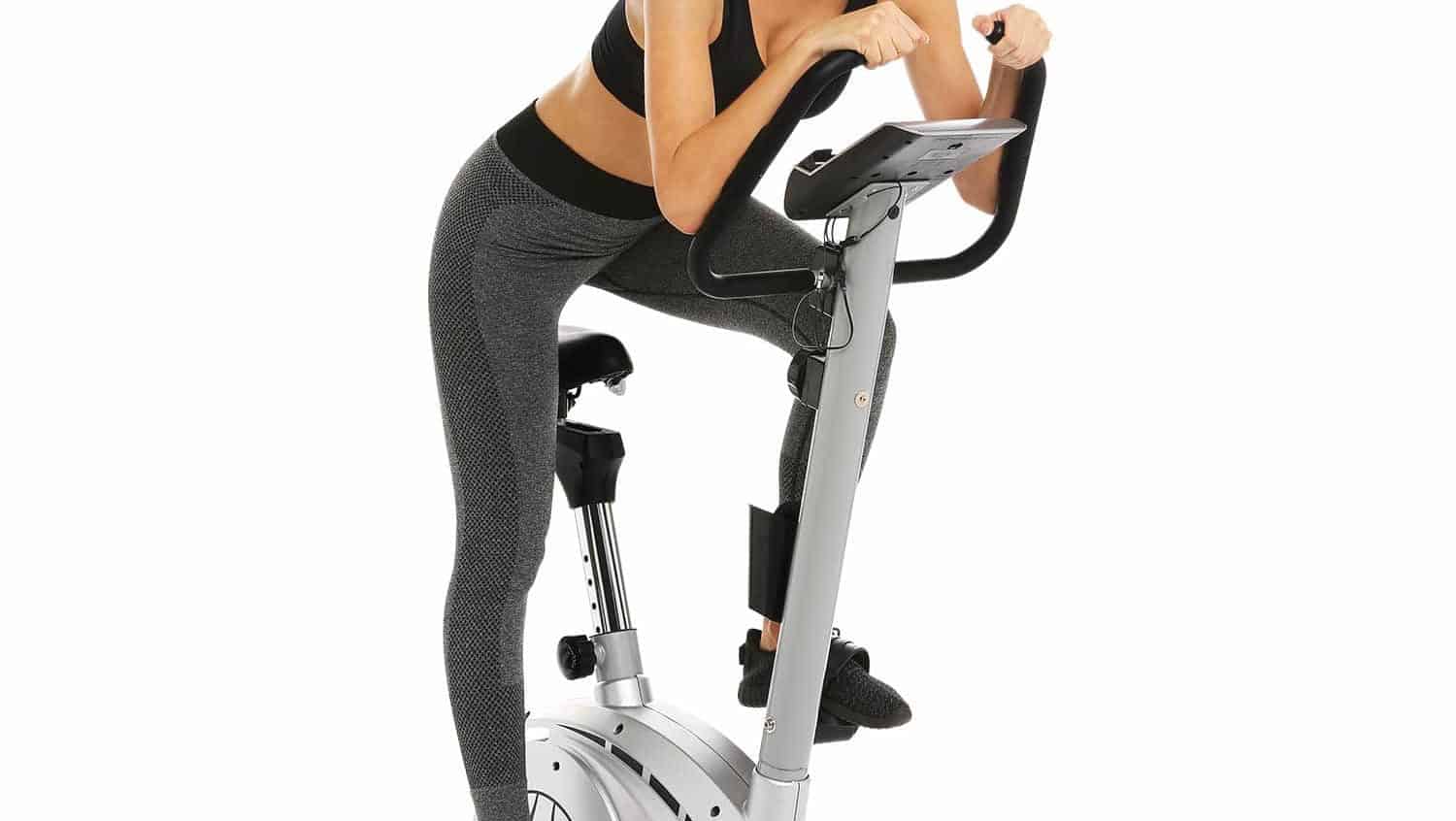 The Trbitty Upright Magnetic Exercise Bike is designed with some level of decency even though it is affordable. It is a cost-effective bike that offers
Product Brand: Ancheer
Product In-Stock: InStock