The Marcy Recumbent Exercise Bike with Pulse Sensors NS-908R is the newer version that is integrated with a heart rate function. The older version doesn't have it and it's an added advantage to the newer version because users can get to purchase a recumbent bike with pulse sensors at a very affordable price.
This is a good alternative to the popular Exerpeutic ME-709 and Marcy NS-716R that do not have the heart rate monitoring function. Although, it may not be accommodating up to 6' tall individuals as those could, especially the ME-709.
Therefore, if you are between 4'10'' to 5'7 tall, the Marcy Recumbent Exercise Bike with Pulse Sensors NS-908R will just be fine for you, otherwise, the ME-709 or the SN-716R still remains the best because they have longer adjustable frame length.
Just to be clear, users up to 6' may use it but it could be small for them thus impeding their ability to exercise with full let extension.
That said, the Marcy NS-908R has a very sturdy and durable frame that supports up to 300 pounds/136 kg maximum user weight capacity. It is integrated with a belt drive and magnetic resistance systems that make riding and working out on it smooth and quiet.
It's lightweight and transportable (even though it doesn't have the conventional transport wheels) for easy storage. It is a manual machine that doesn't need to be plugged into a power source in order to be functional. The console is what requires 2 AAA batteries for the monitor.
Click right here to have a peek at the price of the Marcy Recumbent Exercise Bike with Pulse Sensors NS-908R on Amazon.
The Frame and Construction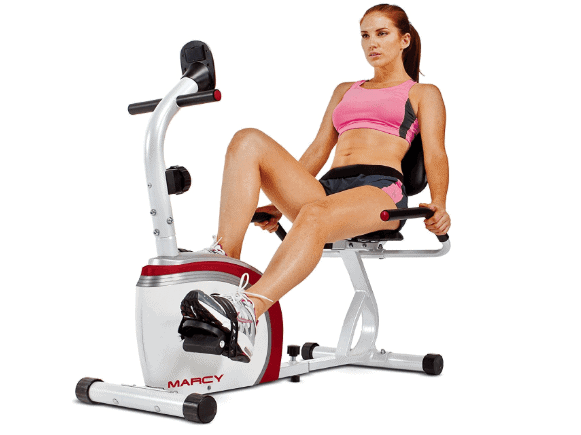 The frame and the construction of the Marcy Recumbent Exercise Bike with Pulse Sensors NS-908R is one that supports a high user weight capacity and optimal stability. Its step-thru design allows easy mount and dismounting for users of all ages.
The bike has a solid and anti-corrosive painted steel that can't be affected by rust or indiscriminate scratches. It is not very large or foldable; as a matter of fact, it's slightly smaller than the NS-716R and the ME-709 just as aforementioned.
Its overall assembled dimensions are 47.6 inches long by 24.8 inches wide by 37 inches high. So, it requires a workout or a storage perimeter of 4' long by 2'1'' wide. Also, for safety and a comfortable riding experience, consider adding extra clearance of 1-2′ on each side of the bike especially if it's going to be utilized in a confined area.
The bike has a robust base framework that features front and rear steel stabilizer bars with a rubber cap on each end for floor friendliness. Thus, the overall stability is great even though it weighs only 50 pounds/22.6 kg.
The Seat
The Marcy Recumbent Exercise Bike with Pulse Sensors NS-908R' seat and backrest are large and padded.
However, they are (seat and the backrest) not adjustable. The only way to customize the bike is by adjusting the frame at the center of the base in order to create more or less space between the seat and the handlebar which ultimately allows the user to workout comfortably with full leg extension when pedaling.
It helps to reduce strain at the back that is usually caused by prolonged workout sessions.
The frame adjustable length range is 23-28'' which can comfortably accommodate users between 4'10'' to 5'7'' tall. People up to 6' could also use the bike but chances are it may be too small for them.
The Handlebars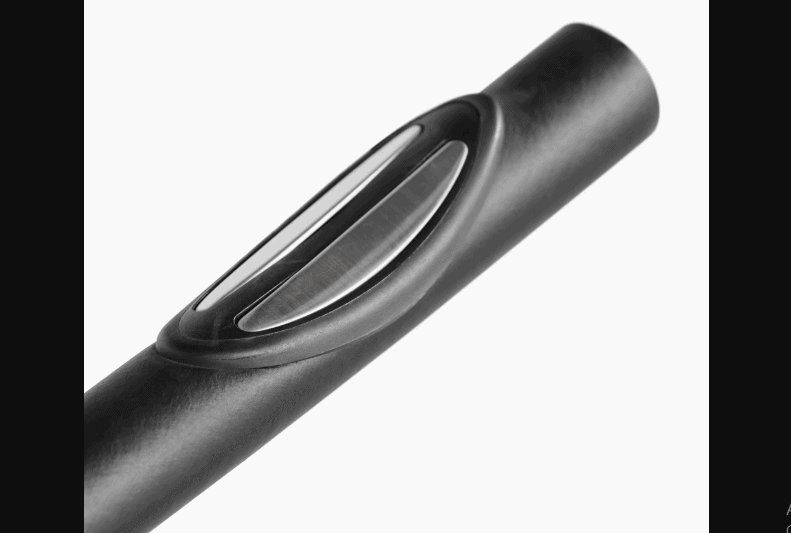 There are two sets of handlebars on the bike. One set is on the seat with EKG heart rate sensors embedded in them. They are designed to provide support for aggressive and comfortable pedaling while in a reclining position. The EKG pulse sensors read and transmit heart rate data to the monitor when held during a workout.
The other set of handlebars are non-adjustable and situated at the front part of the bike. They allow the user to work out or pedal while sitting up on the seat.
The two sets of handlebars are coated with breathable soft foam that provides comfort and prevents slippage and blisters in the palms.
Pedals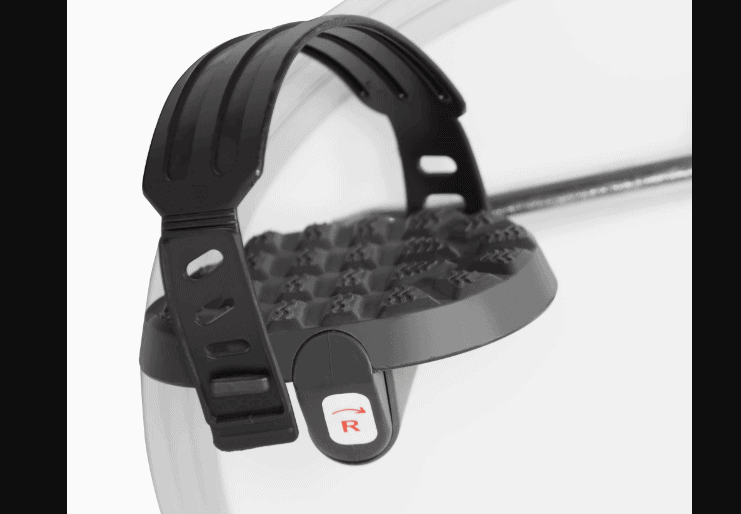 For maximum support for the feet, the Marcy Recumbent Exercise Bike with Pulse Sensors NS-908R is equipped with counterbalanced pedals that are anti-skid designed with adjustable safety straps that ensure safety and comfort during exercise.
The pedals only accommodate barefoot or a pair of standard gym shoes.
However, there are complaints that the pedals' safety straps are too small for those with a bigfoot. Thankfully, the pedals have standard thread therefore, it's possible to replace them with another set of pedals of your choice.
Finally, they are bidirectional, meaning, a user can pedal in reverse.
The Drive
The bike has a belt drive system that makes the operation very smooth and quiet. The drive system comprises a durable belt, pulleys, solid crankset and crank-arms, small perimeter weighted flywheel, and pedals.
These elements together create an outstanding performance that keeps the user working out longer. You can exercise any time of the day without the family or the neighbors being disturbed by the exercise activities. Also, you have the liberty to watch a favorite TV show or listen to good music using a normal volume level.
It is also important to note that the belt drive system is maintenance-free.
The Resistance
The Marcy Recumbent Exercise Bike with Pulse Sensors NS-908R is incorporated with a manual magnetic resistance system. It has 8 resistance levels that provide smooth, light, and medium resistance intensities.
Users with weight loss or recovery goals will be able to achieve their objectives.
Maintenance is not required as well as the resistance is generated when the magnetic brake pad emits a magnetic field around the flywheel without making direct contact. In other words, it is frictionless, thus no part wears out in the process.
To increase the resistance, turn the tension knob clockwise, and to decrease it, turn counterclockwise, it's as simple as that. The tension knob bears the distinctive and predefined resistance levels – 1, 2, 3, 4, 5, 6, 7, 8, + on its surface.
The Console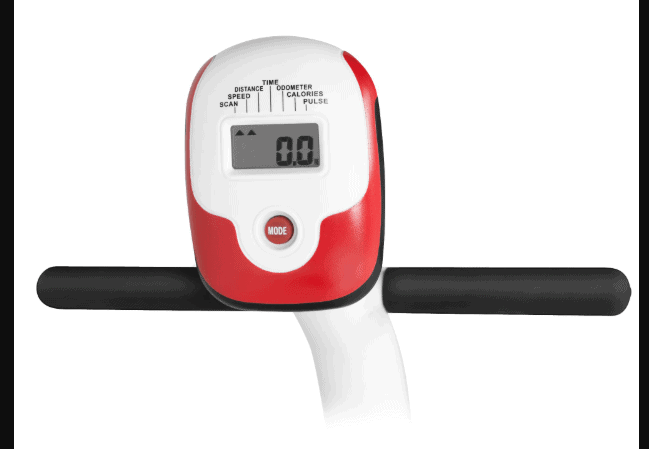 The console on the Marcy NS-908R is basic and an inch smaller than the one on the ME-709. It is about 2.5'' in size and features a small LCD display window that tracks workout data such as time, distance speed, calories burned, odometer, and pulse.
Its SCAN function rotationally and continuously displays workout stats one at a time after a few seconds. This enables the user to have a view of all the workout stats during a workout. It is also possible to set a certain preferred workout stat to display constantly without changing to another value.
Since it's a basic console, no advanced features such as an option to input age, weight, or height. Heck, the monitor doesn't even have backlit. However, its readability is good but could diminish when viewed in an environment that is poorly lit.
The monitor is powered by 2 AAA batteries (not included) and it automatically turns OFF when there is no activity on the bike in order to save battery power, and it turns ON when activity resumes. It can also be turned ON when the MODE button is pressed.
At least, the monitor includes the display of the pulse which enables the user to observe the pulse rate and maintain the target heart rate zone.
Accessory
No accessory is available on this recumbent bike.
You must improvise or purchase a water bottle holder to help you keep water within reach for hydration.
Storage
The Marcy Recumbent Exercise Bike with Pulse Sensors NS-908R does have features that facilitate easy storage.
Its compact and lightweight design makes it easy to be put away.
Although, it doesn't have transport wheels, however, the rubber caps at the front base serve as rollers for relocation.
Approval Rating
Most users have a positive view of the bike on Amazon; hence, the approval rating is good and impressive.
Pro/Features Overview
Sleek design
It's durable, stable, with a sturdy steel frame
Supports high maximum user weight of 300 pounds/136 kg
The step-thru design allows users to mount and dismount easily
Operation is smooth and quiet
The seat with backrest is well cushioned and offers maximum comfort
Pedals are counterbalanced with safety adjustable straps that ensure a secure and comfortable riding experience
Pedals have a standard thread and are replaceable
Magnetic resistance with 8 levels; provide light to medium intensity
Easy to assemble
Low maintenance
LCD monitor tracks workout progress including heart rate
Offers low impact workouts
Two sets of handlebars for sit-back and sit-up workout-postures
Adjustable frame to accommodate users between the heights of 4'10'' – 5'7''
Cons
The console is basic without extra functions such as preset programs or the ability to input age, weight, and height
The monitor doesn't have backlit
No water bottle holder or tablet holder
Product Dimensions and Specifications
Length 47.6''
Width 24.8''
Height 37''
Weight: 50 pounds/22.6 kg
Supports maximum user weight of 300 pounds/136 kg
Drive: Belt
Resistance: Manual magnetic, 8 levels
Pedals: Anti-skid with adjustable safety straps, standard thread
Frame: Steel and adjustable
Handlebars: Two sets, coated with a soft rubber foam material
Console: Non-backlit LCD monitor, tracks time, distance, calories, speed, odometer, and pulse
SCAN function: Yes
Warranty
Shipping
The Marcy Recumbent Exercise Bike with Pulse Sensors NS-908R is shipped in a box that weighs 52 pounds/23.9 kg.
Its shipping cost is free if purchased from Amazon, and it's delivered in a couple of days.
Assembly
The assembly of this bike is easy because the major components are preassembled.
You only need to connect the two frames together, attach the front and rear stabilizer bars, the seat, and the backrest, the seat's handlebar, the handlebars' mast, the handlebars, the console, and the pedals to the core unit of the bike.
All these could take about an hour, more or less, depending on your dexterity.
The assembly instructions are included in the owner's manual which should be in the package. The tools for the job are also included.
Maintenance
The bike needs to be kept clean at all times. Do an overall check before use to find out if all parts are tight and good.
Further maintenance and warning instructions are included in the manual.
Conclusion
The Marcy Recumbent Exercise Bike with Pulse Sensors NS-908R is durable, stable, and sturdy enough to support a maximum user weight of 300 pounds/136 kg. It is a cost-effective bike that also tracks the heart rate.
As we have outlined the pros and cons of his bike above, it's obvious that its downsides are not a deal-breaker as many users have reviewed it favorably.