Ancheer Fitness products may not ring a bell as other famous fitness equipment brands would but it is sure a force to reckon with. They have quite a number of good and great fitness equipment to their name and now I am about to review one of their very affordable upright fitness bikes.
For the fact that it is affordable, it will interest you to know that there are features the Ancheer Magnetic Upright Exercise Bike possesses that are hardly found in other similar products of the same price range even though some may consider it a basic bike.
As at present, there are good numbers of Amazon consumers that recommend this unit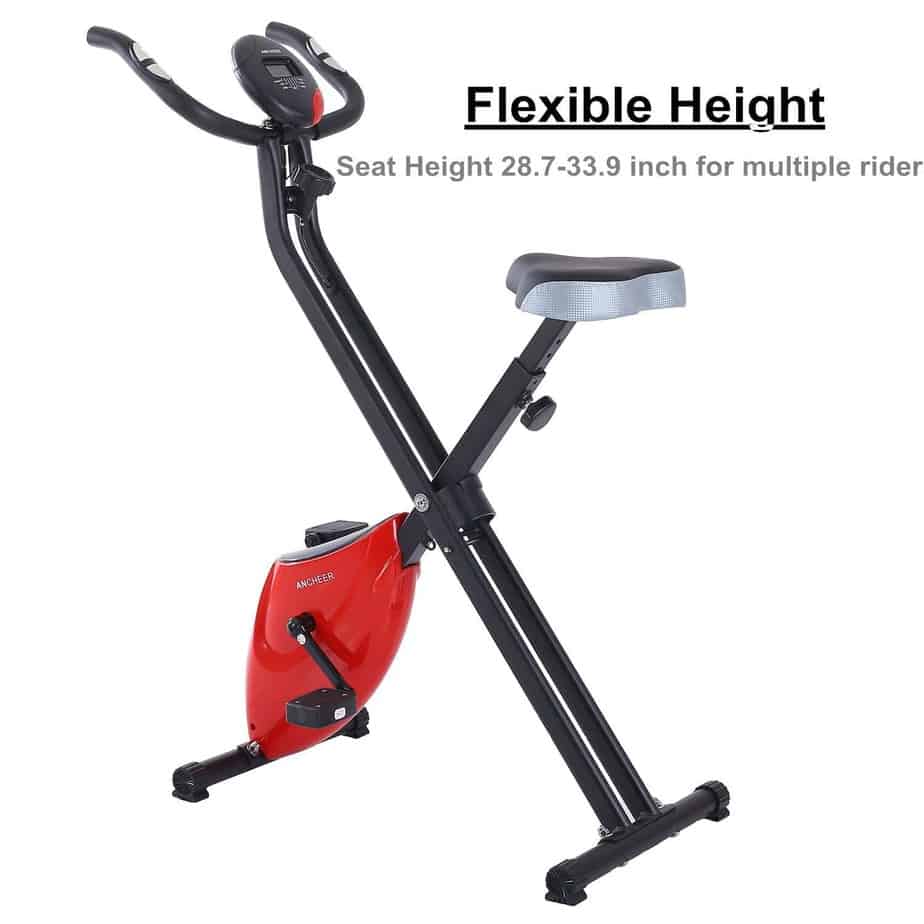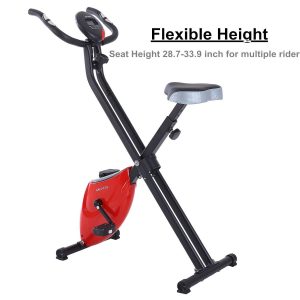 and its rating is at almost 5 out 5 as at the time of writing this review. This is a good sign and real soon you may also find out the reason why most consumers think this is a good buy.
The Ancheer Magnetic Foldable Exercise Bike is basically built to help you achieve your fitness goals as you can easily perform cardiovascular workouts in the comfort of your home. Its magnetic resistance system allows you to adjust for a warm-up exercise to a high tension workout that could burn calories, improve heart health, stamina, and endurance with a low-impact effect.
This is an opportunity for you to kick-off that overdue workout to get back in shape.
Click right here to have a peek at the best price of the Ancheer Magnetic Folding Exercise Bike. 
Features/Pros
The Ancheer Magnetic Foldable Exercise Bike has a 5kg magnetic flywheel that allows smooth pedaling during a workout. It does not only run smoothly but also quiet which is very important when you wish to watch or listen to your favorite show or music while working out. So, no interference with your way of entertainment or even getting the family or neighbors disturbed with your workout.
The manufacturer deemed it fit to add adjustable magnetic resistance systems that allow you to achieve your desired fitness goals in time. This is something that offers you the opportunity to adjust to warm-up level to medium and high tension level by simply turning the adjustment knob.
One problem many have faced with such bikes as the Ancheer Magnetic Upright Exercise Bike is suitability and comfort. Some individuals with certain sizes found it discomforting or almost impossible to work out which impedes reaching their potentials. However, with this unit, you can easily adjust the seat up or down to fit and suit you during a workout. Many consumers have attested to this fact that even if you are over 6 feet tall you will still find your suitable and comfortable position by adjusting the seat.
You also have the opportunity and liberty of observing your workout data through its LCD display. Through this monitor, you will be able to know how many calories you have burned during a workout, know your heart rate which will enable you to maintain your target heart rate zone all the time, know your speed, time and distance.
Of course, there is no way the machine or the LCD display can display your heart rate without a heart rate tracking system, which brings us to the embedded pulse tracker on the handlebars.
Its space-saving design appeals to many including me because I love my space. This unit is foldable which makes storage super easy and almost invincible when you store it away. It is half its size when you fold it up.
The bike is made up of steel and ABS plastic which means it is durable.
It supports 100kg or 220 pounds maximum user weight.
Product Dimensions
44.1'' Height
30.4'' Length
16.0'' Width
Warranty
1 Year guarantee on Material
Backup with 30 days risk-free return
Shipping and Assembly
The shipping cost of the Ancheer Magnetic Foldable Exercise Bike depends on where you are buying the equipment. Usually, Amazon ships most of its products free including this unit, but that may not be the case with other retailers.
Assembly of this unit is way too easy because there is almost nothing to assemble as it is shipped with most of its parts preassembled. It could probably take you about 20 minutes or thereabout to put together and besides, it comes with an instruction manual that would also explain things nicely.
Conclusion
Well, the Ancheer Magnetic Foldable Exercise Bike is no doubt recommendable. The price is right and affordable and the features are good. If you are looking for a budget-friendly upright bike then the Ancheer Magnetic Upright Exercise Bike might just be what you need including for your physical fitness needs.
By the way, you have the opportunity of choosing your bike's color, red or black.
[rank_math_rich_snippet]