The Lenos Semi-Recumbent 3-in-1 Folding Indoor Exercise Bike is not the first or the only semi-recumbent folding bike out there. There are several of them, and we have reviewed many previously such as the TECHMOO Folding Indoor Bike, Zafuar 3-in-1 Folding Indoor Bike, and more.
However, after taking a closer look at the Lenos Semi-Recumbent Folding Indoor Exercise Bike, we discovered it has good reviews by real users on Amazon which is indicative of a good product.
Nevertheless, if you aren't satisfied with the purchase, a replacement will be sent to you, or a refund will be made, depending on y our preference.
So, are you looking for affordable indoor fitness equipment that could enable you to shed some weight? Click right here to have a peek at the Lenos Semi-Recumbent Folding Indoor Exercise Bike on Amazon.
The Frame & Construction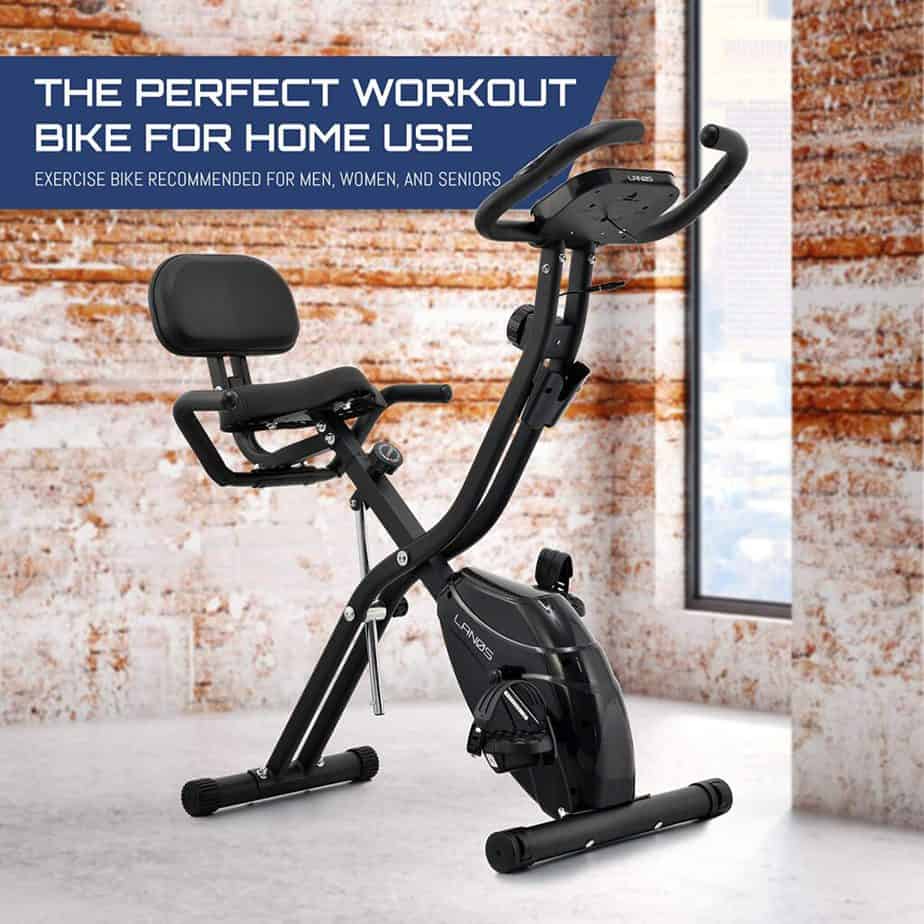 The Lenos Semi-Recumbent 3-in-1 Folding Indoor Exercise Bike has an X-shaped anti-corrosion coated steel frame, and drive shrouds that are made of ABS.
It is available in black, white, or blue color.
It supports a maximum user weight capacity of 330 lbs./150 kg and it's sturdy for a safe and stable ride.
The foldable bike doesn't occupy space; and it's entirely handy because users can easily drag it across any type of flooring, thanks to the transport wheels at the front base.
Its assembled dimensions are 26'' long by 20'' wide by 46'' high. In other words, an area with perimeters of 2'2'' length by 1'7'' width can accommodate it for workouts. Although, an extra clearance of 2' around the bike will be necessary for safety and convenience reasons.
It is even super compact when folded, hence, it could be stored away by leaning it against the wall, or storing it in a standard closet.
The bike supports over 300 lbs./136 kg of weight and still maintains some level of stability despite its compact design. This could be attributed to the base framework that features front and rear steel stabilizers with rubber end caps.
That said, ensure that the workout floor where it's going to be used is even, and the use of a rubber mat might come in handy as well.
The Seat of the Lenos Semi-Recumbent 3-in-1 Folding Indoor Exercise Bike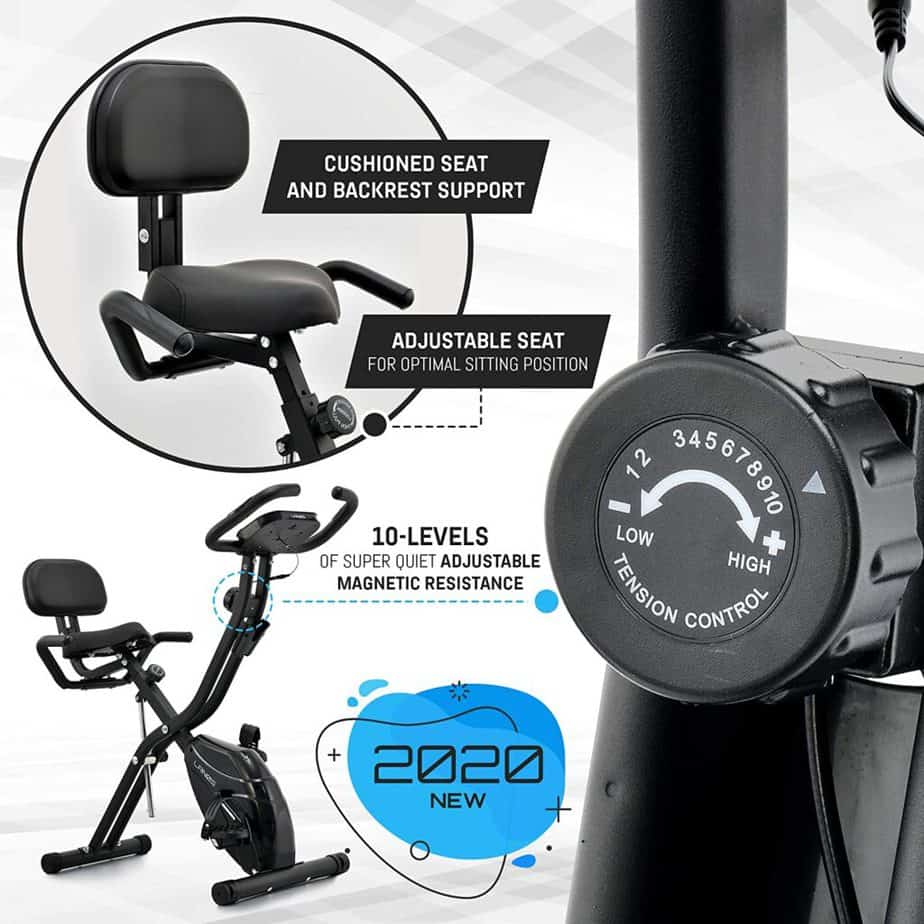 This space-saving indoor exercise bike is equipped with a semi-recumbent seat. This means the seat has a short and wide backrest that could provide support to the lower back.
Both the seat and the backrest are cushioned for maximum comfort.
However, there have been complaints about how uncomfortable the seat was, and if you feel the same way, an additional cushion could improve it.
The backrest is not independently adjustable, but the seat can be adjusted to 3 different positions. This enables users to exercise in optimum sitting positions such as upright posture, semi-recumbent posture, and recumbent posture.
This is the reason the unit is regarded as a 3-in-1 folding bike.
Also, users between the heights of 4'10''-6'2'' can be accommodated.
The Handlebar
The multi-grip handlebar is coated with soft rubber foam material for lasting comfort and safety. Users won't experience slippage, or blisters in the palms as a result of frequent and prolonged workouts.
The handlebar integrates heart rate sensors that are designed to read and transmit the user's heart rate data to the monitor when grasped during a workout.
Even though the handlebar is not adjustable, it is optimally positioned to suit users of different heights and sizes.
The Pedals
The Lenos Semi-Recumbent 3-in-1 Folding Indoor Exercise Bike features a set of anti-skid pedals with adjustable safety straps. They are made of durable plastic with a metallic core.
Different foot sizes can be accommodated safely and comfortably regardless of pedaling intensity.
Although, they can only be ridden barefooted or with standard gym shoes.
The Drive
This bike has a belt drive system that comprises an anti-stretch belt, pulleys, solid cranks, and a precision-balanced flywheel that usually weighs between 5-12 lbs.
Therefore, its operation is smooth, and quiet, and also maintenance-free; consequently, users can work out whenever they wish because, the family, neighbors, or colleagues won't be bothered by it.
Watching a TV show/movie, or listening to music while exercising is entirely convenient since no distracting noise comes from the bike.
Moreover, no requirement for pre or post-lubrication or adjustment as opposed to a chain drive system.
Since the drive is bidirectional, you may choose to pedal in reverse in order to diversify and tone more muscle groups.
The Resistance
The Lenos Semi-Recumbent 3-in-1 Folding Indoor Exercise Bike has a manual magnetic resistance system with 10 adjustable levels. This consists of elements such as a tension control knob, a magnetic brake pad, and a flywheel.
The tension control knob is used to increase or decrease the resistance intensity by turning it clockwise or counterclockwise, respectively.
What literally happens when resistance is generated is that the magnetic brake pad emits magnetic fields around the metallic flywheel causing a drag that consequently results in resistance. Whereas, the intensity of the resistance depends on the proximity of the magnetic brake pad and the flywheel at a given time.
Interestingly, no part wears out over time since no contact or friction occurs when resistance is generated.
Moreover, the bike's operation remains smooth, and quiet even when the resistance is adjusted to the highest level, and no maintenance will still be required.
The 1-10 resistance levels provide easy to decent levels of difficulty that could activate the metabolism of a user to tone the muscle groups, lose weight, improve strength, and endurance level.
The Console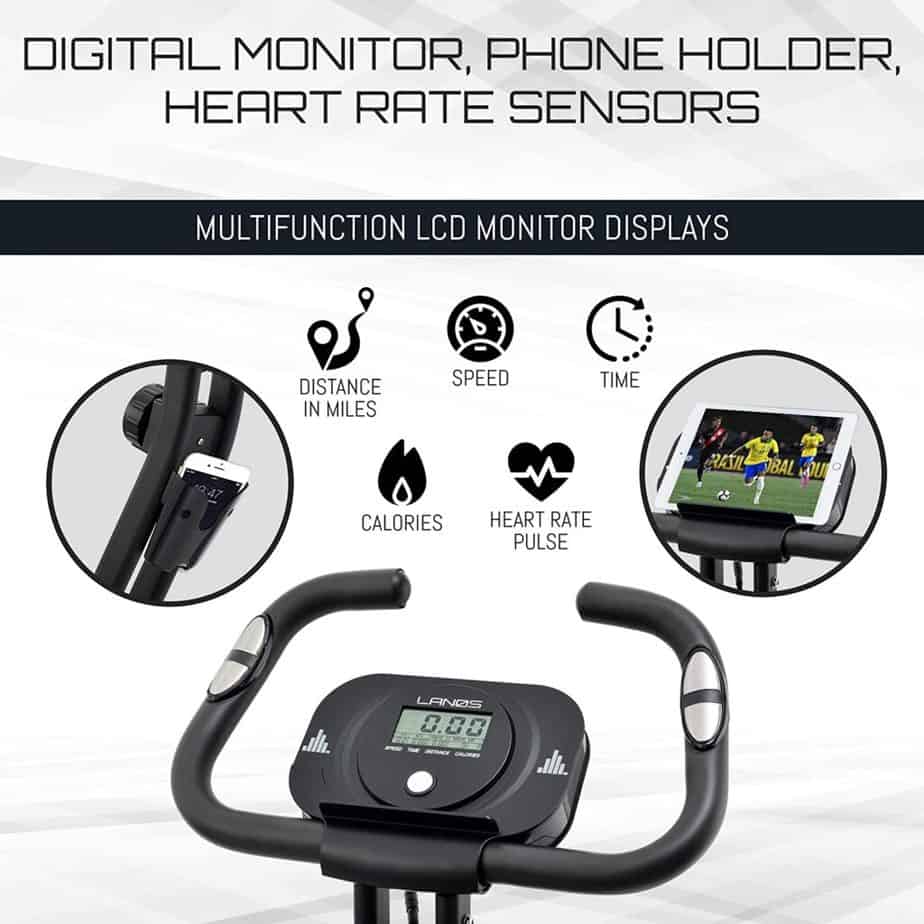 The integrated digital LCD monitor is basic. It tracks workout stats such as Time, Distance, Speed, Calories Burned, and Heart rate. It has a SCAN function that displays the workout data one at a time after every few seconds since the monitor can't do so simultaneously.
However, users have the option of setting up a certain workout value of their choice to display constantly instead if they so desire.
Distance and Speed metrics are measured in miles, and mph, respectively.
The monitor is nonbacklit, thus, users may not be able to view it clearly in a poorly-lit environment.
Electricity is not needed to keep the monitor functional because it is battery powered; and for this reason, a built-in sensor turns off the monitor when there is no activity on the bike for 4 minutes to conserve its power, and it automatically turns on when activity resumes.
Accessory
There are 2 phone holders available on this folding bike. One is built on the console, which can hold a tablet device, while the other is attached to the main frame, which is designed to hold a smartphone device.
So, a user can take calls, watch a movie, or listen to music during workouts.
However, if a tablet device is placed on its holder, the view of the monitor is going to be blocked.
Storage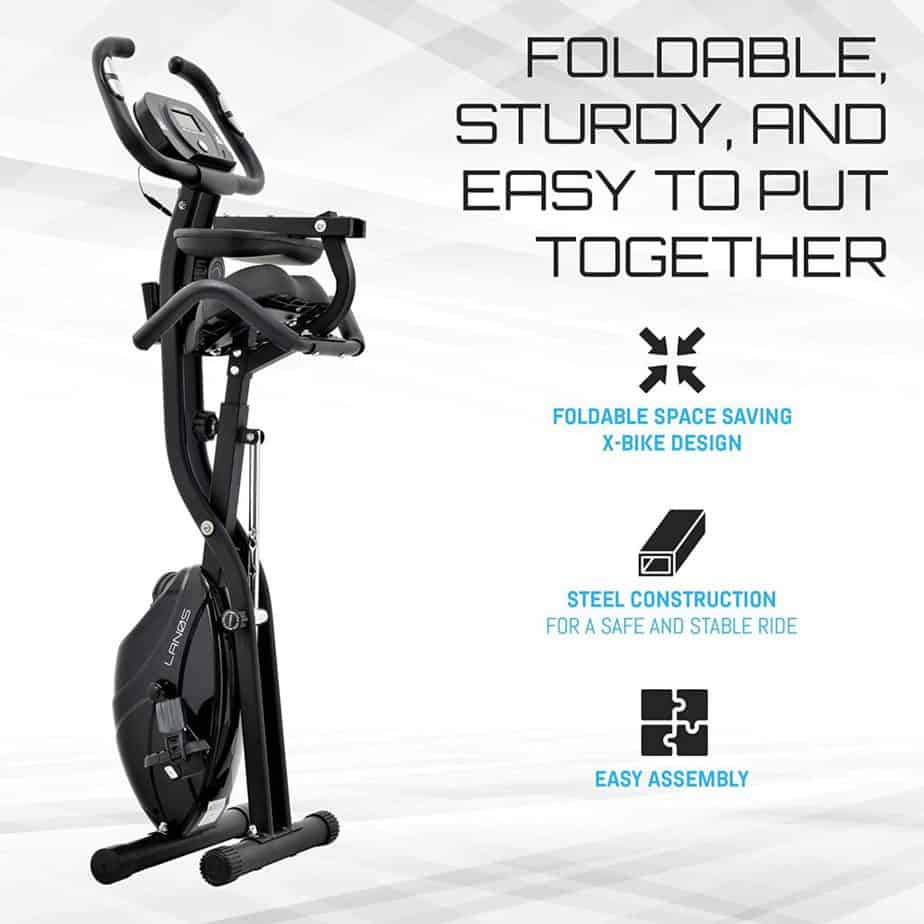 As aforementioned, storage of this bike won't be a problem to anyone regardless of the size of the room because it has a space-saving design that allows users to fold it up.
When folded, the dimensions become 22'' long by 20'' wide by 55.5'' high. Differently put, a storage area with perimeters of 1'9'' length by 1'7'' width can accommodate it.
Also, it is portable with transport wheels at the front base, and it only weighs 47 lbs./21.3 kg, hence, it can easily be relocated from one space to another without hassles.
Pros/Features Overview
Affordable, sturdy, durable, and stable
It fits in a small space due to its space-saving design
The step-thru design allows users to mount and dismount the bike effortlessly
Supports 330 lbs./150 kg maximum user weight capacity
Offers cardiovascular exercises that lose weight, and improve overall physical fitness
No electricity is required
The seat is adjustable from an upright position to semi-recumbent and recumbent positions
The bike accommodates users that are between 4'10'' to 6'3'' tall
Padded multi-grip handlebar
The pedals are anti-skid designed with adjustable safety straps that ensure maximum footing stability
It integrates an LCD monitor that tracks your workout progress by displaying stats such as Time, Distance, Speed, Calories Burned, and Heart Rate
EKG contact grips for heart rate monitoring
Transport wheels included for easy relocation process
Its operation is quiet and smooth; thus, users may decide to listen to music, watch a TV show/movie without interference from the bike, and neither the family nor the neighbors will be disturbed
It has a manual magnetic resistance system with 10 adjustable levels for different workout challenges
The maintenance requirement is low
Assembly is easy
Holders for placing a smartphone and tablet device are included for taking calls and entertainment purposes
Cons
The monitor is basic and does not have backlit
The resistance system does not offer extremely difficult workouts
No water bottle holder
The seat is not comfortable as expected
Warranty
1 Year for the Frame
90 Days for Parts
Product Dimensions & Specifications
Length: 26''
Width: 20''
Height: 46''
Semi-recumbent position dimensions: 29'' L x 20'' W x 44'' H
Recumbent position dimensions: 32'' L x 20'' W x 41'' H
Folded dimensions: 22'' L x 20'' W x 55.5'' H
Shipping dimensions: 45.5'' L x 15.4'' W x 9'' H
Net weight: 47 lbs./21.3 kg
Gross weight: 51.36 lbs./23.3 kg
Maximum user weight capacity: 330 lbs./150 kg
Frame: Steel
Drive: Belt
Resistance: Manual magnetic with 10 adjustable levels
Seat: Semi-recumbent seat, 2-way adjustable
Handlebar: Multi-grip, non-adjustable
Pedals: Anti-skid with adjustable safety strap
Console/Monitor: Basic, LCD, and non-backlit
Heart rate monitoring: Contact grips
Transport wheels: Yes
Tablet holder: 2
Water bottle holder: No
Shipping
This fitness machine arrives in a well-packaged box that weighs 51.36 lbs./23.3 kg and has dimensions of 45.5'' long by 15.4'' wide by 9'' high.
Upon purchase from Amazon, it will be delivered in a couple of days without a shipping charge.
Assembly
Folding indoor bikes are generally easy to assemble because they are delivered with only fewer parts to be attached, and so does the Lenos Semi-Recumbent 3-in-1 Folding Indoor Exercise Bike.
The bike comes with tools and an instruction manual that walks you through the assembly process.
It takes about 30 minutes, more or less, depending on the assembler's dexterity to completely put the unit together.
Maintenance
Not much is required for maintenance, but just the basics.
Always keep the machine clean, especially after each workout session.
Before using it for a workout, examine it thoroughly to ensure that the parts are tight and in good condition for safety reasons.
Conclusion
The Lenos Semi-Recumbent 3-in-1 Folding Indoor Exercise Bike is a cardio machine designed for home and office use. It doesn't discriminate, for the most part, the size of the room or apartment it is going to be used in due to its compact and space-saving design.
It delivers in providing an opportunity for losing weight, toning muscle groups, and improving heart and lungs' health.