The Joroto X2 Indoor Cycling Bike is one of the JOROTO X series and the preceding model to the JOROTO X3 Indoor Cycling Bike. All the X series are front belt-driven indoor bikes, with some having either a magnetic resistance system or a friction resistance system.
The Joroto X2 Bike is integrated with a magnetic resistance system. It also has a considerably heavy perimeter weighted flywheel that weighs 30 pounds/13.6 kg which consequently provides a momentum that simulates riding a real road bicycle.
This is interesting because most of the magnetic resistance Indoor cycling bikes come with a lighter flywheel. Of course, except bikes with a friction resistance system tend to have a heavier flywheel than this.
The bike has a micro-adjustability that entirely makes it super easy for users of different heights to be accommodated. Thus, a user whose inseam is within 27.5'' to 36.2'' can comfortably utilize the bike. Therefore, make sure that your inseam (the measurement of your top inner thigh to the ankle) is within the aforementioned range.
The bike supports up to 280 pounds/127 kg maximum user weight capacity and has an LCD monitor that keeps track of your basic workout data.
Click right here to have a peek at the price of the Joroto X2 Indoor Cycling Bike on Amazon.
The Frame and Construction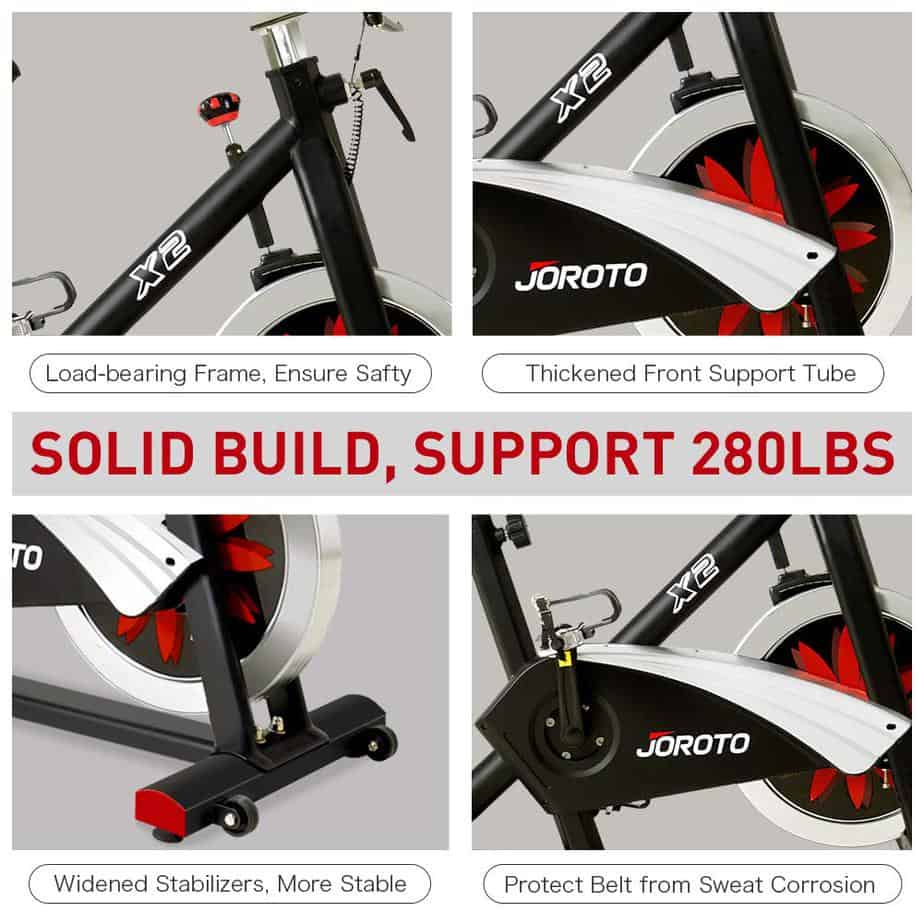 The overall construction of the Joroto X2 Indoor Cycling Bike features a robust and sturdy 50mm AV-type steel frame and a belt drive cover that is made of ABS material. The different parts of the steel frame consist of widened oval and rectangular shapes, and they are coated with anti-corrosive paint that ensures they are not eroded in the future.
Users can easily mount and dismount the bike regardless of age, gender, or fitness level because of its easy step-thru design.
The bike's stability is well-established, thanks to the front and rear steel stabilizer bars and its net weight. It weighs 94 pounds/42.6 kg and is not nearly as heavy as some of the spin bikes out there but nevertheless boosts the overall stability of the bike.
There are also rubber adjustable levelers underneath the base which enable the user to balance the bike on a surface that is not even. So, even if the bike is not placed on a protective rubber mat it won't wobble during an intense workout.
The Joroto X2 Indoor Cycling Bike has a size of a standard indoor cycling bike. This means it's not overly large and doesn't take up space. The overall assembled dimensions are 42.9 inches long by 19.7 inches wide by 42.5 inches high.
In other words, a workout area with a perimeter of 3'6'' long by 1'7'' wide will suffice. However, additional extra clearance of 1-2′ at the rear and on each side of the bike may be necessary for safe and comfortable workout performance.
The Seat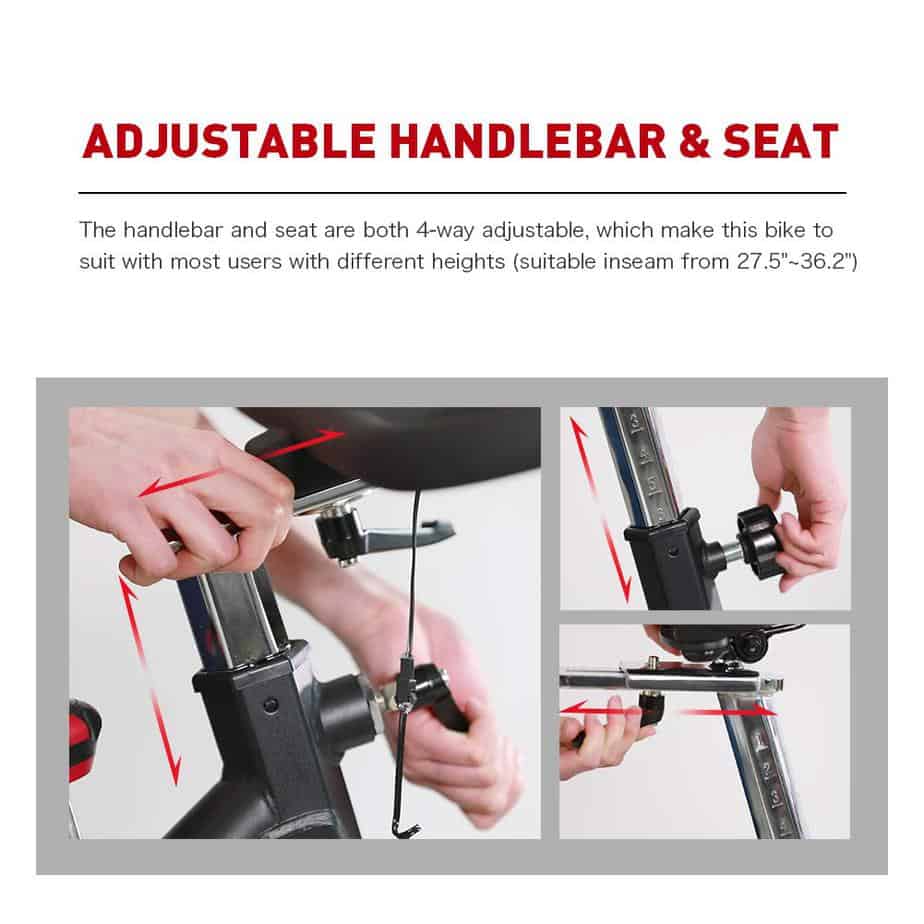 The integrated saddle is considered comfortable by many users. As a matter of fact, it is contoured with a groove at the middle, well-padded, and larger than the standard spin bike seat. There are two springs at the rear which make it adapt to the movements of the user.
The dimensions of the seat are 10.6'' long by 8.3'' wide by 4.3'' high. It provides optimum comfort that lasts through a long workout session.
The seat is 4-way adjustable. It can be adjusted vertically (upward/downward) and horizontally (fore/aft). The vertical adjustment span is 8.7'', thus, a user whose inseam is within 27.5'' to 36.2'' can perfectly fit on the bike. Moreover, the horizontal adjustment also offers a few inches span which further improves the user's comfortability.
It is pretty easy to adjust the seat and takes only a few seconds.
The Handlebar
The Joroto X2 Indoor Cycling Bike is integrated with an ergonomic multi-grip handlebar. The handlebar does not have the drop-down handle design as the Echanfit Indoor Cycling Bike but it still offers different hand positions for different workout postures.
The handlebar has a unique construction that includes 2 large groove-holder and 2 built-in triangle support. It has multi-purpose holders that can accommodate a smartphone device on one side and a water bottle on the other side and there is a separate tablet holder as well.
The generously soft foam-coated handlebar provides secure and comfortable grips that allow a user to work out longer. This means, no slippage or blisters will be experienced during the course of training with the bike.
Just like the seat, the handlebar is 4-way adjustable. It could be adjusted vertically and horizontally. This makes the bike flexibly customizable. The maximum to a minimum height adjustment range is 48.4'' to 43.3'' respectively.
One more important thing to point is the fact that the handlebar does not have EKG heart rate sensors embedded in it. Simply put, the bike does not have a pulse rate monitoring function. If you wish to observe your heart rate during workouts, then you may have to purchase an external heart rate monitoring device or purchase a bike with the heart rate function such as the Echanfit CBK 1901 Indoor Bike.
The Pedals
The Joroto X2 Indoor Cycling Bike is equipped with a set of steel toe cages pedals. They also have complimentary adjustable straps that secure the feet and prevent slippage during an intense workout.
These can fit different feet sizes and only accommodate standard gym shoes. A user will not be able to use clip-in/spin shoes on the pedals. But the good news is that you can easily find a replacement if you wish to swap them with other pedals because they have standard 9/16'' thread. You may request clip-in pedals from the vendor on Amazon and they will be glad to provide them for you.
The Drive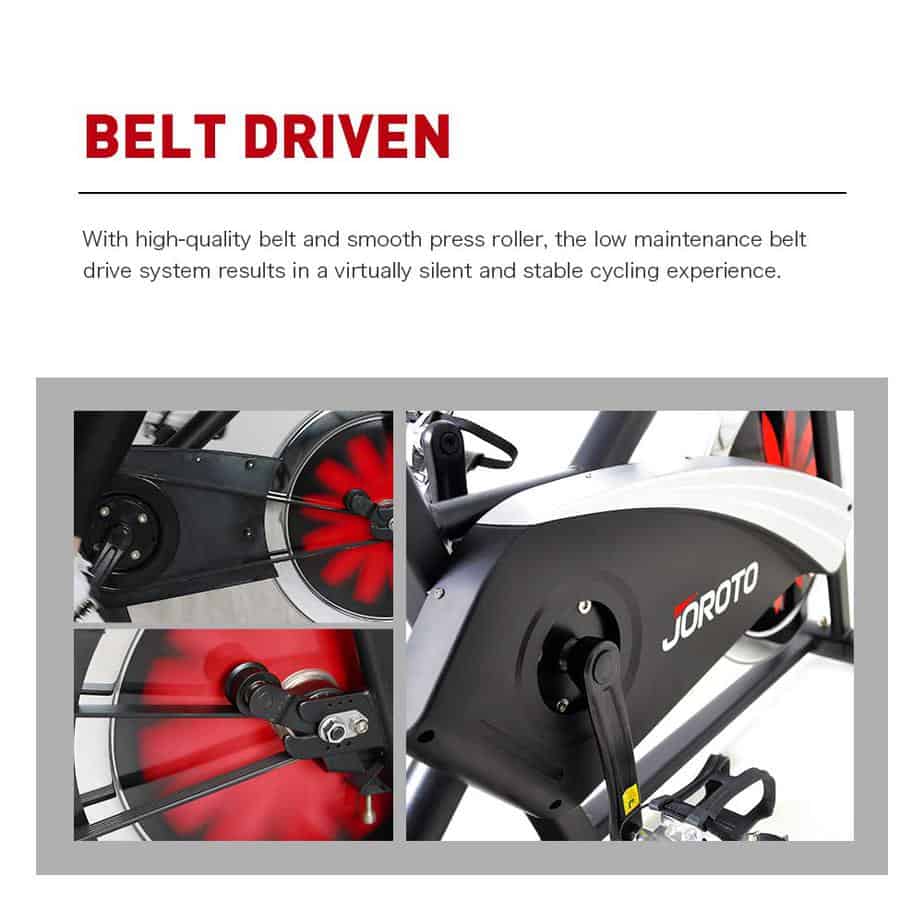 The Joroto X2 Bike has a belt drive system. The famous drive system is known for its quiet and smooth operation. In other words, it's so environmentally friendly that you can work out when and how you want without disturbing other people around you.
This also allows you to watch your favorite TV show/movie or listen to good music while working out without raising the volume beyond the normal range.
The belt drive system consists of elements such as the anti-stretch heavy-duty belt, pulleys, durable crankset with stronger bearing capacity, solid crank-arms, steel pedals, and the 30 pounds/13.6 kg perimeter weighted flywheel.
You can perform stand-up pedaling as long as you are within the stipulated maximum weight capacity the bike supports. You may and can also pedal in reverse if you wish to diversify your spin training in order to target more muscle groups.
The drive system does not require you to carry out any sort of maintenance let alone a rigorous one. As opposed to a chain drive system, no need for periodic post-lubrications and adjustments.
The flywheel and the pedals are fixed by design and so they spin simultaneously when working out and as a result, you won't be able to coast on the bike just as you could on a bicycle.
The Resistance System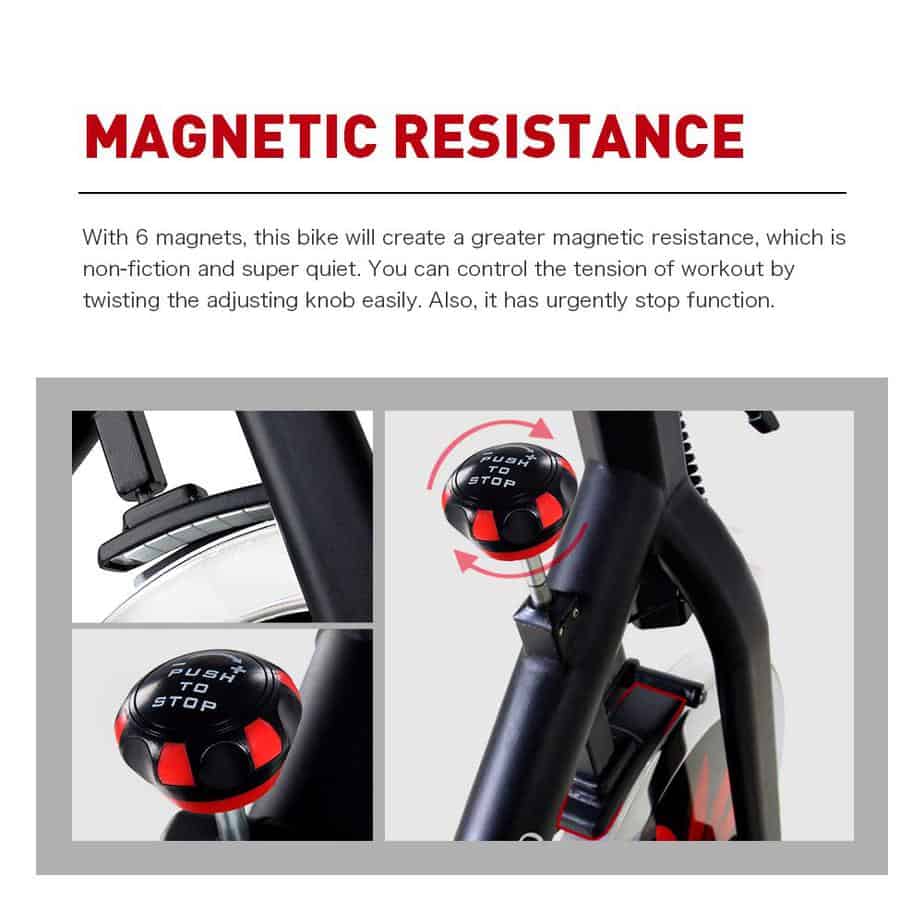 The resistance is controlled manually, meaning, it's being increased or decreased by turning the tension knob on the mainframe tubing clockwise or anticlockwise respectively. The tension knob also doubles as an emergency brake whenever you wish to suddenly stop pedaling. Simply press it down and the spinning activity stops.
The Joroto X2 is integrated with a magnetic resistance system which is also one of its selling points. It provides a wide range of workout intensities that are suitable for different individuals. When the resistance is engaged or applied, no vibration is felt.
Unlike the ASUNA Lancer or Keiser, this bike does not have predefined resistance levels. Simply turn the tension knob either way until you feel the right resistance intensity is suitable for your workout. This may be problematic in evaluating your strength and endurance progress because you won't know the resistance levels used between workout sessions.
The resistance system also does not need any maintenance and no part wears out over time; thus, no part replacement is necessary.
The Console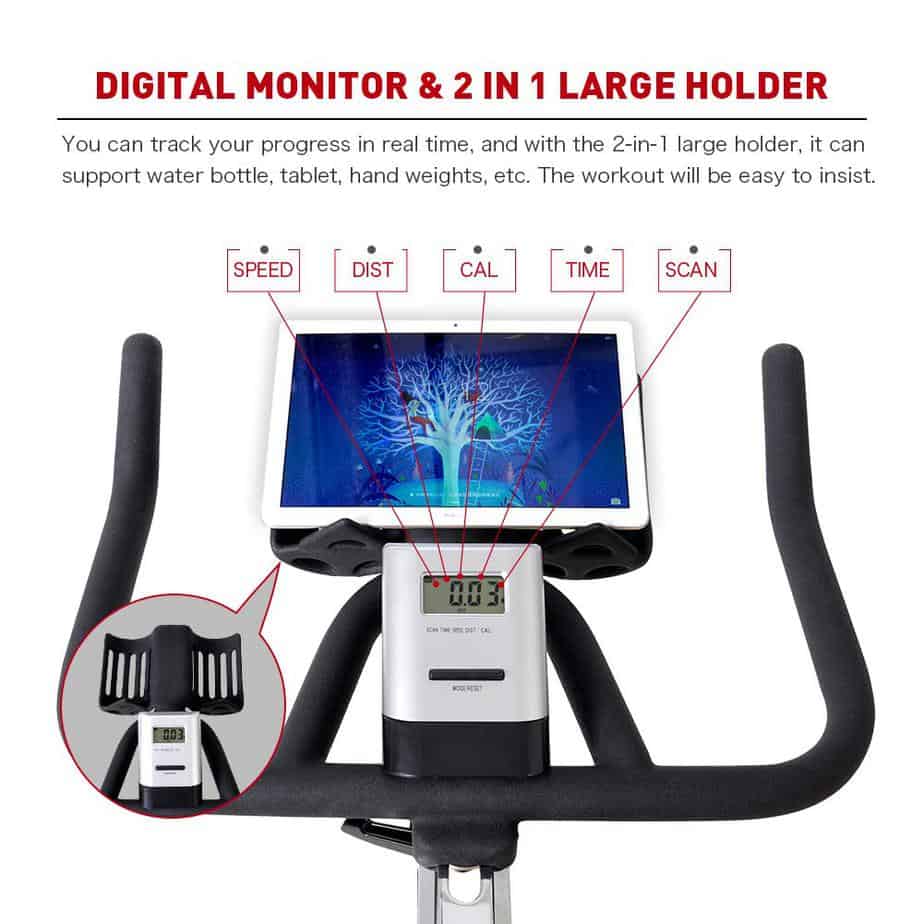 The console on the Joroto X2 Indoor Cycling Bike is simple and basic. It is powered by 2 AA batteries. Therefore, the bike doesn't need to be plugged in to be functional.
In order to save the battery life, the monitor automatically turns OFF when there is no activity on the bike after a few seconds and it also automatically turns ON when activity/pedaling resumes.
The monitor can manually be turned ON by pressing the MODE/RESET button.
The non-backlit LCD monitor tracks workout data such as time, distance, speed, and calories burned. It can easily be read as long as it's being viewed in a well-illuminated environment.
The workout stats are not displayed all at a time but instead, the monitor uses the SCAN function to display them rotationally one at a time after a few seconds. It is also possible to set and constantly display a preferred workout stat as long as you want.
Accessory
As aforementioned, the bike comes with two water bottle holders which could also hold small hand weights or mobile phones. There is a separate tablet holder for tablet device placement.
You can place a smartphone and a water bottle on the water bottle holders and still be able to view the monitor.
However, if you decide to place a tablet device on the holder, you will be able to still view the monitor but may not be able to use the water bottle holders because the tablet device blocks them.
Approval Rating
The Joroto X2 Indoor Cycling Bike has a good approval rating at the time of this review on Amazon. It also has a good popularity command which can be seen on several other review sites.
Storage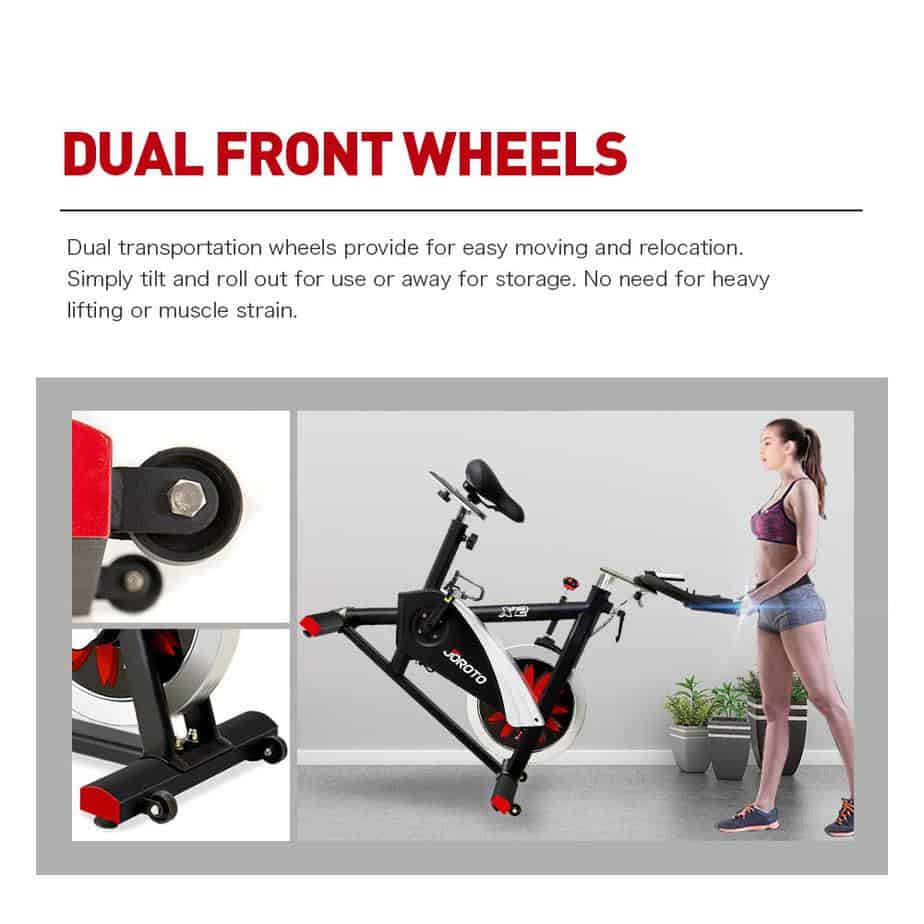 The bike has two solid transport wheels at the front base to aid in relocating it from one spot to another within the room/apartment.
It's not foldable, but it isn't too large to overwhelm your space. It can be stored under the staircase, the garage, or better still leave it in the workout area if you can afford to.
Features/Pros Overview
Sturdy, stable and durable
Supports 280 pounds/127 kg maximum user weight capacity
The handlebar offers different hand positions
It has micro-adjustability (seat & the handlebar are 4-way adjustable) that makes it possible for users between 5' to 6'5'' tall to be accommodated
Seat is comfortable
Has got easy step-thru design
There are adjustable levelers for making the bike stable on any type of surface
The resistance system is frictionless and provides a vibration-free operation
The belt drive system provides a whisper-silent operation
It's a manual bike, doesn't need to be plugged into an electric outlet to function
Low maintenance
Easy to assemble
Transport wheels integrated to facilitate the relocation
Not overly large; thus, does not take up space
The LCD monitor tracks time, distance, speed and calories burned plus a SCAN function
Water bottle holders included
A tablet holder is included
Pedals have steel toe cages with adjustable straps that secure the feet
The drive is bidirectional; it allows you to pedal in reverse
It is possible to perform out-of-seat pedaling
Cons
The monitor is basic and non-backlit
There is no heart rate function
Warranty
Every part has a 1-year warranty for a replacement
Product Dimensions and Specifications
Length 42.9''
Width 19.7''
Height 42.5''
Weight: 94 pounds/42.6 kg
Maximum user weight capacity: 280 pounds/127 kg
Shipping weight: 108 pounds/48.9 kg
Shipping dimensions: 42 L x 33 W x 9 H
Resistance: Manual magnetic, infinite
Drive: Belt
Seat: Large and 4-way adjustable
Handlebar: Multi-grip designed and 4-way adjustable
Frame: 50 mm thick steel frame
Inseam: Min. 27.5'' – max. 36.2''
Pedals: Steel toe cages with adjustable safety straps
Tablet holder: Yes
Dual water bottle holders: Yes
Transport wheels: Yes
Shipping
The Joroto X2 Indoor Cycling Bike is shipped out in a single box. The shipping cost depends on where you are purchasing it from. However, Amazon provides free shipping and makes delivery in a couple of days.
Assembly
As stated above, the assembly is straightforward and easy because the heavy lifting has been done by the manufacturer.
You are only required to attach such parts as the front and rear stabilizer bars, the seat and the handlebar posts, the seat, the handlebar, the pedals, and the console to the main bike.
It won't take up to an hour to completely assemble the bike.
Moreover, an instruction manual is included in the package for guidance, and the tools needed for getting the assembly done are also attached.
Maintenance
For the fact that this bike has magnetic and belt drive systems, serious maintenance has been eliminated.
Just make sure to keep the bike clean always. Endeavor to examine the bike before use for any problem such as a loosened or a broken part. Promptly fix any issue that may arise.
Conclusion
Let's go through the Joroto X2 Indoor Cycling Bike's features briefly again. It has a sturdy steel frame that supports 280 pounds/127 kg maximum user weight capacity. It is integrated with a magnetic resistance system, belt drive system, a 30-pound/30.6 kg perimeter weighted flywheel, comfortable 4-way adjustable seat, multi-grip designed 4-way adjustable handlebar, and more.
Joroto X2 Indoor Cycling Bike Review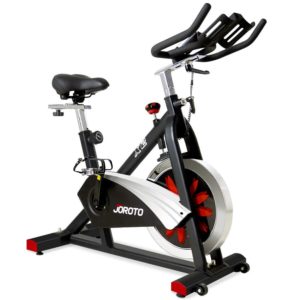 The overall construction of the Joroto X2 Indoor Cycling Bike features a robust and sturdy 50mm AV-type steel frame and a belt drive cover that is made of an ABS material.
Product Brand: Joroto
Product In-Stock: InStock