The Inspire Fitness FT2 Functional Trainer is one of those fitness machines that are integrated with a lot of features that could appeal to strength training enthusiasts and weight loss folks as well. Its smith cage has enough space that allows you to work out unrestricted.
You may purchase the Inspire Fitness FT2 Functional Trainer with or without the SCS bench.
The fully loaded version of the FT2 is pricier (as expected) than the one without the bench.
This is a high-end home gym but you certainly get what you pay for. It has an excellent in-home warranty of limited lifetime on frame and welds, upholstery, hardware, pulleys, cables, and every moving part and a light-commercial warranty of limited lifetime on frame and welds, 10 years on the upholstery, hardware, pulleys, cables, and every moving part.
The functional trainer has dual independent weight stacks that allow you to work out each side of the body with a balanced weight application.
Inspire Fitness FT2 Functional Trainer without SCS Bench
This functional trainer comes without the SCS bench as clearly indicated above. This version of Inspire Fitness FT2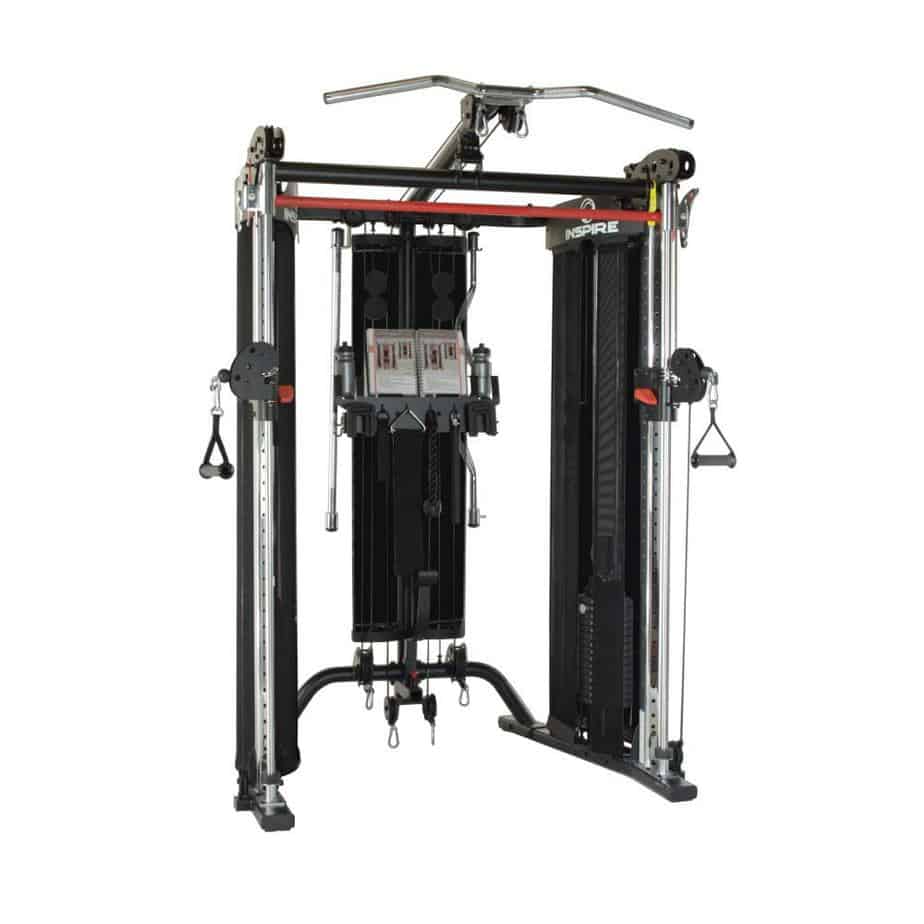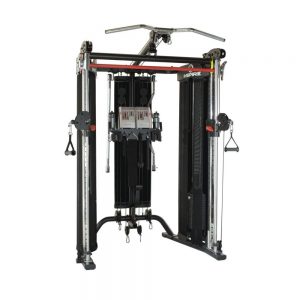 Functional Trainer does not include the FID (flat-incline-decline) bench, the leg developer attachment, preacher curl attachment, and abdominal bar and of course the 50 pounds weight stacks upgrade.
These accessories are optionally available.
Click right here for a peek at the price of the Inspire Fitness FT2 Functional Trainer without bench on Amazon.
 Inspire Fitness FT2 Functional Trainer (fully loaded)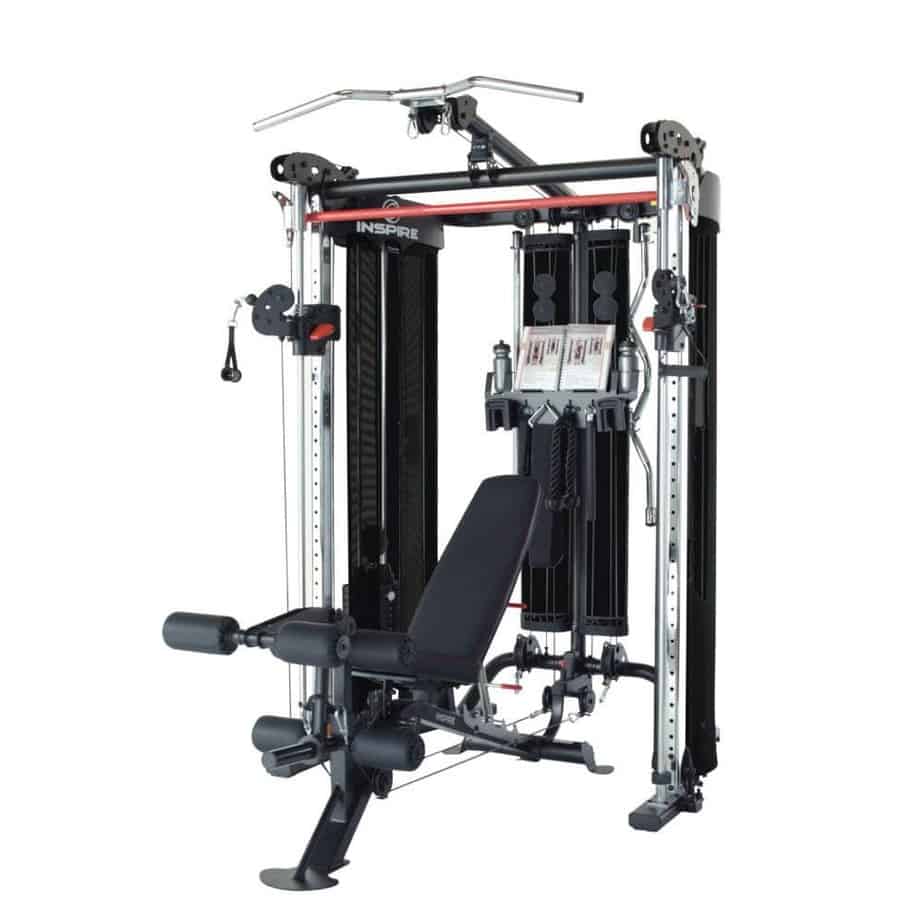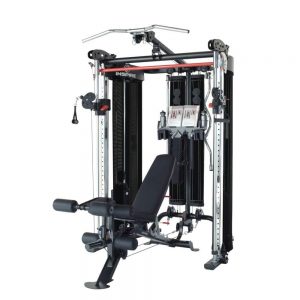 This version of the Inspire Fitness FT2 Functional Trainer is fully loaded with additional accessories but excludes the preacher curl attachment, abdominal bar, and the 50 pounds weight stack upgrade but optionally available.
In other words, it comes with SCS bench, leg extension attachment, and leg kit.
Click right here to have a peek at the price of the Inspire Fitness FT2 Functional Trainer (fully loaded) on Amazon.
It is a very heavy unit with an amazingly small footprint. Therefore, you may want to have a dedicated spot for it so as to avoid having to move it around.
Frame and Construction
The Inspire Fitness FT2 Functional Trainer is a light-commercial home gym that could also be used in-home.  It is built to stand the test of time and also provide quality overall body workouts. It is designed for all fitness level trainees.
The FT2 frame is made up of heavy-duty rectangular and rounded tubular steel that is probably 12-gauge. All the steel parts are electrostatically coated with anti-corrosive and scratch paint that prevents rust and degradation in the long run.
The pulleys on this machine are highly durable made of fiberglass reinforced nylon that is integrated with precision steel ball bearings for smooth and unrestricted movement.
The home gym features heavy-duty cables that have been tested and certified to have the capacity of 2,000 lbs tensile strength. These cables are made up of steel and encapsulated in smooth but tough nylon material for a smooth movement that will not damage or degrade the pulleys while been used.
The FT2 is an 8 pull point functional trainer with the possibility of performing several exercises with just one adjustment. These 8 points are for 2 high narrow pulleys, 2 wide adjustable pulleys, and 4 low points for workouts such as the aerobic rowing.
The wide adjustable pulleys allow you to perform several workouts such as the standing chest press, chest fly, incline and decline chest press, shoulder press, double arm curl, triceps press down, and standing row that works the back, while the high narrow pulleys simply allow you to do the lat pull-down workouts.
The pulleys also adjust to 32 positions for unlimited functional training capabilities.
This machine is constructed to provide flexibility and safety as you don't have to move weight plates each time you wish to increase or decrease weight resistance level-capacity. It Is integrated with the innovative weight multiplier that doubles maximum resistance to suit professional weightlifters.
The weight bar interestingly allows you to perform several workouts such as the chest presses, stand-up curls, squats, etc with safety and convenience.
As aforementioned, the FT2 has dual weight stacks that allow you to workout with a balanced independent weight that weighs 165 pounds on each side.  Each side of the weight stack is made up of 10 lbs weight plate with a 5 lbs bump weight. These come with the machine as the standard weight resistance.  You can upgrade the weight to an additional 50 lbs on each side's add-ons bringing the total weight on each side to 215 lbs. When the weight multiplier is used the maximum weight capacity would be 430 pounds.
The FT2 has dimensions that are similar to most basic home gyms such as the Marcy Diamond Elite Smith Cage and the Marcy Smith Cage Machine SM-4008. However, it is a very heavy unit when the bench and all the accessories are included; it weighs about 720 pounds/326.5 kg. Therefore, it should be installed on a dedicated permanent workout spot and it is recommended to be placed on a protective rubber mat to prevent any damage to the floor.
The dimensions are 61 inches wide by 58 inches deep without the SCS bench, and 61 inches wide by 89 inches deep with the SCS bench. The minimum height is 83 inches and the maximum height is 88 inches.
Therefore, the workout area required should be 5 feet wide by 7.4 feet deep and ceiling height of at least 8 feet tall so that you will not be restricted when performing the pull-up exercises.  Of course, there should be additional clearance at the front of the machine to enable you to work out with comfort and safety.
The Smith Bar is yet another aspect of the FT2 that is unique because it could be used to perform different workouts safely. It is adjustable and therefore can be used for squats, deadlifts, chest presses, back presses, bicep curls, and more.
The truth is that this home gym is very versatile that each feature such as the smith bar, the high narrow pulleys, the wide pulleys, the lower pulleys, and the pull-up bar allow you to create and perform different workouts possible with an easy and quick adjustment of the weight resistance.
The machine is sturdy and spacious enough to accommodate individuals of different body sizes and heights.  Virtually users with different heights will find it convenient except folks that are more than 6 feet might have to bend their legs while performing the pull-ups.
Just in case you are wondering about the number of workouts available; the FT2 offers the opportunity to perform over 40 different workouts that target the back, shoulders, chest, arms, legs, and abdominal.
The Bench
The FID bench is only available if you order the fully loaded version of the FT2 and that comes with a lot of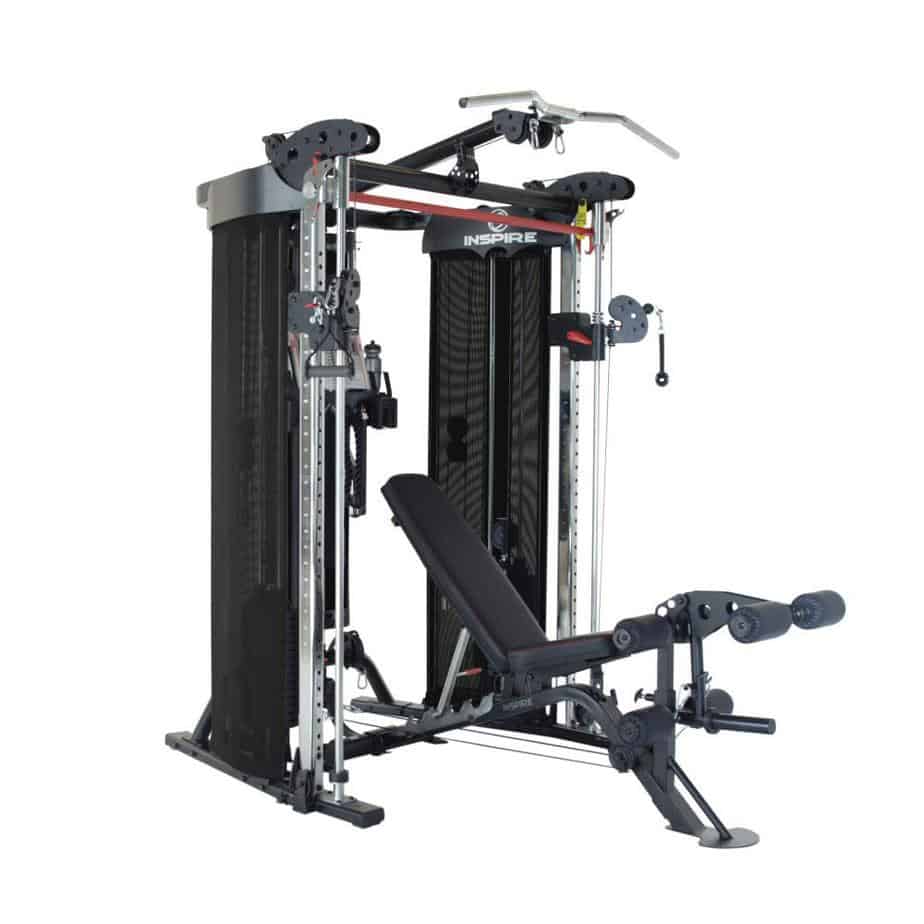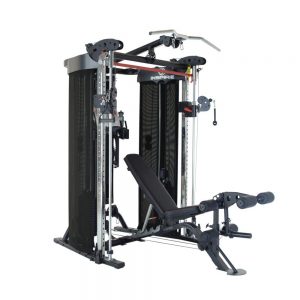 advantages. You will be to perform certain workouts that require a bench such as the seated shoulder press, chest presses, and more.
The bench could be securely attached to the home gym so that it becomes an integral part of it utilizing the machine's mechanisms.
The bench could be adjusted to flat, incline, and decline levels to suit the type of workout you wish to perform.
The bench is made up of quality steel structure and covered with high-density foam and upholstery that will last longer and ensure maximum comfort.
The bench can support 330 pounds/149.6 kg maximum user weight capacity and also goes for the pull-up bar as well.
The Leg Extension
The leg extension comes with the fully loaded as well and it works together with the bench. It can be hooked up or attached to the bench so that they become almost like one unit.
The leg extension helps to develop the legs conveniently and comfortably. There is an easy systemic way to load the resistance weight on the leg extension by using the lower point pulleys so that you can feel the weight on legs while working out.
The rollers are adequately padded and covered with quality vinyl material and foam for comfort and longevity.
Optional Accessories
There are other optional accessories that could make your overall workout performance outstanding and remarkable. These accessories will allow you to perform much more variety of workouts that positively impact the overall body.
These accessories are the preacher curl attachment, abdominal bar, and extra weight stack of 50 lbs on each side of the home gym's weight stacks.
These are not just accessories but useful and recommendable accessories that could really make your investment worth every penny spent.
However, if you can't afford to get the fully loaded version due to the budget you have, you may choose to go for the FT2 without the bench, but just that the number of workouts you should be able to perform will be limited.
That said, there are other ways to still get a full-body workout since it has features that are fully versatile and could be used to target any muscle group in the body.
 Accessories
Just for the record, the 165 lbs weight stacks are included in the original package of the home gym.
That said, below are the accessories that come with either of the FT2s.
Tricep Rope
2x Rubber D handles
Dual hook Straight bar
EZ Curl bar
Ankle Straps
2x Water bottles
Multi-function belt
Sports handle
2 x 5 lbs add-on weights that make up the 160 lbs weight stacks to 165 lbs
Exercise Booklet
These accessories make the home gym to be completely functional.
Approval Rating
The Inspire Fitness FT2 Functional Trainer is well received by its users. It has a very number of positive reviews both on their website and on Amazon.
There are about 21 Amazon customer reviews at the time this review was written and it still manages to maintain an average approval rating of 4.5 stars out of 5 stars. This is a very clear indication that users have no regrets and possibly you will appreciate it as well.
Pros/Features Overview
Very sturdy and stable
It is a complete body workout equipment for strength training and cardiovascular workouts
It has a unique design that integrates the Olympic bar and weight stacks; this system eliminates the need for Olympic weight plates and having to move them each time you wish to increase or decrease the weight resistance
Its dual pulley system adjusts to 32 positions for a variety of functional training capability
The integrated pull-up bar is adjustable in heights so that ceiling height could be accommodated
It features this innovative weight multiplier that doubles the weight resistance for heavy lifters
It comes with 160 lbs weight stacks plus 5 lbs in the accessories
The weight stacks are upgradable to 50 lbs on each side
There are over 40 workouts available
It comes with accessories that help you to achieve your fitness goals with ease and comfort
Cons
It is a very heavy machine that cannot be moved all the time and it takes a little space as well
Assembly takes several hours or even days to accomplish
It doesn't come with all the necessary accessories that would allow you to utilize it 100%; although the excluded accessories are available to be purchased separately
Product Dimensions and Specifications
61'' Wide
58'' Deep (without a bench)
89'' Deep (with a bench)
83" minimum height
88" maximum height
Assembled weight with all accessories: 720 pounds/ 326.5 kg
Resistance: Weight stacks of 160 lbs that consists of 10 lbs weight plates on each side
Exercises available: Over 40
Warranty
In-home Warranty
Limited lifetime on frame and all parts
Light-Commercial Warranty
Limited lifetime on Frame
10 Years on all parts
Shipping, Assembly, and Maintenance
Shipping
The FT2 is shipped out in boxes that weigh 731 pounds/331.5 kg and it is usually delivered within days of order.
The retailer always makes sure that a valid phone number of the person ordering is obtained to ensure that the person receives it at the appointed time. Any delay in delivery due to an incorrect phone number will attract an additional charge for storage.  If delivery is made and it is returned back due to incorrect address the buyer bears the expenses as well.
Therefore, ensure you provide the correct phone number and address to avoid any hiccups.
The shipping cost is determined by the retailer you are purchasing from; however, some retailers such as Amazon provides free shipping for United States residents.
Assembly
The assembly of the FT2 is a bit tedious because it comes in several boxes and it will take two persons to completely assemble.
It comes with an instructional manual that explains how the assembly is going to be done but this will take several hours to get done.
The tools required for assembly are included.
That said, if you don't wish to do assembling yourself you can notify the retailer that you need someone to come over and do the assembly and that can be arranged but it comes with extra charges.
Maintenance
The FT2 does not require any major serious maintenance but it basically requires greasing the guide rods of the weight stack for smooth operation.
There is a comprehensive maintenance schedule table made out by the manufacturer on the user's manual on how to maintain specific parts of the machine periodically. This will really help you and it is not serious maintenance.
Conclusion
The Inspire Fitness FT2 Functional Trainer is an overall body trainer that is suitable for anyone that wishes to improve physical fitness. It is an all-in-one workout machine for both strength training and weight loss workouts.
It has useful and innovative features that guarantee productivity, convenience, and safety.
It is a durable machine that could last for many years without the need for a replacement.
Inspire Fitness FT2 Functional Trainer Review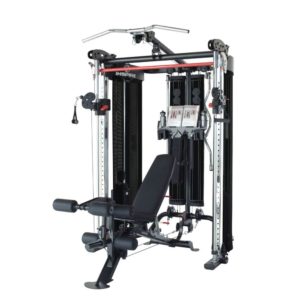 The Inspire Fitness FT2 Functional Trainer is fitness equipment that is integrated with a lot of features that could appeal to strength training
Product Brand: Inspire Fitness
Product In-Stock: InStock