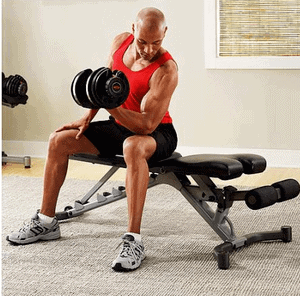 It is without a doubt that dumbbell is an essential fitness equipment/tool that will really make a huge difference in your workout. It is affordable and compact that there is no gainsaying that it is the perfect tool that can work every muscle group in the body when you know how to use it.
All you will need is a bench and dumbbells and you will be set to have a very good workout experience.
And there is no better way to begin the dumbbell experience than to start with the Bowflex 552 Adjustable Dumbbells. These dumbbells have been one of the top-selling dumbbells since their release back in 2013.
It is perfect for the ultimate strength training because of it weight adjustable level. It can be adjusted from 5 to 52.5 pounds and the increments can be done by 2.5 pounds.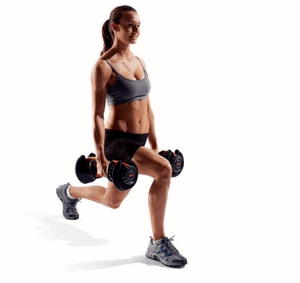 The Bowflex 552 Adjustable Dumbbells provide you the opportunity of having a complete set of a dumbbell in one pair. This is ideal fitness equipment for strength training at home.
When you are equipped with this type of dumbbells you will be able to do the bench press that targets lower chest muscles, the alternated biceps curl that targets the biceps and your forearm, shoulder press that targets the shoulders and triceps as well, triceps kickback targets the triceps and the dumbbell squat targets the legs and butt.
These are but a few of what you can do with dumbbells (there are still a whole lot of exercises you could do with dumbbells) especially the Bowflex 552 Adjustable Dumbbells. There are definitive features of these dumbbells which are quality, strength, effectiveness, and price.
Click right here to have a peek at the price of the Bowflex 552 Adjustable Dumbbells on Amazon.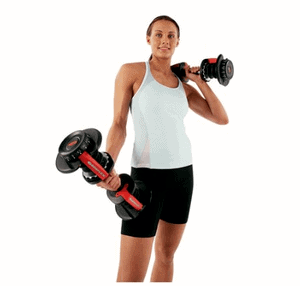 Quality– It is durable because it was made from chrome steel 14'' x 1''
Strength– It is one of the best tools/equipment for strength training; you can't deny that when you think of what you could do with 52.5 pounds weight.
Effectiveness– Dumbbells have always been that effective even though they are so compact but they could be used to build and develop many muscle groups in the body.
Price- It is affordable such that people on a tight budget can afford to buy it.
I love the design of the Bowflex dumbbells; from its flexible and convenient dial system that allows you to add or remove weight, to ergonomic handle on the bar that offers comfort and safety, to the durable steel construction that guarantees durability, to the space-saving design with storage case, and to the 2-year warranty.
Pros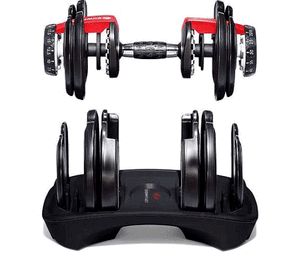 Right until now, all I have stated is that the Bowflex 552 Adjustable Dumb…bells are great for everyone that loves to work out most especially strength training. Speaking of strength training, I know another kind of dumbbell that has great weight such as the Cap Barbell Adjustable Dumbbells. But it is 12.5 pounds short in weight when compared to the Bowflex 552 Adjustable Dumbbells.
This dumbbell is great for both beginners and experienced because it has a minimum weight of 5 pounds and a maximum adjustable weight of 52.5. While the handle with the rubber texture around it guarantees safety without fear of slippage.
If you are looking forward to equipping that home gym, I will definitely suggest you buy the Bowflex 552 Adjustable Dumbbells because it is going to be an asset, and even if you don't have any home gym equipment this is still the right equipment to start with as it will allow you to work on every part of the body you choose to work on considering the 52.5 maximum weight as an advantage.
Adjustment takes just seconds to get the weight you wish to use fixed by its dial adjustment system; that is kind of its signature because it is the only known dumbbell set that uses the system. This indeed eliminates the need for using different and separate dumbbells that could make your workout environment look cluttered.
Cons
Someone complained of the dial-adjustable system to be frail. That he didn't use it for long before the dial packed up. However, this is one out of many actual users (gave it a thumbs up) that used and reviewed it, but I thought I should just let you know, though.
Conclusion
To be sincere, this is a beautiful and unique set of dumbbells. It will surely make your workout easy and fun and also help you to challenge yourself to an extent because of its weight range of 52.5 pounds.
Bowflex 552 Adjustable Dumbbells- Review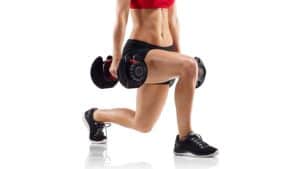 The Bowflex 552 Adjustable Dumbbells provide you the opportunity of having a complete set of a dumbbell in one pair. It's great for both beginners
Product Brand: Bowflex
Product In-Stock: InStock