The LifeSpan SP1000 Stretch Partner Stretching Machine is essentially pre-workout equipment that is used to help improve overall workout performance. There is the need to adequately stretch all the muscles in the body before any workout is performed. This act prevents injury, reduces back pain, and improves posture.
Basically, the use of stretch machine will help the user to gain total control of the body movements in sports such as tennis, golf, martial arts and more.
The LifeSpan SP1000 Stretch Partner Stretching Machine is an alternative to Gronk Fitness Commercial Stretch Machine and Precor 240i Commercial Series, however, the latter is still preferred by many users but the problem is that it is pricier than most stretch trainers including the one under review.
The problem with some of these stretch machines is that they don't have a comprehensive guide that helps in getting much out of it. For instance, the Gronk Fitness Stretch Machine users have complained about this but the LifeSpan SP1000 Stretch Partner Stretching Machine has enough information on how to properly utilize the machine.
Actually, there are two different guides available, first, the placard on the machine with vivid illustrations of how to perform stretches and then there is the DVD guide that accompanies the unit.
These guides ensure that every user gets the most out of it by performing effective stretches that get the body ready for the task ahead.
Click right here to have a peek at the price of the LifeSpan SP1000 Stretch Partner Stretching Machine on Amazon.
 The Frame and Construction
The LifeSpan SP1000 Stretch Partner Stretching Machine's frame is made of heavy-duty steel that supports 300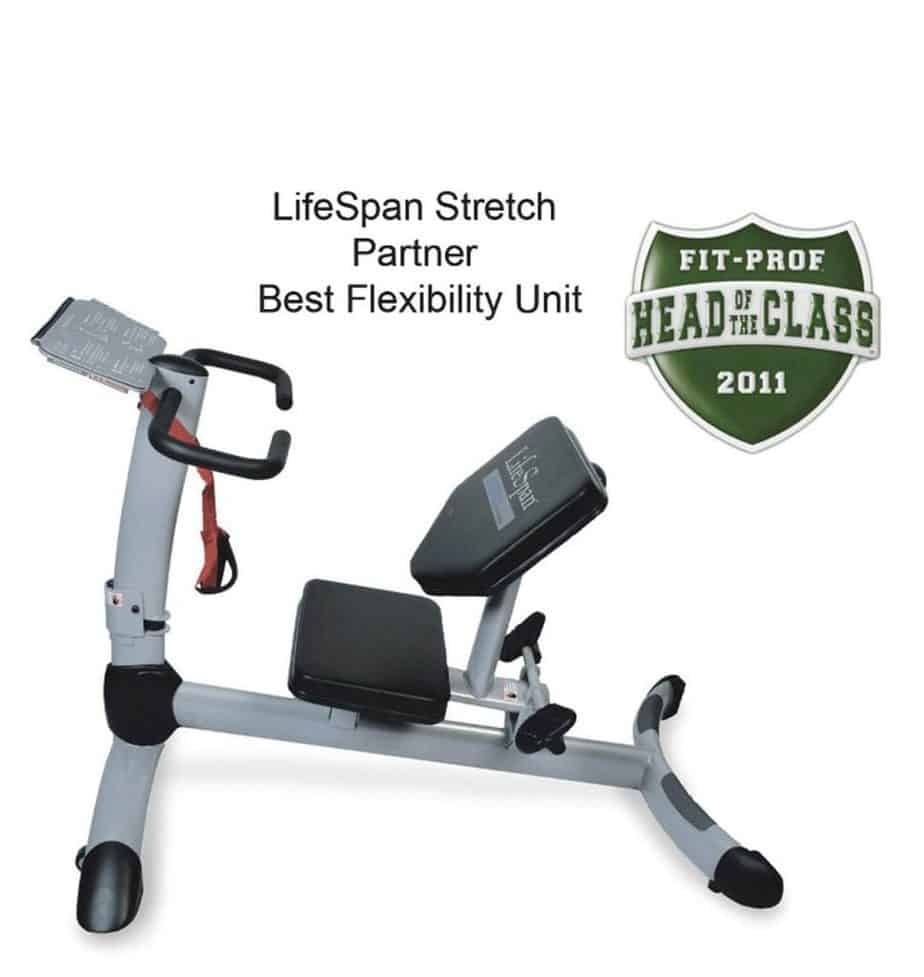 pounds/136 kg maximum user weight capacity. The frame is also coated with anti-corrosive and scratch paint that ensures that its quality and appearance do not depreciate.
It has a very solid base framework just like any other good stretch machine for stability. The machine features a curved stabilizer bar at the front base and another one that has U-shape at the rear base with a rubber cap on each end for improved stability and floor-friendliness.
The stretch machine weighs 54.5 pounds/24.7 kg which advantageously grounds the machine for wobble-free performance. The unit also features transport wheels at the front base for easy relocation process and this should clear any concerns about the burden that comes with the weight during relocation.
The manufacturer also integrated the pending flex-smart pivot system that provides users with a deeper and fuller stretch, in other words, you should be able to experience satisfactory stretching performances.
The LifeSpan SP1000 Stretch Partner Stretching Machine is not foldable but it is not a very large unit either. It is about the size of an average indoor cycling bike whose dimensions are 49 inches long by 29 inches wide by 38 inches tall. Differently put, the required space for the machine is 4 feet long by 2.4 feet wide; however, additional clearance of at least 2 feet on each side and the rear should be considered for safe and convenient performance.
The LifeSpan SP1000 Stretch allows you to properly perform the different types of stretches such as the lower back/glutes, lower leg/Achilles, torso/oblique, quadriceps/upper leg and many more comfortably.
The Seat, the handlebar, and the Foot Pads
The seat on the LifeSpan SP1000 Stretch Partner features the patented pending flex-smart pivot system that allows a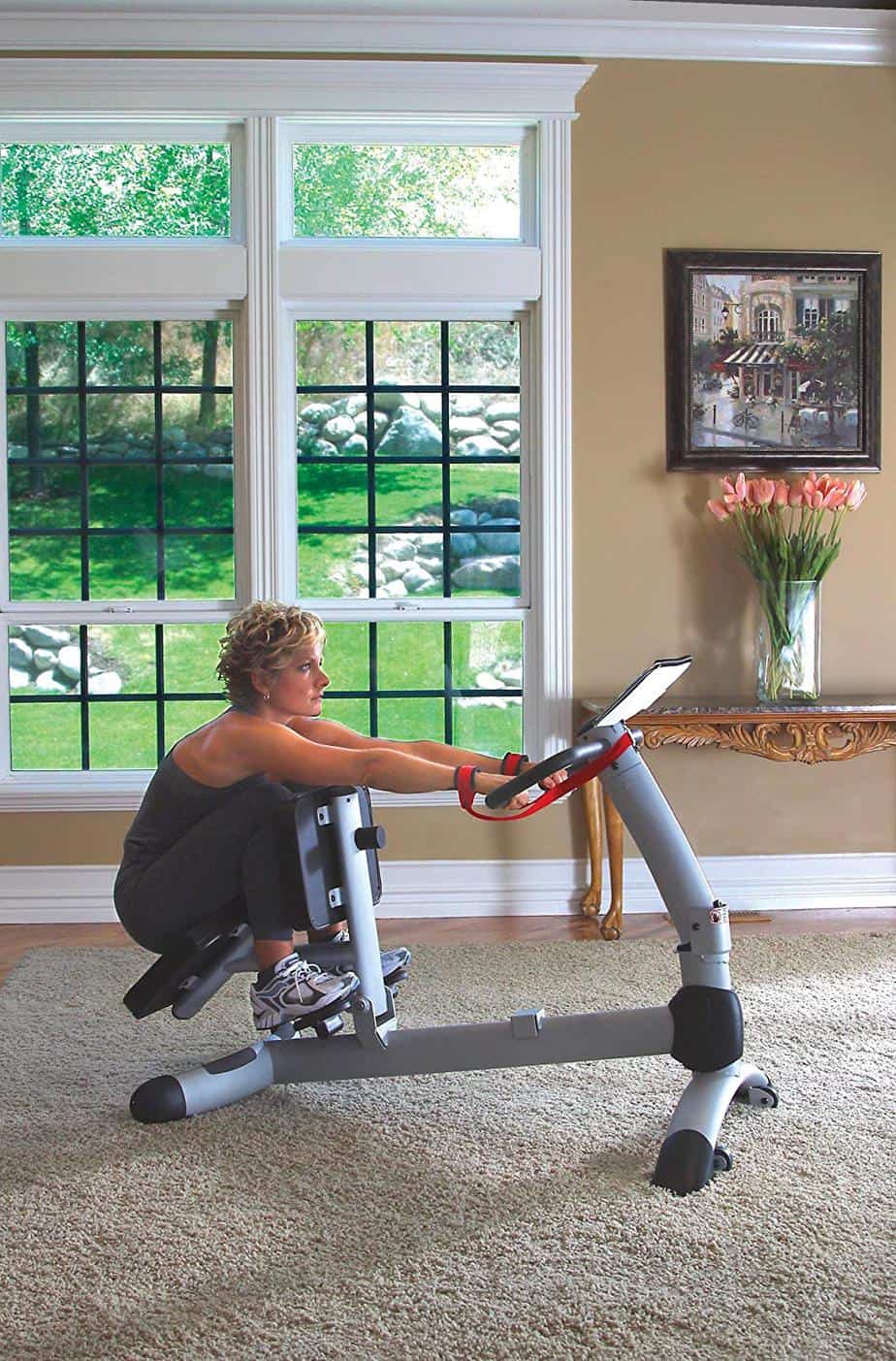 deeper and fuller stretch to be performed with the weight of the body playing a very significant role.
This unique pivot system also makes it possible for users of different heights and sizes to be accommodated and be able to conveniently perform the stretches without restrictions.
The seat is non-adjustable and made up of 1.5 inches thick cushion and covered with an easy-to-clean vinyl material that provides comfort during stretching exercises.
The handlebar is multi-grip designed that is covered with soft rubber material for comfortable and firm grips that prevent slippage and blisters in the palm.
There are also the wrist straps that allow an additional fuller and deeper stretch with maximum safety.
The footpads are anti-skid designed to prevent skidding off while exercising.
The Placard
The placard, also known as the ''flipbook'' which has the comprehensive illustrations of the different stretch performances possible. This makes stretch exercises easy with options that can easily be followed.
This is considered as one of the important parts of the machine because not many users know how to properly stretch without guidance.
In addition to the placard, there is also a 30-minute video that could also guide anyone on how to stretch the major muscle groups in the body. This is best for those that are visually inclined and it is easy to follow as well.
These guides provide step by step stretching program for every muscle group. There are 18 stretches that are included for the lower back, hamstrings and hips, shoulders, upper back, neck, abdominals, forearms, triceps, chest, hamstrings, glutes, groin, quadriceps, thighs, calves, and Achilles.
The importance of the guide cannot be overemphasized because it simply makes your stretching routine easy and productive.
Accessory
The LifeSpan SP1000 Stretch Partner Stretching Machine does not have any accessory such as the water bottle and tablet holders. These may seem to be unnecessary anyway since it does not take too much time to complete the stretch program.
However, just as aforementioned, it comes with a 30-minute DVD stretch program guide that is very relevant and essential.
Storage
The LifeSpan SP1000 Stretch Partner Stretching Machine is not foldable but won't require much space for storage since it basically has a small footprint.
Storage space of 4 feet long by 2.5 feet wide area will suffice.
It is also a portable machine that features transport wheels at the front base for easy movement and relocation.
Approval Rating
The LifeSpan SP1000 Stretch Partner Stretching Machine has been around for a couple of years and has really impressed many users.
On Amazon, there are over 70 customer reviews at the time this article was written and has an average of 4 stars out of 5 stars. This suggests that the majority of the users is pleased with the machine and would recommend it.
Pros/Features Overview
Sturdy and strong; supports 300 pounds/136 kg maximum user weight capacity
It has a space-saving design that does not take up space
It features a padded and pivotal seat that allows you to perform several stretch exercises comfortably
The handlebar provides firm and comfortable grips
It has instructional placard and DVD that show you how to perform 18 different stretches that target every muscle in the body
Has writs straps that provide additional support and safety
Low maintenance
Cons
Its compact design could restrict some taller individuals from experiencing fuller and deeper stretches
The seat not very comfortable when compared to other stretchers such as the Precor
Product Dimensions and Specifications
49'' Length
29'' Width
38'' Height
Weight: 54.5 pounds/24.7 kg
Supports 300 pounds/136 kg maximum user weight capacity
Frame: Steel
Seat: Patent-pending flex-smart pivot system, 1.5'' thick and covered in a vinyl material
Transport wheels included
Instructional placard and DVD included
Multi-grip handlebar
Warranty
Residential Warranty
5 Years on Frame
2 Years on Parts
90 Days on Upholstery & Bumpers
Commercial Warranty (3 hours maximum daily usage)
1 Year on Frame
1 Year on Parts
90 Days on Upholstery & Bumpers
Shipping, Assembly, and Maintenance
Shipping
The LifeSpan SP1000 Stretch Partner Stretching Machine is delivered in a single box with dimensions of 49 inches long by 11 inches wide by 30 inches tall and weighs 70 pounds/31.7 kg.
The shipping cost is determined by the retailer you are purchasing from; although, some vendors such as Amazon Provide free shipping to the United States residents and delivers within days of order.
Assembly
This stretcher requires a light assembly.
Maintenance
No maintenance required.
Simply keep clean from dirt at all times.
Conclusion
The LifeSpan SP1000 Stretch Partner Stretching Machine is a cost-effective stretcher that allows you to stretch properly.  It may not be as good the Precor 240i but it is a good alternative if it is within the budget you can afford.
There are many benefits to performing proper stretching that improves flexibility.
Stretching keeps the body strong and flexible, it improves posture, it helps to alleviate and address back pain, it makes injury to heal quickly, it makes a person a better athlete, it relieves stress and calms the mind, and more.
[rank_math_rich_snippet]