The IDEER LIFE Exercise Foldable Magnetic Bike has the black 09027 and the silver 09028 versions. These foldable bikes have the same functionality and features but only have different colors. However, the silver IDEER LIFE Exercise Indoor Foldable Bike is slightly pricier than the black version.
They are both very affordable with interesting features that could help users to work out comfortably and be able to focus on achieving their fitness goals.
The frame is made of very durable steel that supports 242 pounds/110 kg maximum user weight capacity.
Its space-saving design can intrigue those with limited space because it is compact and foldable.
It has an upgraded large vertically adjustable cushioned seat and backrest that simply enables the user to pedal and workout with great back support and relaxation. This alleviates or reduces pain in the lower back as a result of a prolonged workout.
The FEIERDUN Folding Exercise Bike is yet another bike that has a great backrest and seat similar to the IDEER LIFE Exercise Foldable Magnetic Bike but still won't provide the level of relaxation the latter offers. However, if the weight capacity of the IDEER LIFE Foldable Bike supports is not adequate for you, you may want to look up the Exerpeutic Workfit 1000 DESK Semi-Recumbent Bike or the FEIERDUN because they both support higher user weight capacity with a very good backrest as well.
The IDEER LIFE Foldable Bike is portable and lightweight therefore relocating it to another room won't be a problem.
It features a manual magnetic resistance system with 8 levels.
Click right here if you wish to have a peek at the price of the IDEER LIFE Exercise Foldable Magnetic Bike on Amazon.
The Frame and Construction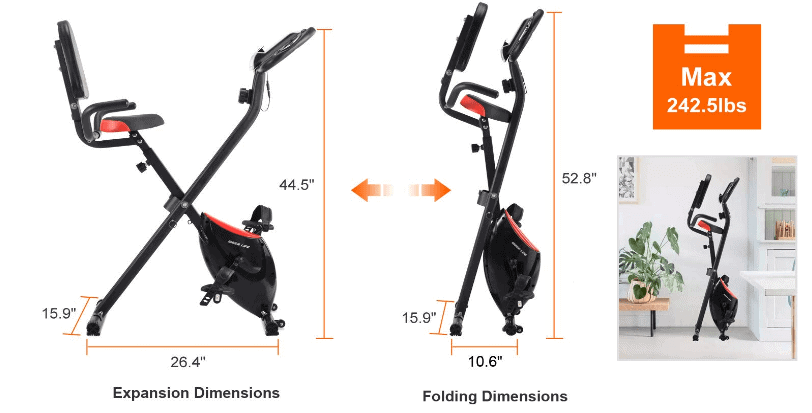 The overall design of the IDEER LIFE Exercise Foldable Magnetic Bike enables the user to work out effectively to burn tons of calories and reduce cellulite from the body. This means a good shape and a healthier body.
The X-shaped frame is made of steel and coated with anti-corrosion and rust paint. It is sturdy enough to support 242 pounds/110 kg maximum user weight capacity and it is also easy to mount and dismount without difficulty by all users.
It is compact with assembled dimensions of 26.4 inches long by 15.9 inches wide by 44.5 inches tall. Essentially, the bike fits in a 2.2 feet long by 1.3-foot wide space area. However, consider adding an extra clearance of at least 1 foot at the rear and on each side of the bike so that you can work out comfortably with safety.
Therefore, the bike is simply space-friendly and can be used in small rooms or apartments.
The base has front and rear stabilizer bars that have a rubber cap on each end so that that bike can sit evenly on the floor. You may place the bike on a protective rubber mat in order to enhance stability.
The bike features a non-adjustable handlebar and a 2-way adjustable semi-recumbent bike with side arms for support.
The bike weighs 37 pounds/16.8 kg and features a belt drive system that provides smooth and quiet operation.
The Seat, the Handlebar, and the Pedals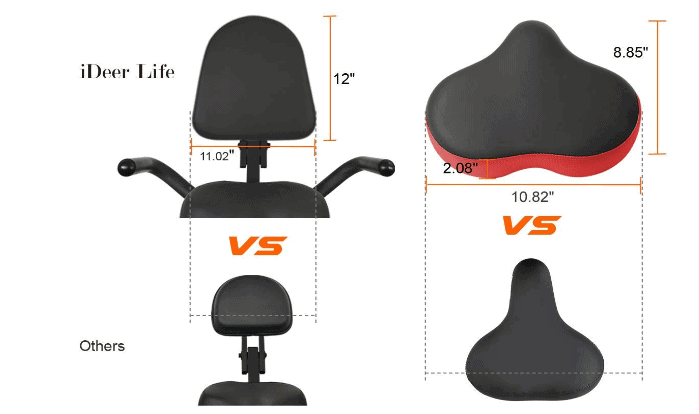 The seat is one unique feature that makes this bike stand out from the rest. It has an upgraded adjustable cushioned semi-recumbent seat with side arms that ensures that the user gets comfortable and relaxed while exercising.
The backrest is solid, cushioned, and taller than the lower-back height that is usually seen in most folding exercise bikes. The seat's dimensions are 10.82 inches wide by 8.85 inches long by 2.06 inches thick while the backrest's dimensions are 11.02 inches wide by 12 inches long. This is just a testament that the seat's ergonomic design provides more comfort than some other upright folding bikes out there.
If for any reason you wish to enhance the seat's comfort you may use a wider gel seat cover.
For multiple users of different heights to be able to use the bike the seat can be adjusted vertically upward/downward to several height positions of up to 3.9 inches. Users between the heights of 4.11 to 6 feet tall could find it suitable but heights shorter or taller than that may constitute restrictions.
The handlebar is non-adjustable and it has a multi-grip design that allows users to work out in different angle positions for enhanced workout effect. The EKG sensors are also embedded in it so that the pulse rate can be transmitted to the display screen.
The handlebar is also coated with soft rubber foam that is designed and intended to provide comfort and a secure grip.
The pedals have an antiskid design with adjustable safety straps that secure the feet for full thrust while pedaling. This means that they accommodate either barefoot or standard gym shoes.
The Drive
The IDEER LIFE Exercise Indoor Foldable Magnetic Bike features a belt drive system that has a smooth and quiet transmission. In other words, the bike's operation is silent and smooth that a user could use it anywhere and at any time of the day without constituting a disturbance to the family members or the neighbors.
This also means that the user could enjoy listening to music or watching a favorite TV show with the volume at a normal setting.
Moreover, no maintenance is required to keep the drive running smoothly.
The Resistance
The bike features a manual magnetic resistance with 8 distinct levels. The resistance is generated when the magnetic brake pad gets close to the 3.53 pounds perimeter weighted flywheel.
Friction does not happen as the magnetic brake pad doesn't make any direct contact with the flywheel but only creates the magnetic field that consequently generates resistance.
Therefore, no maintenance or replacement of any part is required over time.
The resistance is most suitable for people that simply wish to get decent workouts that improve their overall physical well-being, but it is certainly not for those seeking to experience extremely difficult workouts.
The resistance can easily be adjusted via the tension knob that is positioned between the main double frame right below the handlebar and the console.
Turn the tension knob clockwise to increase the resistance and anticlockwise to decrease it and it is as simple as that.
Again, the bike provides decent resistance for an easier or more difficult workout.
The Console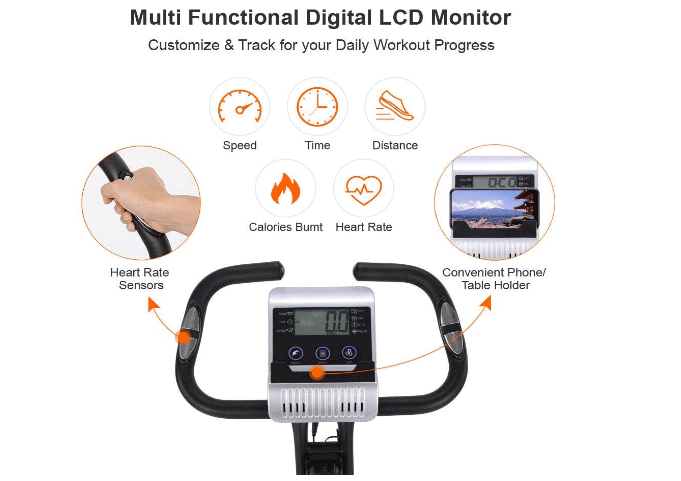 The IDEER LIFE Exercise Indoor Foldable Magnetic Bike comes with a basic built-in large multifunctional digital LCD monitor that keeps the user motivated and focused by displaying time, speed, distance, heart rate, and calories burned.
The display fonts are large and clear but its clarity could be compromised if used or viewed in a poorly-lit environment because it is not backlit.
The monitor basically allows the user to track workout activity and progress with ease.
There are three functional buttons, namely, RESET, MODE, and SET which enable the user to navigate and manipulate the monitor accordingly.
The user should be able to turn the monitor ON/OFF by pushing the MODE button. Its SCAN function displays the entire workout values one at a time every few seconds and rotationally but a preferred value could be set to display constantly if the user wishes to do so.
The display can also be turned ON automatically simply by pedaling the bike and it goes into a sleeping mode if activity ceases for a few minutes on the bike in other to save battery power.
The console is also integrated with a phone/tablet holder that allows a user to place a smartphone or an iPad on the bike for taking calls and entertainment purposes while exercising.
Accessory
Just as aforementioned, the IDEER LIFE Exercise Indoor Foldable Magnetic Bike features a tablet holder and that's about the only accessory it possesses.
This enables the user to listen to music or watch a movie via a smartphone/tablet.
Although, by placing a tablet on the holder means that the user may have to forego viewing the workout data display as long as the tablet is on the holder because it blocks it.
Storage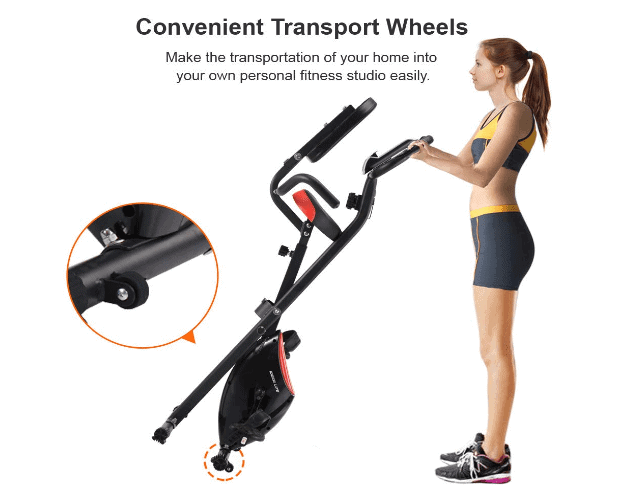 The storage of a foldable upright bike has been generally very easy and convenient and that is no different from the IDEER LIFE Exercise Indoor Foldable Magnetic Bike.
Its compactable, foldable, portable and lightweight design is the definition of handy and easy storage in a nutshell.
It doesn't take up much space when fully assembled and even takes less space when folded for storage
This means it could be stored practically anywhere such as the closet, or just next to a wall.
The folded dimensions are 10.6 inches long by 15.9 inches wide by 52.8 inches tall.
Approval Rating
The IDEER LIFE Exercise Indoor Foldable Magnetic Bike appears to have some level of popularity because there are positive Amazon customer reviews that suggest that.
The approval rating is good which suggests that the unit is recommendable.
Pro/Features Overview
It is stable and sturdy
It has a unique large upgraded backrest and seat that provides optimal comfort for a prolonged workout
It is quiet and smooth during operation due to its belt drive and manual magnetic resistance systems
It could be used by users of different heights and weight
Tablet holder included for entertainment
It features a space-design
It is portable; it has two transport wheels
It is incorporated with an LCD monitor that displays time, distance, calories burned, speed, and SCAN function
It provides resistance that is suitable for weight loss cardiovascular exercises
Low maintenance
Easy to assemble
Anti-slip pedals with adjustable safety straps
Cons
It does not provide an extremely difficult workout
The monitor is not backlit
Product Dimensions and Specifications
26'' L x 16'' W x 45'' H
11'' L x 16'' W x 52'' H (folded)
Weight: 37 pounds/16.7 kg
Supports 242 pounds/110 kg maximum user weight capacity
Drive: Belt
Resistance: Manual magnetic, 8 resistance levels
Transport wheels included
Tablet holder included
Display: Multifunction LCD monitor displays times, speed, distance, calories burned and pulse
Seat: Padded large semi-recumbent, 2-way adjustable
Flywheel: Precision-balanced, 3.53 pounds
Frame: Steel
Pedals: Anti-skid with adjustable safety straps
Handlebar: Non-adjustable, multi-grip design
EGK sensors
Shipping, Assembly, and Maintenance
Shipping
On Amazon, this bike is shipped within days of order and the standard shipping plan is free except if you want to use expedited shipping that incurs extra charges.
Assembly
The IDEER LIFE Exercise Indoor Foldable Magnetic Bike is shipped partially preassembled with the drive and resistance systems already attached to the frame.
There are only very few parts left to be attached such as the base bars, the handlebar, the pedals, and the seat. The assembly time could be around 30 minutes, more or less depending on everyone's skill.
The assembly instruction manual and the tools needed for the job are all included in the package.
Maintenance
No major maintenance is required.
Simply examine the bike for any part that may have loosened or broken before use in order to prevent an accident and further damage to the bike.
Finally, always ensure to keep the bike clean from dirt and sweat after and before workouts.
Conclusion
The IDEER LIFE Exercise Indoor Foldable Magnetic Bike is handy and practically saves space and money even as it provides decent cardio workouts that could lose weight, boost energy level, improve blood circulation and reduce cellulite.
IDEER LIFE Exercise Indoor Foldable Magnetic Bike Review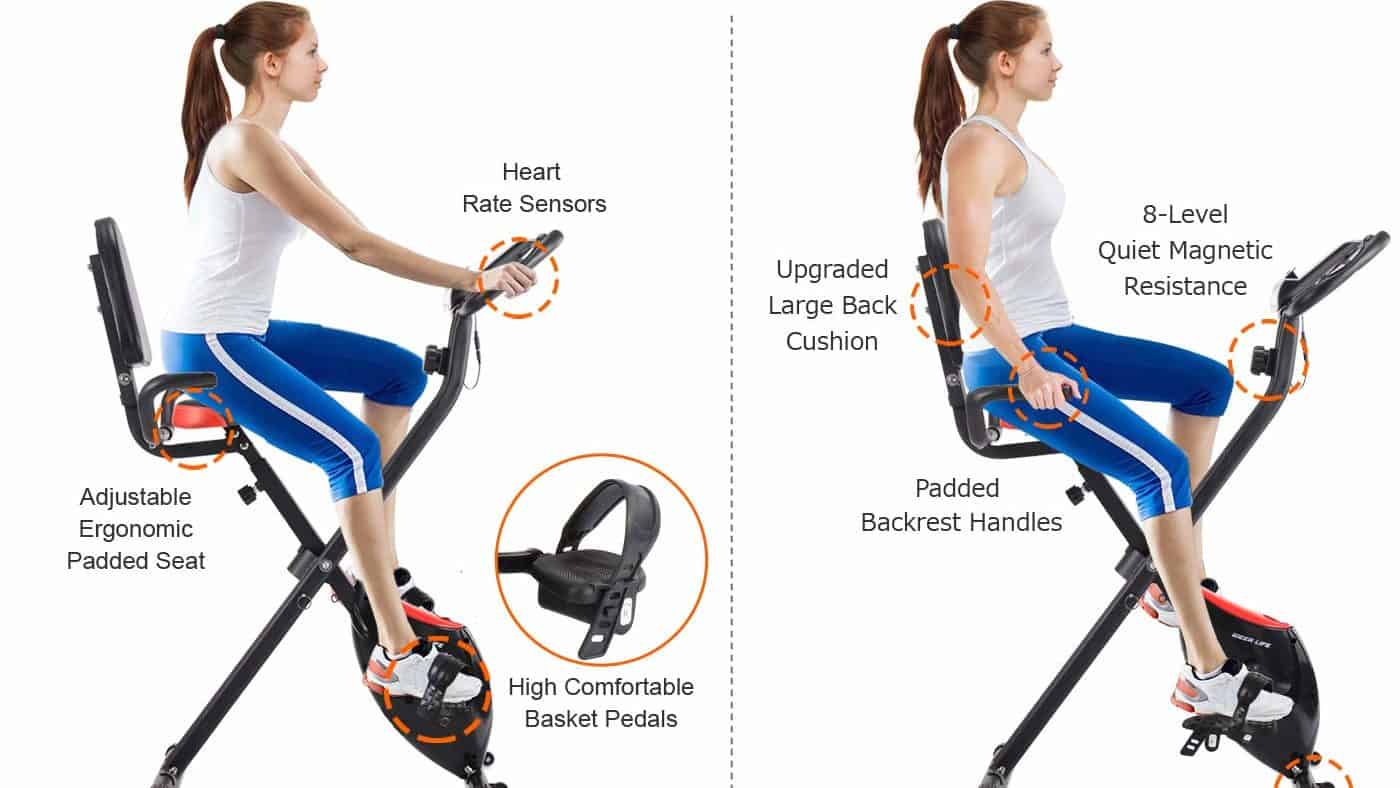 The IDEER LIFE Exercise Foldable Magnetic Bike has the black 09027 and the silver 09028 versions. These foldable bikes have the same functionality and feat
Product Brand: Ideer Life
Product In-Stock: InStock