The JOROTO Indoor Cycling Bike Trainer X3 is a belt-driven bike with a heavy bi-directional flywheel that weighs 45 pounds/20 kg. It has complete adjustability of the seat and handlebar that allow users of different heights and sizes to work out comfortably.
The JOROTO X3 Trainer features a very sturdy frame that is made of steel and supports 300 pounds/136 kg maximum user weight capacity.
There are distinctions between the JOROTO Indoor Cycling Bike Trainer X3 and the X1S model. The JOROTO Indoor Cycling Bike X1S model is a chain-driven bike with a lighter flywheel which will be appreciated by those that really wish to experience the real road bike feel while exercising.
But in contrast, the X3 model is smooth and quiet during operation, has a heavier perimeter weighted flywheel, and exhibits a gorgeous outlook design. It is pricier than the X1S model of course and it's available in three different colors of red, blue, and silver, which means a user, has the privilege to choose a red X3, a blue X3, or a silver X3.
Just to be clear, these three color variants X3s are one and the same in terms of functionality and features except for the color.
If you are looking for a decent indoor spinning bike with a belt drive system for home use then you may consider adding the JOROTO X3 to your home gym.
Click right here to have a peek at the price of the JOROTO Indoor Cycling Bike Trainer X3 on Amazon.
The Frame and Construction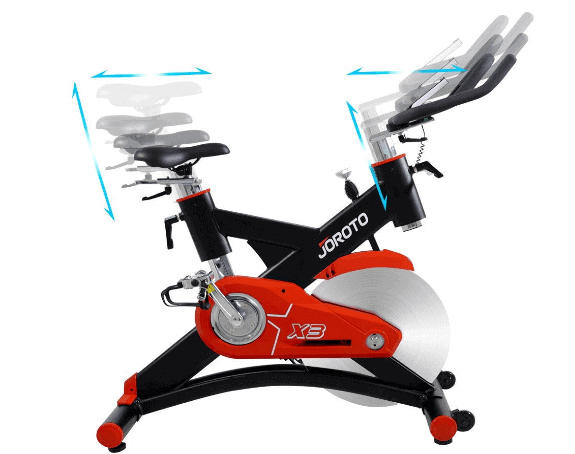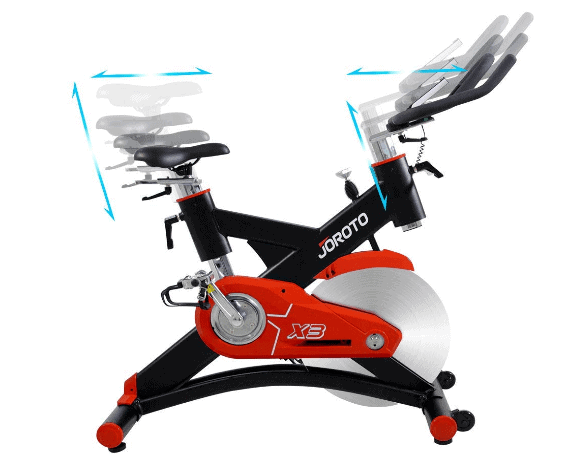 The JOROTO Indoor Cycling Bike Trainer X3 is completely adjustable which means the seat and the handlebar are 4-way adjustable and not very many spin bikes have that. Its minimum and maximum inseam heights are 27.9 inches to 36 inches.
The frame is made of steel and sprayed with anti-corrosion and rust paint. The joints are welded except the front and the rear stabilizer bars which are screwed.
It features a 45-pound/20 kg perimeter weighted flywheel that guarantees consistent momentum for an outstanding ride.
The bike supports 300 pounds/136 kg maximum user weight capacity.
It is not a very compact machine neither is it too large. Its overall dimensions 50 inches long by 20.8 inches wide by 46.8 inches tall. In other words, the required workout space for this bike is 4.2 feet long by 1.7-foot wide area and a ceiling height of at least 7 feet so that one can perform a standing ride without a restriction.
Also, consider adding extra clearance of 1 to 2 feet at the rear and on each side of the bike so that you can exercise with safety and comfort.
The bike's stability stems from the well-structured base framework that features four adjustable levelers and its overall weight of 112 pounds/50.8 which grounds the bike and eliminates every symptom of wobbling during a workout.
The weight, on the other hand, could be a problem for some people when the bike needs to be relocated. That said, it is integrated with a set of transport wheels at the front base which makes it completely portable.
The Seat, the Handlebar and the Pedals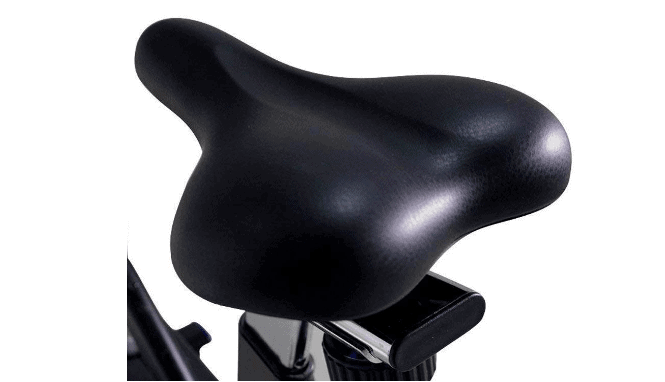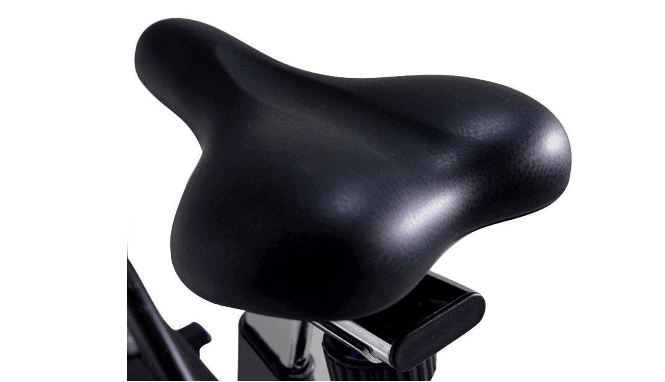 The seat on the JOROTO Indoor Cycling Bike Trainer X3 is ergonomically designed, padded, and covered with a leather material that makes it last longer. Its dimensions are 10.8 inches long by 7.9 inches wide by 2 inches thick.
The seat offers some level of comfort but may not be very comfortable for some people and that is the reason why the bike is often purchased with a gel seat cover in order to improve its comfortability. It can also be replaced with a wider seat if the user so desires. The manufacturer suggests you send them a message on Amazon so that they will provide you with a suitable wider seat.
The seat is also 4-way adjustable; it could be adjusted vertically (upward/downward) and horizontally (fore/aft) with several adjustment positions that provide suitable workout positions for users of different heights.
Users between the heights of 5 to 6.4 inches tall can be accommodated by this bike or better still, to be accurate, measure the inner top of your thigh to the ankle and see if it is within the 27.9 inches to 36 inches inseam the bike supports.
The handlebar features a multi-grip design and it's equally 4-way adjustable and could be adjusted vertically and horizontally. This increases the bike's overall flexibility which allows the users to have control over the space between the seat and the handlebar for a better workout position.
It is coated with a soft rubber foam material that provides a secure grip and comfort that allow the user to work out longer.
There are no EKG HR sensors embedded on the handlebar which implies that the bike does not have a pulse rate function because neither is the console telemetry enabled.
However, an external heart rate monitoring device could be used such as the Wahoo TICKR heart rate monitor.
The pedals feature toe cages with adjustable safety straps that secure the feet and prevent slipping and the user should be able to pedal with full thrust.
Spin shoes cannot be used on the pedals because they don't have SDP clips on them. However, since the pedals have standard 9/16 inches thread, a user can swap them with SDP pedals.
The Drive
As aforementioned, the JOROTO Indoor Cycling Bike Trainer X3 is a belt-driven bike. The belt drive system provides a quiet and smooth operation that enables the user to enjoy working out at any time of the day without the worry that someone in the family or a neighbor could be disturbed.
The user can also enjoy watching the TV or listening to good music while exercising without having to turn up the volume so high.
The drive is also maintenance-free. It does not require any post lubrication or adjustments in order to function properly.
It (drive) consists of a durable heavy-duty belt, a 45-pound/20 kg perimeter weighted flywheel, a 3-piece crankset, solid crank arms, and pedals that support an uphill performance experience.
The drive is bidirectional and a user can pedal in reverse in order to exercise more muscle groups.
This also means that the flywheel and the pedals turn simultaneously because they are connected together and therefore a user cannot coast on the bike just as one could on a road bicycle.
If you wish to stop pedaling simply push the tension knob down and all spinning activity will come to a halt.
The Resistance
The JOROTO Indoor Cycling Bike Trainer X3 is integrated with a friction resistance system that uses a felt brake pad and the flywheel to generate resistance.
The word friction means that the felt brake pad and the flywheel come in direct contact to generate resistance.
The upside of this is that it is very suitable for all users of different fitness levels. It is good for beginners, intermediaries, and of course those that seek extremely challenging workout experience. The elderly, the weak, and the pro athletes can find it very suitable, useful, and helpful in achieving their fitness goals.
However, the downside is that it does not have predetermined resistance levels that allow you to keep track of strength and endurance improvement and the felt pad will require a replacement at some point in time because it wears out but that takes time and depends on how frequent it's being used.
To so many people this is hardly a deal-breaker though.
The Console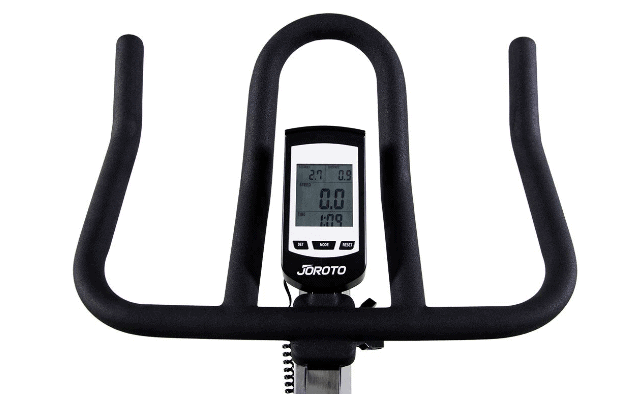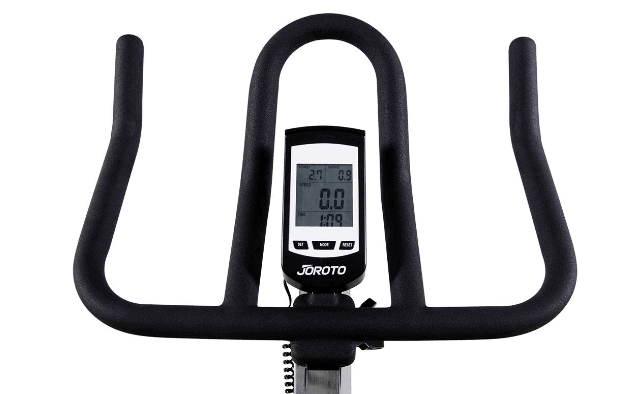 The JOROTO Indoor Cycling Bike Trainer X3 has a console that features a rectangular 4-window LCD monitor with three buttons for navigation. The monitor displays simultaneously workout data such as time, speed, distance, and calories burned so that the user can stay motivated and focused.
Its clarity is very good as long as it is being viewed in a room that is well-lit because it is not backlit.
Again, it does not have a heart rate function just as aforementioned but a user may use an external HR monitoring device if the target heart rate zone must be observed and maintained.
The monitor can easily be manipulated via the SET, MODE, and RESET buttons. It could be turned ON/OFF by pressing the MODE button.
The monitor is powered by batteries and so in order to save battery power it auto shuts down when there is no activity on the bike for a few minutes and it could also automatically power ON when activity resumes.
Accessory
The JOROTO Indoor Cycling Bike Trainer X3 does not have any accessories such as water bottle and tablet holders.
This means the user will have to improvise in order to use a smartphone for entertainment and a water bottle for hydration.
These can be purchased separately and be attached to the bike.
Storage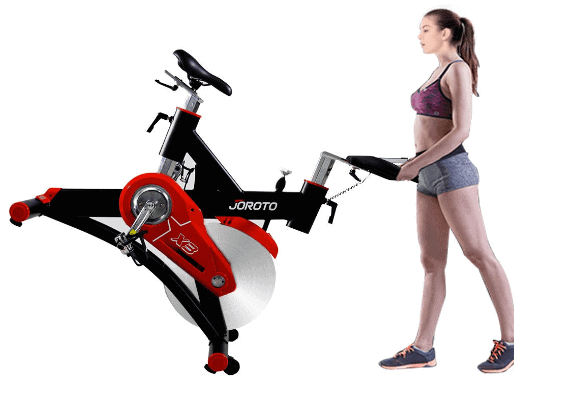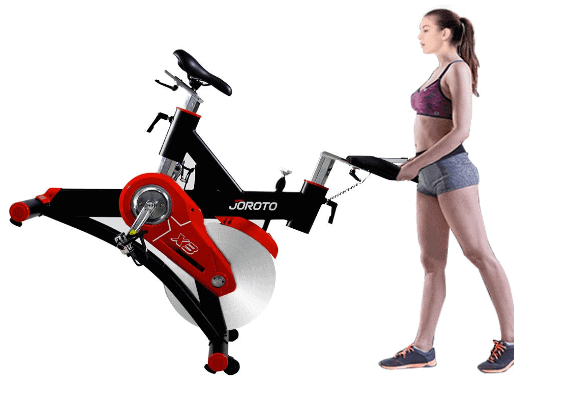 The storage of the JOROTO Indoor Cycling Bike Trainer X3 won't take up much space. It will take about the exact space for the workout area without the extra clearance needed for safety and convenience.
In other words, it will require storage space of 4.2 feet by 1.7 feet wide. Places like the closet and under the staircase could be very ideal places to store the bike.
Its transport wheels make it easy for the bike to be moved from one room to another.
Approval Rating
This bike basically has a good approval rating when you look at the Amazon customers' reviews. The users expressed satisfaction with the overall performance and quality of the bike thus the approval rating is positive.
The Pros/Features Overview
It is strong, durable and supports 300 pounds/136 kg maximum user weight capacity
It is a micro-adjustable bike that features seat and handlebar that could be adjusted 4 ways
It has unique stabilizer bars with adjustable levelers that ensure outstanding stability
The LCD monitor features workout values such as time, speed, calories burned, and distance which help to keep track of workout progress
It is not difficult to assemble
It is quiet and smooth during operation
It is suitable for users of all fitness levels
It can accommodate users of different heights conveniently
The seat is padded and ergonomically designed for comfort and breathability
The pedals are made of aluminum alloy that could support the standing ride and feature toe cages that secure the feet for full thrust
Minimum maintenance needed
It features a 45-pound/20 kg heavy perimeter weighted flywheel that provides consistent momentum during a workout
Cons
The monitor is not backlit
The bike does not have holders for water bottle and tablet
The pedals do not have SDP clips
Dimensions and Product Specifications
50'' Length
21'' Width
47'' Height
Supports 300 pounds/136 kg maximum user weight capacity
Flywheel: 45 pounds/20 kg perimeter weighted
Pedals: Toe cages with adjustable safety straps
Drive: Belt
Resistance: Friction
Weight: 112 pounds/50.8 kg
Frame: Steel
Seat: 4-way adjustable
Handlebar: 4-way adjustable
Display: 4-window LCD monitor that shows time, distance, speed, and calories burned
Shipping, Assembly, and Maintenance
Shipping
The JOROTO Indoor Cycling Bike Trainer X3 is shipped in a box that weighs 130 pounds/58.9 kg.
The shipping cost of the product depends on the vendor's shipping policy; however, some retailers such as Amazon provide free shipping.
Assembly
The JOROTO Indoor Cycling Bike Trainer X3 requires some level of assembly because it doesn't come preassembled. However, it arrives with the major components already assembled. Therefore, you are required to attach the stabilizer bars, the seat and handlebar posts, the seat, the handlebar, and the console to the frame.
It won't take up to an hour to completely assemble the bike and an instruction manual that guides you through the process and the needed tools for the assembly are all included.
You can hire an expert to assemble it from Amazon for you if you don't wish to do the assembling yourself.
Maintenance
Ensure to always examine the bike before use for any loose or broken part in order to prevent an accident and further damage to the bike.
Finally, make sure to always wipe away dirt and sweat from the bike.
Conclusion
The JOROTO Indoor Cycling Bike Trainer X3 is a belt-driven bike that features a friction resistance system that provides light, medium, and difficult workouts. Differently put, it is suitable for everyone that wishes to work out with a spin bike in order to lose weight or maintain healthy physical fitness.
 JOROTO Indoor Cycling Bike Trainer X3 Review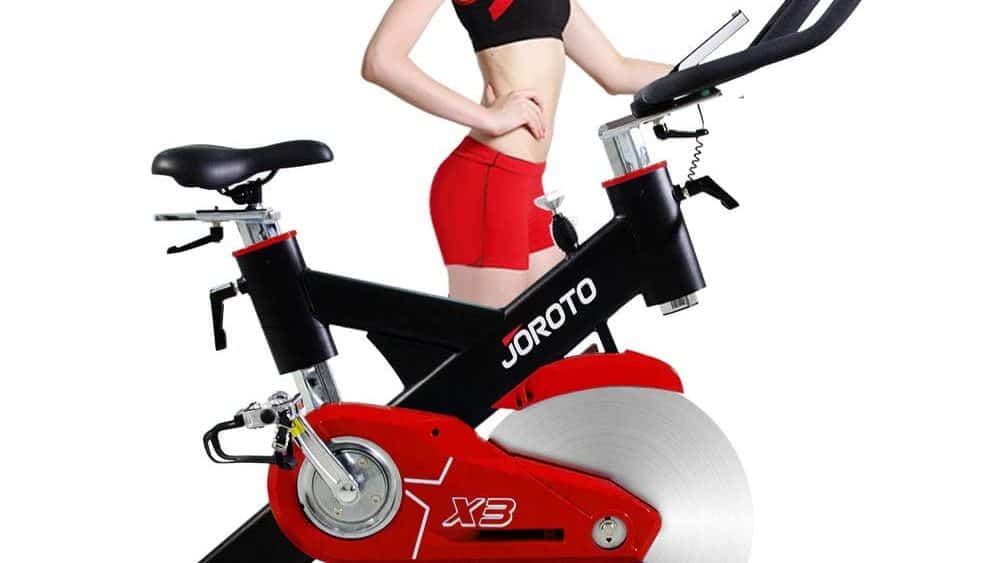 The JOROTO Indoor Cycling Bike Trainer X3 is a belt driven bike with a heavy bi-directional flywheel that weighs 45 pounds/20 kg.
Product Brand: Joroto
Product In-Stock: InStock