The GoPlus Indoor Cycling Bike V is an affordable and entry-level bike that presents the opportunity to cycling enthusiasts who are on a budget to own an indoor bike. GOPLUS has quite a number of spin bikes on the shelf that has dissimilarities in designs and flywheel weight but sometimes very difficult to tell them apart by their names.
However, we do know they are assigned a Roman numeric after their names in order to differentiate one from the other, and in this case, as you may have observed is GOPLUS Indoor Cycling Bike V which is under review.
The bike has a sleek-looking flywheel that is electroplated and weighs about 13 pounds/5.8 kg, which is pretty light compared to most spin bikes on the market. A cycling bike with a light flywheel is good for the elderly and those that are undergoing physical therapy as a result of an injury. It is also great for users who wish to engage mostly in interval training because they can easily transit in out of fast and slow cycling motion in time.
That said, a lightweight flywheel bike does not necessarily provide or simulate the outdoor bike feel as the bike with a heavy flywheel does.
In general, the GOPLUS Indoor Cycling Bike V enables the user to engage in aerobic exercises that lose weight and improve overall physical fitness.
Click right here to have a peek at the price of this bike on Amazon.
The Frame and Construction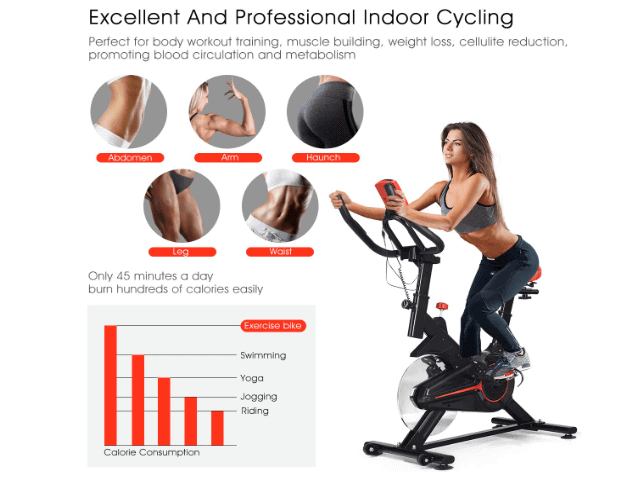 The construction of the GOPLUS Indoor Cycling Bike constitutes steel and plastic materials. Well, it's mainly made up of steel which includes the frame, the stabilizer bars and the core part of the handlebar, and the pedals, while the belt and the felt pad shrouds are made of plastics.
The frame is sturdy and able to support up to 220 pounds/100 kg maximum user weight. It is customizable, compact, and transportable. Transport wheels are integrated at the front base for easy relocation, the seat and the handlebar are adjustable and the overall dimensions of the bike are 40 inches long by 19 inches wide by 43.5 inches tall.
It does not invade or overwhelm space as it requires a limited workout or storage area of 3'4'' long by 1'6'' wide. However, the workout area will necessitate additional extra clearance of 1-2′ at the rear and on each side of the bike for safety and comfortable riding experience.
The integrated front and rear steel stabilizer bars guarantee optimum stability. The adjustable rubber levelers underneath them (bases) allow the user to level up the bike on a surface that is not even.
The bike is not very heavy as it only weighs 48 pounds/21.7 kg which makes moving it extremely easy and nevertheless further boosts the overall stability.
Its operation and performance are smooth, quiet and suitable for home use.
The Seat, the Handlebar, and the Pedals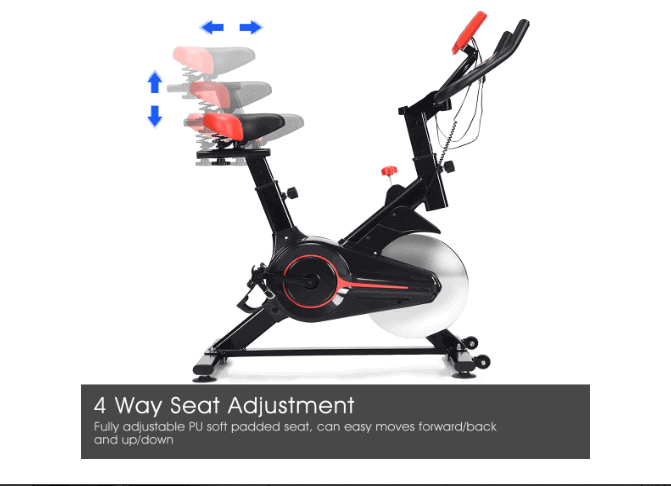 As aforementioned, the seat is adjustable and could be adjusted 4-ways, vertically (upward/downward) and horizontally (fore/aft). The fore/aft adjustment has 3 inches range while the upward/downward adjustment has 6 levels range. Therefore, users of different heights will be able to adjust to fit.
The seat seemingly looks well contoured and padded with two springs that absorb shocks while riding. However, users think the seat is very uncomfortable and won't allow you to train longer. Thankfully, there are ways to remedy the situation if you find it also uncomfortable.
Its comfort could be improved by the use of a gel seat cover or better still, replacing the seat entirely with one that is more comfortable, options are widely available.
The handlebar is also adjustable but only upward and downward. There are 4 adjustable levels with distinctive markings (including the seat) that allow you to easily readjust when someone has altered your previous settings.
It (handlebar) is ergonomically designed with several grips that present you with alternative grip options for different postures. Coated with soft breathable foam that provides secure and comfortable grips that promote longer rides and prevent slippage and blisters.
EKG sensors are embedded in the handlebar so that you may observe (via the monitor) and maintain your target heart rate when gripped during a workout.
The pedals have toe cages and adjustable safety straps that accommodate only standard gym shoes. They secure the feet from slipping even during a vigorous workout and provide the proper alignment.
The crank-arms are made of metallic alloy and together with the pedals they support a stand-up ride and withstand any level of hard use.
The Drive
The GOPLUS Indoor Cycling Bike V is a belt-driven bike. This means it has a belt drive system that consists of a belt, pulleys, durable crankset, crank-arms, pedals, and the 13 pounds/5.8 kg chromed flywheel.
The operation is smooth and quiet as you may have already known. This makes the bike to be home-friendly. You won't disturb the family or the neighbors with your training activities even though you may train at any time of the day.
Moreover, you can also enjoy watching your favorite TV show/movie or listening to good music without having to raise the volume too high.
The pedals are bidirectional; therefore, you may pedal in reverse to work on more muscle groups. That said, you can't coast on the bike as you could on a bicycle because the flywheel and the pedals spin concurrently.
Apply the emergency brake via the tension knob by pushing it down whenever you wish to suddenly stop pedaling in order to avoid a potential accident.
No maintenance is required as is the case with a chain drive system. Except that the belt may need to be replaced after a very long time of usage.
The Resistance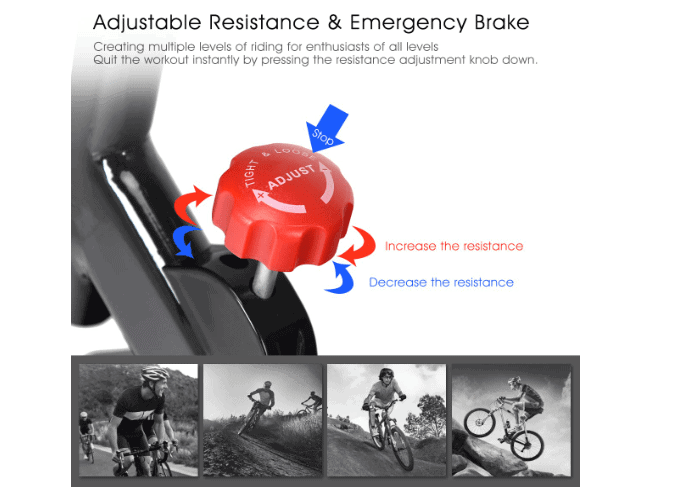 The resistance incorporated in the GOPLUS Indoor Cycling Bike v is a friction type. The resistance system consists of felt brake pads that are attached underneath the mainframe tubing and shrouded with a plastic cover and connected to the control tension knob that is sitting at the top side of the mainframe.
The brake pads are positioned face-down toward the top edge of the flywheel so that whenever there is a contact between them resistance is generated.
Increase and decrease the resistance level by turning the tension knob clock and counterclockwise respectively.
There are no predefined resistance levels as the case with some high-end spin bikes such as the Echelon Spin Bike or the Keiser. So, you may not be able to track strength and endurance progress by comparing resistance levels used between workout sessions.
But the resistance levels produced by the bike are suitable for anyone at any fitness level. You can experience easy to extremely challenging workouts that could improve cardio health and burn tons of calories as well. The resistance can even be adjusted to a level where you can hardly pedal.
The Console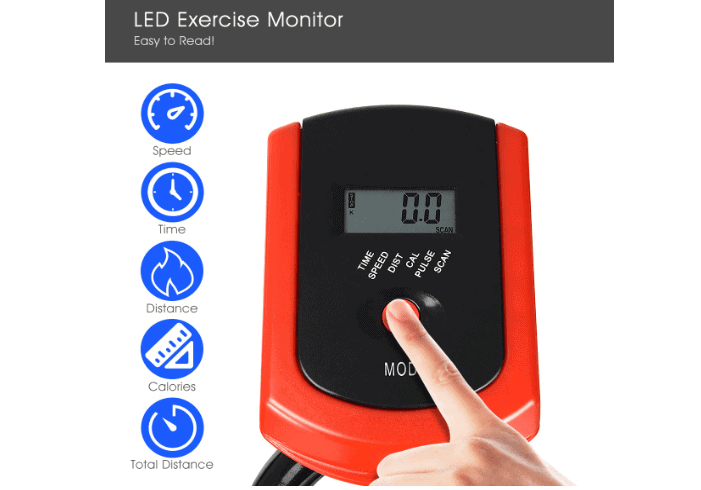 The GOPLUS Indoor Cycling Bike V comes with a basic console that features a single navigational button known as the MODE and an LCD monitor.
The console is not large but the display screen shows the workout data with good clarity as long as it is being viewed in a room that is well-lit because it's not backlit.
You will be able to track workout values such as time, distance, speed, calories burned, and pulse. These are displayed one at a time after a few seconds by a SCAN function. It is also possible to set a certain workout value of choice to constantly display as long as you want.
The LCD monitor is simple and easy to operate.
Accessory
The bike has a phone bracket that is strategically positioned on the handlebar which does not block the display screen when a device is placed on it.
So, you can enjoy watching a movie or listening to music while exercising without losing the view of the monitor.
Storage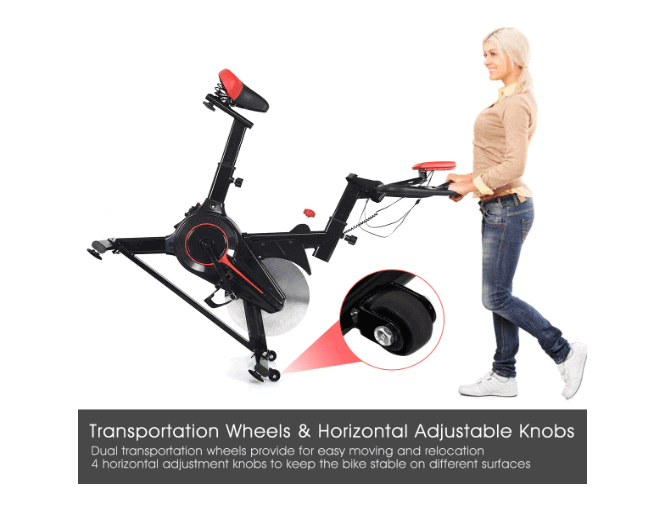 The unit is compact and portable. It doesn't require much space for storage. A storage area with a perimeter of 3'4 long by 1'6" wide will suffice.
The integrated transport wheels at the front base make relocation easy.
Pros/Features Overview
It's sturdy, durable, and stable
Doesn't take up too much space
Easy to move from one room to another
Supports 220 pounds/100 kg maximum user weight capacity
Operation is quiet and smooth
Suitable for interval training
Resistance is suitable for persons of any fitness level
LCD monitor tracks time, distance, speed, calories burned, pulse and also has a SCAN function
Customizable for users of different heights
Handlebar offers different grips for a variety of workout postures
The pedals offer safety and comfort during a workout
Low maintenance
Easy to assemble
Affordable
Phone holder included
Can watch a movie via your phone and still be able to view LCD monitor screen
Cons
The seat is not comfortable but can be improved by using a gel seat cover or replacing it with another seat
No water bottle holder; you have to purchase that separately
The console is basic and the monitor has no backlit
Product Dimensions and Specifications
Length 40''
Width 19''
Height 43.3''
User's weight capacity: 220 pounds/100 kg
Weight: 48 pounds/21.7 kg
Drive: Belt
Resistance: Friction
Seat: 4-way
Handlebar: 2-way
Heart rate: Yes
Console: Basic; non-backlit LCD monitor tracks time, distance, speed, calories burned, and pulse; SCAN function
Phone bracket: Yes
Water bottle holder: No
Transport wheels: Yes
Flywheel weight: 13 pounds/5.8 kg
Shipping, Assembly, and Maintenance
Shipping
The GOPLUS Indoor Cycling Bike V is shipped in a box and the shipping cost be could be charged or free depending on the retailer you are purchasing from. Although, Amazon provides free shipping and delivers within days of order.
Assembly
The bike is delivered not completely assembled; the Major components are preassembled. You only need to attach the bases, the seat and the handlebar posts, the seat, the handlebar, the pedals, and the console to the core unit.
It takes about 30 minutes or more to completely assemble it.
The tools for assembly and the instruction manual are all in included in the package.
Maintenance
The bike doesn't need serious maintenance that requires lubrication or adjustment.
You only need to examine it before use to ensure that no part is loose or broken. Fix any problem that may arise accordingly to prevent an injury or further damage to the bike.
Also, make to keep it clean at all times, before and after use.
Conclusion
The GOPLUS Indoor Cycling Bike V is indeed a sturdy, stable, durable, compact, and portable bike that is also affordable. It is customizable to accommodate users of different heights and can support 220 pounds/100 kg maximum user weight capacity.
Its downsides may not be seen as a deal-breaker for so many individuals.
GOPLUS Indoor Cycling Bike V Review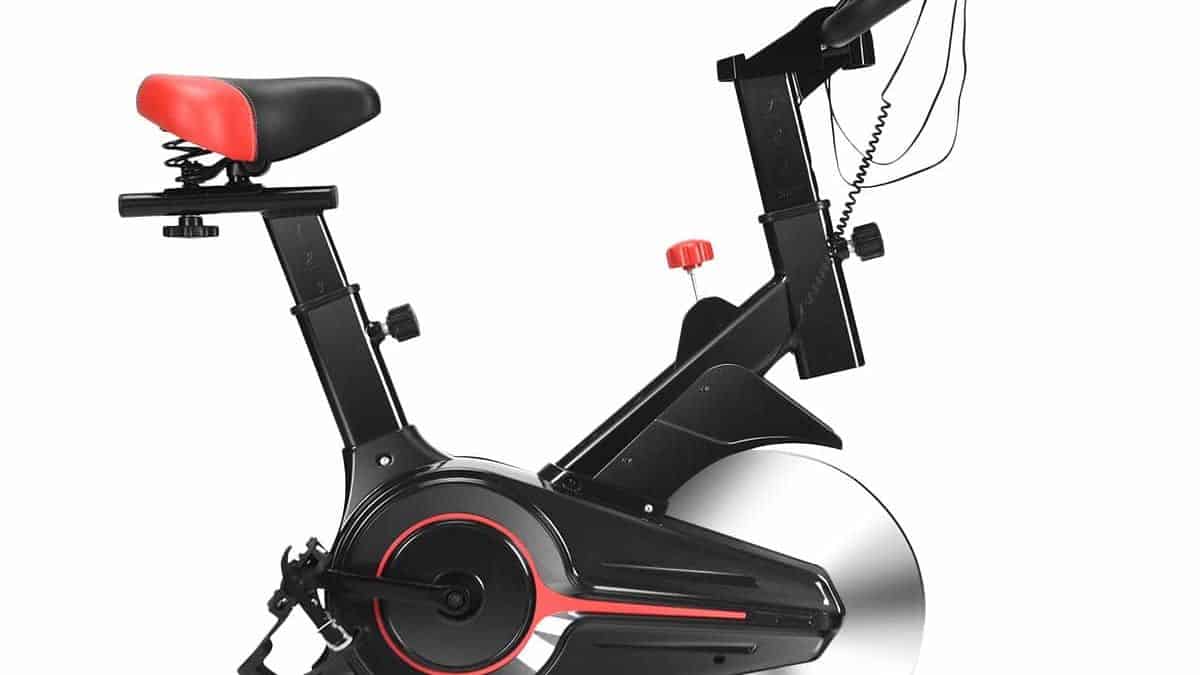 The GoPlus Indoor Cycling Bike V is an affordable and entry-level bike that presents the opportunity to cycling enthusiasts who are on a budget to own an
Product Brand: Goplus
Product In-Stock: InStock