The GOPLUS Indoor Cycling Bike II falls into the entry-level category of spin bikes. Its design is straight and simple yet it's durable, safe, sturdy, and stable.
The bike is suitable for home use as its operation is smooth and quiet. The integrated 22 pounds/10 kg perimeter weighted flywheel is neither very light nor heavy, great for individuals that engage in intervals but still wish to experience the feel of riding outdoor.
It is a basic indoor cycling bike that has complete standard features that include heart rate monitoring. The bike offers the opportunity to burn calories and lose weight significantly within a considerable space of time. Of course, it will be more effective when combined with diets.
The bike's customizable design allows users of different heights to be accommodated and consequently be used by multiple users. Folks with limited space would appreciate its compact construction as well.
It comes with a friction resistance system that guarantees workout intensities that are suitable for all types of indoor bike riders and also the LCD monitor tracks workout progress.
Click right here to have a peek at the price of the GOPLUS Indoor Cycling Bike II on Amazon.
The Frame and Construction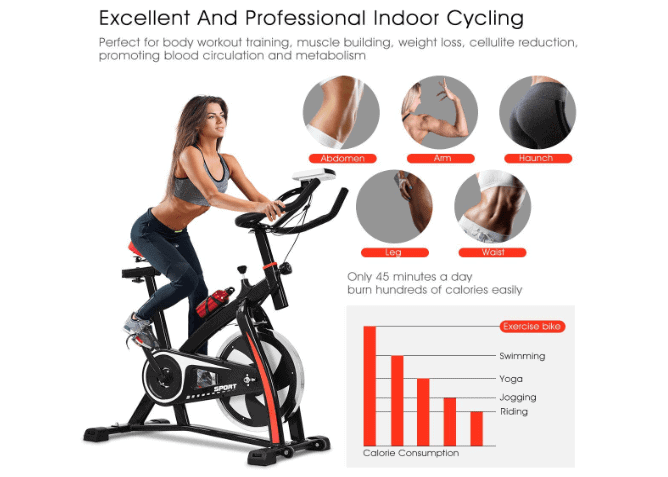 The GOPLUS Indoor Cycling Bike II has a rectangular-shaped steel frame with good base construction. It is coated with anti-corrosive paint that protects it from getting degraded over time. This means the bike lasts longer and is sturdy enough to support a user's weight of up to 286 pounds/129.7 kg.
Like 97% of the bike's parts are made of steel while other parts such as the belt guard and the stabilizer base end covers are made of plastic.
As aforementioned, the spin bike supports up to 286 pounds/129.7 kg maximum user weight capacity.
The base features front and rear steel stabilizer bars framed to provide robust stability that endures even during a vigorous and intense workout moment. It is true the bike is lightweight and only weighs about 55 pounds/30 kg but nevertheless boosts the overall stability.
There are also levelers beneath the bases that are used to level up the bike on a surface that is not even.
Therefore, the user doesn't experience unwanted movements or wobbling during a workout.
The bike is compact and the same size as the GOPLUS Indoor Cycling Bike V; the overall assembled dimensions are 40 inches long by 19 inches wide by 43 inches tall. Differently put, a workout or storage perimeter of 3'4'' long by 1'6'' wide will suffice. Although, for the purpose of safety and a comfortable workout experience, an additional extra clearance of 1-2′ will be necessary at the rear and on each side of the bike.
It will suffice to say that the GOPLUS Indoor Cycling Bike is a useful affordable tool for weight loss, cardio health, strength, and endurance improvement.
The Seat, the Handlebar, and the Pedals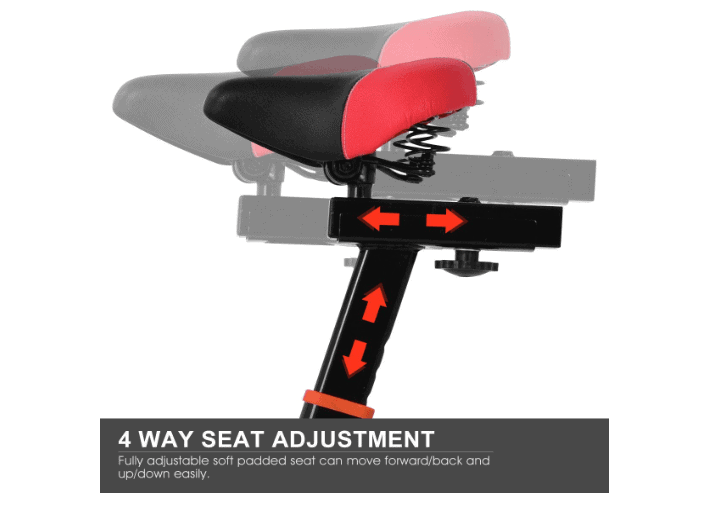 The seat on the GOPLUS Indoor Cycling Bike II is larger than the standard spin bike seat, it's cushioned and padded. There are even two springs underneath that are meant to absorb shock when riding.
However, without mincing words, users have complained that the seat is not comfortable despite its design that includes all of the aforementioned. Thus, this could impede the user's ability to work out longer.
On the brighter side though, you can use a gel seat cover to improve its comfortability or better still replace it with a more comfortable one that is widely available.
The seat could be adjusted 4-ways; vertically (upward/downward) and horizontally (aft/fore). This is one of the reasons the bike is customizable to accommodate users of different heights. It could easily be adjusted to preferred and suitable settings within seconds.
The vertical seat adjustment range is 32'' go 36''.
The handlebar is only vertically (upward/downward) adjustable, in other words, 2-ways adjustable. The adjustment height range is 42'' to 46''. This complements the bike's overall customizability.
EKG sensors are embedded in the handlebar, and when held during a workout they transmit the heart rate data to the monitor for tracking which enables the user to maintain the target heart rate zone.
The multi-grip-designed handlebar allows the user to exercise in different workout postures and it is coated with a soft rubber foam material that provides secure and comfortable grips that endure through a long workout.
The pedals are equipped with toe cages and adjustable safety straps that ensure safety and comfort. These only accommodate standard gym shoes but could be replaced with SPD clip pedals for spin shoes.
The pedals are durable and are made of aluminum alloy, which can support a stand-up ride.
The Drive
The GOPLUS Indoor Cycling Bike II has a belt drive system that is equipped in most modern spin bikes. It is preferred by most cycling bike enthusiasts because of its smooth and quiet operation. Essentially, a smooth and near-silent cycling bike, first of all, allows the user to train with confidence and without distraction.
The user can train at any time of the day without getting the family or the neighbors involved. Also, it is possible to engage in other entertainment activities such as watching a favorite TV show or listening to good music without the need to raise the volume beyond the normal level.
Moreover, the belt drive system is maintenance-free, no post-maintenance such as lubrication or adjustment is required, just as the case with a chain-driven bike.
The drive comprises a durable belt, pulleys, crankset, crank-arms, pedals, and the 22 pounds/10 kg. These together provide a formidable performance that is void of vibration.
The drive is engineered to be bidirectional. This means you can pedal in reverse if you so desire but that also means coasting on it is out of the question due to the fact that the pedals and the flywheel spin simultaneously.
Therefore, apply the emergency brake via the tension knob by pushing it down whenever you wish to immediately stop pedaling.
The Resistance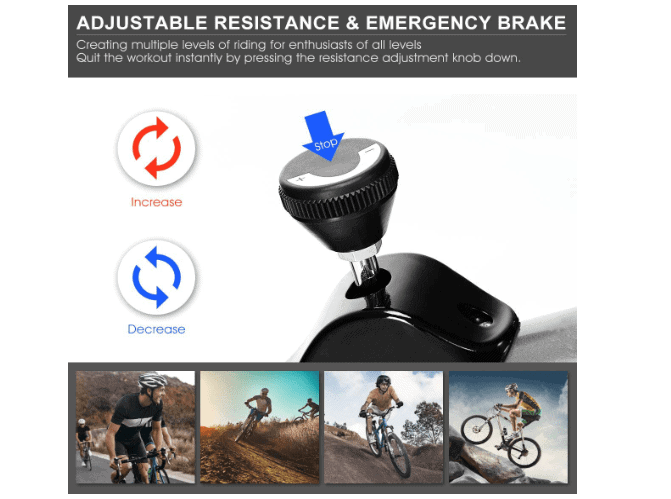 The GOPLUS Spin Bike II has a friction resistance system. This is a common resistance system that is usually found on budget-friendly cycling bikes. Although this doesn't mean that it is less effective, on the contrary, it provides easy to very challenging resistance for users at any fitness level.
Beginners, intermediaries, and advanced users will definitely not complain about its effectiveness. The resistance makes it easy to burn tons of calories and improves cardio health.
To increase and decrease the resistance, turn or twist the tension knob clockwise and counterclockwise respectively and it's as simple as that.
However, the downside is that it sometimes makes a squeaky sound when the resistance is engaged. This is because the flywheel and the felt brake pad make direct contact when the resistance is applied. The felt pad also wears out over time of usage and would need a replacement consequently.
A silicon-based oil is usually applied to the flywheel to stop or reduce the squeaky sound.
There are no predefined resistance levels that allow you to ascertain the level of intensity that is being used at any given time in a workout. Therefore, it might be difficult to determine your strength and endurance improvement because you don't know the resistance level used in different workout sessions.
That said, this won't be a deal-breaker if your priority is to lose weight and improve your overall physical fitness.
The Console
The console on this bike is basic. It features a non-backlit LCD monitor and a single navigational button. The easy-to-read LCD monitor tracks and displays workout data such as time, distance, speed, calories burned, and pulse.
By default, the SCAN function rotationally displays the workout values one at a time after a few seconds so that the user can get to view all the workout values. But it is also possible to set a certain workout value to be static without changing to another and can revert to the SCAN function whenever the user pleases.
The monitor can be turned ON by pressing the MODE button, or simply by pedaling the bike. It also automatically turns OFF when there is no activity on the bike for a few minutes.
Accessory
The bike is integrated with a water bottle holder for keeping water within reach during a workout in order to stay hydrated.
Storage
The storage of the GOPLUS Indoor Cycling Bike II is rather easy and convenient. It has two transport wheels at the front base designed to facilitate the relocation of it. The bike weighs about 55 pounds/25 kg which categorically makes it lightweight.
Its compact design also makes it not require much space for storage.
Approval Rating
At the time of this review, the bike has a very good approval rating on Amazon. There are a couple of Amazon customers' reviews that suggest the product to be recommendable.
Pros/Features Overview
Sturdy, stable, durable, and safe to use
It is affordable and cost-effective
Doesn't take up too much space
Easy to move or relocate
Customizable for users of different heights
The LCD tracks workout progress including the heart rate
Supports 286 pounds/129.7 kg maximum user weight capacity
Operation is smooth and quiet
Its resistance is suitable for everyone at any fitness level
Low maintenance
Easy to assemble
Water bottle holder included
The pedals with toe cages offer good feet alignment and safety
The multi-grip handlebar is comfortable and allows to train in different postures
Cons
No tablet holder
The seat is not comfortable (improve it with a gel seat cover or replace with another seat)
The monitor is basic as expected and non-backlit
Product Dimensions and Specifications
Length 40''
Width 19''
Height 43''
User weight capacity: 286 pounds/129.7 kg
Weight: 55 pounds/25 kg
Handlebar: Multi-grip with EKG sensors and 2-way adjustable (42-46'' height range)
Seat: 4-way adjustable (adjustable height 32''-36'')
Resistance: Friction
Drive: Belt
Console: Basic non-backlit LCD monitor tracks time, distance, speed, calories burned, and pulse with SCAN function
Flywheel: 22 pounds/10 kg
Pedal: Bidirectional, toe cages with adjustable safety straps
Transport wheels: Yes
Tablet holder: No
Water bottle holder: Yes
Shipping, Assembly, and Maintenance
Shipping
The GOPLUS Indoor Cycling Bike II is shipped out in a box. The shipping cost is determined by the retailer you are purchasing from; Amazon offers free shipping and delivery is made within days of order depending on your location.
Assembly
The assembly of the bike is not difficult just as most spin bikes. It comes preassembled with the major component already attached.
You only need to attach the front and rear base bars, the seat and the handlebar posts, the seat, the handlebar, the pedals, and the console.
You can even figure out how to assemble it without the guidance of an instruction manual and it takes less than an hour to completely assemble it.
Maintenance
As aforementioned, no serious maintenance is required. Simply make sure to examine the bike before use for any loose or broken part for safety reasons. Also, endeavor to keep it clean from dirt and sweat before and after use.
Then apply the silicon-based oil on the flywheel if there is any unpleasant sound emanating from it when the resistance is engaged.
Further instructions may be included in the manual.
Conclusion
The GOPLUS Indoor Cycling Bike II is designed for home use and for the purpose of losing weight and improving overall physical fitness. It is compact, transportable, stable, affordable, and durable.
It is an entry-level bike that those on a budget would fancy owning.
GOPLUS Indoor Cycling Bike II Review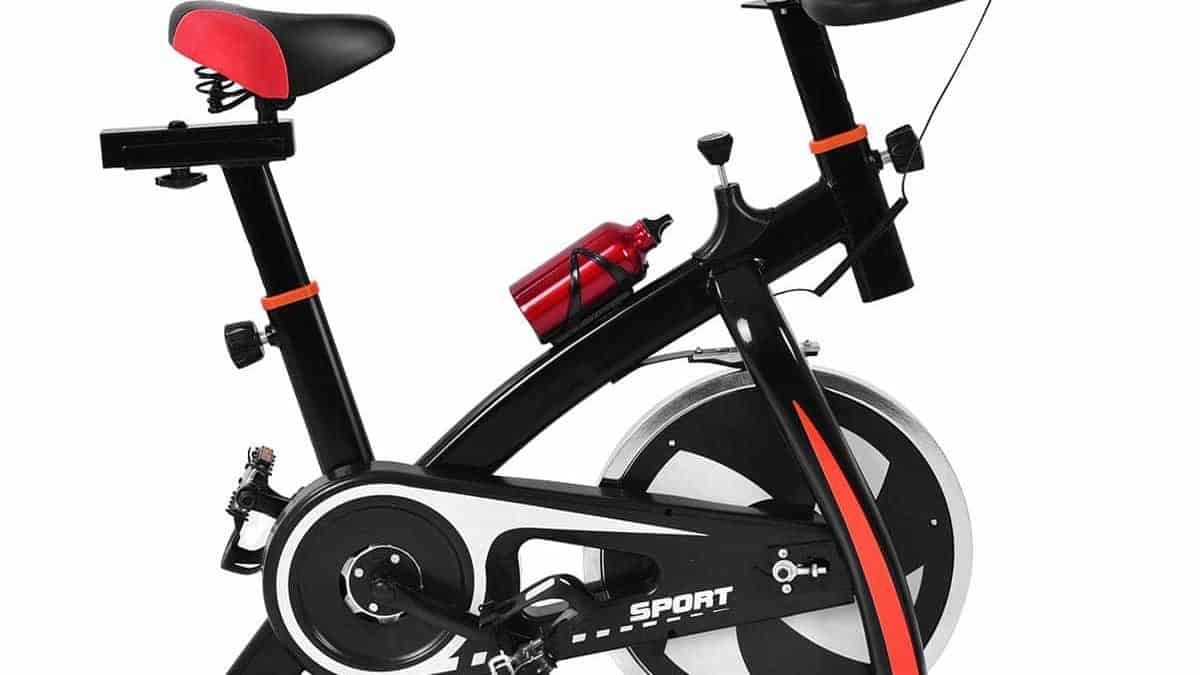 The GOPLUS Indoor Cycling Bike II falls into the entry-level category of spin bikes. Its design is straight and simple yet it's durable, safe, sturdy, and stable.
Product Brand: Goplus
Product In-Stock: InStock