Update!!! This product is no longer available you may want to look up other treadmills on our guide.
The Ancheer S9100 Treadmill is the latest release with basic features that would offer a great workout experience. As a matter of fact, this is a 2017 product that has got a couple of features that make it stand out amongst other treadmills of the same price range. One unique feature it possesses is the Bluetooth App Control that would enable you to connect the machine with your smart device and be able to control the unit via your mobile and interestingly you can create a fitness plan for the treadmill.
Based on your height, weight, and heart rate data, G-Fit can automatically generate a training plan for you according to these data. In case you don't know what is G-Fit, this is an app that works with Bluetooth which you can download upon scanning the two-dimension (QR) code on the control panel or you can directly download it from Google. You can also create your own personal training plan.
Let us have an overview of the features and pros.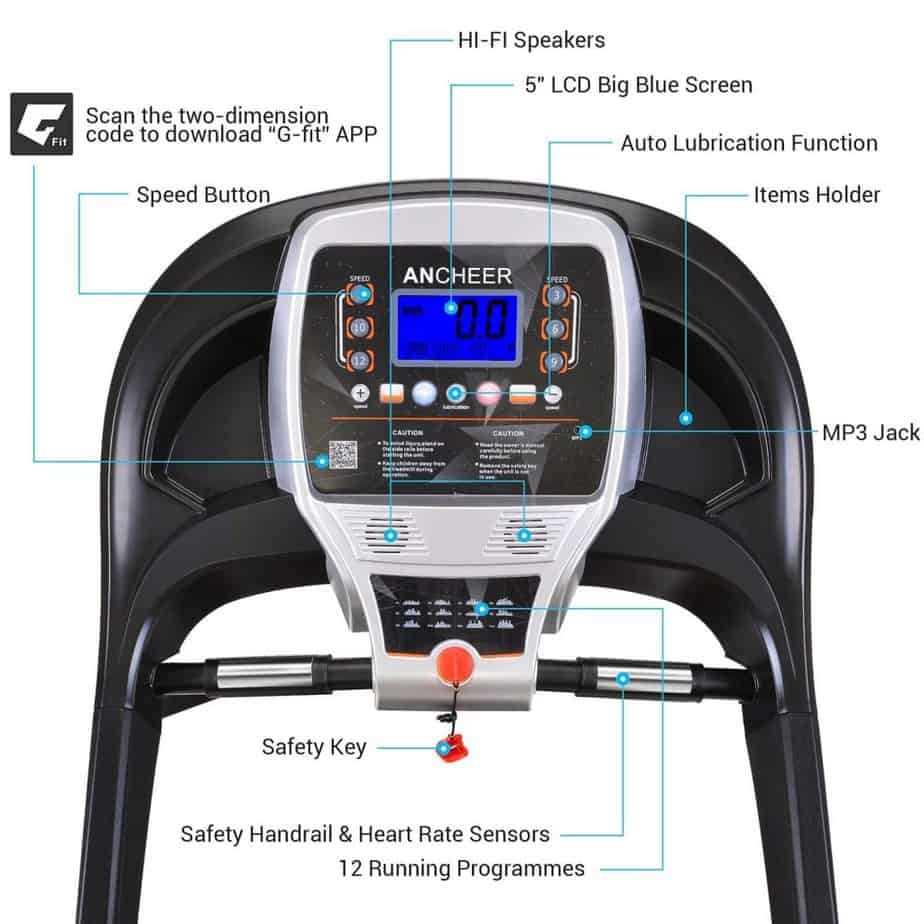 Features/Pros
The Ancheer S9100 2017 Treadmill has a 25 horsepower motor which is built to enable you to walk, jog and run. This as may already know will work on your upper and lower body as you attain that physical fitness you have always desired in the comfort of your home. Moreover, it is reported to be very smooth and quiet during operation, therefore, you don't have to worry about disturbing others and you can also enjoy your favorite TV show or music while working out.
It has got a sizable LCD backlit display of 5 inches which allows you to monitor and track your workout progress and data such as time, distance, calories, and pulse rate.
The Bluetooth app is indeed an outstanding and unique feature that allows connectivity between the machine and the smart device/Android phone. Through this connectivity, you can control the machine via your Android phone after scanning and downloading the G-Fit software. Through this software, you can also create and make your own training plan and use your Android phone to control the speed and other functions of the machine.
It has got 2 manual inclines designed to help you experience a challenging workout that would ultimately result in achieving your fitness goals.
The running deck is strategically fitted with absorbers that would reduce the impact on the joints and instead offer a comfortable workout experience.
It has 12 preset workout programs
It has heart rate monitoring sensors embedded on the on the handlebars
It saves space because of its portability and ability to fold up. You can easily fold it up and put away for storage.
It has got item holders on both sides of the console where you can put your water bottle, smartphone or any other item.
It has got transportation wheels that make moving around the room a lot easier.
It has a precautionary safety pull that is designed to stop the machine when pulled on in the case of accidental tripping while working out.
Cons
I think the running surface will be a problem to those that would rather run on this unit, however, not unusual for treadmills of this price range to have such size anyway.
Product Dimension
69'' Length
59'' Width
23''' Height
Running surface is 48.42" x 16.53"
Folded Dimensions
33'' Length
39'' Width
53'' Height
It supports 240 pounds maximum user weight
Warranty for US Stock
3 Years for Motor
2 Years for Frame
And friendly customer service
Shipping and Assembly
The shipping cost of products purchased from Amazon is often free and this one is, fortunately, free too, however, this may not be the case with other retailers.
As for the assembly, the Ancheer S9100 2017 Treadmill is super easy to set up. As a matter of fact, a reviewer says he was able to assemble the unit within 20 minutes! This is possible because it shipped with the major components pre-assembled and all the user will be required to do is to put on the screws. Moreover, it is accompanied by an instruction manual that would even make it a piece of cake to fix.
Conclusion
The Ancheer S9100 2017 Treadmill is indeed recommendable because so far all the Amazon user consumer reviewers recommended it. Most of the consumers rated this unit favorably with 88% rating it 5 out 5 while 6% thinks it is 4 out 5. When you sum that up you will have about 94% of the consumers giving it thumbs up which is a good thing.