The Gazelle Freestyle Step Home Cardio Machine with model no. GFRSTCAT is another Gazelle series that is capable of burning tons of calories and tightening the muscle groups in your body. This piece of equipment has received a positive approval rating from actual users and still coming.
Just as the Gazelle Supreme Glider, this Freestyle Step Machine is very easy to operate and very effective too.
It provides the user with an opportunity to burn out calories with amazing 10 exercises. It has also got its signature, it patented, and dual-action split suspension that offers a complete and different range of motion and freedom of movement.
This is the same as the Gazelle Supreme, the only difference is that it doesn't have a resistance system, hence, it's called freestyle.
Click right here to have a peek at the price and of of the Gazelle Freestyle Step Home Cardio Machine.
Frame and Construction
The Gazelle Freestyle Step Home Cardio Machine is Tony Little's brainchild, and as always, it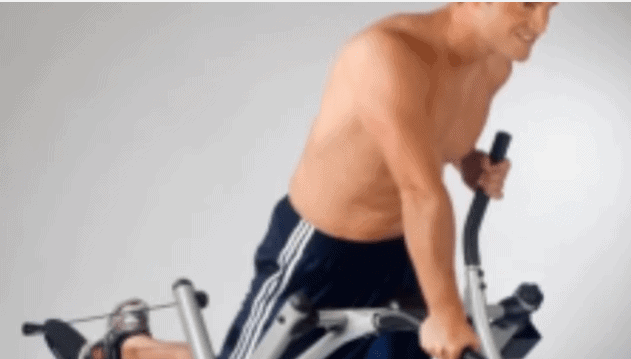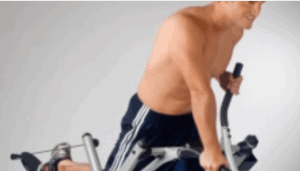 has a quality and innovative construction. It offers aerobic and resistance workouts that could help you to improve and maintain your physical well-being.
It features a 1.75" diameter silver anti-corrosive steel that could support a maximum user weight capacity of 300 lbs./136 kg.
The base framework offers good stability. However, since it's not adjustable, try to use it on an even floor, and ideally on a rubber protective mat as well to improve its floor friendliness and prevent wobbling movement during workouts.
The machine only weighs 51.9 lbs./23.5 kg but it helps to promote its overall stability.
Its compact and space-saving design has endeared it to individuals that have limited space in their room/apartment and those that simply need a portable exercise machine.
The assembled dimensions are 44" long by 33.5" wide by 53.5" high. In other words, it will need a workout area with measurements of 3'7" length by 2'8" width. But to be able to exercise without stride restrictions, there should be 3′ clearance at the front and the rear part of the machine, and 2′ on each side of it for easy access.
It comes with a 22 oz water bottle plus holder, 2 workout DVDs, a nutrition guide.
The Handlebar of the Gazelle Freestyle Step Home Cardio Machine
The Gazelle Freestyle's handlebars are movable. They allow users to work out the upper body as they exercise, and they positively impact the arms, the back, the chest, the core, and the shoulders.
They are held together by the console horizontal steel bar and connected to the foot platform bars as well. As a result, they operate simultaneously with the pedals.
In other words, they move as long as the pedals move, and vice versa.
The handles are cushioned with anti-slip rubber foam to provide grips that are secure comfortable.
That said, the handlebars do not incorporate HR sensors, but there is a built-in thumb pulse on the console for tracking the heart rate.
The Footplates
The large and textured footplates are made of durable nylon and are attached to steel platforms. They can accommodate different foot sizes and standard gym shoes securely and comfortably.
Differently put, they offer maximum footing stability that secures either of the foot from slipping during vigorous workouts.
Due to the patented dual-split suspension, they offer a complete range of motion and freedom of movement.
Resistance
This is a freestyle machine, hence, it doesn't have a resistance system other than the bodyweight.
Console
The Gazelle Freestyle Step Home Cardio Machine does have a basic console that features a nonbacklit LCD monitor that includes a built-in thumb pulse that reads the heart rate.
The monitor tracks workout stats such as Time, Distance, Speed, Calories, and pulse rate. The SCAN function displays the workout values one at a time and then switches to another after every few seconds. However, you can choose to set a workout value to display constantly instead.
So, with this, you can remain motivated and wanting to do more in order to achieve your fitness goals.
The monitor is powered by 3 AAA batteries (included).
Accessory
The glider is equipped with a 22 oz water bottle and a holder that is designated in a convenient position for easy reach. This enables you to remain laser-focused on your training while keeping proper hydration during workout sessions.
The unit is also accompanied by 2 workout DVDs that lay the road map for achieving your ultimate fitness goals.
Storage
Features/Pros
It offers 10 great exercises that can burn calories easily, tone the muscle groups in the body, and also improves cardiovascular endurance
It provides low impact and full-body cardio
The Gazelle Freestyle Step Machine is suitable for everyone
Its unsurpassed range of stride length allows the user to go from slow walk to a full run without stride restrictions
It has got an easy to use workout computer that displays workout data such as the speed, distance, time, and calories burned
It has a built-in thumb pulse monitor that makes heart rate tracking possible
It has extra-wide non-skid foot platforms that ensure safety and comfort during a workout
It is compact and foldable which makes it possible for small apartment owners to be able to use and store it conveniently
It supports 300 pounds maximum user weight
It comes with a nutrition guide, a 22 oz water bottle with holder, and 2 workout DVDs
It is also affordable
Easy to maintain
Not difficult to assemble
Shipping and Assembly
Shipping is free by Amazon and it gets delivered in a couple of days.
The assembly is easy. Therefore, one can start using shortly after delivery
Conclusion
The Gazelle Freestyle Step Home Cardio Machine provides freedom of movement that allows a user to stretch, walk, jog, run, or ski.
It is suitable for everyone regardless of gender, age, or physical fitness.
[rank_math_rich_snippet]