The FYC JK1608E-1 Folding Compact Home Treadmill is suitable for walkers and joggers, and the reason is that it has a small running surface with dimensions of 14.9'' wide by 41.3'' long and a 1.5 horsepower motor that provides 0.5-6.5 mph speed range.
It is foldable and has transport wheels for easy relocation and storage.
However, it can't be used while folded. So, if you wish to use one under a desk or without the masts actively standing, then you may want to check out a 2 in 1 treadmill instead.
This is an entry-level treadmill that is designed for those that wish to lose weight, and improve cardiovascular health while walking or jogging in the comfort of their home. Interestingly, no installation or assembly is required.
Click right here to have a peek at the FYC JK1608E-1 Folding Compact Home Treadmill.
The Frame and Construction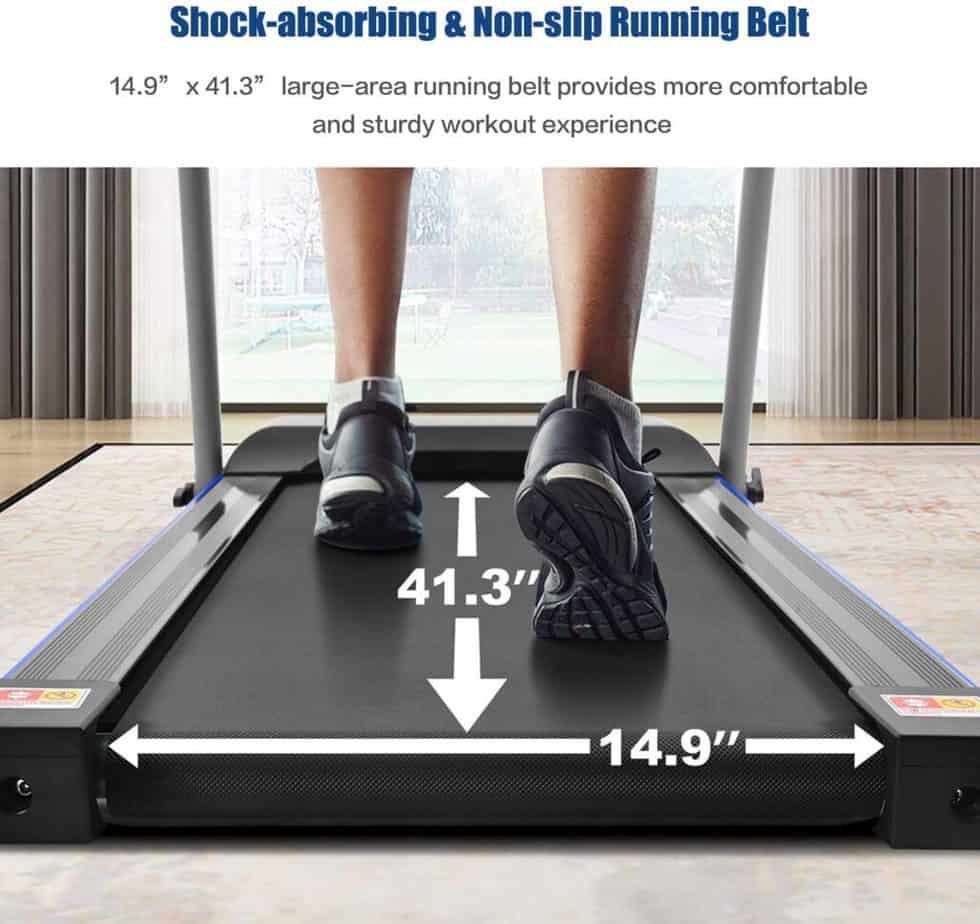 The FYC JK1608E-1 Folding Compact Home Treadmill is constructed with a steel frame that is coated with anti-corrosion paint and has other parts that are made of ABS material.
Hence, it supports a maximum user weight capacity of 220 lbs./100 kg.
The anti-skid padded base provides maximum traction that ensures the unit stays stable during workouts. However, there are no adjustable levelers that enable you to balance the treadmill on a crooked surface.
Therefore, you must ensure that the workout surface is even to prevent it from being lopsided, and destabilizing. A protective rubber mat might be handy as well for a firm workout platform.
Moreover, the treadmill's weight enhances its overall stability, even though it only weighs 50 lbs./22.6 kg.
Its assembled dimensions are 49.2'' long by 25.5'' wide by 45.6'' high. Consequently, the machine needs a workout area with perimeters of 4'1'' length by 2'2'' width, plus extra clearance of 2' around it for safety and easy access.
Since its step-up height is about 6'' and it doesn't have an incline system, a ceiling height of at least 7'5'' should be fine, or better still, add your height and 6'' step-up height and 5'' clearance to determine the suitable ceiling height for you.
The handrails are cushioned to provide lasting comfort and safety during prolonged workouts. Having said that, they don't integrate HR sensors, thus, there is no pulse rate monitoring function.
The Motor of the FYC JK1608E-1 Folding Compact Home Treadmill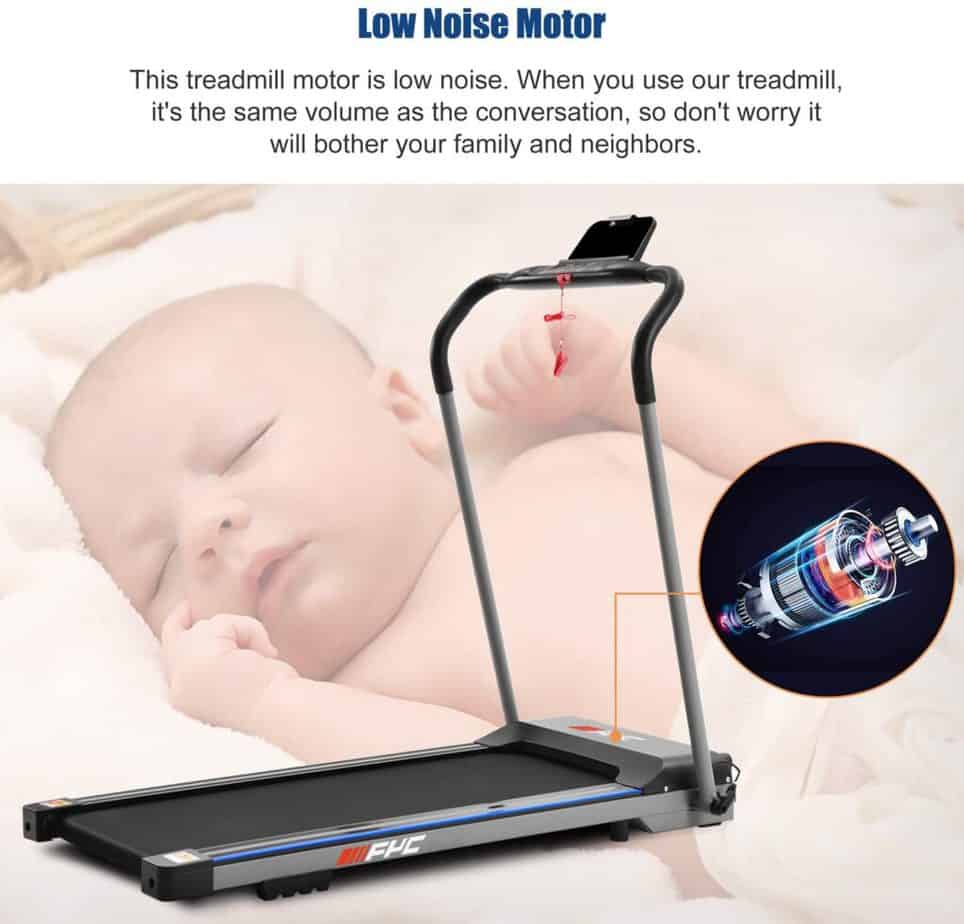 The FYC JK1608E-1 Folding Compact Home Treadmill is equipped with a quiet and smooth 1.5 horsepower motor. It provides low noise performance and a speed range of 0.5-6.5 mph for walking and jogging activities at home or in the office.
In other words, your workout activities won't constitute a nuisance to the people around you, and that includes the family and the neighbors. Also, it won't prevent you from watching a TV show or listening to music while working out.
The motor is designated at the front base of the treadmill and concealed with plastic cover, while the rated voltage for it is 110V/50Hz.
Incline
This treadmill doesn't have an incline system, but if you wish to have one that does, then, check out the FUNMILY 3.25 HP Home Treadmill. Although, it is going to cost you an extra $$.
The Console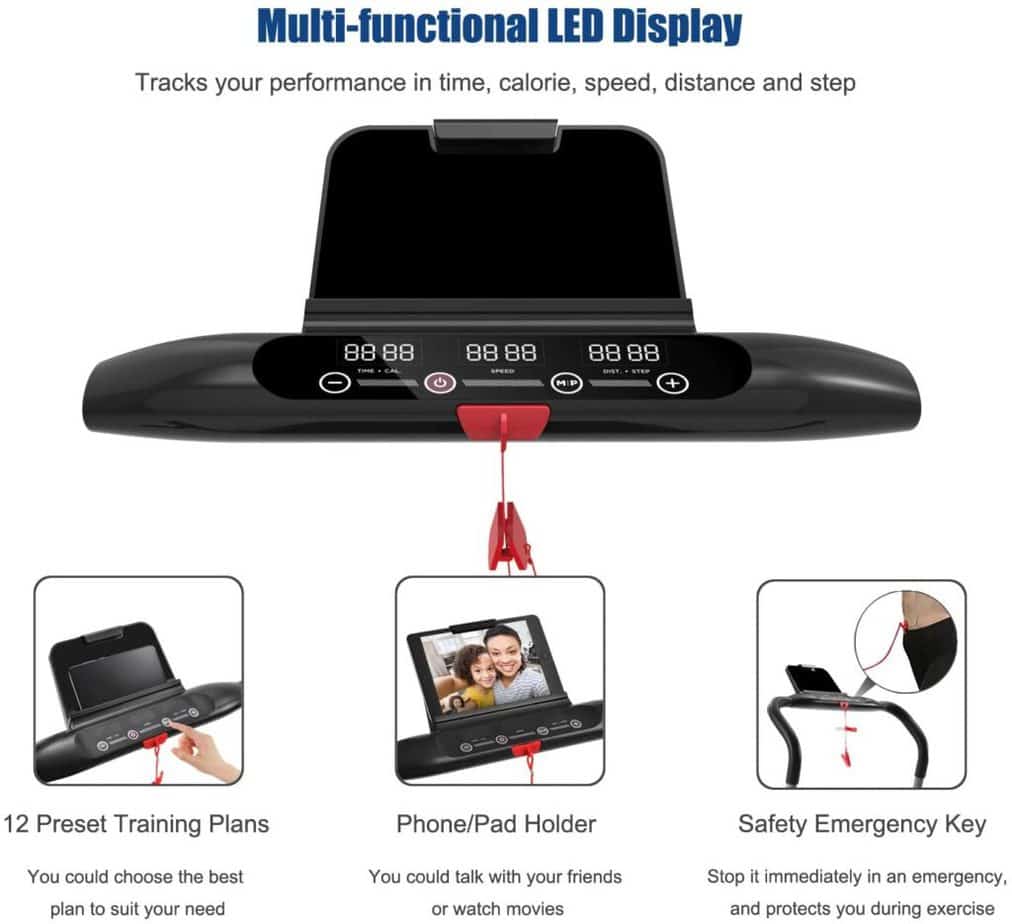 The console on the FYC JK1608E-1 Folding Compact Home Treadmill features a basic LED monitor that tracks Time, Distance, Calories, Step, and Speed. Its readability is good and cannot be diminished even when viewed in a poorly lit room.
The console also integrates 12 preset workout programs that have different predefined speed levels. In other words, when any of the workout programs is selected, a certain speed level is automatically assigned to it.
However, when it is on manual mode, the user can control the speed range or level through the +/- buttons on the console.
The console has fewer navigation buttons. Aside from the aforementioned speed buttons, there is also the Mode/Program button, the Start/Stop button, and the Safety Key.
The Safety Emergency Key is usually attached to the user's outfit for the sole purpose of automatically turning off the treadmill in case of slipping or accidentally falling during a workout to prevent an injury.
There is no Pause button, and this means you will be forced to turn off the treadmill even if you wish to take a few seconds break from exercising. Unfortunately, doing so will lead to the monitor resetting and losing your previous workout data.
However, you can safely and quickly exit your workout by stepping on the wide textured side rails without having to turn off the treadmill, hence, retaining the existing workout data on the monitor.
Accessory
There is a tablet holder included on the console for a Smartphone or tablet device placement. This enables you to make use of your device for making/taking calls, watching a movie, or listening to music while working out.
Its position is strategic because it provides a clear view of the screen and any device placed on it will never interfere with the view of the treadmill's monitor.
Moreover, it can be removed whenever you want.
Storage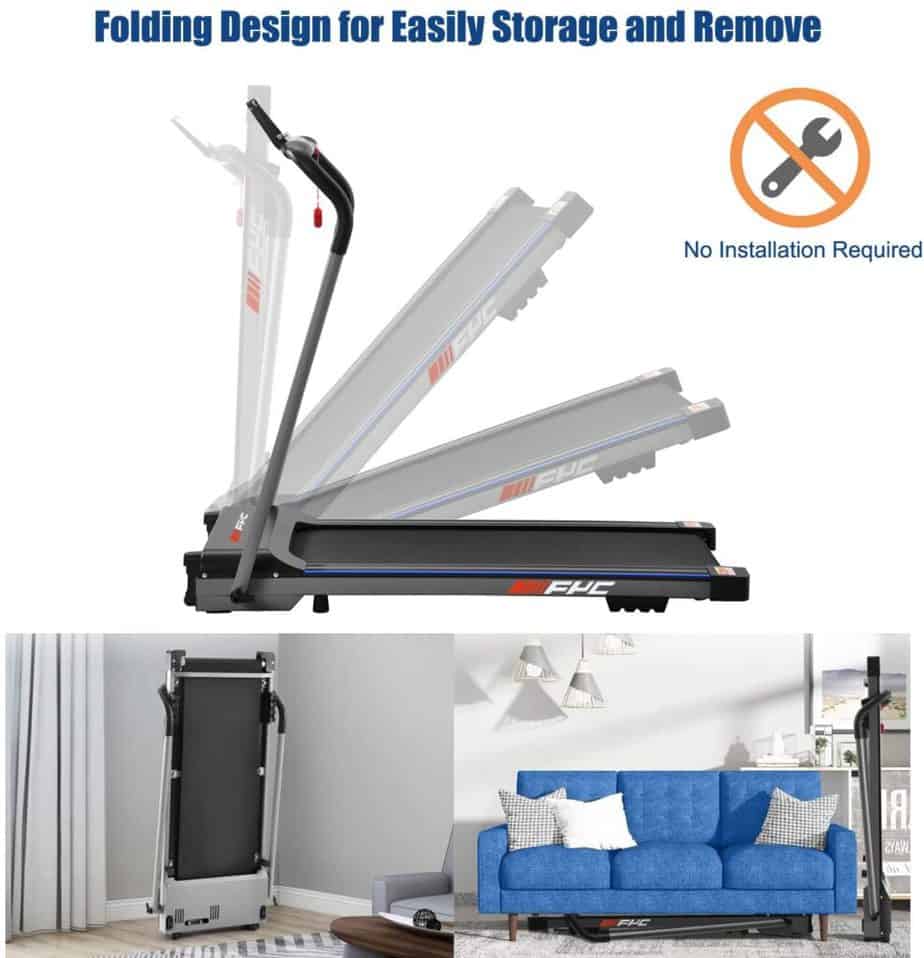 The storage process of the FYC JK1608E-1 Folding Compact Home Treadmill is easy because it is lightweight, portable, and foldable.
It only weighs 50 lbs./22.6 kg and there are transport wheels at the front base area. Its assembled dimensions are 51.1'' long by 25.5'' wide by 7.9'' high.
In other words, the treadmill can be stored vertically next to a wall, or horizontally under the bed or couch that has at least 10'' clearance underneath.
Approval Rating
Amazon customers have a favorable view of this home treadmill. The majority of them have expressed their satisfaction regards to how useful and compact it is.
Pros/Features Overview
It is compact, foldable, and lightweight; hence, it doesn't take up space for workouts and storage
There are transport wheels for easy relocation process
It is sturdy and stable enough to accommodate users that are up to 220 lbs./100 kg in weight
The smooth and quiet 1.9 horsepower motor provides a speed range of 0.5-6.5 mph suitable for walking and jogging purposes
Its operation doesn't interfere when you choose to watch a TV show or listen to music, neither does it disturb the family or the neighbors
The LED monitor tracks Time, Distance, Speed, Calories, and Steps with high readability, essentially keeping you focused and motivated toward achieving your fitness goals
There are 12 preset workout programs for workout diversity and challenges
A removable tablet holder for entertainment purposes is included
The treadmill features wide textured side rails for safe and quick workout exit without turning the treadmill off
Textured and cushioned running surface
Low maintenance
Assembly is not required
Cons
No heart rate monitoring function
No pause button
No incline system
Warranty
Product Dimensions & Specifications
Length: 49.2''
Width: 25.5''
Height: 45.6''
Folded dimensions: 51.1'' L x 25.5'' W x 7.9'' H
Shipping dimensions: 53'' L x 27'' W x 8.6'' H
Tread belt size:
Net weight: 50 lbs./22.6 kg
Gross weight: 58 lbs./26.3 kg
Maximum user weight capacity: 220 lbs./100 kg
Frame: Black steel
Motor: 1.5 horsepower
Speed range: 0.5-6.5 mph
Rated voltage: 110V,50Hz
Monitor: LED
Program: 12
Transport wheels
Tablet holder
Shipping
The FYC JK1608E-1 Folding Compact Home Treadmill is shipped in a box that weighs 58 lbs./26.3 kg with dimensions of 53'' long by 27'' wide by 8.6'' high.
Amazon provides free shipping and delivers the product within a few days.
Assembly
The treadmill arrives 98% assembled. This means you only need to tighten up the masts/handlebars and it will be ready for workouts.
This takes only a few minutes.
Maintenance
Always keep the treadmill clean, especially the running surface. Do store it in a cool and dry area and do not expose the console to excessive heat, moisture, or liquid.
Finally, examine the parts before use to ensure they are tight and in good order.
Conclusion
If you wish to walk and jog in the comfort of your home, then the FYC JK1608E-1 Folding Compact Home Treadmill might be a good companion that helps you do just that.
It is affordable, foldable, compact, portable, and lightweight. In other words, it doesn't require too much space for workouts, and it could easily be put away and be stored in most unlikely places like under the bed or couch.