The FUNMILY Indoor Stationary Exercise Bike is certainly not one of the cutting-edge machines out there, but it does offer the value that is equivalent to its cost, if not more.
It passes the ASTM standard and SGS certification test that proves it to be ergonomically and solidly constructed.
Due to its compact and portable design, users that have limited workout & storage areas would be happy to acquire it.
It supports a higher maximum user weight capacity of 330 lbs./149.6 kg and also has a heavy-duty 40 lbs. /18 kg perimeter weighted flywheel that essentially maintains consistent momentum for a smooth ride.
Different users will be able to use it because of its adjustability.
Click right here to have a peek at the FUNMILY Indoor Stationary Exercise Bike.
Frame and Construction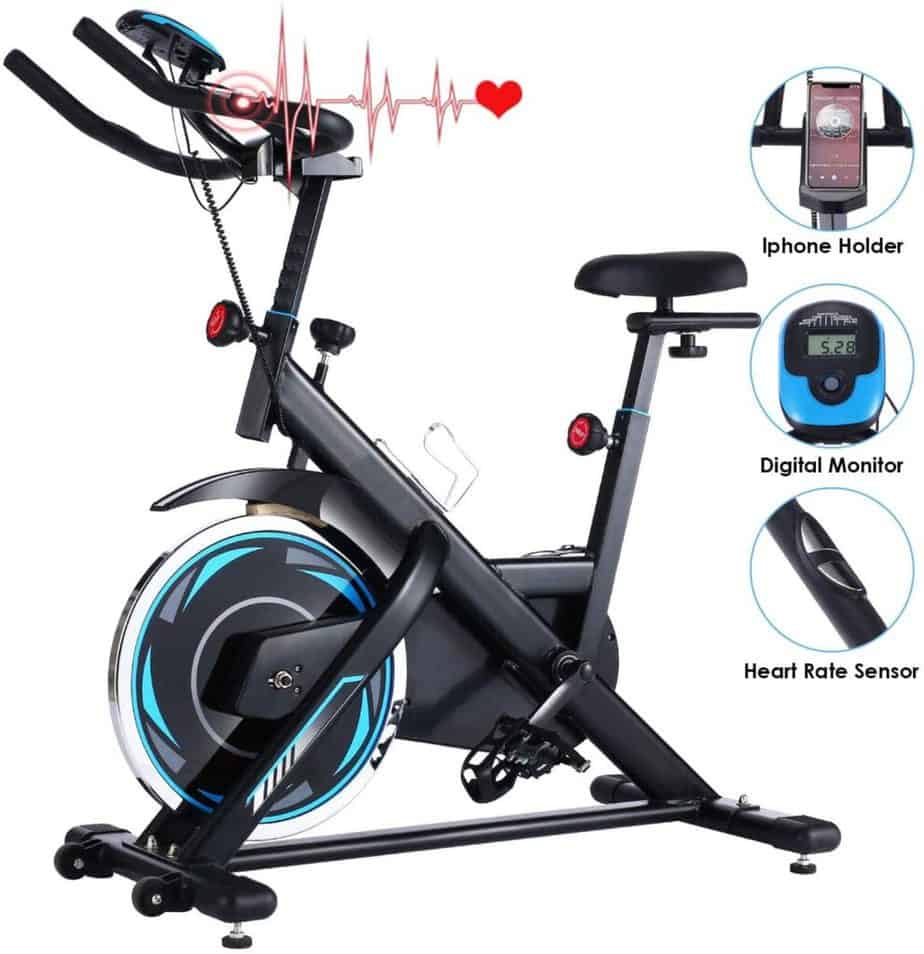 The FUNMILY Indoor Stationary Exercise Bike is available in 3 color variants that include bright black, Silver, and Black. They are one and the same, except for the color.
That said, the bike features a durable AV steel structure that is coated with anti-rust paint. Hence, the frame lasts longer without deterioration, and it supports a higher maximum user weight capacity as well.
The flywheel and the belt guards are made of ABS material.
Users will experience good stability while engaged in a vigorous workout due to the base that integrates adjustable steel stabilizers. This means, even on a crooked surface, the bike's base can be adjusted to enhance its stability.
Also, the use of a protective rubber mat makes it firmer, particularly, if it is to be used on a rug carpet.
Since it only weighs 78 lbs./35.3 kg, it is easy to move the bike around the room or apartment via the integrated front-mounted transport wheels.
The assembled dimensions are 48'' long by 22'' wide by 45'' high, and as a result, it will need a workout area with perimeters of 4' length by 1'9'' width.
For easy access and safety during workouts, it is recommended to leave an extra clearance of at least 2' around it, especially if it's going to be used in a confined area.
While a ceiling height of 7'5''-8' high will be suitable for everyone including those that wish to perform stand-up pedaling.
The Seat of the FUNMILY Indoor Stationary Exercise Bike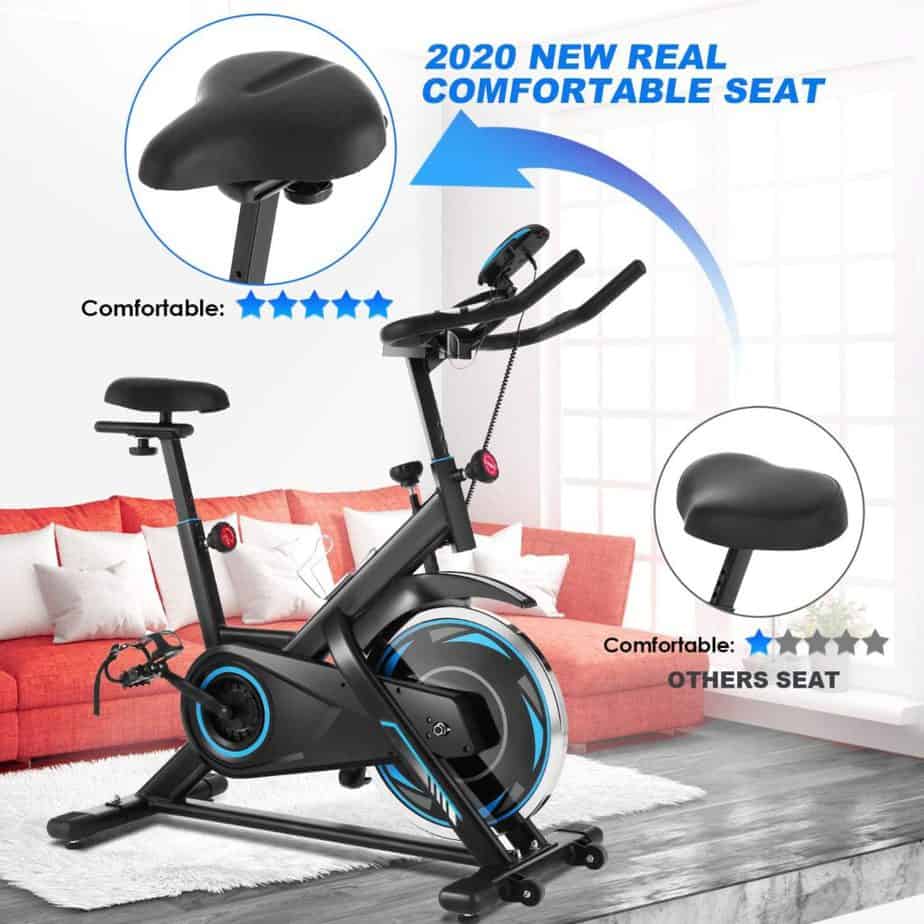 The seat is larger than a standard spin bike saddle. It is ergonomically designed and padded with dimensions of 10.9'' length by 9.8'' width by 2.4'' height.
But in reality, it might not be as comfortable as you may expect. Thus, you can improve it by using a gel seat cover or working out with padded cycling shorts. It is also possible to swap it for another seat of your choice since the connection mechanism is standard, so, options are widely available.
The seat is 4-way adjustable, meaning it can be adjusted vertically (upward/downward) & horizontally (fore/aft). As a result, individuals that have inseams (length of inner thigh to the ankle) between 28'' – 40'' can conveniently be accommodated.
The Handlebars
The FUNMILY Indoor Stationary Exercise Bike has a 2-way (upward/downward) adjustable handlebar which enhances the bike's customizability.
Since it is multi-grip designed and coated with anti-slip rubber foam material, users can exercise in different postures. and even longer without experiencing slippage or blisters in the palms.
The heart rate sensors are also integrated for reading and transmission of the pulse rate data to the monitor.
The Pedals
This bike incorporates aluminum alloy anti-slip toe caged pedals with adjustable safety straps. They accommodate most foot sizes and provide maximum footing stability. Therefore, your feet are secure no matter how intense a workout gets.
However, the pedals cannot be ridden with special or clip-in shoes, but you can switch them for SPD pedals since they have standard 9/16'' thread.
They are tough enough to hold up for stand-up pedaling by users that are within the stipulated user weight capacity of 330 lbs./149.6 kg.
The Drive
The FUNMILY Home Cycling Bike is equipped with a belt drive system that is popularly known for its silent and quiet operation. Users can work out at any time of the day without disturbing the family or the neighbors.
The drive system comprises a durable anti-stretch belt, pulleys, solid cranks, and 40 lbs./18 kg perimeter weighted flywheel. Periodic lubrication or tensioning is not required; in other words, it is maintenance-free as opposed to a chain drive system.
Since the flywheel and the pedals are fixed (they spin simultaneously), it is possible to pedal in reverse if you wish to diversify your workouts and tone more muscle groups.
However, it is not possible to coast as one could on a road bicycle. Hence, it is important to apply the emergency brake by pushing the tension knob down whenever you wish to quickly stop pedaling.
Resistance
The FUNMILY Indoor Stationary Exercise Bike has a friction resistance system that consists of a felt brake pad, the tension control knob, and the flywheel.
Resistance is generated when the felt brake pad comes in direct contact with the chromed top surface of the flywheel.
To increase or decrease its intensity, simply twist the tension knob clockwise or counterclockwise, respectively.
There are no predefined resistance levels as the case with some indoor cycling bikes. Instead, you need to twist the tension knob either way until you feel you have the suitable resistance intensity for a workout.
This provides a range of workout difficulties that are suitable for everyone, and that includes beginners, intermediaries, and advanced athletes.
Ensure to saturate the felt brake pad with silicon-based oil to prevent any potential squealing sound when the resistance is engaged. This also slows down the rate at which the felt brake pad wears out, thus, it lasts longer.
The Console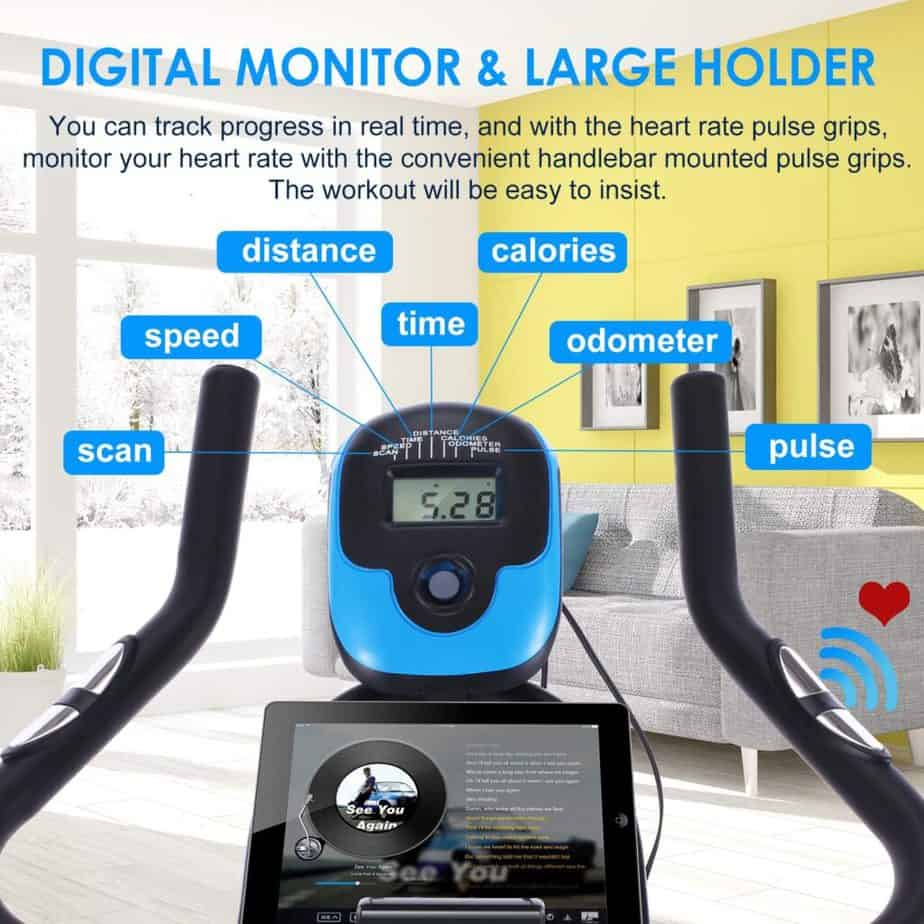 This model has a console that is rather basic. It doesn't have any advanced function except that it features a non-backlit LCD monitor that tracks workout stats such as Time, Distance, Speed, Calories, Odometer, and Pulse.
It has a SCAN function that displays the metrics one at a time after every few seconds since they can't be shown all at once. But if you want, you can override it to set a certain workout value to display constantly instead.
The battery-powered monitor is easy to view as long as the illumination in the room is good.
Bear in mind that the console is not telemetric, therefore, you can only track your pulse rate when the handlebars with the contact HR sensors are held during a workout.
Accessory
There is a tablet holder that is designated on the handlebar. It is designed for the placement of a Smartphone/tablet device for the sole purpose of watching a movie or listening to music while working out.
A water bottle holder is also integrated within arm's reach so that you can maintain proper hydration.
Storage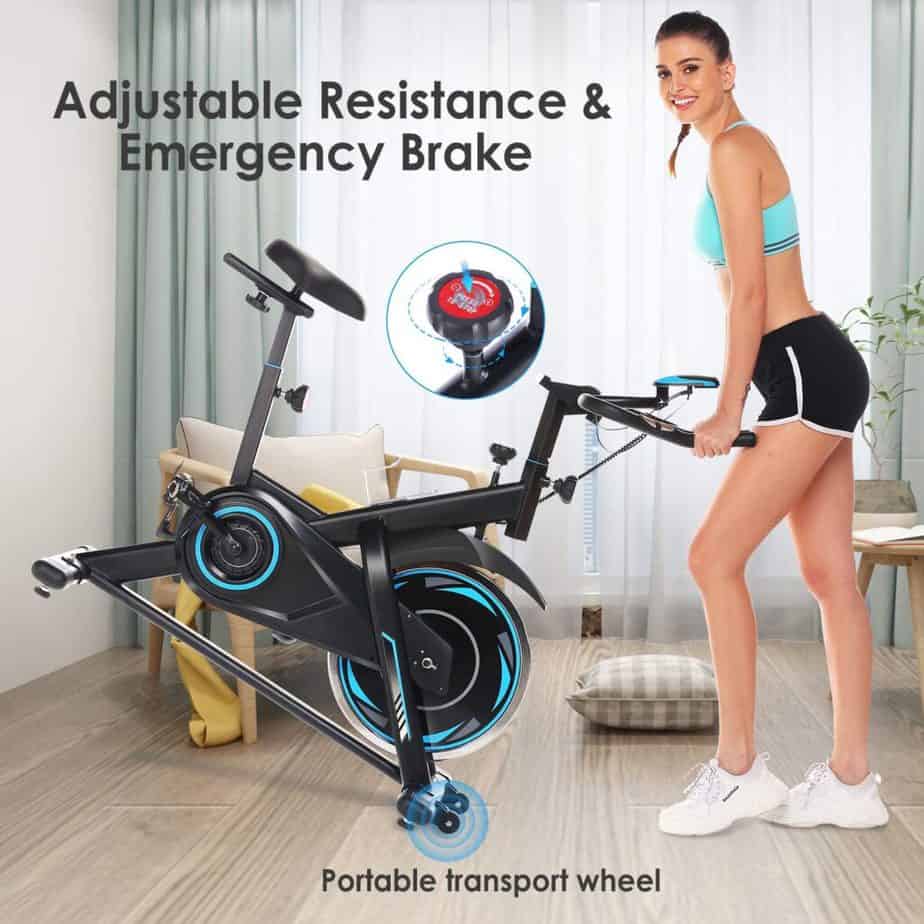 A user can easily move the FUNMILY Indoor Stationary Exercise Bike from one spot to another in a room due to the transport wheels at the front base.
It is not foldable but it is compact, therefore, an area with perimeters of 4' length by 1'9'' width should suffice for storage.
It could be stored in places like under the stair case, the garage, or better still, be left on a dedicated workout area.
Pros/Features Overview
It features an AV anti-corrosion steel frame
Supports a higher maximum user weight capacity of 330 lbs./149.6 kg
Its robust base framework establishes stability
The bike is customizable; hence, users that have inseams between 28''-40'' will be able to utilize it
Its large and padded seat offers decent comfort
The foam coated multi-grip handlebar allows you to workout in different postures safely and comfortably
Toe caged pedals with adjustable safety straps provide maximum footing stability, and they can be swapped for SPD pedals
The operation of the bike is silent, quiet, and vibration free
The resistance system provides low to high workout intensities suitable for everyone
Its LCD monitor tracks workout progress by displaying real-time data such as Time, Distance, Calories, Speed, Odometer, and Pulse
EKG contact sensors for heart rate monitoring
The bike provides aerobic exercises that effectively lose weight, tone muscle groups and improve overall physical fitness
Water bottle and tablet holders included for keeping proper hydration and entertainment
Requires low maintenance
Easy to assemble
Cons
The monitor is basic and non-backlit
The seat may not be very comfortable
Warranty
1 Year free replacement for all parts
Product Dimensions & Specifications
Length: 48''
Width: 22''
Height: 45''
Net weight: 78 lbs./35.3 kg
Maximum user weight capacity: 330 lbs./149.6 kg
Frame: Steel
Flywheel: 40 lbs./18 kg
Drive: Belt
Resistance: Friction
Seat: 4-way adjustable, dimensions; 10.9'' L x 9.8'' W x 2.4'' H
Handlebar: 2-way adjustable
Pedals: Toe cages
Inseam: 28''-40''
Monitor: Non-backlit LCD
Heart rate monitoring: EKG contact
Water bottle holder: Yes
Tablet holder: Yes
Transport wheels: Yes
Shipping
Amazon charges $15 for the shipping and makes the delivery in a few days.
Assembly
Assembling this unit is easy and straightforward. Since it arrives with the major components preassembled, you are only expected to attach the seat, the handlebar and their posts, the front and rear stabilizer bars, the pedals, and the console.
It takes about 30 minutes, more or less, to unpack and completely assemble it.
An instruction manual and the tools required for a successful assembly are included in the package.
Maintenance
Clean the bike at all times, and do store in a cool and dry place. Always keep the felt brake pad saturated with oil to prevent a squealing sound during workouts.
Inspect it before use to be sure that the parts are all good. Act accordingly if there is the need to re-tight, repair, or replace.
Conclusion
The FUNMILY Indoor Stationary Exercise Bike's performance is smooth and vibration-free; thanks to the integrated 40 lbs./18 kg perimeter weighted flywheel.
Finally, multiple users that weigh 330 lbs./149.6 kg or less can exercise with it in turn due to its sturdy construction and micro-adjustability.