The ECHANFIT CBK 1901P Magnetic Exercise Bike has a lot in common with the CBK 1901 Exercise Bike. The difference between the two is that the CBK 1901P's handlebar is 4-way adjustable and its flywheel is a lot heavier than the other; and for what it's worth, it also has a larger and cushioned seat with a breathable shock absorber design.
Its operation is smooth, quiet, and vibration-free due to the heavy precision-balanced flywheel, the belt drive, and the magnetic resistance system.
Click right here to have a peek at the ECHANFIT CBK 1901P Magnetic Exercise Bike.
The Frame and Construction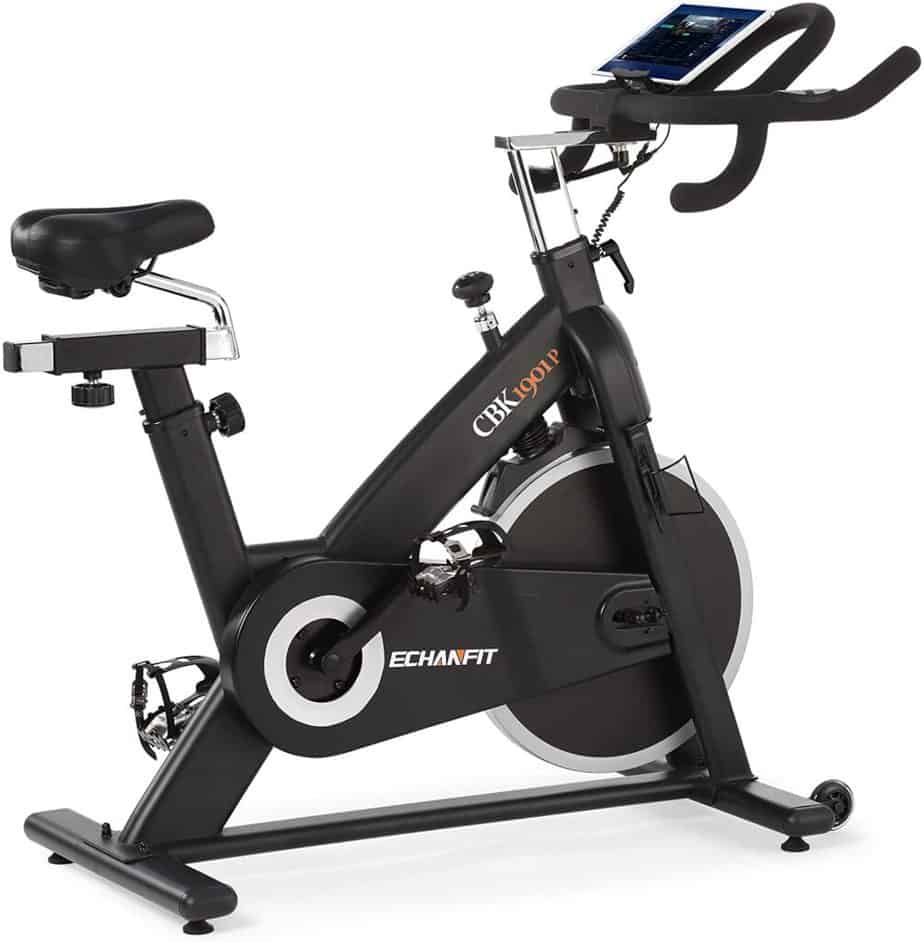 The ECHANFIT CBK 1901P Magnetic Exercise Bike is mainly made of durable and anti-corrosive steel. The seat (horizontal) and the handlebar posts are chrome plated, thus, they are rust-resistant with a decorative outlook.
Individuals that are up to 300 lbs. /136 kg or less in weight can exercise with the bike without any issue. Its micro-adjustability allows multiple users in a family to customize it for a perfect fit.
The bike has good stability due to the base framework that features front and rear stabilizers with adjustable rubber levelers. So, users can balance it on a crooked surface to prevent wobbling movement during workouts.
Relocating the bike from one room to another has never been easy because of the transport wheels at the front base.
The assembled dimensions are 47.44'' long by 21.65'' wide by 48.03'' high. To put it differently, the cycling bike requires a workout area with perimeters of 4' length by 1'8'' width, and a ceiling height of at least 7'- 8' (depending on your height) if you wish to be able to perform out-of-seat pedaling.
Also, it is important to leave an extra clearance of 2' around it for safe and convenient workouts.
The Seat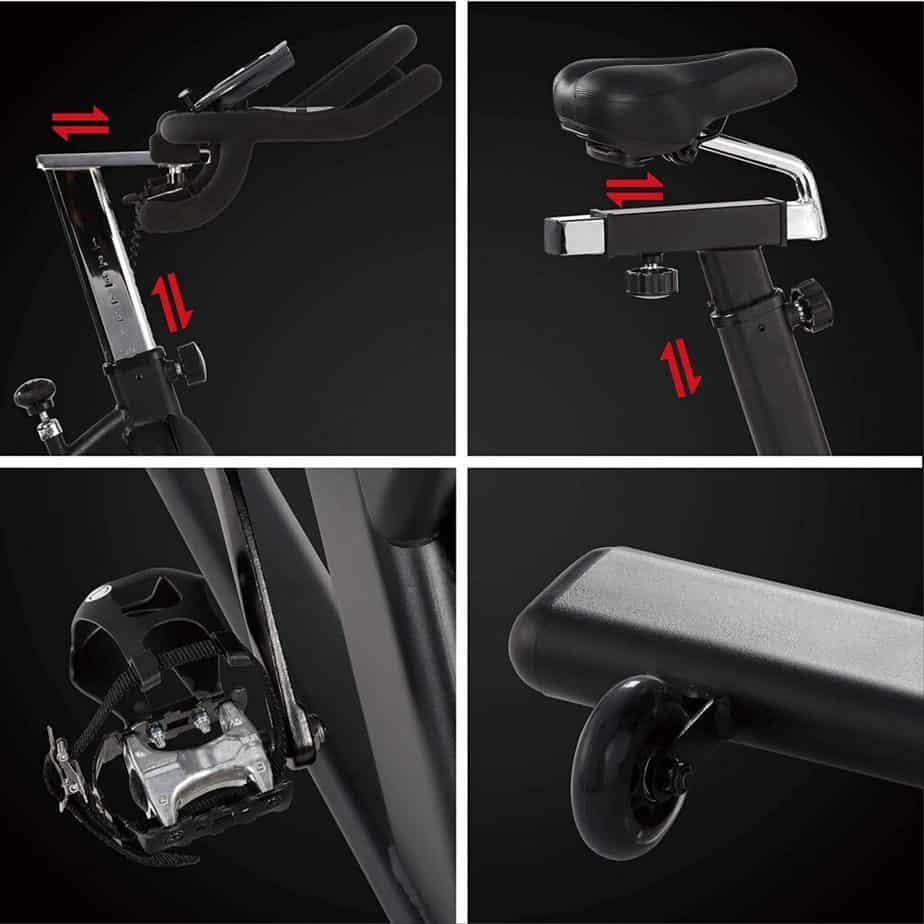 The CBK 1901P integrates a soft cushioned seat with a groove in the middle of it. Therefore, users should be able to work out longer without feeling horrible.
However, the use of a gel seat cover or padded cycling shorts could be used to improve the seat's comfort level.
Anyone whose height is between 5'3" to 6'6" can utilize the bike because the seat is adjustable vertically (upward/downward) between the heights of 34.65''- 40.55'', and horizontally (fore/aft) between the lengths of 0-2.95''. In other words, 34.65'' is the minimum floor to seat height position and 40.55'' is the maximum floor to seat height position.
The Handlebar
The multi-grip and ergonomic handlebar is also 4-way adjustable as the seat. This is an added advantage because it complements the bike's overall adjustability and allows flexibility in customizing the bike.
Users can adjust the handlebar vertically between a minimum height of 43.31'' to a maximum height of 48.03'', and horizontally between 0-95''.
It is coated (handlebar) with anti-slip rubber foam for secure and comfortable grips. Differently put, you can work out longer without experiencing slippage or blisters in the palms.
Moreover, its multiple grips allow you to ride in different postures to diversify your workouts, engage more muscle groups, and burn more calories.
The handlebar also integrates HR sensors for tracking and transmitting the pulse rate data to the monitor once held during a workout.
Pedals of the ECHANFIT CBK 1901P Magnetic Exercise Bike
The pedals on the ECHANFIT CBK 1901P Magnetic Exercise Bike are toe caged with adjustable safety straps. Thus, they provide maximum footing stability that cannot be compromised no matter how vigorous you pedal.
Standard gym shoes and different foot sizes can be accommodated.
However, to be able to use a pair of special spin shoes they need to be replaced with SPD pedals.
Drive
The CBK 1901P Exercise Bike is equipped with a belt drive system that comprises a durable anti-stretch belt, pulleys, a 3-piece crankset, solid crank-arms, and a 35 lbs./15.8 kg precision-balanced flywheel.
As opposed to a chain drive system, you are not required to periodically adjust or lubricate the drive, and its operation is smooth and quiet as well.
Hence, users can work out freely whenever they want and as long as they wish without violating other people's privacy. Also, they can enjoy watching a TV show, movie, or listening to music while they exercise without noise interference from the bike's operation.
Cycling in reverse to diversify and tone more muscle groups is possible because the drive is bidirectional, meaning the flywheel and the pedals spin concurrently.
Consequently, you can't coast on the bike, hence, you need to apply the emergency brake by pushing the tension knob down whenever you wish to stop pedaling to prevent an injury.
The Resistance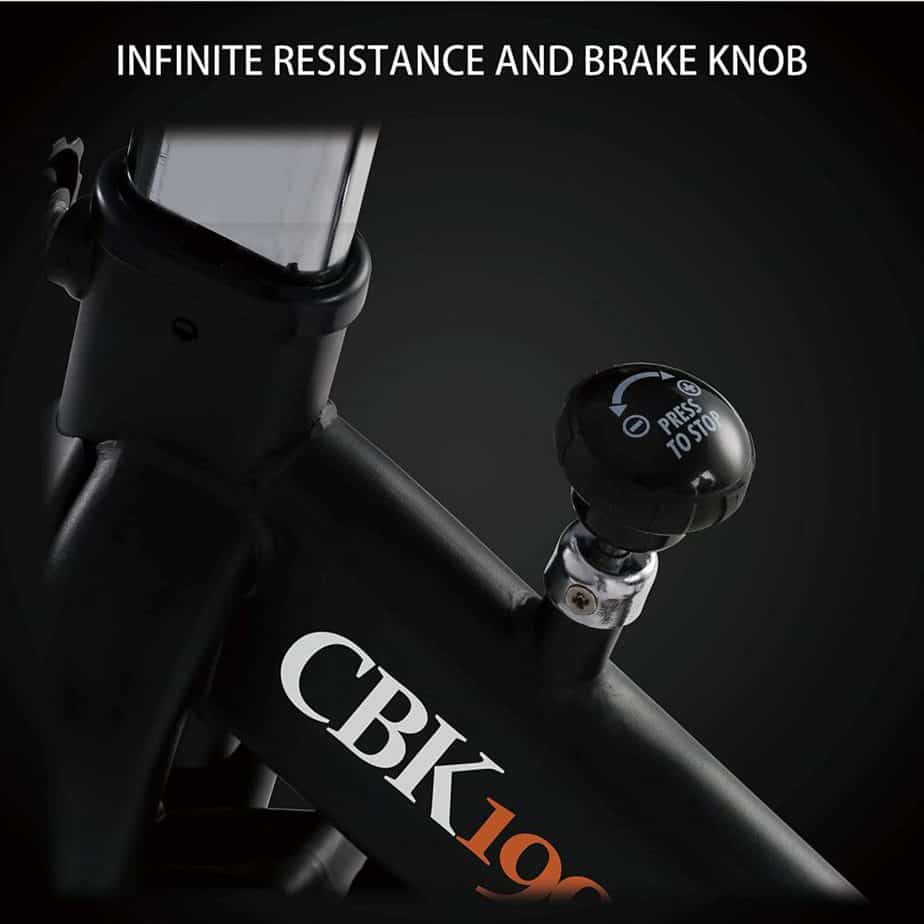 This bike has a manual magnetic resistance system with infinite adjustable levels. This means it has no predefined resistance levels as is the case with some other cycling bikes such as the Keiser, or the ASUNA Lancer.
However, these other bikes are often more expensive than the likes of this one.
That said, this resistance system provides different micro-adjustable levels that enable users to lose weight, and improve overall physical well-being.
It consists of a brake pad (with 5 magnets) that is interfacing the top surface of the flywheel while connected to the tension knob that is designated on the mainframe tubing. So, when the tension knob is turned clockwise or counterclockwise, the magnets emit magnetic fields around the flywheel, hence, generating increased or decreased resistance, respectively.
In this process, there is no friction since none of the components actually come in direct contact. Thus, no maintenance is required.
The operation of the bike remains smooth, quiet, and vibration-free even when the resistance is engaged.
The Console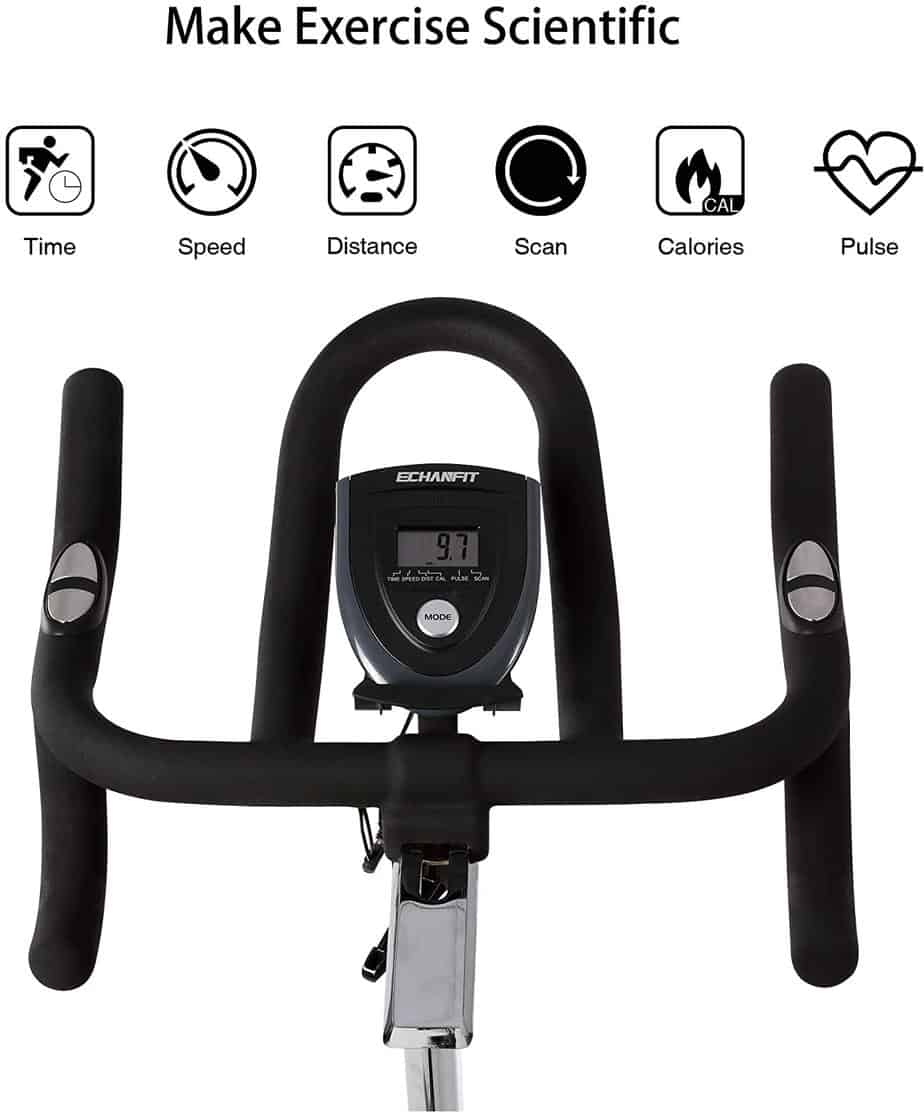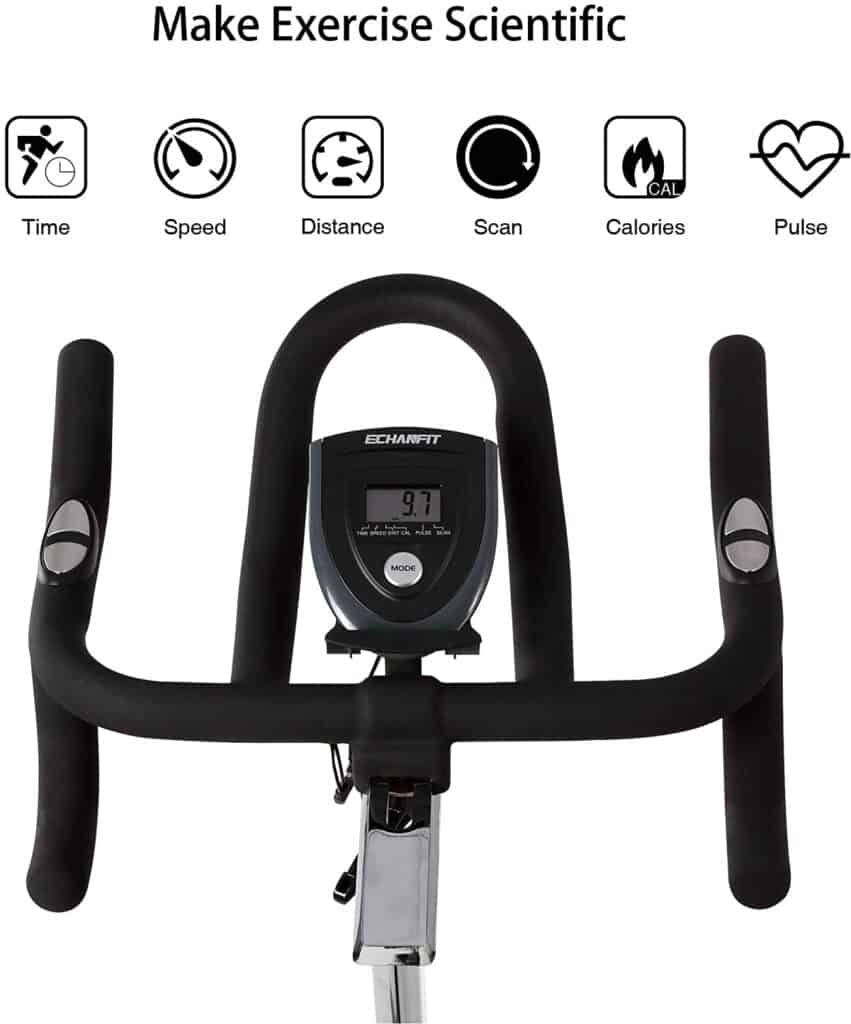 The console on the ECHANFIT CBK 1901P Magnetic Exercise Bike is basic. It features an LCD non-backlit monitor that tracks workout stats such as Time, Distance, Speed, Calories Burned, and Heart rate.
These metrics are displayed with good readability as long as they are viewed in a well-lit environment. Indeed, the tracking of the workout progress keeps users focused and motivated toward achieving their fitness goals.
The console is not telemetric, thus, the heart rate data can only be read and displayed when the EKG HR sensors are grasped during workouts.
Since the monitor's screen is small, it displays the workout data rotationally and continuously one at a time after every few seconds by the SCAN function. But if you wish to view just a particular workout stat constantly, you can override the SCAN function and set that instead.
The bike doesn't need to be plugged into a power outlet; it only needs 2 AAA batteries (included) for the monitor.
There is only a single navigation button on the console which is used for turning the monitor on/off or setting and resetting the display.
Although, the monitor automatically turns off after a few minutes of inactivity, and it turns back on automatically when the workout resumes.
Accessory
A water bottle holder and a tablet holder are attached to this bike for the sole purpose of maintaining proper hydration and keeping oneself entertained during a workout session.
The tablet holder can securely accommodate any size of a tablet device. Unfortunately, the monitor's screen gets blocked by any device that is placed on the holder.
Storage
The storage of the ECHANFIT CBK 1901P Magnetic Exercise Bike is easy and convenient because it is compact, lightweight, and portable.
It can easily be relocated via the front-mounted transport wheels, while an area with perimeters of 4' length by 1'8'' width will suffice for storage.
Pros/Features Overview
Compact and portable machine; it doesn't overwhelm your space
It is sturdy and durable
It supports a maximum user weight capacity of 300 lbs./136 kg
Its operation is smooth and quiet
Its 35 lbs./15.8 kg precision balanced flywheel provides consistent momentum for vibration-free performance
Its micro-adjustable design allows users of different heights and sizes to fit in perfectly
Users between the heights of 5'3'' to 6'6'' can be accommodated
The manual magnetic resistance system offers a range of workout intensities suitable for those that wish to lose weight, and improve overall physical fitness
The multi-grip handlebar allows users to train in different workout postures for better results
The seat is cushioned and grooved for lasting comfort
The toe caged pedals accommodate different foot sizes and provide optimum footing stability; they have 9/16'' thread, thus, they can easily be upgraded
There is an LCD monitor that tracks workout progress by displaying stats such as Time, Distance, Speed, Calories Burned, and Heart Rate
The bike is easy to assemble and requires little maintenance
Tablet and water bottle holders are included for proper hydration and entertainment
Cons
The monitor gets blocked when a device is placed on the holder
The monitor is not backlit
Warranty
Product Dimensions & Specifications
Length: 47.44''
Width: 21.65''
Height: 48.03''
Shipping dimensions: 41.5'' L x 34'' W x 8'' H
Net weight: 53 lbs./24.04 kg
Maximum user weight capacity: 300 lbs./136 kg
Frame: Anti corrosive steel
Flywheel: 35 lbs./15.8 kg
Seat: 4-way adjustable
Handlebar: Multi-grip designed, 4-way adjustable
Pedals: Toe cages with safety straps
Monitor: Non-backlit LCD
Drive: Belt
Resistance: Manual magnetic
Heart rate monitoring: EKG
Users heights: 5'3''-6'6''
Tablet holder
Water bottle holder
Transport wheels
Shipping
Amazon offers free shipping of this bike and gets it delivered in a couple of days.
Assembly
The assembly of the ECHANFIT CBK 1901P Magnetic Exercise Bike involve attaching the front and rear stabilizers, the seat, the handlebar, the water bottle holder, the pedals, and the console to the main core unit.
This process usually takes less than an hour to complete.
Also, the package comes with an instruction manual and the tools required for the assembly.
Maintenance
The cycling bike needs to be kept clean at all times, and do not expose the console to liquid, moisture, or direct sunlight.
Always inspect it before use to ensure that the parts are well tight and in good condition.
Conclusion
The ECHANFIT CBK 1901P Magnetic Exercise Bike is an affordable bike with a belt drive system.
It supports a maximum user weight capacity of 300 lbs./136 kg and accommodates users between the heights of 5'3'' to 6'6''.