The ECHANFIT Magnetic Indoor Exercise Cycling Bike (CBK 1901) is very similar to the ECHANFIT CBK 1902 Indoor Cycling Bike. They both share a lot in common except for one or two differences.
For instance, the ECHANFIT Magnetic Indoor Exercise Cycling Bike (CBK 1901) can track workout progress including heart rate monitoring; but the CBK 1902 doesn't. Another obvious difference would be the outlook design; you can easily tell that they are two different bikes even though they don't really have many differences in terms of functional features.
That said, the ECHANFIT CBK 1901 is a bike with a manual magnetic resistance system. Its operation is vibration-free, silent, and smooth. It is a low-maintenance bike as well, largely because of the integrated belt drive and the magnetic resistance systems.
The frame is made of heavy-duty steel that could support up to 297 pounds/134.7 kg maximum user weight capacity.
Its Q-Factor is around 177 mm/7 inches, narrow enough not to put excessive pressure on the ankles and the knees. The seat and the handlebar allow you to customize to fit for a prolonged comfortable workout.
A tablet and water bottle holders are also included for a tablet/smartphone device placement and for keeping water handy for hydration while exercising with the bike.
Another aspect that is worth mentioning is that the bike has a lightweight flywheel that weighs 19 pounds/8.6 kg. Great for interval training, suitable for the elderly folks and those suffering from joint pains or trying to recover from an injury.
Click right here to have a peek at the price of the ECHANFIT Magnetic Indoor Exercise Cycling Bike (CBK 1901) on Amazon.
The Frame and Construction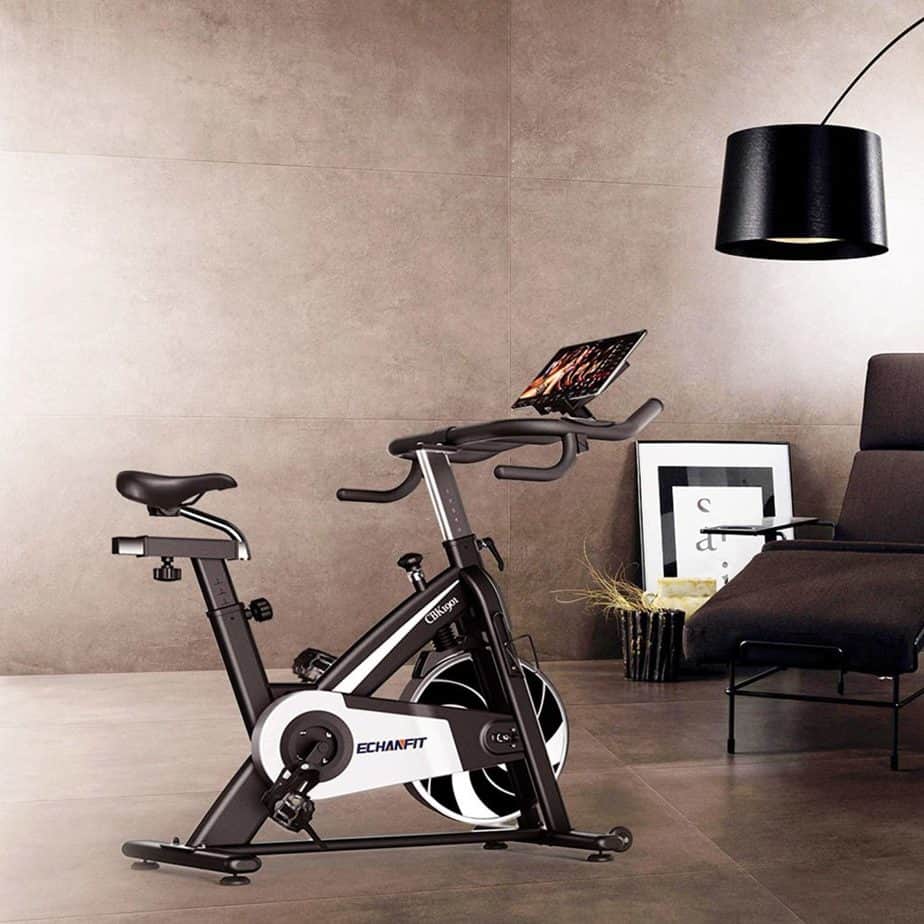 The anti-corrosive coated steel frame of the ECHANFIT Magnetic Indoor Exercise Cycling Bike (CBK 1901) is strong enough to hold up 297 pounds/124.7 kg maximum user weight capacity. As a matter of fact, its overall construction puts it in the category of the best indoor cycling bikes.
The bike is integrated with solid front and rear steel stabilizer bars with adjustable levelers underneath them. These levelers allow the user to make some adjustments that could balance the surface that might be crooked.
Even though the bike is lightweight, its overall weight of 79.4 kg/36 kg still helps to ground and improve the bike's stability. The transport wheels attached to the front base facilitate the relocation process of the bike.
Obviously, the bike won't overwhelm your space as it has a compact design. The overall assembled dimensions are 47.8 inches long by 21.6 inches wide by 50.8 inches tall. Differently put, the bike requires a workout or storage area of 4' long by 1'.8'' wide. Additional extra clearance of 1-2′ might be considered to be added at the rear and on each side of the bike for safety and convenience reasons and especially, if the bike is going to be used in a confined area.
The Seat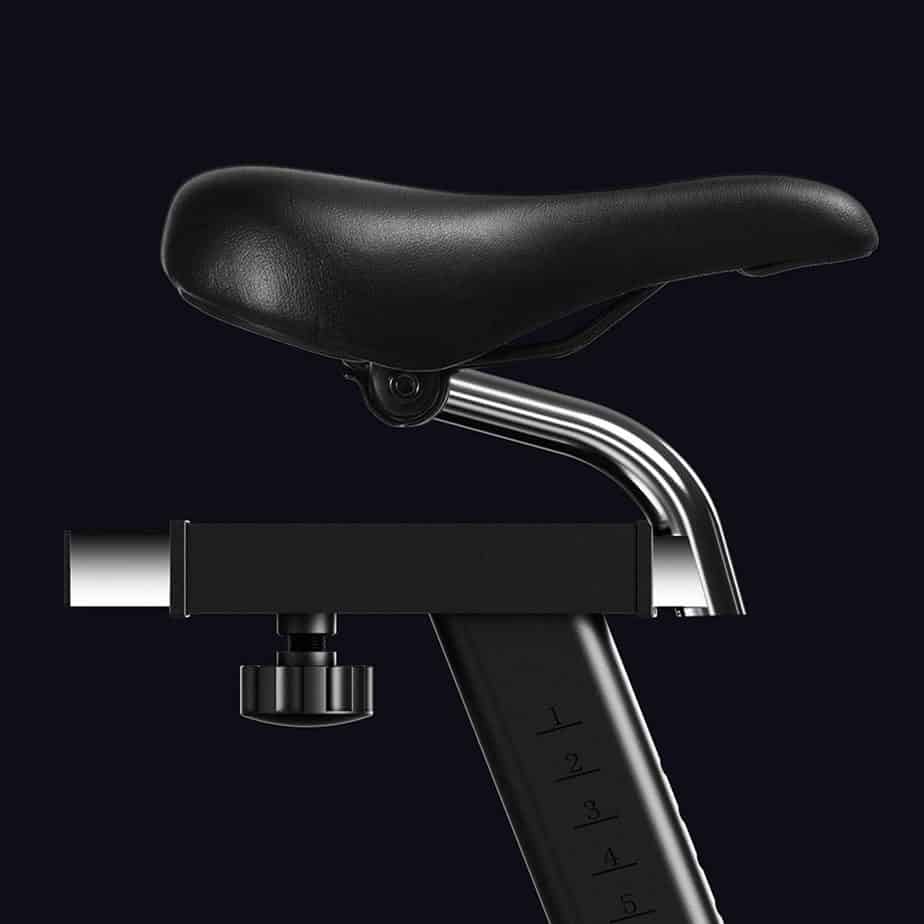 The PU seat is fairly comfortable and users have not complained about it. And even if there is any reason to improve its comfortability that can always be done with a gel seat cover or better still replace the entire seat with one that you feel that is more comfortable. The connection mechanism is standard; therefore, compatible options are widely available.
You can customize the bike by adjusting the seat vertically and horizontally. Thus, users between 5'1'' to 6'8'' can be accommodated.
The adjustments can easily be done in a few seconds and there are markings on the seat and the handlebar posts that enable the user to quickly reset them when another person may have altered them.
The Handlebar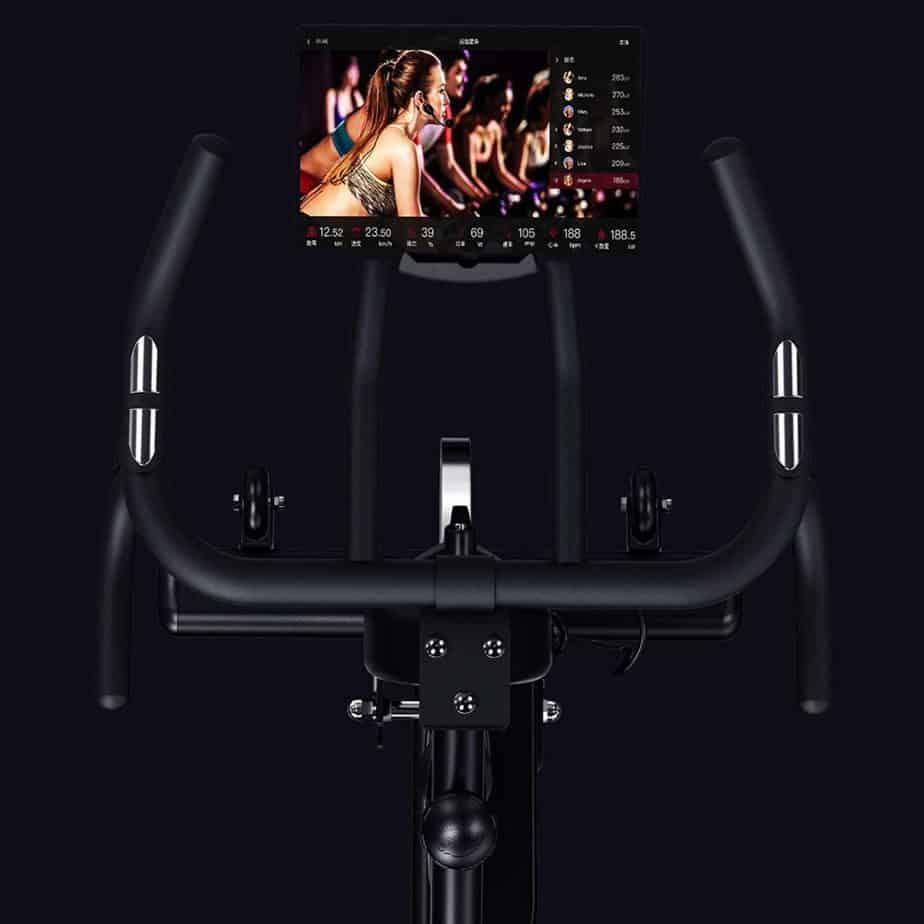 Unlike the seat, the handlebar can only be adjusted 2-ways. Nevertheless, it complements the bike's overall customization. The user can adjust it vertically (upward/downward).
The handlebar is integrated with a console for tracking workout progress and a tablet holder for the placement of a smartphone device for the purpose of taking calls, reading emails, and entertainment while exercising on the bike.
EKG heart rate sensors are also embedded in the handlebar so that pulse data could be transmitted to the monitor when held during a workout.
The handlebar has multiple hand positions that allow the user to exercise in a variety of workout postures. It is coated with a breathable rubber foam that provides secure and comfortable grips. Consequently, you will be able to work out longer without experiencing slippage or blisters in the palms.
The Pedals
The pedals that come with the ECHANFIT Magnetic Indoor Exercise Cycling Bike (CBK 1901) are toe cages that accommodate only standard gym shoes. It is expected considering the price tag of the bike.
However, they have a standard thread of 9/16'', which makes it easier for them to be replaced with another set of pedals. Thus, users may replace them with a set of SPD pedals if they wish to use a pair of spin shoes on the bike.
That said, the toe-caged pedals are secure and comfortable. They guarantee a secure and comfortable alignment during an intense workout.
The Drive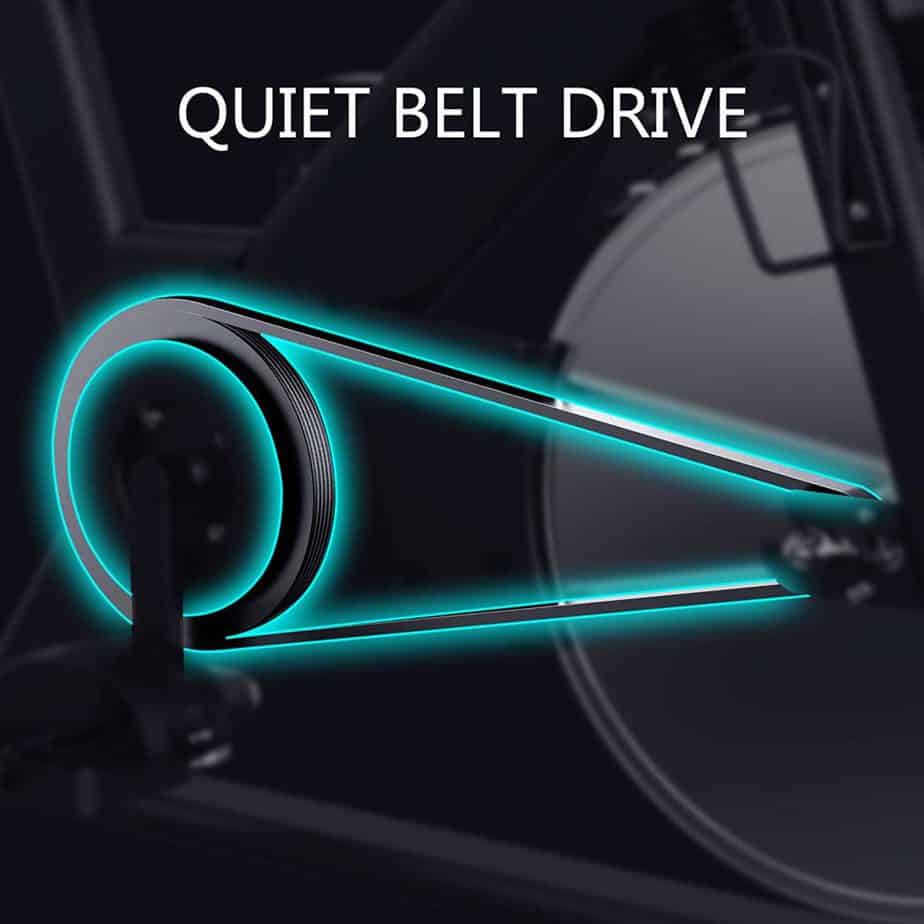 The ECHANFIT Magnetic Indoor Exercise Cycling Bike (CBK 1901) has a belt drive system.
This drive system comprises a heavy-duty belt, pulleys, solid crankset and crank-arms, the flywheel, and the pedals. Together, these elements provide a smooth and near-silent operation.
So, exercising with the bike when the family or neighbors are around won't constitute a nuisance.
The drive is bidirectional. It is possible to also pedal in reverse which gives you the opportunity to tone more muscle groups. But to coast on the bike is not possible as the flywheel and the pedals are fixed; they spin concurrently.
Finally, the drive is maintenance-free. Unlike a bike with a chain drive system that requires post lubrication and adjustment to help keep it running smoothly, the belt drive system doesn't need any of that. Although, the belt may need a replacement at some point in time.it may take many years or less depending on how frequent the bike is being used.
The Resistance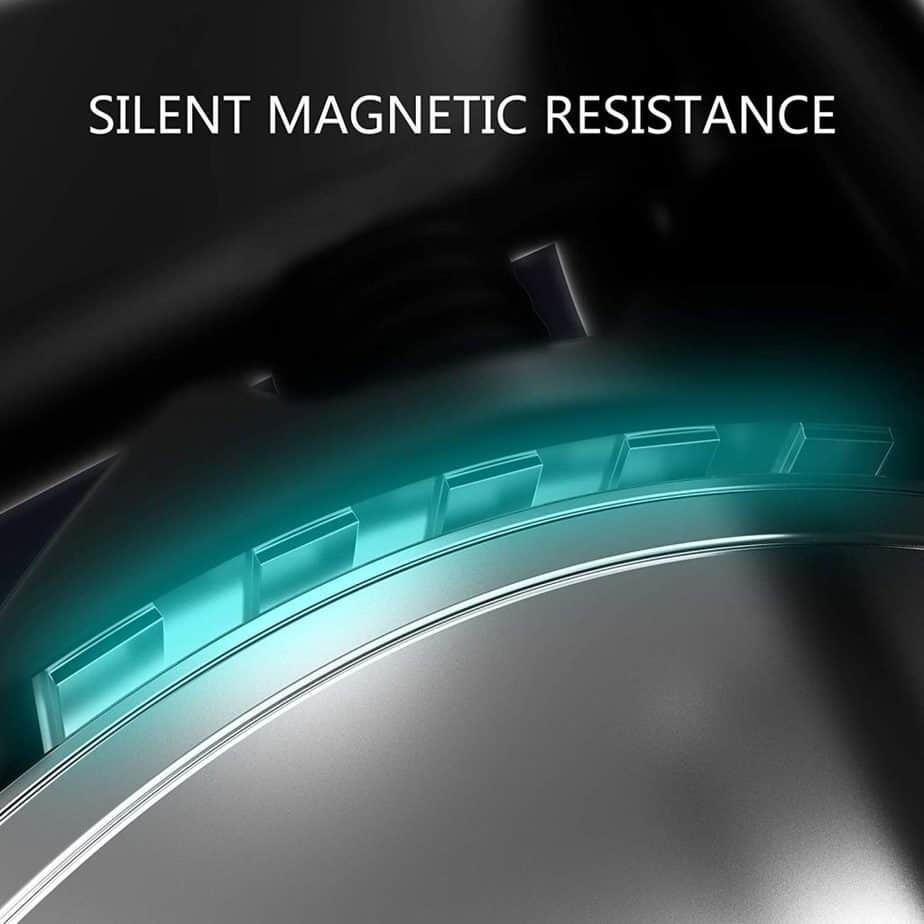 Indoor Cycling bikes usually come with either a friction resistance system or a magnetic resistance, and most entry-level bikes such as the ECHANFIT Magnetic Indoor Exercise Cycling Bike (CBK 1901) are equipped with a friction resistance system.
However, this bike is equipped with a manual magnetic resistance system, which puts it in a favorable position among its contemporaries.
The magnetic resistance system consists of a magnetic brake pad, the flywheel, and the control tension knob.
The bike doesn't vibrate when resistance is engaged due to the fact that the magnetic brake pad and the flywheel don't make any contact when generating resistance. Instead, the magnetic brake pad emits a magnetic field around the flywheel for the generation of resistance.
The control tension knob is used to increase or decrease its intensity. When it's turned clockwise the resistance increases and when turned counterclockwise it decreases, and when pushed downwards emergency brake (stop the flywheel and the pedals from spinning) is applied.
There are no predefined resistance levels, it's infinite. This means you adjust until you feel the right resistance intensity is suitable for you.
The Console
The console is one of the features on a bike that keeps users motivated and focused because to an extent users should be able to keep track of their workout progress. Some bikes come with a basic console while some come with an advanced console that includes a large and backlit display, online connectivity, and indoor classes.
That said, the ECHANFIT Magnetic Indoor Exercise Cycling Bike (CBK 1901) is an entry-level bike, so it is understandable that it has a basic console. A console that features a non-backlit LCD monitor and a single navigation button.
The monitor keeps track of time, speed, distance, calories, and heart rate. It has a SCAN function that makes it possible for the monitor to continuously displays the workout stats one at a time after every few seconds.
A certain workout stat can also be set to display constantly as the user pleases.
The monitor runs on batteries which are also included in the package. No need to plug the bike into a power outlet to make it functional.
To save the batteries' power, the monitor automatically turns OFF when there is no activity on the bike for a few minutes and it powers ON when activity resumes.
Accessory
There are tablet and water bottle holders on the bike. This means the user can keep water handy to maintain hydration and can also keep a smartphone device within reach for taking calls, browsing the internet, and entertainment during a workout session.
The tablet holder allows you to keep even a tablet device on it but it will block the view of the display screen making it impossible to observe your workout stats.
Storage
Moving the ECHANFIT Magnetic Indoor Exercise Cycling Bike (CBK 1901) to storage is pretty easy. It is a lightweight bike that is incorporated with two transport wheels.
Simply tilt it and roll it away for storage.
Since it is not foldable, it can't be stored in a standard closet. The ideal place for storage should be a garage or just next to a wall in the room.
Pros/Features Overview
Durable, sturdy and stable
Supports 297 pounds/134.7 kg maximum user weight capacity
Easy to move to storage
Compact and doesn't take up much space
Its operation is smooth and quiet
Customizable and suitable for users between 5'1'' to 6'8''
Magnetic resistance system that runs without vibration
The seat is comfortable and can be replaced
The toe cages pedals are comfortable, safe and could easily be replaced
LCD monitor tracks the workout progress, including pulse rate
Easy assembly
Maintenance-free
The multi-grip handlebar is comfortable and provides a variety of workout positions
Reverse pedaling is possible
A tablet holder is included
A water bottle holder is included
Great warranty
Cons
The monitor is basic and non-backlit
Warranty
Lifetime on the Frame
2 Years on the Parts
30 days money back
Product Dimensions and Specifications
Length 47.8''
Width 21.6''
Height 50.8
Weight: 79.4 pounds/36 kg
User weight capacity: 297 pounds/134.7 kg
Flywheel: Dia. 17.72'', 19 pounds/8.6 kg
Drive: Belt
Resistance: Manual magnetic, infinite
Console: Basic non-backlit LCD monitor, tracks time, distance, speed, calories, and heart rate
Transport wheels: Yes
Tablet holder: Yes
Water bottle holder: Yes
Seat: PU padded; 4-way adjustable
Handlebar: Multi-grip designed; 2-way adjustable
Users height: 5'1'' to 6'8''
Shipping
The ECHANFIT Magnetic Indoor Exercise Cycling Bike (CBK 1901) is shipped in a box that weighs 91 pounds/41.5 kg.
Amazon provides free shipping and makes delivery within days of order.
Assembly
The bike is not complicated to assemble. As a matter of fact, it's straight forward and it comes with an instruction manual that guides you through the process.
Tools for assembly are also included in the package.
It takes anywhere from 30 minutes or more (depending on one's dexterity) to completely assemble the bike.
Maintenance
No serious maintenance is necessary.
Basically, you are required to keep the bike clean at all times. Ensure that you examine it before use for any loose or broken part that may need to be re-tightened, repaired, or replaced.
Conclusion
The ECHANFIT Magnetic Indoor Exercise Cycling Bike (CBK 1901) comes as a complete package entry-level bike. The reason is that it is affordable and still has a magnetic resistance system and an LCD monitor.
ECHANFIT Magnetic Indoor Exercise Cycling Bike (CBK 1901) Review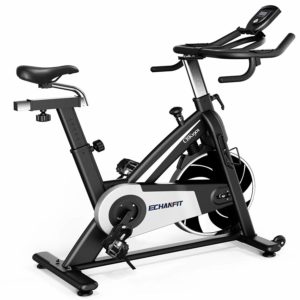 The ECHANFIT Magnetic Indoor Exercise Cycling Bike (CBK 1901) comes as a complete package entry-level bike. Reason being that, it is affordable and still.
Product Brand: Echanfit
Product In-Stock: InStock