The FISUP Indoor Magnetic Rowing Machine is an entry-level unit that has a lot of positive reviews on Amazon at the time of this article.
It is primarily a cardiovascular machine that burns tons of calories with a low-impact effect on the joint, and it could secondarily be used for upper body strength training as well.
The operation is smooth and near-silent due to the integrated belt drive and magnetic resistance system.
Unlike most rowing machines, this one is not overly large to overwhelm your space, and it can be stored vertically to even take a lesser space for storage.
Users will be able to track their workout progress with good readability due to the incorporated LED monitor.
Click right here to have a peek at the FISUP Indoor Magnetic Rowing Machine on Amazon.
The Frame and Construction
The FISUP Indoor Magnetic Rowing Machine's external structure elements include base/support and the drive system shrouds that are made of black/yellow durable plastic (ABS), aluminum rail, and the anti-corrosion coated solid alloy steel frame.
It supports a maximum user weight capacity of 265 lbs./120 kg.
As aforementioned, it is much smaller than most magnetic rowing machines. Its overall assembled dimensions are 50'' long by 18'' wide by 30'' high. Simply put, it will require a workout area with perimeters of 4'2'' length by 1.5'' wide.
Although, an extra clearance of 2' is needed around it for a safe and convenient workout experience.
The floor to seat height is about 9''.
The machine is not foldable, but since it can be stored vertically, it only takes a fraction of its workout space for storage. Moreover, it can easily be moved through the transport wheels at the front base.
Speaking of, the base features a durable V-shaped plastic support at the rear and double steel stabilizers at the front part. These provide the much-needed stability that holds up during workouts.
The Seat of the FISUP Indoor Magnetic Rowing Machine
The FISUP Indoor Magnetic Rowing Machine is equipped with a seat that is large, and padded with a ribbed surface. This means users won't slip off during aggressive rowing.
Now, you may wonder if the seat is comfortable. Well, thus far, no complaints have been recorded concerning the seat. However, it can be improved by using additional foam if need be.  
The seat and the incorporated 3 big rollers are attached to the aluminum rail for smooth and quiet back and forth movements.
Since the rail is not very long, users that are above 6' might not be able to fully stretch their legs during workouts, and older users with arthritis may find it difficult getting on and off the unit due to the 9" floor to seat height.
The Handlebar
The handlebar on this machine is attached to a 1'' nylon strap that is anchored to the recoil system.
It is coated with a soft anti-slip rubber foam that prevents soreness or sweaty palms that could impede the user's ability to workout longer, and Its length is also adequate for individuals of different shoulder widths.
The Pedals
The large and textured pedals are made of strong and durable plastic and metallic core; thus, they can securely and comfortably accommodate different foot sizes.
They also feature adjustable safety straps and 2'' heel guards that ensure maximum footing stability during intense workouts. They pivot to improve the adherence of the foot movement thereby ensuring that the ankles are not stressed.
The Drive/Resistance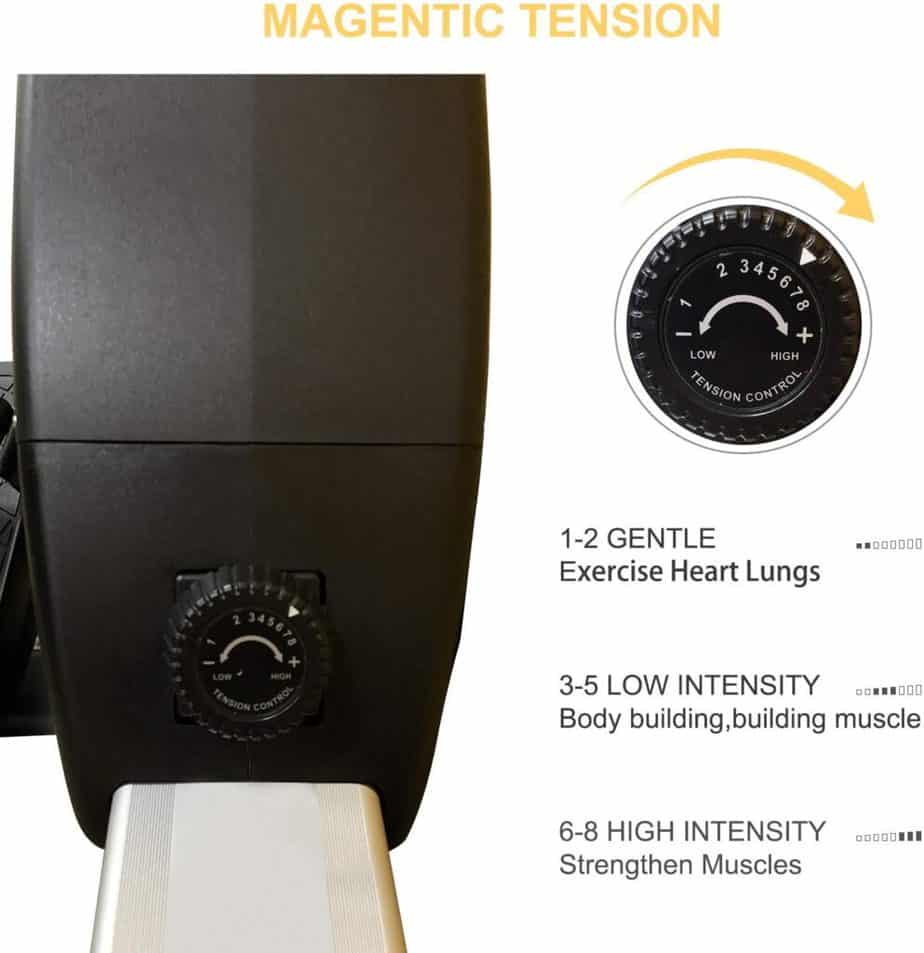 The FISUP Indoor Magnetic Rowing Machine is obviously a belt-driven unit. Its drive mainly consists of a nylon belt, a recoil system/flywheel, and a handlebar. As a result, unlike rowers with a chain anchor, its operation is smooth and nearly silent, and no periodic lubrication will be required.  
The resistance system is magnetic and manually adjustable between 1-8 levels. This comprises magnets that discharge magnetic fields around the flywheel to generate resistance. Therefore, no internal part wears out during the process of generating resistance, and so, no part needs to be replaced after some time.
In other words, the resistance system is maintenance-free, and the rowing machine remains smooth and quiet during operation even when a higher resistance level is engaged.
You can exercise at any time of the day without being worried that the family members or the neighbors might be disturbed. Watching a TV show or listening to music in the middle of workouts is absolutely possible.
There is a tension control dial knob that is used to regulate the resistance intensity; turn it clockwise to increase the resistance and anti-clockwise to decrease it.
The 1 to 8 resistance levels offer a different feel of workouts that could help you to achieve fitness goals such as the improvement of heart and lungs' health, muscle group toning, and weight loss.
The Console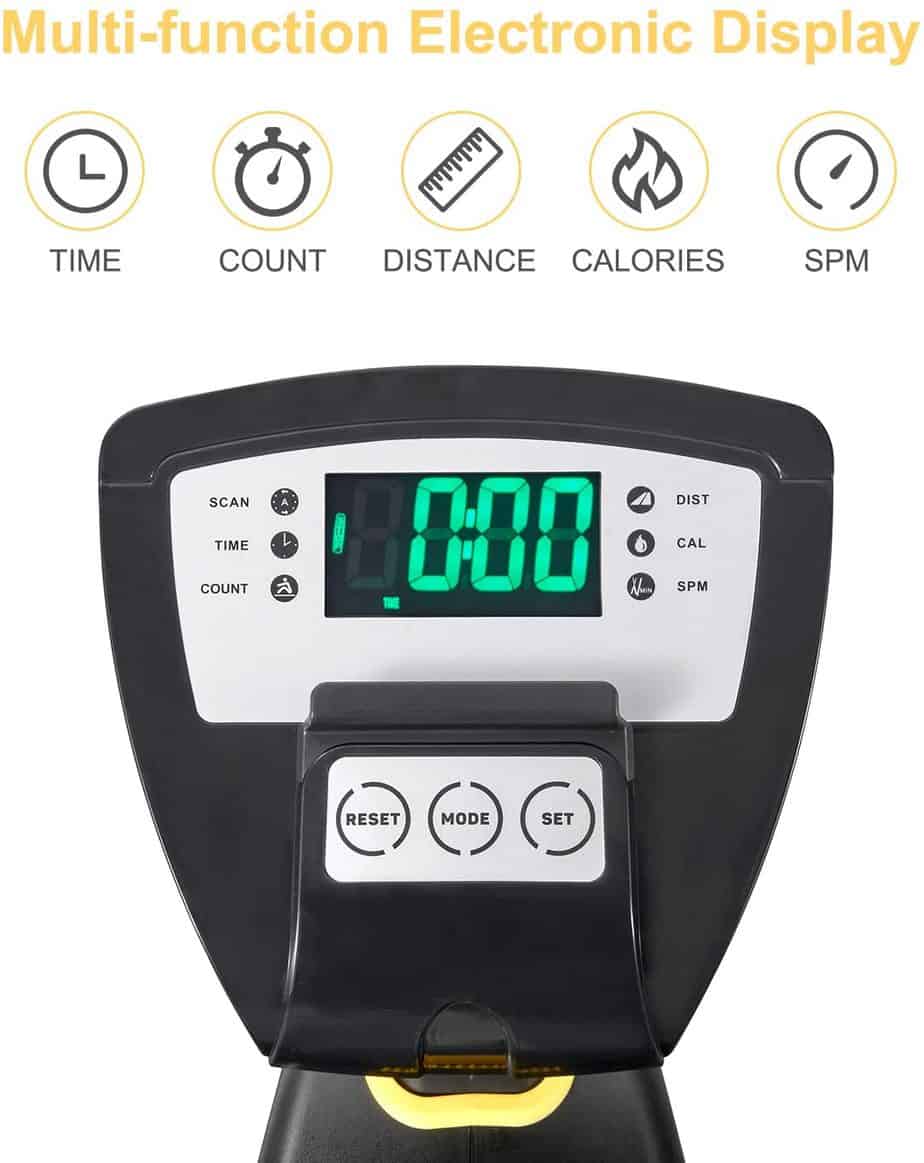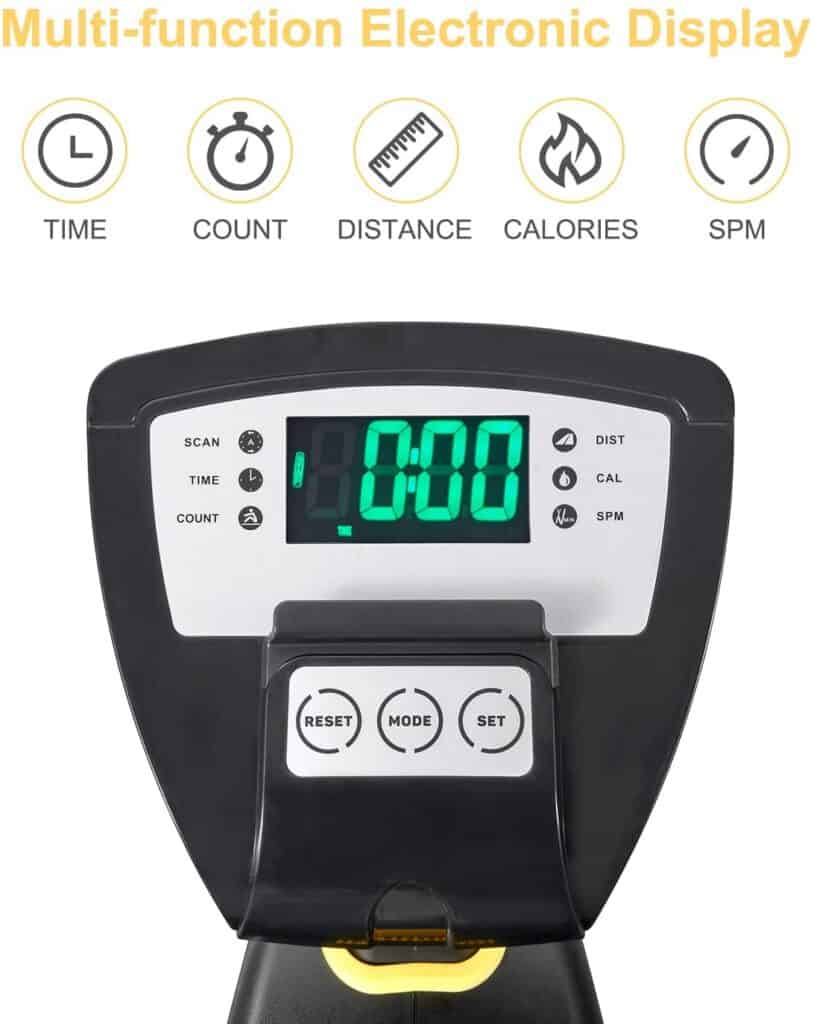 The FISUP Rowing Machine integrates a small and basic LED monitor that tracks workout stats such as Time, Distance, Count, SPM, and Calories Burned.
The Distance measurement unit is in miles.
Since the monitor is LED, its clarity is great and cannot be diminished even when viewed in a poorly-lit room. Moreover, it is attached to an adjustable stand that could allow users to optimally position it for a better view.
There is a SCAN function that gets the workout metrics displayed rotationally one at a time after every few seconds since the monitor cannot display them simultaneously. However, this can be overridden if you wish to view a certain workout value instead.
The console has 3 easy-to-use navigation buttons, namely, Reset, Mode, and Set. They are used to set up count down goals for Time, Distance, Calories, and more.
The rowing machine doesn't need to be plugged into a power outlet since the console is battery-powered.
Accessory
The FISUP Indoor Magnetic Rowing Machine has a built-in tablet holder on the console. It is designed to hold a smartphone/tablet device for streaming videos during workouts.
Although, the monitor gets blocked if a device is placed on it.
Storage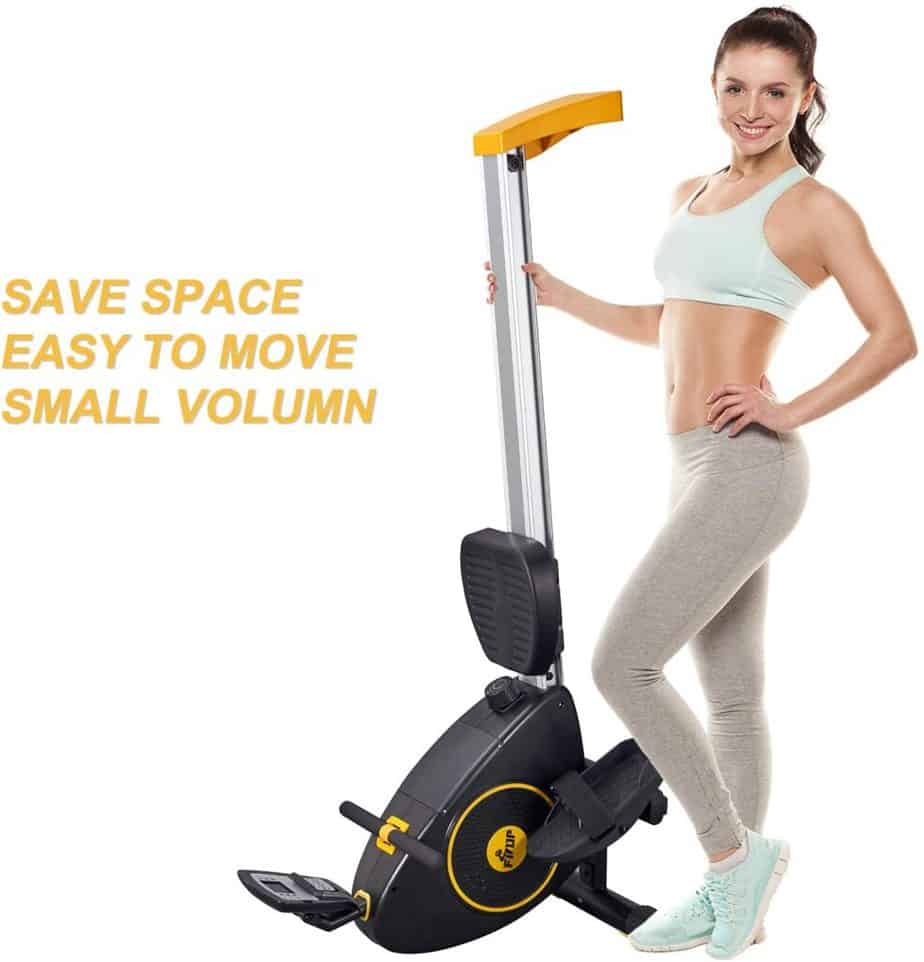 This is not foldable but it can be stored vertically in a small area such as in a corner of the room, in a standard closet, or in a garage.
Transport wheels are also integrated to aid in the relocation process.
Pros/Features Overview
It is built to support 265 lbs./120 kg maximum user weight capacity
It is compact and storage-friendly
The operation is smooth and quiet
The magnetic resistance system provides 8 adjustable levels for weight loss, muscle group toning, and improvement of cardiovascular health
The machine offers full body and low impact workouts that are suitable for everyone without joint pains
The seat is large, padded and textured to provide comfort
The handlebar is cushioned and lengthy enough to be suitable for all users
The large pivotal pedals have heel guards and adjustable safety straps that guarantee safe and maximum footing stability
Users can keep track of their workout progress due to the LED monitor that displays Time, Distance, Count, SPM, and Calories
It doesn't require you to do any serious maintenance
There are transport wheels for easy relocation within the room or apartment
Not difficult to assemble
A tablet holder is integrated for entertainment purposes
Cons
No heart rate monitoring function
The monitor gets blocked when a device is placed on the tablet holder
No online app connectivity
Users above 6′ tall may experience leg extension restriction
Warranty
Product Dimensions & Specifications
Length: 50''
Width: 18''
Height: 30''
Floor to seat height: 9''
Maximum user weight capacity: 265 lbs./120 kg
Net weight: <49.89 lbs./22.6 kg
Gross weight: 49.89 lbs./22.6 kg
Drive: Belt
Resistance: Manual magnetic with 8 adjustable levels
Seat: Large, padded, and textured
Handlebar: Coated with a soft foam material
Pulling cord: Nylon belt
Pedals: Pivotal, large, with heel guards and adjustable safety straps
Frame: Alloy steel
Rail: Aluminum
Console/Monitor: Basic LED
Transport wheels: Yes
Tablet holder: Yes
Water bottle holder: No
Shipping
The FISUP Indoor Magnetic Rowing Machine gets shipped out in a single box for free without extra charges by Amazon.
The delivery only takes a few days.
Assembly
The machine arrives with the complicated parts already preassembled. You will be expected to attach the rail, the seat, the front, and rear stabilizers, the pedals, and the console to the main core unit.
Simply follow the instructions on the manual and you will be able to put it together in about an hour or so. Also included in the package are the tools needed for the assembly.
Maintenance
No serious maintenance is required.
However, you are to keep the unit clean, especially the rail and the rollers for smooth gliding operation.
Do not expose the console/monitor to excess sunlight, or cold. Always examine it before use to ensure that all parts are intact, tight, and in good condition.
Conclusion
The FISUP Indoor Magnetic Rowing Machine is an entry-level unit with just the basic features that provide full body and low impact cardiovascular exercises.
It is not a bad deal considering the price tag.
FISUP Indoor Magnetic Rowing Machine Review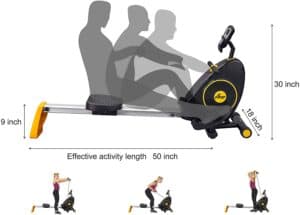 The FISUP Indoor Magnetic Rowing Machine is an entry-level unit that has a lot of positive reviews on Amazon at the time of this article.
Product Brand: FISUP
Product In-Stock: InStock