The CHAOKE 8705 Indoor Belt Magnetic Exercise Bike is a lot customizable than CHAOKE 8733 Indoor Cycling Bike. The seat and the handlebar have several adjustment levels designed to enable users that are 6' tall and above to utilize it.
It provides cardiovascular exercises that burn tons of calories, tone and accentuate muscle groups such as the arms, abdomen, legs, haunch, and waist.
Its operation is almost silent and smooth, thanks to the integrated belt/magnetic resistance system.
Click right here to have a peek at the CHAOKE 8705 Indoor Belt Magnetic Exercise Bike on Amazon.  
The Frame and Construction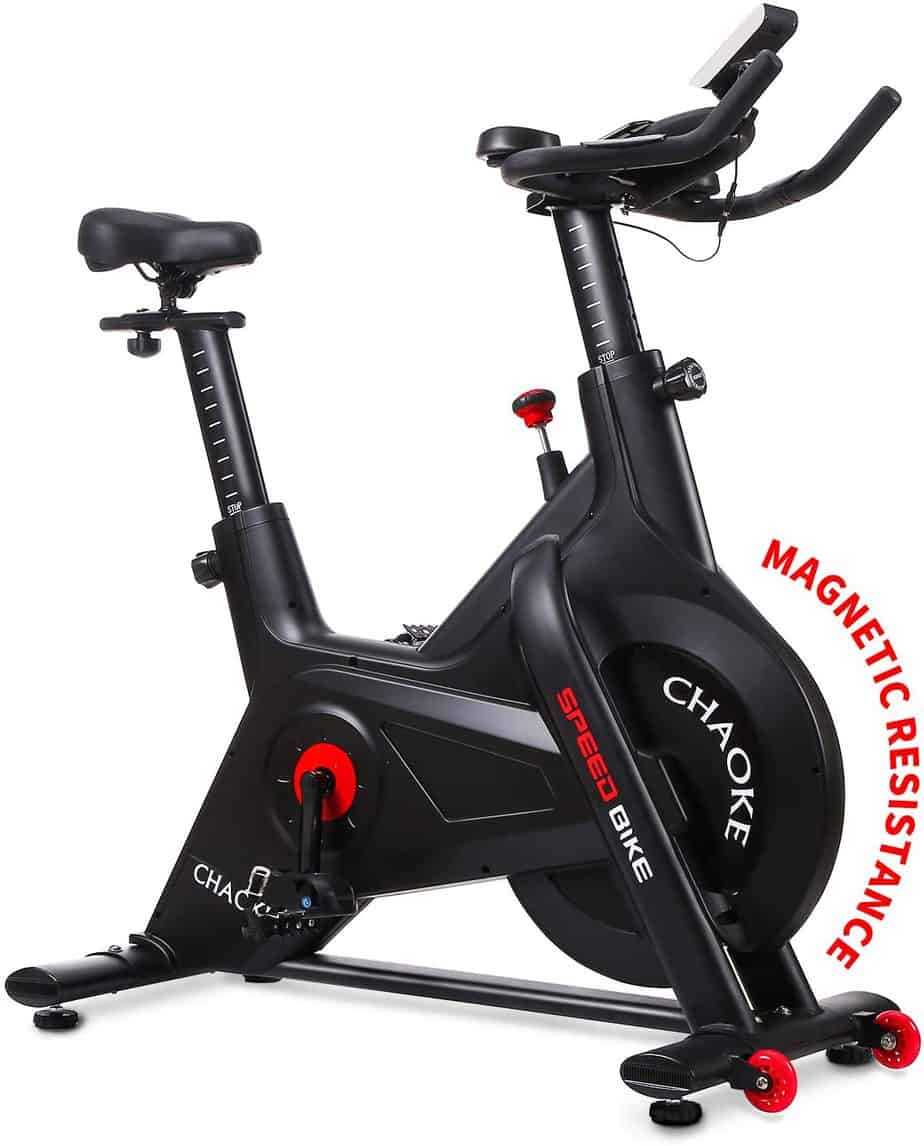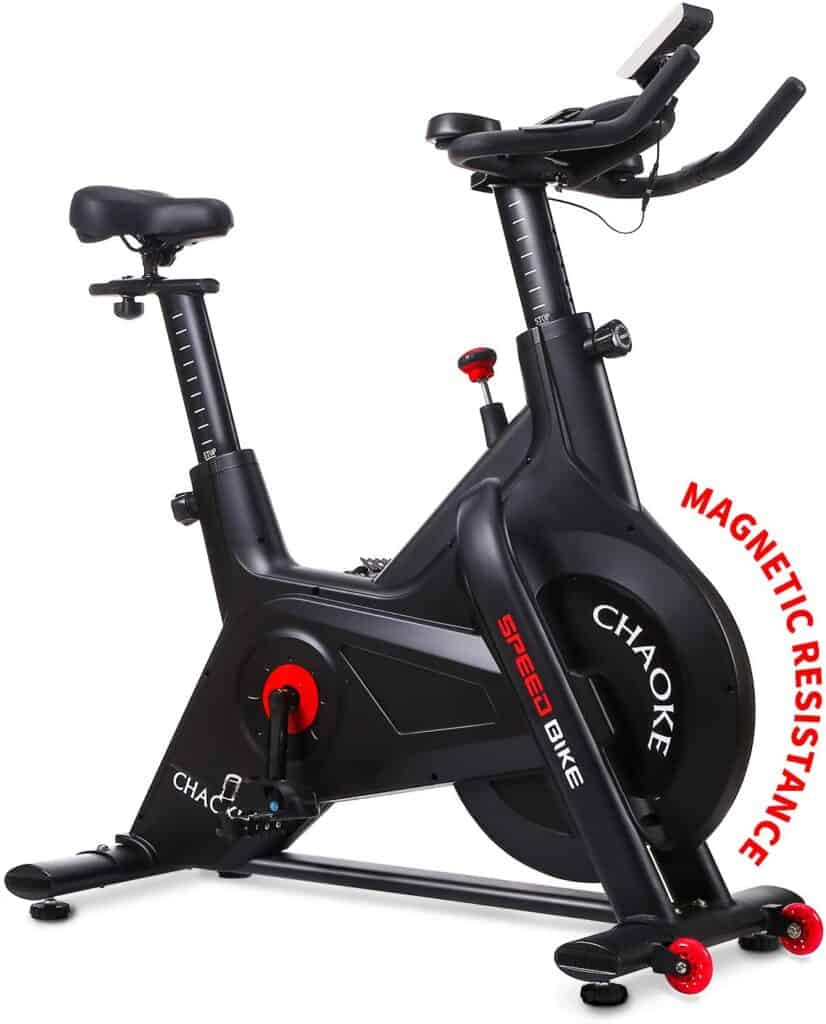 The CHAOKE 8705 Indoor Belt Magnetic Exercise Bike is specifically designed for home use. It is equipped with a solid and durable steel frame that is concealed with ABS plastic material (including the flywheel) with exception of the base, the seat, and the handlebar posts.
Thus, it is elegant and sturdy enough to support a maximum user weight capacity of 350 lbs./158.7 kg.
The oval-shaped steel stabilizers with adjustable levelers offer guaranteed stability that doesn't budge no matter the intensity of your workout. Although, it is important to set up the bike on a workout platform that is firm and less crooked.
The bike's assembled dimensions are 44'' long by 21'' wide by 47'' high. Therefore, it should be utilized on an area with measurements of 3'7'' length by 1'8'' width. However, just as with every indoor exercise equipment, an additional extra clearance of 2' will be needed around it for safety purposes.
The Seat of the CHAOKE 8705 Indoor Belt Magnetic Exercise Bike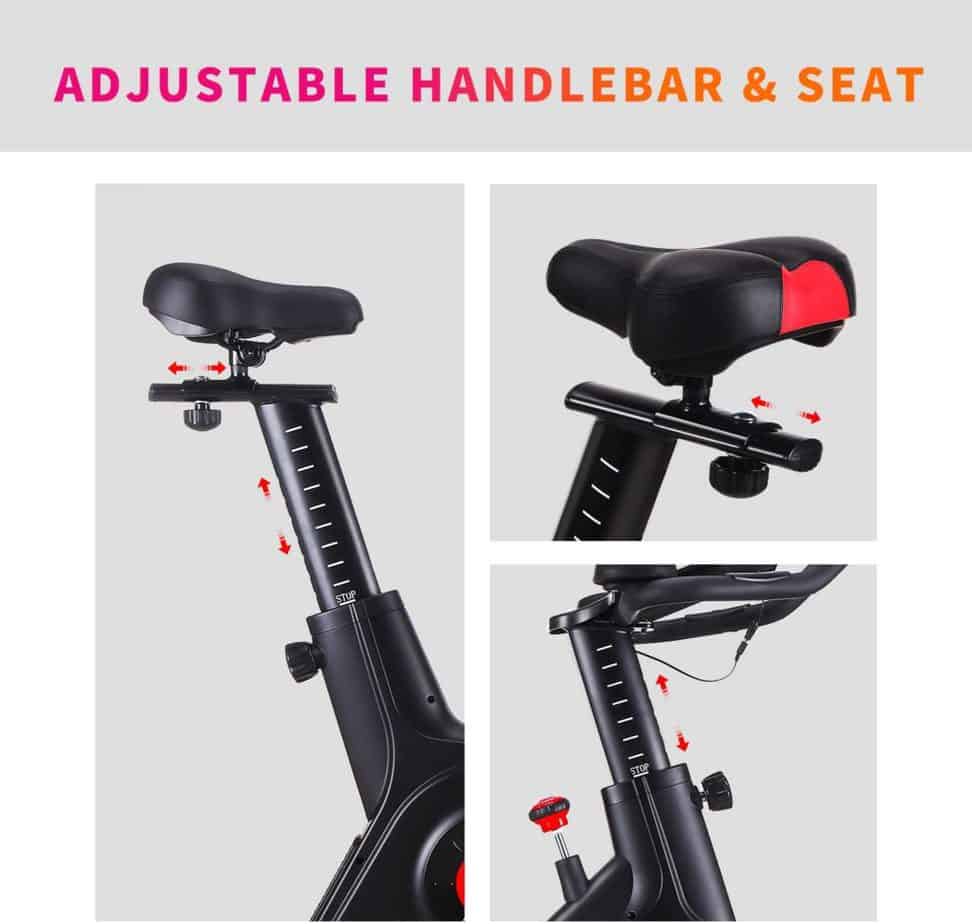 The seat is similar to the one on the CHAOKE 8733; it is wide and cushioned with a groove to provide a lasting comfort that could enable users to workout longer without feeling tired or sore in the backside.
Nevertheless, the use of a gel seat cover or a cycling pant (shorts) is recommendable.
The seat could be adjusted in 4 different directions that include upward/downward, and fore/aft, and as a result, the bike is suitable for taller individuals that are between the heights of 5'9''-6'5'' tall, or those that have inseam heights of 30''-39''.
If your height is below 5'9'' you may want to check out the CHAOKE 8733 instead.
Finally, the seat post is distinctively marked for easy adjustment. It takes only a few seconds to have it adjusted at a desired position.
The Handlebar
The 2-way adjustable handlebar is ergonomically designed with multiple hand positions. It is cushioned with anti-slip soft rubber foam material that provides secure and comfortable grips. So, users can train without experiencing slippage or blisters in the palms.
There are plastic pads on the handlebar that enable a user to rest the elbows whenever working out in a certain position.
EKG heart rate sensors and a tablet holder are included for pulse tracking and entertainment purposes.
The Pedals
The CHAOKE 8705 Indoor Belt Magnetic Exercise Bike comes with a pair of toe caged pedals that have adjustable safety straps. They accommodate most foot sizes and provide maximum footing stability.
They are attached to a solid crankset and wide crank-arms. Hence, everyone that is within the weight supported by the bike can pedal while standing without any problem.
That said, you cannot use clip-in special cycling shoes unless the pedals are replaced with SPD.
The Drive
The bike has a belt drive system that is widely accepted due to its smooth and quiet operation, and it is also maintenance-free.
Its noise level is so low that you can exercise with the bike in the presence of a sleeping newborn baby without waking him/her, and neighbors living nearby won't be disturbed either.
The drive system is mainly made up of elements such as a durable V-poly belt, pulleys, and the 40 lbs./18 kg perimeter weighted flywheel.
Since the drive is bidirectional, you can pedal in reverse if you so wish.
Having said that, you can't coast on the bike as one could on a road bicycle. Therefore, make sure to apply the emergency brake (push the tension knob down) whenever you wish to quickly exit the bike to prevent getting hurt.
Although, you can also end an active workout safely by slowing down your pedaling tempo.
The Resistance
The CHAOKE 8705 Indoor Belt Magnetic Exercise Bike has a manual resistance system with no predefined resistance level.
When the resistance is engaged, the bike's operation remains smooth and quiet because the components don't rub on each other. In other words, the elements responsible for generating resistance such as the magnetic brake pad, and the flywheel do not come in direct contact during this process.
Instead, the magnetic brake pad discharges magnetic fields on the top surface of the flywheel to create resistance.
To increase or decrease the resistance intensity, simply turn the tension control knob clockwise or counterclockwise, respectively.
The resistance system provides micro and unlimited resistance levels that are suitable for folks recovering from physical injury and everyone else that wishes to lose weight, tone muscle groups, and improve heart and lungs' health in the comfort of their home.
Seeing that no friction occurs during the process of generating resistance, no part wears out, and non will require a replacement over a period of time.
The Console
This unit features a console that has a slightly larger LCD monitor. The display tracks workout stats such as Time, Distance, Speed, Calories, and Pulse in real-time.
These metrics are displayed simultaneously with good readability. However, when viewed in an environment that is not well-lit the clarity could diminish because the monitor is not backlit.
It is also possible to set goals for Time, Distance, and Calories.
The console is battery-powered; therefore, you don't have to connect the bike to a power outlet for it to be functional.
That said, it isn't telemetry-enabled, and it isn't compatible with any online app either. But it's OK because you can track your heart rate when the contact grips are held during a workout, and you may use YouTube workout videos for your training.
However, if you had expected more from the console then, you may want to look up the Schwinn IC4.
Accessory
There is a tablet holder that is strategically designated not to interfere with the view of the monitor when a tablet device is placed on it. In other words, you can conveniently stream and watch a movie through your smartphone without compromising your ability to also view the workout stats on the monitor.
A water bottle holder is also included for hydration purposes.
Storage
Definitely, this is not a bike that will overwhelm your space. Even though it is a few inches larger than some indoor cycling bikes, it is still considered to be compact.
A storage area with measurements of 3'7'' length by 1'8'' width is sufficient enough to accommodate it.
It can easily be moved from one spot to another through the front-mounted transport wheels even though it weighs about 86 lbs./39 kg.
The ideal storage places include the garage, under the staircase, and beside the wall in a room.
Pros/Features Overview
It is sturdy, stable, and sleek
It has a reasonable price tag
It supports a maximum user weight capacity of 350 lbs./158.7 kg
The console features a multi-digital LCD monitor that tracks workout stats such as Time, Distance, Speed, Calories, and Pulse
Goal setting for Time, Distance, and Calories
Its operation is smooth and quiet due to the belt drive/magnetic resistance system
The integrated 40 lbs./18 kg flywheel provides consistent momentum that maintains steady and vibration-free motion
The manual magnetic resistance system offers unlimited workout intensity suitable for everyone that wishes to improve overall physical fitness
Taller individuals with inseams of 30'''-39'' can be accommodated
It doesn't need to be plugged into a power outlet to be functional
The pedals and the seat can easily be replaced
The toe caged pedals are safe and comfortable
There are contact grips for heart rate monitoring
No serious maintenance is needed
Easy to assemble
Transport wheels included for relocation purposes
A tablet holder is included
A water bottle holder is included
Cons
The monitor is not backlit
The console is not telemetric
Not compatible with any app
Individuals that are below 5'9'' may not be accommodated comfortably
Warranty
18 Months for Parts replacement
Product Dimensions & Specifications
Length: 44''
Width: 21''
Height: 47''
Shipping dimensions: 46'' L x 36.5'' W x 10'' H
Net weight: 86 lbs./39 kg
Gross weight: 111 lbs./50.3 kg
Maximum user weight capacity: 350 lbs./158.7 kg
Frame: Steel
Flywheel: 40 lbs./18 kg
Inseam heights: 30''-39''
Drive: Belt
Resistance: Manual magnetic with infinite resistance levels
Console/Monitor: large LCD
Seat: 4-way adjustable
Handlebar: 2-way adjustable
Pedals: Toe cages with adjustable safety straps
Transport wheels: Yes
Tablet holder: Yes
Water bottle holder: Yes
Shipping
The CHAOKE 8705 Indoor Belt Magnetic Exercise Bike gets shipped out free of charge by Amazon, and it is delivered in a couple of days.
It is packed in a box that weighs 111 lbs./50.3 kg with dimensions of 46'' long by 36.5'' wide by 10'' high.
Assembly
This is the easiest part because it arrives partially preassembled with 85% of the parts already assembled.
You are only expected to attach the front and the rear base stabilizers, the seat and its post, the handlebar and its post, the pedals, and the console to the main core unit.
It takes only about 30 minutes, more or less to completely get the bike up and running.
An instruction manual that walks you through the assembly process accompanies the package, including the tools required as well.
Maintenance
The bike simply needs to be kept clean after every use. Ensure to store it in a clean, cool, and dry area.
Check it before every use to be sure that all the parts are tight and in good condition.
Conclusion
The CHAOKE 8705 Indoor Belt Magnetic Exercise Bike is a basic cardiovascular machine designed to be used at home. It is suitable for individuals that are between the heights of 5'9''-6'5'' tall, and it supports a maximum user weight of 350 lbs./158.7 kg.