The Aceshin Electric Support Motorized Walking Treadmill is portable, foldable, and compact. It is basically designed for walking, jogging, and light running with the elderly users in mind.
Interestingly, this treadmill was introduced to the market in the second quarter of 2018 and has fewer Amazon customer reviews and all were 100% positive. In other words, the users were completely happy with the treadmill's quality and features.
After a close look at the machine, we agree that it is solidly and durably built to last longer.
It is integrated with features such as wireless Bluetooth connectivity. This allows the user to sync the machine with a smartphone in order to use the iFitShow sports app which adds fun to the overall workout experience.
The app is available for IOS and Android smartphones and tablets.
Its 2.25 HP low noise motor obviously provides quiet and safe operation even as it delivers outstanding performance for an interval, speed, or endurance training.
Its compact and foldable design is a good recipe for those living in a small room or apartment because it doesn't take up much space while working out and can be folded up to it out of sight.
There are also entertainment features such as the speakers and the MP3 port that allow you to listen to your favorite music as you exercise and the truth is that there are many treadmills that have the same price tag as the Aceshin Electric Treadmill but they do not have the features it has.
Click right here to have a peek at the price of the Aceshin Electric Support Motorized Walking Treadmill on Amazon.
The Frame and Construction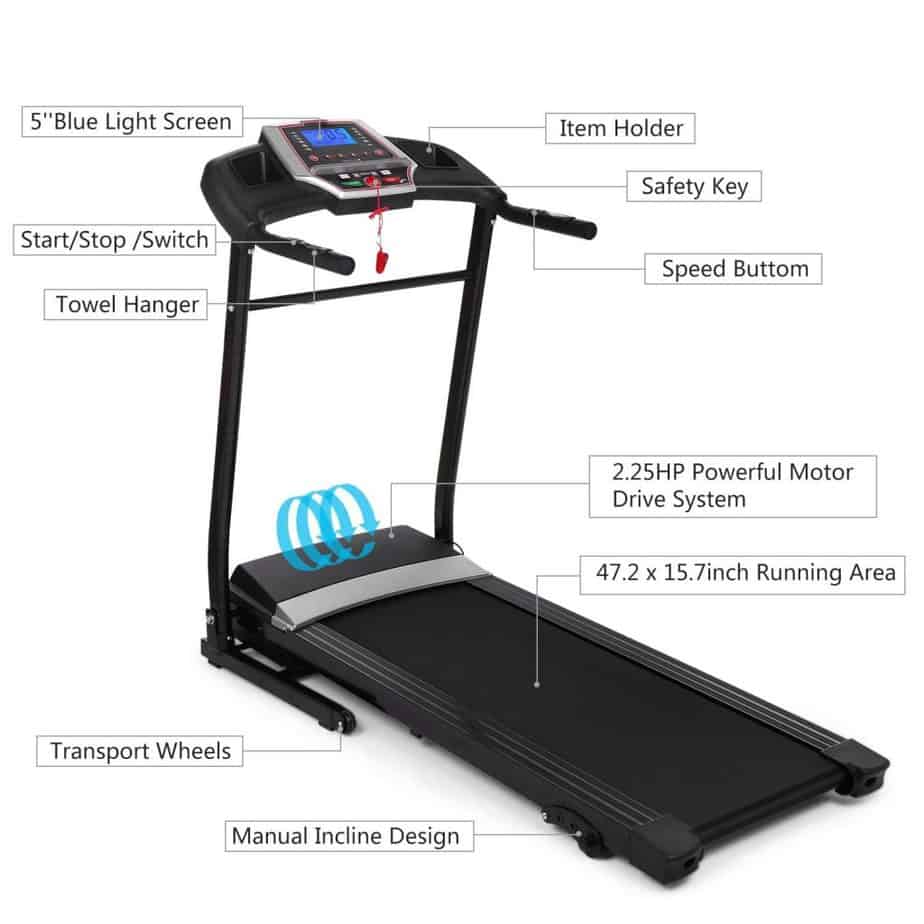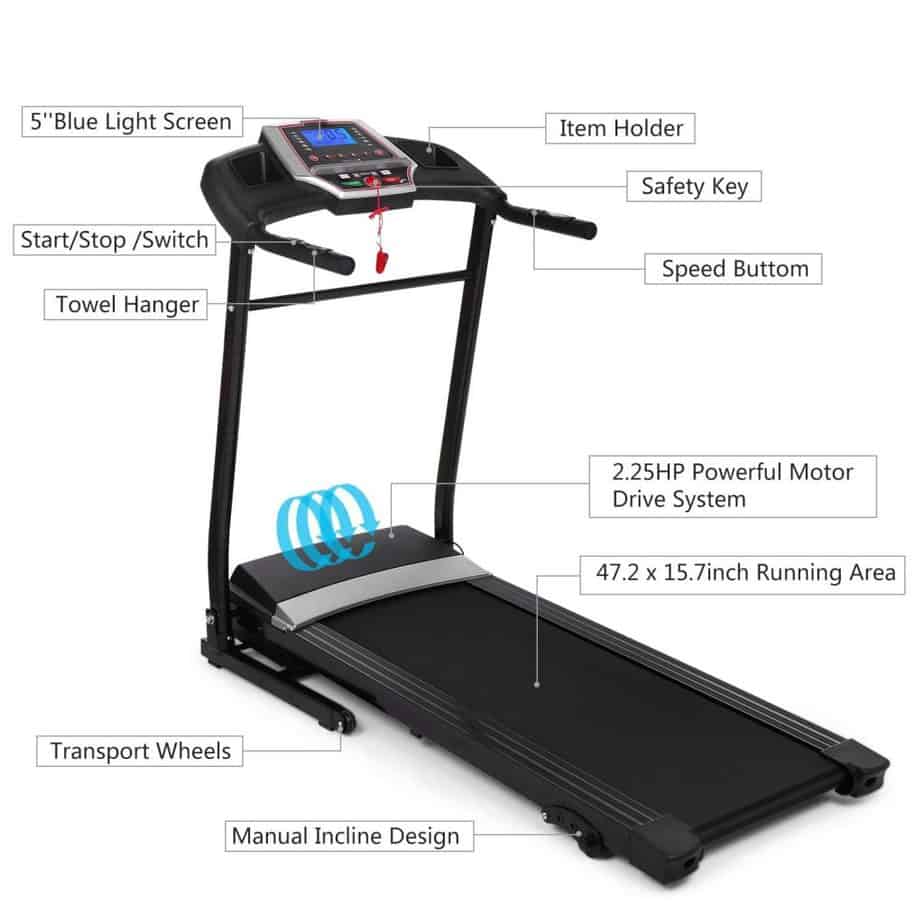 The Aceshin Electric Support Motorized Walking Treadmill could easily make it to the list of best treadmills available today for obvious reasons. The frame is made of heavy-duty steel and coated with paint that is anti-corrosive.
The treadmill is stable and sturdy to support a maximum weight load of 265 pounds/120 kg.
The integrated steel stabilizer at the front base which also features the transport wheels ensures that stability is achieved. Even though it is not a very heavy treadmill, its weight of 88 pounds/40 kg further makes it very stable while it is easier to move with the help of the transport wheels.
The overall assembled expanded dimensions of the Aceshin Electric Treadmill are 59.1 inches long by 26 inches wide by 45.7 inches tall. This means a workout area of 4.9 feet long by 2.2 feet wide and a ceiling height of at least 7 feet will suffice. However, extra clearance of 3 feet at the rear and 1 foot on each side of the treadmill should be considered for better and safer workout experience.
The running surface of the treadmill is not large, as expected considering its compact design. The running surface/tread belt dimensions are 47.2 inches long by 15.7 inches wide just enough for walking, jogging, and light running activities. Some very tall individuals may only be able to walk and jog because the tread belt space is not spacious enough for their long stride.
The high-density tread belt also ensures long-lasting usage and reliable antistatic ability.
As aforementioned, it has features such as the MP3 port, Hi-Fi sound system, and USB port that make your time training on the treadmill a fun-filled one.
There are other accessories such as the two-item holders and the towel hanger below the console. All of these features are integrated to make your workout convenient, fun, and productive.
It is incorporated with an easy folding mechanism that is also known as the Soft Drop System. This system consists of the hydraulic folding rod that is underneath the tread belt which securely folds and unfolds the treadmill with ease.
The Motor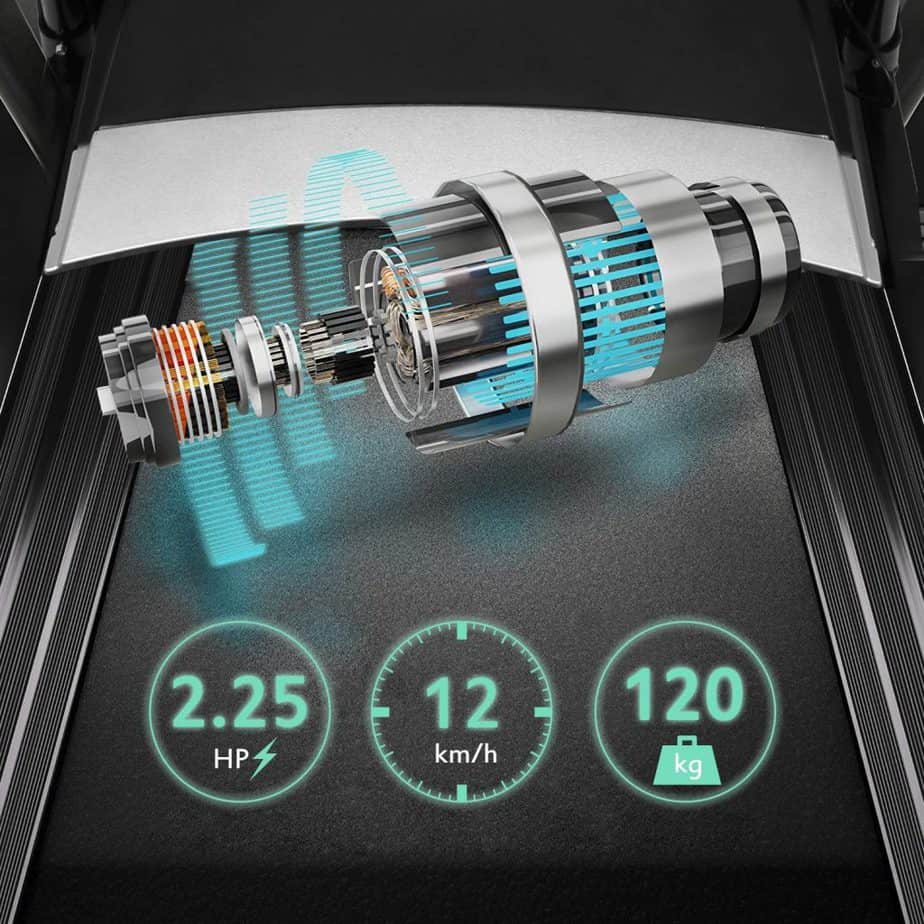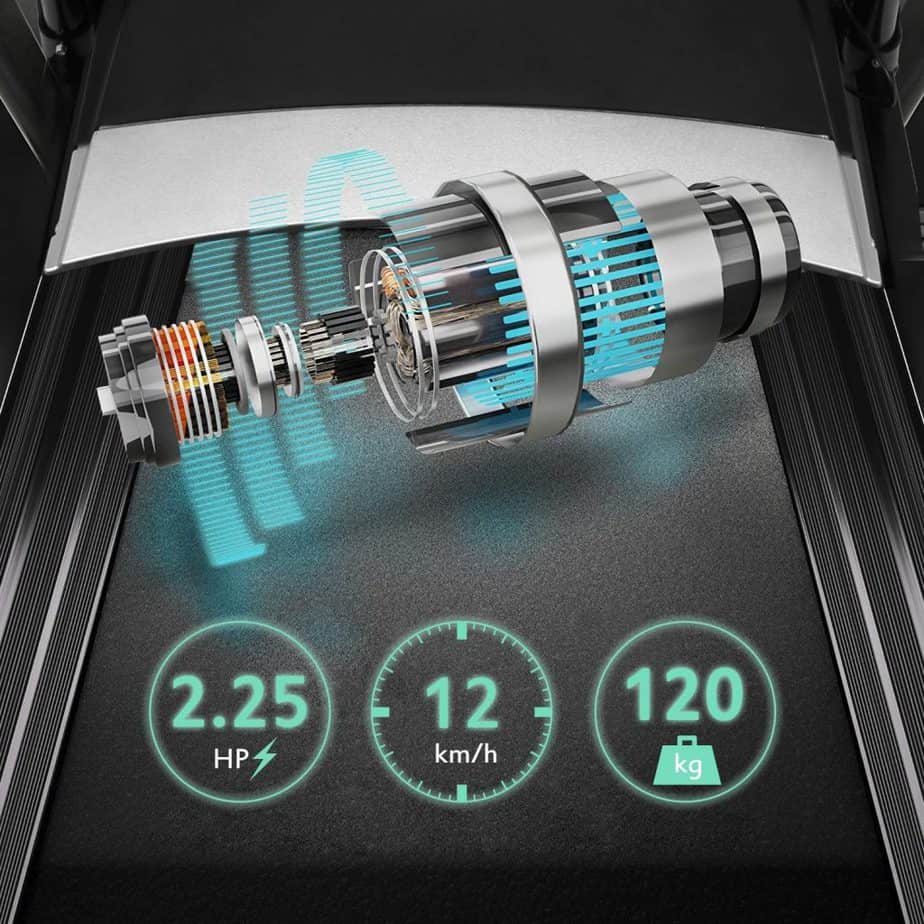 The Aceshin Electric Support Motorized Walking Treadmill has a 2.25 HP motor that provides smooth and quiet operation. It is capable of supporting walking, jogging, and light running training without overheating.
The motor is motorized which means it is powered by electricity and designed for home use.
The motor provides a speed range of 0.5 to 7.5 MPH and could be adjusted gradually by using the – and + buttons or by using the speed quick buttons 1, 3, 5, and 7.
It is important to say that the performance of the treadmill is good and won't bother anyone with any annoying sound and the user will be able to watch the TV or listen to music while exercising.
The Console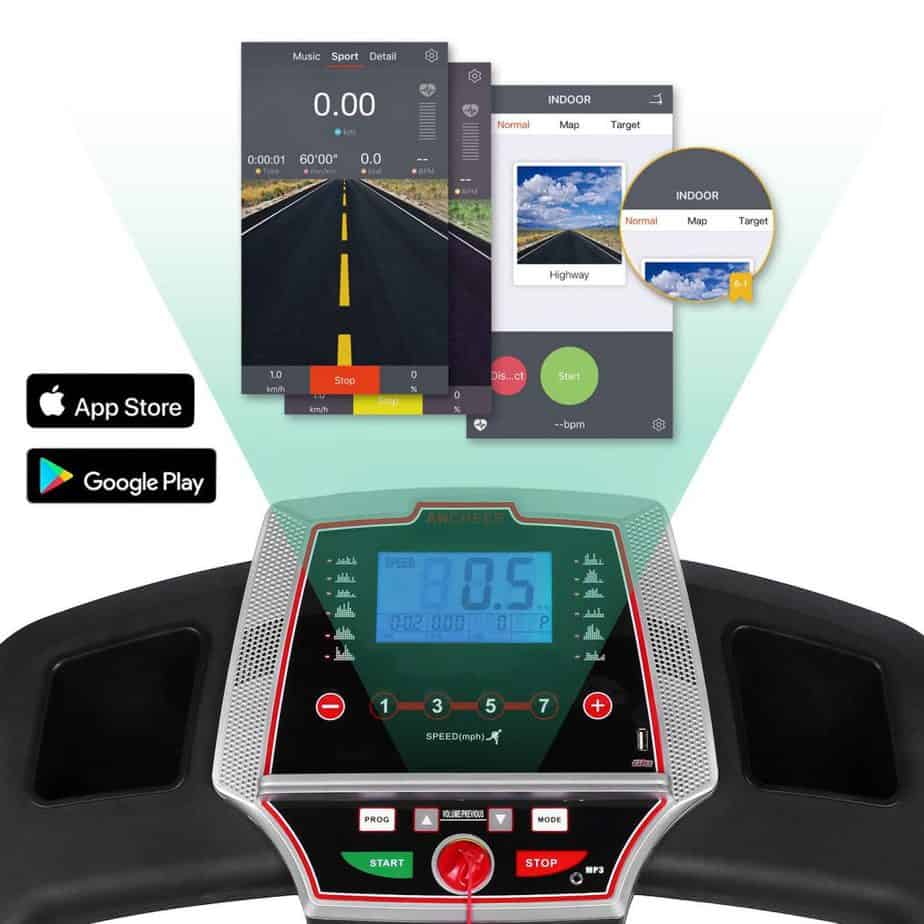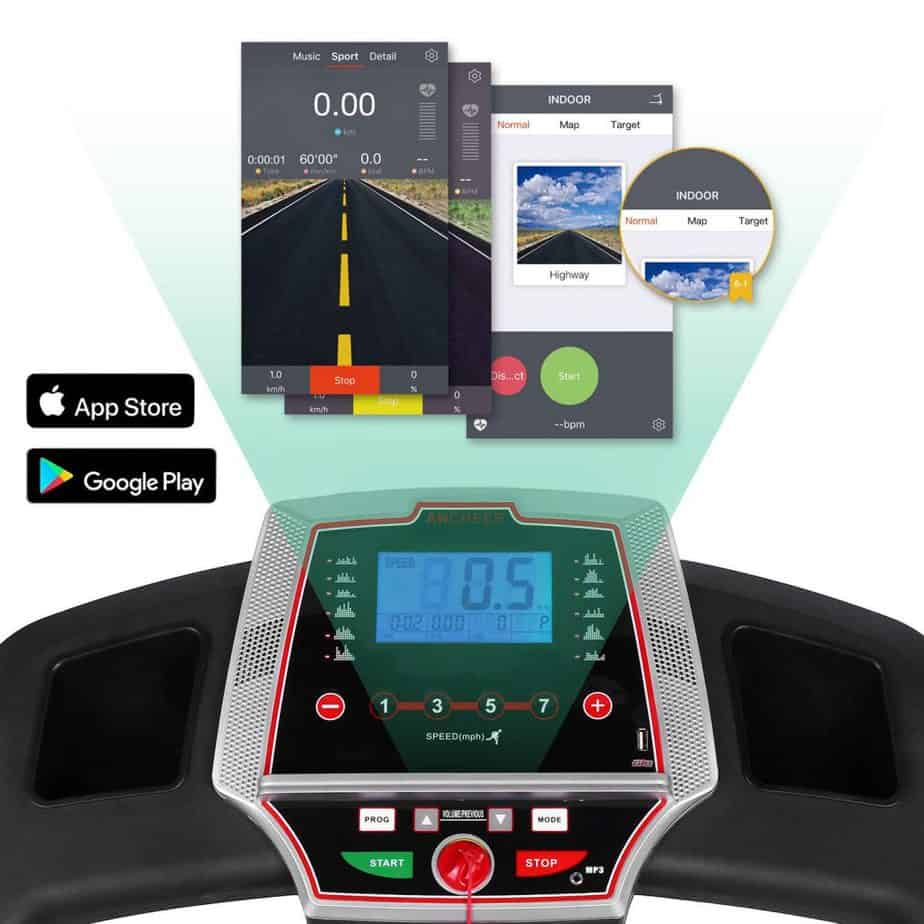 The console that is integrated with the Aceshin Electric Support Motorized Walking Treadmill is backlit and 5 inches in size. Then it has a multi-function display that tracks workout data such as time, speed, distance, calories burned, and heart rate.
These data are displayed with high clarity that won't be diminished even when viewed in a poorly lit room because the monitor is backlit.
The console has several other features such as the Start button, Stop button, Prog button, Mode button, the volume buttons for the speakers, MP3 port, USB port, 2 speakers, Speed buttons, 2 item holders, and the safety key that is usually clipped on the outfit to turn off the treadmill automatically in the event the user trips and falls while exercising.
There is yet another safety feature that is on the left handrail which is referred to as the emergency stop button. The handrails are also integrated with speed buttons and HR sensors that transmit the heart rate data to the monitor so that the user can maintain a target heart rate zone at all times.
As aforementioned, the console is Bluetooth enabled which allows you to connect to a smartphone or tablet so that you can use the iFitShow sports app. This app is available for ios and Android phones and it adds color and fun to your training so that you can enjoy every bit of time spent on the treadmill.
The Incline
There is a manual incline feature on this treadmill with 3 levels. This could easily be adjusted via the adjuster that is under the belt at the back end of the treadmill.
Storage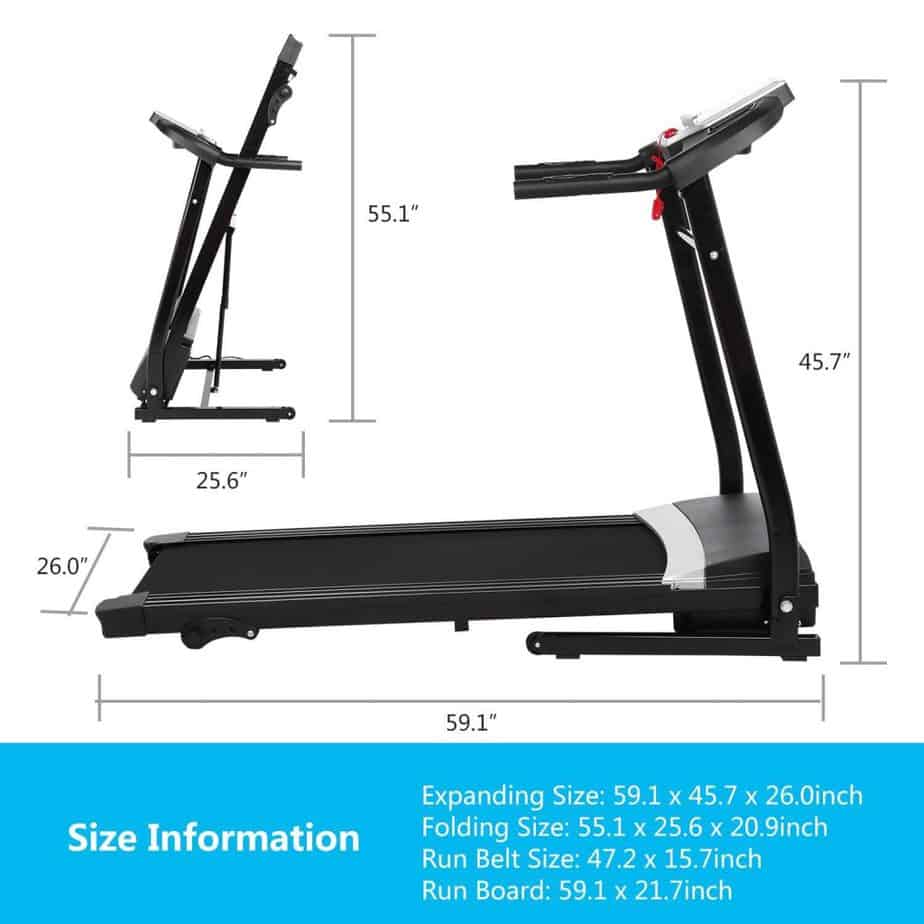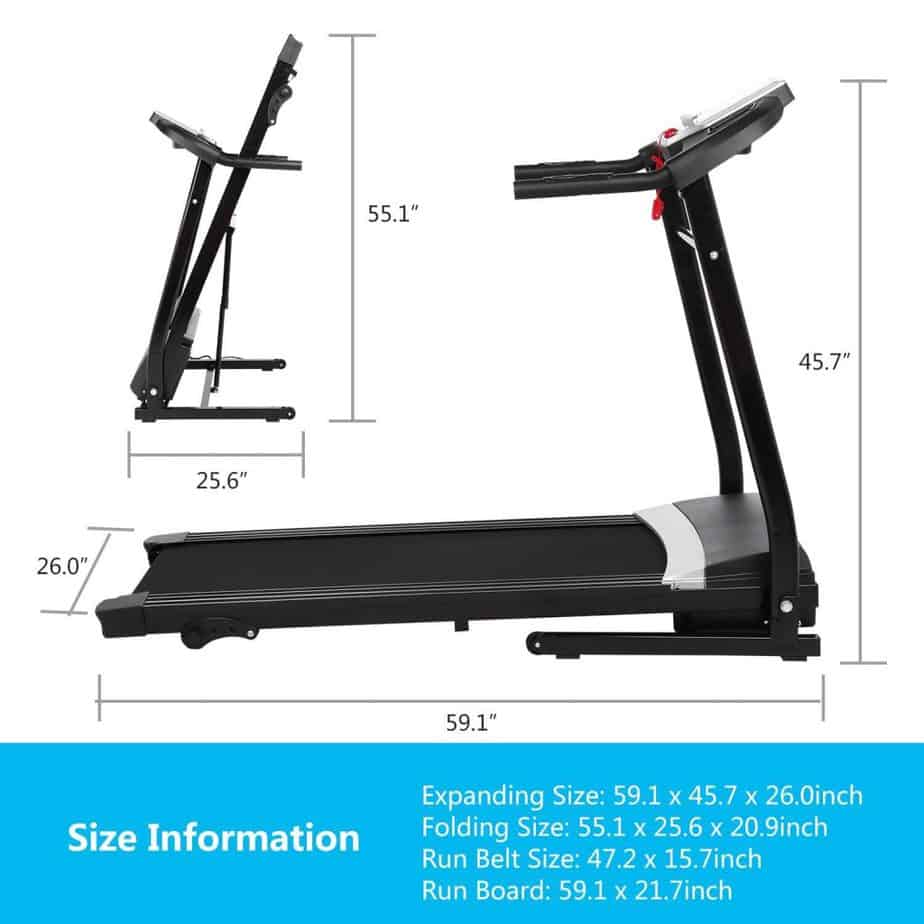 Storage is easy with the Aceshin Electric Support Motorized Walking Treadmill because it is portable with transport wheels and it is foldable with Soft Drop System.
This means that you save space by folding it up and the process is easy and safe.
The folded dimensions are 55.1 inches tall by 25.6 inches long.
Accessory
The Aceshin Electric Support Motorized Walking Treadmill is integrated with two item holders which could also be used for keeping a water bottle handy for hydration. Staying hydrated throughout the entire workout session is important.
It also has a tablet holder where you could keep your smartphone or tablet as you connect to the iFitShow sports app or while using it for entertainment.
Approval Rating
The approval rating of this treadmill is completely 100% at the time of this review. There are nine Amazon customer reviews with an approval rating of 5 stars out of 5 stars.
This means that all of the users that reviewed it on Amazon liked it enough to award it 5 stars.
Pros/Features Overview
It is sturdy and stable
It is cost-effective
It has a powerful 2.25 HP motor that provides quiet and smooth performance
The tread belt is durable due to its high-density design
It has a blue backlit display that tracks time, speed, distance, calories burned, and heart rate
It features 3 levels of manual incline
It is Bluetooth enable with connectivity to iFitShow sport app
It is foldable with Soft Drop System that makes folding and unfolding of the machine safe and easy
It supports 280 pounds/120 kg maximum user weight capacity
It is integrated with entertainment features such as the MP3 and USB ports, 4D full angle Hi-Fi stereo system
It is suitable for everyone; commuters, the elderly, and housewives
Easy to assemble
Low maintenance
Cons
It does not have a fan
It is not for serious runners
Product Dimensions and Specifications
59'' Length
26'' Width
46'' Height
26'' Length (folded)
21'' Width (folded)
55'' Height (folded)
Run belt: 47.2'' L x 15.7'' W
Weight: 88 pounds/40 kg
weight load: 280 pounds/120 kg
Motor: 2.25 HP
Incline: 3 Manual levels
Speed: 0.5 -7.5 mph
Bluetooth enabled
EKG Pulse contact sensors
Water bottle holder and tablet holder included
Hi-Fi stereo system, MP3 port, and USB Port
Soft Drop System for folding and unfolding of the machine
Portable: Yes with transport wheels
Shipping, Assembly, and Maintenance
Shipping
The cost of the Aceshin Electric Support Motorized Walking depends on the selected shipping speed. However, if you are purchasing from Amazon at least a shipping cost of $20 is going to be added to the cost of the treadmill.
Assembly
Assembling this treadmill has been reported not difficult.
It is supplied with the main components pre-assembled. Therefore, there are only such parts as the console mast and the console that needed to be attached to the base.
The package is accompanied by an instruction manual that explains all you need to know about assembly.
Maintenance
The Aceshin Electric Support Motorized Walking Treadmill does not require major maintenance but a periodic application of silicone-based oil inside the run belt will be necessary to keep the tread belt running smoothly.
Make sure to keep the machine clean from dirt and sweat at all times, especially the tread belt and the console.
Conclusion
The Aceshin Electric Support Motorized Walking Treadmill is a cost-effective indoor fitness machine that has features that enable users to train to achieve physical fitness and enjoy the time spent on the machine while doing so. There is hardly a treadmill in the same price category that possesses the level of features this machine has.
[rank_math_rich_snippet]