Have you been wondering about the best treadmill that could help you recover from that injury? Then think no further than the Exerpeutic TF2000 Recovery Fitness Walking Treadmill with Full-Length Hand Rails that is specifically designed to do just that.
Do not get us wrong, there are other types of fitness equipment that could help you during rehabilitation such as the Nustep TRS 4000 Recumbent Cross Trainer but the problem is it is way too expensive compared to this treadmill.
There are few treadmills designed specifically for the elderly and folks undergoing physiotherapy treatment, perhaps the fitness equipment manufacturers don't prioritize the production of exercising equipment for this category of people. But thankfully you finally may have something that is tailored for that.
The elderly can also get their groove back by walking out in the convenience of their homes, in front of their TV, watching their favorite show.
Folks that are recovering from injury and the seniors are most vulnerable to the risks of working out outdoors. But with the emergence of this treadmill, exercising outdoors will be more of a choice as opposed to not having an alternative to working out indoors.
This treadmill is an upgrade of the Exerpeutic TF1000 Walk Electric Treadmill due to the special features added to benefit the seniors and people in recovery and that also reflects on the price difference.
If you wish to see the price of the Exerpeutic TF2000 Recovery Fitness Walking Treadmill then click right here.
Frame and Construction
The frame of the Exerpeutic TF2000 Recovery Fitness Walking Treadmill is made of high-quality steel. It supports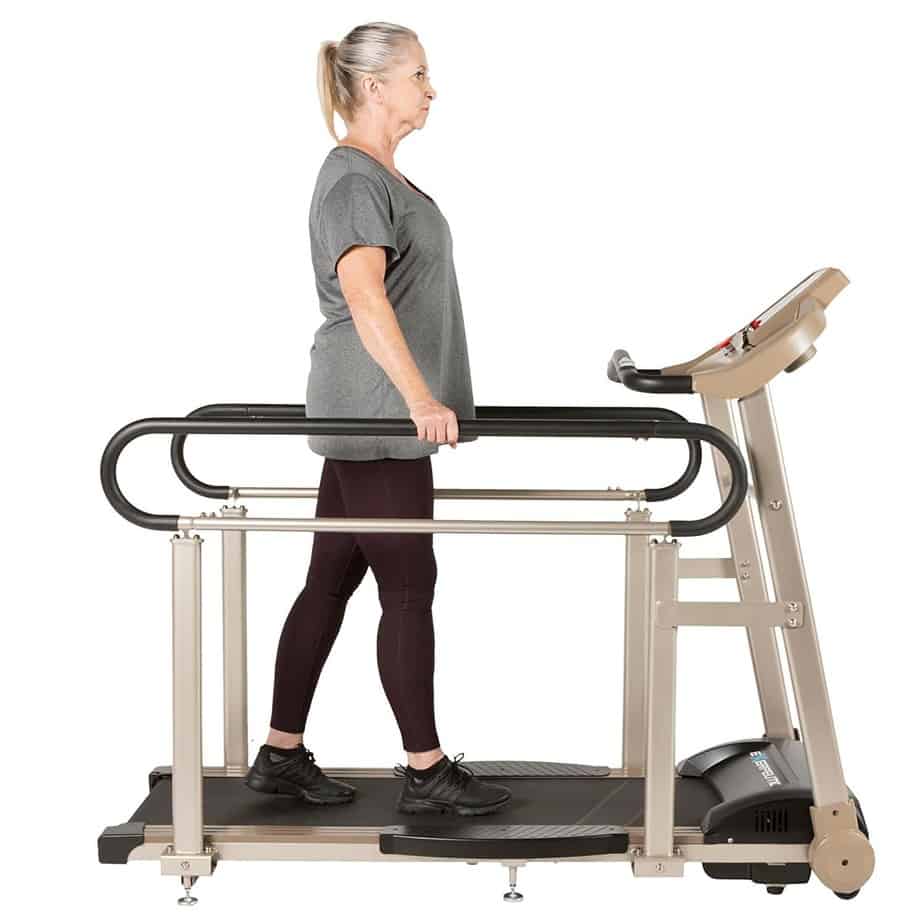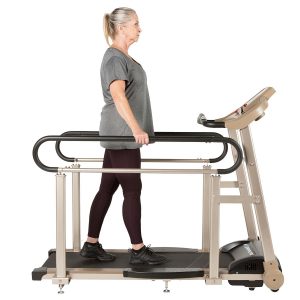 up to 300 pounds/136 kg maximum user weight capacity.
It is a compact treadmill with dimensions of 61.5 inches long by 30 inches wide by 15.5 inches tall and it has a low deck that allows an easy step up and step down which is essential for the injured and the elderly.
Just in case you are wondering if it is foldable, the answer is NO; it is not foldable but requires a limited space for a workout area. It requires 5 feet 2 inches long by 2.5 feet wide workout area, but you have to consider leaving an extra clearance of 2 to 3 feet around the unit for safe and convenient workout experience.
The treadmill belt size is 50 inches long by 16 inches wide, marked with the white dash to clearly show when the belt is moving. The marking is important because it is a very low sound treadmill that you probably wouldn't know when it is working.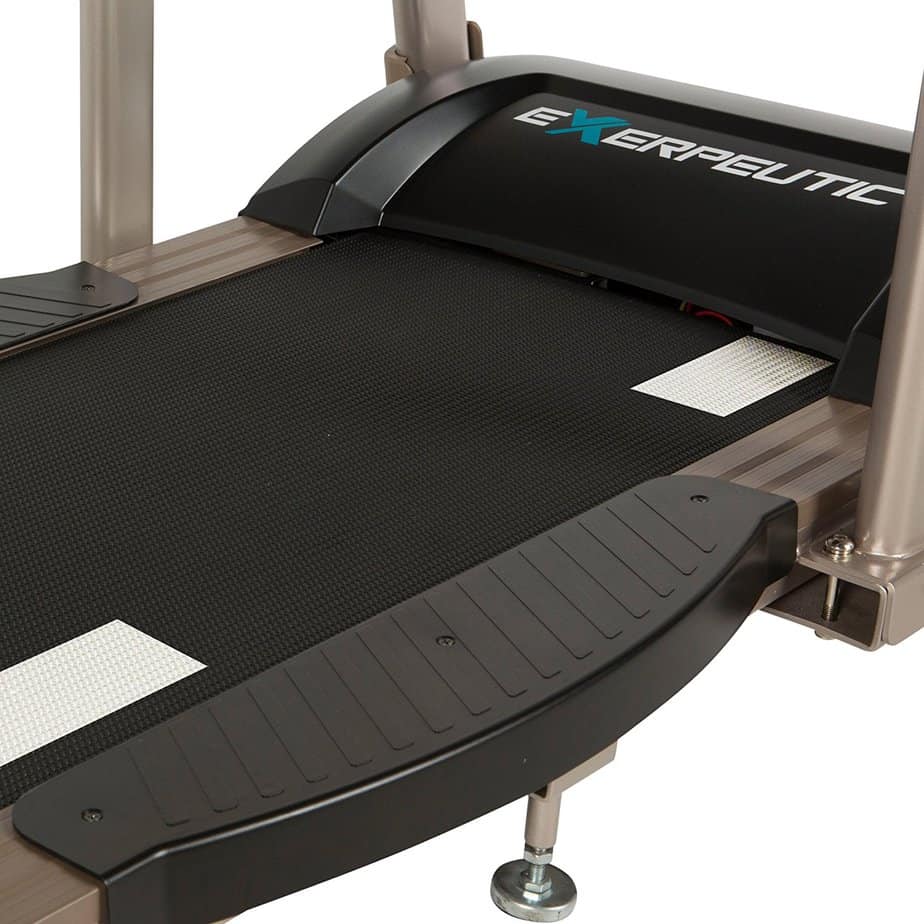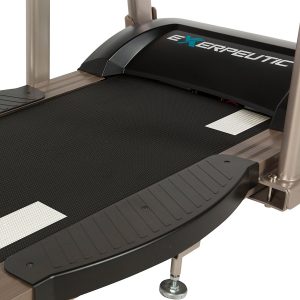 The deck is reinforced with 10 shock-absorbing cushions designed to reduce the impact that is often felt on the joints during workouts.
There 4 adjustable stabilizer levelers beneath the bases of the unit which ensure that stability is achieved.  Although, it is recommended to place the treadmill on a rubber mat to maximize the stability and it is often sold together with the unit.
The unit's weight is about 135.6 pounds/ 62 kg which also adds to its stability.
Yet another unique feature of this treadmill is the 49 inches handrails designed to help or support you during your workout. These handrails are well coated with foam to provide a comfortable and safe grip.  And no, the handrails are not adjustable, unfortunately, and some individuals are concerned about the height that stated 15.5 inches and afraid that the handrails may not fit.
We did some digging and discovered that from the deck to the top of the handrail is about 34 inches high which is contradictory to the overall height size that is officially stated.  So far, no one has complained about the handrail being too low for comfortable workouts.
But the handrails can be reversely installed for a wider or narrower grip.
It has the main handlebar that is embedded with the heart rate sensors on each side, strategically positioned for convenient grip. When you hold onto the heart rate sensors during a workout your heart rate reading will be able to be transmitted to the monitor so that you can maintain your target heart rate zone.
Transports wheels are also integrated at the front base for easy relocation of the treadmill.
In terms of sturdiness and stability, the manufacturer did a good job on this treadmill and possibly you won't be disappointed.
The Motor
The Exerpeutic TF2000 Recovery Fitness Walking Treadmill comes with a high torque 1.5HP motor that is great in performance because, just as stated above, the treadmill is very quiet and smooth during operation.
It provides a speed range of 0.2 to 5 mph with a possible increment of 1/10's mph. This means that you can choose the suitable speed that is best for your fitness level without restriction.
Being that the motor does not generate noise that is irritating or disturbing, you can watch your favorite TV show or listen to good music without having to worry about disturbing the family or the neighbors.  This is simply an ideal treadmill for seniors home and individuals living in close proximity with neighbors.
Incline
The Exerpeutic TF2000 Recovery Fitness Walking Treadmill does not have incline capability and we can understand why; it is a recovery treadmill.
The Console
The console of this treadmill is not the highly advanced type but it is neither a basic one…let's say average.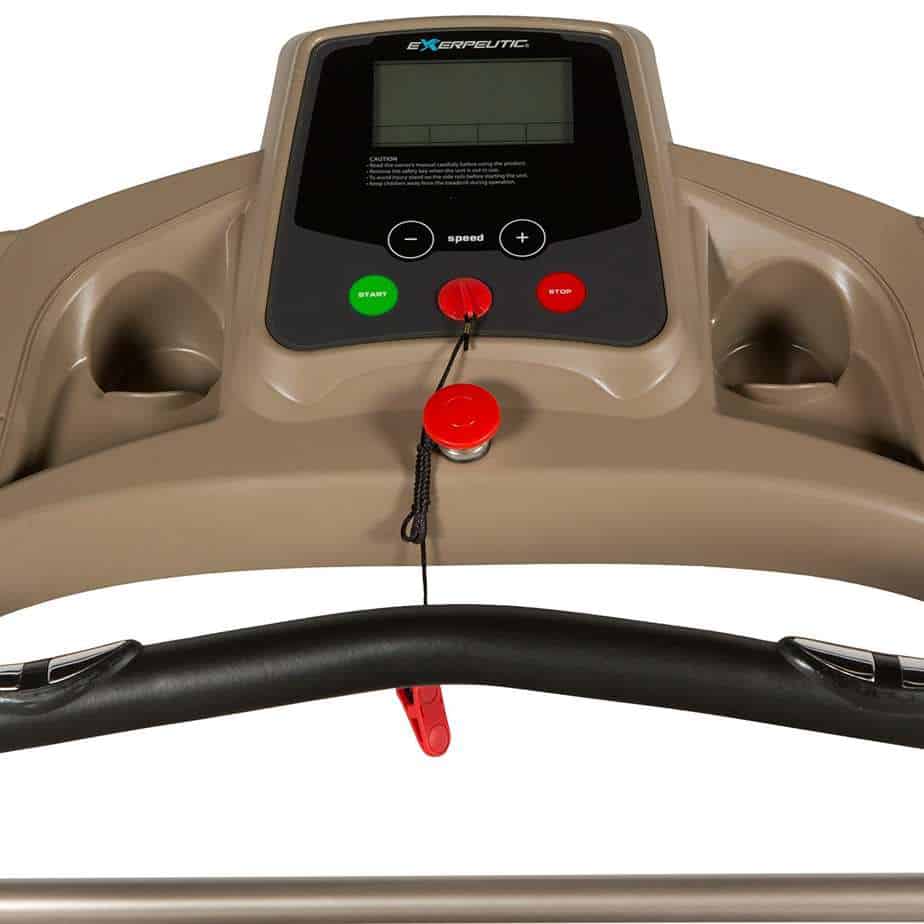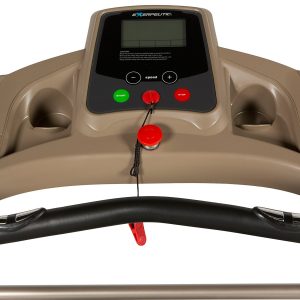 The console features a highly visual backlit LCD monitor that indicates elapsed time, distance walked, calories burned, speed, and heart rate.  Its high readability is not diminished by poor visibility in a room because of its backlit.
There are two touch-screen buttons that are used to increase and decrease the speed, then Start and Stop buttons, a safe key with a clip, and an emergency stop button.  Those are the only buttons on the console, sounds simple, right.
There two accessory holders available on the console one on each side of it.
Other than those, it doesn't have preset programs, speakers, or a fan, almost like a basic console.
Approval Rating
The Exerpeutic TF2000 Fitness Walking Treadmill is a popular treadmill going by the Amazon customer reviews.
The reviews on Amazon clearly show that users are excited and pleased with the treadmill and have nothing but good words for it.
We consider the product users' reviews when writing our review because this makes our review to be in-depth and unique and hopefully you will be able to make your final purchasing decision based on this article.
Pro/Features Overview
Solidly built with a high-quality steel frame
Supports up to 300 pounds/136 kg maximum user weight capacity
Specifically designed for seniors and people in recovery
High torque 1.5HP Motor with quiet drive generate low noise during operation
49 inches long handrails that are padded with foam to support the user during workouts
Extended rail platform for resting between workouts
10 shock-absorbing deck cushions with additional reinforcement for minimizing the negative impact on the knees, legs, and ankles during workouts
Has a low deck that promotes easy step up and step down
Compact design that doesn't take up much space
Speed range 0.2 to 5 mph with a possible increment of 1/10s
Handlebar features heart rate sensors
High readability backlit LCD monitor that displays elapsed time, distance walked, calories burned, speed, and pulse
Treadmill belt 50 inches long by 16 inches wide
Safety clip and stop buttons for emergency stops
4 adjustable stabilizers that level and stabilize the treadmill
Transport wheels for easy relocation
Two accessory holders available
Minimal assembly required
Cons
No sound system or fan
Not foldable
Product Dimensions and Specifications
61'' Length
30'' Width
15'' Height
High torque 1.5HP motor
Backlit LCD monitor
49'' side handrails
Weight: 135.6 pounds/62 kg
Warranty
3 Years on Frame
5 Years on Motor
90 Days on Parts
Shipping, Assembly, and Maintenance
Shipping
The shipping cost of the Exerpeutic TF2000 Recovery Fitness Walking Treadmill depends on the retailer you are purchasing from; however, Amazon provides free shipping.
Assembly
The assembly of this unit is pretty straight and easy and doesn't take much time to completely put together.
You will be required to attach the console posts, the console, the handrails, and the adjustable levelers. It is also accompanied by an instruction manual that could walk you through the process of assembly.
Maintenance
No major maintenance is required. You are expected to always examine the treadmill for any loose, worn, or broken parts; re-tight, repair or replace accordingly if there is any before using the treadmill.
The other part is to clean the unit always with soft cloth mixed with mild detergent, avoid solvent and abrasives.
Conclusion
There isn't much left to be said after all that has been said about the Exerpeutic TF2000 Fitness Walking Treadmill.
However, this is the treadmill that is close to affordability when it comes to units specially designed for recovering individuals and seniors.
We think it is a decent machine that could help you accomplish your fitness goals.
Exerpeutic TF2000 Recovery Fitness Walking Treadmill Review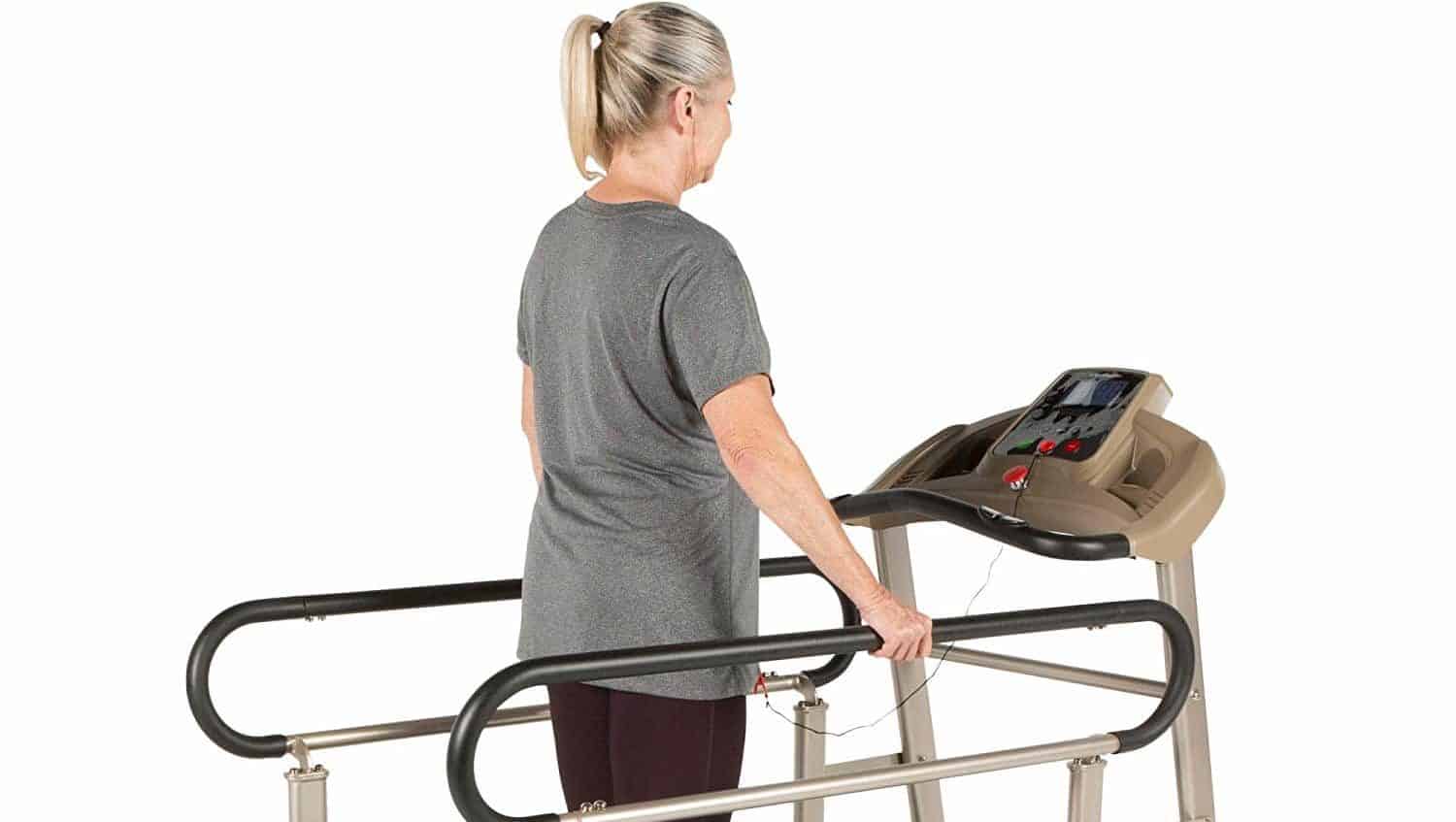 The frame of the Exerpeutic TF2000 Recovery Fitness Walking Treadmill is made of high-quality steel. It supports up to 300 pounds/136 kg maximum user weight
Product Brand: Exerpeutic
Product In-Stock: InStock