Walking exercise is one of the greatest ways to stay fit and the Exerpeutic TF1000 Walk Fitness Electric Treadmill is designed just for that. Exercising or walking on a treadmill has a lot of advantages as opposed to walking outdoors. One of the several advantages is the fact you should be able to walk in the convenience of your home, watching your favorite TV show or listening to good music.
Using a treadmill at home also eliminates the risk that is associated with walking outdoor such as traffic or bad weather. A good treadmill such as the Exerpeutic TF1000 Walk Fitness Electric Treadmill also absorbs the shock that negatively affects the joints.
This treadmill is compact and foldable as well which means you can easily fold it up and put away for storage without taking up much space and neither does it take up too much space as well when fully assembled.
It offers you a lot of opportunities to achieve your fitness goals. It supports up to 400 pounds maximum user weight capacity which could support almost everyone.
That being said, we are going to cover every side of this treadmill, the good and the bad, and let you make your final purchasing decision. However, we have confidence that this treadmill is recommendable having seen its users' feedback and popularity.
If you do wish to have a peek at the price of the Exerpeutic TF1000 Walk Fitness Electric Treadmill then click right.
The Frame and Construction
Just as the title name suggested, the Exerpeutic TF1000 Walk Fitness Electric Treadmill is exclusively a walking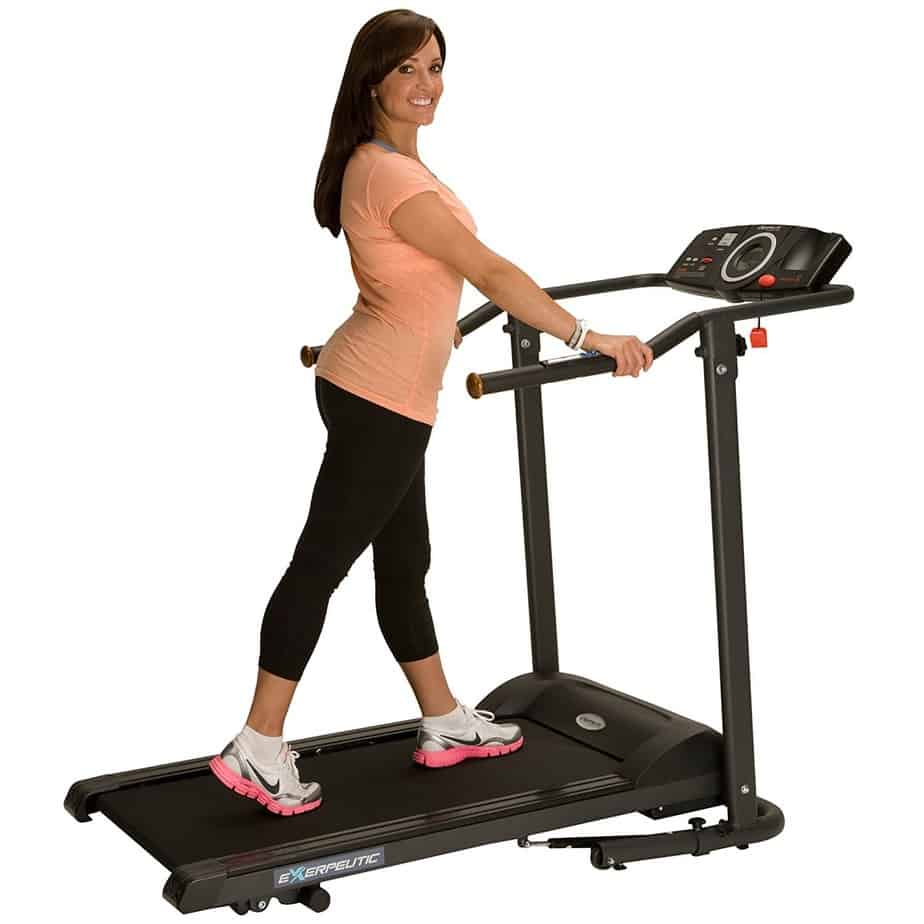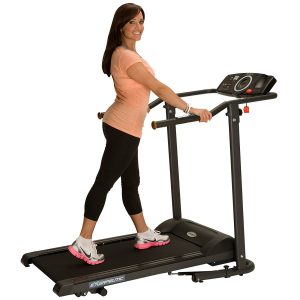 treadmill. It is designed with a wider commercial gym club belt size of 20 inches so that you can experience comfortable workouts that are characterized by convenience and safety.
The frame is made out of high-quality heavy-duty steel that supports up to 400 pounds maximum user weight capacity.
It is a compact treadmill with overall assembled dimensions of 51.2 inches long by 32 inches wide by 63 inches tall and weighs about 120 pounds/54.4 kg which also boosts its stability. A workout area of 4 feet 3 inches long by 2 feet 6 inches width is required. Although, it is recommended to have an extra clearance of 2 feet on both sides of the machine and 3 feet at the rear for safe workout experience.
It has unique 18 inches handlebars that are longer than the ones on conventional treadmills. They are integrated with heart rate sensors that enable you to monitor and maintain your target heart rate zone at all times during workouts. Also, the speed and the ON/OFF buttons are also embedded on the handlebars for quick access.
The bases are solidly constructed with crossbar tubing at the front base intended to make the machine stable during workouts.
It is also integrated with 5 levelers beneath the crossbar tubing which could be used to level up the treadmill on an uneven floor, but it will be wise to place the unit on a rubber mat so that it will further make the unit very stable and they are often sold together optionally.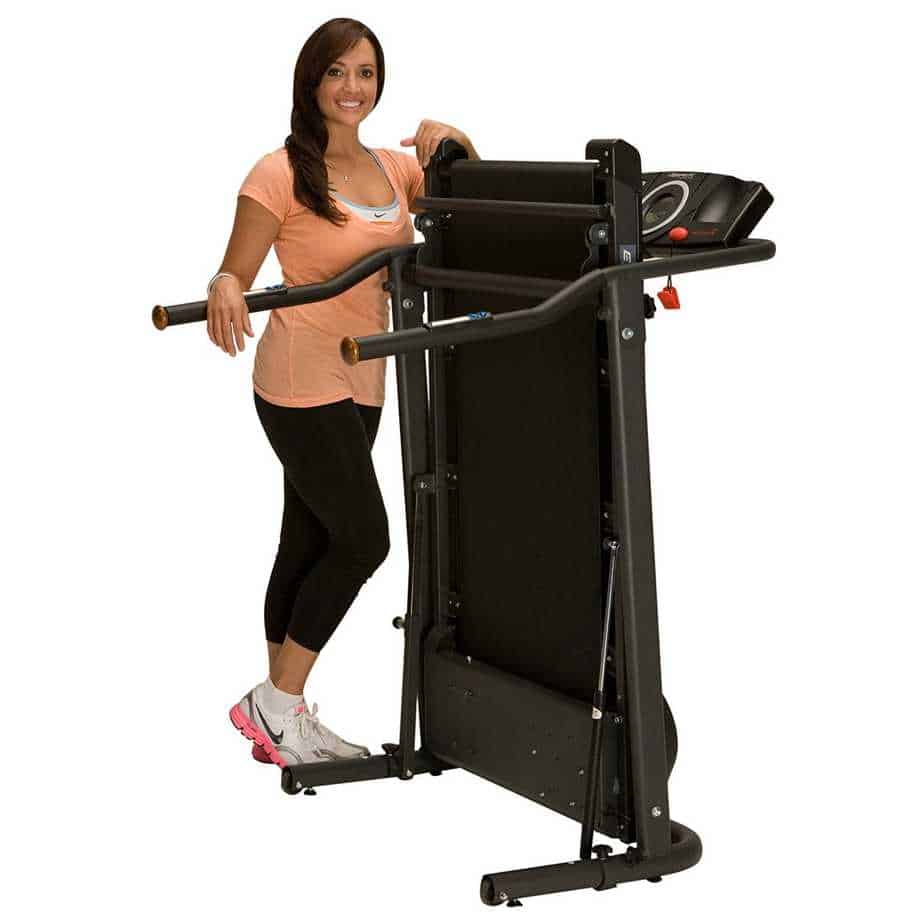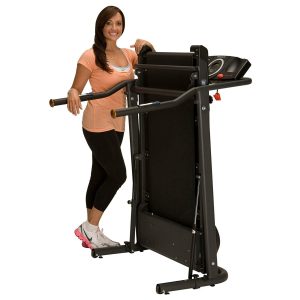 This is a foldable treadmill that can simply be folded up by placing one hand on the rear of the mainframe and uses the other hand to pull out the spring knob and then lift the mainframe until the spring knob pops down into a lock position. It does not have the motorized folding mechanism or the SolfDrop ability but sure has an easy and simple way to fold and to unfold.
It stands vertically when folded up for convenient storage that saves a lot of space. In addition to that, it also features transport wheels to help with the relocation process as well. You can easily move it to another location without hassle.
The walking track or belt size is 20 inches by 40 inches which is by far wider than many other treadmills designed for walkers. We have observed users that have concerns about the length of the walking track because of their height size of 6 feet, but that was completely dispelled after they have discovered that that was not a problem.
Users with 6 feet height can conveniently workout on this treadmill without falling off the rear as long as they are not trying to jog or run on it.
The Motor
The Exerpeutic TF1000 Walk Fitness Electric Treadmill features a motorized 1.5HP motor that is adequately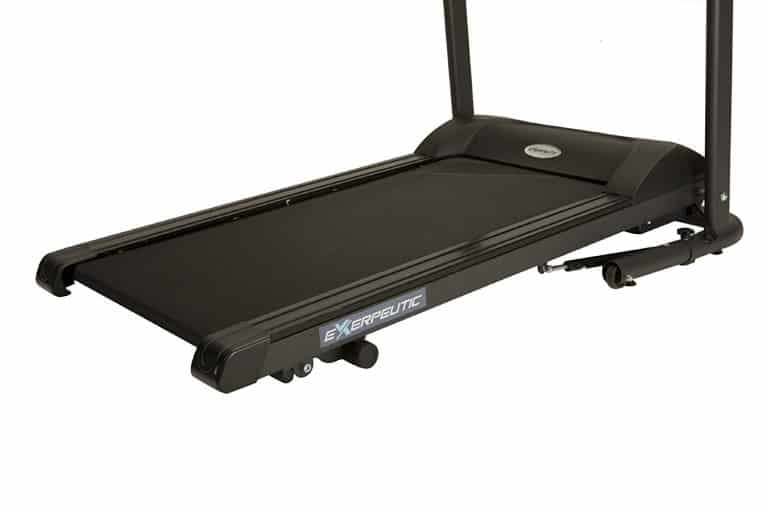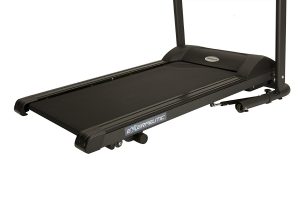 sufficient for walking exercises. The powerful motor can provide the drive required to experience outstanding walking exercises with a speed range of 0.1 to 4 mph. Essentially, it is possible to increase the speed by 0.1 mph (1/10's) which is an advantage because everyone gets to choose a suitable speed.
The motor is simply described as a high torque unit with a quiet drive system that generates low noise during operation. This, in other words, means you are going to get a treadmill that is consistent with a smooth and quiet operation that won't bother the family, the neighbors, and you. You can choose to work out in front of the TV and watch your favorite show or listen to good music without having interference with the sound from the treadmill.
You will enjoy convenient and comfortable workouts because the belt size is wide enough to allow you to have all the space you need without restriction.
By the way, you may want to look up the Goplus 2.25HP Folding Electric Treadmill or the Goplus 1.5HP Electric Folding Treadmill LED Touch Screen because they are recommendable for individuals who wish to perform walking exercises and they are value-oriented just as the Exerpeutic TF1000 Walk Electric Treadmill.
Manual Incline
The Exerpeutic TF1000 Walk Electric Treadmill has a manual incline system that adjusts up to 6%. It features 2 position manual-incline of 3% and 6% which could be adjusted by placing one hand on the rear end of the mainframe. Lift it up and simply adjust the incline adjuster to the preferred position and that's it and you are ready to perform walking exercise with some level of challenge.
The Console
This Exerpeutic  TF1000 comes with a console that has several features on it. One of the features is the LCD that tracks your workout progress by displaying metrics such as the time, speed, distance, calories burned, and heart rate.
It sure has good readability but afraid may be compromised when used in a poorly lit room because it is not backlit. To ensure a good view you must use it in a room with good visibility.
There are other features such as the Mode button and the Speed buttons which are on the left upper side of the console while the Reset, Set, and the Start/Stop on the bottom left of the console.
It has a very simple and average console designed to help you stay focused on achieving your fitness goals.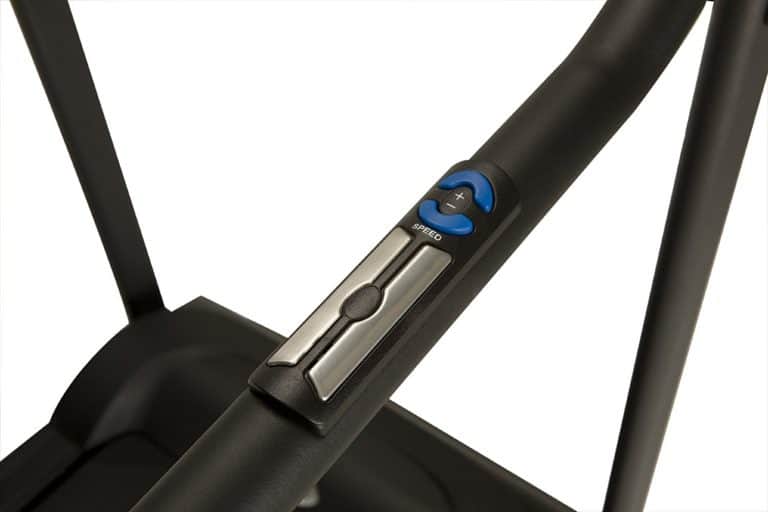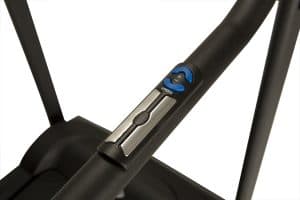 The Time metrics displays the elapsed workout time in minutes and seconds, Speed displays the current speed from the minimum of 0.4 mph to the maximum of 4.0 mph, Distance displays the total distance traveled during the workout, Calories displays the total cumulative calories burned during your workout. You also have the opportunity to keep track of your heart rate when you grip the handlebars with the heart rate sensors on them during a workout.
There is also a safe key button with a nylon rope and a clip that prevents accidental tripping during a workout when clipped to the shirt or short you are wearing.
More information is unveiled on the owner's manual which is very comprehensive on what you need to know to utilize the unit optimally.
Approval Rating
The Exerpeutic brand has been a well-known brand that has attracted a great deal of popularity because of its reputation.
This treadmill has a good approval rating and hundreds of Amazon customer reviews most of which are positive. This simply shows that the majority of the users are very pleased with the treadmill and would certainly recommend it to others.
Having the knowledge that the product you are interested to purchase has a good approval rating has somewhat solved most of your concerns, right?
Pros/Features Overview
Solid construction with high-quality steel frame
1.5 HP high torque motor
Supports up to 400 pounds/181 kg maximum user weight capacity
Weighs about 120 pounds that add to its stability
Has levelers to level the unit on an uneven floor
Features transport wheels that make relocation very easy
It is foldable to a vertical position that significantly reduces the storage space requirement
LCD monitor with high readability although could be compromised when used in a poorly lit room because it Is not backlit
Smooth and quiet operation
You should be able to keep track of your workout progress by monitoring data such as time, distance, speed, calories burned, and heart rate
Easy to operate the console
Compact design with dimensions of 51.2 inches long by 32 inches wide by 63
It has a wider walking surface of 20 inches with 40 inches in length
2 position manual incline of 3% and 6%
Speed range of 0.1 to 4 mph
Handgrip heart rate sensors
Very easy to assemble
Cons
May not be convenient for individuals with a height above 6 feet
No preset programs
No Sound system
No accessories such as tablet and water bottle holders or fan, although you can buy those separately and attach them to the handlebar
Product Dimensions and Specifications
51'' Length
32'' Width
63'' Height
Supports up to 400 pounds/ 181 kg maximum user weight capacity
Weighs 120 pounds/ 54 kg
1.5HP high torque electric motor
2 Position Manual-Incline
18'' handlebars
Treadmill belt size 20'' x 40''
Digital LCD Monitor
Warranty
5 Years on Motor
5 Years on Frame
90 Days on Parts and Labor
Shipping, Assembly, and Maintenance
Shipping
The shipping cost of the Exerpeutic TF1000 Walk Electric Treadmill is determined by the retailer you are purchasing from; nevertheless, Amazon has a free shipping policy.
Assembly
To assemble this treadmill is a pretty straightforward business that could take about 30 minutes, more or less depending on how good you are with your hands.
Moreover, it comes almost completely assembled except for the handlebars, the console, the stabilizer tubes, and the adjustable levelers.
2 pieces of computer knobs and 1 piece of Allen wrench tool for assembly are included.
Maintenance
The Exerpeutic TF1000 Walk Electric Treadmill does not require any major maintenance as it is pre-lubricated silicon oil and there will no need to reapply under normal circumstances.  But if you have to reapply, make sure you use the silicone oil and lift the belt, one side at a time, and apply the lubricant directly on the center of the running deck and allow the oil to go through for one minute before using the treadmill.
Always clean the treadmill with soft cloth mixed with a mild detergent. Don't use abrasives or solvents.
Conclusion
In our humble opinion, the Exerpeutic TF1000 Walk Electric Treadmill is a very recommendable treadmill for those that wish to perform walking exercises without the need for all the bells and whistles that usually come with some other treadmills.
It is a solid and sturdy unit that is specifically designed for walking exercises. Not also forgetting that it supports a high user weight capacity of 400 pounds/181 kg with a wider belt size for comfortable workouts.
Exerpeutic TF1000 Walk Fitness Electric Treadmill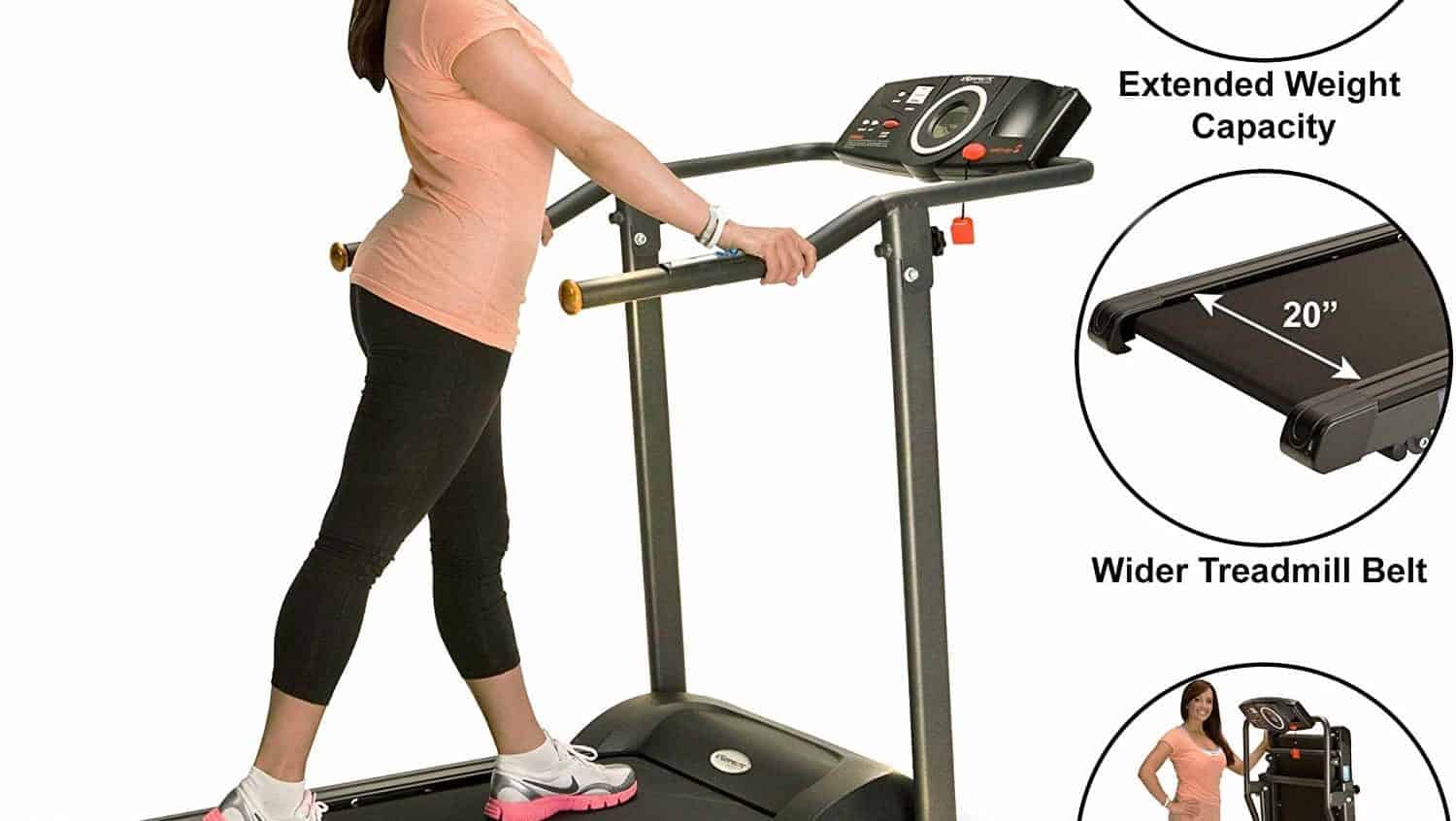 Just as the title name suggested, the Exerpeutic TF1000 Walk Fitness Electric Treadmill is exclusively a walking treadmill.
Product Brand: Exerpeutic
Product In-Stock: InStock